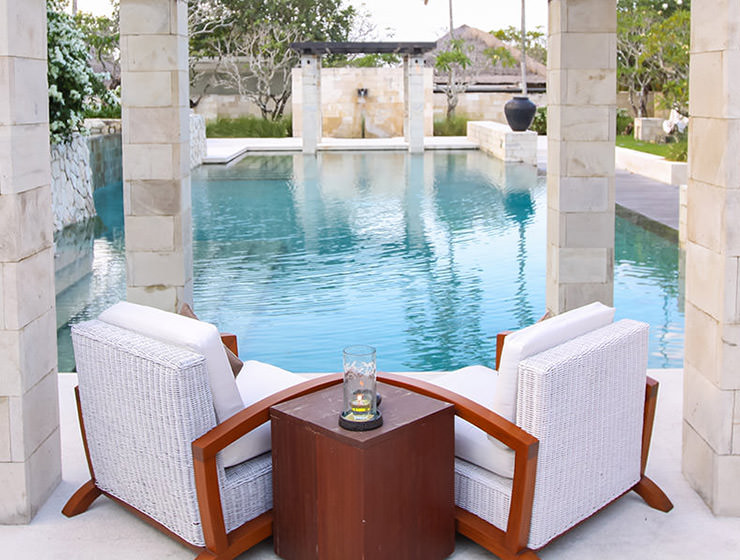 The Balé is a place to get spoiled! Located on the paradise island of Bali, this 5-star resort is an excellent retreat for those looking for a getaway, whether alone or with the significant other! Balé is managed by the Lifestyle Retreats, the Singapore-based company specialized in premium boutique properties. It would be an understatement to say that the Balé is only that! This luxury property exceeds expectations, whether you are planning a Bali honeymoon or a retreat on your own!
Zen experience is implemented throughout the resort
Nusa Dua is a tourist enclave that was constructed in the 1970s on the eastern tip of the Bukit Peninsula. In 2000, the Balé became a reality as a design brainchild of one of the leading Indonesian architects. On three hectares of land, Antony Liu (Studio TonTon) has imagined the contemporary white space with clean lines, simple yet refined, minimalist but elegant. From the futuristic entrance through the winding passage surrounded by water (is it a bridge then?) and metal tubes (is it an industrial version of the bamboo forest?) to the cascading rows of 29 independent villas in the most discreet layout, the serenity overtakes it. Space is urban, yet not pretentious, luxurious, but harmonious. The use of stone, greenery and abundant calming water shows the respect for Balé's environment. The landscape designer was Karl W. Princic, and the zen-kind of experience is implemented throughout.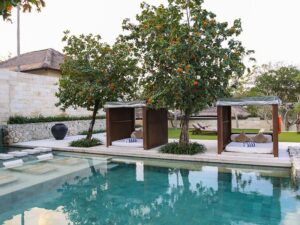 Water heaven at the Balé
Each stylish villa comes in the form of the thatched pavilion, with its own walled garden that is fitted with large bengong-style daybed for lazy afternoons, and a private swimming pool one can enter by stairs directly from the bathroom. Bathtub, indoor and outdoor shower, twin sinks equipped with excellent quality signature soaps (based on coffee or sandalwood, for instance), bath salt, bath oil… Even candles are provided! This is a water heaven for anyone enjoying pampering!
The room is sleekly designed, very spacious and bright. All wall surfaces are glass, which means there is a lot of blinds to pull down in the evening. But don't worry! The Balé provides turndown service, which means your mosquito-protective baldachin will be set, and the complimentary supply of delicious cookies, fruit, water and soft drinks will be replenished, in the most thoughtful way!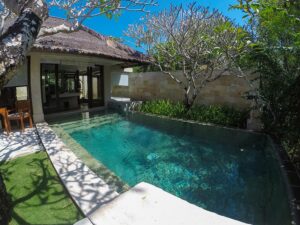 In and out of room entertainment
The bed is very comfy and, even if one is alone, there is an in-room entertainment provided with satellite TV, CD, VCD, DVD and MP3 player! The only thing I actually missed in the Balé room was – an electrical outlet! Having only one free outlet in the whole room is not enough for the modern traveler, and hopefully, this can be improved. Electrical appliances aside, in the hotel library board games and books can be borrowed! If you lack anything else, there is a round-the-clock butler service. Your personal butler will cater for all your needs, even if it is just unpacking your suitcase or shining your shoes!
The pavilions are incredibly comfortable and quickly bring you into the tranquility state where you just don't want to leave them. However, if it happens that you get bored of your private pool (how on earth could that happen?), the hotel has its own beach club at Geger Beach (which is just 10-minute walk away, or 2-minute drive by complimentary shuttle car). Additionally, in the heart of the Balé resort, you can enjoy two tiers of the central swimming pool!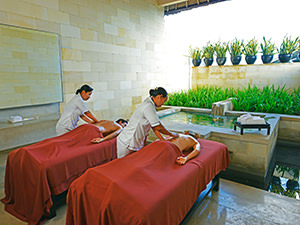 Bali honeymoon delight – honey massage!
This stylish sanctuary couldn't provide the perfect relaxing getaway without spa premises! There is a range of massages, body and facial treatments, holistic programs, yoga and meditation options! Sometimes, even great Masters are around! The gym is quite small but well-equipped for the size. With the possibility of booking a private sauna time, there are so many things to try!
I had enjoyed the combination of long stroke lomi-lomi and Balinese massage, with aromatherapy oil of my choice. In addition to my 1-hour body treatment, the hotel threw in the 15-minute foot bath, which was a truly caring and relaxing ritual. Of course, you can go more experimental, and try the massage with seashells or crystals, body scrub with organic rice or exotic fruit, champagne bath or green tea jacuzzi! If you are a couple on a Bali honeymoon, supposedly honey treatment is a very romantic experience!
Happy faces in the restaurant
While I was being pampered, the Faces restaurant was already preparing my dinner from its healthy menu option. Rice paper mushroom ravioli in saffron-pumpkin broth for a starter and steamed miso-crusted barramundi with sea vegetables and soba noodles for the main course turned out to be truly delicious! Healthy and detoxifying smoothies are served with paper straws, which is a commendable ecological approach!
It is not all raw, vegan and strictly healthy here! Besides Indonesian & Thai specialties, one can order more classic fish and chips, pasta, salad, burger or pizza. However, this gourmet restaurant promises one will get a balanced menu with fresh locally-grown organic produce, no matter which dish one chooses!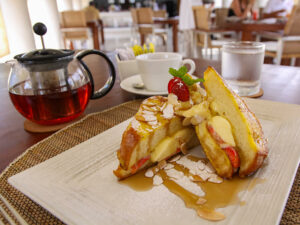 French toast – Balé way
The contemporary cuisine approach can be seen at à la carte breakfast too. Whether you eat it at the open-sided pavilion next to the main pool, or in the privacy of your own villa, the choices are plentiful: freshly baked pastries, yoghurts and cereals, smoothie bowls, fruit, Asian specialties, various egg versions and my favorite sweet signature dish of the Balé – French toast with strawberries, mascarpone and maple syrup. It's a delicacy you want to drown in!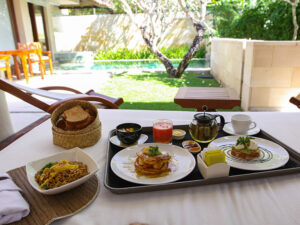 The Balé hospitality
I must say I actually preferred in-room dining. For my taste, too many waiters are serving each table in the restaurant, which slightly depersonalizes the service, while in the room pavilion I have experienced the full extent of hospitality that is obviously incorporated in the philosophy of the Balé. One can even opt for a candlelit dinner or private barbeque under the frangipani trees in the garden, which will undoubtedly secure a more romantic evening! Learning to make some seafood dish or soufflé at the restaurant's cooking class, could be another great bonding experience for a couple on Bali honeymoon!
With Bliss that offers spa cuisine, with Tapa Bistro that serves tapas with music as a side dish, and with Fluid Bar that provides cocktails and wine, one could easily spend a very diverse holiday time in the Balé, with never leaving its ground. However, the resort offers free chauffeur service, if you want to explore Nusa Dua. Turtle Conversation and Education Center, Bali National Golf Club or water sports in Tanjung Benoa are also great ideas for a day out! It is worth to know that the 30-minute drive to and from Bali Ngurah Rai International Airport is complimentary, with water, fruit and wet towels included! So stressless!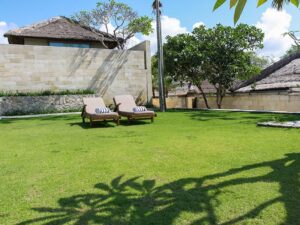 Adult-only paradise
Bali is called the island of gods. The treatment one gets at an upscale resort such as the Balé is often a divine experience, adequate to the reputation of the so-called paradise destinations. With no-children-allowed policy, the intimate and soothing atmosphere of this charming relaxation oasis for adults is genuinely seductive! This is how Bali honeymoon should look like!
My main regret is that I have experienced this resort on my own, because special moments are always better when shared with people we find special. Hopefully, I will return to this extraordinary place soon and share the escape experience with someone, hands-on!
YOU WANT TO FIND SOMETHING DIFFERENT FOR YOUR BALI HONEYMOON?
CHECK THESE HOT DEALS!
VARIOUS DATES AVAILABLE!
STILL SEARCHING FOR AN AMAZING BALI HONEYMOON PACKAGE?
CHECK THIS SELECTION OF THE BEST BALI RESORTS, AND FIND THE PERFECT PLACE FOR YOUR BALI HOLIDAYS!
Disclosure: My stay at the the Balé was complimentary, but all opinions are my own.

Also, this post contains affiliate links, which means if you click on them and make a purchase, Pipeaway might make a small commission, at no additional cost to you. Thank you for supporting our work!

Special thank you: HotelieriQ - for the assistance in connecting Pipeaway with Lifestyle Retreats.
Did you like this article? Pin it!