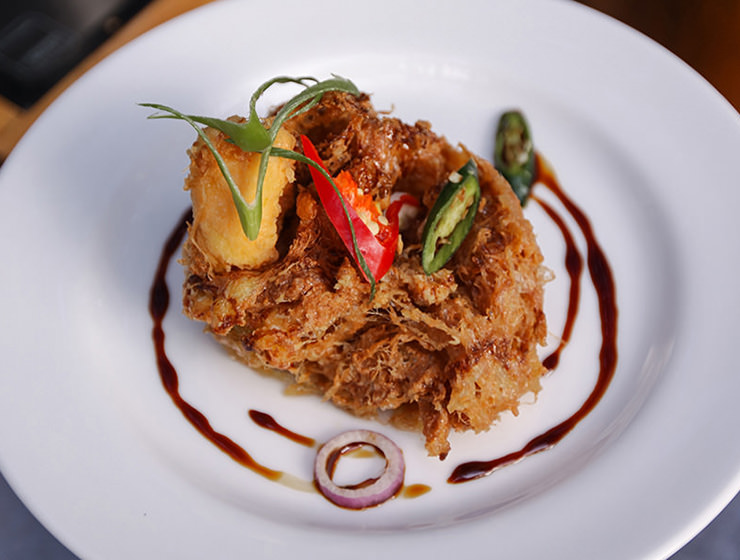 The news might be full of Mount Agung eruption in Bali, but the most active Indonesian volcano is located on the island of Java, 28 kilometers north of Yogyakarta. Called Mount Merapi (the Mountain of Fire), it erupts regularly since the 16th century, and Indonesians have learned to live with this geological wonder. The most recent large eruption, the one from 2010, inspired Wayan Durma, the chef of the Hyatt Regency Yogyakarta, to create Lava Egg Merapi, a signature dish of this 5-star hotel. With a particular deep oil frying technique, the egg as we know it gets deconstructed into a meal of unique texture, color and taste. Sweet soya sauce resembling lava, and red and green chili symbolizing rock and hot cloud, additionally evoke the Merapi eruption. Hyatt Regency Yogyakarta's cuisine is top notch, but lava egg is just one of the examples of how local specificities, history and tradition are transformed into new layers of meaning in Hyatt's creative environment.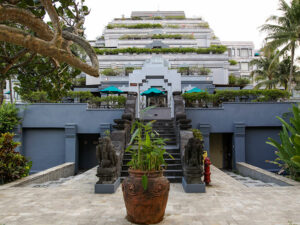 Sleeping in a pyramid
The hotel is built like a stepped pyramid, which secures excellent views from each of the 269 rooms and their exposure to natural light. It probably doesn't ignore the idea of specific energy in this geometric shape, which some researchers connect with relaxing states of mind, and therefore recommend it for sleeping and meditation. I can't connect my satisfaction to the hotel architecture or merely plush beds, but I certainly did sleep like a baby.
The room has great window glass surfaces. With palm trees reaching up to the seventh floor, the greenery of the surrounding might motivate you never to turn the TV on! With the solidly-stocked minibar, one can enjoy a drink on the private terrace, with parasol-protected seating area.
Hyatt Regency Yogyakarta does feel like a temple – a temple of proper rest
Some bathroom furniture could use modernization and refurbishment, but Hyatt saves itself with its convenience collection. If you forgot to bring any product that would make your stay comfortable, this luxury resort would provide it for you, and you are free to keep it! The items range from deodorant and baby shampoo, via hairbrush and hairspray, to hand lotion or mouthwash! You can also borrow things such as curling or flat iron, dehumidifier, lighted make-up mirror, steamer, yoga mat or free weight set!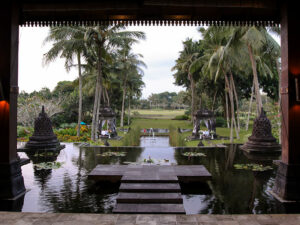 Borobudur inspired design
Hyatt's architects also laid down many small details around the hotel, evoking the architecture of Borobudur, the world's largest Buddhist temple, and an unmissable site when visiting Yogyakarta. Bell-shaped stupas here do not contain Buddhas, but lamps, and with koi-filled water basins and strategically dispersed romantic stone arbors, accentuate the atmosphere of relaxation. Hyatt Regency Yogyakarta does feel like a temple – a temple of proper rest.
Providing a wide range of activities for all the family, Hyatt Regency is easily the place you would not want to leave during your whole stay in Yogyakarta. It might not be in the very center of the city, but the hotel provides complimentary shuttle service to Malioboro, Jogja's famous shopping promenade. From there, many sites of tourist interest, such as the Sultan's Palace or Taman Sari, are easily reachable.
Sports spirit in green environment
Hyatt Regency Yogyakarta is set in the unbelievable 22 hectares of the green landscape! The best way to get a clear picture of the size of the property is to jump on andong, the horse-driven carriage traditionally used by the nobility. You will discover that the big part of the outdoor area is reserved for a nine-hole golf course. Even if you are a beginner, such as myself, you can train your skills at the putting field, with friendly staff explaining all you need to know about this sport.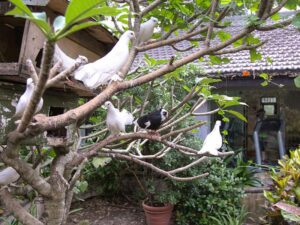 If hitting the ball into the hole is not your thing, Hyatt's sports offer includes tennis, table tennis, futsal, billiard, and two kilometers of jogging track through its tropical gardens! You can finish your morning run at the multi-level swimming pool complex where you can enjoy a pillow fight, water polo, or just plunge into the pool via its adventurous 70-meters waterslide, smartly masked in traditional Javanese architecture. The spa area of the Health Club could benefit of a reno, but alternatively, you can sweat your energy in the cozy fitness center, providing the view into the small bird park, with 15 types of birds!
Hyatt for kids – from animal watch to glamping
If you come with kids, they might find the enthusiasm in exploring the rest of the animal life around the hotel as well; red-eared slider turtles, iguanas and turkeys await for them! The fishing pond can be a source of another fun afternoon! Or if you want that romantic dinner with your partner, you can leave your minors at kids glamping activity, staying assured they are safe and having fun while you enjoy some moments of well-deserved privacy and peace.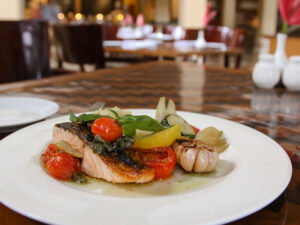 Reinventing the traditional flavors
The highlight of the stay in Hyatt Regency Yogyakarta is the exquisite cuisine of its Kemangi Bistro. The hotel is a place for a culinary festival happening every weekend. It starts with Merapi Barbeque on Friday nights (grilled satay, steaks, seafood, quesadillas, pasta, all with live band entertaining your ears). It continues with Ramayana Night Market (cultural evening including Indonesian and Javanese cuisine served from traditional warung-style stations, but also night market and Ramayana dance performance). The ending is nothing less exciting – the Sunday Brunch (where an innovative buffet is also accompanied by live music).
The cuisine is marked by the idea of reinventing the traditional dishes of the area. For instance, Javanese drink Wedang Uwuh (authentically tasting of ginger, cinnamon and clove blend) gets upgraded with the heavier base of the pineapple, orange juice and vanilla syrup – red and yellow refreshment in the same glass!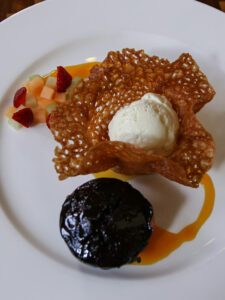 High-class cooking at Hyatt Regency Yogyakarta
I have tried many tasty delicacies during my stay in Hyatt. If I would need to give some recommendations, they would undoubtedly include their Wonton soup (delicious shiitake, straw mushrooms and Chinese cabbage, with an incredibly juicy filling of chicken and prawn dumplings, topped with crunchy fried garlic), the pan-fried salmon (crispy from the outside, soft and pink from the inside, served on mashed potato, with grilled vegetables, capers and lemon sauce) and chocolate lava or green tea mousse cakes (served with delicious sauces and marinated fruits).
Various breakfast choices change every morning. If you get the chance, do not miss on the opportunity to enjoy the traditional Bubur Mutiara (sago pearls in coconut milk with liquid brown sugar), Martabak (meat-filled omelette pancake) or Serabi Solo (sweet crepe with a topping of your choice – I loved the combination of jackfruit, cheese and peanuts). Sure, I might be a sweet tooth, but Hyatt serves a variety of breakfast options I thoroughly enjoyed as well – from different sambals, via stewed beef skin crackers in spicy chili and coconut milk to Chinese roasted chicken and steamed corn.
The guests can attend the cooking classes at Hyatt Regency Yogyakarta, and that is possibly the only thing I am sad about skipping. I was too busy – eating.
SEARCHING FOR MORE AFFORDABLE ACCOMMODATION OPTIONS ON JAVA? READ OUR ARTICLE ON THE BEST HOSTELS THIS ISLAND IS OFFERING!
Disclosure: My stay at Hyatt Regency Yogyakarta was complimentary, but all opinions are my own and reflect my true experience at the hotel.
Also, this post contains affiliate links, which means if you click on them and make a purchase, Pipeaway may make a small commission, with no additional cost to you. Thank you for supporting our work!
STILL SEARCHING FOR A PLACE TO STAY?
CHECK THESE HOT DEALS IN YOGYAKARTA!
VARIOUS DATES AVAILABLE!