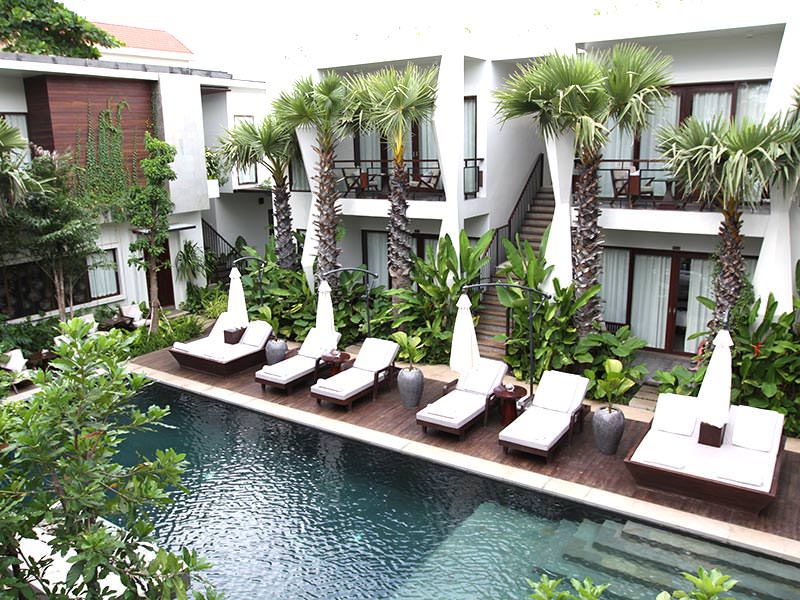 "Welcome home! Welcome home!", exclamated the driver, helping me to exit the jeep in front of the modern hotel building, opened only in December 2016, but already adorned with tropical greenery. Situated on the River Road, between Siem Reap center and Angkor monuments complex, Jaya House River Park was just far enough from the main attractions this Cambodian tourist mecca offered, that "walking distance" term couldn't have been easily applied to describe its location. However, complimentary jeep pick-up from the airport (return trip provided as well) and free tuk-tuk transfer service during one's entire stay in the hotel (Jaya also offers its guests the local mobile phone one can use to order the tuk-tuk free of charge) annulate entirely its relative remoteness, and make of it an actual – advantage! Jaya House is a tranquil, secluded oasis that one looks forward to coming back to after spending the exhausting day visiting temples or the equally exhausting loud nights in hasty Pub Street.
Plastic is not fantastic
Welcoming guests with refreshing wet towels and welcome drinks became the standard service of properties ranking higher. Jaya House tops it all and sets new standards of hospitality, by not only catering for guests but also for the environment. You get the idea from the very first minute you arrive! The straw in your welcome drink is made of bamboo, informing you that this property is aiming to be completely plastic-free. In an effort to reduce the waste to a minimum, the hotel gives every guest their own aluminum water bottle, as part of the Refill, Not Landfill campaign. One can refill the bottle at the hotel reception, or at any of the water station sites in the town, all listed on the back of the bottle. That's right, Jaya House is not only implementing eco-friendly policy on its own grounds but also pushing other local players to join the movement!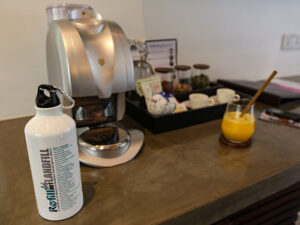 After the tragic history under the Khmer Rouge regime, Cambodia has opened itself to tourism and entered the new era of a tragedy that is threatening to destroy its environment; it is estimated that tourists leave about 56 million plastic bottles in this country every year! Without environmental education, the plastic waste ends up in landfills and Cambodian countryside!
In addition to refilling water bottles project, Jaya House also participates in other community and sustainability initiatives. Those include planting the Moringa, the multi-purpose "miraculous tree" (10.000 Trees initiative), creating jobs by founding the market with fine quality artisan products produced by Cambodians (Made in Cambodia Market at King's Road Angkor), providing workshops for underprivileged children culminating in an annual street parade (Giant Puppet Project)… The hotel also gives away five percent of its earnings every month as a donation to local charities!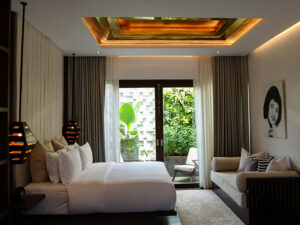 Jaya House aiming for the world top
Named after the most powerful Khmer monarch of all time, Jaya House River Park is building a legacy that might grow to be as equally impressive as Ta Prohm or Bayon, just some of the temples that the king Jayavarman left behind. I know, these might sound like extremely generous words for this small 36-rooms hotel, but its ambition is outgrowing its capacity! After traveling Cambodia for a month, seeing its poverty and ecological disasters just waiting to burst, with the political neglection and supportive corruption, I truly believe small steps forward that I witnessed being implemented by Jaya's smart yet humble management are restoring the optimism. The man behind it is Christian de Boer, the Dutch general manager who previously supervised Shinta Mani's growth to the 2nd place of the world's best hotels according to TripAdvisor, and then surprisingly left the laurels to embark on a Jaya challenge.
It is easy to feel the guilt when staying at the luxury resort in a country struggling with poverty and rebuilding its identity. Staying in Jaya House, THE example of responsible tourism, makes such a difference!
Social responsibility is not the reason to be lenient in evaluating the Jaya's hotel service, which is still, when we put its political efforts aside, world class. I have stayed in a beautiful Junior Suite on the ground floor with one of the hotel's two swimming pools at my doorstep. The room itself is truly spacious and comfortable, connected with a large bathroom/toilet area (no doors in between!) that includes a bathtub and a rain shower (the latter both in indoor and outdoor version). Bathroom amenities, such as shower gel or shampoo, are packed in refillable ceramic bottles, which follows the hotel's excellent eco-policy, but also lowers their functionality in slippery conditions (which showering certainly is), with the suicidal round cork just wishing to roll off of the shelf and break into pieces.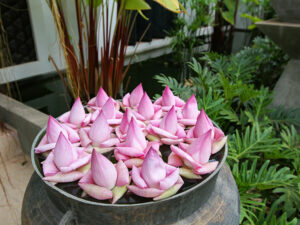 Towels are displayed with beautiful, carefully folded lotus flowers that can be seen decorating the entire hotel. My minor remark would be that, with so many options to get wet (two showers, tub, pools), and enough towels for the two persons in a twin room, there is only one hook for the towels in the bathroom. Instead of stimulating the guests to reuse their towel, lack of appropriate hanger makes one throw it on the floor.
Premium quality with a local touch
Premium bedding on plush beds one would expect from five stars hotel, and little sweet treats that come with a turndown service, are sure to make you sleep like a baby. If that doesn't help, there is also a free mini bar, a basket with a variety of fruits (banana, dragon fruit, longan), high-quality coffee and loose homegrown organic herbal tea (another element showing consciousness in reducing the waste – no tea bags here!).
Top quality furniture looks warm and makes it a welcoming place, whether you want to work at the desk, relax on the sofa or drink a glass of wine on the small patio. The modern style interior design is accompanied by vintage elements such as rotary dial telephone or black and white portraits of Cambodia's singing stars from the sixties (paintings created by local Small Art School, underprivileged Cambodian youth taught by Japanese art teacher Tomoko Kasahara). The whole hotel makes it for a nice walk if you wish to discover not only modern but also traditional Cambodian art – look for the rain drum turned table in the reception area!
Nature in and around the dish
The strong decorative element of this outstanding resort is undoubtedly its growing garden landscape. The architect Si Sokvann even paid respect to the trees already on the grounds of the hotel. For instance, the restaurant was literally built around one tree! Its trunk is now indoor, while its branches create the shade at the bar on top.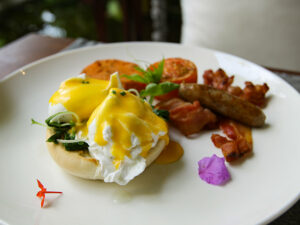 This kind of ambient makes it an attractive setting for having a meal that can feel like a fancy dinner or laid-back picnic. For breakfast, for instance, hop onto a swing chair, and upgrade already exquisite dining experience to an entirely heavenly feel. For your breakfast on the cloud you can choose from the awesome buffet offering a variety of choices, but still keeping the quality high, and the warm dishes from a la carte menu. I had perfect Eggs Florentine, with expertly poached eggs and the Hollandaise sauce with well-balanced ingredients. I have also tried a delicious French toast served with a caramelized pomelo that melted in my mouth. Garnishing dishes with small edible flowers seems to be a signature of the cuisine in this generally blooming hotel gem. Great cakes and bread from their own bakery, fine ingredients, fresh produce – it is hard to go wrong there.
Exceptional food, hospitality and style
TrurKuon Restaurant provides lunch and dinner as well. A mixture of local and international cuisine includes Khmer classics such as Fish Amok or Prahok Ktis, but also Italian specialties such as Linguini Puttanesca or Minestrone. For dinner, I enjoyed stir-fried squid and prawn with green peppercorn. With sides of jasmine rice and rice spirit in the form of Khmer Ginger Mojito, this was a filling and delicious experience! My compliments go to chef Tim Pheak!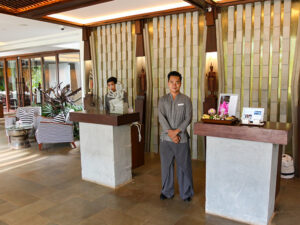 Equipped with a sincere smile and stylish uniforms designed by Eric Raisina, the professional and attentive staff will discretely jump in if you need anything, without that awkward intrusiveness. But that kind of subtle hospitality happens throughout the day, not only on the restaurant grounds. It is enough that one enjoys the refreshing swimming pool, to get surprised by an unexpected fruit skewer, freshly picked mango from Jaya's garden or a glass of cold water to keep one hydrated.
Future meets tradition
As mentioned before, there are two stunning swimming pools – one located in the central yard, where you can dip under the four small waterfalls, or a lap pool on the side of the property, whose futuristic appearance makes it a truly unique place to swim in. In the daytime, silver tiles reflect the tropical sunshine, while during the nighttime the inbuilt pool lighting transforms it into a fantastic spaceship for relaxing floating moments under the stars. If that doesn't help to loosen up your muscles, there is a spa area and masseuses that will do their best to bring you to Zen.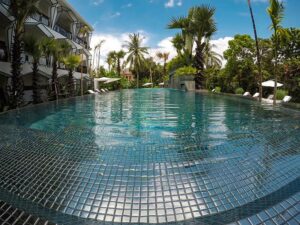 Small steps for Jaya House, a giant leap for the industry
The staff seems to be the most valuable asset of Jaya House. Who would have thought that some of these people were carrying stones for a living before shining at the reception desk? Who could have said that some of them have never been in school before? Jaya House is not just making the lives of its guests enriched; it also improves the lives of the workers. Christian de Boer is an ambitious, but also a passionate man. He speaks about his 'family' with a glow in his eyes: "Some of them have never even crossed the river [Jaya is just next to the river – Ed.]! Tomorrow I am bringing them to see the circus!"
Some of Christian's seeds are catching up quickly. Only two years ago he worked on introducing the first female tuk-tuk driver in Siem Reap – today there are four! He presented the first wheelchair accessible tuk-tuk, but also created job opportunities for the disabled – those employees are working in housekeeping, as well as in human resources! The other day I saw another example of how Jaya House breaks the illusion of luxury resorts being pleasure grounds for the rich. After the two Siem Reap girls were injured in a car accident, the hotel offered its exclusive silver swimming pool as a place for a rehabilitation therapy! How often do you see luxury resorts making such concessions? All the staff at Jaya goes through equality training. All of them are getting better lives. It is easy to feel the guilt when staying at the luxury resort in a country struggling with poverty and rebuilding its identity. Staying in Jaya House, THE example of responsible tourism, makes such a difference! Do not think twice if you get the chance to visit this beautiful project that will certainly grow to be one of the most fascinating hotels in Southeast Asia!
Disclosure: My stay at Jaya House River Park was complimentary, but all opinions are my own and reflect my true experience at the hotel.
Also, this post contains affiliate links, which means if you click on them and make a purchase, Pipeaway may make a small commission, with no additional cost to you. Thank you for supporting our work!
Still searching for a place to stay?
Check these hot deals in Siem Reap, various dates available!