Are you searching for a budget-friendly hotel getaway? Look no further than Booking.com's "Getaway 2023 Deals" promotion, where you can save a minimum of 15% on selected rooms and rates at participating properties for all your hotel getaways.
With the "Getaway Deal" badge on the search results and room selection pages, finding the perfect hotel for your next escape is easier than deciding on a Netflix show to binge-watch. Whether you're looking for a seaside retreat or a city stay, there's a hotel getaway for everyone.
Imagine waking up to a beautiful sunrise while sipping your coffee on the balcony of your hotel room. Or, lounging poolside with a fruity drink in hand, basking in the warm sunshine. These dreamy scenarios can become a reality with the help of this promotion!

If you are a budget-savvy traveler, you will want to learn everything about the hidden travel costs - junk fees!
Discounted hotel getaways until September 28
Deals are valid for new bookings at participating properties between April 4 2023 and September 28 2023. The discount applies to the cost of the room only (excluding any additional fees or taxes), and as long as you don't make changes to your booking, you'll keep the discount for all your hotel getaways.
Dust off your suitcase, grab your passport and treat yourself to some much-deserved hotel getaway!
Keep in mind that this promotion cannot be combined with any other offers except for Genius discounts, and room rates labeled "Partner Offer" are not eligible. But with so many properties participating, you'll have plenty of options for all your budget-friendly hotel getaways.
Whether you're looking for a luxurious hotel room or a cozy bed and breakfast, Booking.com has got you covered. All you have to do is search for the "Getaway Deal" badge, book your stay, and get ready for a fantastic hotel getaway that won't break the bank. As a matter of fact, with a minimum 15% discount, you'll have more money to spend on exploring your destination and making unforgettable memories during your trips.
So, what are you waiting for? Dust off your suitcase, grab your passport and sunscreen and treat yourself to some much-deserved R&R today. Remember, this offer is subject to availability, so don't wait too long to book your perfect escape!
Will you treat yourself to a discounted hotel getaway this summer?
Pin this article for later!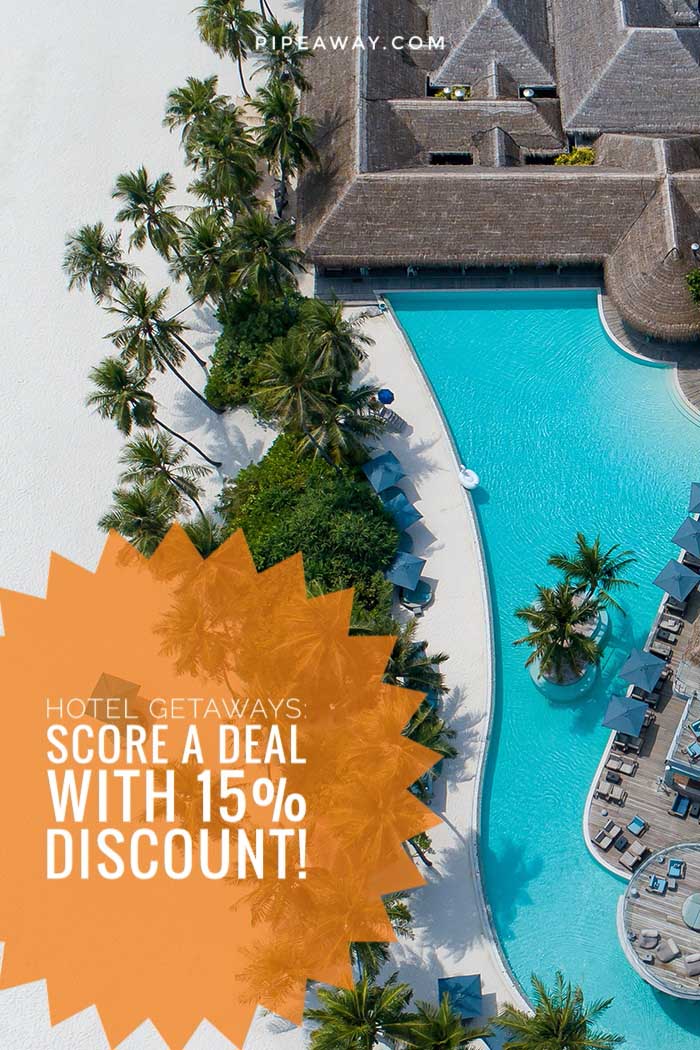 Disclosure: This post may contain affiliate links, which means if you click on them and make a purchase, Pipeaway might make a small commission, at no additional cost to you. Thank you for supporting our work!

The cover photo of this article was made by Karol Chomka on Unsplash.
The author of the pin photo is Tholaal Mohamed on Unsplash.