If I'd need to put my finger on the map, I'd say that Lysefjord provides some of the best hikes in Norway.
Traveling to Norway and not seeing its amazing fjords would be a top-level sin in the "Visit Norway" Bible. There are almost 1.200 fjords in this Scandinavian country, so you practically need to be blind or very determined to miss these natural wonders.
Where there are fjords, there are also steep cliffs created by the glacier. Cliffs mean mountains, and mountains mean hiking! It's simple: if you want to experience true Norwegian nature, you need to put your hiking boots on! Hiking in Norway rocks.
In this article, I'll take you to the best places to hike in Norway – three locales in the charming, yet seductive cliff-hiking paradise, the Lysefjord!
Lysefjord – home to the best hikes in Norway
Lysefjord is a 42-kilometer-long fjord in Rogaland County, in southwestern Norway.
Its name might mean a light fjord, but it still offers plenty of hiking options of varying difficulty. Lysefjord is home to some extraordinary rock formations. Some are more famous than others, but each of them provides memorable hiking trips, spectacular views, and a feeling of achievement.
Preikestolen, Kjeragbolten, and Kalleliklumpen should make it to your Norway trekking bucket list!
For the best hikes in Norway, head to Lysefjord, the home of extraordinary rock formations
With the advent of social media which promoted some of the Norwegian rocks into Instagrammable must-do photo shoot sites, hiking in Norway became trendier than ever. Some of the Norwegian hiking trails became a magnet to an abundance of loud and disrespectful tourists who might affect the experience of your hiking holidays.
If you are mainly aiming for some Facebook likes, follow this list from top to bottom as it, more or less, rates the hiking sites from the most accessible ones to the least popular ones.
If you still believe that the best hiking vacations are the ones where you can indeed meet nature, without the intrusion of uncontrollable laughter, screaming, and portable music players, head to the bottom of this "best hikes in Norway" list – you might have the rock just for yourself!
You can do some great hikes in Norway at Aurlandsfjord too - check it out!
Best places for a Lysefjord hike
1. Preikestolen hike
Preikestolen, also known as Pulpit Rock, is one of the most famous hikes in Norway. The flat mountain plateau protruding 30 meters from the mountainside, attracts close to 300 thousand visitors every year! This makes it one of the top tourist attractions in Norway.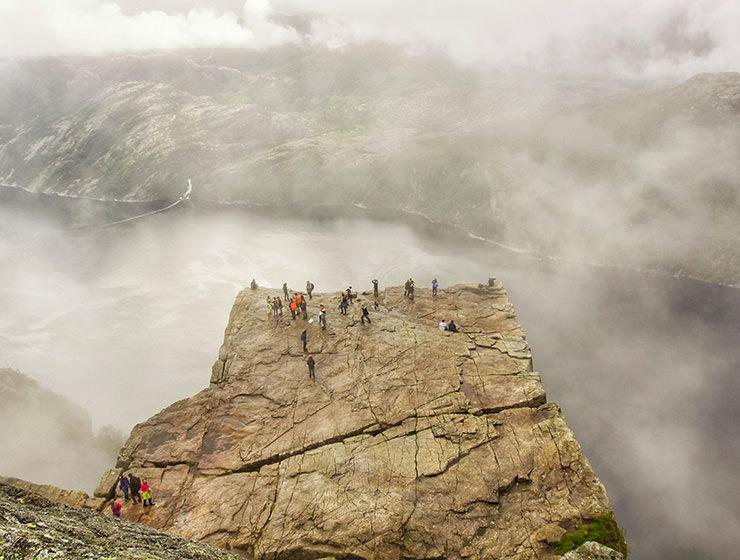 It's a hike of medium difficulty, which makes it suitable for even a family visit.
But this doesn't mean Preikestolen doesn't have any hiking risk. It is the major site of mountain aid interventions as, with such a high number of hikers, someone does need to get injured.
Besides several suicides that happened on this spot, serious accidents or death cases are not registered.
Out of the three hikes in this selection, this one has the trail with the best signposting. If you follow the trek, you can hardly get lost!
But what you will undoubtedly get is some breathtaking scenery to enjoy. Pine forests, waterfalls, and lakes add another dimension to the beauty of the climb. It is hard not to fall in love with Norwegian nature.
As a filming site for "Mission Impossible" and various stunts that raise the daredevil bar, this masterpiece of Mother Nature's work has been doomed to become as popular as it is, one of the best hikes in Norway.
Read the complete guide to Preikestolen if you want to prepare for the hike adequately. This blog post includes suggestions on how to get there, where to stay, and where to eat.
2. Kjerag hike
Hike to Kjeragbolten, or Kjerag boulder, a rock wedged in the mountain crevice, is definitely number two of all possible hikes you can do in the Lysefjord area.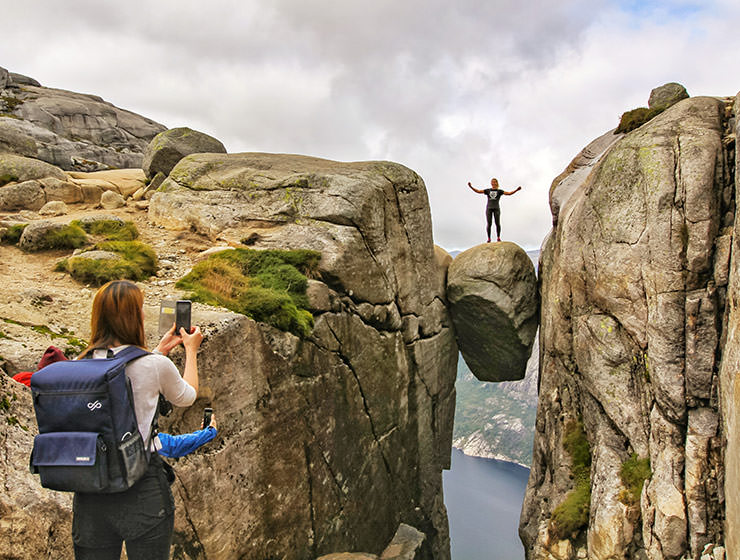 The abyss below is staggering – almost one kilometer to the sea level.
But this is Mount Kjerag's lucky rock – nobody fell yet! And the truth is it looks much more daring from the front side. The access around the small ledge in the back is challenging, but one can assist oneself with a rope.
Some courage is still demanded. It's not rare that hikers chicken out at the last moment.
The hike to the iconic Kjeragbolten demands some 3 hours each way. Steeper sections of the climb require the use of guide chains, but I've seen people of all generations doing the hike. As long as you are reasonably fit, you shouldn't worry much about making it.
This area has no trees, so don't expect any shade from the sun, except if you strategically hide behind some freestanding grand boulder on the way.
However, there are two green valleys on the hiking trail, which provide a great picnic spot. They are also the favorite grazing ground for the sheep, so your Kjerag postcard will have all the essential elements.
With the beauty of the trail and the excitement of the final rock selfie, the Kjerag hike qualifies as one of the best day hikes in Norway. Well, some start climbing it just before twilight, but that is definitely not recommendable.
Read the complete guide to Kjeragbolten if you want to prepare for Kjerag hike adequately. This blog post includes suggestions on how to get there, where to stay, and where to eat.
3. Kalleliklumpen hike
At the moment of writing, hashtag #kalleliklumpen has been used on Instagram precisely 19 times (four of which were mine).
In comparison to #preikestolen (161.000) and #kjerag (36.500), Kalleliklumpen rock is at the start of its instafame. Hidden behind the path covered with spider webs, this is a fantastic secret spot of Lysefjord.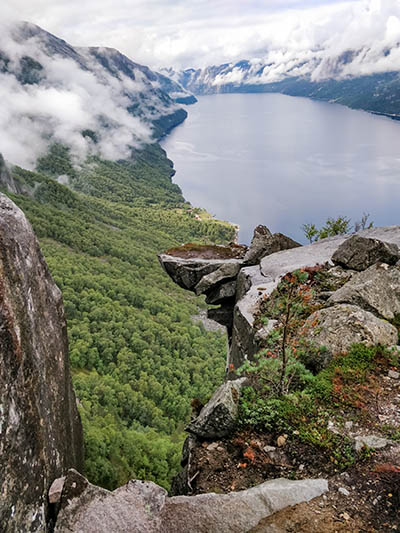 For the benefit of the site, I hope its popularity will not skyrocket soon.
Luckily, the start of the hike is not as easily accessible as the first two – no roads lead to Flørli.
Staying at Flørli 4444 is the prerequisite to hike to Kalleliklumpen, and ferries will take you there between April and September. Now is the perfect time to book your bed in this limited-space facility!
Flørli Cliff Hike leading to Kalleliklumpen is a 2-hour round trek.
Well, unless you divert to additional astonishing rock sites, such as Kalleligjelet and Kallelifjellet. Beware, these paths are not beaten, so they pass some exposed sections and walk you over the cloudlike soft floor sodden with water.
Count on your sense of orientation if you want to return to the village safely! I relaxed too much, so I confess I did have some short periods of panic when trying to identify the right path to go back.
The views are magnificent along the path, but the final stepping on Kalleliklumpen rock is not for the faint of heart. You do it at your own risk, and they suggest that one person at a time stands on this table-sized boulder.
The drop from it is stomach-churning, and scientists do not monitor the rock as in Preikestolen's case. Kalleliklumpen looks like a mini Trolltunga that might fall at any moment. It doesn't mean it will, but it doesn't mean it won't. I certainly nominate it as one of the best hikes in Norway.
Additional hike in the Flørli area: Flørlitrappene is famous for being the world's longest wooden staircase – there are 4444 of them!
Read the complete guide to Flørli, if you want to prepare for the hikes in this area adequately. This blog post includes suggestions on how to get there, where to stay, and where to eat.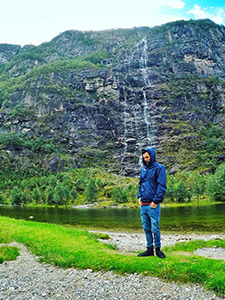 Packing list for hiking in Lysefjord
solid hiking boots (not flip-flops, and I say that because I saw someone wearing them!) – when mountains are wet, parts of the route can get quite slippery
warm clothes in more layers (you might want to take something off, add something on, or even change it entirely on the top when the sudden stop makes your sweat cold) – wool is good for undergarments, and windproof and waterproof materials for the outwear
food and drinks for the day
basic first aid equipment (sticking plaster)
headlamp
sunglasses and sunscreen
fully charged mobile phone, with an extra battery if you take a lot of pictures and check the Internet on the go
bag for collecting your garbage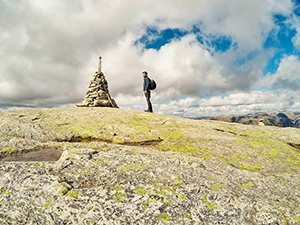 A final word of advice for hiking in Norway
Be in good physical form!
Do not start hiking too late in the day!
Do not rush yourself! Take it slowly, the least you need is to twist an ankle on these somewhat tricky, but doable day hikes.
Respect nature as well as others on the way! Nature is best consumed in silence, and with open eyes, not through the loud exchange of screams.
Do not overestimate yourself! After a long hike, take a breath, eat a snack, drink some water, and only then approach the edge of the rock! The view will not run away, while your sense of balance may get easily challenged if tired.
Did you like this article?
Pin it for later!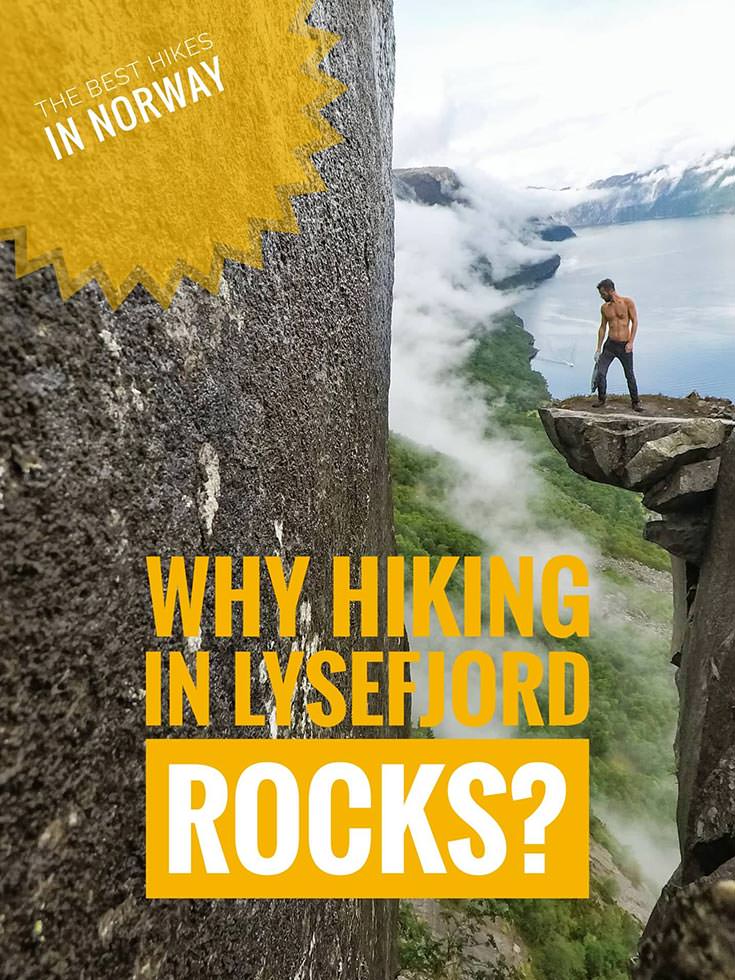 Disclosure: This post contains affiliate links, which means if you click on them and make a purchase, Pipeaway might make a small commission, at no additional cost to you. Thank you for supporting our work!