If someone would propose you to visit Aurland in Norway, would you even know where to go? Have you ever heard of Aurlandsfjord?
There are more than 1000 fjords in Norway, and sometimes their branches become more famous than the main fjords. In Southern Norway, Aurlandsfjord and Naeroyfjord are picturesque side arms of Sognefjord, often called "the king of the fjords".
Deep and narrow, some 200 kilometers away from the open seas, this secretive place started gaining serious international attention two centuries ago. The first "tourists" to visit Aurland were English lords. They discovered the area as a great fishing destination and practically launched tourism in Aurlandsdalen.
The largest Aurland valley abounds with natural and cultural attractions. There is almost no reason to decide not to visit Aurland! The mountains, the valley, and the Aurlandsfjord itself offer so many things to do in Aurland, the activities that will become rewarding and most memorable experiences!
If you are looking for the best hikes in Norway, definitely put Lysefjord in your itinerary!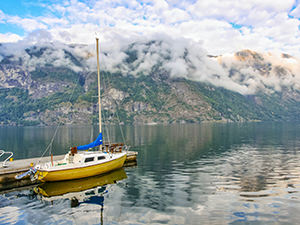 Tourism in Aurlandsfjord
Aurland's population counts 1787 inhabitants. On 1468 square kilometers of the municipality, there are only five villages. Bakka, Flam, Undredal, and Gudvangen are all worth checking out, but if you are looking for the best way to visit Aurland, try to find accommodation in the village of Aurlandsvangen.
Whether you plan to visit Aurland from Oslo through Laerdal Tunnel (with 24,5 km, the longest road tunnel in the world), by Flamsbana or Flam railway (the world's steepest train ride) or by boat from Bergen (cruise trip through Norway's longest fjord), you can be sure the journey itself will be an unforgettable one!
Wealthy English lords sailed Aurlandsfjord in the 19th century, looking for salmon
In the times when the wealthy English gentry started discovering Aurland, nobody even dreamed of engineering masterpieces. Halfway through the 19th century, sailing up the fjord was the main access point to this beautiful part of the world, whose uniqueness was recently approved even by UNESCO.
In their time, English lords were traveling with boatloads of servants and luggage, just to get to the streams and rivers abundant with trout and salmon.
You might not be into fishing like the Salmon Lords, as Norwegians liked to call them, but there is still plenty of amazing things to do when you visit Aurland! Here are my top 9!
9 reasons to visit Aurland, Norway
1. Experience Flam Railway!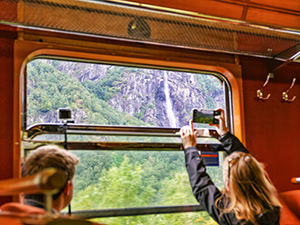 Have you heard of Flamsbana (Norwegians spell it Flåmsbana)? It is often described as one of the most scenic train rides in the world.
Single fare for a one-hour trip between Myrdal and Flam, on the 19-kilometers-long track, costs 390 NOK (about 40 Euros). For that price, one doesn't expect anything but spectacular!
The construction of the Flam Railway began in 1924, but it started to operate in 1940.
Today, it is known as the steepest non-funicular railway in the world. During one ride, the train descends (or ascends) 866 meters. The majority of the historic railway has a maximum gradient of 5,5 %!
The excitement for passengers does not come from the fear that the train might end up in Aurlandsfjord waters. The ride is very safe. What makes it an exceptional experience is the fantastic landscape the train travels through! Slant mountainsides, twenty tunnels, winding roads, lush vegetation, gurgling waterfalls, and foaming streams all add up to the exciting travel experience.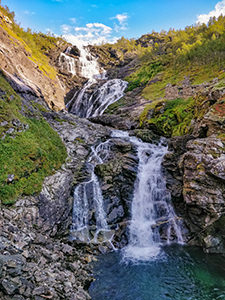 Opera at the waterfall?
Nature is the responsible one for the very ride. Barely 1,5 kilometers from the high plateau of Myrdal, Kjosfossen is a waterfall that powers the Flam Line.
Its total fall of around 225 meters is not only an excellent location for Aurland's hydroelectric power station but also a beautiful spot to take a short break from the train ride.
After exiting the train at this station, passengers can observe the waterfall from the platform.
In the summer season, an opera-dance performance takes place here. An actress in a red dress and perched blonde wig appears and disappears on different spots around the waterfall. She represents Huldra, the forest version of a mermaid in Scandinavian mythology. Her seductive dance and song should amuse the tourists, but to be honest, nature overshadows this poorly directed ballet performance.
If you've decided to travel Flamsbana uphill (from Flam to Myrdal), as I did, you could shorten Flam waiting time for your train by visiting the free Flam Railway Museum, enjoying some beer at Aegir microbrewery, or just observing the gigantic cruise ships anchored in front of this small village.
For more exciting activities to do in this beautiful Scandinavian country, check other Pipeaway articles in the Norway category.
2. Have breakfast at Vangsgaarden Gjestgiveri!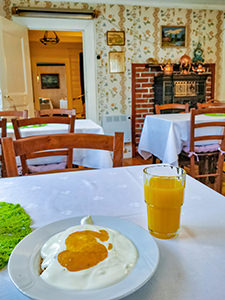 While planning to visit Aurland, you might ask yourself whether you should stay in Flam or Aurlandsvangen. While Flam has a logical position at the end of the Flam Railway, it is a village mostly overshadowed by regularly anchored cruise ships. I prefer visiting it to actually staying in it.
My choice was Vangsgaarden Gjestgiveri in Aurlandsvangen. This lovely guesthouse is situated at the very center of Aurland, a one-minute walk away from the bus station. It is also located just by the fjord, which offers fantastic views from most of its rooms.
This is where the Salmon Lords came to enjoy the fishing sport in the famous Aurland River. Only the best hospitality was reserved for the British guests. Ohnstad-Stigen family, the current owners of the hotel, certainly kept that tradition alive.
Swinging chair in front of the reception, antique furniture and old photographs throughout the guest house, a piano in the lounge room where one can drink a free cup of tea or coffee… It all evokes nostalgic emotions towards the past times of the oldest hotel in Aurland.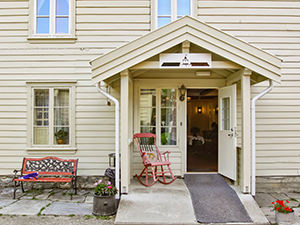 Hotel with a museum value
Vangsgaarden grounds resemble a small museum, set in the surrounding of a beautiful garden. It is a collection of some of the longest-standing buildings in the area.
Aabelheim is the oldest house in the whole village! Colonel Meidell built it in the mid-eighteenth century, and in 1830 sold it to the priest Ole Aabel.
Today, the house is preserved as a Norwegian cultural heritage. The good news is that this historic venue is where you can eat your breakfast while staying in Vangsgaarden. While it is a very basic and simple local-style buffet, the whole setting upgrades it to an extraordinary experience.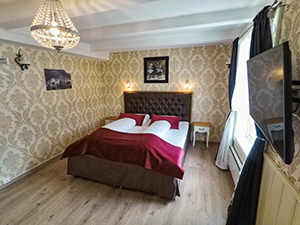 All rooms at Vangsgaarden guest house are different but relate to this old-school charm.
Mine was facing west, so I could enjoy the views of the calm fjord all day long, from the comfort of my room AND en-suite bathroom. With such a slow-motion reality in front of the window, turning on the room TV was not tempting at all!
For an even closer experience of Aurlandsfjord, one can stay just at its banks! A row of fishermen's cabins have balconies over the fjord where one can completely immerse in the meditative panoramic views.
Stepping into the shoes of the Salmon Lords feels literal! You could practically pull out your fishing gear and secure your lunch while lying down in your bed!
For the latest prices at Vangsgaarden Gjestgiveri, click here!
3. Visit Aurland lookout!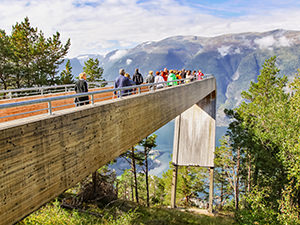 Stegastein viewpoint is a daring construction just above Aurlandsvangen.
The world-renowned architects Todd Saunders and Tommie Wilhelmsen imagined the Aurland lookout bridge as a steel structure dressed in pine.
The idea was that Aurland viewpoint would jut out 30 meters from the mountainside, ending with an angled thin pane of glass that would keep visitors safe from slipping off the edge.
After Aurland's viewing platform with a daring drop was opened to the public in 2006, it quickly became a social-media-favorite! The ski jump, as it was nicknamed soon, was offering unparalleled panoramic views of Aurlandsfjord and surrounding mountains.
Stegastein lookout turned to be one of the most photographed viewpoints in the region! Everyone wanted to take an Instagram selfie while suspended over the amazing fjord landscape, 650 meters above sea level!
Hike to Stegastein
If I were you, I wouldn't take an organized sightseeing bus tour to Stegastein viewpoint. Those Flam and Aurland tourists all arrive at this futuristic skywalk at the same time. All of them squeezing on the platform that is 3,3 meters wide and 31 meters long, does not provide the best moment to enjoy the views. There is always someone who will obstruct it!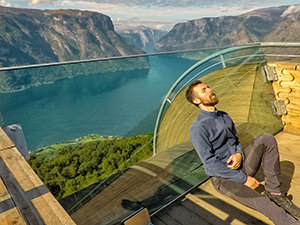 Instead, you can hike to Aurland lookout point from Aurlandsvangen! There is a hiking trail through the woods which, however, might get slippery in certain parts of the year.
When I visited in September, I went back down via the so-called Snow Road, occasionally stopping to talk to local sheep. I handled these winding 8 kilometers in about two hours. That was about the same amount of time I needed to climb through the shorter, but visually more pleasing forest route.
When visiting Stegastein, the marvel of modern engineering, make sure to stop at the toilet that is also perched out over the mountainside. Due to the stunning Aurlandsfjord views from where you are responding to nature's calls, DesignCurial Magazine named this facility at Aurland lookout – the most beautiful toilet in 2015.
If you like hiking in Norway, you might love conquering these longest stairs in the world!
4. Explore the Otternes Farm!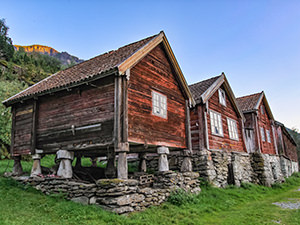 Situated on the mountainside between Aurland and Flam, Otternes is a farm that has been abandoned since 1996. It seems as if this cluster of cottages froze in the 18th century when they started building these houses.
Squeaking doors lead into dark interiors full of old carriages and farming tools. The sun rays seep in through the gaps in the wooden walls, creating an unusual, if not somewhat spooky atmosphere.
The whole abandoned village is a scenic spot for your Instagram! It already played as a set for different movies, so make use of those time-worn backgrounds!
Step into this rural museum of Aurlandsfjord, open doors, and explore!
5. Discover Aurland shoes, the original penny loafers!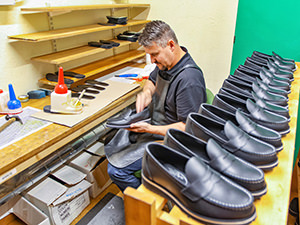 The world-famous Aurland shoes are again something we should thank Salmon Lords for! In those times, when they were exploring the great Norwegian outdoors while looking for fish, their boots were quickly wearing off. The shoe repair was in demand, and locals responded!
Aurland became the shoemaker village! In the industry's heyday, after the 1930s, 19 independent makers were employing nearly a hundred families. They were producing 100 thousand pairs of Aurland shoes a year! Most of them closed down at the end of the 1960s when shoemakers retrained to work in the hydropower plant.
Andreas and Inga Wangen established Aurland Shoe Factory in 1939. Today, with its five shoemakers, it is the only surviving factory in the area still making the Aurland shoe by hand. They have had no competition since 1986.
"We produce 6000 pairs a year. Well, less, if the weather is nice. Because then we have a lunch break outside", says Wanarat Mjoes with a smile.
She is originally from Thailand. The rest of the workforce is half Romanian, half Norwegian.
This multiethnic work environment produces shoes with a lifetime guarantee, as they use only the best materials. Besides the cow leather, the shoes can be made of seal or fish skin. Some extravagant versions include even the horsetail!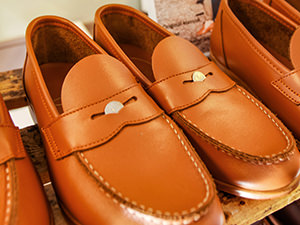 The history of Aurland Shoes
Aurland shoe shop in Aurlandsvangen is actually an entrance to the museum and factory workshop. Here, one can witness the whole shoemaking process and learn about the history of the iconic shoes.
They were based on Teseskoen (Tese shoes), the simple footwear made in Aurland in the 19th century. The producers Andreas and Vebjorn Vangen attracted quite some interest with them at Chicago World Fair in 1893.
However, it was Nils Tveranger who made the first Aurland shoe in 1908. Probably inspired by Iroquois shoes, at the beginning they called the product – Aurland Moccasin.
Aurland shoes definitely inspired America's Weejun shoes (Norwegian shoes?). The influences between Scandinavia and the States were constantly traveling over the Atlantic.
During the Second World War, Aurlandskoen (Aurland shoes) became known under the new nickname. You probably ask yourself why are penny loafers called penny loafers? Coins became the jewelry on Aurland shoes! Owners would slip in 10 or 25 ore in the strap across the front of the shoe.
It was a practical mini wallet for just-in-case scenarios, enough to make a phone call or pay for the bus fare. However, coins in penny loafers also became a symbol of the union against the occupiers, the same as paper clips on jackets or red top hats. Turning the pennies on the crown side represented a silent resistance when the royal family had to flee to England during the Second World War.
Norway stopped using 10-ore coins in 2003, but Wanarat happily shows that they have buckets of these for decades to come. They don't expect the crisis any time soon! The only carrier of Aurland shoemaking tradition has no intention of stopping it.
6. Eat salmon at Duehuset pub!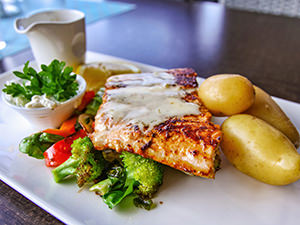 Aurlandsvangen is a small village, so don't expect many restaurants or places to eat! Besides the central Aurland supermarket, two main spots to grab a bite do not even compete with each other's working hours! So, where to eat in Aurland?
Aurlandskafeen is an eco-bakery and a café offering homemade pastries, cakes, and sandwiches, from 10 am till 4 pm. You can enjoy your coffee and organic food while sitting on the terrace overlooking the river feeding the Aurlandsfjord.
Duehuset is a pub and a restaurant open only in the evening hours. It is locals' favorite place to grab a beer, but also the traditional Aurland food made of local products.
To stay on with the topic, I wanted to try the wild salmon from the Barents Sea, and it didn't disappoint! Accompanied by amandine potatoes and vegetables, it was presented in a very straightforward, pub-style way. And I could imagine why those English lords wanted to come to measure their hunting skills in precisely this area.
Lamb fillet from Haugen farm was delicious as well, especially as I wanted to check why Aurland's coat-of-arms includes the image of a silver goat. Sadly, there was no goat on the menu, unless its famous cheese went into Laila's baked cheesecake, which was refreshing indeed!
7. Witness some mind-blowing glass blowing!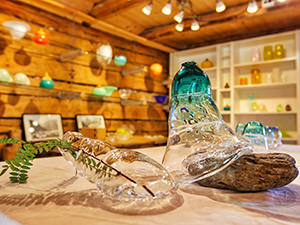 Just when you get to think there is nothing exciting to see in Aurlandsvangen beyond a once-a-week working cinema, the whole fantasy unravels in front of you.
Merete Rein left her farming duties, determined to become a – glassblower!
After learning the craft in Denmark, Sweden, and Italy, in 2012 she opened a glassblowing studio on the banks of the Aurlandsfjord.
You can watch her work through the glass window, but I was lucky enough to be able to witness this hard and VERY hot job from the closest proximity.
The results of Merete's endeavors are displayed in the little shop, open for customers every day from 10 am till 5 pm. You can find decorative, but also functional products made of glass, inspired by the nature of the Sognefjord. It is a great place to make your non-commercial Aurland shopping!
8. Visit Aurland churches!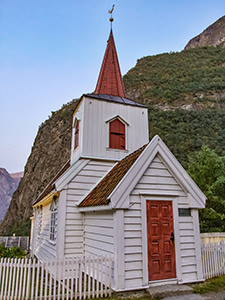 Aurland is home to some nice church architecture worth exploring.
Closest to your hotel, Vangen Church was built in 1202. Even if it is an early Gothic building, the influences of English architecture are apparent. English merchants were visiting Aurland even centuries before the Salmon Lords fell in love with its fish.
Flam Church is a smaller brown wooden church from 1670. Located some 3 kilometers up the Flam valley, this nicely decorated church has some unique art depicting deciduous trees and animals such as a lion!
Undredal Stave Church is the smallest working church in the whole of Scandinavia! Erected in 1147, this white wooden building measures 12 by 4 meters, and can barely seat 40 people.
9. Fjord, lake, waterfall, enjoy till the last drop!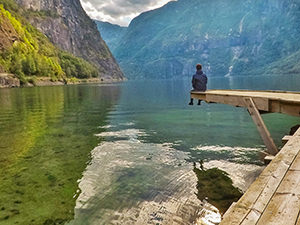 Bergen, the rainiest city in Europe, might be just three hours train ride away, but Aurland is one of the driest areas in Norway! One can enjoy the beautiful Sognefjord nature even during the mild winters.
When the weather is not right for swimming (for Aurland weather forecast, check yr.no, the highly reliable Norwegian weather forecasting site), one can rent a kayak or a canoe.
If you don't want to explore the fjord waters, you can at least enjoy the gorgeous sunsets while sitting on the bench next to the fjord. For some different views, you could visit the piers of Vassbygdevatnet Lake.
If you are a waterfall fan, one is just a short hike away from the center of Aurlandsvangen. It will take you half an hour easy walk to get to Turlifossen, next to road 50. Its total height is 245 meters, and while the woods partially obstruct the views, seeing the product of glacier melting is still a nice little detour.
The whole valley of Aurlandsdalen is a fantastic hiking destination! Every year 30.000 hikers enjoy the natural beauty provided by these mountains!
If you want to learn more about the Aurlandsfjord area, consider purchasing this guidebook written by a local!
Aurlandsfjord attractions – conclusion
Visitors to Norway should not miss its fjords. Aurlandsfjord is the place where history, nature, culture, art, fashion, and gastronomy meet in an authentic experience.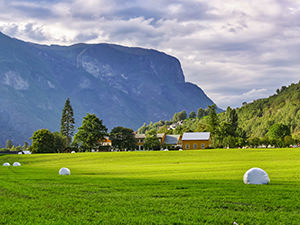 Whether you prefer to hike, rent a bike, jump in a kayak, or explore Aurland while paragliding, natural rewards will bomb you from frog's to bird's eye perspective.
Aurland is made for photography, but more than just a beautiful picture, it is capable of pulling you into experiences that will last. Salmon lords couldn't resist it, many after them either.
Old churches, historic houses and even building the most improbable transport options to this oasis, prove that people have been seeing its worth for centuries. And they don't plan to leave any time soon!
Today, even the locals have trouble finding the housing that would be available for buying or renting. When one grabs a piece of paradise, one hardly lets it go.
Visit Aurland and Aurlandsfjord, Norway's best-kept secrets!
Did you like this article about Aurlandsfjord?
Pin it for later!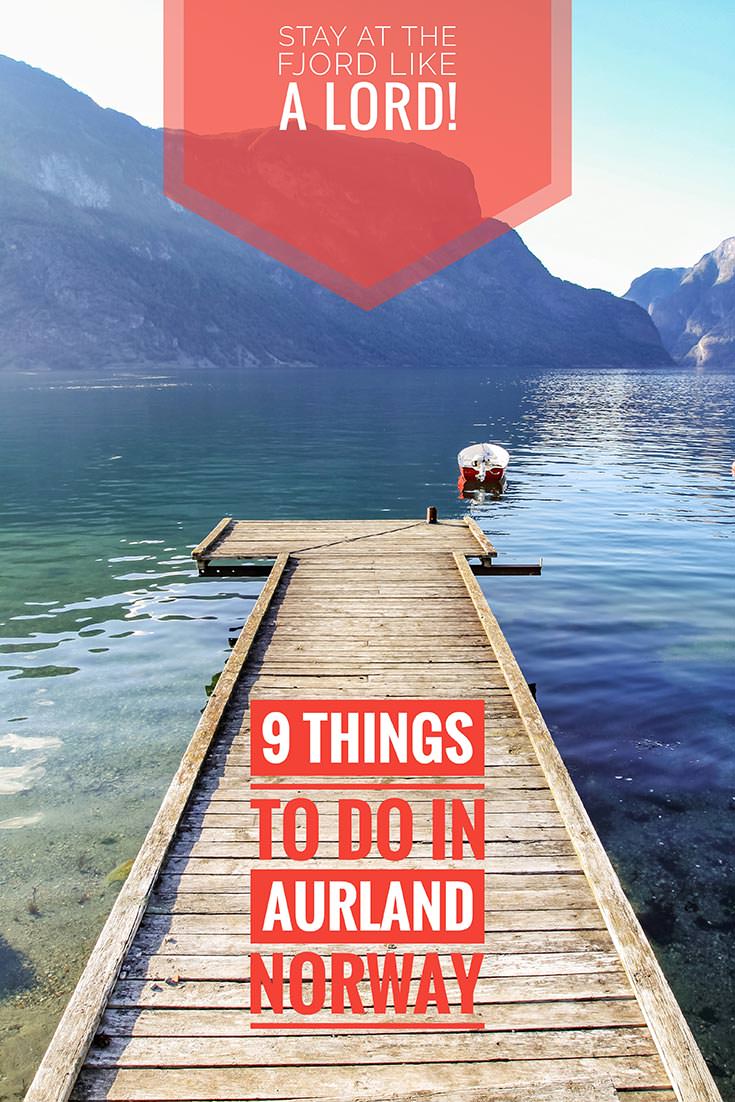 Disclosure: My stay at Vangsgaarden Gjestgiveri and my meal at Duehuset were complimentary, but all opinions are my own.

Also, this post contains affiliate links, which means if you click on them and make a purchase, Pipeaway might make a small commission, at no additional cost to you. Thank you for supporting our work!