For someone who never heard of Folsom Europe in Berlin, it would have looked liked like a bizarre sight to witness on a typical late summer afternoon.
In the Schöneberg neighborhood, it started to drizzle, but this gentleman's joy would not be disturbed. With a police-style cap, spitfire jacket, and horseshoe mustache, he was sitting on a bench, enjoying his beer.
The two quite obedient puppies were licking his leather boots. Puppies were human size, as they were – well, humans. Dressed in latex bodysuits, on their knees, one wailing his tail happily, and the other exposing the buttplug poking through the crack of his tight pants, they approached the task with their tongues out, ready to serve, one boot each.
Folsom Europe leans on Berlin's chilled attitude towards sex and sexual orientation, yet generally doesn't cross the line. Well, not in the street at least!
In broad daylight, nobody seemed to bother about what was going on. Sure, one reason could be that we were in Berlin, after all, a German metropolis where city parks visitors on Sunday afternoon could come across nudists having a picnic just next to traditional families. However, what made this bootlicking scene a not-so-unusual sight was also its particular context.
At Folsom Europe Street Fair all fetishes are welcome! The main happening at the crossroad of Fuggerstrasse and Welserstrasse, together with many different-scale parties in Berlin clubs, boat cruises, and even classical concerts in the church (!), make it one of the largest gay fetish events on the old continent.
Every September, twenty thousand fetish fans gather at Folsom Berlin, the festival of kink and human freedoms!
If you want to explore Berlin's gay, lesbian, and queer scene beyond Folsom Europe, consider joining the small-group walking tour through the town's history and present! If you are more of an active type, you can discover how gay culture shaped Berlin on this excellent bike tour!
BDSM in your neighborhood
Conceived in 2004, on the model of its older brother, San Francisco's infamous Folsom Street Fair (established in 1984), Folsom Europe might be a slightly more conservative sibling.
Both are large gatherings of BDSM and gay leather subculture communities, but Folsom Europe Street Fair is placed in the middle of the neighborhood where traditional families still reside. So famous Berlin tolerance goes both ways, with public exposure of the free Folsom spirit being intuitively moderate!
While San Francisco's Folsom Street might be a celebration of lewdness dressed in a noble cause, sometimes becoming the human zoo where voyeurs sharp elbow through the crowd in order to photograph the viceful behavior, Folsom Europe does lean on Berlin's chilled attitude towards sex and sexual orientation, yet generally doesn't cross the line.
Well, not in the street at least. Berlin's unbeatable nightlife gets its decent share of indecency in the Folsom Europe week!
Want to know how Folsom Street Fair grew into the largest outdoor kink and fetish event in the world? Watch the "Folsom Forever" movie directed by Mike Skiff!
Long live the kink!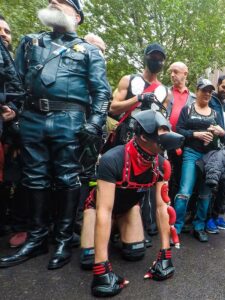 Let us knock on the doors of KitKatClub first! This world-renown nightclub is famous for its sexually uninhibited parties attracting people of various sexual orientations.
It is the home address of Folsom's official opening party – the Revolver. With four dance floors served by local and international DJs, kinky balconies, and an even kinkier cellar area, it quickly raises the meter of sleaziness into the red.
Even if the party was officially a "no dress code" party, only a few straight-looking females understood it like that and shamelessly walked around observing the next-to-naked majority.
The cloakroom was in full swing by 11:30 p.m. when I arrived. The hangers needed to withstand the heavy load while guys undressed from their streetwear and jumped into leather gear, harnesses, jockstraps, and similar minimal accessories.
The cloakroom girls were friendly and accommodating. Smiling, I guess. Some of them were stark naked. That's why I – guess.
Decided to plan your trip to Berlin? Find the cheapest flights here, and the most affordable accommodation here!
Hardcore dance of boners and butts at Folsom Berlin
Being served by naked waitresses at the bar and passing by the butt-naked crowds on the dance floor quickly makes you lose inhibitions if you had any.
A twink was tied to the chair, a funnel was inserted in his mouth, and two men started urinating in it
At 1 a.m., Berlin-based collective Veruecktlichkeit performed their kinky neon porn art. The twink-looking performer was tied to the chair, got a funnel inserted in his mouth, and the two others urinated simultaneously in it.
The boy's hair then got shaven, followed by scourging him with a whip dipped in neon colors, radiating under the UV lights. The fluorescent liquid was then infused into his rectum.
The stage performance almost seemed polite in the context of the KitKatClub environment; the erected penises will exit the constraining jockstraps of many visitors, at the balconies and in the catacombs filled with horniness.
Supported by techno, tech-house, and progressive sounds shaking the building in Bruckenstrasse, many mouths, penises and butts will engage in their own rhythm, the hardcore dance of sexual freedom, with no restraints.
Couples, threesomes, foursomes, groups… There is almost no room for mathematics among these clusters of sweaty bodies indulging in sexual pleasure.
Folsom Europe Street Fair – fundraising against stereotypes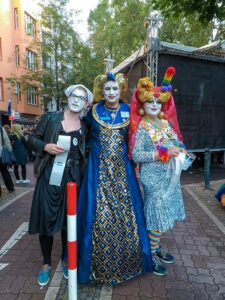 Remarkably enough, with so many physically exhausting parties offered in this capital of tolerance during five official days of Folsom Europe, a significant number of partygoers showed up at Folsom Europe Street Fair on Saturday noon.
Many in their full fetish attire, the visitors' profiles ranged from puppies to ponies, from police officers to prisoners, from bikers to garbage men. Whatever floats your kinky boat, Street Fair is a welcoming place.
At the gates to the fair area, the colorful nuns from the Order of Perpetual Indulgence collected donations for charity.
The context might be less religious than at Kanamara Matsuri in Japan, but there is no less devotion!
This sisterhood started in San Francisco in 1979 as a high-camp protest group against gender stereotypes, and nowadays it raises money for mainly LGBT-related causes. Folsom Europe is their only European fundraising outpost.
Once behind the gates, various open-air shops, bars, and food stalls aligned. The main stage attracted visitors with the program of talks, music, circus, comedy, and even Bavarian folk dance in shiny lederhosen. Smaller stages displayed whipping, shibari, and similar BDSM techniques of control.
Expressing one's sexual identity freely in some parts of the world is not as easy as in Berlin. These gay Khmer and Chiang Mai ladyboy culture examples show that our societies still need to evolve to accept the different ones.
After dark, Folsom Berlin puppies become pigs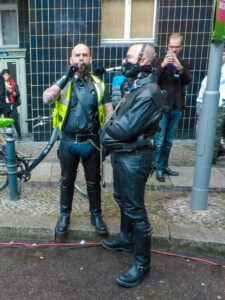 Some visitors walked their slaves on a leash. A skinhead was using his partner as a stool to sit on. One biker stood on the chest of his partner laying on the floor.
Puppies were being trained. Some fetched flying dildos, and some tried to hold the balls on their snouts.
A beefy, heavily tattooed bearded dom in leather chaps, with an enormously bulged crotch area, held his slave attached by the chain. The slave was wearing a leather strait jacket. An ashtray was attached to his mouth, and this was where his master would be shaking his cigar off. A very memorable gay cigar fetish scene!
In the evening, the fetish circus moved again under the roof, to unleash the built-up energy.
The central Saturday party is PiG; it is men-only, and usually attracts up to 2.500 partygoers with its recipe of dancing, cruising, and, well, copulating.
Placed in Alte Münze, a former state coin factory, PiG was offering international house/electro and Berlin-style electro on its two floors which provided just enough space to show off one's dance skills.
When in Berlin, you have to visit Berghain, the institution of Berlin techno and gay clubbing! Here's a detailed report from the temple of debauchery, and instructions on how to get in!
The basement of penetration
The place got truly crowded mainly in the dungeon labyrinth, which was, as the night advanced, quickly becoming the sleaziest address in town. Condom packages were long gone when the wilderness overtook the basement. Dark chambers with dozens of shiny naked bodies, groaning sounds, perky bottoms arching for their penetrators, Schwanz line-ups longer than the DJ list waiting to be served…
After he couldn't handle his deepthroat punishment anymore, the slave was pressed against the wall and his horny master took him from behind
A dominant guy with huge devil's horns attached to his head was raging in anger when he lost sight of his slave boy on the dance floor. He found him one meter too far and decided to punish him on the spot.
The slave dropped to his knees, the dom unzipped his pants, and facefucked him right there, no excuses allowed.
Nobody minded this delicate pas de deux, this passionate tango between one man's boner and another man's tonsils.
After he couldn't handle his deepthroat punishment anymore, the slave was pressed against the wall and his horny/horned master took him from behind. No lube, no spit, just punishment.
Sexual freedom at Folsom Berlin strengthens the society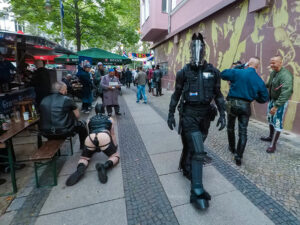 Folsom Europe started in Berlin while the mayor was an openly gay politician – Klaus Wowereit.
The Freikörperkultur spirit that was preserved from the times before the fall of the Wall (surprisingly nudism culture sneaking in from the East), always laid the fertile grounds for tolerance in the German capital.
As long as nobody is violated, one should keep one's nose behind the four walls, and not poke it into what neighbors are doing.
This beneficial exercise on democratic values and human freedom might look like Sodom and Gomorrah construction sites to shallow observers. But it is actually a political statement worth fighting for.
Latex puppies walking down the streets, a classical concert performed by musicians in fetish outfits at Zwölf-Apostel-Kirche, or gays having consensual group sex experience in the former state mint that hosts fashion shows and bank conferences in other days, all of this does NOT endanger the society or its values.
On the contrary, it strengthens the community, rebuilds tolerance, and stabilizes everyone's freedoms as long as they don't limit the freedom of another individual.
Did you like this article on Folsom Berlin?
Pin it for later!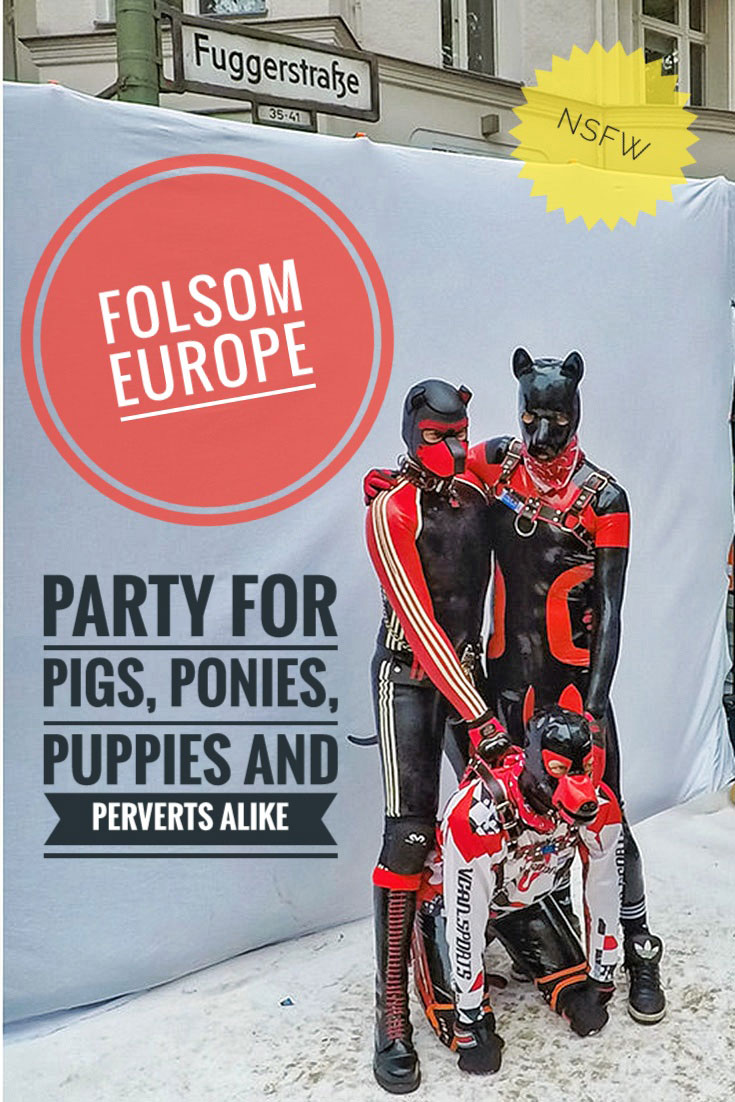 Disclosure: This post contains affiliate links, which means if you click on them and make a purchase, Pipeaway might make a small commission, with no additional cost to you. Thank you for supporting our work!