Indonesia is a vast country made of thousands of volcanic islands worth exploring. Backpacking Indonesia is, therefore, an exciting idea; one could spend months discovering its beaches, jungles, wildlife, and culture. But where to start?
The island of Java, the country's business and cultural hub, is the home of the capital city of Jakarta, often portrayed in gray tones, and the cultural city of Yogyakarta, seen as a much more colorful counterpart.
They should definitely find their way to your travel list, and we have picked up some accommodation recommendations for both of them, so you can get rid of your backpack and start exploring the world's most populous island with an incredible number of citizens – 145 million! Here are the best hostels of Java!
Looking for more great hostels in Southeast Asia? Check out our selection of chill & cheap getaways - everyone can afford some relaxing holidays in this part of the world on a shoestring budget!
Top 3 Hostels of Java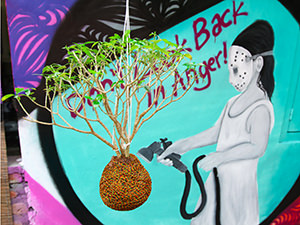 1. Abrakadabra! Artbnb, Yogyakarta
Price per night: 4 Euros
It would be a bit cheesy to describe the place named "Abrakadabra!" as magical, but this hostel literally follows one of the main principles of magic: turning things into other things! Sure, the rest of the world would call that recycling, but in Abrakadabra the goods receive new function, new meaning, and new quality. The whole place transforms into an art gallery with exhibits that are touchable and usable! Nigerian poet Ben Okri said: "Magic becomes art when it has nothing to hide." And exactly this quote decorates the walls of this open guesthouse, welcoming you warmly upon arrival. There is also a board with your name on it, saying "Welcome, Ivan!", just in case friendly hosts are not there immediately to say hello or share a can of beer with you.
The whole property is centered around the small, cute swimming pool. It is a social nucleus of Abrakadabra, the place to share thoughts and stories, itineraries and challenges, meals, and drinks. It is a highly pleasant place to socialize, with a positive vibe you have a hard time leaving! Bonsai and kokedama plants carefully grown by Jali, one of the dedicated owners of the hostel, infuse the yard with greenery, in this shared oasis of art and nature. Two adopted cats, Bonnie and Clyde, love to stretch there as well.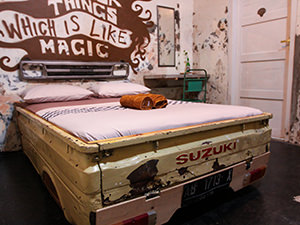 There are four double rooms and two dormitories in Abrakadabra. Each of the rooms comes in a thematic universe of its own. The decor invokes the beach, the jungle, or even the junkyard! You can sleep in a car wreck or under the surfboard! The bathrooms come with makeshift tropical showers – the water pouring through the holes in tin buckets! The water is not hot, as it fits the energy-saving principles Abrakadabra intends to promote. The rooms are therefore not air-conditioned either; they come with small fans, which are so loud you will not want to use them – your little concession to silence and tropical temperatures.
Lovely imperfections
With attention to detail, Abrakadabra is a nice place to explore, but it is never over-designed, so to say. Intentional in roughness, lovely in imperfection, always unfinished. Everyone's artsy spirit gets the chance to flourish in this hostel (technically a homestay, because the owners also live in it). If you are an artist, this is a perfect destination for you, as the hostel will be happy to provide their space like an open canvas for your transformation ideas, or magical tricks, as we could call them.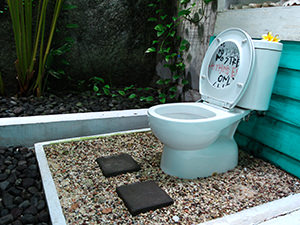 The price of the stay is extremely affordable, and it even includes a homemade breakfast, different every day. We are talking about local recipes that you will want to know to imitate when you come home! When I woke up at 5 am to catch my train to Ijen Volcano, my breakfast was already waiting for me – a warm soup made of pumpkin, banana, and coconut milk! During my stay, I would suddenly be surprised by fried bananas and tofu, or a glass of wine. It was all offered as if the guests are old friends and not just customers. The accommodating staff can inform you about everything Yogyakarta offers, possible excursions, or local restaurants. They might even accompany you to one! One of the owners escorted me to the shop to help me buy my train ticket – that kind of dedicated service one can usually expect from friends. That is why, in Abrakadara, one of the best hostels of Java, it is really not hard to feel at home.
TIP: Abrakadabra might be a graffiti loving place you can sleep in. But explore the neighborhood, and you will find many more street art interventions! They don't call Yogyakarta the cultural center of Java for no reason!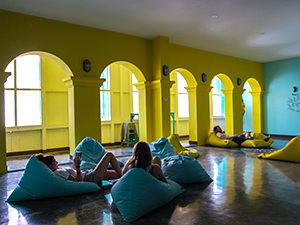 2. Wonderloft Hostel, Jakarta
Price per night: 8 Euros
Wonderloft Hostel is situated in Kota Tua, the colonial heart of the hectic Jakarta. Polluted with traffic noises and smog, with gray skies being the artificial protection from the sun, Java's capital is a hard environment for backpackers' navigation – just try to cross the road in front of the hostel, and you will know what I mean. If you have ordered your Uber, Grab, or Go-Jek moto-taxi, be careful to call it on the right side of the street, as otherwise, you might have a hard time reaching each other, due to the bustling streets of Indonesia's capital.
When you close Wonderloft's main doors, you leave all the chaos of the metropolis outside, however. Clean to a high level (like all hostels in this list, Wonderloft also demands you take off your shoes upon entering), with unpretentious details and bright colors of yellow and turquoise, this old building has been converted into a pleasant hostel space.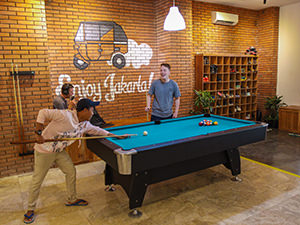 A huge lobby space fits the shared kitchen, TV and computer corner, and area for playing games, from pool table to darts, from twister to monopoly. One can even play the guitar, and friendly receptionists might even join for a song or two. On the first floor, there is another common area, a lounge with bean bags, and it is a beautiful and cozy place to enjoy a book, if not in the mood for socializing.
The best hostels of Java are incubators of friendships
Rooms in Wonderloft come as an 8-bed dormitory or as a twin. Dorms are capsule-style, and even if beds are comfortable, they might be a bit too narrow, slightly exceeding the width of the pillow. The lockers are spacious, yet placed on the back wall, which makes it impractical for storing bags, so most of the guests don't bother and leave them in the corridor, probably using those big lockers for valuables only. On the other hand, a twin room provides much more space for both you and your backpack. Also, twin comes with windows, even if the lack of windows in dorms doesn't seem to affect them negatively; all rooms are air-conditioned. My only suggestion would be to transform 8-bed dorms into 6-bed dorms, which would significantly improve the quality of staying in them.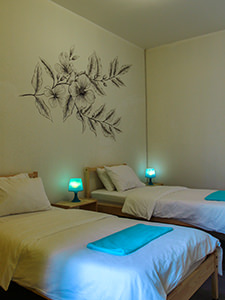 However, Wonderloft still deserves its place on this list. Its hospitable and friendly staff easily blends in with different types of guests, engaging in conversations and delivering all the help one could hope for. One can buy an Indonesian SIM card at the reception, which is ideal for backpackers planning to explore Indonesia for a month or more. If you are coming with a toddler, there is a crib (with a mosquito net!) to help your little family. From the hostel, you can join free walking tours of Jakarta or even pub crawls. A simple breakfast with toast, spreads and cornflakes is included in the price of the stay. However, there is also a mini market, practically on the doorstep. For a rather new establishment that opened just this year, it is a fantastic start! With the ambition to become THE place to stay in Jakarta, the owners are continuously developing and improving their project of one of the best hostels in Java.
TIP: Even if you can explore the nearest vicinity of Wonderloft Hostel on foot, at some point you will need to use motorbike taxis to get around! Use my codes to register for Grab (https://invite.grab.co/ivan91589) or Uber (https://www.uber.com/invite/ivank2765ue), and get discounted rides!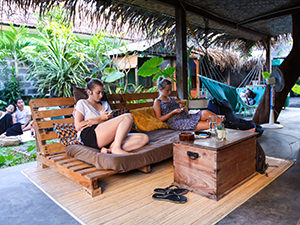 3. Sae Sae Hostel, Yogyakarta
Price per night: 5 Euros
When visiting Jogja, Sae Sae Hostel is another centrally located hostel worth checking in. What starts as a Southeast Asian traditional guesthouse entrance with koi fish in the small piscine, ends up as a rather trendy environment with many retro chic and urban art details hipsters would love. Doors become tables, surfboards become ad boards, motorbike seats become chairs.
With collecting stuff some people might see as garbage, there is always a danger of over-cluttering. Revamped trash in Sae Sae is never in one's way, however. All the artsy details just improve guests' stay in this hostel, which actually provides significantly more space than its competitors. From rooms to shared bathrooms and kitchen, one can spread out as much as one wants. This applies especially to the chill area on the terrace and in the garden. Decent size yard, with hammocks, daybeds, and games such as table tennis, is meant for socializing, and maybe Sae Sae's prime advantage on the list of the best hostels of Java.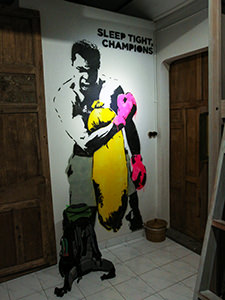 Taste, humor, and social vibe
The price of the night in this hostel does not include breakfast. However, there is a well-supplied kitchen one can use to prepare any dish! Drinking water, tea and coffee are free, and everyone talks about smoothie bowls one can buy for breakfast. The hostel might be clearer with advertising its food options, as this missed me completely. And I am smoothie-addicted, by the way!
Besides friendly staff, funny messages on the walls might brighten your day as well, and bring back the smile on your face. Toilets: "If the towel dispenser is empty, please use your clothes." Bathroom: "Save water, shower together." Kitchen: "Please bring your Mom/Dad, or do your dishes." Taking the hospitality business less seriously does wonders for relaxing the atmosphere, so this should be an easy place to find new travel friends!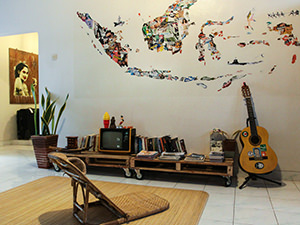 Facilities are clean and comfortable. The level of comfort could be raised in the dorms though – curtains for privacy would be an excellent addition hostel management could think about. If you choose a double room for privacy reasons, beware that they do not come with A/C unlike the dorms, so weigh what is more important for you. In any case, Sae Sae Hostel will definitely deliver in its social aspect, and, especially if you are a solo traveler, that can be a truly valuable plus for making your further exploration plans of Java!
TIP: Elevate the smoothie bowl experience to the new level; just 13 minutes walk from Sae Sae Hostel, you can find Kedai Tombo Ngelak, Yogyakarta's freakshake central! Combine ice-cream, cookies, pastries, cream and shake into a colorful extravaganza you will not know how to eat or drink. Instagram-worthy!
Still didn't find what you are looking for?
Check these hot deals on Java island! Various dates available!
Disclosure: My stay at the establishments mentioned in this text was complimentary, but all opinions are my own.

Also, this post contains affiliate links, which means if you click on them and make a purchase, Pipeaway might make a small commission, at no additional cost to you. Thank you for supporting our work!