In the past decade, Bali has become the synonym for travel that necessarily includes yoga, meditation, detox, wellness, and a similar vocabulary of miraculous solutions for stressed-out Westerners. It is regarded as an island one visits in a search for balance, and globally popular Elizabeth Gilbert's "Eat, Pray, Love" has certainly supported that line of thought. With so many resorts sprouting all over this Indonesian paradise, the traveler's question "Where to stay in Bali?" becomes harder and harder to answer. If you intend to get rest while staying healthy and maybe even rejuvenating yourself, look no further! We present you the selection of high-class Bali resorts that will take care of your body and soul, and leave you asking for more. Here are our three favorite answers to the question – where to stay in Bali? And the best thing about it? You can do them all! On your trip from the North to the South of the island, these extraordinary resorts are the stops worth checking out!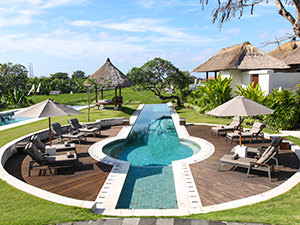 1. The Samata, Sanur
Price per night: 128-597 Euros
Nestled in Sanur, the seaside town in southeastern Bali and the oldest upscale resort area of the island, The Samata is an exquisite destination for those searching for revitalization! Just 20 kilometers away from Ngurah Rai International Airport, this resort caters for 10 Suites and Pool Villas only, which guarantees personalized and dedicated service for every guest. If we add the holistic approach to health and the life balance concepts rooted in this resort's idea, it is possible to leave Samata only with an upgrade in personal strength, physical and spiritual health, and peace of mind.
The swimming pools are bountifully scattered around the resort (three in the common area: Energy Pool, Chill Pool, and Lap Pool, the last two being the infinity pools with majestic views over the rice fields). I stayed in the Pool Villa, which came with a decent-sized private bathing area, just for me to enjoy it! Besides the pool, the villa provided an outdoor bathtub and a shower surrounded by lush tropical vegetation. Just laying outside in the bath scented with Samata's own herbal mixture, was a soothing experience in itself! Of course, one can also enjoy the professional pampering treatment in the resort's spa area!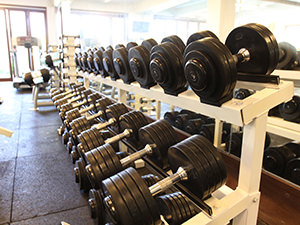 Where to box in Bali?
Probably the most incredible asset of the whole Samata's property is its unearthly gym! It provides high-class exercise equipment both for cardio and strength, signed by Life Fitness, the global leader in the field. Many props are provided in double, which is pure luxury, having in mind the size of the resort. The gym has even two scales (!), so you would not be waiting to weigh yourself, in case another guest wants to use it at the same time. Each piece of equipment has a drawing on the correct use and anatomical focus of the exercise, which makes it easy for beginners as well.
Surrounded by the pictures of the boxing legends, the central area of this extremely well-equipped gymnasium is reserved for the boxing ring. Six punching bags and a dozen boxing gloves again provide over-the-top luxury! With various fitness and holistic programs, CrossFit studio, yoga & meditation studio, tennis court, billiards, table tennis, tai chi, or water pilates opportunities, this is the sportiest one luxury resort can get! And if that is not enough, the Bali Beach Golf Course is not far.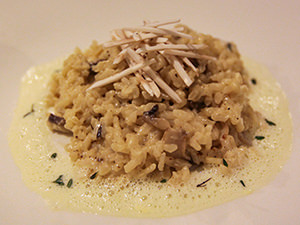 Where to stay healthy in Bali?
In my whole Southeast Asian exploration, I haven't found the healthiest menu than the one provided by The Samata. Even if you are, for instance, on a gluten-free diet, there will be a whole page of dishes for you to choose from! Zenso Restaurant provides all-day dining, with delicacies including the 28 days dry-aged ribeye steak from Barham Estate or pappardelle pasta with grilled king prawn. I enjoyed the risotto with grilled enoki, shimeji, shiitake, oyster, and portobello mushrooms on a parmesan foam. Candlelight dinners and private barbeques are also available at request, which may be an excellent choice for those choosing Samata as a honeymoon (or even wedding?) destination.
They serve breakfast until 11 am. I enjoyed mine in the privacy of the villa. The combination of pitta bread with hummus dip, onsen tamago (the egg slowly poached in its shell with dashi broth and spring onions), and the sweet quinoa porridge with caramelized banana, goji berry, pistachio, and natural yogurt, provided the energy for an active sporty day! One can order the comfort food throughout the day, but stock-free minibar in the room, with crunchy cookies and tropical fruit selection (signature of Lifestyle Retreats), might keep you going!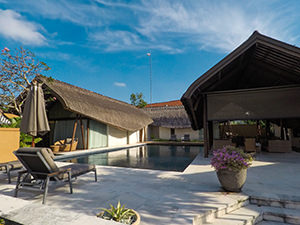 Butlers fulfilling your most peculiar wishes
Samata's villas come with plenty of natural and decorative light and furniture designed for relaxation! It is effortless to feel comfortable, whether you lay in the plush baldachin-covered bed or enjoy your tangerines on the terrace sofa. The resort team might be small, but the butlers will quickly fulfill your wishes, even if you want to order a float for your pool or Playstation for your room.
If you are an early riser, you could be escorted for a Sunrise Walk at 05:30, which is a unique opportunity to get to know the traditional Balinese culture, see hardworking villagers in the rice fields and enjoy traditional cakes and a hot drink while the first sunrays awake the local beach. This ambitious resort is not just an answer to the question "where to stay in Bali?". Besides finding the near-to-perfect accommodation, staying in Samata might help you find yourself as well.
TIP: Obviously, it is very easy to never want to leave your villa, with an accommodating service that Samata provides! However, it would be a shame not to explore the black sand beaches nearby, where locals have fun by burying themselves in the sand or playing with kites (Sanur is the home of Bali Kite Festival in summer months). For adventurous travelers, this is a watersports paradise! One can enjoy diving, kayaking, wind surfing, you name it!
2. The Menjangan, Banyuwedang
Price per night: 109-1.330 Euros
Named after the unique species of deer that lives in the resort's closest surroundings, The Menjangan is a hidden secret in the heart of the Bali Barat National Park. You will need to pay for the national park ticket on top of your accommodation costs (200.000 Rupiah, or 13 Euros), but what you will get, the money cannot buy anyway! With all the luxuries of modern resorts, Menjangan is still a journey into deep nature!
Resort facilities are scattered in the area of 382 hectares, which makes it difficult to explore it entirely on foot. However, local transportation between sites functions correctly; double-decker safari-style minibusses will come to pick you up in no time, whether you wish to go to the beach, to the restaurant, or to any other part of the resort. Expect meeting families of monkeys on the road, but have no fear! These are different than the ones in Ubud Monkey Forest or elsewhere on the island – as it is forbidden to feed them in the national park, they are pretty much self-dependant, and therefore not aggressive.
Exploring the national park on the back of an animal
There are even more environment-friendly ways to go around the park. One can borrow bicycles or take some horseback riding lessons. A stable is full of Australian horses, and I spent an afternoon on the back of Bruce! This was my first riding experience, and I loved it, even if Bruce did not listen to me much. Or maybe I am just not talented for riding! However, with always present instructor Made Sulatra, my horse-riding adventure through the woods and the beach of the national park was an exciting experience!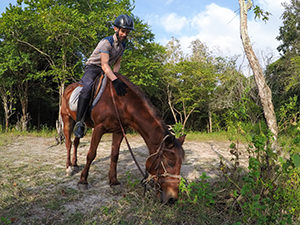 I stayed in the lovely Monsoon Lodge, just a stone throw away from the stables, so my trembling knees did not have to go far before jumping onto the large and comfortable bed for some downtime. Sure, I could have enjoyed a Balinese massage or some other body ritual at the beach, but sometimes you just need to get horizontal for a reward (especially if you have climbed the volcano the day before!).
My suite was spacious and decorated in the appealing traditional Balinese style. Carved wood, soft pillows, big glass surfaces letting in a lot of light… Great space to regenerate energy! Some furniture in the kitchen and the bathroom could certainly use some uplifting, but it doesn't affect the overall impression much. With free water and eco bottles provided under the hotel's less-plastic philosophy, you can behave responsibly, even when consuming the luxury! The television offers movies instead of satellite programs, but I especially liked the screensaver showing the faces of the resort employees – it gives such a human face to The Menjangan!
Marine life – from the sea to the plate
Beach villas come with an advantage of the sea at your doorstep, while the Residence offers its own private pool. At Monsoon Lodge the pool is shared between the guests of the other suites and comes with a jacuzzi too. I decided to try out the temperature of the sea and opted for the morning in a kayak! For the proper scuba diving, one should go a bit further, and coral gardens will be blooming with marine life, from seahorses to sharks, but even my little kayaking adventure by the beautiful mangroves brought sights of jellyfish and eel snakes!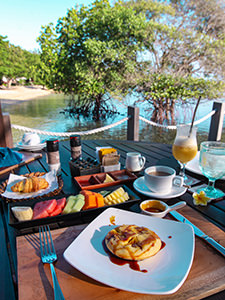 Seafood can also be found on the plate of the Bali Tower Bistro. I ordered my satisfying Mie Goreng, but the Ukrainian chef (some excited British tourists praised him as Croatian by mistake) offers from western pizzas and burgers to local specialties such as Beef Rendang (West Sumatran coconut and cinnamon beef curry) and Bersih's Betutu (slow-braised chicken in hot Balinese spice).
Next to the beach, there is another restaurant (Pantai), and this is where I had my breakfast. In the proximity of mangroves, with lovely beach views, eating on the floating deck was an Instagram-worthy moment. Freshly baked pastries, natural granola with Greek-style yogurt, tropical fruit platter, eggs in the Western way, or rice porridge in Indonesian… Looking at the choices without mouthwatering was hard. Also, I thought, if I started the breakfast with a vitamin booster shot, is it really a sin to finish it with pineapple pancake with palm sugar syrup on top? Call me a sweet tooth, but I compensated with kayaking!
A hidden gem of Northern Bali
The Menjangan is located in the least visited part of Bali, its northwest. Not yet discovered by the hordes of tourists, this boutique resort is Lifestyle Retreats' precious gem! When confronted with the dilemma "where to stay in Bali", Menjangan's relative remoteness is certainly not its disadvantage. Its proximity to Java and attractions such as Ijen Volcano, but also the fact that the resort can provide the return transfer to practically anywhere in Bali, make it suddenly the center of your Bali retreat!
The resort cars offer wifi, water and snacks for the road trip (the comfort even includes the neck pillow!), but Menjangan's drivers are not just people behind the wheel! I have to mention Radi Wayan, whose knowledge of Bali is comparable with those of tourist guides, so my trip from Menjangan to Ubud, with some fantastic stops such as Munduk Waterfall, Twin Lakes or the floating temple of Pura Ulun Danu Beratan, was an attractive added value!
TIP: Besides deer and monkeys, at Bali Barat National Park you will be able to encounter at least some of the 160 species of birds living there! Many are endangered, and Menjangan resort is engaged in different breeding and conservation programs. You can support it by joining their birdwatching tour!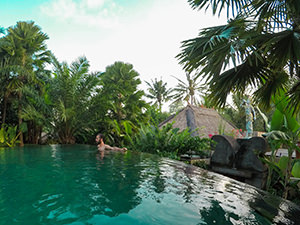 3. Sankara Ubud Resort, Ubud
Price per night: 104-366 Euros
Often called the cultural heart of Bali, Ubud is a place in which one usually finds comfort after participating in the infamous nightlife in Kuta and Seminyak, or equally exhausting surfing and bathing daytime activities somewhere along the island's coast. A retreat in itself, Ubud is a town made of fourteen villages, and in the traditional village of Mas one can find our next answer to the question "where to stay in Bali?" – Sankara Ubud Resort, managed by Pramana Experience, should appear on your radar if you are visiting Bali inland.
Surrounded by and immersed in lush vegetation, this boutique property offers 30 rooms and villas built in Balinese style. The resort's wish to preserve nature is omnipresent; the buildings have been constructed in respect of the existing landscape and rare trees have been conserved in the process. Winding paths through this little forest of villas and moss-covered walls of natural stones might even lead you to the small rice paddy in the middle of the resort, and some villagers are still taking care of it!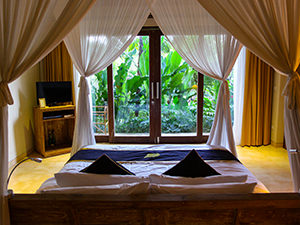 Villas interior also respects the tradition of local craftsmanship. Furniture in teak wood, a washstand made of stone, traditional ornaments on the walls, and daily fresh flower arrangement and fruits are small details that make the stay in these spacious Deluxe rooms an enjoyable Balinese experience. A comfortable mosquito-net covered king-size bed takes the central position of the chamber, with a view of the private green terrace, which makes morning wake-up something to look forward to. My main objection would be the lack of the electricity plugs next to the bed – connecting one's laptop or mobile phone at wall outlets and relaxing at the centrally placed bed don't go hand in hand! Then again, maybe it's a secret message to disconnect oneself from the technological addictions.
Free yoga, dance, and wood carving lessons
Named after the scallop shell (traditionally used during the purification ceremony to neutralize the bad energy and produce a peaceful atmosphere), Sankara offers free morning and afternoon yoga classes. Under the coned style grass roof of Yoga Pavilion, in the sessions led by local yoga instructor, even beginners can participate. The advanced practitioners can always ask for private classes if they need an upgraded experience. Even if it was sometimes hard following the instructor's accent, she dedicated herself to each person in our group of five, corrected and supported every effort invested by the students. The whole experience was enriching!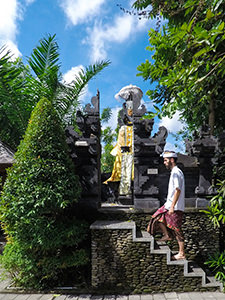 No time to lose, the resort offers an additional Balinese activity every day – you can learn local customs, dancing, or even wood carving! On Saturdays, one can try the traditional sarong-style clothes, and this was a great Bali Holiday photo opportunity I couldn't resist. Sankara's conduction in immersing its guests into the Bali experience is evident from the welcome greeting, when you are given a flower behind your ear and a card with useful phrases in Indonesian and Balinese, via afternoon teatime with homemade cakes, to specially created dinners that are sometimes accompanied by live performances of the local bands or dance groups!
Balinese specialties with a modern twist
Kumbuh Restaurant serves both Balinese specialties and Western dishes. But, if you came all the way to Bali, you should really try something from the signature menu! For instance, Pramana Nasi Ungu is a dish of Tumpeng red rice, with side dishes of vegetables and meat. Balinese usually eat it at weddings, but you can enjoy it at Sankara without getting married, and everything is reasonably priced!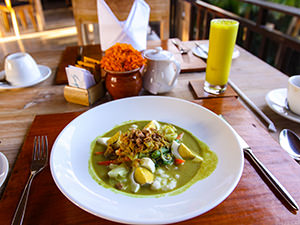 A la carte breakfast could also make you fall in love with the cook – Indonesian, Continental, American, Healthy one, or the one called Experience Breakfast. You choose! I strongly advocate for the unusual ones! When will you be able to try Salak Rebus (snake fruit compote) or Pisang Gulung (caramelized bananas in egg crepes with palm sugar sauce and grated coconut)? Just ditch those scrambled eggs and bacon, and go local!
The best thing about the food in Sankara? The restaurant overlooks a fantastic infinity pool spilling over its edge. You might have a hard time finding an unoccupied sunbed at the wooden deck, as it seems this artistic pool delight makes the guests not want to leave the resort ever! If you add to this the possibility of getting various massages and body treatments at the resort spa, I can imagine many guests don't even think about the free hourly shuttle service to Ubud center – which you should not avoid, no matter how seductive Sankara might be!
TIP: To learn more about the real life of the locals in Ubud, I strongly suggest joining Sankara Resort's guided morning walk through the rice fields, which usually ends at the local coffee producer! If you would like an unconventional start of the morning, your coffee can be served by luwak itself! Yep, that's the famous "most expensive coffee in the world" that first needs to pass through the digestive system of the civet, the Asian cat-like wild creature!
Still not sure where to stay in Bali?
Check these hot deals! Various dates available! 


Searching for amazing Indonesian places to stay, but want to save some bucks?
Check out our selection of the best hostels of Java, Bali's neighboring island!
Disclosure: My stay at the establishments mentioned in this text was complimentary, but all opinions are my own.

Also, this post contains affiliate links, which means if you click on them and make a purchase, Pipeaway might make a small commission, at no additional cost to you. Thank you for supporting our work!

Special thank you: HotelieriQ - for the assistance in connecting Pipeaway with some of the hotel industry leaders in Bali.
Did you like this article? Pin it!