Siem Reap is more than 400 kilometers away from the Gulf of Thailand, an inlet in the South China Sea of the Western Pacific Ocean. Tonle Sap, Cambodia's largest lake, is a half-an-hour ride away from Siem Reap downtown. Yet, Sakmut Boutique Hotel, gravitating towards the margins of this town, on the National Road 6 heading west, decided to name and design itself after a seemingly marginal inspirational context – an ocean.
Sakmut Hotel & Spa is not a seaside resort, nor a cruise ship. It doesn't cater to sailors. It's not a pioneer of Cambodia's nautical tourism. But under a blue roof (in a pre-dominantly red-roofed neighborhood), this five-star hotel brings sea-inspired accommodation anchored around one of the town's largest swimming pools. With saltwater, of course!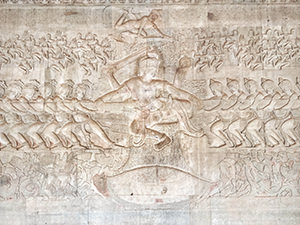 Taking the ocean as hotel inspiration seems like an unusual choice at first sight. However, Siem Reap is a cultural capital of Cambodia, with Angkor temples acting as a centerpiece of the country's tourism. In the Khmer Empire's cultural heritage and Angkor's religious backbone, the ocean plays a crucial role.
The most famous bas-relief on the walls of Angkor Wat represents the Churning of the Ocean of Milk. This well-known Hindu myth sees Devas (gods) and Asuras (demons) pulling on a gigantic serpent coiled around Mount Mandara, in order to extract the elixir of immortality from the primordial ocean.
Sakmut Boutique Hotel in Siem Reap recognized the symbolic weight of the ocean in Khmer culture and chose it as a leitmotif of its business.
In the proximity of temples immortalized on movie screens through Lara Croft and Indiana Jones, Sakmut Hotel & Spa provides holidays worth of Hollywood. There are at least 11 thieves that will try to steal your attention at this upscale accommodation if you choose it for your next vacation!
The best of Sakmut Boutique Hotel – Ocean's Eleven
1. Sakmut's crowdless location
In the post-Covid-19 world, travelers will be skeptical of staying in busy downtowns of touristic cities. I already argued that hotels on the outskirts of the bigger centers of activities might have an advantage.
Sakmut Boutique Hotel claims it is located in the heart of Siem Reap. However, it is also true that it is not exactly within the walking distance from the major attractions of this town.
Sakmut Boutique Hotel is close enough to everything you may need in Siem Reap, but far enough that you don't experience the annoying pressure of bargainers every time you step out on the street
But what was a disadvantage in previous years, might become an ace up Sakmut's sleeve. Especially in countries such as Cambodia, where tourist dollars are worth more, local transport is cheap and widespread. With a great availability of affordable tuk-tuks, there is really no need to stay next to the busy and noisy Pub Street!
The quiet location of Sakmut Boutique Hotel is actually in the heart of all of your needs. Five minutes away from the town's markets and nightlife, ten minutes away from Siem Reap International Airport, and about the same distance from Angkor Archeological Park, this is a great base to explore the best of Siem Reap.
It's close enough to everything you may need, but far enough that you don't experience the annoying pressure of tuk-tuk drivers and bargainers every time you exit your hotel. You choose how long you want to stay in the clamor of Cambodia's most touristic town and when you want to retreat to your noiseless quarters!
For the cheapest flights to Siem Reap, click here! If you are looking for a private transfer between the airport and your hotel in an air-conditioned vehicle, reserve it here!  
2. Decently sized contemporary rooms
Beneath the blue roof representing the sea, and behind the beige walls representing the sand, there are 56 deluxe rooms and suites in Sakmut Boutique Hotel, tastefully decorated in soft pastel tones.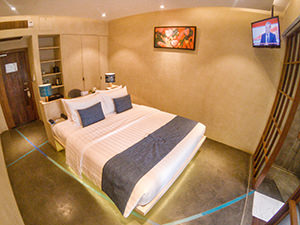 At check-in, I wasn't just greeted with a standard refreshing drink and a wet towel. Welcome fruit such as mango, dragonfruit, and tangerines, awaited me in the room, as well as complimentary coffee, tea, and bottles of water.
On a small working desk (doubling as a bed headboard), there was a fresh flower arrangement and blue lamps with a marine life design.
Besides decorative pillows and cover on a comfy king-size bed, ocean colors also lived in straight stripes irregularly crisscrossing the polished rendered concrete floor.
The room space naturally flowed into a luxurious en suite bathroom. With a freestanding bathtub, and separate rain shower cubical, a significant area of the room's 41 square meters was dedicated to the ocean's most valuable asset – water.
If that wasn't enough, the balcony overlooking the pool extended your sea-loving gaze outdoors.
While you are in Siem Reap, it would be a shame not to visit another water-based attraction in the vicinity. Explore the Kulen Mountain, marvel at the River of a Thousand Lingas, and plunge in the pools of Phnom Kulen waterfall! Check the latest price for this exciting day tour here!
3. Sakmut Boutique Hotel's gigantic pool at one's doorstep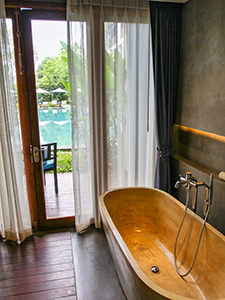 I had the luxury of a ground-floor room at Sakmut Boutique Hotel. This meant my terrace doors led through some tropical vegetation straight into the swimming pool! Walking through the hotel in a (provided) bathrobe was not a necessity. I could have easily jumped into the pool as a part of the bathroom morning routine!
With 10 meters in width, 30 meters in length, and a maximum depth of 1,5 meters, this huge swimming pool is among the biggest in Siem Reap! It suits for ambitious laps as well as lazy relaxation needs.
With parasols, sunloungers equipped with hats and blue towels folded as swans, one can find a perfect balance between swimming, sun exposure, and enjoying a book or a poolside snack in the shade.
The swimming pool has saltwater which discretely triggers ocean connotations and protects the resort from mosquitos at the same time. But fear not, Sakmut Boutique Hotel also performs regular fumigation against insects twice a week, with harmless chemicals!
If you love water, you will adore the Khmer New Year water fight! Read all you need to know about the Songkran Cambodia festival!
4. Seaweed wrap at Infinity Spa
There is a spa in 'Sakmut Hotel & Spa' name for a reason. Guests' wellbeing doesn't come just from staying in a zen-provoking space or eating healthy food; there is an active care system to improve one's peace of mind and balance of the body.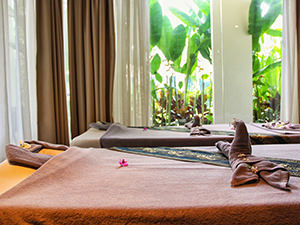 Infinity Spa is an elegantly decorated space with attention to detail such as petal-covered massage tables and paper tissues folded in the shape of a seashell. Sakmut is an ocean after all!
There is a range of unique treatments and pampering packages one can experience at Sakmut's spa! From ancient Khmer massages to body wraps with marine seaweeds and mud, or body scrubs called Sakmut Oceanic Glow, one can connect with local cultural heritage. If you just want something exotic, why wouldn't you try a fruit salad body mask or a chocolate facial treatment?
All these spa & wellness therapies blend ancient healing techniques and secrets with curative benefits of natural quality products, to relieve stress and bring back peace.
I was very satisfied with my Khmer traditional massage treatment at Infinity Spa. The only awkward but forgivable moment actually came when I was drinking my post-massage tea. But more on that under point no. 9, on hospitality!
Besides several massage rooms, the spa space also has a small sauna and a Jacuzzi for those who want to extend their relaxation time further.
5. Gym with a natural breeze
Above the Infinity Spa, Sakmut Boutique Hotel hosts a small open-air gym. It is still protected from a potential downpour from above, but its sidewalls are replaced by greenery.
This well-equipped fitness center features a variety of weights, a treadmill, bike, and several more multifunctional training stations. There are even yoga mats for your post-workout stretching!
Towels and cooled water are also here to support your outdoor workout in a tropical climate. Not always healthy air-conditioning has been replaced by a natural breeze here.
6. Champagne for breakfast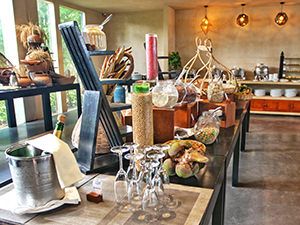 Besides starting a day by swimming in a large pool, one can also drown at breakfast – in French sparkling wine!
For a decadent start of the day, ditch that freshly squeezed orange juice, and fill your champagne flute glass with Kraemer Brut!
Breakfast at Sakmut Boutique Hotel offers a variety of Cambodian and international hot food, together with fresh fruits, salads, pastries, and desserts. Order eggs exactly as you like them, or prepare yourself a tasty Khmer soup at a rustic noodle station! The offer equally caters to carnivores and vegans!
The chefs are happy to fulfill any wish of their guests, be it Eggs Benedict or cooking noodles you bring yourself. Yes, I've seen Asian tourists having such special requests! Nobody will roll eyes here, the guest is treated as breakfast royalty.
For those who want even more dedicated treatment, Sakmut Boutique Hotel has a VIP lounge on the third floor, where private breakfast can be served in an elegantly furnished space.
7. Food for eye, tongue, and thought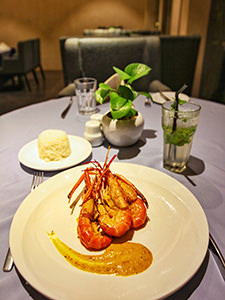 Candi Restaurant at Sakmut Boutique Hotel prepares tasty meals at any time of the day.
Their fine-dining menu offers a range of Khmer and international dishes.
If you want to stay in the 'ocean' theme, try anything between Norwegian salmon and grilled Bar fish fillet from Tonle Sap Lake! You can also order Khmer-style sour soup with prawns or grilled Mekong lobsters with curry sauce and sautéed vegetables, which I found delicious.
If you are too lazy to dress up, you can order food in the pool area as well. Sandwiches and burgers are good poolside bite ideas!
For a high-class experience, get High Tea in the Svakum Lounge! Be prepared to taste a selection of mini pizzas, canapés, spring rolls, fresh fruits, and Khmer and international homemade cakes!
If you want to enjoy your evening in privacy, Mystique Garden is a dedicated place for romantic dinners, away from the other guests' views.
Finally, if you want to be in total control of what you eat, you can join Sakmut's cooking class! Their chef will bring you to the local farm and market, and teach you how to prepare and cook Khmer dishes!
For a radically different view of Cambodian cuisine, check the Fear Factor cooking class!
8. Rooftop ocean of cocktails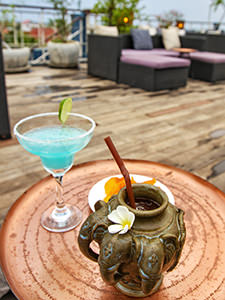 On the roof of Sakmut Boutique Hotel, cocktail gods and demons churn oceans of drinks with panoramic views of Siem Reap. Maybe they are not extracting the elixir of immortality, but for mortal cocktail-lovers, it's as close as one can get to the divine.
Doung Tara is a sky bar lounge where you can enjoy an al fresco dinner, but also explore a solid menu of cocktails/mocktails. From Mojito and Daiquiri to Blue Hawaii and Mai Tai, there is plenty to try.
Make sure to order a Sakmut signature cocktail in a triple-headed elephant mug! It mixes gin, tequila, cherry brandy, lime juice, grenadine syrup, orange juice, Khmer liquor, and Hennessy V.S.O.P.
Sakmut Hotel's open-air cocktail lounge aims to become one of Siem Reap's trendy meeting points, with special events and unpretentious mingle.
The good news for your alcohol tasting evenings at Sakmut's rooftop is that the only vehicle you have to take to get to your bed is – an elevator!
9. Staff hospitality that overflows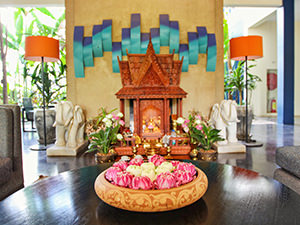 In Sakmut Boutique Hotel, elephant sculptures, Buddha's altar, and meticulously arranged water lily flowers do not end up as just a lobby zen decor.
From the minute one checks in, a warm hospitality approach is a norm that can hardly get unnoticed.
Throughout your stay, hotel staff will be at your disposal, with a smile on their face while providing celebrity treatment!
Views on politeness in the tourism industry could vary, but I would personally even tone it down at this hotel, to be honest. If you're a really talkative person, you might enjoy the fact that every staff member you meet on the way to the breakfast says 'good morning' and asks about your wellbeing. Then again, you might be someone who prefers to be in control of both communication and silence. In that case, constant attention in a place 'where everybody knows your name' could be a double-edged sword.
Another example could be a waiter standing and observing from the corner of an empty dining room while you eat, always ready to jump over if you call. Or a masseuse standing a meter away from you while you should drink your post-therapy tea and relax in silence. It's a fine line when a joyous moment can turn into an awkward one.
Treating guests as royalties certainly has its charms. But they would not feel less cared for if assistance would be offered at guests' discretion! If there would be more subtlety in this ready-to-serve-you approach… Finetuning these hospitality nuances would be my number one advice for this undoubtedly kind and welcoming hotel!
10. Respect for the environment at Sakmut Boutique Hotel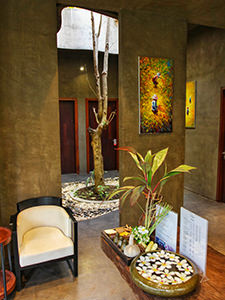 Sakmut Boutique Hotel wants to leave a footprint of sustainable development. Just like in Jaya House RiverPark, the architecture of this property is conceived around natural growth, not against it. In both the restaurant and the spa, you will find century-old trees that were protected during the building construction phase and preserved as a part of the hotel design!
With 36 different types of flowers, hanging by the swimming pool becomes a rainbow event even (or especially) on the sunniest day in the year! Sakmut Hotel & Spa is wrapped in a colorful native garden.
The preserved tree is not just decor in Candi Restaurant. What comes to your plate is also a part of the sustainability policies of the hotel. The philosophy of Sakmut cuisine includes fresh, organically grown quality ingredients! The hotel's vegetables come from At Chagn and Chreav villages, making a direct connection to local communities.
11. Community outreach in Sakmut's work environment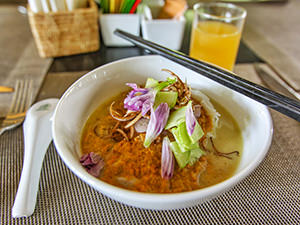 Sakmut Boutique Hotel has a community outreach program that goes beyond just buying local veggies!
Believing in the principle of Karma, or Khom in the Khmer language ("You reap what you sow"), Sakmut gladly invests in underprivileged communities. They provide job opportunities that would otherwise be hard to obtain.
There is a sponsorship program for people from remote villages. The secured formal education leads to permanent employment in Sakmut Hotel & Spa or acts as transition assistance for future jobs.
There are more amazing Cambodian initiatives that proved extremely important in the time of the pandemic. Check them out!
Sakmut Boutique Hotel review – Conclusion
The world in the times of the Covid-19 pandemic came close to the scenarios of disaster movies. Tourism is not a part of that dark script, but every catastrophe eventually comes to an end.
People will resume traveling as before. The good guys that seemed to have had just supporting roles in a previous episode might become the leading actors in the sequel.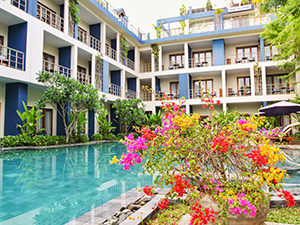 Sakmut Boutique Hotel, an unassuming Siem Reap property, has a strong potential to swim up to the surface of a highly saturated hotel market in the Cambodian cultural center.
Far away from the crowds and worries, intimately close to nature and oneself, this ocean-loving hotel allows its guest to reconnect if not with immortality itself, then with the principles that never die.
Inspired by the Angkor Wat's image of gods and demons churning the mythical Ocean of Milk, this place celebrates a place to rest, eat, drink, and act well.
Learning about Cambodian heritage and hospitality while being aware that you are not just supporting the local economy, but also the idea of equal opportunities, reaffirms that you're putting your bucks to the right place.
With some quite human imperfections overshone by its efforts of celebrating the humane and its commitment to providing meaningful rest in Siem Reap, Sakmut Boutique Hotel might be an actor from the city margin, but certainly not a marginal one.
It actually has all the elements (named Ocean Eleven in this article) to grow into a – true blockbuster.
For more hotel images of Sakmut Boutique Hotel Siem Reap and their best available prices, click here!
Did you like the Sakmut Boutique Hotel review?
Pin it for later!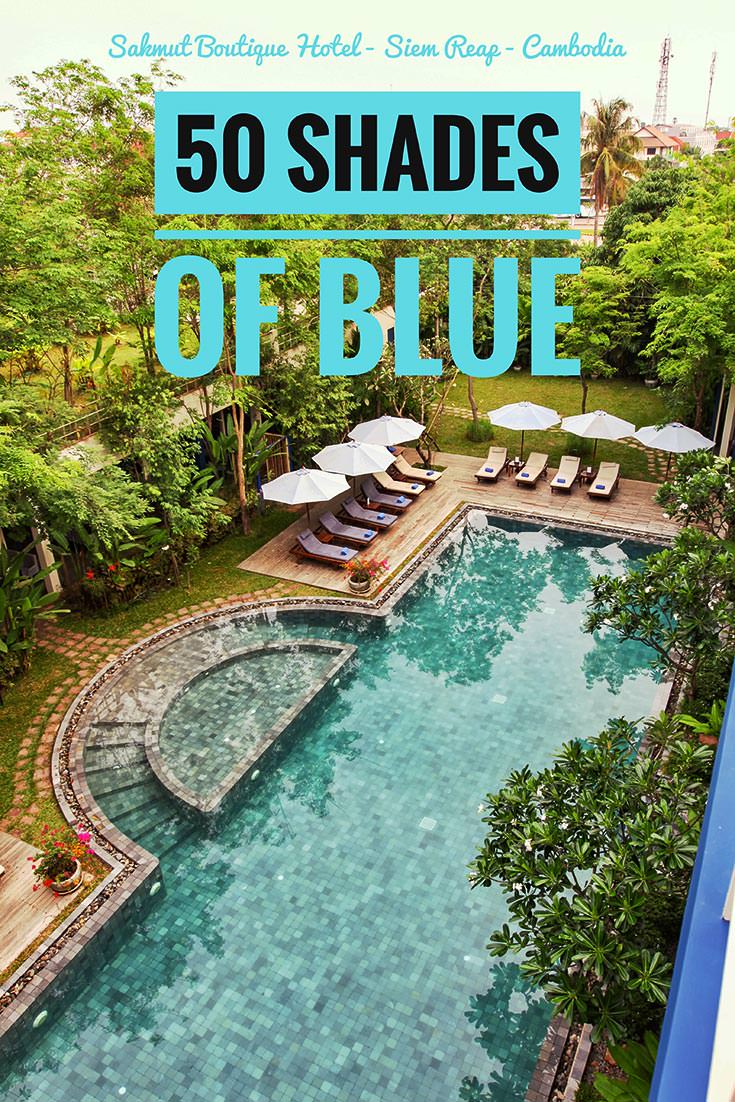 Disclosure: My stay at the Sakmut Hotel & Spa was complimentary, but all opinions are my own.

Also, this post contains affiliate links, which means if you click on them and make a purchase, Pipeaway might make a small commission, at no additional cost to you. Thank you for supporting our work!