What could have been a casual walk on a sunny afternoon, becomes a crazy nightmare. Street 156, leading north from Battambang towards Wat Phnom Ek, is promising an off-the-beaten-path stroll among the friendly locals. Seemingly innocent children are smiling and cheering you up with a typical Cambodian "Hello!", often the only English word they know, on your way to another Cambodian temple. But then – an ambush. At the beginning of the Khmer New Year, there is a new war unfolding. It's called Songkran Festival Cambodia.
The masks drop, and nobody is innocent anymore. You can see some of the victims lifting their purses, desperately trying to hide them from the attackers. There is no real mercy shown. These smiling enemies pull out their hidden artillery, and start shooting their guns, some even throwing bombs!
The girls on bicycles are especially endangered. Local boys are stopping them at the barricades, and then take turns spreading white fluid all over their faces. At first glance, Chaul Chnam Thmey, Khmer New Year celebration, looks like rape.
Welcome to Songkran Cambodia, the Khmer festival celebrated with water fight!
People around the world have a variety of customs when it comes to celebrating the New Year - check them out!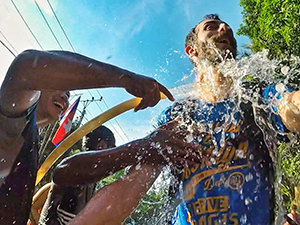 Songkran festival as typically Asian water war
The voluntary street battles are fought with water and baby powder, and conflict seems to make most of the people happy.
Adults and kids engage in this yearly fun ritual of shooting water guns, throwing water balloon bombs, and splashing buckets of water on each other.
A three-day war is not enough for everyone, so one can expect to experience some water splashing even in the week following the official public holiday dates!
However, celebrating the start of the new year by throwing a water fight is not the Cambodian specialty. People in Thailand, Myanmar, Laos, and Yunnan province of China each have their water festival. While Songkran is most often associated with Thailand water games, each country has its specific name that marks the start of the new year – Moha Sangkran, according to the ancient horoscope.
In most of the countries of East and Southeast Asia, April 13 is the date when the festivities launch. It is the end of the harvesting season and the start of the rainy one.
Bathing Buddha for good luck
In the aftermath of Songkran Cambodia celebrations, the local temples might look like they were hit by a giant mud-water bomb. Yet, the justification for the custom is rooted in religion!
Songkran Cambodia's ritual sees people pouring water on each other. Sometimes, they mix it with white chalk
People wash monks and Buddha statues with perfumed water, as a symbolic farewell to wrong actions and sins, and welcome to the good luck, longevity, happiness, and prosperity in the new year. In the same way, if children wash their parents or grandparents, the year will bring them advantages.
Using holy water for cleansing is just one of the rituals promising a fresh start to the year. The house should be cleaned too, and new clothes should be worn. Those might get their first washing in the street, as Sraung Preah represents the ritual in which Cambodians pour the water on each other. They might mix the water with white chalk, sometimes colored in pink or yellow.
In Malaysia, they don't throw water, but oranges! Read about Chap Goh Mei, the love-inspired start of the Chinese New Year!
Radical expressions of love at Songkran Cambodia
"We love youuu!", screams the young guy while he rubs the white powder into my face. Driving the bicycle through the villages around Battambang is a special experience in which perfect strangers are allowed to touch you. You might get hugged, sometimes kissed at Songkran in Cambodia. All with a "Happy New Year!" greeting justification.
Something you will certainly not be able to avoid is – getting wet. The blessings range from a gentle sprinkle to the bucket of water exploding against you. This is not just another "I got wet in the rain" experience. The water gets all the way in your underwear and shoes, and one day of drying might not be enough (as experienced).
You are lucky if you got only wet. The unlucky ones will experience that some water throwers have a secret weapon. They put a large block of ice to melt in the water, which creates the freezing ammunition that shocks you out of nowhere. This is the ice water bucket challenge raised on a whole new level!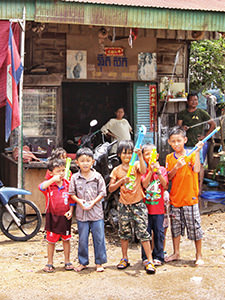 Gratitude for the waterfest
Every time someone pours several liters of water down your shirt, you get an instinctive urge to say "Thank you!". It is a weirdly quick adoption of the new vocabulary when attacked; I was astonished about it.
Every splash you start to read as an expression of a good wish. We might say a blessing, but it doesn't challenge your religious beliefs.
There is so much laughter going on, which would melt even the grumpiest faces. Or maybe the grumpy ones don't exit their houses on these days.
Then there is also fair play. Even if some girls in my Youtube video of the Cambodian Songkran might have an angry reaction to their water treatment, the line of excessive shelling is rarely crossed.
The little girl throws a water balloon at me. It falls on the ground without breaking. She picks it up and hands it to me so that I can launch it back at her.
In the unwritten code of conduct, only the elders are genuinely spared. And the policemen, when they come to turn down the passion volume. The other passers-by turn targets/attackers, in the always shifting roles.
Khmer New Year for new friendships
Cambodians are extremely friendly people. As I experienced with my fellow travelers, Westerners Gabby and Damian, they will welcome you into their world very smoothly, no questions asked. They may not have a lot, but they will still make room for another friendly face in the gang, and share what they have.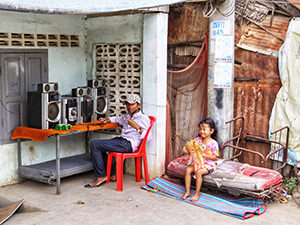 At one moment, the combination of continually repeating Rasmey Hang Meas song, the burning tropical sunshine one cannot feel due to constant water showers, and the abundance of Anchor beer cans, made me fully immersed in this street party. So much, that I started to turn off my GoPro camera when I wanted to start to record, and vice versa.
Was that beer intoxicating me? Or was that beer mixed with water in the cocktail of pure Songkran Cambodia happiness?
After Songkran Festival Cambodia, I experienced a touching lecture on kindness - check it out!
Songkran Cambodia is when wet dreams come true
During the Khmer New Year, bigger Cambodian towns get empty. Many businesses close their doors as families get together, dress up in colorful Hawaiian-style shirts, play traditional games, eat good food, drink, and spray each other with water. Traveling becomes more complicated, as buses fill up with locals and their presents for the relatives they visit.
This means that Phnom Penh and Siem Reap should probably not be on the top of your list if you want to experience authentic Cambodia during Chaul Chnam Thmey.
However, Battambang, the second largest Cambodian city, is a good compromise. It offers the buzzing center with market stalls and restaurants, but also the proximity of its rural suburbs makes it an excellent place to experience the extraordinary local traditions.
If you need to engage in any war next April, choose the friendliest one – Songkran Festival Cambodia!
Searching for a place to stay in Battambang? 
Check out these hot deals!
Various dates available!
What do you think about Songkran Festival Cambodia?
If you liked the article, pin it for later!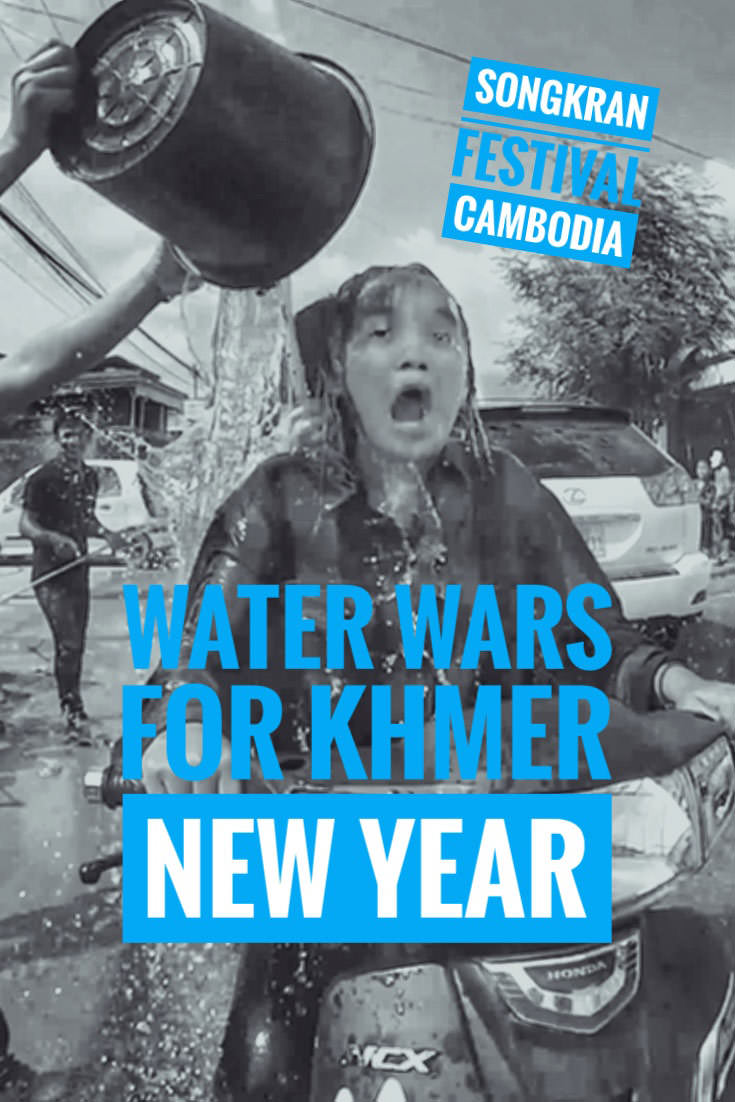 Disclosure: This post contains affiliate links, which means if you click on them and make a purchase, Pipeaway may make a small commission, with no additional cost to you. Thank you for supporting our work!