COVID-19 pandemic has thrown the tourism industry on its knees. One can foresee the future after (or with?) the coronavirus only with uncertainty. How shall we travel in the time ahead of us? What are the future trends in the hospitality industry? What will staying in hotels after COVID-19 look like? Will guests prefer staying in private apartments or book hotels with strong brands? All these questions worry the tourism planners. But some industry players might already be ahead of the competition. Travelers could be looking for all-inclusive resort-type accommodation, close enough to the centers of touristic activities, but far enough from the crowds. Will hotels on the outskirts of big cities win the crown?
Could remote locations of The Balé and Sojourn Boutique Villas be their advantage point after the pandemic?
I've visited two hotels in Cambodia that could have certain advantages in the upcoming years. The Balé resort is located half-an-hour car ride from Phnom Penh center, 15 kilometers to the north. Sojourn Boutique Villas are located 5 kilometers south of Siem Reap, which requires a 15-minute car ride to the center of this buzzy town. Could the location of these two hotels in major Cambodian travel hubs represent their hidden ace after we win the battle over COVID-19 and tourism fully returns to the country?
The Balé Phnom Penh resort – Mekong's finest riverbank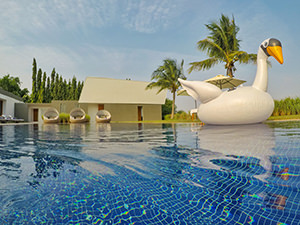 Even if it carries the same name as The Balé in Nusa Dua, the Cambodian resort bears similarities with the Indonesian namesake mainly in the elegant and minimalist design concept. Unlike the Bali property that seems to be a perfect hideaway for lovers, the sole resort in Phnom Penh aims to cater to a variety of guests. It provides the setting for weddings, but also business meetings, family fun times, or even extraordinary parties.
This five-star hotel on the outskirts of the Cambodian capital city is not a place you would accidentally wander into. Leisure and pleasure at The Balé, the member of the Lifestyle Retreats, are always intentional! With only eighteen suites hidden on the banks of the Mekong River, this secret retreat is a literal metaphor of escape from the masses of the central Phnom Penh.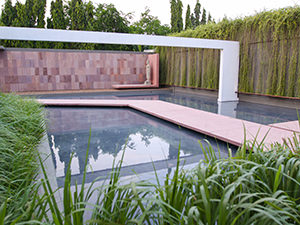 Entered through a long corridor with greenery-covered walls, via a levitating pathway zig-zagging over a black infinity pond, The Balé universe delivers modern architecture on your way to a relaxation fantasy. Adorned with traditional Buddha images of various kinds on one side and contemporary street art translating the elements of Khmer art on the other, this luxurious spaceship seems to be well-connected with local culture and people.
Courtyard suites center around the lawn dominated by a Bodhi tree, the symbol of Buddha's enlightenment. Riverfront suites overlook the waters of Mekong, where observing the passing boats brings you at the state of zen.
#stayinside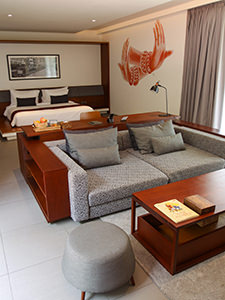 All suites' sizes at The Balé Phnom Penh are 100 square meters or more. Most of us have bedrooms that are smaller than their bathrooms!
The spacious courtyard room combines living, sleeping, and working area; from the sofa, via the working desk, to extra-long king beds, space is the last thing one will miss here!
With sliding doors, the room extends even further. The private patio has another daybed, now in the shadow of a frangipani tree. It gives a feeling of a "Big Brother" chill courtyard, but without the surveillance.
The bathroom has double sinks, a large bathtub, as well as a walk-in rainforest shower. It gives you a feeling of a spa! A yoga mat in the corner reminds you to expand your search for inner peace.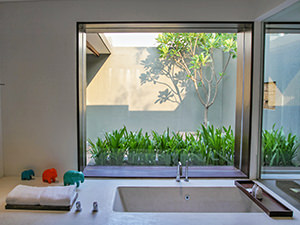 Of course, you can always opt for a day in front of a smart TV. It is loaded with hundreds of film titles! Grab some homemade cookies or the complimentary fruit basket, and dive into a movie marathon! You can also read books, or play a game of Jenga! If you need anything, there is always a butler to ring!
The four riverfront suites have their own special benefit. They all offer stunning sunrise views you can enjoy from your private terrace with a refreshing plunge pool.
For everyone else, there is a small gym and a central outdoor swimming pool of a decent size, with only palm trees separating you from the Mekong River flow. After a good swim, one can relax on sun loungers, shaded daybeds, or one of the pool floaties. Personally, I'd prefer to see some less conventional plastic animals floating in the hotel of such a clean design. But swans and unicorns surely have their clients among the trendsetters, always returning for more.
The gym at The Balé Phnom Penh may not be as big as the one in The Samata Sanur, Bali, even if both hotels have the same owner. But it's still a useful add-on! For a truly fitness-style vacation in the state-of-art training facilities, check the Indonesian resort I wrote about in my article on top resorts in Bali.
Know where your food comes from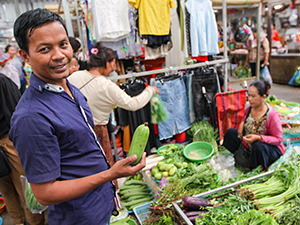 Besides our expectations of space and services in hotel rooms, our food rituals will also change. Hotel buffets will probably become history after the pandemic. Lavish tables filled with gastronomic wonders have become a synonym for a royal treatment when starting a day with five stars. Goodbye to that!
The Balé Phnom Penh, with its limited number of suites, doesn't provide a buffet-style breakfast. But this doesn't deprive you of the opulence of choices in an open menu! Eat their homemade pastries, hand-crafted granola, fresh farm eggs and vegetables, or seasonal fruits! For a more Asian flavor, try their Miso soup with silk tofu or ice-cold Somen noodles. If you want to completely indulge in Khmer cuisine, your breakfast could include Kuy Teav (rice noodles in rich pork broth with Mekong river lobster), Bor Bor (rice porridge with slow-roasted chicken), Lort Char (short rice noodles stir-fried with marinated Wagyu beef and fried organic duck egg) or Bay (roasted chicken thigh in lemongrass and garlic with pickled veggies).
Their in-house restaurant called Theato will provide all-day dining as well, so no need to leave the resort! You can enjoy the giant prawn from the river passing-by, fillet of a water buffalo with sweet potato, banana blossom salad with chicken, or salt and chili duck! There are enough creative options to fill a week or two of your stay in The Balé! And you can also 'water' it down with signature cocktails that use Cambodian first premium rum and gin!
If you want to have special and meaningful food experiences in Cambodia, check out these unique restaurants in Siem Reap!
Make your own meal at the cooking class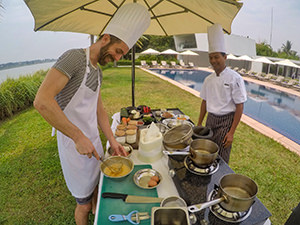 You should also try making your own food at The Balé! The cooking class with chef Men Somera was not just an educational, but also a fun experience for me! It's refreshing to find someone who can loosen up the serious front, and whisk some humor into all that food business!
The day started on the Chroy Changvar market where we bought the ingredients for our one-on-one class. We even tried some local sweets, which were not on our shopping list! The market is a very authentic and vivid place, with no tourists, but a lot of typical families in their daily routines.
Later at the hotel, in open-air, I was able to cook a full-course Cambodian meal under the chef's guidance. Our menu included the appetizer Nhom Suary Chearmuy Trey Chrer (green mango salad with smoked fish), Sngor Jruk Sach Mon (chicken sour soup with lime, basil, and sawtooth coriander), the main course of Amok Trey (classic snakehead fish & prawn soufflé in Khmer spice and coconut), and as a dessert – Sang Xyar Larpov (pumpkin & coconut custard).
You don't just get an introduction into the Cambodian cuisine, but also have a fun-filled morning, eat what you've cooked, and last but not least: you get the recipes in writing! Once you return home, you can try to be your own masterchef!
Sojourn Boutique Villas in Siem Reap also offer an opportunity to learn to prepare meals in Khmer style. Their cooking class will open a window into the daily life of a Khmer rural household. After a village visit, it will also introduce you to a professional chef who will uncover the secrets of the Cambodian dishes in a hands-on experience. Mango salad, fish amok, Cambodian curry, and local desserts are a part of your learning menu!
Sojourn Boutique Villas – Siem Reap's hidden retreat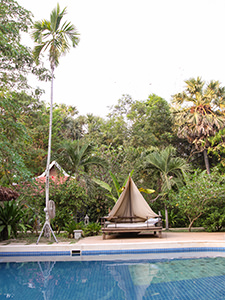 Welcome to the Khmer scents and flavors starts with a check-in to Sojourn Boutique Villas. A complimentary coconut pancake, a glass of lime juice, and the scent of the lemongrass oil filling the room, wait for you as soon as you enter this green oasis surrounded by dusty roads. Tuk-tuk from the Treak Village to Siem Reap center will cost you 2 dollars each way, and the driver will wait for you. You can also rent a bicycle if you're keen!
Cashing in on their remoteness from Siem Reap, a base for exploring the famous Angkor Wat sunrise, Sojourn Boutique Villas profit from both worlds. Guests are close enough to effortlessly reach the archeological-cultural excursions. But Sojourn also offers them a secure getaway when the pressure of the crowds and chaos in Angkor Park or the Pub Street get overwhelming.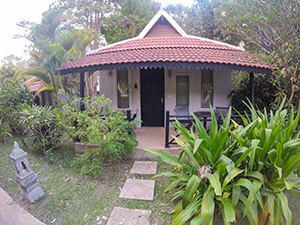 The number of 10 villas in a small but lush tropical garden seems to be quite optimal. No overcrowding on the lovely central pool with a swim-up bar! It is an excellent spot to replenish your vitamin D reserves, maybe with a cocktail awaiting next to your sun lounger.
If you want more privacy, you can always retreat under the shade of your terrace. Enjoy the cicadas' songs just after the sunset! For even more seclusion, there is an indoor sitting area, perfect for consuming a cup of tea or reading one of the displayed books or magazines. The room is decorated in a minimalist way, with some plants and flower installations, as well as locally produced Buddha statues that are available for purchase.
Future trends in the hotel industry will be framed by sustainability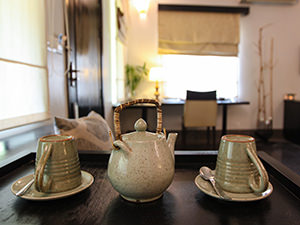 Even after a decade of operating, Sojourn Boutique Villas' contemporary design does not seem to be outdated. The bathtub comes with a waterfall feature. For those who prefer standing, there is an indoor and outdoor version of the shower. The hot water comes from solar panels!
The initiatives to preserve the environmental resources are visible in both The Balé and Sojourn. While the first reclaims water irrigation, generates electricity from the sun, and uses biodegradable products, the latter emphasizes low energy lighting, advanced water management system, waste reduction programs, and composting.
Sojourn Boutique Villas also focus on local and sustainable food suppliers. Some examples are Eggselent Eggs from free-to-roam chicken, the organic Ibis Rice which costs more in order to ensure that the farmers will not expand their fields into the wetlands – the nesting sites of birds, Wild Samlout Honey with proceedings being invested into creating social and economic opportunities for women and girls… From pottery via cushion covers to soaps, products in this 4-star hotel come from the locals.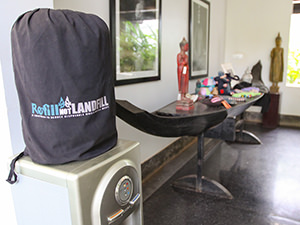 The straws here are made of metal, and there is a Refill not Landfill water container in the lobby, supporting the campaign to reduce the plastic pollution which is omnipresent in the Cambodian tourist industry.
There have been great initiatives in diminishing unnecessary waste in recent years. COVID-19 already poses a threat with all those discarded gloves and facemasks! We can only hope it will not hit our eco-responsibility like a boomerang. Just after showing great progress in making hotel bathrooms more environment-friendly (for instance, larger and refillable shampoo containers), there is a risk that post-pandemic times could bring a comeback of small single-use products. Which means more plastic waste, and more health hazard for the planet!
Some Cambodian hotels such as Jaya House, Treeline, and Mulberry continued implementing their no-plastic policy even during the lockdown. They donated thousands of meals to Siem Reap citizens. Check how you can support the initiatives that deal with the effects of coronavirus in Cambodia!
Social distancing as a challenge
Social distancing measures may have a negative effect on those job opportunities which rely on the human touch. For many workers in Cambodia, especially those who lost their sight in the minefields, massage service for the tourists was always a secure source of income.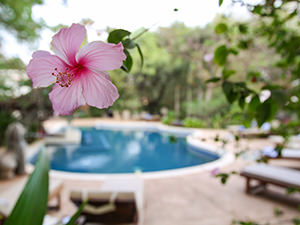 In the case of Sojourn Boutique Villas, their in-house Origins Spa follows the general hotel principles of employing local villagers. Girls who had just a few years of primary school education were trained for providing spa therapies here. A young woman named Prii gave me a good pressure massage. I could have been in any other well-established city parlor, and wouldn't feel a difference. The hotel enabled the possibilities of a brighter future for Prii and other girls, and it worked!
I put my hopes into raising of precaution measures and hygiene standards in the hotels after COVID-19 comes to a halt, so that all those Cambodians, who were underprivileged even before the pandemic, can return to work!
Hotels after COVID-19 – chasing the future of the hospitality industry
Phnom Penh, as the capital of Cambodia, and Siem Reap, as the country's cultural hub, have experienced rapid growth of tourism in the years preceding the coronavirus pandemic. While their somewhat chaotic hustle and bustle is a cultural experience in itself, it is an intense one. Staying at a calm and peaceful, tucked-away retreat was always a remedy for active explorers.
The post-COVID-19 travel industry will change. Even the most social ones among us will need a decent space just for themselves. Getting away from the urban jungles and their crowds is a logical trend that may define the future of the hotel industry.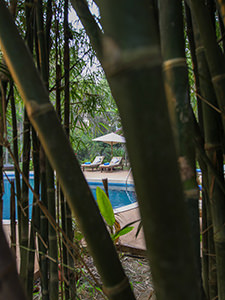 Travelers will be dreaming of a great escape, but the one that will offer them a full experience. They will be looking for a unique setting, but also a feeling of higher security and lower risks. Smaller hotels on the outskirts of busy cities, close to nature and authentic villages, already have a strategic position that could guarantee the serenity of isolation. If we add luxury to the equation, these retreats could be a perfect city break escape.
Booking.com's research already showed that modern travelers aim for more sustainable travel decisions. Surely, the pandemic experience will stay a constant reminder of the impact we have on the environment. The eco-friendly resorts, which celebrate cleanliness but not on the account of the negative environmental impact, should profit in the long run.
Future trends in the hospitality industry will also include a very personal guest service with a human touch. Those hotels that will convince travelers that they support their working force as much as the environment, will have an additional social appeal.
At The Balé Phnom Penh resort and Sojourn Boutique Villas in Siem Reap, the future of hospitality is already knocking on their door.
If you're interested to stay in these hotels after COVID-19 pandemic ends, click on the following links for the best available prices: The Balé or Sojourn Boutique Villas.
What is your vision of the hotels after COVID-19? Leave your comment below!
If you like this article, pin it for later!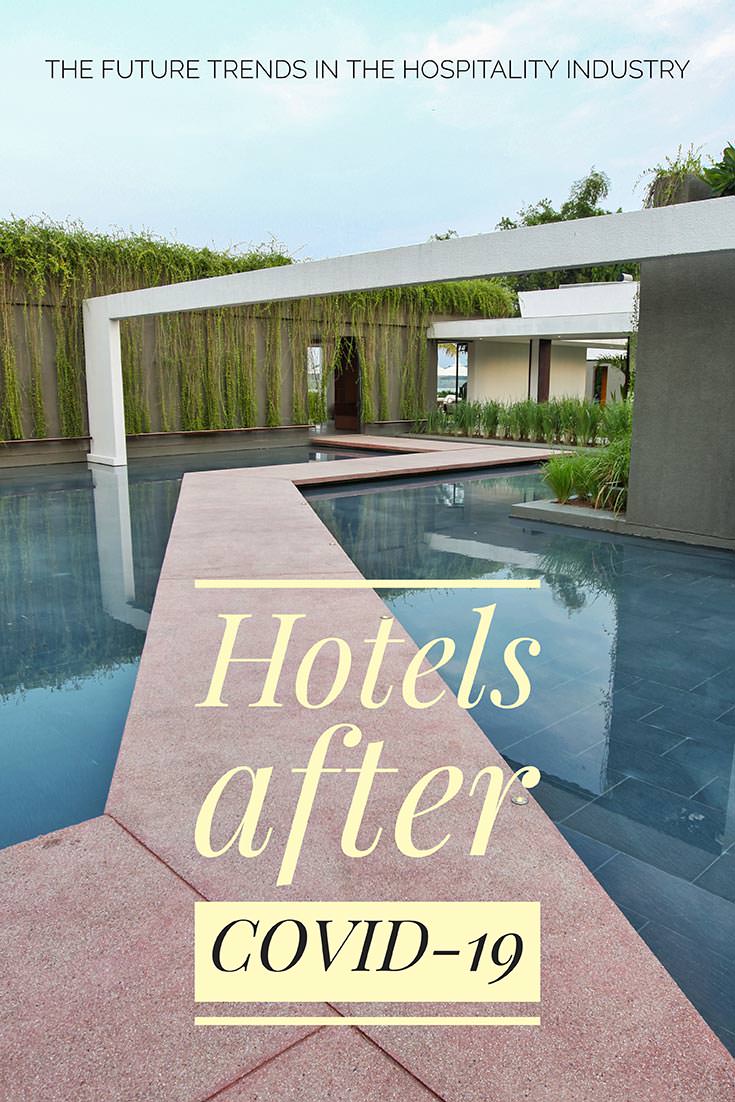 Disclosure: My stay at The Balé Phnom Penh resort and Sojourn Boutique Villas in Siem Reap was complimentary, but all opinions are my own.

Also, this post contains affiliate links, which means if you click on them and make a purchase, Pipeaway might make a small commission, at no additional cost to you. Thank you for supporting our work!