You might have mastered the art of striking beach selfies, but would you like to scratch beneath the sea surface? Have you ever wondered how in Poseidon's name professional photographers capture those stunning underwater shots? Well, the secret lies in underwater housing. In this comprehensive guide, we'll dive deep (literally!) into the world of underwater camera housing, and explore its features, benefits, applications, and top considerations for making an informed purchase.
Documenting coral reefs, underwater caves, and mysterious shipwrecks takes more than just a waterproof camera
Whether you are a professional photographer ready to make the ocean your studio, an intrepid scuba diver eager to document your underwater explorations, a scientist on a mission to study marine life behavior, or a surfer/snorkeler/river rafter/mermaid aiming to flood Youtube with epic waterlogged content, the importance of reliable equipment cannot be overstated.
Waterproof housing is a game-changing contraption that will revolutionize your aquatic imaging experience. From coral reefs bursting with vibrant colors to mystery-draped underwater caves and shipwrecks, numerous sights are waiting to be snagged by your lens. Documenting these moments appropriately takes more than just a waterproof camera.
Today, you'll learn what makes the best underwater housing, unlock the secrets to capturing aquatic adventures, and discover how to bring the beauty of the underwater world to life through your lens. You'll also find out where to buy underwater camera housing.
If you're having a hard time choosing where to start with your underwater photography adventure, Coron Island, the shipwreck diving capital of the Philippines, is highly recommendable!
What is underwater housing?
First thing first, let's drop the anchor on the underwater housing definition.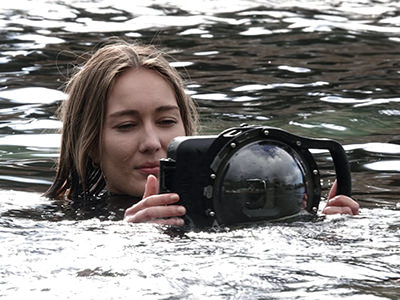 Underwater housing, also known as underwater camera housing, water housing, diver housing, or underwater case, is a special enclosure designed to protect cameras from potential water and pressure damage while submerged.
Imagine you have a high-quality camera that captures stunning photos on land. But what if you want to explore the wonders hiding beneath the waves? That's where underwater camera housing comes into play!
Underwater housing is a sealed, waterproof casing, like a protective hug for your camera, which allows you to use it in its full functionality beneath the surface without compromising the delicate electronics within.
Do underwater cameras need housing?
Underwater cameras are produced to shoot underwater, so normally they can be used without housing. These cameras however have limitations in quality and technology they use.
The underwater housing comes in handy when you want to bring the high-end camera you are used to on solid ground and be able to exploit all its performances underwater.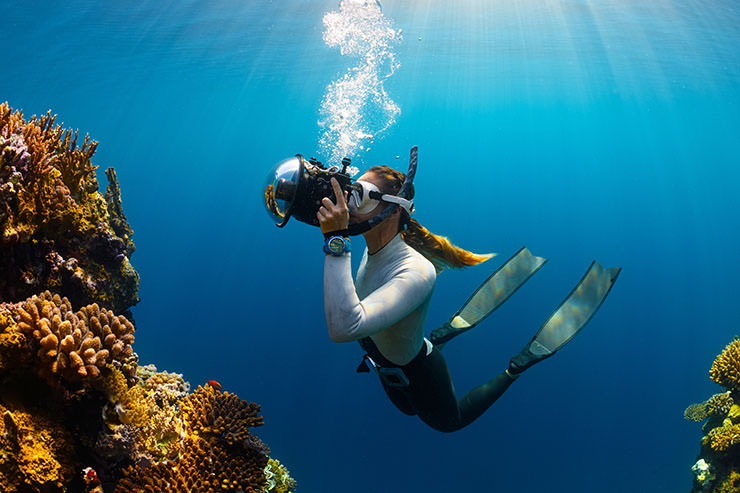 Benefits of using underwater housing
There are several benefits to using underwater camera housing:
1. Equipment preservation
The primary benefit of underwater housing is safeguarding expensive camera equipment from the corrosive effects of saltwater, the pressures of the deep, as well as accidental scrapes that could happen.
2. Image quality boost
Water can distort light and colors, leading to dull or blurry underwater images. Underwater housing mitigates these challenges by maintaining optimal optical conditions.
3. Creative versatility
Underwater housing transforms your regular camera into a versatile underwater imaging tool. It allows you to experiment with angles and perspectives, and create unique visual narratives.
4. Professional results
For those in the fields of marine biology, documentary filmmaking, or underwater research, underwater housing is a vital tool for obtaining professional-grade content.
Disadvantages of underwater camera housings
Every flipper has its flops. So even underwater housings have a few disadvantages:
1. Learning curve
It takes some time to learn to operate underwater cameras. If you plan to shoot underwater, first invest time in mastering the art of diving, as safety should be your priority. Once you've polished your scuba skills, proceed with learning hacks for underwater housings. One of the advanced lessons is licking the dome for a crystal-clear shot (we kid you not, your tongue has a secret sauce!).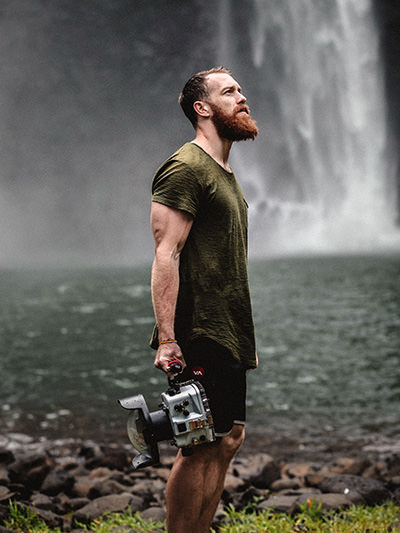 2. Bulkiness
Underwater housing can be bulky, and not the most pragmatic piece of equipment to carry around and operate. Nobody said becoming underwater Spielberg would be easy.
3. Price tag
As they are not mass-produced, and use durable materials and the newest technologies to provide high-quality solutions, underwater housings can get quite expensive. The first deep dive could be – in your pockets.
Choosing the right underwater housing
Now you are wondering, "How do I choose underwater housing?" There are several factors to consider to ensure you make the right choice for your needs.
Firstly, it is crucial to ensure that the underwater housing you choose is compatible with your specific camera model. There should be a secure and precise fit, and the underwater housing should provide easy access to essential controls for seamless operation.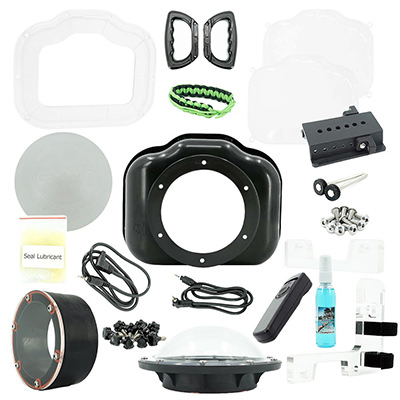 Next, you should consider the depth rating of the underwater housing, an indicator of how deep the housing can safely go underwater, without risking leaks or damage. Just like you wouldn't want to use a snorkel to explore the Mariana Trench, you don't want housing that can't handle the pressure. Match your diving ambitions and shooting depths; some housings are designed for shallow waters, while those with a higher depth rating can withstand the extreme pressures of deep-sea dives.
Another important factor to consider is the material of the underwater housing. Most commonly, high-quality materials such as polycarbonate or aluminum are used. The plastic housings are lightweight and affordable, while the aluminum ones offer superior durability more suitable for professional use.
Of course, besides the housings themselves, you could be spoiled for choice with additional features that improve the underwater shooting experience, like trays, handles, lights, and other accessories.
Lastly, price is an essential element when finalizing the purchase. Underwater housing can range from budget-friendly (if you are a casual underwater explorer) to higher-end (a justifiable investment if you are a professional aiming for top-notch shots).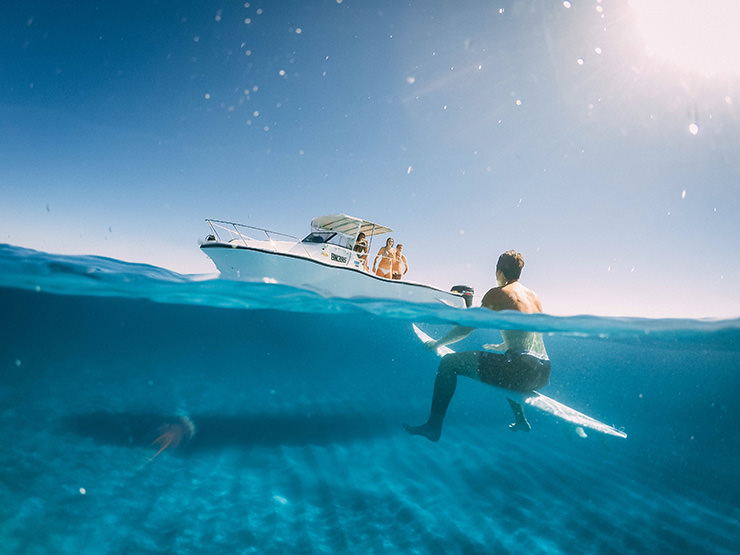 Types of underwater housing ports
An important accessory for your underwater housing, usually sold separately, is the lens port, your submarine window. There are wet and dry ports, and they will determine what kind of photography you can count on.
Wet ports come in a dome shape, and work great underwater. Additionally, this curved design allows a temporary formation of a thin water layer, without droplets, at the moment you lift the housing out of the water. That enables taking a photograph that shows the scene above the surface simultaneously with the part beneath the water line in a single shot (the so-called split-level photography). This also corrects optical distortions and disproportions caused by the different speeds of light above and under water. Dome port underwater housing works best with a wide-angle lens. The larger the dome, the better the image quality.
A dry port or flat port, on the other hand, is best used for close-ups and macro lens magic. Besides making it possible to see sea life up close, the design of dry ports is meant to eliminate droplets, which makes it a great solution for photographs on the ground, during rain or mist.
Ports can be made of glass (heavier and pricier, but less prone to scratches), and acrylic (everything opposite).
Lights and filters – secret weapons of underwater photography
As you gear up for underwater photography, let's shed some light on accessories you should consider when planning to purchase underwater housing.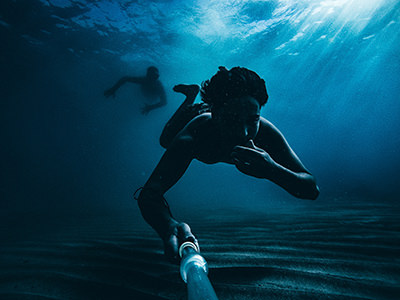 An important element is lighting. Water is denser than air and it absorbs light waves, which means you will be losing colors as you dive deeper and deeper into monochromatic depths. If you don't want a color palette that's heavy on the blues and greens, and instead capture all vibrant details, equipping your underwater housing with lights (strobe or video) is essential.
Lens filters are also useful accessories as they can enhance the colors and contrast of your underwater images. Red filters, in particular, help restore the warm tones that are seemingly lost in the watery abyss, resulting in more natural-looking photos.
Check out the blue and green tones Pipeaway's GoPro got when scuba diving in Naxos!
Top underwater housing brands
The underwater housing market has several reputable brands that offer high-quality underwater housing for various camera models. Some popular underwater camera housing manufacturers are:
Nauticam
First up is the Hong Kong sensation that has the underwater photography community buzzing. The innovative Nauticam offers a wide range of options, considered to be the very best underwater housings on the market. Their precision-engineered products are renowned for their durability, functionality, reliability, and ergonomic design.
Ikelite
On the more affordable side of underwater housing brands, there is Ikelite. This woman-led, family-owned manufacturer from Indiana, has been making waves since the 1960s, and built a trusted name in underwater photography. Ikelite's underwater housings for a wide range of camera models make them a popular choice among beginners and enthusiasts.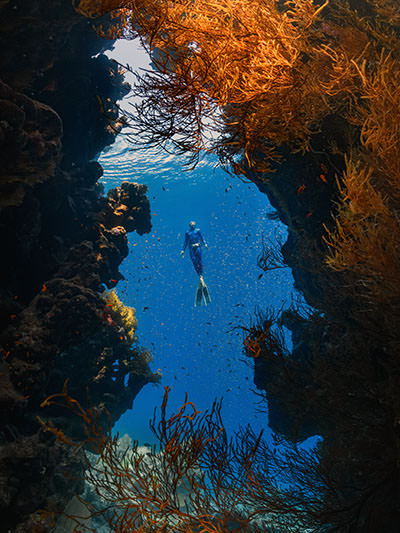 GDome
Based in Cape Town, South Africa, the business that started by importing GoPro cameras surfed its way into developing its own pioneering products. GDome created the first affordable and universal waterproof dome housing for smartphones and action cameras but also offers XL versions for mirrorless and DSLR cameras, even those specialized for surfing.
Sea & Sea
The Japanese brand Sea & Sea is all about innovative, sleek, and user-friendly underwater housing solutions. Their considerably smaller products are designed to provide easy access to camera controls and offer excellent depth ratings. Compact, intuitive, and ready to dive deep.
Isotta
Isotta is an Italian family producing their own high-end equipment for underwater video since 1980. Recognizable by its red color, Isotta housing is like a Ferrari for your camera, but the one with a smaller size and price, and disproportionally growing in popularity.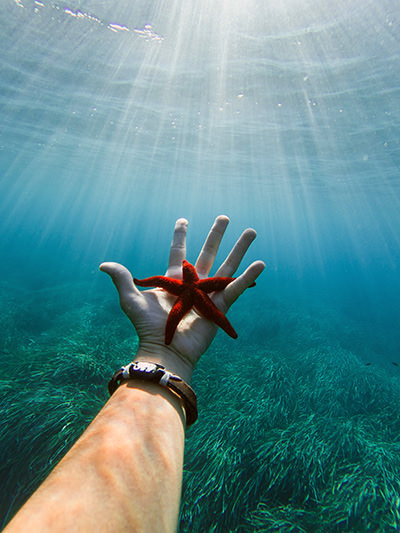 Aquatica
Coming from Montreal, Canada, we have another brand worth mentioning: Aquatica housings are crafted from a single solid aluminum block with advanced technology. Aiming at both recreational divers and seasoned pros with DSLR and mirrorless cameras, this underwater housing brand is a solid choice.
Marelux
Marelux housings are manufactured in China by a company headquartered in California. While newcomers to the scene (they started the business in 2020), they already have a fan club, impressed by high-quality products in the domain of underwater photography.
Original equipment manufacturers
Besides third-party manufacturers, some companies offer underwater housing for their original equipment. You can find pre-owned models on eBay from brands such as Canon, Olympus, and Fuji. For Nikon camera models, use the housings from the top of this list (from Nauticam to Isotta).
Underwater solution for every device
If you're itching to capture the wonders beneath the waves, we're about to explore the world of underwater housing products. From mobile phones and pocket cameras to the big guns like DSLRs and mirrorless marvels, there are solutions that will open up the sights of the undersea which would leave even Moses himself utterly impressed.
1. Smartphone underwater housing
The easiest entrance into liquid universes is an underwater housing for a mobile phone. Practically everyone has a cellphone these days, and waterproof cases for Android phones or iPhones transform our precious devices into recorders that make our snorkeling or pool dive memories live longer.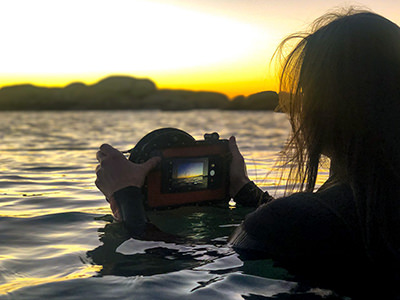 The most convenient solution is GDome Mobile Pro V2 which should work with every smartphone on the market. But if you ever want to expand your skills with action cameras, you won't have to purchase additional housing. Of course, as this underwater housing is designed for surface use, don't plan to dive deeper than 5 meters. If you're scared of dropping it, the good thing is it floats, so you won't lose your precious phone.
iPhone dive case
Phones change all the time, but if you don't want to go with a universal solution, you can also opt for a dedicated iPhone dive case. Check out Divevolk Seatouch 4 Max which is compatible with iPhone 12, 13, and 14, including Pro and Pro Max versions.
If you have an older iPhone model, SeaLife Sportdiver underwater housing works with all iPhones from iPhone 8 and up, and even most Android models. This iPhone case is expandable with Sea Dragon lights, so if you want an ideal underwater photography setup, go with the SeaLife Sportdiver Pro 2500 set.
Do waterproof pouches work?
If you don't plan to dive but primarily want to use your phone while swimming or snorkeling, waterproof pouches can be an affordable solution. But beware of what you choose, as when protecting your phone, price should not be the only factor to consider. Pelican Marine has a maximal IP rating of 68 (protection against dust and water), a detachable lanyard, and air cushions that keep your phone floating in case you drop it. It's not surprising it gets great ratings.
3. Underwater housing for action cameras
GoPro is one of the most famous underwater action cameras. As long as you're not going deeper than 10 meters, and have a model between 5 and 11, you don't need a GoPro underwater case. If you have Hero Original, 2, 3, or 4, your GoPro is not waterproof without housing. With so-called Standard Housing, you could go to depths up to 40 meters, and with GoPro Dive Housing – up to 60 meters. While GoPro does record sound with a waterproof case, it is often of poor quality.
If you want to achieve split-level water shots, also known as over-under shots, GDome again provides suitable GoPro dome ports for Hero 9/10/11, as well as underwater housing for the older models Hero8, Hero 5/6/7, Hero 3/3+/4, and GoPro Session.
DJI has Osmo Action 4 or earlier model Osmo Action 3, which are waterproof up to 18 meters, but you can extend this to depths of 60 meters with a diving accessory kit. Of course, for split-level shots, you can always use the universal GDome Mobile Pro V2, or order specific case models designed for DJI Osmo cameras.
If you have an Insta 360 One X2 or Insta 360 X3, these pocket cameras are waterproof without housing up to 10 meters. With a dive case, you can go down to 50 meters. You can, however, get GDome solutions for Insta 360 cameras here.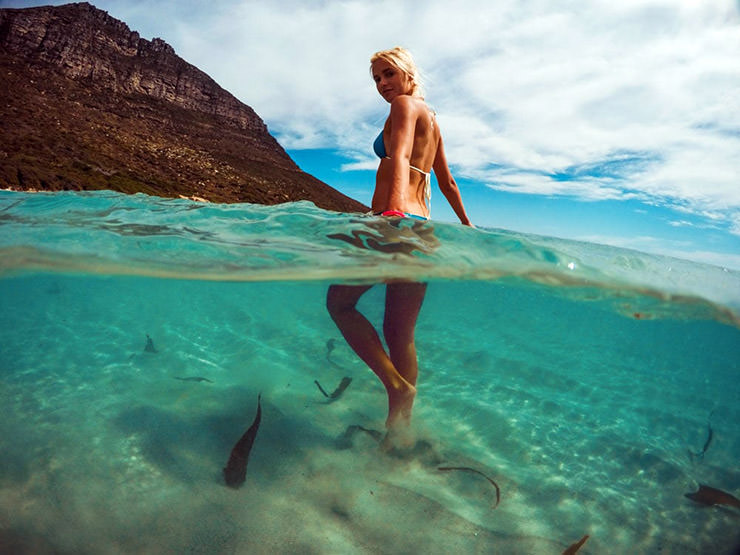 4. Underwater housing for DSLR and mirrorless cameras
Whether you have a mirrorless or DSLR camera, there is a one-stop solution for your adventures in water, and it's called the world's first universal semi-rigid modular underwater housing – the GDome XL. It works with almost any mirrorless or DSLR camera out of the box.
DSLR undwerwater housing
If you insist on a dedicated DSLR underwater case, there are solutions for your kind too.
For instance, if you're looking for Canon M50 underwater housing, Sea Frogs offers an underwater camera case for Canon that allows you to dive to 40-meter depths.
If you need underwater housing for Nikon Z6 or Z7, this solution comes with a wide-angle dome port.
Sony fans can make their Sony A7III waterproof with this model, while for Sony MPK-URX100A, head directly to the Sony store to get your underwater housing.
Underwater housing for mirrorless cameras
If you have a mirrorless camera such as Sony A6000 or Sony A6400, Mcoplus has a waterproof case that allows you to go to a 60-meter depth at its maximum.
If you own a Sony A7C, an underwater housing available in the Starbea store can withstand the pressure of 40 meters without leaks.
Fujifilm underwater housing designed for the model X-T3 has a freezeproof shell with an inbuilt leak detection sensor.
4. Underwater housing for compact cameras
If you have a simple point-and-shoot camera, you can still find a suitable underwater package.
For instance, if you own an Olympus TG6, housing is available directly from the Olympus store. You can safely take this Olympus TG6 case to depths of 45 meters. If you want a significantly cheaper option that is waterproof up to 60 meters, purchase your underwater housing at Sea Frogs.
Sony RX100 VII can be protected in the same store and allow explorations at depths of 40 meters.
Underwater housing by Polaroid is the cheapest option, and it should protect any ultra-compact lens camera.
For lovers of all things vintage, the underwater housings of yesteryears will make you nostalgic with these cool finds!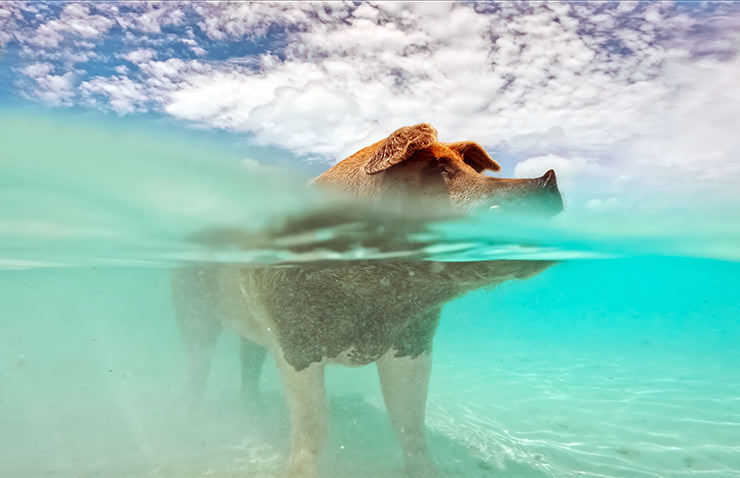 Maintenance magic
How to clean underwater camera housing?
To ensure its longevity and performance, proper maintenance and care of underwater housing is essential.
After each dive, submerge your underwater case in freshwater (rinse tank or any water container) for a good couple of minutes. Work those control buttons underwater to remove any lingering dried salt. Aim at these areas with running water too.
Use a towel or an air gun to thoroughly dry your underwater housing before opening it. You should close the housing as soon as you remove the camera to prevent any dust and moisture from entering.
As for your lenses and ports, blow off the dust, brush them with a soft brush, and then use lens tissue paper or lens cloth with a few drops of lens cleaner to wipe the glass.
Your underwater housing should be inspected before every dive too. The process should include removing the O-ring and wipe-cleaning the groove and the O-ring itself. Any sand, hair, or other underwater souvenirs should be removed. Lubricate the cleaned O-ring with a small amount of silicone grease, to maintain a watertight seal.
To reduce the opportunities for unplanned scratches, you should keep a neoprene cover on your dome port whenever it's not in water. Store it in a cool and dry place, away from direct sunlight.
How to keep underwater camera housing from fogging?
To prevent the fogging of your underwater housing, always keep a couple of silica gel sachets inside. The desiccant will absorb the moisture.
Keep your underwater housing away from the sun, always in an air-conditioned space, or at least covered by a wet towel. This will minimize the potential for later condensation.
Tips for using underwater housing effectively
Using underwater housing effectively requires a combination of technical skills and an understanding of the underwater environment. Here are some tips to help you capture breathtaking aquatic adventures:
1. Master your buoyancy.
Achieving neutral buoyancy is crucial for capturing clear and steady shots underwater. Practice controlling your buoyancy to minimize movement and vibrations. The smoother you move, the sharper your images.
2. Use natural light to your advantage.
Light behaves differently underwater. Experiment with different angles and depths to capture the most flattering lighting conditions around your subject.
3. Experiment with different camera settings.
Underwater photography often requires adjustments to camera settings to compensate for the loss of color and clarity. Experiment with white balance, exposure, and ISO settings to achieve the desired results.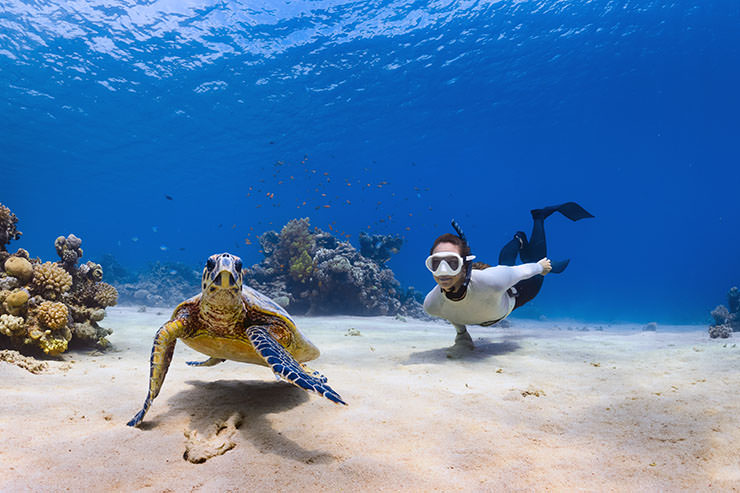 4. Get up close respectfully.
Taking a good photograph means getting close and personal with the subject without disturbing it. Respect the marine environment and never harm the creatures you encounter.
5. Be patient and observant.
The underwater world is full of unexpected moments and unique interactions. Take your time to observe the marine critters, anticipate their moves, and capture the shot when the time is right.
Being observant is important even on the firm ground. There might be someone recording you with a hidden camera at your vacation rental! Learn how to protect yourself from unwanted paparazzi!
Underwater camera housing – Conclusion
Waterproof camera housing opens up a world of possibilities for capturing the beauty and mystery that lie beneath the water's surface.
Underwater housing preserves your equipment and unlocks your creative potential
Bringing your camera underwater can document rainbow reefs, mysterious caves, exotic creatures, and even dramatic shipwreck sites resting on the ocean floor since ancient times. It's like giving your camera a scuba license, upgrading it from a mere paddleboard to a sleek submarine.
Whether you're an amateur adventurer or a professional content creator, investing in the right underwater housing can significantly enhance your underwater imaging experience. It doesn't just unlock the creative potential; this essential accessory preserves your valuable equipment.
Like any art, mastering underwater photography takes time. But practice, patience, and passion can combine for impressive results. There's an entire universe waiting to be explored and immortalized in pixels. This is your chance to peek under the waves.
Did you like this guide to underwater camera housings?
Pin it for later!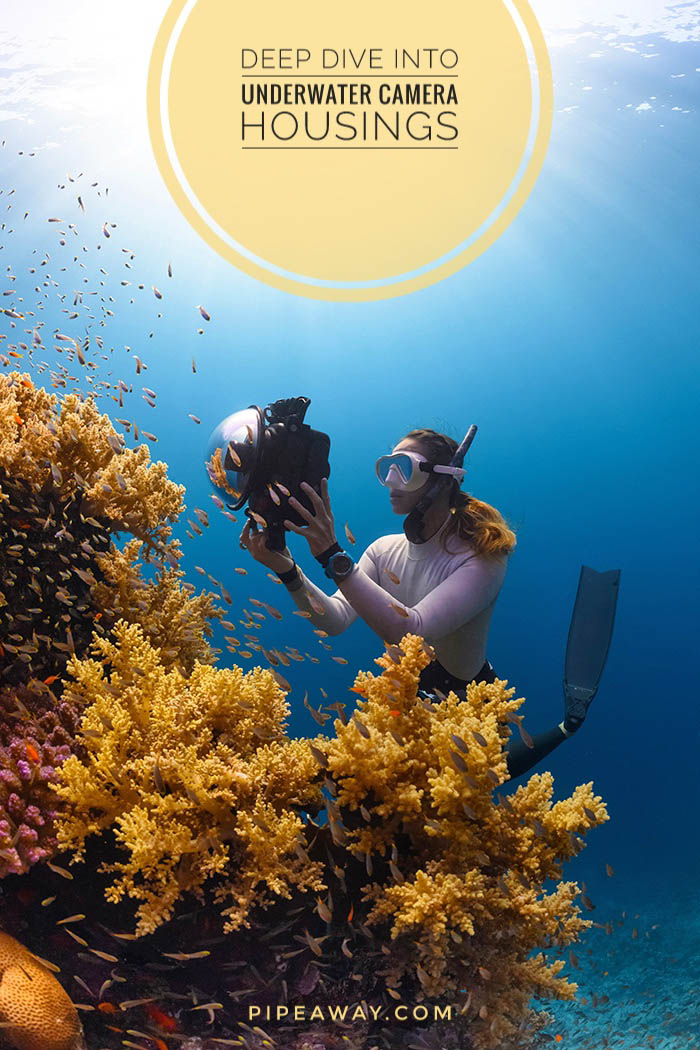 Disclosure: This post may contain affiliate links, meaning if you click on them and make a purchase, Pipeaway may make a small commission, at no additional cost to you. Thank you for supporting our work!

The photographs in this article have been sourced through Unsplash and GDome.

In the order of appearance, the authors are as follows: 
Snorkeler (cover and pin image) - Neom, Unsplash
Woman with wet port - GDome
Snorkeler - Neom
Beaded man - Jakob Owens, Unsplash
GDome Xl parts - Gdome
Surfer and boat - Gdome
Blue selfie - Daoud Abismail, Unsplash
Freediver - Neom
Starfish - Ludovica Dri, Unsplash
Sunset - GDome
Split-level woman - GDome
Split-level pig - Jared Watney, Unsplash
Swimming with turtle - Neom