Mariah Carey has started her own shopping spree, collecting music royalties from all those stores that take out the jingle bells as soon as they put Halloween pumpkins away. But before the Christmas season truly arrives, avid shoppers have been saving themselves for another holiday of shopping, raring to go as soon as they hear the whistle. Black Friday is the most anticipated shopping extravaganza of the year. Besides just an elbow-fighting race in the real-life version of "Supermarket Sweep", the Black Friday game show plays in online carts too, and you can score some great travel deals in 2023!
I've been living under a rock; what is Black Friday?
If you've been residing under a rock, Black Friday is the retail phenomenon that kicked off in Philadelphia in the 1950s. Just after Thanksgiving Day, everyone wanted to shop. The influx of people was so massive that the police were called to intervene and control the crowds that made shopping – a contact sport. The colloquial negative term, used by policemen, was later adopted as the name of the shopping frenzy trend.
2023 Black Friday deal chase lasts from 24th to 27th of November. But early birds get the worms!
Today, the Black Friday pandemic broke the boundaries of both space and time. It conquered the entire world, and it also runs for an entire weekend, from Friday to Monday (also known as Cyber Monday).
In 2023, the Black Friday deal chase begins on November 24th and stretches our credit cards' limits until the 27th. However, certain sellers couldn't wait that long, so their Black Friday kicked off like a month-long affair in the first half of November. Some sales might even spill over into early December.
Black Friday month – the deal chase is on!
To help you out with some of the best travel deals on Black Friday, we've scoured the web to uncover exclusive discounts and offers from top travel operators. This Black Friday, it's not only about discounted socks or half-priced toasters; we're diving headfirst into offers that promise to turn your travel dreams into reality.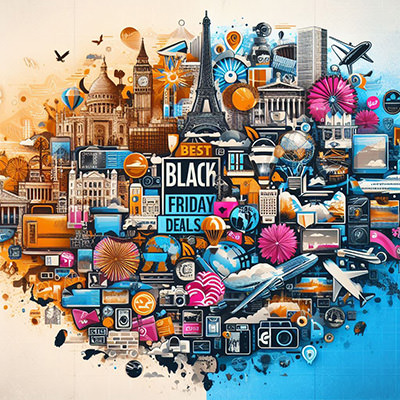 From Black Friday accommodation specials and cruise sales to the selection of essentials that will make your travel smoother than Mariah hitting those high notes, you'll find everything you need to pack your bags and explore the world without breaking the bank.
Our list of Black Friday deals for travelers will be updated as new deals keep popping up, so make sure to bookmark or pin this page!
Ready for the biggest sales event of the year? Enjoy the best Black Friday travel deals of 2023!
18 Black Friday travel deals not to miss in 2023
Hotels on Black Friday will become significantly cheaper. From November 16 to November 29, 2023, Booking.com offers Black Friday accommodation specials, with a minimum of 30% off selected rooms and rates. An even better treat awaits those who plan a trip to Asia or Oceania, as their savings will be at least 40%. While this promotion ends in November of 2023, you can book any stay until December 31, 2024. Check out which Black Friday Deals on accommodation are currently available here!

Expedia also celebrates Black Friday with a special bonus for their members. All you need is to sign up (unless you already have an account). Instead of the usual 10% discount available to all members worldwide, the hotels are 30% off if booked before November 29. It works for all stays until the end of 2024. From New York to Dubai, you can choose between great accommodation options, and splurge on more spacious and luxurious suites than those you would usually consider. Find your Black Friday hotel here!
If world hotels, even with discounts, are still miles away from your wallet, there's good news! Hostelworld, the global booking platform for hostels, has joined Black Friday travel deals. Budget adventurers can expect discounts that range from a symbolic 5% to an eye-popping 75%. You've got until December 4 to snag the cheapest hostel stays imaginable, and you can crash at these budget-friendly havens until April 30th, 2024. From a Tokyo hostel that's 53% off to cozy wooden cabins in a Colombian natural reserve at a sweet 40% discount, you'll be inspired by a myriad of choices. Hundreds of world hostels participate in this promotion, but the prices are subject to availability. Find your discounted (not only) dorm room stay on this handy hostel map!
If you're looking for Black Friday cruise deals, you're in luck, as various operators are competing with cruise bargains, but also free excursions, room upgrades, and other goodies. From Princess Cruises Black Friday sales (50% discount) to Celebrity Cruises Black Friday and Cyber Monday deals (75% off for a second passenger, plus $300 credit), there's a way to finally enjoy that Caribbean vacation without going broke. For an entire sea of enticing Black Friday cruise deals, check out the Cruise Critic, the most thorough resource for cruises.
One of the easiest ways to score Black Friday flight deals is to use a platform such as CheapOair that lets you compare over 500 airlines at once. If we judge by the previous Black Fridays, airlines such as British Airways or Virgin Atlantic will be showering with airfare deals. Even if you don't know where to go (leave destination as "anywhere"), the site will spew out airline deals in no time. If you're flexible with your dates too, check out if flight discounts are available in other months, as you never know where/when the Black Friday plane ticket is hiding. Book your cheap Black Friday flight here before December 5 (all 2024 tickets are valid!), and use the promo code BFRIDAY40 to save $40!
Whether you need to travel by land, air, or water, Omio's got you covered. This superhero of transportation is a convenient platform that lets you compare prices of over 1,000 providers, with tickets for trains, buses, planes, and ferries. Omio's Black Friday travel party is rocking between November 23 and 30, for any travel date you have in mind. Book your transport tickets here, and the promo code BF23 will unlock a 10% discount.
Rev up your excitement, because Rentalcars.com, the world's largest online car rental service, also joined the Black Friday bonanza. Their discounts range from 10% to 25%. To snag this sweet deal, you should book until November 29, for any rental until December 2024 (or until the new Black Friday hits). The whole world is your playground, but the greatest savings on rental cars you'll find in the hotspots like Colombia, Italy, Portugal, Spain, Greece, France, Belgium, Denmark, and the UK. Hurry up to reserve your vehicle independence!
Whether you need to get from an airport, a port, or a station, to your hotel, resort, or even another city, organizing a transfer in advance secures peace of mind. Intui.Travel is a booking platform that works with the best local transport companies in 175 countries, and can provide you with a transfer in a private car, a shuttle, a boat, or heck, even a helicopter. For every booking above 70 euros, they're throwing in Black Friday's 5 euros off. Just use the promo code BF5 when booking your transfer before December 15.
TourRadar joins the biggest sale of the year with the best deals on travel experiences. This adventure booking platform managed to negotiate the best prices with the tour operators, and their Black Friday discounts, available until December 1st, are reaching up to a jaw-dropping 70%! Whether you want to explore Japan for 10 days, plot a luxury cruise down the Nile in Egypt, or even combine Cambodia and Vietnam in a two-week itinerary, you'll be saving hundreds if not thousands of dollars. Some Black Friday adventures might be gone sooner than others, so if you hear them calling your name, head immediately to TourRadar to claim your spot among the intrepid.
Here are some trending tours to consider snatching:
For many more both budget and premium tours click on the banner!

GetYourGuide is the wizard of wanderlust experiences, your go-to booking platform with a range of amazing programs, from walking and food tours to cooking classes and very niche travel experiences. Their Black Friday promotion brings travelers' favorite programs, sometimes at half price. Whether you want to see Cappadocia from a hot-air balloon, watch whales from a plane in New Zealand, explore the ruins and cenotes of Mexico, or even challenge yourself with a 13-day trek to Everest Base Camp, there are serious savings to be made. This Black Friday, find an experienced travel experience guide!
There's no great vacation without throwing some renowned museums and thrilling attractions into the mix. Your solution is Tiqets, the platform that lets you book all your tickets directly from your mobile phone. From the Sagrada Familia in Barcelona to adrenaline bundles in Las Vegas, there's surely something that will enrich your dream trip. Oftentimes, those will be skip-the-line tickets, which means no wasting time in queues. Until November 26, use the promo code WANDERLUST5 for a 5% discount on your favorite attraction. Check out the offer here!
If you're indecisive about which attractions to see at a destination, and the only thing you find certain is wanting to see as many as possible, a Go City pass is what you need. With one pass, you can unlock the gates to all the sights in the city, and save up to 50% in the process. There are 30 top destinations on offer, and until November 27, you can get these magical city passes with a 10% discount. It's like getting a discount on a discount!
Pick an All-Inclusive Pass that lets you see as many attractions as you fancy for 1 to 5 days, or take an Explorer Pass and visit between 2 and 6 attractions over a leisurely 60 days. That makes it great even for locals! Head over to the GoCity list and decide on your next destination!
You probably know you're entitled to compensation when things start heading south at the airport. AirHelp will do the work for you when you're entitled to airline compensation; that could be up to $700 for flight disruptions, up to $1,700 for delayed, damaged, or lost luggage, and up to $7,000 for extra expenses caused by the disruption. It's a financial hug for your travel mishaps! At AirHelp, the Black Friday promotion lasts until December 15. You are entitled to a 9% discount if you use the promo code AHTRPS9 when purchasing the AirHelp Plus subscription.
Don't let your early-morning arrival or late-evening departure stop you from exploring your destination. Hotel check-in and check-out time should not be an obstacle for your hands-free plans! Radical Storage provides over 7,000 trusted baggage guardians worldwide, at a fixed price of 5 euros per day. Until December 16, use the promo code RS_BF23, and get an additional 5% off, as an incentive for your exploration freedom. Store your suitcases without worries!
With Airalo, there's no fear of high roaming charges. Wherever you land (well, as long as it is in one of the 200 countries in the program), you can easily activate an eSIM, a digital SIM card, and immediately go online. Besides country-based packages, you can even take a regional one, or a global one; no need to buy a special SIM for every country in your European, Caribbean, or Asian itinerary! With Black Friday discounts, the deal is even juicier. New users are entitled to a 15% discount (promo code NOV15), and if you already are a customer, you'll get 10% off (promo code NOV10). Just make sure to buy your packages before the last day of November.
You don't have to leave your home to taste the world. Try the World lets you embark on a grand journey without purchasing a plane ticket – via their snack subscription. Select your desired box size, a subscription plan, and countries you'd like to visit, and the world is coming to you. Every subscription box is a chance for a new discovery, with delicious international treats delivered monthly to your doorstep. From dried meats in Spain to mouthwatering candy in Korea, you can taste it all.
Until November 26, use the promo code BLACKFRIDAY30 for 30% off your gourmet gift!  From November 27 (Cyber Monday) to December 1, use the promo code CYBERMONDAY30 for the same discount on your food&snack order.
Try The World Black Friday 30% Off Promo

Try The World Cyber Monday 30% Off Promo
Whether you're documenting your extraordinary world journey or unboxing your international snack subscription, you'll want to capture every moment. Camera producers have Black Friday discounts too.
For instance, Insta360 Store's Black Friday sale lasts until December 3, and it lets you save up to $138 on a range of action cameras, and 50% off selected accessories. You can even grab a discounted warranty, free T-shirts, selfie sticks, tripods, batteries, etc.
For those who prefer DJI, the Osmo Action 3 Standard Combo comes with a 15% discount during Black Friday.
The newest GoPro Hero 12 Black action camera, bundled with accessories, is also on sale with a $100 off!
If you're into underwater photography, protect your smartphone, action camera, or even DSLR, with GDome water housings offering savings of up to $100 during Black Friday. The offer of products is limited to 100 units of each, so don't delay your purchase.
Blessed by Black Friday, camera drone enthusiasts can get DJI Mini3 Pro (RC) for 799 instead of 999 euros and DJI Avata Explorer Combo for 889 instead of 1,269 euros, while entry-level fliers can grab DJI Mini 3 (RC-N1) for 469 instead of 579 euros.

Black Friday guide wouldn't be complete without the ultimate abyss of online sales – Amazon. But unlike before, Black Friday deals on Amazon last from November 17 until Cyber Monday on November 27.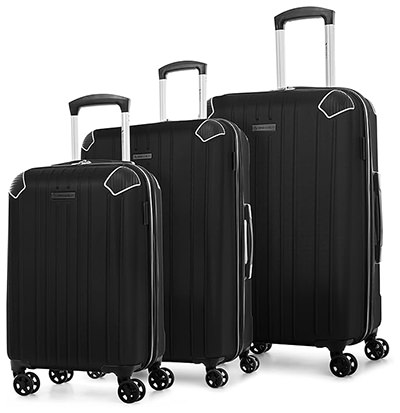 Here's our newest update on 12 eye-catching Amazon travel deals:
Find more Black Friday and Cyber Monday deals on Amazon!
Can't find what you were looking for on Amazon? Check out eBay, where with promo coupon HOLIDAYSAVES20 you can use a 20% discount until November 27!
The best Black Friday travel deals 2023 – Conclusion
From flights, cruises and hotels to all those travel essentials you will need on your vacation, Black Friday (and let's not kid ourselves, the weeks surrounding it!) brings savings one should score while available.
The best Black Friday travel deals for 2023 are your backstage pass to exploring the world
Black Friday is not only the time to snag that flat-screen TV or a lifetime supply of scented candles; it is also a shopping holiday you can use to support your travel dreams. This Black Friday, let your wanderlust take flight without burning a hole in your pocket!
The best Black Friday travel deals for 2023 are your backstage pass to exploring the world, lounging in luxury accommodations, sailing on unforgettable cruises, and equipping yourself with the best travel gear – all at prices that will leave you in awe.
But these deals are like shooting stars. Blink, and they might be gone! So if you find something you like, don't hesitate, and nab it immediately.
Start planning your next adventure today, and maybe BF can become your BFF!
Did you like this guide to the best Black Friday travel deals of 2023?
Pin it for later, as we will be updating it with new deals as they come!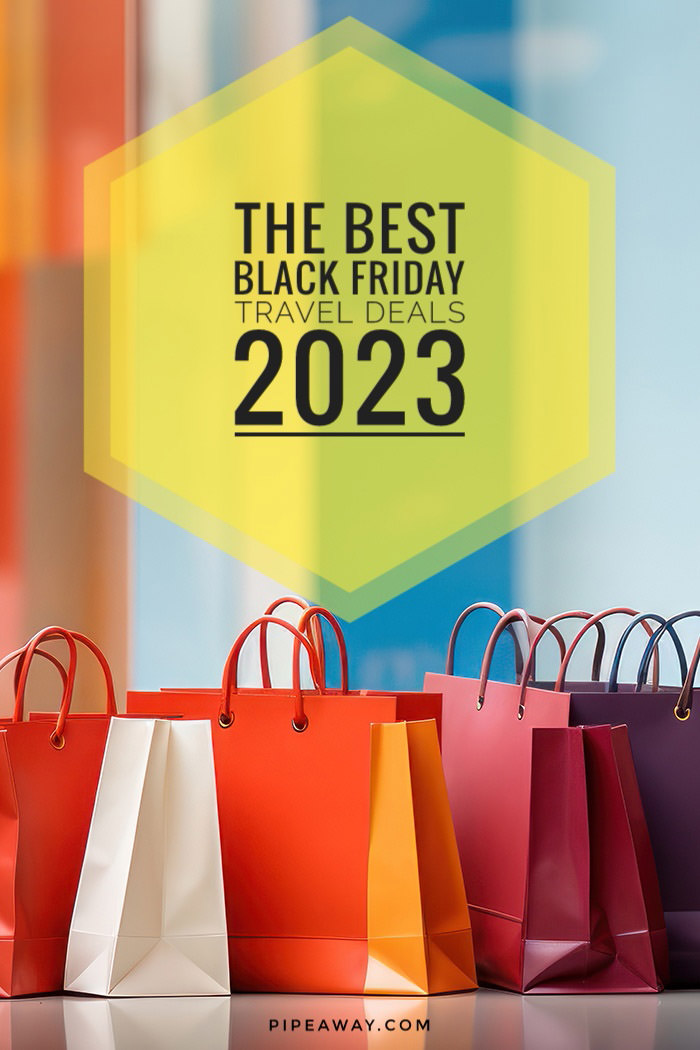 Disclosure: This post may contain affiliate links, meaning if you click on them and make a purchase, Pipeaway may make a small commission, at no additional cost to you. Thank you for supporting our work!

The author of the cover and the pin image of this article is Nuraghies, from Freepik.
Black Friday travel dream image has been made by Bing Image Creator powered by DALL-E 3.