Coron Island in the Philippines, part of the Palawan archipelago, is often called one of the most beautiful corners of the world. The island with a silhouette of a sleeping giant hides numerous beaches, lagoons, lakes, coral reefs, and underwater gardens! In other words, Coron is a paradise for those who love swimming, diving, and generally exploring the natural wonders of the Philippines' tropics! Let me take you on the Coron Island hopping tour!
JY Travel and Tours, one of the most reliable Coron tour operators, organized my Coron Island hopping adventure. Their Coron Ultimate Tour will bring you to Kayangan Lake, Twin Lagoon, Skeleton Wreck, Las Islas de Coral, CYC Beach, Sunset Beach, and Siete Pecados or Reef Garden. With an optional add-on of Barracuda Lake, your boat trip can become the Coron Super Ultimate Tour! You will be amazed by how much beauty can one single day pack! Get your swimming goggles on and enjoy Coron above and underwater!
But before we jump on the Coron Island Ultimate Tour review, here are some basic Coron Island facts!
Coron was proclaimed an ancestral domain of the Tagbanua tribe. It is not known if Tagbanuas had to sign anything as, in their culture, two contracting parties celebrate the agreement by cutting their wrists and drinking the leaking blood!
Coron Palawan facts
Where is Coron Island located?
Coron is the third-largest island in the Calamianes, a group of islands in the north of Palawan Province in the Philippines.
Coron's location is 308 kilometers southwest of Manila.
The distance from Coron to El Nido is 116 km.
The distance from Coron Island to Puerto Princesa is 270 km.
How big is Coron Island?
The length from the north to the south of Coron is 20 kilometers. At its widest point, Coron is 9 kilometers wide.
The highest peak of the island is 600 meters above sea level.
Coron Island population
According to the 2020 census, 1.131 people live on the island of Coron. This number declined from 2.649 living there in 2010.
It is the ancestral domain of Tagbanua people (sometimes spelled Tagbanwa). This indigenous tribe is one of the oldest ethnic groups in the country, the original inhabitants of the Philippines.
The scientists believe Tagbanuas are the descendants of the Tabon Man, whose bones, discovered in the Palawan caves, date back to 16,500 years ago!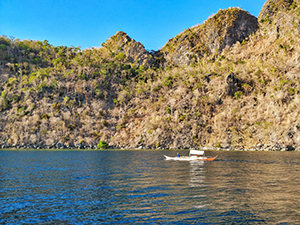 The Tagbanua people are slim, they have brown skin and straight hair, and, in the past, they were blackening their teeth.
Tagbanuas have their native languages, writing system, culture, and gods.
They practice the ritual of the blood compact, where contracting parties cut their wrists and drink the leaking blood.
Every year, they organize large feasts when the priestess gets possessed, and people make offerings to the gods in exchange for a good outcome.
After the evangelization by the missionaries, most of the Tagbanuas turned Christian.
While still relying on traditional fishing, woodcarving, and bamboo basket weaving, more and more they use modern technologies, such as mobile phones.
Coron Island history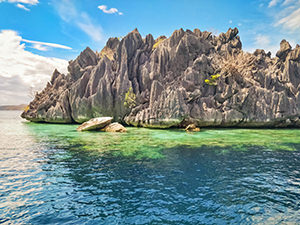 Ferdinand Magellan's ships arrived in the Philippines in 1521. According to some early Spanish explorers, the Tagbanua tribe was ferocious. At the same time, people living on Busuanga Island, where Coron Town is now based, were considered friendly.
It took some time for the Europeans to spread roots here. Only in the 17th century, the island of Culion became home to the first Spanish settlement in the Calamian Archipelago!
Nicolas Manlavi, the native of the Cuyo Islands who served on Spanish Galleons, migrated to Culion and started a farm on Coron. This would become the seed of the first settlement on Coron Island, at Banuang Lague (today Banuang Daan).
When Culion was chosen for the Philippine Leper Colony, the Sandoval clan (led by Claudio, Manlavi's son-in-law) moved and settled in Coron and Busuanga at the beginning of the 20th century.
In 1967, Coron Island was declared a National Reserve. Similarly, eleven years later, they declared it a Tourist Zone and a Marine Reserve, and then a Mangrove Swamp Forest Reserve. In 1998, the Palawan Council for Sustainable Development issued a resolution that proclaimed the island of Coron as an ancestral domain of the Tagbanua tribe. At the moment, Coron Island Natural Biotic Area is on the UNESCO World Heritage tentative list.
What does Coron mean?
There are two interpretations of how Coron got its name. In the Tagbanua language, 'coron' means 'embedded', which describes the geography of the island surrounded by the high mountains. If we accept that Coron's name comes from Cuyonon, the language of Nicolas Manlavi, 'coron' means 'pot', and it could refer to the shape of Coron Bay.
Coron Island Ultimate Tour review
Group tour or private adventure?
There are 1.780 islands in Palawan Province, one-fourth of all the islands in the Philippines.
The island of Coron exuberates in natural beauty. This makes it a target of all the best Coron Island hopping tours, but also of those which are not as good.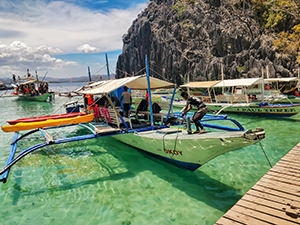 The additional risk of your trip is overcrowding, even if not all tours follow the same schedule. Tourists' numbers especially thicken up at Kayangan Lake and Twin Lagoon. Once you experience it, you may reflect if a group boat trip was such a great idea.
You can always try to organize your own private Coron Island adventure tour. That option would provide more flexibility, make you a master of your Coron DIY schedule, and possibly bring you off the beaten path.
Another option is booking the Coron Island hopping tour on a private speedboat which will save significant time in traveling between locations.
If you want to observe Coron's coastline from high up, join the adrenaline-soaked parasailing adventure.
But for anyone who wants to save some bucks with Coron tour packages, a group boat tour is the most economical and simple way to Coron Island hopping. It packs a lot of places of interest in a day trip.
JY Travel and Tours have vast experience in organizing Coron boat trips. I joined them on their Coron Island Ultimate Tour. Well, technically Super Ultimate Tour, as they did throw Barracuda Lake into the planning!
Dangers of Coron undersea

Besides obvious hazards of diving, the waters around the island of Coron are also home to some dangerous sea creatures. The top nine animals that could give you problems here are Chironex box jellyfish, the blue-ringed octopus, sea snakes, stingrays, sea urchins, the stonefish, the crown-of-thorns starfish, the lionfish, and the fire coral. We were lucky not to have any unfortunate encounter on our tour. But it felt reassuring to get the information that prepared us for the fact that we are entering the territory of the wildlife.
Waking up the sleeping giant
From the agency office, they organized a motorbike to transfer me to the harbor. Bangka boats were waiting, seemingly ready to depart. Our official tour schedule was from 09:30 to 17:00. We may have started half an hour late after all the boats had already left. However, it is also true that we returned to Coron Town close to 7 p.m., after sunset. The crew wanted to deliver everything in our program, with no complaints of "being late for home dinner".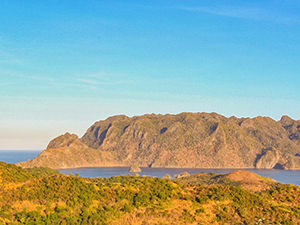 At the boat called Okoy, our dedicated tourist guide Roland, captain Gasparo, and two more helpers welcomes us, a group of 14. The guide informs us about the safety requirements for some locations. The authorities made orange life vests an obligatory dress code after some tourists ended their Coron Island vacation with a fatal accident.
It is a busy morning atmosphere in Coron Town Port. Kids jump from bangka to bangka, trying to sell water and gadgets for the trip. Local vendors try to rent out their snorkeling equipment. Does anyone want to bring a kayak? No problem! Anything you may need during the Coron Island hopping boat trip is available!
Our boat is the last to leave the port. Roland the guide points at one part of Coron Island silhouette in the distance. It resembles a human face in a profile. With hordes of tourists headed the same way before us, we didn't know if the Sleeping Giant would be fully awake when we arrive. Can we catch any moment of tranquility?
Recognizing patterns in the world that surrounds us is called pareidolia. Thanks to this special human ability, we can see islands that look like bikinis, or smiling faces. Check them all out in our special list of islands that resemble other things!
Coron Island hopping ultimate stops
1. Kayangan Lake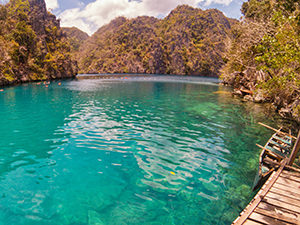 Kayangan Lake is the first and probably the most famous stop on our Coron Island Tour. The cleanest lake in the Philippines, some say even in the whole of Asia, is one of only two lakes that the Tagbanua people opened to tourism. In total, there are 11 lakes on the island of Coron. They are considered sacred and, except for parts of Kayangan and Barracuda, these pristine lakes are off-limits to the public.
To get to Kayangan Lake, one needs to climb 367 steps from the bankga mooring in the marina which is an enchanting place in its own right. This fantastic cove is the star of the iconic view and one of the most photographed places in Palawan. Halfway to the lake, there is a lay-by with a small cave and this Instagram-worthy viewpoint. If you want this bay in the background of your selfie, prepare for queuing in the rush hours!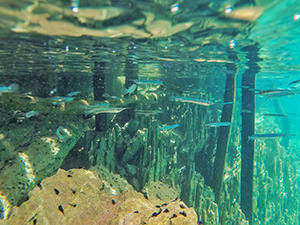 On the bottom of the stairs on the other side, your short hike ends at a paradise of nature. The wooden walkway surrounds the swimming area of Kayangan. Before jumping into the lake, you can leave your belongings on the boardwalk.
The karst mountain continues under the crystal clear waters of Kayangan, creating a fascinating rocky setting for snorkeling and freediving.
The lake water is brackish. Its 70 % is fresh water, and the other 30 % is salt water, due to underwater connections with the sea.
Life jacket as a must-have accessory

You will have to put a life jacket on when sailing out of the Coron Town. You will also have to use it when swimming at some of the sites in your Coron Palawan itinerary.

However, there is a trick! It is still possible to be in the water without a life jacket on, as long as it is floating just next to you!

Practice caution! Kayangan lake claimed two Czech lives in March 2017. In January 2019, even one of the boatmen drowned here. Today, the hypnotic blue water with its tempting clarity is only disturbed by orange life jackets which should hopefully remind us of our human limits.
2. Barracuda Lake (or Luluyan Lake)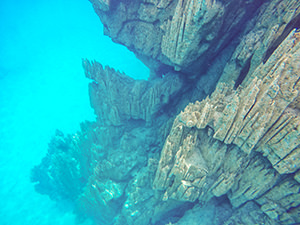 Not far from Kayangan, Luluyuan Lake (better known as Barracuda Lake) is another fascinating body of water worth exploring. Contrary to the famous name, there are no more (many) barracudas in the lake. You should consider yourself lucky if you manage to spot one!
The access from Coron Island shores to the lake is much shorter (only 40-ish stairs), but it attracts far fewer crowds than our first stop. It may be a more relaxed alternative if you wish to experience Coron's lakes encircled by dramatic limestone cliffs without tourist swarms.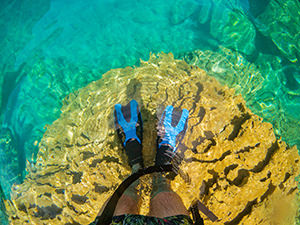 Barracuda Lake is scuba diving fans' favorite. Snorkelers can see only bits of the fascinating mountains in the shallow part of the water, which is still an exciting exploration! But those who can dive deeper will experience some peculiar sensations! The lake has layers of fresh, salt, and brackish water with radical temperature differences of up to 10 degrees Celsius! The warmest parts, heated by volcanic activity, can get as hot as 38 degrees.
The transition layers or thermoclines (areas where the water of different temperatures mixes) and haloclines (areas where the water of varying salinity mixes) provide a unique visual and tactile experience.
The silty bottom of the lake also comes with a surprisingly light consistency. It quickly becomes another playground for the divers. They can walk on this brownish water cloud or toss it around until everything becomes murky!
3. Lunch break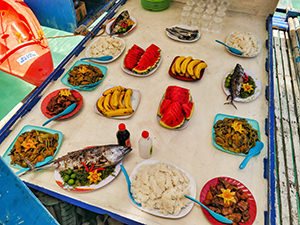 The original idea was to consume our lunch on Sunset Beach. Due to some delays in following our Coron Palawan itinerary, the crew prepares our lunch at the Barracuda Lake docking area.
Fish with some seaweed, veggies, chicken, and rice, with watermelon and bananas… It all waits for us on the boat like some much-needed feast. The food is delicious, and we lick our plates clean!
4. Twin Lagoon
Twin Lagoon is another popular site in Coron Island hopping tours. Sharp rocky walls tower above this tucked-away swimming area.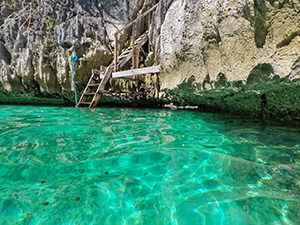 During the high tide, one has to climb over the ladder to get to the other side of the rock that hides a second lagoon. But during the low tide, the two bays practically become one, connected via a narrow crevice in the rock. A several-meter-long secret passage is big enough to swim through.
Some tourist groups go through this cave-like experience while floating on their back, holding together like a caterpillar, while their tour guide is pulling them. It may resemble a ridiculous team-building swim through the gap in the rock, but luckily our guide Roland does not even suggest it. He lets us explore the Twin Lagoon, the fascinating corner of Coron Palawan, in our own way and pace.
5. Skeleton Wreck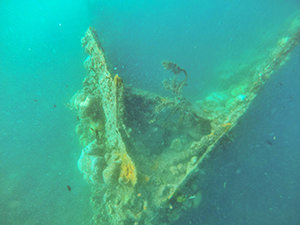 Shipwrecks are one of Coron Island's biggest underwater attractions.
In September 1944, American bombers and fighter planes destroyed a fleet of Japanese war and supply ships hiding in Coron Bay. A dozen ships sank to the bottom of the ocean floor!
Marine life such as corals and fish moved in, and today Coron can boast the title of the shipwreck diving capital of the Philippines.
Because of the preserved state of the ships, some say that Coron Bay is even one of the best places for wreck diving in the whole world!
Our Coron Island Ultimate Tour leads us to the Skeleton Wreck, one of the most easily accessible sunken vessels in the area. The closest to the island (its northwest side), at a depth of 5 to 22 meters, it is an interesting Coron site even for shipwreck snorkeling!
Unlike Okinawa Maru, which is 160 meters long, the Skeleton Wreck is only 25 meters in length.
The boat got its name because all that was left of it were the keel, ribs, and stringers.
Due to my poor freediving capability, our tour guide is kind enough to make several dives and take some close-up underwater shots of the Skeleton Wreck.
If you are not into World War 2 wrecks, look for the Nemo in the shallow waters. Clownfish may be hiding well, but there will undoubtedly be other large finny tribes always ready to show off.
6. Reef Garden (Malwawey Coral Garden)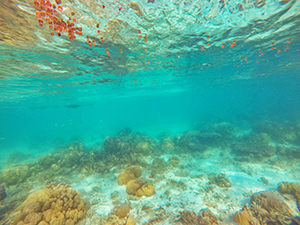 Just a stroke away from the Skeleton Wreck, our bangka stops at Malwawey Coral Garden. The water here is teeming with jellyfish!
They are small and, according to our guide, not dangerous. Still, only a couple of us collect enough courage to swim through these living barriers, to check what are they hiding behind!
And, oh, it is beautiful! The Reef Garden is full of amazing colors and shapes! They are so fascinating that jellyfish are easy to ignore.
The other members of the group do not know what they missed, and only courtesy for their waiting brings me back to the boat sooner. If you go on the Coron Island Ultimate Tour, do not miss the opportunity to explore the Reef Garden!
7. Sunset Beach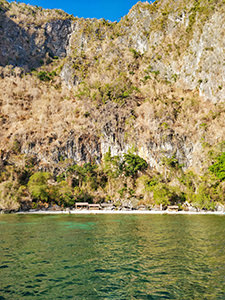 Because we were spending more time on some of the tour stops, we only passed by Sunset Beach.
JY Travel and Tours use this Coron beach exclusively, and no other boats are allowed.
We should have had lunch at this place, but after reshuffling our itinerary, we head towards our last stop, while there is still daylight.
On the boat, the crew serves us a local snack called turon-jack. It is essentially a spring roll with jackfruit and banana. It's yummy, and I greedily look around to see if any of our group members will say they are allergic to some of the ingredients. I don't get to claim an additional piece.
8. CYC Beach + Las Islas de Coral
Two destinations await at our last stop. CYC Beach and Las Islas de Coral are practically next to each other, so we are left to explore the two at our leisure.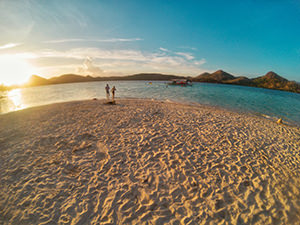 CYC Beach (stands for Coron Youth Club) belongs to a tiny island south of Uson. This white sand beach with clear water attracts a lot of visitors, as it is also the only public beach with no entrance fees.
We are lucky to get here at the end of the day and have the beach all for ourselves. Well, we do share it with a local dog that is enjoying its rest on the warm beach sand.
If you're looking for shade, mangroves and other trees provide a hideout from the tropical sun.
For more snorkeling or diving fun, enjoy the area known as Las Islas de Coral. If you still have energy after a long day of swimming and exploring the secrets of the island of Coron, the exciting underwater garden of the Philippines will reward you.
Looking for more beaches to include in your Coron holidays? These are some to consider: Green Lagoon, Atwayan Beach, Banul Beach, Beach 91. If you want to travel further away from Coron shores, you can check Malcapuya Island, Bamboo Island, Banana Island, Sangat Island, Bulog Dos Island…
How much does the Coron Island tour cost?
Coron Island tour rates are more or less comparable to each other, depending on the distance of the sites one is visiting. Coron Island Ultimate Tour with JY Travel and Tours costs 1500 Philippine Pesos per person (26 Euros). If you want to throw Barracuda Lake into your Coron Palawan itinerary, you will need to add 200 Pesos (3,5 Euros) to the nominal Coron Island tour price.
Organized day tours typically include Coron Island entrance fees. Have in mind that if you opt for a private boat tour, you will need to pay an entrance ticket at all sites managed by Tagbanua – typically between 100 and 200 Pesos (2-3 Euros).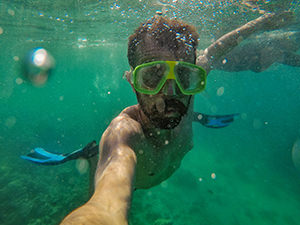 What to bring for Coron Island hopping?
Your personal snorkeling gear. I borrowed a set of fins in the Coron Town port at the last minute for 150 pesos (less than 3 Euros) but didn't even see that they were slightly damaged. Swimming with them was more laborious than without them! In the end, I spent the whole day struggling with these malfunctioning fins. I also had a cheap snorkeling mask that was letting the water in. All in all, if you can, I advise you to bring your personal equipment, that you trust.
Sunscreen. Obviously, with so many appealing Coron Island activities, you may not notice that the tropical sun is burning you. Take care of your skin!
Hat or cap. Your head will thank you!
Sunglasses. Protect your eyes as well!
Swimsuit. No, it's not possible to bathe nude!
Towel. Dry yourself off quickly, especially after the last swim of the day!
Waterproof bag. I bought my 10-liter Ocean Pack dry bag at the local market for 250 Pesos (4,5 Euros). If you want to take pictures in the water with your mobile phone, you can also buy a mobile phone dry bag. But check the quality before risking your phone!
Snacks and water bottle. If you go on a Coron Island hopping tour with JY Travel and Tours, you will not be left hungry. But some Indian cashews Coron Town is famous for can always come in handy. Also, you can refill your water bottle on the boat, but – bring one!
Camera/phone with spare batteries/charger. Whether you are taking photos with your phone or another camera, it is worth having a replacing source of energy once the batteries run out. And trust me, they will! As you will probably be taking loads of pictures!
Some money. Even if meals and drinks are included in the Coron Island hopping package, you may crave a fresh coconut when you get to one of the stops.
For the best results with underwater photography, as well as protection of your camera, consider getting an appropriate underwater housing!
Coron Island Ultimate Tour review – conclusion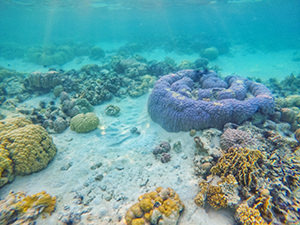 If you are looking for beautiful and preserved nature, you should not skip exploring Coron Palawan.
Its turquoise lakes and white sand beaches, jagged cliffs and lush jungle, hidden lagoons, and seabed teeming with marine life, all combine into a perfect set-up for an ultimate island-hopping adventure.
If you take Coron Island geology and add the submerged wartime ships into the equation, the result is a world-class diving destination!
With the growing interest of international travelers, Coron Island attractions are not always as serene as images may suggest. Group boat trips may be the most convenient way to reach these fantastic Coron sites, and overcrowding may affect some of the experiences.
However, with a bit of luck, and a flexible captain ready to adjust your Coron Palawan itinerary to the actual circumstances, your bangka can bring you to the best Coron Island points of interest available at the moment of the visit.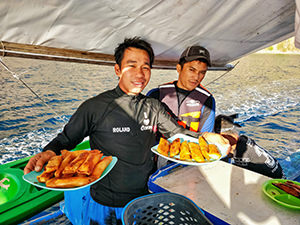 Our Coron Island Super Ultimate Tour with JY Travel and Tours was a pleasant experience. Everyone was reassured that this Coron trip was tailored for travelers, not for the convenience of the agency.
With no rush and no stress, and with all the lovely memorable moments, where your Coron Island tour guide can become a cook, a personal photographer, or even a comedian, you feel cared for and relaxed.
All you need to do is erase the worries and surrender to the unique beauties of your Coron Island holidays. After all, you are in the hands of the Sleeping Giant!
Do you want to experience island hopping in Europe? Try Cyclades group of Greek islands!
How to reach Coron Island?
Getting to Coron is possible by plane or ferry.
If you are flying, you need to set Francisco B. Reyes Airport (formerly Busuanga Airport) as your destination. The typical departure (or transfer) port is Manila, but you can also arrive at Coron Airport from places such as Cebu, El Nido, or Puerto Princesa.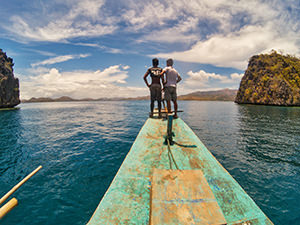 You can go from Manila to Coron Island by 2Go Travel ferry too. It will take you there every Friday at 7 pm, with arrival in Coron on Saturday at 6 am.
For a higher level of comfort during this 11-hour ride, choose the class with fewer beds.
I traveled this affordable way, but I recommend you dress well or have an extra blanket (if you don't want to rent one on the ferry). The air-conditioning makes it chilly!
Also, consider bringing some food, as the meal included in your ticket may be a very bland version of dinner.
Beware that, besides the fare you pay online, you will have to pay the ferry terminal fee in Manila, so prepare some cash (95 Pesos, which is less than 2 Euros).
This ferry continues to Puerto Princesa.
The return journey in the opposite direction is possible on Sunday.
If you travel from Coron to El Nido, there is a 4-hour ferry by Montenegro Lines (leaves Coron at noon, while the opposite-way departure from El Nido is at 6 a.m.).
The cheapest option in Coron Town is to buy the ticket at the Montenegro Lines office close to the port (across from the Two Seasons Bayside Hotel). It will cost you 1.760 Pesos (30 Euros).
Where to stay when visiting Coron Island?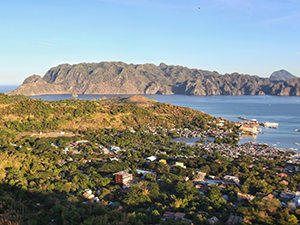 Most of the travelers visiting Coron Island stay in Coron Town.
I must admit that my search for Coron accommodation was a nightmare. I arrived by ferry early morning, and I didn't find a bed to sleep in until the evening!
First I booked Ina HomeStay on Airbnb. After checking in, I realized that the room/bed was infested with ants and left immediately. Sadly, Airbnb was extremely slow to respond or help on this occasion.
After checking some (even less decent) rooms in the neighborhood, I decided to look for hostels, trying first with the new ones I marked out on my map. But some were so new that didn't even put any signs on the buildings. Google Maps were useless.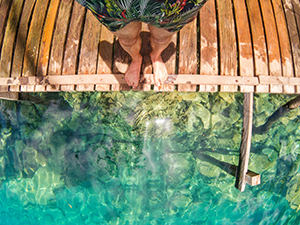 In the end, I managed to book the Island Hostel through Booking.com. It was already getting dark when I arrived at the hostel, only to find out that there was a system failure. The website was overbooking rooms which were already full!
Luckily, the staff of this hostel was very welcoming. They treated me with a drink, understanding how difficult this day has been for me. They even offered to find other good-quality hostels nearby, but being tired, I booked the first room across the road, just for a night.
The next days I moved to Avisala Hostel Coron, which luckily had an available bed, and was a quite decent and recommendable place to stay.
I don't know if this was seasonal. But if you want to stay in Coron City, and want to make sure that the accommodation will be waiting for you, look for places to stay in Coron in advance. You can find a variety of options in Coron, from luxury beachfront resorts to backpacker guesthouses, just don't look for your accommodation at the last minute!
For the best selection of Coron hotels, look at these offers!
Can you stay on Coron Island?
If you wish to stay on Coron Island itself, there is only one accommodation option available. And even that one is on the island only technically!
Paolyn Floating House and Restaurant offers accommodation and meals in the pristine waters of the Laknisan Lagoon (also known as Blue Lagoon).
Even if I didn't have the chance to stay there myself, it seems to be an exciting option for exploring the island, especially the Hidden Lagoon and the Twin Lagoons which are close by. You can easily reach them by kayak or paddleboard, available for all in-house guests.
If you are okay with sleeping on the water, it is an option worth checking!
For the best prices, book Paolyn Floating House through this link!
Did you get interested in the idea of Coron Island hopping?
If yes, pin this Coron travel guide for later!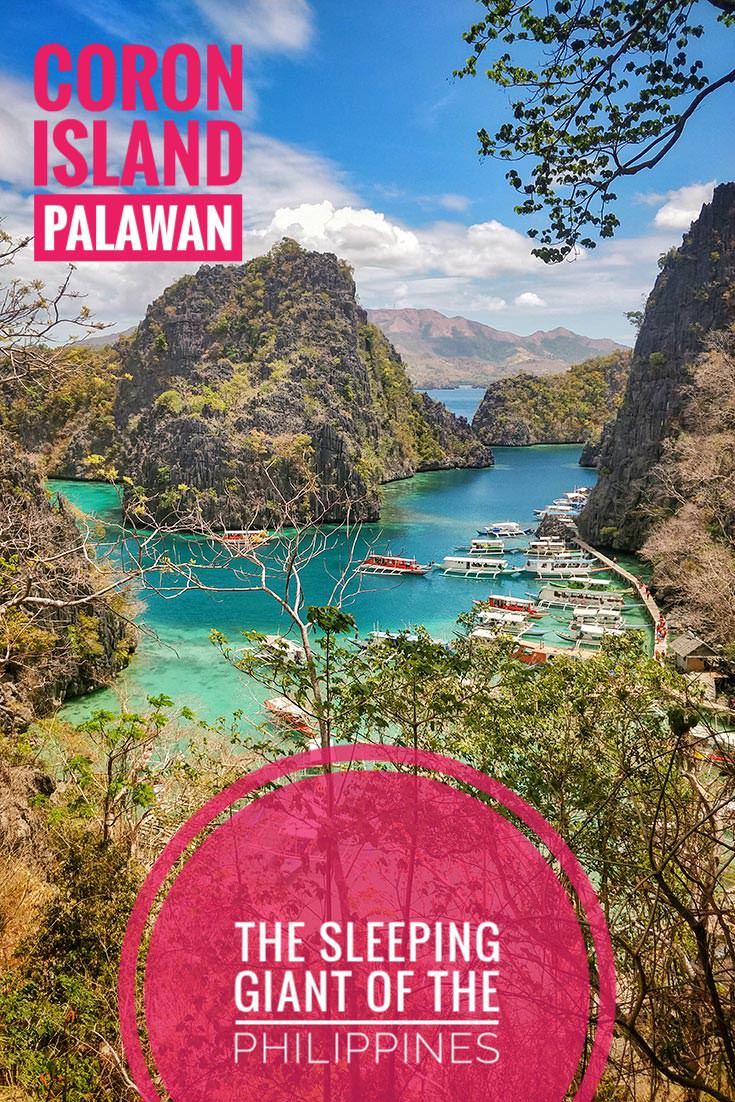 Disclosure: My participation in Coron Island Tour was complimentary, but all opinions are my own.

Also, this post contains affiliate links, which means if you click on them and make a purchase, Pipeaway might make a small commission, at no additional cost to you. Thank you for supporting our work!