The news hit like Sith Lord's Force lightning: Walt Disney World Resort announced that Galactic Starcruiser, the famous Star Wars hotel, is closing its blast doors. But as the highly acclaimed Galaxy's Edge hotel self-destructs on September 30th, the game may not be over just yet. If you missed your chance to board the real-life Halcyon passenger liner, you can find solace in another Star Wars-themed hotel sanctuary! 
Galactic Starcruiser's price tag resembled Jabba the Hutt's appetite
Star Wars Galactic Starcruiser made its grand debut in March 2022. However, not everyone could get a mortgage for the priciest space adventure on this side of the Outer Rim. Galactic Starcruiser quickly gained a reputation as "that $6000 Star Wars hotel". The sum is only slightly exaggerated as the actual price the family of four had to pay for the immersive hotel experience was $5999. Couples could've enjoyed Disney Star Wars hotel if they forked over $4807 for the two-night stay.
The price tag that resembled Jabba the Hutt's appetite was opposed with enticing photos and glowing reviews. So while a struggling factor, it didn't deter guests from dreaming of a voyage to Disney's LARP hotel (that's live-action role-playing if you're not familiar with fictional games lingo).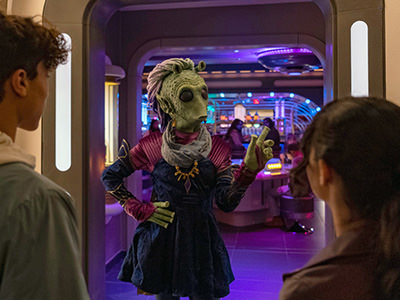 In Starcruiser's case, you could navigate the starship, hone lightsaber skills, indulge in celestial cuisine accompanied by live entertainment, and partake in interactive Star Wars missions of your own. If you wanted to retire to your quarters, the cabin came with a view. Of cosmos.
It will be hard to surpass the simulated space odyssey that received THEA Award for outstanding achievement in themed entertainment. Choosing sides in epic battles, and rubbing shoulders with Kylo Ren or Chewbacca, could become just fading memories of a Star Wars resort that didn't make it.
But cheer up, young Padawans! There are other Star Wars-inspired accommodations where you can find refuge without bankrupting your galactic credits. We present you with a line-up of the finest Star Wars hotel alternatives in the galaxy!
If you want to truly explore the world beyond Earth, you'll have to know these things about the space travel experience!
Top 10 Star Wars hotel alternatives
1. Hotel Sidi Idriss: The Luke Skywalker Experience
Location: Matmata, Tunisia
Price: 60 euros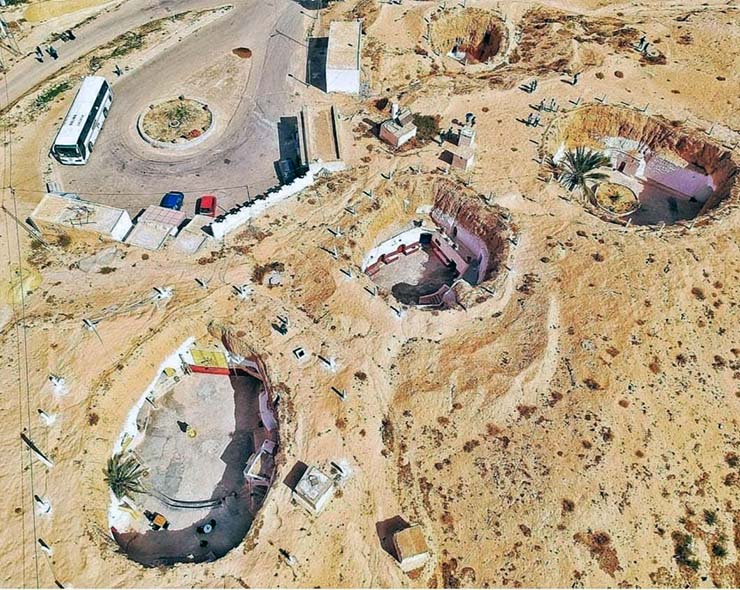 In the arid landscapes of southern Tunisia, some locals still live in caves carved into the sandstone, like two millennia ago. Nestled in the village of Matmatat-Al-Qadimal (Matmata), one of these troglodyte underground buildings is now Hotel Sidi Idriss. The traditional Berber dwelling with 20 cave rooms is better known as the childhood home of Luke Skywalker.
The village was a secret for 22 centuries until in 1969 a flood pushed inhabitants to ask for help from first neighbors. Just seven years later, George Lucas fell in love with the rugged terrain and made it the central point of the desert planet of Tatooine (named after a real Tunisian town Tataouine).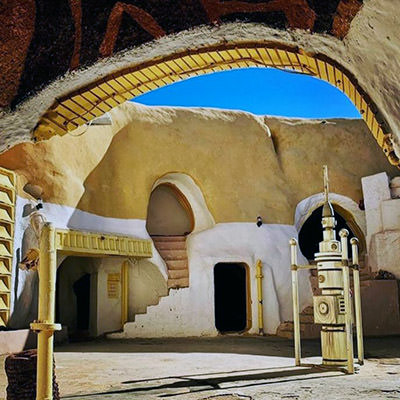 The Sidi Idriss Hotel acted as the home of the Lars family in 1976 ("Star Wars: Episode IV – A New Hope") and 2002 ("Star Wars: Episode II – Attack of the Clones"). Moisture vaporators can still be found on the site.
Lars homestead offers a double room for 60 euros, with included breakfast and dinner. But fair warning, luxury is not part of the package. The air-conditioning is natural, the bathroom is shared with other Jedi enthusiasts, and out of all the stars worth fighting the war for, Sidi Idriss managed to get 1-star hotel categorization. Still, for Star Wars devotees, visiting this unconventional lodging is a must.
However, you can also just swing by for a round of drinks at the bar. Only 500 meters away, Hotel Marhala Matmata has a similar cave setting, but somewhat better reviews than the original filming location. A single room with breakfast and dinner costs 30 euros here. 
Star Wars-inspired tours in Tunisia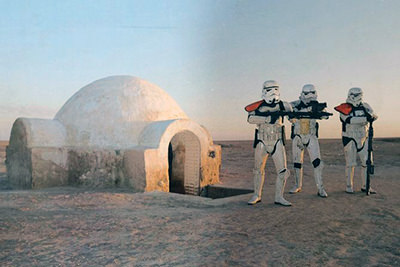 For full Tatooine immersion, visit Star Wars filming locations scattered in Tunisia: Mos Espa slave quarters (fortified granary villages of Ksar Hadada and Ksar Ouled Soltane), Mos Espa marketplace and arena (Eriguet dunes south of Chott el Gharsa), Lars farm igloo (Chott el Jerid salt lake flat near Nefta), Star Wars Canyon where R2-D2's abduction took place (Sidi Bouhlel), Obi-Wan Kenobi's house (Amghar Mosque), Mos Eisley spaceport (Ajim), and others. If you don't want to navigate Tatooine's sandy terrain alone, guided Star Wars tours are at your service. You can do a day trip from Tozeur for 110 euros, or from Djerba and Zarzis for 200 euros (price for two people).  If you have a more adventurous spirit, do the 3-day trekking through Berber villages and Sahara desert from Djerba for 1.120 euros (three persons), or the 3-day tour from north to south of Tunisia from Tunis for 1.550 euros (two persons).  To unlock the ultimate Star Wars experience, choose the 5-day tour from Tunis for 2.000 euros (four persons), or the most detailed 7-day tour from Djerba for 3.200 euros (also for four people). 
2. Wadi Rum Star Wars Camps: A Desert Adventure in a Galaxy of Cinematic Proportions
Location: Wadi Rum, Jordan
Price: from 33 to 272 euros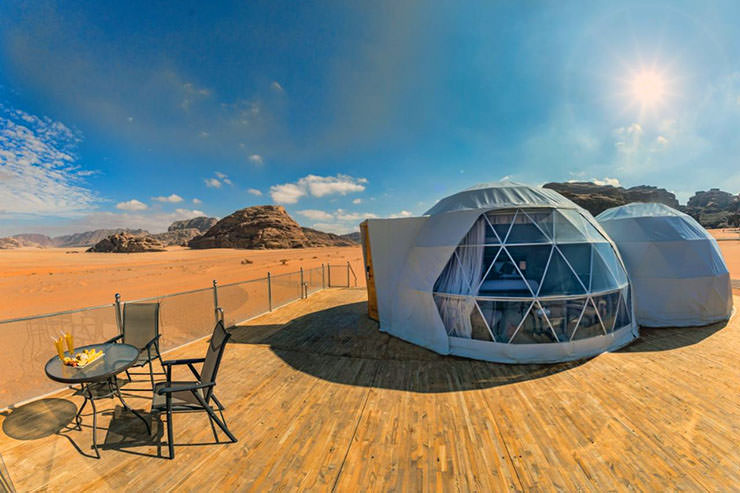 If you're a true Star Wars wanderer, you'd want to set your course for southern Jordan, as that would be visiting two planets for the price of one. The desert landscape of Wadi Rum played planet Pasaana in "Star Wars: The Rise of Skywalker", as well as the moon Jedha in "Rogue One". 
Also known as the Valley of the Moon, Wadi Rum is the largest valley in Jordan, a treasure protected by UNESCO. The wonderland of vast desert vistas and red sandstone cliffs attracts many rock climbers and intrepid hikers alike, enjoying the warm hospitality of the Zalabieh Bedouin tribe, masters of navigation in this sandy playground.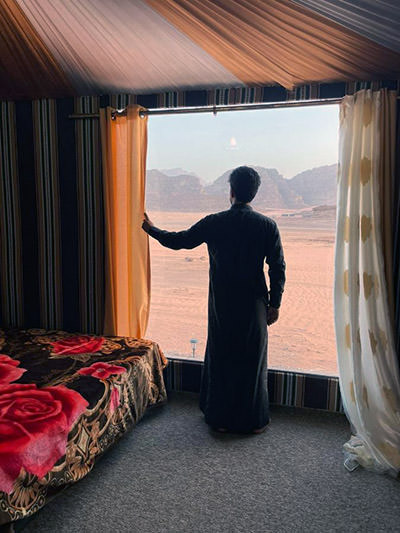 The dramatic exterior of Wadi Rum is the silver screen favorite. It's been a backdrop for blockbuster movies spanning decades, from David Lean's "Lawrence of Arabia" (1962), Ridley Scott's "Prometheus" (2012) and "The Martian" (2015), to Denis Villeneuve's "Dune" in 2021.
If you want to experience starry Arabian nights in a galaxy not so far away, Wadi Rum Star Wars Camp is the place to go. This 3-star hotel offers mountain views from the comfort of your very own cozy tent with prices starting at reasonable 62 euros. 
There is a myriad of Bedouin-style lodging options in Wadi Rum you could also consider. Bedouin Nights Camp has some of the best reviews out there and even boasts a level 3 rating for its sustainable travel practices. You can snag a double room with meals included for as low as 33 euros on select dates. A popular choice with a 4-digit number of positive reviews is Desert Magic Camp & Resort, where a single-use deluxe studio can be found for 50 euros already. For a 5-star option, choose Wadi Rum UFO Luxotel – a double room with included breakfast and dinner starts at 272 euros per night.
Wadi Rum tours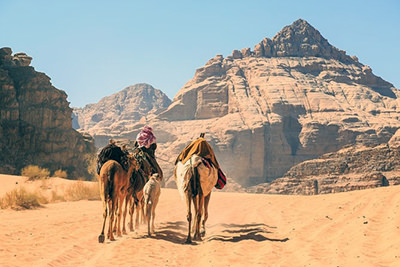 You don't necessarily need to pitch a tent in Wadi Rum to experience one of the best pilgrimage sites for Star Wars enthusiasts. Day tours are available for time-conscious adventurers. The easiest access is from Aqaba where you can get a private Wadi Rum tour for 121 euros. If coming from the ancient city of Petra, explore Jordan's otherworldly landscape on this jeep expedition with a local Bedouin for 163 euros.  For visitors coming from Israel, a two-day expedition in Wadi Rum that includes exploring the mystical Petra and a night of glamping in the desert is possible from Jerusalem, Tel Aviv, and Eilat. Prices start at 311 euros.       
3. Qasr Al Sarab by Anantara: Where Star Wars Meet Desert Extravaganza
Location: Abu Dhabi, UAE
Price: 532 euros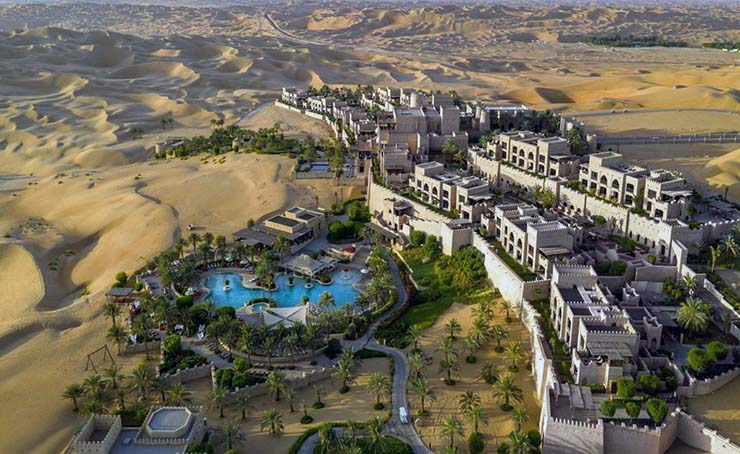 Rub' al Khali or Empty Quarter in the United Arab Emirates is the world's largest uninterrupted sand desert. These massive red dunes that rise up to 300 meters in height are the very spot where Rey's home planet of Jakku came to life in "Star Wars: The Force Awakens". 
The film crew built an entire space city in the desert but also dismantled it once the cameras stopped rolling. Instead of a space shuttle, today you can only ride camels and sandboards. The more adventurous spirits can conquer the ever-changing sand landscape with four-wheelers on steep imaginary roads (off-road adventure called dune bashing).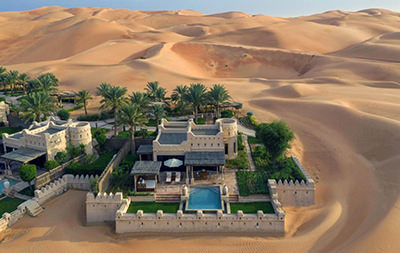 On the edge of the endless swirling dunes of Liwa Desert, nestled in this literal middle of nowhere, stands the opulent Qasr Al Sarab by Anantara. Constantly threatened to be buried in sand, the hotel palace looks like a mirage, which is the exact translation of its Arabic name. 
Some 200 kilometers from Abu Dhabi, this unexpected fortress delivers high luxury behind its stonewalls and turrets. Qasr Al Sarab provides pillow and soap menus in rooms and gluten-free toasters at breakfast. The resort's decadent swimming pools mimic an oasis, and sunshine butlers are always there to refresh your face by spraying a cooling mist.
While you won't find remnants of the Star Wars universe scattered across the dunes today, the allure of staying in the same fairy-tale haven that hosted the film's cast and crew is an experience worth savoring. 
Qasr Al Sarab offers an array of extraordinary accommodations, each one a sanctuary of comfort and style. Deluxe garden rooms can be booked for 532 euros, the adult-only Royal Pavilion adorned with Arabic decor for 1.759 euros, while the lavish three-bedroom family villa can cost up to 6.000 euros per night. Check out photographs, prices, and reviews of this fantastic desert retreat.  
Desert safari
If you don't want to stay at Qasr Al Sarab, you can still visit Liwa Desert on a day trip from Abu Dhabi. This full-day safari in the Empty Quarter comes with a complimentary lunch in the Green Oasis and for a group of four costs 681 euros. 
4. Barceló Sants: The Catalan Space Odyssey
Location: Barcelona, Spain
Price: 104 euros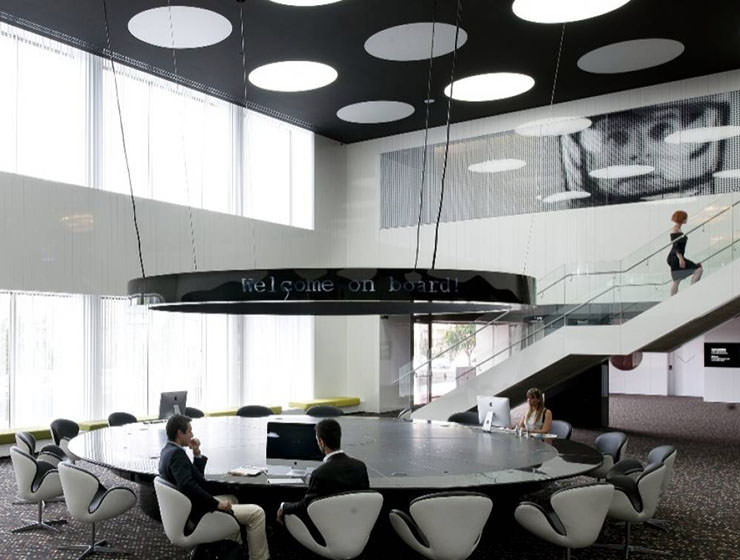 While not directly involved in the Star Wars saga, our next hotel pick can still comfort you to an extent after the sad end of the Galactic Starcruiser. As a matter of fact, the only Spanish locations that played a part in the movies are the Canary Island of Fuerteventura and Plaza de España in Seville.
Still, in Barcelona, there's a cutting-edge hotel that resembles a space station ready to launch into the unknown. The name of the masterpiece is Barceló Sants, and it comes with impeccably uniformed staff and a sleek futuristic design. If you're looking for a celestial escapade, it can give you a solid base for an imaginary intergalactic adventure.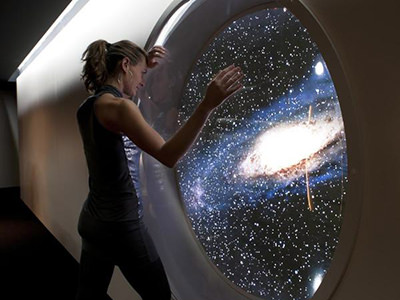 Located just above Sants Railway Station, this four-star hotel with space-age aesthetics won't leave you yearning for antigravity landspeeders, as it boasts unrivaled connectivity in one of the most vibrant cities in the world.
Minimalist rooms and suites at Barceló Sants offer a cosmic ambiance, including those subtle design touches such as the push buttons that command the room darkener shades in your space pod. 
If you're intrigued to find cosmos in Catalonia, a double room at the avant-garde Barceló Sants can be secured for as little as 104 euros per night. While the hotel may not have played host to Darth Vader himself, its sci-fi allure will make any Star Wars enthusiast's heart skip a bit. And that's a truly reasonable price for transporting you to a universe of your own!
5. Hotel Puerta America: Architecture of intergalactic elegance
Location: Madrid, Spain
Price: 200 euros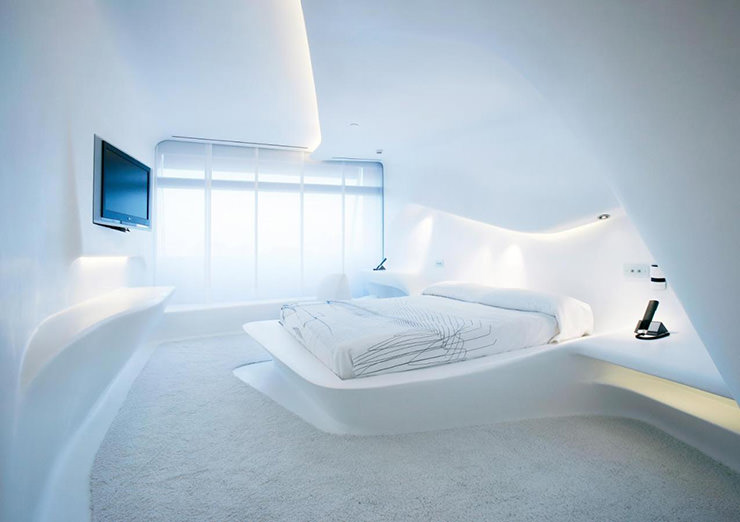 While you are traversing the Spanish landscapes, why not visit Madrid's luxury hotel that invites space-farers to dream? Hotel Puerta America is an innovative 5-star project that engaged 19 world-renowned architects and design studios to create an unparalleled sensory experience. Guests step into a realm where each floor of the hotel unveils a completely different world, with its own imaginative design. 
But today, we invite you to venture into the universe crafted by the brilliant mind of Zaha Hadid. Her signature fluidity takes center stage, and stepping in her rooms on the first floor resembles stepping onto a Star Wars movie set. The Iraqi-British architect delivers a futuristic vision that blends Baroque, Modernist, and minimalist styles.
With expansive panoramic windows and curved lines of the furniture and walls, the strikingly clean space in an all-white palette speaks science-fiction at first sight. For the boldest visitors that are not afraid of embracing the allure of the dark side, there are three completely black rooms.
The Zaha Hadid-designed Space Club rooms at Hotel Puerta America can inspire your intergalactic dreams for 200 euros per night.
6. Star Wars Apartment: Cozy galactic getaway
Location: Salamanca, Spain
Price: 70 euros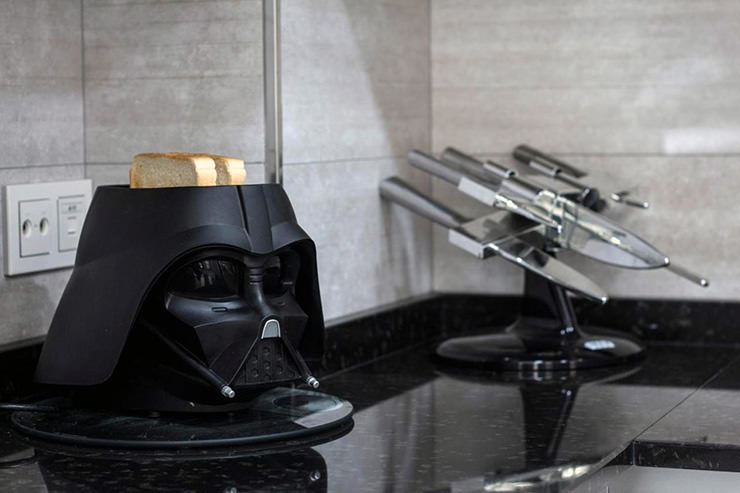 If you prefer apartment rentals to hotels, the university city of Salamanca in western Spain has a couple of cozy Star Wars-inspired flats that provide a unique accommodation experience.  
Nestled just a lightsaber's throw away from the iconic Plaza Mayor Salamanca, right in the heart of the UNESCO World Heritage Site, lie two modern rental units tailored for Star Wars aficionados. Adorned with thematic artworks in 2D and 3D, these quirky accommodations celebrate your beloved movie franchise in apartment form.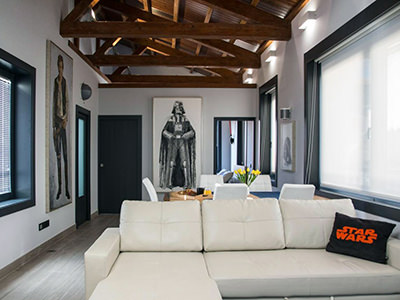 From the moment you wipe your feet on the Star Wars-themed floor mat at the entrance, to the moment when you sink into plush pillows that feature your favorite heroes and villains, you'll realize that every inch of space in these cozy flats is infused with Star Wars universe. It could be your home away from Tatooine. 
The Force is especially strong in the kitchen. Meticulous attention to detail shows off in a toaster shaped like Darth Vader's menacing helmet. As bread turns to a perfect golden hue, you can almost hear the toaster whispering: "Luke, I am your breakfast". 
Washing your hands also reaches a level of fun. No, that's not a BB-8 droid on the counter, but a soap dispenser paying homage to the series and adding a touch of whimsy to your hygiene routine at the same time. 
If you want to stay in an utterly entertaining Star Wars Apartment, in which Stormtroopers, R2-D2, and Death Star itself burst from the walls into the living space, the prices range from 70 to 160 euros per night for double occupancy. It's a small price to pay for an epic Star Wars hideaway.
7. Ibis Styles: Cosmic Oasis with French flair
Location: Charles de Gaulle Airport, Paris, France
Price: 109 euros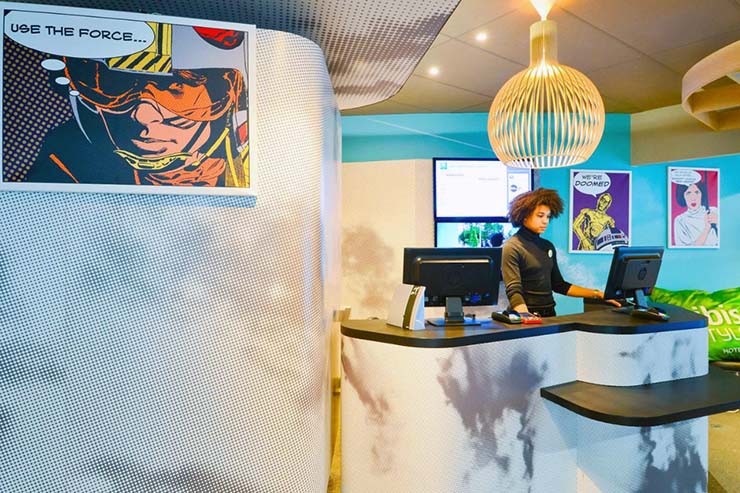 Located directly opposite Charles-De-Gaulle Airport Terminal 3, which is very convenient for parking your spaceship, Ibis Styles is the French capital's stopover for tired cosmonauts in need of a celestial recharge.
If your space-faring adventure brings you to Paris, the hotel's lunar decoration will make you feel at home. Whether you are a die-hard Star Wars fan or more lean towards Star Trek, from the hotel lobby to your room, you'll be greeted with thoughtful tributes to all things sci-fi. Explore maps of distant star constellations, and look for E.T.'s home while you're at it! You'll love the artwork display of some of the most iconic examples of civilization's space fantasies.
The space theme covers everything from room carpets and doors to prints on the walls. The color choice honors the cosmos in style, with a palette covering white, silver, black, and lime green. Even the simplistic rooms themselves seem to be more spacious than what Ibis chain typically promises, so space is definitely an overarching concept throughout. 
For regular guests that just need a place to sleep before an early-morning flight, all that funky decor might seem over-the-top. But even they will praise soundless rooms that provide great sleep, and excellent complimentary breakfast at Foody'S Planet restaurant.
If you want to stay in a room guarded by the wise Yoda himself and immerse yourself in the power of the Force with the charm of French hospitality, prices start at 109 euros per night. 
8. Hotel Pelirocco: Home of fantasy
Location: Brighton, United Kingdom
Price: 113 euros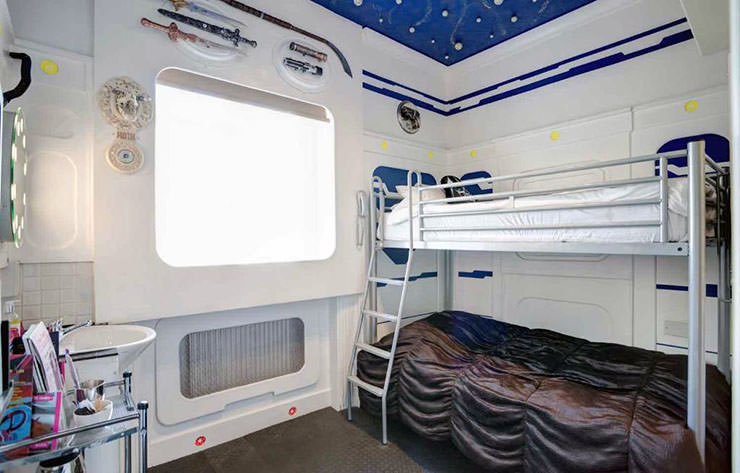 Hotel Pelirocco is a boutique hotel in the city of Brighton, offering eclectic rooms inspired by pop culture, music, and glamour. Whether you crave a Caribbean tropical paradise, a vintage pin-up boudoir, or sex lairs in styles ranging from Japanese love-hotel to BDSM suite, this quirky place will fulfill your most eccentric fantasies.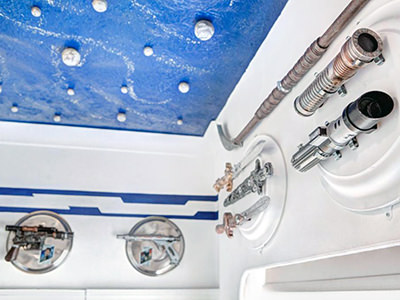 Among David Bowie, Dolly Parton, and Muhammad Ali, even Star Wars' iconic villain got his dedicated space in this whimsical wonderland. As it seems, Lord Vader's Quarters is one of the most popular bedrooms in the British fantasy hotel.    
Designed as a 'Father & Son' cabin, the room has bunk beds, and features everything from Darth Vader costume and Jedi bathrobes to authentic Star Wars memorabilia and an entire space opera DVD set. Lightsabers are not the only thing shining in this room; even the planet-covered ceiling glows in the dark.
One night in Vader's celestial abode will cost 113 euros. Brace yourself for a rendezvous with the dark side, and may the force of imagination be with you!
9. Alternative galactic adventures: Beyond the Starcruiser retirement
Locations: USA, France, Italy, UK, Germany, Mexico
Price: from 5 to 236 euros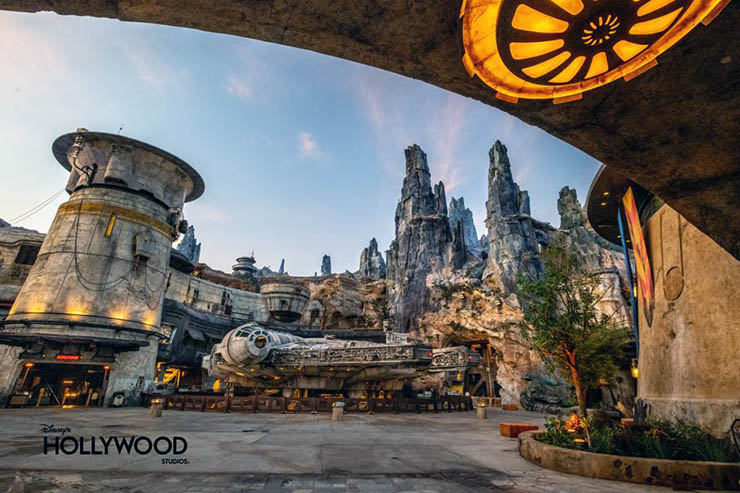 Just because Galactic Starcruiser is being retired, that doesn't mean that you can't have some Star Wars-inspired fun elsewhere. Amusement parks and museums around the world still provide exciting opportunities to anyone who craves to unearth their inner Jedi or Sith.
Galaxy's Edge, for instance, is still a part of Disney Hollywood Studios in Orlando, where you can step right into the center of the action, join the Rebellion, rub shoulders with droids, and even pilot the Millennium Falcon. You can visit four theme parks of Walt Disney World Resort for the base price of 235 euros, over a glorious six-day span. That's enough time to master your lightsaber skills and charm even the toughest Wookie.  
If you find yourself in Paris, some pulse-quickening experiences await at Disneyland Park. Prepare for a wild ride on Star Wars: Hyperspace Mountain. This roller coaster will catapult you deep into space, with enough adrenaline to make even a Sith Lord scream like a little girl. Your warp-speed journey through French Disneyland is available for 56 euros.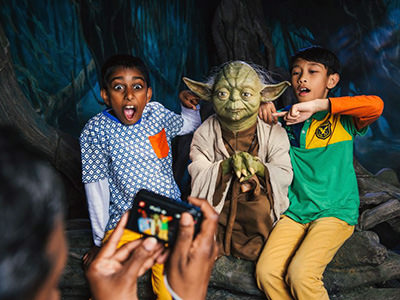 For those who like to peek behind the scenes, FantaCinema Museum in beautiful Genoa, Italy, gives you a closer look at Star Wars and other fantasy spectacles such as "Harry Potter" and "Back to the Future". For 5 euros only, unlock the secrets of the saga as you feast your eyes on the original costumes, sets, and props from the movie.  
If you want to star in the action yourself, stand next to the lifelike legend replicas at Madam Tussauds London for 41 euros, or do the same in Berlin for 28 euros. Strike a pose with Han Solo, take a selfie with Princess Leia, or challenge Darth Vader to a duel. That's Star Wax for you!
Last but not least, if you're near the sun-soaked shores of Cancun, a fun day in Ventura Park is guaranteed for 76 euros (food and drinks included in this adventure package). Mexican water park experience includes the immersive Underworld, where you can command the most iconic battles of the original trilogy in Star Wars Battle Pod.    
10. DIY Star Wars at home
Price: from 11,99 to 690 dollars
When all else fails, the power of Star Wars can still fill the air within the cozy confines of your own home. Ready for the makeover that will bring endless geeky joy? Here's a list of simple but effective decor ideas that will elevate every starry sanctuary!

Star Wars-inspired products under $30

Star Wars-inspired products above $30
Ready for the next movie-inspired hotel adventure? Check out these Barbie-style hotels overdosed with pink!
Star Wars hotel alternatives – Conclusion
As the curtain falls on Disney's Star Wars hotel, barely a year and a half after it burst onto the scene with all the fanfare of a Death Star explosion back in March 2022, no space-faring aficionado knows what's next on the Star Wars fandom horizon. 
"Star Wars: Galactic Starcruiser is one of our most creative projects ever and has been praised by our guests and recognized for setting a new bar for innovation and immersive entertainment", Disney stated, explaining that 100-room hotel was a part of the learning curve for future, supposedly grander experiences.
Whether you are planning an epic vacation or simply sprinkling Star Wars charm into your daily life, there are numerous options to comfort yourself after Galactic Starcruiser's short-lived history
When one starship closes its hangar bay, another may soon emerge from hyperspace. As Galactic Starcruiser's self-destruct sequence counts down and Disney's Star Wars resort fades into the annals of history, it's comforting to know that the Force is not confined to a single vessel and that there are alternatives to find solace in. 
Sure, you can always hunt down the saga's filming locations on tours in Arizona, Turkey, Iceland, Italy, and even Croatia. But real intergalactic adventures begin with a pilgrimage journey to sites in Tunisia, Jordan, and UAE, where accommodation options connected to Star Wars history became iconic places to visit too.
It will be hard to outdo Galactic Starcruiser's immersive experience, but European allies also crafted cosmic havens. Hotels in Spain, France and the UK do their best in transforming their rooms into SF shelters at a price as inviting as an Ewok's hug.    
Theme parks and museums from Mexico to Germany offer interactive escapes from the gravitational pull of boredom, equipping you with space goggles that will put stars back into your exploration-hungry eyes. 
Finally, you can always transform your own humble home into a launchpad for otherworldly adventures. With Star Wars-themed decor and gadgets, your living room can become a Jedi training ground. Who needs a hotel when you can have your private slice of the galaxy?
Whether you are planning an epic vacation or simply sprinkling Star Wars charm into your daily life, align your hyperspace coordinates, don your finest space suit, grab your blaster, and create memories that would make even Chewbacca let out a mighty Wookie roar of approval. The wonders of the universe are just a doorstep away.   
Did you like this guide through alternative Star Wars hotels?
Pin it for later!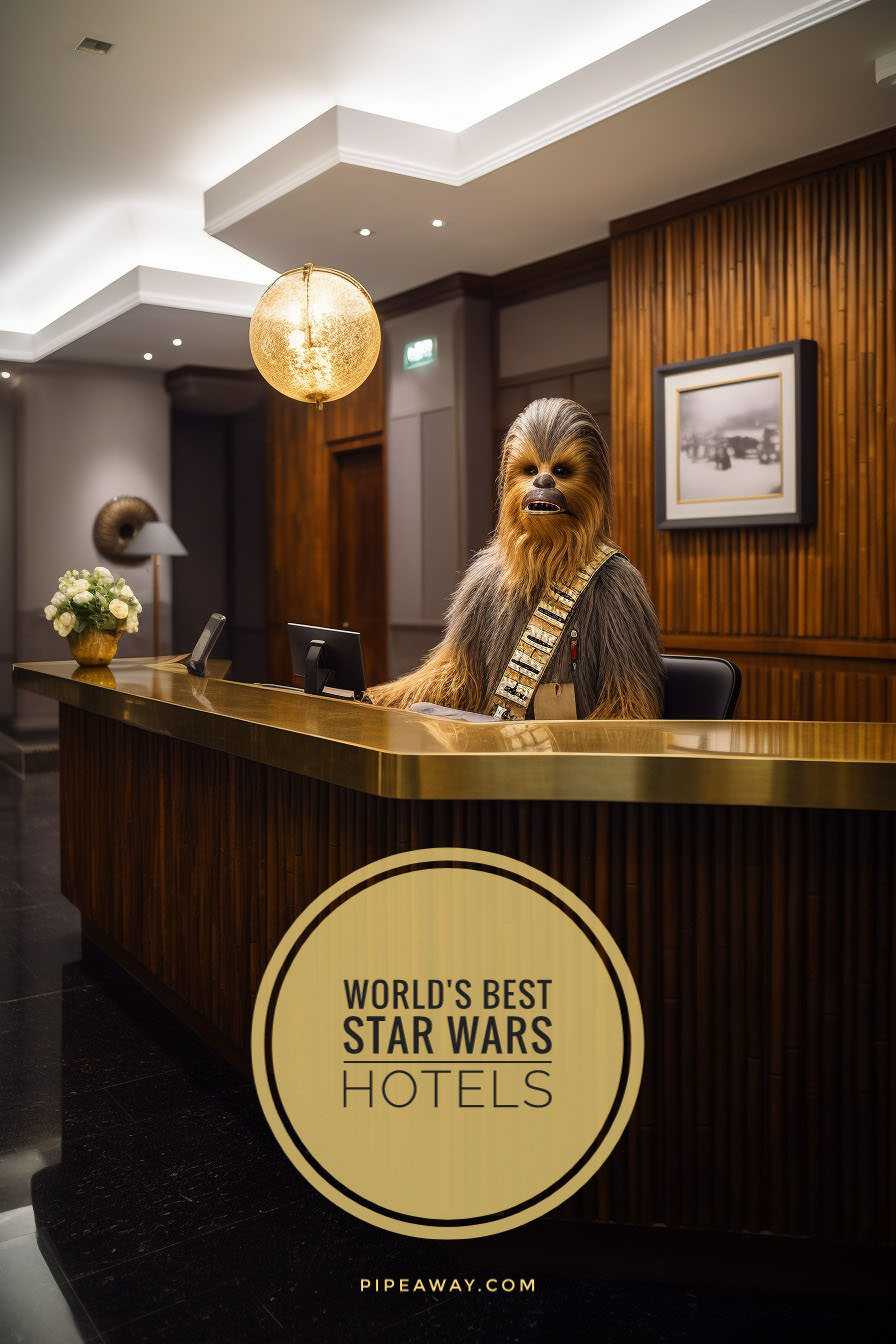 Disclosure: This post may contain affiliate links, meaning if you click on them and make a purchase, Pipeaway may make a small commission, at no additional cost to you. Thank you for supporting our work!