From the thousand-year-long concept of floating Uros Islands in Lake Titicaca to Dubai's Palm Islands and islands shaped like a world in our millennium, people wanted to tame their land as they like it. Nowadays, you don't even have to be a sheik to finance the creation of your artificial island. The AI can generate any wonder you imagine. But do we need to resort to digital manipulation to find islands that look like things? Or can we just take a better look around?   
Islands that look like things have been modeled over centuries. The result is a unique physical appearance that cannot go unnoticed
During my island-hopping adventure through the Philippines, a local pointed to the silhouette of Coron Island, and suddenly, a face appeared out of nowhere. Just like the Sleeping Warrior of the Scottish Isle of Arran, or the iconic Nounou Mountain in Hawaii, Coron's peaks formed the contours of the sleeping giant, a human figure resting in the water.
The phenomenon has a scientific name – pareidolia. The human brain is wired to recognize and identify familiar patterns around us as a way to make sense of the world. This fascinating aspect of our perception is an evolutionary advantage keeping us away from threats and closer to treats. At the same time, it makes us recognize resemblances even when they are not obvious: be it in clouds, rock formations, stains on the wall, or – island shapes.  
Today, we're delving deep into the treasure trove of the strangest islands on Earth. They've been modeled over centuries by the forces of erosion, volcanoes, tectonic dance-offs, and more. The result is a unique physical appearance that couldn't go unnoticed.  
These cool island shapes range from human body parts and garments to tools and even meals you don't expect to be served in the ocean. Get ready to feast your eyes on the world's best islands that look like things!
Islands that look like things – top 17
1. Lu Dan Dao – the island that looks like a fried egg
They say that every day should start with a substantial breakfast, so the first thing served on the list of the islands that look like things, should be a – gargantuan fried egg!
Just off the coast of Clear Water Bay Peninsula, a sheer contrast to bustling Hong Kong, this rural area is home to an island of a peculiar shape. It's called Lǜ Dàn Dǎo in Chinese, which translates as Green Egg Island. On this sunny-side-up masterpiece, the central yolk is a green, grassy hill.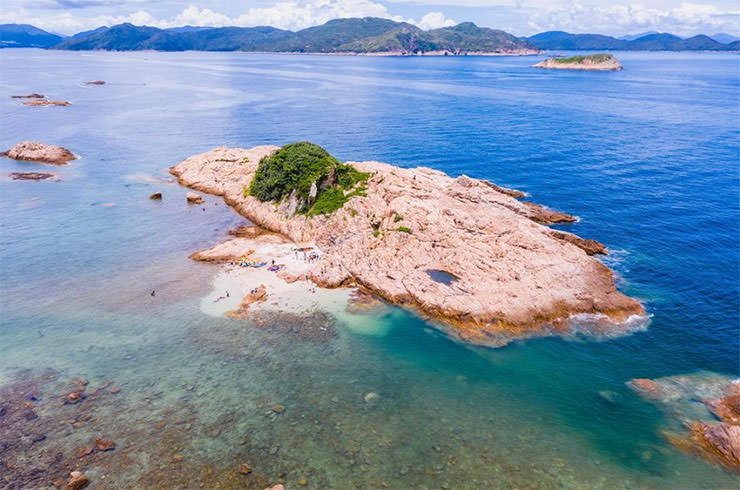 Visitors have been comparing the island's clear waters with those in the Maldives, which might be a bit of a stretch. Sharp rocks and pebbly beach call for sturdy water shoes, but if you bring snorkeling gear along, you can certainly enjoy the undersea too.  
How do you get to Green Egg Island? You'll need to prepare for a hike through the wild ruggedness of Clear Water Bay Country Park. Start from the Tai Au Mun bus stop, either via Lung Ha Wan Road which passes by the equestrian center, or via Clear Water Bay Road which approaches the eggstraordinary island from the other side. Either way, prepare for an intermediate-difficulty hike of 4 hours in total, with some steep and narrow sections at the final descent. 
Alternatively, you can rent a kayak at Sheung Sze Wan Beach and paddle your way to the island. The real daredevils can opt for coasteering, a thrilling mix of climbing, scrambling, and exploring the rugged coastline, that includes even a cave full of bats.
Whichever path you choose to go to Green Egg Island, know that there's not much shade on the way, so bring a hat, sunscreen, and enough water. Getting fried as an egg isn't a recipe for a good time!
I love this Instagram video that makes it look as if the Green Egg Island is just in the middle of frying in oil!
View this post on Instagram
If you haven't opted for accommodation in central Hong Kong, the closest hotel to the Green Egg Island is Crowne Plaza Hong Kong Kowloon East. It will give you that well-deserved celebrity treatment.
2. Hans Island – the island shaped like a pancake
Moving on now to a sweeter, or bitter-sweeter portion of land in the Arctic, once used as a hunting ground for polar bears. The barren and uninhabited Hans Island in the frigid waters of the Nares Strait sandwiched between Canadian Ellesmere Island and Danish Greenland, is shaped like a pancake. That's right, chilling in the freezer for ages, there is a thick, fat, American-style pancake!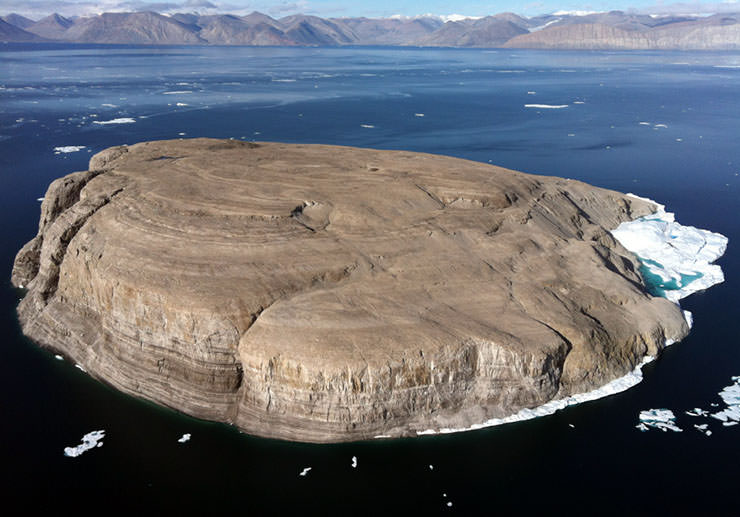 But the United States abandoned all claims to the region bounded by ice back in 1917. And even if Hans Island looks nothing like Canadian crepe or like an even thinner Danish pandegaker, the two countries have been fighting over this cold-served pancake since the 1970s.
The silly war over 1,3 square kilometers did not employ maple syrup from one side and syltetøj fruit jam from the other. Canada and Denmark engaged in something more serious and epic: the whimsical Whiskey War. 
The friendly dispute involved countries' officials visiting the unassuming Hans Island, planting their national flags, and leaving a bottle of fine brandy. Danish would mark the territory with their signature Schnapps, and Canadians would soon replace it with the Canadian Club. 
In the spirit (literally!) of an international agreement, the back-and-forth battle with bottles was finally settled in June 2022. The diplomats managed to draw the border right through the heart of Hans Island, slicing the now boozy pancake in half.  
As for Hans Island's name, it got it after the nickname of the Inuit guide Suersaq whose services European and American explorers used while mapping the area. The Inuits, on the other side, call the island Tartupaluk, which means 'kidney-shaped'. That would explain why none of the countries were ready to sell their rights on this piece of land.
3. Hashima – the island that resembles a warship
There are 505 abandoned islands in the Nagasaki Prefecture of Japan, but one is unique. Some 20 kilometers off Nagasaki coast, lies Hashima, better known as Gunkanjima or the Battleship Island. When approaching it from the sea, you could easily mistake it for some ghostly warship.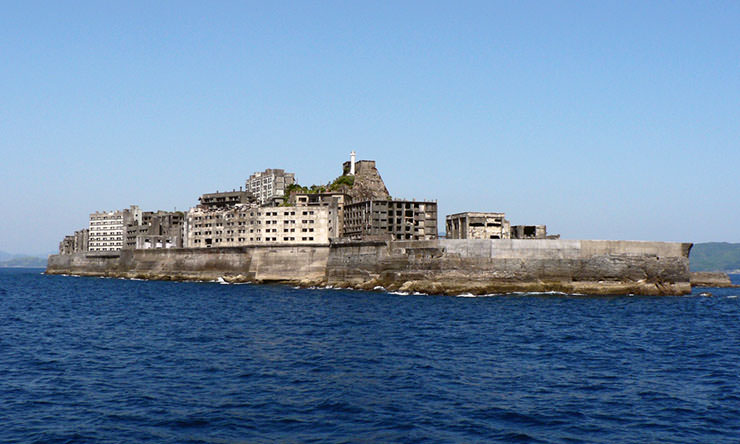 Coal mining started in Hashima back in the 19th century, and with delving deeper and deeper underground, the infrastructure on the top of the island also grew. Stacked upon one another, there were huge apartment buildings, restaurants, shops, schools, a hospital, a cinema, a public bath, a shrine, and even a pachinko parlor. At its zenith, over 5 thousand people called this 7-hectare island home, making it the most densely populated place in the world ever. 
Besides being the monument to Japan's industrialization and UNESCO World Heritage Site, Hashima's crumbling walls also hide a dark history. Before and during the Second World War, it was a forced labor hell for the imprisoned Koreans and Chinese. Just like in the case of the Kanchanaburi railway, this ghost town is a concrete reminder of Japanese war crimes.
The tiny island, just 480 meters long, and 150 meters wide, was completely abandoned in 1974. Its decaying buildings still standing behind the high seawalls were reopened to the public 35 years later. The haunting skeleton of the Battleship Island even inspired the Dead City in the iconic James Bond movie "Skyfall" (2012).
As long as it's not a typhoon season or extremely harsh weather, several tour operators can secure your very own 007 moment at Hashima. It can still be a rough ride, so if you want to explore the site's past without seasickness, join the simulated journey into the island's mineshaft at Gunkanjima Digital Museum, as a part of Nagasaki's full-day private tour.
When in Nagasaki, choose one of these convenient accommodation options: the fabulous apartment gate nagasaki stay&green, or a choice of rooms and suites at Grand Base Saiwaimachi.
4. Kosor – the island that looks like a machete
Croatia has an abundant archipelago of 1.244 islands. It is only natural that we would find many notable examples for the list of islands that look like things on the eastern side of the Adriatic Sea. Thanks to the eagle-eyed aerial photographer Boris Kačan, these hidden gems of the Mediterranean get the exposure they truly deserve.
The first listed Croatian beauty is Kosor, a tiny islet just south of Korčula, the alleged birthplace of the famous medieval explorer Marco Polo. Modern ramblers visiting the "little Dubrovnik" can wield their sense of adventure, and find a unique uninhabited island that bears an uncanny resemblance to a machete, with a rather sharpened blade.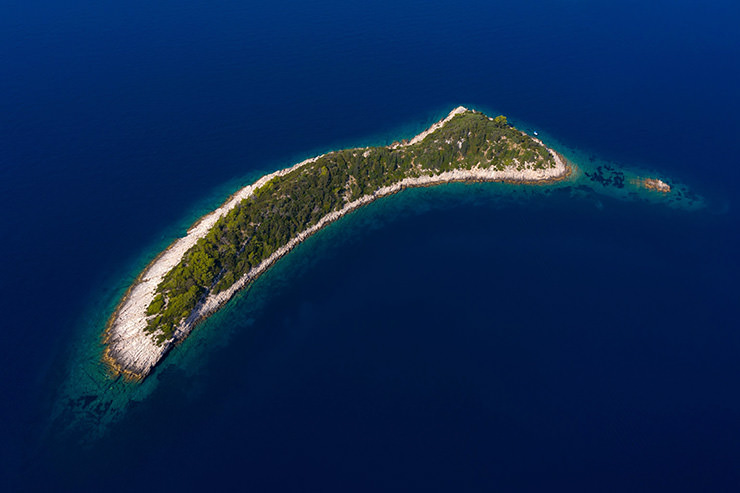 Kosor, which shares the name with former Croatian PM Jadranka Kosor, is located just south of the beach that has quite an unappealing name – Plaža Izmeta (translatable as Feces Beach). It could be a reference to significant trash left by irresponsible visitors, but Kosor is definitely a prettier site.
With a coastline of just 1.244 meters (and yes, it corresponds exactly to the number of islands in Croatia), the tiny landmass has some nice undersea, with a reef loved by fish and octopuses. The machete-shaped islet might not point to the hidden pirate's treasure, but divers can still find a sunken fisherman's boat at a depth of 35 meters.
Part of Dubrovnik-Neretva County, Kosor is nature's most literal homage to the realm of swords, daggers and epic battles popularized by the famed "Game of Thrones", filmed in this very region.
Whether you're an intrepid explorer, an underwater adventurer, or simply someone seeking a quirky island to add to your travel tales, Kosor Island is just waiting to be discovered.
Anchor your base in Prižba nearby. For exceptionally rated accommodation options, check out Villa Zen or Holiday Home Melanie, both with direct sea access!
5. Petch Reef – the boomerang island
Forget the dragons and throne battles; the real showdown is happening in the South China Sea. China claims coral atolls in the territorial zone of the Philippines, and in the last 25 years, plays a game of fishy business. They produced more than 100 incidents including killing sea life with cyanide and dynamite and removing endangered turtles, giant clams, giant oysters, baby sharks, eels, and ornamental coral. Beyond just demanding fishing rights, China constructed a number of artificial islands on coral reefs in the Spratly Islands, leaving permanent scars on once-vibrant ecosystems.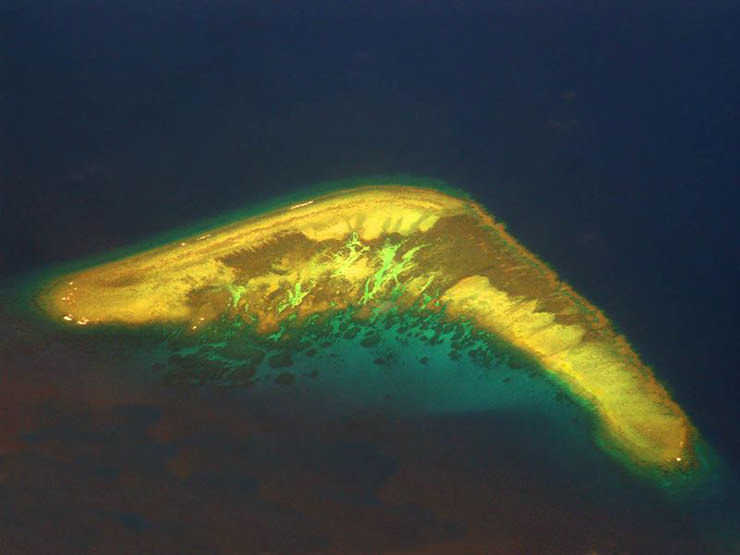 Still resisting the total harm in this aquatic battlefield, rectangular Jackson Atoll is formed by five reefs, one of which has a peculiar shape. Petch Reef is not technically an island, but when the tides recede, it does reveal its unique shape to the world. If you happen to fly above the 46-meter-deep lagoon, you'll see an island that looks like a boomerang.
Parts of the reef flats do look damaged by dredging and other destructive human activities in the past, so it is truly a big question whether the unique Boomerang Island can survive China's aspirations in the area.
Illegal poaching and large-scale land reclamation are a constant threat that the atoll the Philippines call Quirino and Chinese Wufang Jiao could become a victim of irreparable environmental harm. Pillaging one of the world's last great coral seas for short-term gain will come back at all of us – like a boomerang. 
6. Vela Bisaga – the island shaped like a bowling pin
The Croatian archipelago looks as if a giant played a bowling game with rocks, and they've been scattered around in a variety of shapes. One island ended up looking like an actual bowling pin – Vela Bisaga.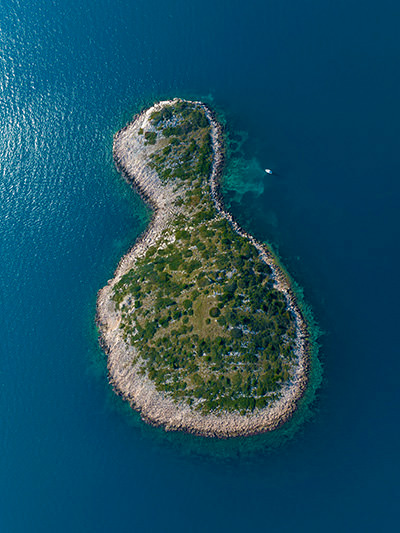 Now, be warned, there are name duplicates on both sides of Pašman Island. On the northern side, Vela Bisaga is the first neighbor of the heart-shaped island of Galešnjak. But Vela Bisaga which resembles a bowling pin is south of Pašman, just off the coast of the island of Žut. There are actually five Croatian islands named Bisaga in this county, so… Good luck?
Anyways, when we talk about the bowling-pin Vela Bisaga, it's yet another uninhabited island. Its size is 0,037 km², which equals 1.800 bowling lanes, or five soccer fields. You can easily circumnavigate the entire island in 10 minutes unless you decide to take breaks for snorkeling, diving, and fishing. You'll love these crystal-clear waters!
For even more exploring, you can hop over to the neighboring Mala Bisaga, which is, you guessed it correctly, shaped like a – ball. Nature really had a bowling tournament here. 
If you're looking for a place to rest your weary adventurer's bones, you'll find accommodation options in the village of Pristanište on Žut Island. Whether you choose the cozy Kornati Robinzon House or the charming Buba Holiday House, you'll have access to barbecue facilities. So if you manage to reel in a big catch during your stay, you can savor a delightful feast on the spot. Strike! 
7. Merara – the soccer-ball island
If you're more of a fan of soccer or football, Merara in the bay of the small Croatian town of Sevid could grab your attention. Together with the leg-shaped mainland peninsula, it forms a scene that looks like a freeze-frame of some cartoonish football match.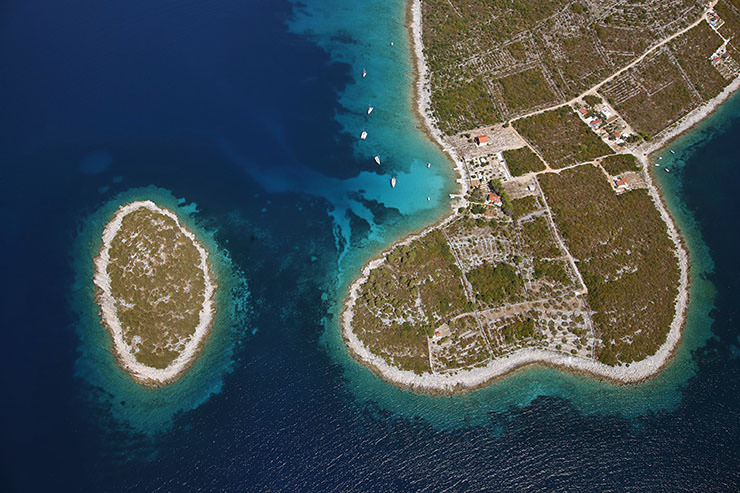 Merara, the ball, is just 140 meters away from the coast, so you can score your goal easily by swimming. Additionally, its crystal-clear waters offer excellent diving spots.  
The tiny uninhabited island with a circumference of just 577 meters, and an elevation of 10 meters, looks as if it's suspended in time, just about to be kicked in the direction of the tourist town. 
If you look closer at Google Maps and employ some more imagination, you could even see Sevid itself forming a comically oversized hand of a goalkeeper, ready to make an acrobatic save against any incoming shots. Talk about a football match made in cartoon heaven!
While staying in the heart of Sevid offers its charms, opting for a soccer-inspired quarantine is a special experience. Pick your favorite basecamp among the secluded houses right in front of Merara itself: one is aptly named Apartment Merara, and the other one is Holiday Home Brodina. They are both rated as exceptional, so you won't want to hear that final whistle!
8. Plitka Sika – the island that puts the 'leaf' in the belief
Near the Croatian island of Premuda, there is a small islet that looks like a dry leaf – Plitka Sika. It's a skerry so bare it would make a tumbleweed jealous. Without plentiful resources, it is obviously an uninhabited slice of nature.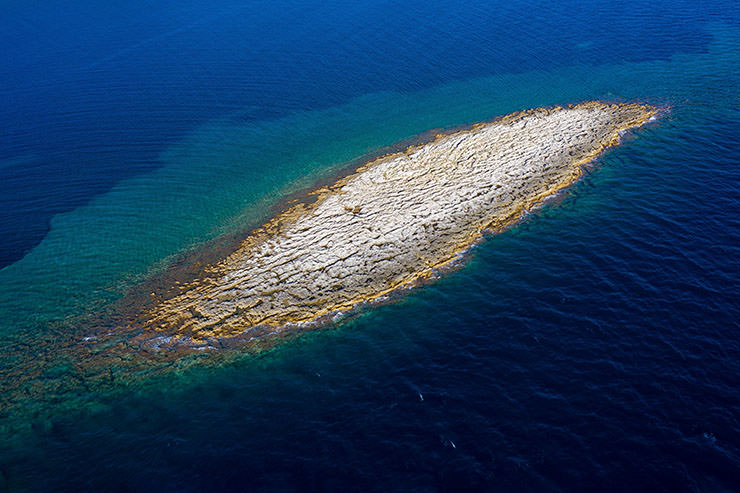 The islet's name means 'shallow submarine reef', which is something the Italian speedboat Selvaggia did not take into account in 2010. The boat ran aground and caught fire, but luckily all passengers evacuated in time.
If you want to leaf all your worries behind and are a fan of natural rocks, you'll see Plitka Sika as an oasis. Additionally, there is a vibrant undersea and, at a diving center in Krijal port nearby, you can rent all the necessary gear for encounters with aquatic creatures, from lobsters and octopuses to moray eels. 
For those seeking some thrills above the water, windsurfing in the area is a popular choice. The same wind that swiped life off of Plitka Sika, and made it more leaf than land, will be a friend of your sail. Enjoy riding the waves!
At the end of your day, unwind in Krijal. For a direct view at Plitka Sika, book your stay at Apartman Rosanda or sea-view holiday home Krijal. If you desire a swimming pool at your doorstep, opt for Villa Temida Premuda. 
9. Bavljenac – the island that resembles a fingerprint
If giants had committed any crime in the Adriatic Sea, the CSI would have easily identified them via Bavljenac. This criminally beautiful island in the Šibenik archipelago looks like a gigantic fingerprint. You can pass by it on your Kornati National Park boat tour!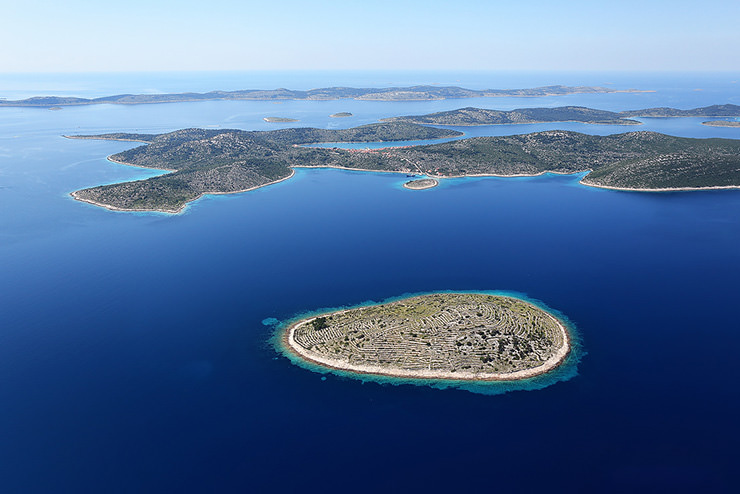 Centuries of building meandering dry stone walls on this oval-shaped island created a sprawling network of stones that resembles the papillary lines of a finger when viewed from a seagull-eye perspective.
People from the neighboring island of Kaprije started stone-stacking here in the 19th century, but there are theories that the first dry stone walls were erected already in the 1500s. 
The idea was to clear the island of stones and define agricultural plots on Bavljenac (locals call it Baljenac, sometimes Banjevac), and build protection from the notorious 'bura' wind. All of that hard work, only to grow grapevines, olives, figs, and citrus trees. Little did they know that they were inadvertently creating a masterpiece of natural art!
On the island barely 500 meters in length, villagers made more than 23 kilometers of waist-high drywalls, producing the densest web of stones Dalmatian islands have ever seen. It is said that this peculiar agricultural labyrinth marks the boundaries of over 100 registered properties (by the way, the island of Kaprije has only 189 citizens!). Just like unique human fingerprints, Bavljenac is also one-of-a-kind. 
While we are playing Sherlock Holmes, it's worth mentioning that the inventor of dactyloscopy, the revolutionary method of identifying criminals by fingerprints, was a Croatian genius. Already in 1891, Ivan Vučetić started cracking complex cases in Argentina, making innocent people happy, and putting guilty ones behind bars. 
To experience the fingerprint-shaped wonders of Bavljenac up close, your best bet is to stay on Kaprije island. Not only will you have a front-row seat to the mesmerizing wall network, but you'll also get fantastic opportunities for hiking and cycling adventures. Consider booking White Rock Villa or Villa Sonia. You'll have the intricate fingerprint patterns of Bavljenac at your fingertips!   
10. Žavinac Veli – the island that looks like a footprint
Žavinac Veli is another uniquely shaped island leaving its trace on the map of the Croatian archipelago. It looks like a massive footprint! This natural wonder will tickle your imagination just off the main coastline, between the towns of Pakoštane and Drage.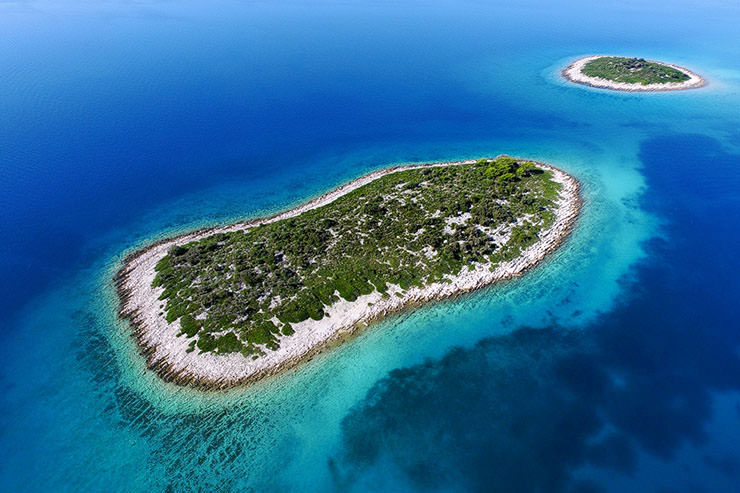 By size, it might be five times smaller than Bavljenac, but who said giants were proportionate creatures? Its resemblance to the sole of a shoe makes an impression on this list of cool-shaped islands.
Žavinac Veli, just like the neighboring Žavinac Mali (possibly shaped like a ball that's about to get kicked by our foot-island?), is uninhabited. But the first houses are just a few steps away (well, if you measure a step by Žavinac Veli) – the mainland is at an approximately 400-meter distance.
For some observers, the contours of the island are reminiscent of that iconic bottle of the "real magic" soft drink. That's how playful nature can be!
If you are looking for accommodation with a nice sea view, you can enjoy the footprint-island directly from the bungalows of Camp Port, on the Pakoštane side, or the swimming-pool-equipped holiday home Island of Heron, in Drage. 
11. Unnamed penis-shaped island
One doesn't need to own a plane or fly a drone to start discovering hidden secrets of the world usually reserved for birds' eyes. In this era, Google Maps is all you need.
That's exactly how in 2021, a 50-year-old intrepid explorer Joleen Vultaggio from Detroit, Michigan, discovered a penis-shaped island amid the Pacific Ocean. As a member of the Google Earth Superfans community, she was doing some innocent search, browsing through the satellite images of New Caledonia, and suddenly stumbled upon a striking sight in turquoise waters: a 500-meter-long schlong.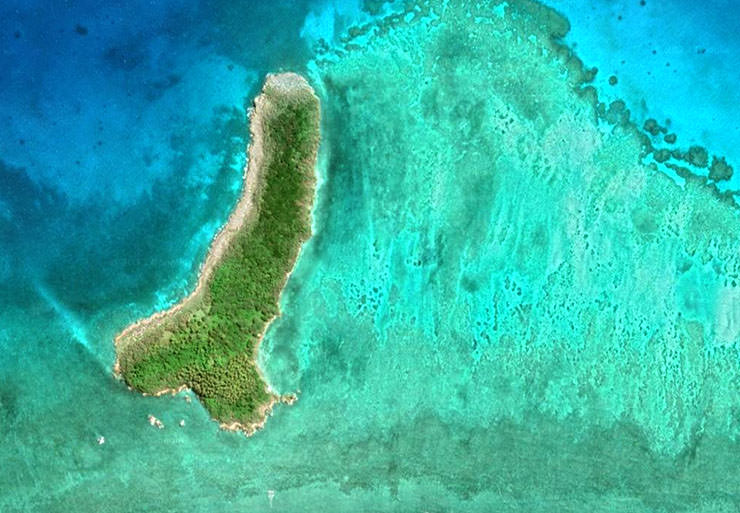 Talking to the ever-dignified British tabloid The Sun, the lucky founder cheekily commented on the jaw-dropping size of the island: "I didn't go and measure how big it is, but considering it's in the middle of the ocean, it's a pretty big penis."
The suggestive island shape that sparked giggles among online observers can be located off the coast of tropical Ouvéa Island, part of the Loyalty Islands Province. Joleen called it uncircumcised and added that she'd love to sit on it. It's The Sun, after all. 
Now, if Detroit lady ever fulfills her fantasy and embarks on a trip to this phallic paradise, we can only hope she remembers to use protection. Against the scorching sun, of course. Without the sunscreen, in the heat of the moment, she could be more than just blushing.
For a possible day trip to the island shaped like a penis, Joleen and anyone interested would have to stay at Ouvéa Island. There are just a couple of beachfront accommodation options, such as Hôtel le Beaupré and Hotel Paradis d'Ouvéa. If you do head there, please let us know if your vacations were indeed - hard to forget.
12. Vodenjak – the island shaped like a bikini top
It would be a sin to talk about beach getaways on the sun-kissed shores of the Mediterranean without mentioning the iconic symbol of beach fashion – the bikini. Well, unless you are a fan of the au naturel experience, in which case nude beaches got you covered. Or uncovered. But you know what I mean; swimming in the sea and tanning under the sun is an inseparable part of the lifestyle in countries blessed with amazing beaches.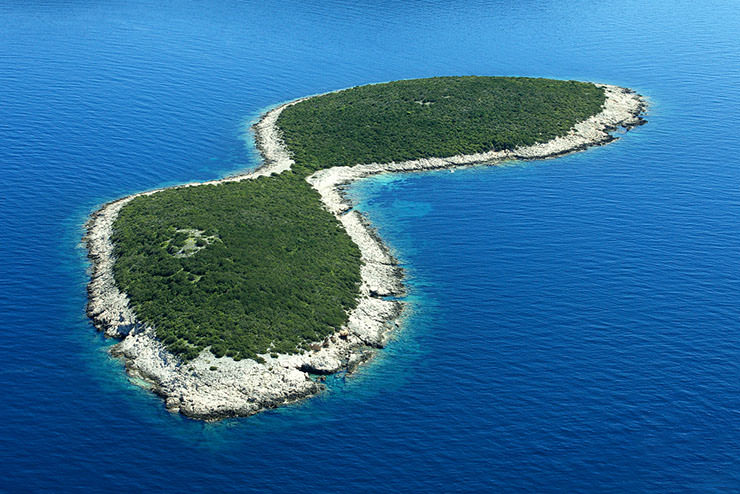 Vodenjak in Croatia is an island that could be a poster child for summer in style. This tiny piece of land in Zadar County (be careful not to confuse it with two islands also named Vodenjak in the Kornati group!) takes the shape of a cheeky bikini top. 
If it's hard to find it on the map, I'll say it's west of the larger island of Ist (which coincidentally resembles a fluttering butterfly), and just north of the intriguing La Sfinge rock formation (that gives a sphinx-like vibe). That's a stylish neighborhood!      
The coastline of Vodenjak is 1,84 kilometers long, and its size is 0,117 square kilometers. You may think that bikini-top island easily turns heads, but even then, it can get out of sight, as the ill-fated fishing boat Marc learned in 2013. The report of the stranding accident says that it was the negligent captain's fault. Lesson learned: one should never take the eyes off a bikini top! Or it could allure distracted sailors like a siren's call to disaster.
If you want to explore Vodenjak and the area, I'd suggest you seek accommodation on the nearby Ist island. Options worth considering are Villa Elen which comes with a pool and free bikes, Holiday home Villa Galetta which has a cool garden with barbecue facilities, and Cosy House by Sea in Kosirača Bay.
13. Vatu Vara – the Hat Island
We've been stripping in the last couple of examples, but as they say: you can leave your hat on. Or in the case of Fiji islands, that extravagant headpiece would be called Vatu Vara. 
This extinct volcano overgrown by coral reefs under water, and dense tropical jungle above it, with its flat top and steep limestone cliffs, creates a silhouette that screams 'hat' to all who lay eyes upon it. Hence, the island's nickname: the Hat Island.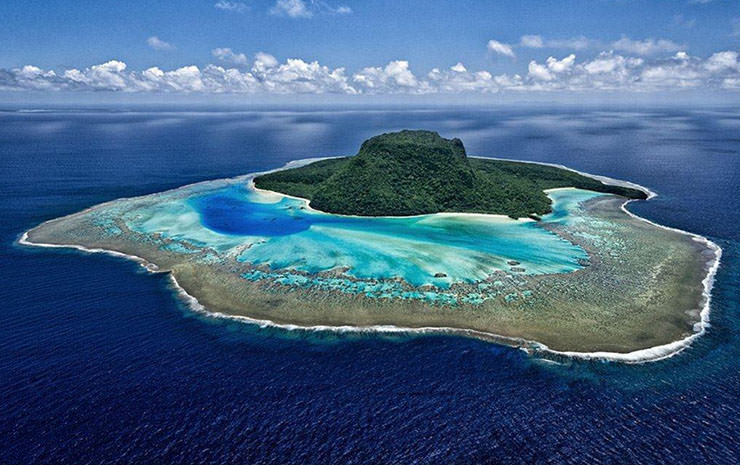 Technically a truncated pyramid, it stands head and shoulders above the rest. Vatu Vara's summit is 305 meters tall, and the diameter of the island's base is 3 kilometers. That's impressive enough to be recognized as a hat from the islands of Kaibu and Yacata. Even a neighbor called Mel Gibson can marvel at Vatu Vara's haute couture from his Mago Island. 
An excursion to Vatu Vara in the Nothern Lau Group of Fiji islands promises pristine white sand beaches in a lagoon wrapped by coral reefs. Once you reach this South Pacific paradise, you won't bump into another human being, just abundant marine and bird life. 
The American billionaire Jim Jannard bought Vatu Vara in 2006, but now he is selling it, together with three other islands, an airplane, and a foundation. The package deal is estimated at 155 million dollars.
Vatu Vara is uninhabited, but one can stay at Vatuvara Private Islands Resort whose three all-inclusive villas are actually located on Kaibu island. It's a haven fit for royalty, just ask Prince Harry and Megan Markle who in 2018 enjoyed this privacy, infinity pools, and personal masseuses. If you don't have 10 thousand dollars for a night of such regal treatment, you can settle on Yacata, at Ocean Souldiers Amanzi-Wai, for a more pocket-friendly 300 dollars a night. 
14. Wizard's Hat – the island witches would wear
The USA also has its very own hat island, one that Harry Potter fans would love. On sandy Bandon Beach, on the southern Oregon coast, a pointed rock formation with a slightly bent top looks like it was plucked straight out of a witch's wardrobe, but it's mostly referred to as the Wizard's Hat.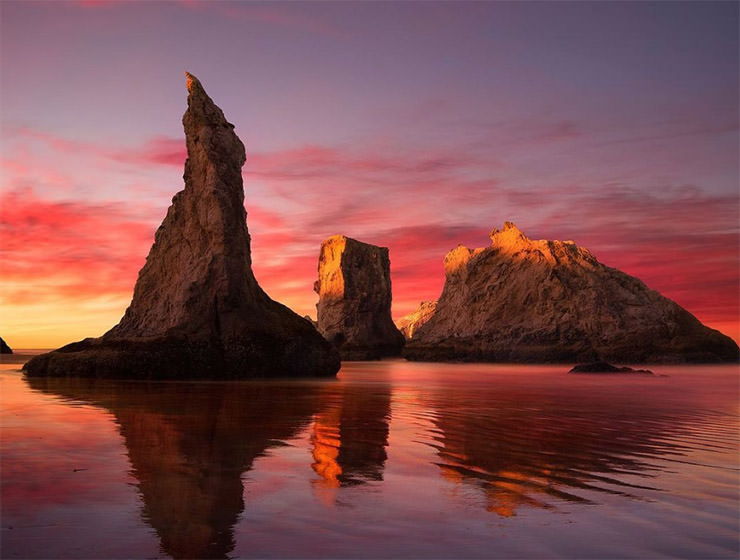 More a sea stack than an island, formed by eons of tides and winds eroding the rock, Wizard's Hat adds magic to the already spellbinding seascape of Bandon. 
Besides captivating photographers at most magical hours of the day, the hat-rock might not hide a rabbit inside, but it does come with a magical surprise of its own. If you come from the northern side, you'll see the silhouette of the sorcerer's hat. But if you approach it from the south, the shape-shifter will suddenly remind you of a Howling Dog.
This very beach has a ton of creatively named sea stacks, from Table Rock and Whale to Cat and Kittens. But maybe the most famous in this playground of natural sculptures is the haunting Face Rock. A profile of a woman sinking in the depths of the Pacific is an image that's hard to wash away from one's mind. 
Before you jump to the conclusion that the drowning lady must be the witch who lost her hat, know that native tribes call this rock Ewauna, after a princess who defied warnings about the evil gaze of the ocean spirit Seatka and decided to take a moonlit swim. The legend says that she tried to look away when the spirit appeared, but was still turned to stone. All that was left was her petrified gaze toward the skies. 
If you want to explore the fascinating coastline of Bandon, consider staying close to the Face Rock State Scenic Viewpoint. Ocean Aire holiday home looks straight at Cathedral Rock, Tidal Links vacation home is a stone's throw away from the rock known as The Castle while staying at Coquille Point Condo will reward you with a direct view of the Elephant Rock. 
15. Majsan – the island that looks like The Rolling Stones logo
Our list of cool islands that look like things continues with nature's tribute to rock'n'roll. The Croatian island of Majsan looks like the most famous logo in music history – the Tongue and Lips that became an iconic Rolling Stones brand. The contour of Mick Jagger's signature pouty lips with a tongue sticking out was not something you expected to find in the Adriatic, was it?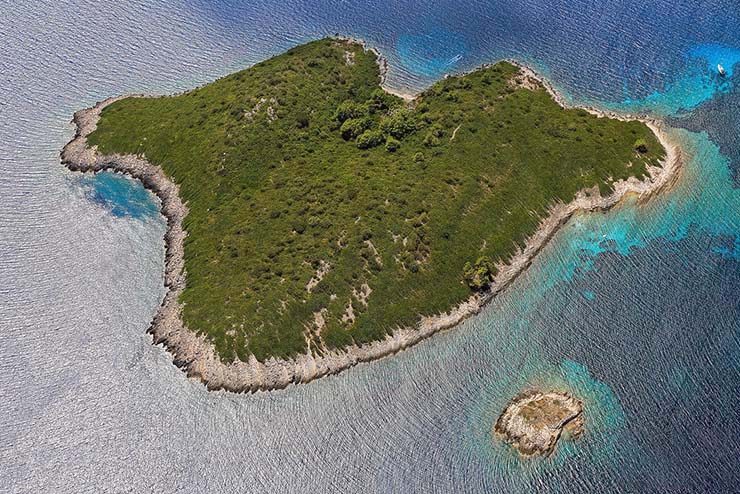 John Pasche, who designed the logo in 1970, probably never heard of Majsan, so let's give it a quick introduction. The island is located in the Pelješac Channel of Southern Dalmatia, a part of the Korčula archipelago. Its land area is just over 0,15 square kilometers, and the coast stretches 1,74 kilometers.
While uninhabited today, Majsan had a variety of tenants since prehistory. This valuable archeological site impressed experts with findings of ancient flint stone knives, but also villa rustica architecture from the Roman period, as well as a shipwreck with remains of anchors and amphoras, 35 meters beneath the sea surface. 
From Late Antiquity, there is a sacral heritage of a chapel and a tomb, from Byzantine rule – the defense structures, and the pre-Romanesque period left remnants of the church of St Maximus. Christian monk Maximus the Confessor allegedly spent his days here and inspired the island's name.     
Majsan even played a role in the rise of an empire. In 1000 AD, Doge Peter Orsello II of Venice anchored his fleet at the tongue-and-lips island, as he plotted the conquest of nearby lands. 
Today, no more battles, except over the towel space on the small beach. If you do decide to go for a day trip, keep your eyes open when your boat approaches the island. Some say its profile resembles a sleeping crocodile, but then these are the same people that describe Majsan's shape as a manta ray. 
You can rent a taxi boat to Majsan from the charming towns of Korčula or Lumbarda. If you choose Korčula, consider staying at superb 4-star properties such as Aminess Korcula Heritage Hotel, Hotel Korsal, and The Fabris - Luxury Inn. For the ultimate VIP experience, book a luxury apartment at 5-star Lesic Dimitri Palace. If you decide on Lumbarda, opt for the exceptional ECO Aparthotel The Dreamers's Club.
16. Manukan, Mamutik and Sulug – islands that form a smiley
Sometimes, one island is just not enough to put a smile on your face. In the case of the Malaysian part of Borneo, it took three little islands to send a cheerful message to anyone flying over them. Manukan, Mamutik and Sulug islands together form a recognizable smiley face.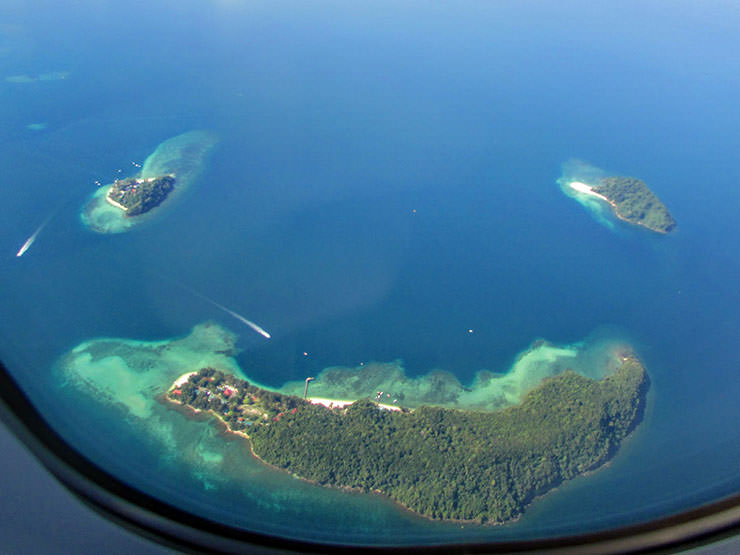 Located just off the coast of Kota Kinabalu, the capital of Sabah state, the island threesome is a perfect excuse to demand a window seat when flying from or to KK airport. 
Pulau Manukan takes center stage as the jovial mouth, while two smaller islands, Pulau Mamutik and Pulau Sulug, play the part of the left and right eye of this island emoji. Together, they make the core of the Tunku Abdul Rahman National Park, a marine sanctuary named after Malaysia's first prime minister. 
Besides the smile, the three islands offer fantastic white sand beaches perfect for chilling out, vibrant coral reefs that call for snorkeling and diving, and lush tropical forest that envelops an exciting hiking paradise. You'll be grinning from ear to ear in no time!
Formed some million years ago before the yellow ideogram would become the world's most popular emoticon, Malaysian Smiley can thank its existence to the melting ice that raised the sea level after the Ice Age. Former hills became islands. Or – smislands?
The Smiley Islands are connected with Jesselton Point Ferry Terminal in Kota Kinabalu by speedboat, and the ride to the happiest place takes only 15 minutes. While a day trip is an option, why rush through the joy? Stay overnight at Sutera Sanctuary Lodges as their villas and suites provide direct access to a private beach, and the return boat transfer is included in the accommodation price.
17. Islands that look like hearts
As we wrap up this collection of extraordinary island shapes, it's time to give a heartfelt shout-out to those little patches of land that have the loveliest shape out there – islands that look like hearts. 
Here comes Croatia, the land of island wonders, to steal the show once again. As if claiming half of this weirdly-shaped islands list was not enough (their island portfolio already includes a machete, bowling pin, soccer ball, leaf, fingerprint, footprint, bikini top, and even Mick Jagger's lips!), the small European country dominates in the love department too: at least five heart-shaped islands are dotting the Adriatic Sea.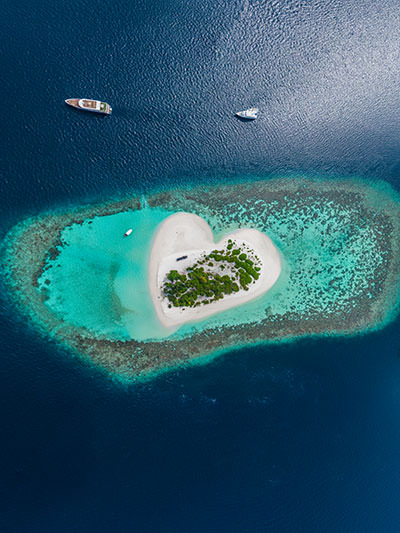 But love knows no geographical borders. Islands in the distinctive shape of a heart are sprinkled across the globe, from Australia to the USA, from Italy to Maldives (the sandy heart in the picture is exactly from the South Asian archipelagic state). To learn everything about the most amorous destinations out there, head to our ultimate guide to the world's heart islands.   
Any island that looks like a heart will surely make you instantly fall in love with nature. If that doesn't work out, scroll back up and start with a fried egg.
Islands that look like things – Conclusion
After this extravagant island-hopping through pancakes, penises, and potential fashion accessories, it's clear that Mother Nature has a mischievous side. These extraordinary creations have been sculpted over millions of years by the whims of wind, water, and geological sorcery. The result is a dramatic gallery of eccentric island marvels, demanding our attention and igniting our imagination.
Like some gigantic Rorschach test, the outlines of weirdly shaped islands unleash our storytelling
These island oddities remind us that the world is full of surprises that defy conventions. Just when you thought you'd seen it all, along comes an island that resembles your breakfast, or flashes a smile at you.
While nature is certainly an impressive sculptor, human imagination plays a crucial role in recognizing patterns. Our minds are practically hardwired to find magic in the mundane. It's our wild and wacky pareidolia interpretation that turns a cluster of rocks into a rock'n'roll cover album. Like some gigantic Rorschach test, the outlines of these islands unleash our storytelling while we try to grasp the meaning. 
Beyond their aesthetic appeal, the islands that look like things invite us to see the world with a fresh perspective. They are a testament to the wonder that can be found across the world's oceans, only if we look hard enough.
While humans are invited to be observers in a living museum, too often they try to take the role of an uninvited sculptor, adjusting the world instead of adjusting to the world. We are intelligent creatures, but the ones that can both recognize and destroy the magic. 
Japanese warship-island is a cautionary example of how our exploiting spirit can only go so far. Nature will eventually reclaim what's hers, but sometimes we push, and push, and push, beyond the point of no return. We still have a hard time imagining the trajectory of events that our actions will cause tomorrow, even when nature literally paints a boomerang in front of our eyes.
Do you have a favorite among these islands that look like things? If you know of any other that we've missed, shared it in the comments!
Pin this guide to the world's most unusually shaped islands for later!
Disclosure: This post may contain affiliate links, meaning if you click on them and make a purchase, Pipeaway may make a small commission, at no additional cost to you. Thank you for supporting our work!

The following photographs have been licensed under the following licenses:
Hans & Hashima islands - Creative Commons Attribution-Share Alike 3.0 Unported
Petch Reef - Creative Commons — Attribution-NonCommercial-NoDerivs 2.0 Generic — CC BY-NC-ND 2.0
Smiley Islands - Creative Commons — Attribution 2.0 Generic — CC BY 2.0