Located in southeastern France, Lyon is the country's third-largest city. The capital of the Rhône-Alpes region can thank its cultural importance to a rich history spanning the Gallo-Roman period, but it is also well-known for its gastronomy, art, and commerce.
There are plenty of things to do when visiting this unforgettable city of traboules (not troubles! :)), so if you're planning a short break, you better read on.
To help you make the most out of your time there, we've prepared our very own Lyon itinerary that should give you great starting ideas of things to see and do in Lyon in three days.
Lyon 3-day itinerary
Day 1: Explore the Old Town via traboules
Start your first day off right by heading to Vieux Lyon, an expansive Renaissance district bursting with charming shops, cafés, and churches. Stroll through the cobblestone streets and marvel at the 15th and 16th-century buildings, once home to rich bankers and merchants.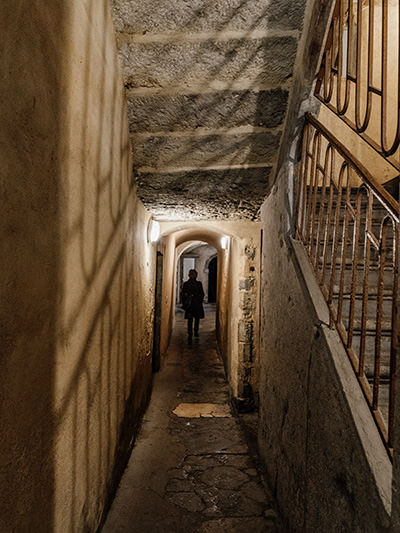 While winding your way through the courtyards and up and down the many staircases, keep an eye out for Lyon's secret passageways, more commonly known as traboules. Years ago, these paths were used by workmen to transport textiles through the city while being sheltered from bad weather.
Around 40 are open to the public and are marked with an identifiable seal. If you don't feel like finding them yourself, you can instead join a guided tour.
After this, consider walking up to the Basilica of Notre-Dame de Fourvière for a fantastic view of the city. Called the "upside-down elephant" by locals, the basilica sits atop the Fourvière hill and features both Byzantine and Romanesque architecture. Alternatively, you can take the funicular to the top if you don't feel like walking.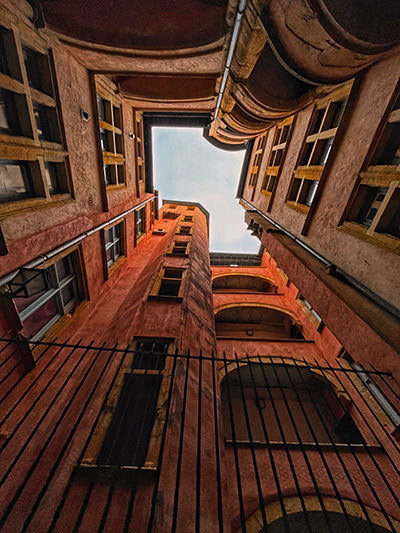 Day 2: Experience art and culture in Lyon museums
After your hectic first day, consider taking it a bit easier on your second. The city is home to an excellent collection of museums, most of which are free to enter. You can easily spend half of your day at the Musée des Beaux-Arts de Lyon, one of France's largest art museums.
The museum is located in a former Benedictine convent from the 17th century and contains collections from ancient Egypt to the Modern art period. It also features work from a world-class roster, including the likes of Picasso, Van Gogh, and Renoir.
In your Lyon itinerary, definitely make some room for a puppet show with Guignol, Lyon's most famous puppet
Alternatively, you can visit the Musée d'Histoire de Lyon, which covers the entire development of the city from its archaic roots to the present day. With a variety of sculptures, paintings, photographs, and exhibits, you're sure to leave knowing all about Lyon and its inhabitants.
Besides the Museum of Lyon History, the other half of Gadagne Museums is the Musée des Arts de la Marionnette. More than 300 puppets can be found here, revealing an intricate world of performance, emotions, and illusion. Stop to watch one of the puppet shows, which includes Guignol – Lyon's famous puppet.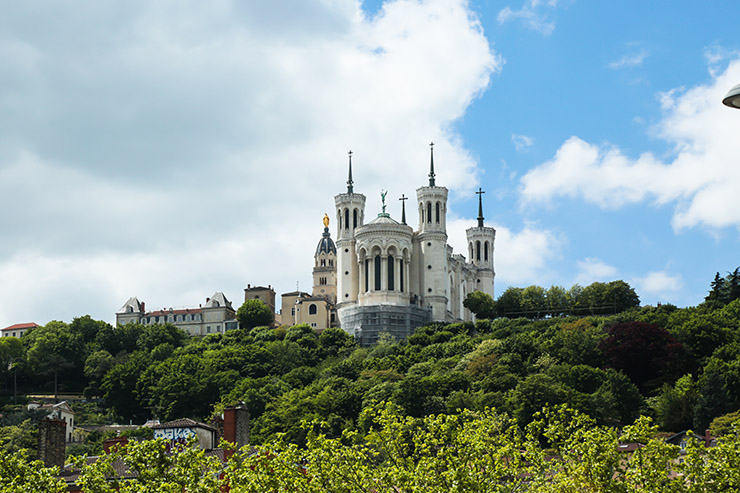 If you want to see a church that resembles a bird, you'll have to travel to the Indonesian island of Java. Check out the Chicken Church!
Day 3: Discover the Croix-Rousse Hill & District
Since you've covered the majority of Lyon's most famous attractions, it's now time to explore some of the city's more underrated hidden gems. Perched on a hill, the historic district of La Croix-Rousse is packed with adorable cafés, charming boutiques, and indie musicians.
Les canuts, Lyon's famous silk weavers, once resided here in La Croix-Russe which is what led to it gaining its reputation as the "hill that works". The best way to get around this area is by foot so that you don't miss out on the attractions dotted along the way.
Start by visiting the oldest Roman amphitheater in the city, L'Amphitéatre des Trois Gaules, an early 1st-century auditorium dedicated to the cult of Rome and Augustus. While relatively small, the amphitheater once hosted games and was a meeting place for representatives of the 60 Gallic tribes.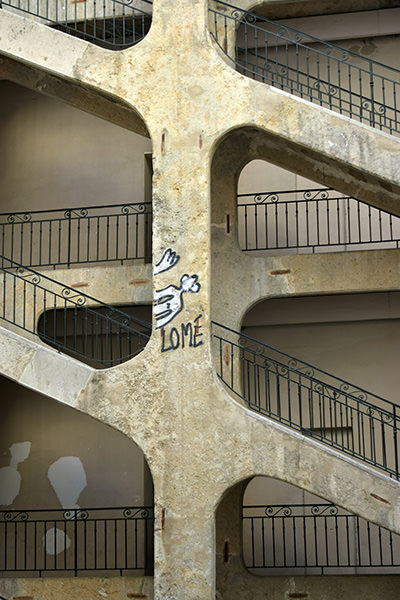 Afterward, you'll pass through another traboule known as the Cour des Voraces, one of Lyon's best-known passageways. Like most traboules, it provided safe passage for merchants traveling up the hill and back down again undetected. It was also the site of the Canut revolt of 1848 when these workers rose in an attempt to break free from the old system.
If you have time left and fancy getting some souvenirs to take home, head to the central part of Lyon – Presqu'ile. Here, you'll find a mixture of major department stores and luxury brand outlets on the UNESCO-protected shopping streets.
For more of France, amphitheaters, and unusual architecture, consult our European itinerary for first-timers!
Getting around Lyon
Lyon Saint Exupéry International Airport is approximately 25 kilometers away from the city center; therefore, you'll need to organize transport to where you'll be staying. While there is a shuttle bus service that connects the airport to the city center, called the Navette Lyon, a Lyon Airport transfer is the most convenient option, particularly if your flight arrives late or you have lots of luggage.
Lyon has an incredibly efficient public transport system consisting of trams, buses, and a metro. Consider purchasing a Lyon Card for your few days there as this will provide you with unlimited access to public transport and discounts on some of the attractions.
Lyon itinerary in 3 days – conclusion
In three days, we've journeyed through the captivating city of Lyon, uncovering its rich history, embracing its cultural wonders, and exploring hidden gems of a bygone era.
Lyon's traboules whisper secrets to contemporary urban explorers
No Lyon itinerary would be complete without immersing not just in a place, but in an experience. The soul of France is here celebrated through a seamless blend of the beauty of the past and the vibrant energy of modern life. The art and culture breathe life into museums, while the winding traboules whisper secrets to contemporary urban explorers.
As you prepare to leave this remarkable city, some moments will be engraved in your mind. The exquisite flavors of Lyonnaise cuisine, the panoramic views from Fourvière hill, the captivating performances of marionettes, and the tales of silk merchants and revolutionaries are all part of Lyon's unique charm.
Our 3-day Lyon itinerary has been but a glimpse into this enchanting town's treasures, a mere taste of what it has to offer. Until we meet again, à bientôt, Lyon!
Did you like this Lyon travel itinerary?
Pin it for later!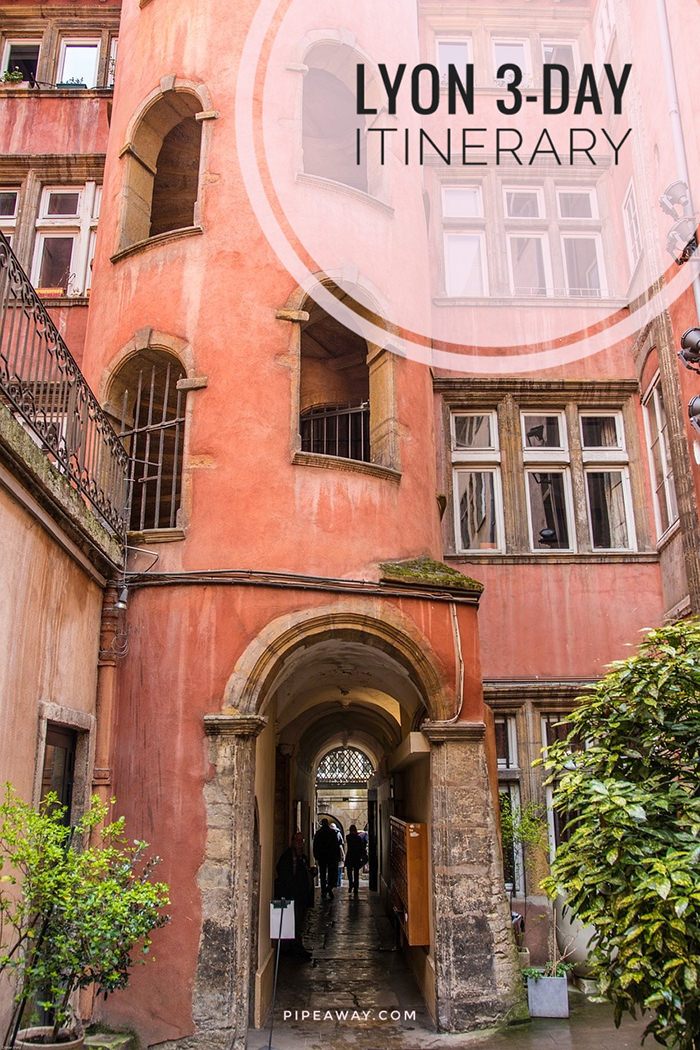 Disclosure: This post may contain affiliate links, meaning if you click on them and make a purchase, Pipeaway may make a small commission, at no additional cost to you. Thank you for supporting our work!

The photographs in this article have been sourced through Unsplash and Pixabay.

In the order of appearance, the authors are as follows: 
Lyon night panorama (cover image) - Free Nomad
Traboule passerby - Nerissa J
Traboule courtyard - Marian Muraru 
Basilica of Notre-Dame de Fourvière - Salya T
Cour des Voraces - Renaud Confavreux
Traboule (pin image) - dMz