"Barbie", the movie that sparked a global shortage of fluorescent pink paint, has brought Barbieland back to the center of attention. But the pink-obsessed doll conquered more than a screen. From Crocs shoes to Impala skates, from Champagne glasses to Uno cards, Barbie-themed everything has taken over the world, proving that there's no such thing as "too much pink". You could even book a stay at Barbie's life-size toy mansion Malibu DreamHouse, for two one-night stays on Airbnb. We bet you were unlucky to hit that jackpot, so naturally, now you wonder: Is there a Barbie hotel?
Pink-themed Barbie hotels are perfect escapes from a gray reality
If you haven't started puking pink, and are still with us, like a true fan of Mattel's iconic doll, there's fantastic news for you: you can indeed check in at a real-life Barbie hotel. Well, some of the properties out there are true Barbie-themed hotels that pay homage to the toy, while others just adore the color pink. But if you're not too fussy about the owners' intentions, most of them will satisfy your need for a Barbie dream vacation.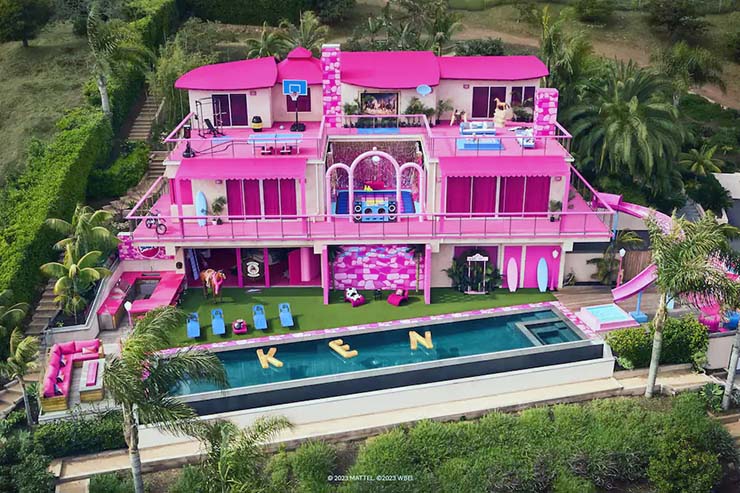 While in the much-anticipated movie Margot Robbie's Barbie and Ryan Gosling's Ken venture into the Real World, we'll be heading the other way around – straight into the pink fantasy. This aesthetically pleasing trend even has a name – Barbiecore.
Get ready to explore the world's most extraordinary Barbie hotel escapes, where luxury meets imagination. Whether you're on the quest for the perfect photo set to fulfill your Barbie fantasies, or just looking to escape the gray reality, pink-themed accommodations on Pipeaway's list should catch your eye.
If pink is your signature color, you can also make a world tour by following nature's rosy masterpieces - pink lakes!
10 best Barbie hotel experiences
Brace yourself for a serious pink overdose! These are the best Barbie hotels where guests can experience the joy of livin' la vida rosa.
1. Circa Resort & Casino
Location: Las Vegas, USA
Price per night: Starting at 156 euros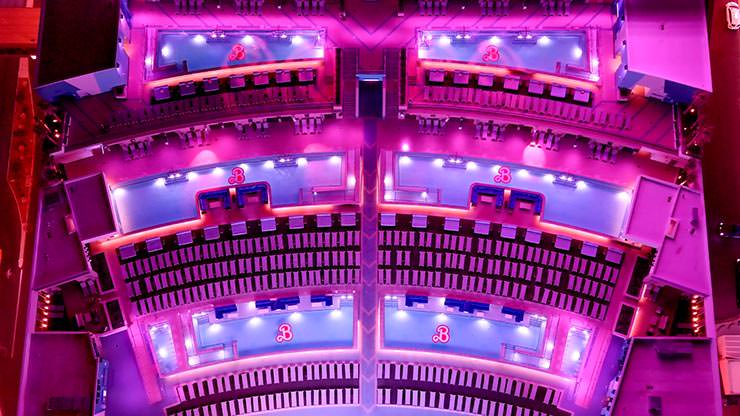 If you're looking for a Barbie hotel in the city of neon lights, Circa Resort & Casino is blushing pink with the "Barbie" movie release. For a limited time, from July 18 to 23, the illuminated hotel is hosting pool parties at Stadium Swim's six pools, complete with pink specialty cocktails, Barbie floats, and life-size Barbie boxes as the perfect Insta-worthy photo-ops.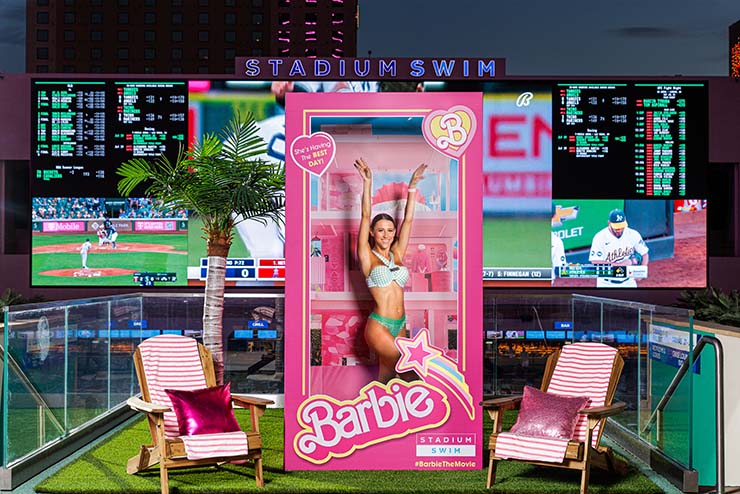 2. The Beverly Hills Hotel
Location: Los Angeles, California, USA
Price per night: Starting at 1,300 euros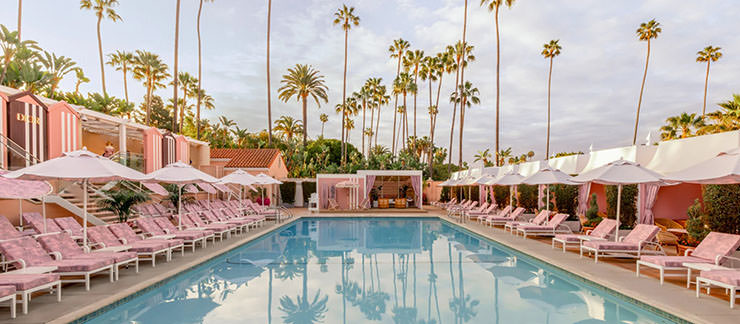 Standing on Sunset Boulevard for 111 years, The Beverly Hills Hotel was a historic landmark adored by the Hollywood elite. It lost some of its glitter when the hotel co-owner, the Sultan of Brunei, introduced controversial aspects of Sharia law and gay prosecution in his country in 2014. Celebrities started boycotting the pink-painted hotel, but the glamour aura still shines for Barbie fans.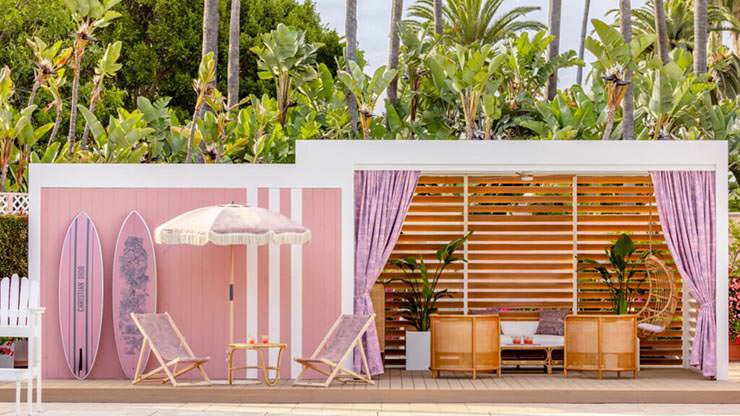 3. The Don CeSar
Location: St. Pete Beach, Florida, USA
Price per night: Starting at 392 euros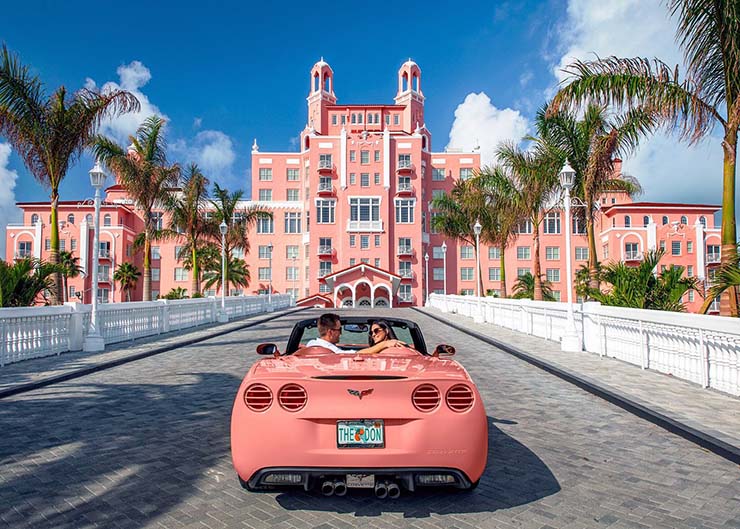 Opened in 1928, The Don CeSar was also a beloved playground of the rich and famous, from Al Capone to President Roosevelt. Thomas Rowe who built the pink castle in the sand is supposedly still hunting the grounds as a ghost. Movies such as "Health", "Thunder in Paradise", "Forever Mine", and "The Infiltrator" were filmed in the legendary Pink Palace. Waiting for "Barbie 2".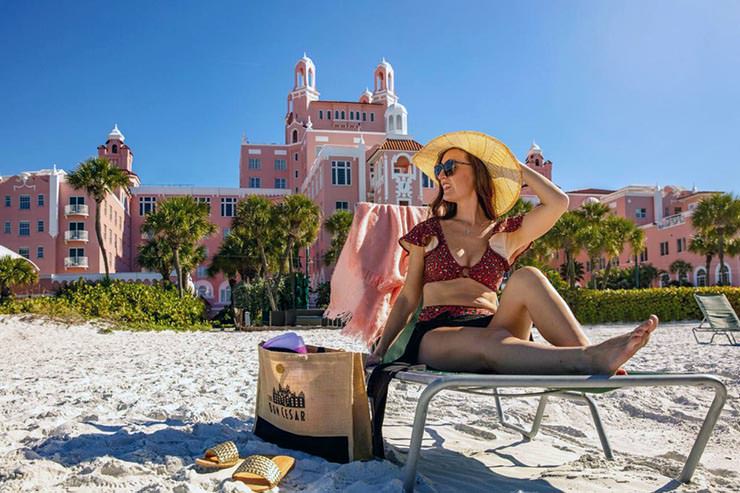 4. The Royal Hawaiian Resort
Location: Honolulu, Hawaii, USA
Price per night: Starting at 491 euros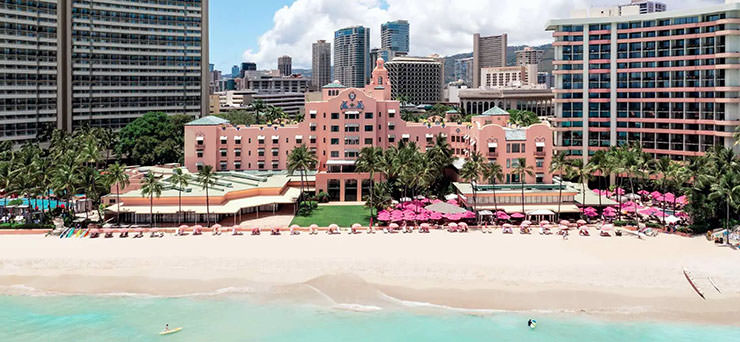 The Royal Hawaiian Resort was named the Pink Palace of the Pacific. Opened in 1927, the luxury beach resort in Moorish style architecture with a pink stucco facade immensely contributed to the popularity of Hawaii in the early days. It also repeatedly appeared on both the silver and small screens, from "Tom and Jerry" to "Mad Men".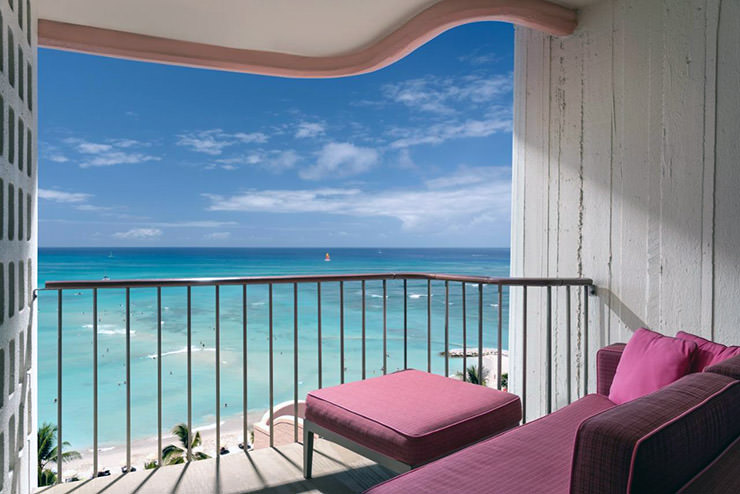 5. Trixie Motel
Location: Palm Springs, California, USA
Price per night: Starting at 495 euros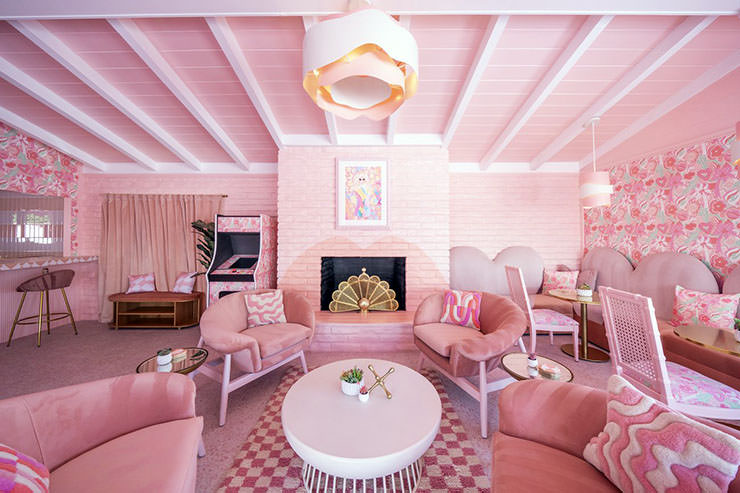 If you want to visit an alternative Barbie-themed hotel in the USA, Trixie Motel should be on your (gay) radar. Run by the hilarious drag queen Trixie Mattel, the Palm Springs property stars in the Discovery+ reality TV series where it undergoes a colorful makeover. Now renovated, three rooms and four suites are eagerly awaiting desert visitors that like a pop of color.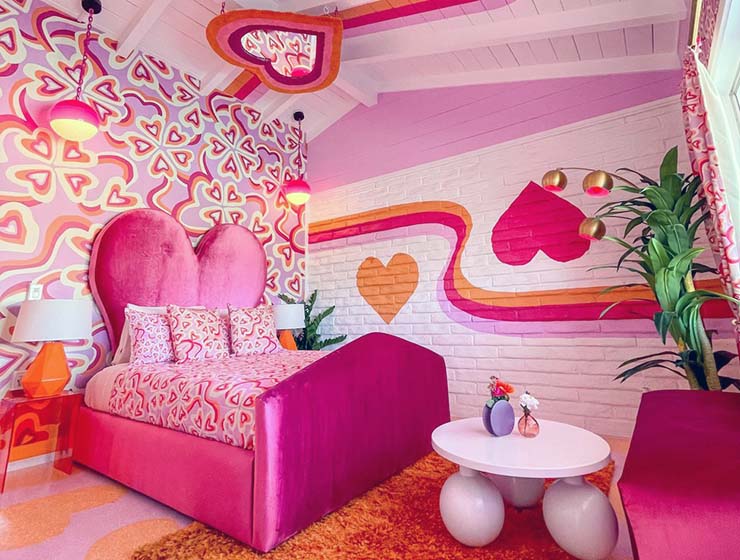 6. Grand Hyatt Kuala Lumpur – Barbie Ultimate Staycation
Location: Kuala Lumpur, Malaysia
Price per night: Starting at 141 euros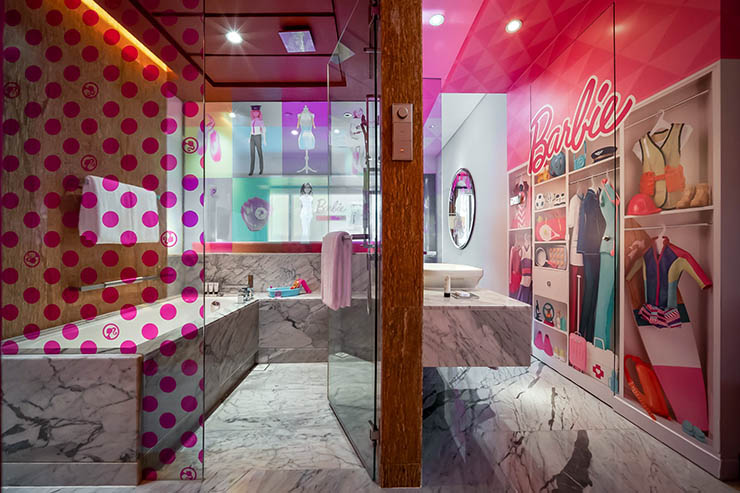 In 2021, the prestigious Grand Hyatt in Kuala Lumpur renovated its entire floor to fit Mattel's iconic brand. Barbie Ultimate Staycation was providing 14 whimsical rooms and suites decked out in a vibrant Barbie pink palette. The hotel's Barbie Cafe offers a pink chocolate fountain, but also an exquisite afternoon tea experience packed in a Barbie box, with sweet and savory treats.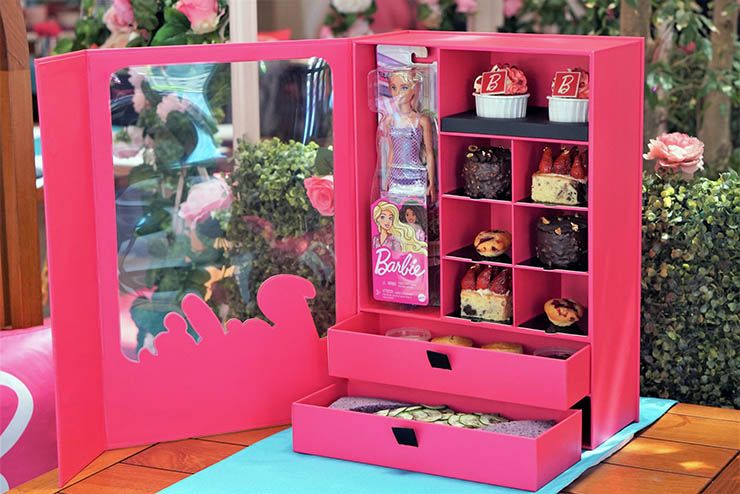 If you like unconventional hotel experiences, check out where to find the most extraordinary room service in the world!
7. The Pink Hotel Coolangatta
Location: Coolangatta, Australia
Price per night: Starting at 127 euros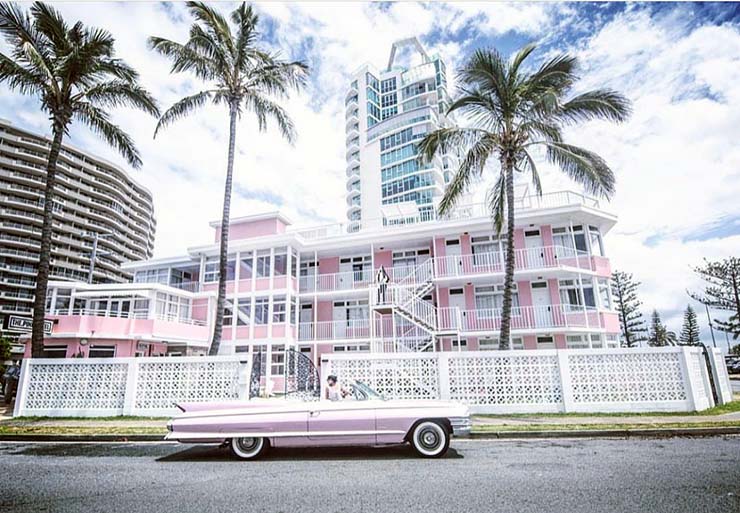 The Pink Hotel in Coolangatta, the lively beachside town on Queensland's Gold Coast, is a refurbished 1950s boutique hotel that kept the mid-century style but introduced unconventional outlets such as a tattoo shop. With custom art and neon lights, each room in the funky Pink Hotel is one of a kind. The closest you will get to a (sur)real Barbie hotel down under.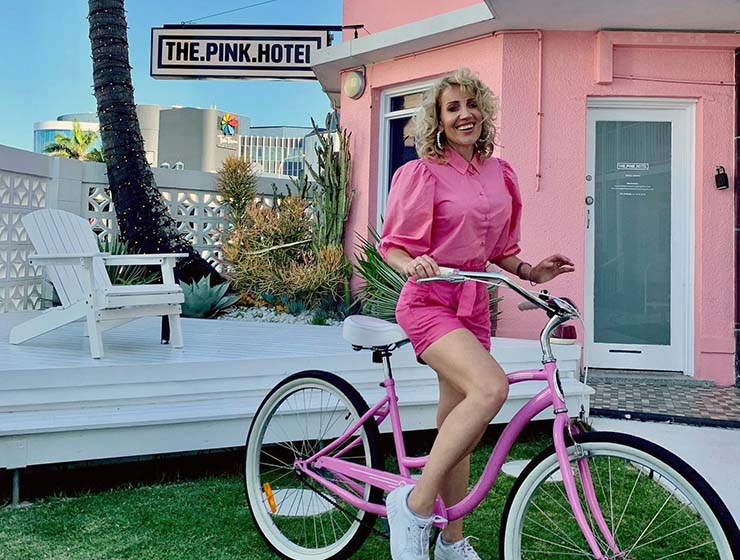 8. Paradiso Ibiza Art Hotel
Location: Ibiza, Spain
Price per night: Starting at 113 euros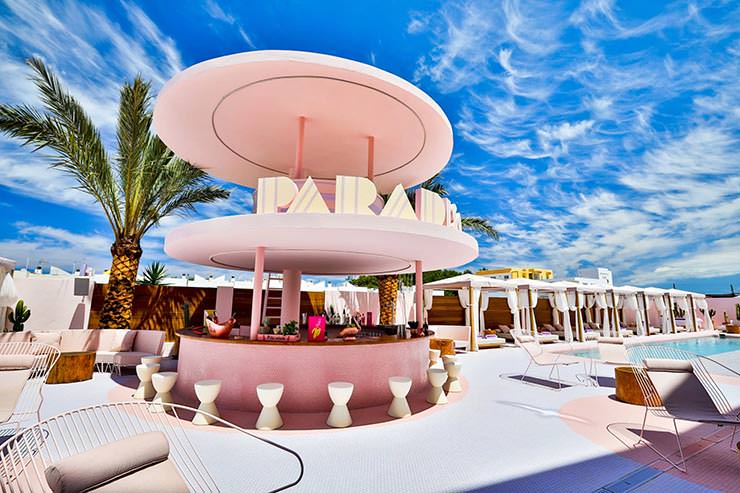 With Miami Ocean Drive's Art Deco aesthetics, Paradiso is Ibiza's postcard-perfect hotel, a favorite among Instagrammers. The place has everything from pink hues to holiday tattoos. If you're tight with money, there's a Zero Suite for zero euros. The only catch? You also get zero privacy. In the true style of an exposed Barbie dollhouse, the walls of your room in the middle of the hotel lobby are made of see-through glass.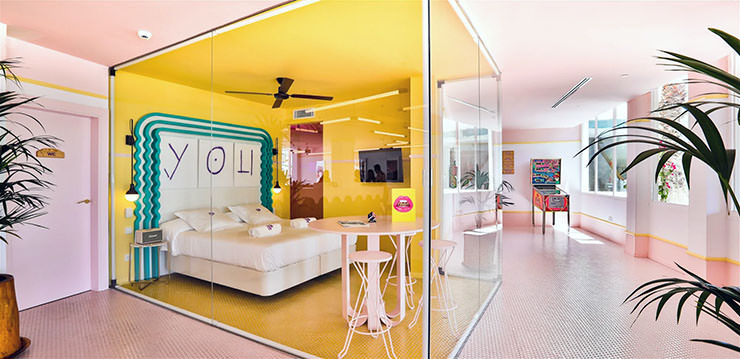 9. PinkCoco Uluwatu
Location: Bali, Indonesia
Price per night: Starting at 87 euros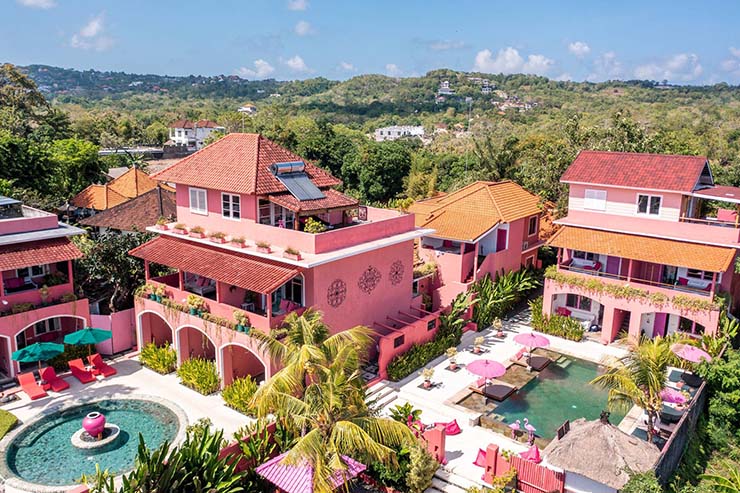 PinkCoco Uluwatu in Bali defines itself not just as an adults-only, but – a cool adults-only hotel. It gives a dollar from every booking toward breast cancer prevention. Targeting mature Barbies and Kens, everything here comes in pink, from architecture and furniture to speed boats and surfboards. At midnight swims, open-minded guests wear only smiles, and those with BDSM inclinations can find everything they need in the Daring Room.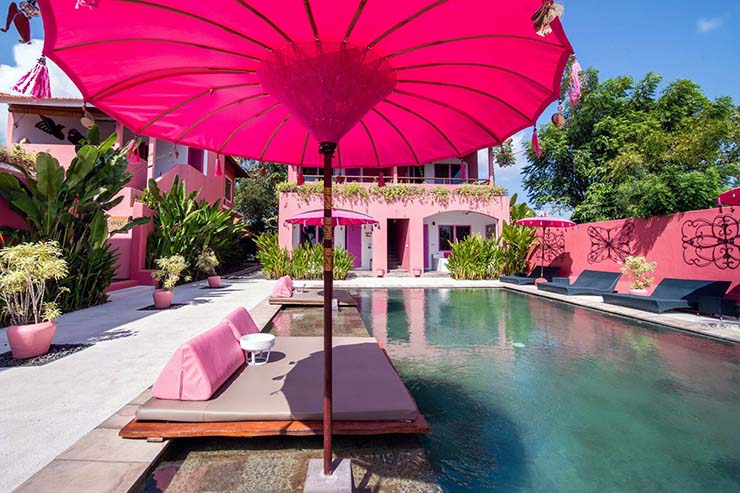 10. Hilton Bogota Corferias
Location: Bogota, Colombia
Price: Starting at 117 euros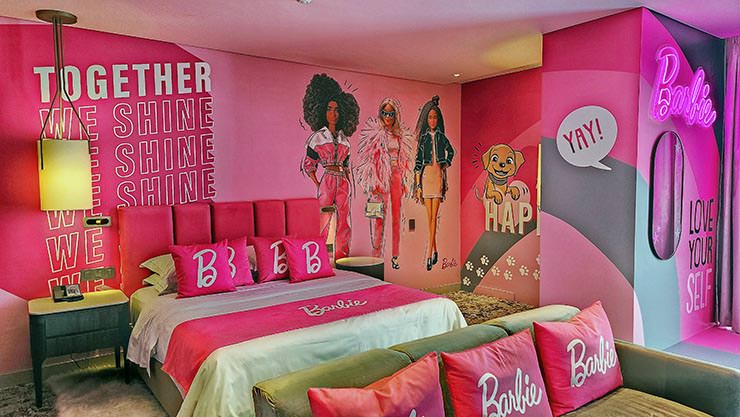 After Panama City in 2016, and Mexico City in 2019, another Hilton Hotel in Latin America got a limited-time Barbie-themed suite. Until July 2024, Hilton Bogota Corferias will be offering a room that comes with special decor, Barbie mantras, and even a pet corner. For a full Barbie fever, you can eat Barbie-inspired meals at hotel restaurants, and even go on a – pinknic.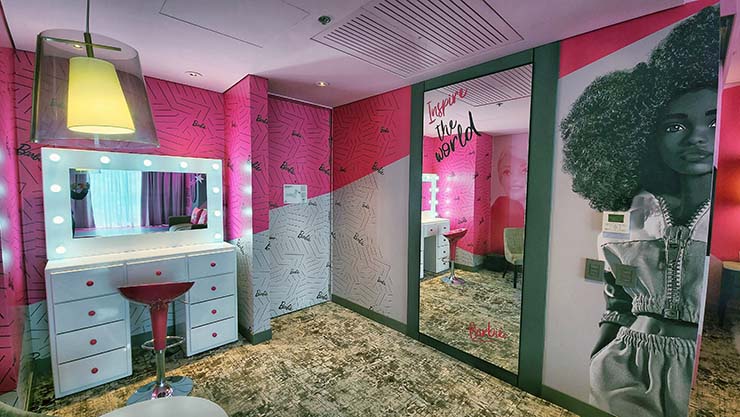 Looking for other movie-inspired accommodations? Check out these Star Wars hotels!
Barbie hotel experiences – Conclusion
With the "Barbie" movie finally conquering cinemas, the pink wonderland has spread over an entire entertainment industry. From burgers to Xbox consoles, everything is turning pinker than a flamingo on a bubblegum diet. And hotels were not spared either.
The hospitality industry embraced Mattel's story as a much-needed wind in their sails after the pandemic blues
It's been a decade in the making, but the movie at least secured a great amount of time to prepare one of the most encompassing campaigns the marketing world has ever witnessed.
With bold projects such as a one-off Airbnb listing, temporary Barbie-themed rooms in top-notch hotel chains, and then also hoteliers who believe in the color pink in the long run, the hospitality world embraces Mattel's story as a much-needed wind in their sails after the pandemic blues. Many embraced these pink-tinted glasses and the new view of the world they offered.
Together with the recovery of the movie and tourism industries, the fashion doll from 1959 also finds a way to reach new kids on the block.
Whether you're looking to relive your childhood dreams, spend a Barbie family vacation with your children, or even just use the opportunity to bow down to the queen of gay colors, these Barbie hotel experiences are offering an escape to a real-life fantasy.
If for any reason you cannot jet off to any of these pink paradises on the list, you can always build a Barbie vacation house at your home. Embrace the Barbie magic. Pink is the new black!
Would you try any of these Barbie hotel experiences?
Pin this article for later!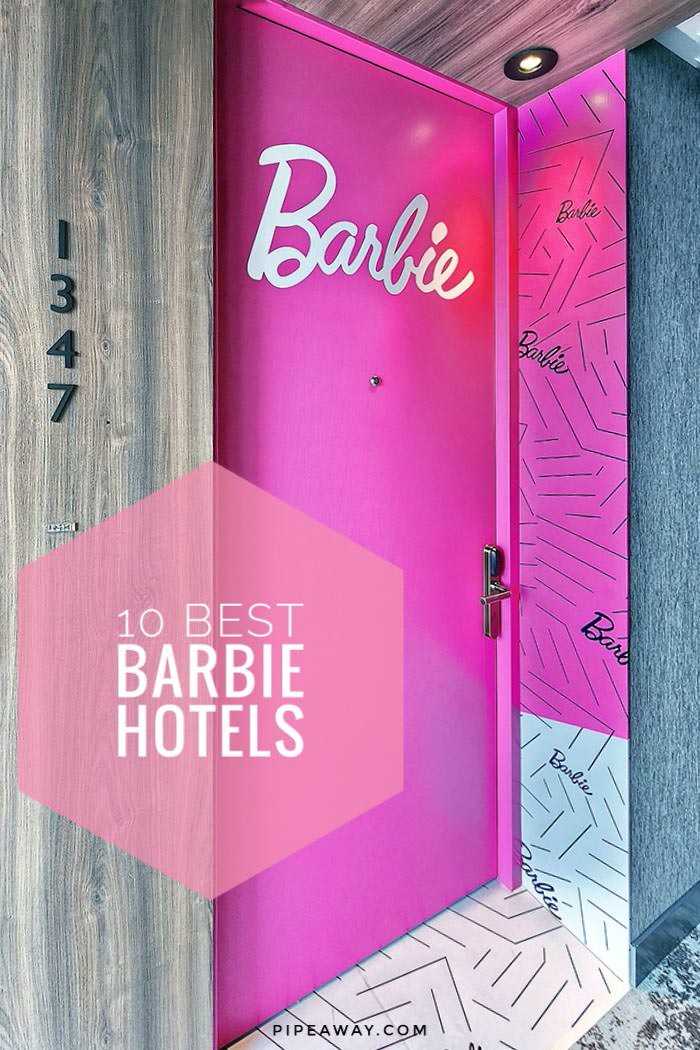 Disclosure: This post may contain affiliate links, meaning if you click on them and make a purchase, Pipeaway may make a small commission, at no additional cost to you. Thank you for supporting our work!