Malta is sinking. Azure Window, the famous natural rock arch on the Maltese island of Gozo, collapsed in stormy weather in March 2017. This saddened all lovers of iconic landmarks. Malta landscape transforms due to natural processes, but climate change as the heritage of human actions cannot be excused.
Climate change affects the coastal erosion, rise in the sea level, as well as more frequent extreme weather
Malta today is more vulnerable than ever. Climate change dangers were recognized back in 2004. They included impacts such as coastal erosion, rises in sea level, jellyfish expansion, and more frequent extreme weather conditions. Still, this country on the geographical and cultural border of Europe and Africa is well worth exploring! Therefore, Pipeaway brings you the 14 best things to do in Malta before it sinks!
Use the benefits of frequent discounted flights to Malta, jump on a plane, rent a car, and start exploring Malta island right now! There are some extraordinary places to visit in Malta! I hope this travel guide will help you define your perfect itinerary!
For more useful Malta facts, scroll to the bottom of the page!
14 reasons to visit Malta today
1. Megalithic temples of Malta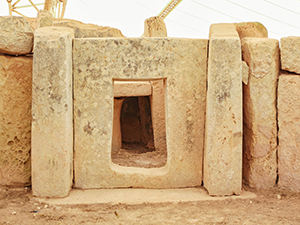 Megalithic temples of Malta are some of the oldest free-standing stone buildings in the world. People erected them in the 4th and 3rd millennium BC!
There are two dozens of these prehistoric sites in Malta, but only seven are protected as UNESCO World Heritage. Five of them are on the island of Malta (Hagar Qim, Mnajdra, Skorba, Ta'Hagrat, and Tarxien), and two on Gozo (Ggantija temples).
Experts describe Malta temples as unique architectural masterpieces. According to legends, it was the race of the giants who built these monumental constructions. Some of the stone blocks, more than five-meter high, weigh up to twenty tons! Built before the Egyptian pyramids, some temples were aligned with the movement of the Sun. This suggests that equinoxes and solstices were important events of Malta's Temple Culture!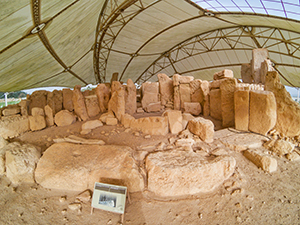 These mystical remains of the past are under a threat of an increased number of storms. To protect against the collapse of the structures, they built vast canopies over some of the megalithic temples of Malta.
If you have a hard time choosing which Malta temples to visit, I suggest Hagar Qim and Mnajdra, which are just 500 meters apart. For a total entrance fee of 10 Euros, one can also learn more about how the temples were built at the visitor center which offers a 4d movie experience. Another plus of this site is that it's just above an amazing part of Malta's coastline (exploring the coastal nature is our second recommendation of the 14 best things to do in Malta). After the temples, you could hike down closer to Ras il-Hamrija, the rock arch that, for now, successfully withstands the harsh waves of the Mediterranean Sea.
2. Malta coastline – from Blue Grotto to Coral Lagoon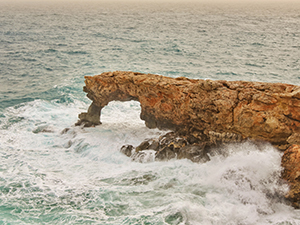 Even in winter, when temperatures become less welcoming for swimming in the sea, the coastline is Malta's must-see. With a lack of greater forested areas, the numerous bays, beaches, caves and cliffs are a valid excuse for a hiking day! Malta's coastline is nearly 200 kilometers long!
After the collapse of the Azure Window (also known as Dwejra Window), the 28-meter-high limestone arch, the fans of "Game of Thrones" filming sites were in despair. Thankfully, there are dozens of alternatives to the fallen landmark, maybe less spectacular, but still worth seeing.
As mentioned earlier, Ras il-Hamrija, a part of Ghar Hanex nature preserve, is just below the two of the protected megalithic temples of Malta. The path down is steep, so always use caution! Ghar Hanex already collapsed partially, and Ras il-Hamrija is now technically on the island. Don't go too close to the cliffs! If you want to be perfectly safe, admire the view from Tal-Hamrija Coastal Tower!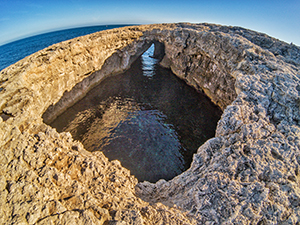 Blue Grotto (the featured image of the article) is another Malta attraction you should stop by when visiting the Qrendi village. Its arch is 30 meters tall, and one can visit a system of six caves by boat if the weather permits. Alternatively, there is a Blue Grotto Viewpoint, accessible for picture taking. The play of colors of the seabed and the rocks is enchanting even for a diving exploration. But the filming site of the movie "Troy" gets extremely popular in the summer months. To avoid the crowds, consider hiking from Dingli Cliffs to Blue Grotto!
At the northernmost part of Mellieha, Coral Lagoon (also known as Dragonara Cave) is a naturally formed cavity. The brave ones can jump into this special swimming pool and, if the waves are not too rough outside, swim back to the firm ground! Beware, you cannot climb out of the cave! Swimming or kayaking is the only way to exit Malta's Coral Lagoon.
3. Victoria Lines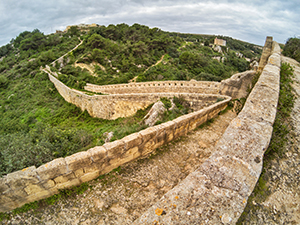 Did you know that Malta has its own "Chinese Wall"? The Great Wall of Malta, officially known as the Victoria Lines or the North West Front, is a 12-kilometer-long network of fortifications. They split Malta island into the northern and southern parts.
The Knights of Saint John were the first ones who built infantry entrenchments along the natural geographical barrier called Great Fault in the early 18th century. The British military built the full stretch of forts, batteries, entrenchments and continuous infantry lines in the late 19th century. In honor of Queen Victoria, the protective barrier against the potential invasion of the French or Italians from the north got the name Victoria Lines. The defensive walls never had the real-life combat test though!
These days, Victoria Lines are a less-known hiking path across the island, and therefore one of the most unique things to see and do in Malta. One can walk all the way from the cliffs of Fomm ir-Rih to Madliena, and enjoy some beautiful views while standing on the piece of Malta's military history.
4. St. Paul's Catacombs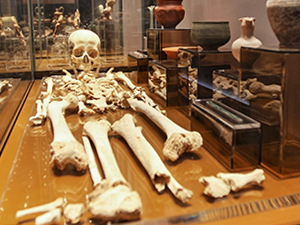 Once, these were the outskirts of the old Roman town Melite (now Mdina). For hygienic reasons, Romans were burying their dead outside of the city walls. These catacombs were in use from the 3rd to 8th century, and no, St. Paul was not buried here! The catacombs in today's Rabat got their name because it was believed they were connected with St. Paul's Grotto and Church, where St. Paul stayed after his shipwreck in 60 AD, according to the legend.
After they were abandoned for five centuries, St. Paul's Catacombs were used again for Christian services in the 13th century. Besides being the oldest and largest archeological evidence of Christianity in Malta, the catacombs were also a place of Jewish and Pagan burials.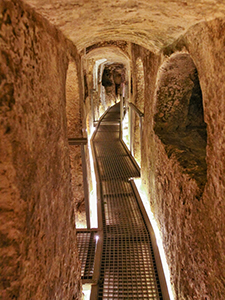 In the main chamber of the largest Malta catacombs, pay attention to so-called agape tables hewn out of a solid piece of rock. This is the place where they would serve a farewell meal during the annual festival of the dead.
There are more than 30 hypogea in this complex of underground cemeteries. After seeing one, two, or a dozen, you might get tomb overdose and decide not to enter each of them.
If you want to visit the famous prehistoric burial site called Hal Saflieni Hypogeum, the experience will cost you at least 35 Euros. The ticket for St. Paul's Catacombs costs 6 Euros, which will save a part of your budget, and still provide the extraordinary experience of exploring the cemetery labyrinth.
For aerial views of Malta, check this Youtube video by Oliver Astrologo!
5. Pastizzi
Malta sightseeing can get hard for your feet. Well, is there a better way of taking a break than by grabbing a snack? When in Malta, do it the Maltese way!
Pastizzi are Malta's traditional snacks! The flaky pastry comes with various fillings, typically peas or ricotta cheese. But you'll also be able to find pastizzi with chicken, apples, tuna or anchovies, among others.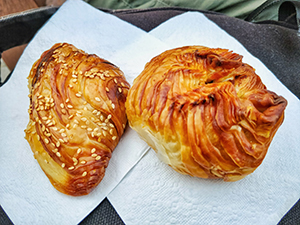 Pastizzi usually have shapes of diamonds or semicircles, but Maltese imagination does not end in basic geometry. For that reason, locals use the word as a euphemism for the female genitalia as well.
According to TasteAtlas, pastizzi are the most popular Maltese dish. And it's true, you'll be able to find this national treat at many street corners! However, if you went to visit St. Paul's Catacombs, Is-Serkin or Crystal Palace in Rabat is a popular place to find pastizzi. Prepare yourself to stand in line! But at a price of 45 cents per piece, you'll be happy with your reward!
If you're into cheap things to do in Malta, stuffing yourself with pastizzi will be a delicious investment!
6. Mdina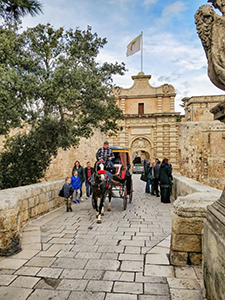 Mdina was Malta's capital until the Middle Ages. The Order of St. John moved the island's administration to Birgu in 1530, and Mdina stayed just a fortified shell.
Today, many refer to Citta Notabile as Silent City.  There is no car traffic behind the city walls except for the vehicles belonging to the locals. They stay parked in the limited number of streets and squares and, in my opinion, definitely take away from Mdina's medieval charm.
Still, from Mdina Gate to Fontanella Tea Garden (this café with homemade cakes is so popular that you might need to queue to get inside), impressive architectural sites are plentiful. Moreover, they inspired even the creators of HBO's "Game of Thrones" (season 1), so some city locations became a part of King's Landing.
Mdina is home to barely 300 citizens who live quietly behind the walls of the palaces, out of the tourists' gaze. If you are an architecture geek and love a mixture of baroque and medieval settings, this ancient well-preserved walled city will definitely leave a mark.
And the best of all, walking through this history will not cost you a dime! Exploring Mdina is one of the best free things to do in Malta!
If you are a Game of Thrones fan, check the state of one of Croatian King's Landing sites! If you prefer "The Witcher", here's the Slovenian castle where the third season was filmed!
7. Valletta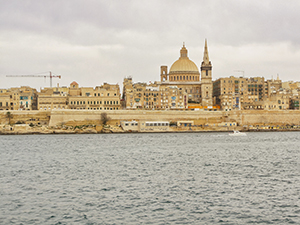 While Mdina is on UNESCO's tentative list, Malta's actual capital Valletta gained recognition on the official list of World Heritage Sites.
Knights Hospitaller (the Order of St. John) erected the buildings in the EU's smallest capital back in the 16th century. Even if Valletta was entirely built by hand, it took them only 15 years to complete it! The fortress city got its name after the Grand Master of the order, Jean Parisot de la Vallette.
You can get to Valletta by Sliema Ferry (the return ticket costs 2,80 Euros). Once you're on the peninsula, feel free to roam around on foot!
There are numerous little streets, gardens, bastions, forts and historical buildings to discover! Admire statues and fountains of yesteryear, or discover newer artistic creations at Valletta Contemporary gallery!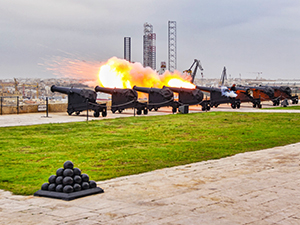 The whole of Valletta is a masterpiece of Baroque. St John's Co-Cathedral is probably its finest example and one of Malta's top sights. Unlike the exterior, the interior of the church has lavish decoration. It contains richly decorated tombstones of the Knights of St. John, as well as some true masterpieces such as Caravaggio's "The Beheading of Saint John the Baptist".
Barrakka Gardens (Lower and Upper) are nice places to observe the sunset! The Upper Barrakka Gardens are also a good place to visit at noon or 4 pm. This is when the cannon fires the gun signal at the Saluting Battery, probably the oldest one still in operation in the entire world.
At the end of your Valletta sightseeing, you can do some shopping. Or enjoy a cup of coffee and a slice of fine cake in one of the town's cafés!
8. Falcon Archery Malta
Exploring the remnants of Malta's past could enlarge your interest in the history of the armored knights, but also for one of the oldest human activities – archery!
The good news is that you do not have to just fantasize about this enchanting skill! At the University of Malta in Msida, you can actually learn how to use a bow and an arrow! Falcon Archery Malta is the school of traditional, instinctive archery!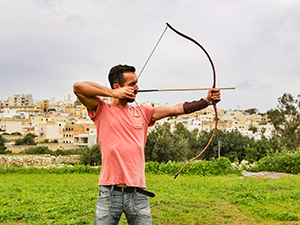 Our teacher Johan was extremely patient and provided adequate attention to each of the course participants. With every new instruction and advice, we were all progressing at our Robin Hood skills, getting better and better at shooting. At first, we were trying to aim at the center of the target. But later, as our posture and bow/arrow handling improved, we switched into instinctive mode. And, boy, did we shoot! At the end of the session, we practiced on the target modeled as a wolf, and we even had a little competition. The prize? Each of us got a Certificate of Achievement!
If you want to prepare yourself for the Hunger Games, the 2-hour session in the basic archery course will cost you 35 Euros. Not too much if that will give you a better starting point once the Capitol reanimates the crazy idea of disciplining the districts.
If you want to try one of the most interesting things to do in Malta, classes are held at the Falcon Archery Malta's Archery Range at Malta University Main campus.
9. Mosta Rotunda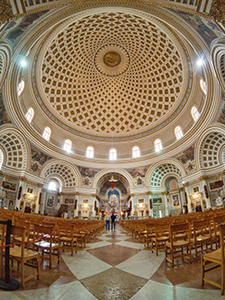 When we left Malta by plane, I noticed that Mosta town had a shape of a heart. At the heart of this heart, the Rotunda of Mosta or Mosta Dome was an imposing building dominating the landscape. Definitely, one of Malta's prime tourist spots!
Belonging to the Basilica of the Assumption of Our Lady, Mosta Rotunda is an iconic landmark. With its height of 61 meters, this piece of neoclassical architecture can hardly go unnoticed. The width of its dome puts the church on the world maps. With 39,6 meters in external diameter and 37,2 meters on the inside, the Rotunda of Mosta is one of the largest unsupported domes in the world!
Giorgio Grognet de Vassé designed Mosta Dome inspired by the Pantheon in Rome. In the 19th century, shaping a church after a temple dedicated to Mars, the Roman god of war, was controversial. But after three decades of construction (1833-1860), nobody doubted that Malta got a prominent church. Coming from an antiquarian with no formal architectural training, Mosta Rotunda was a miraculous masterpiece!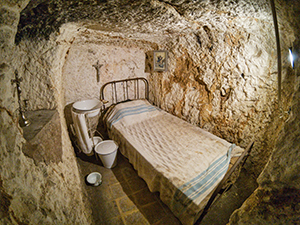 It survived the test of a miracle in the following century! On 9 April 1942, the German Luftwaffe bombed Mosta and dropped three bombs on the church. The two rebounded. The third bomb, filled with half a ton of explosives, pierced the dome and fell into the church during the Mass. The bomb failed to detonate, and none of the 300 people were injured. The inhabitants interpreted the event as a miracle. In the sacristy at the back of the basilica, you can see the replica of that bomb that was later defused and thrown into the sea.
Rotunda of Mosta is an architectural marvel worth seeing, from below or from above (climb up the bell towers stairs!). The entrance fee is 2 Euros.
10. Popeye Village Malta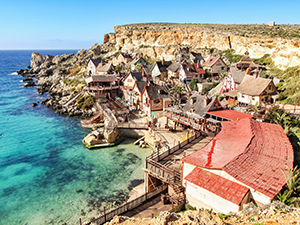 If you travel with family, visiting Popeye Village is one of the best things to do in Malta with kids!
This theme park was originally a film set for the 1980 musical "Popeye", directed by Robert Altman and featuring Robin Williams as Popeye the Sailor Man. Built in Anchor Bay, some 3 kilometers from Mellieha, the town of Sweethaven was preserved. It became one of the most popular Malta tourist attractions!
"Popeye" production imported materials from Holland and Canada, and the construction crew erected an authentic wooden village with 20ish buildings in barely seven months! Now they house shops, dentist or mayor's office, a cinema with a 15-minute documentary, or a museum with a full "Popeye" movie playing on loop.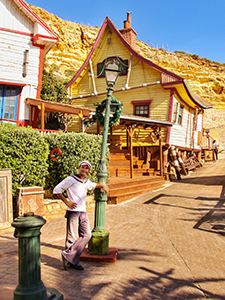 Popeye, Olive Oyl and Captain Bluto, movie characters played by local actors, will entertain you throughout the day! You can expect puppet shows, animation jokes, and dancing routines. Some of it is interactive, so prepare to join the fun!
Besides using the set for numerous photo opportunities, you can engage in creative games or try your talent at the nine-hole mini-golf course. Remember to collect a free postcard at the souvenir shop, and free popcorn at the cinema! Sadly, the park's restaurant doesn't have spinach on the menu!
The program at Popeye Village Malta is seasonal, it will adapt to dates such as Easter or Halloween. Tickets are pricier in summer. At its peak, they cost 17 Euros for adults and 13,50 Euros for children and pensioners. Summer tickets include the use of water trampolines and a short boat trip in Anchor Bay. In winter (11 Euros for grown-ups, and 9 Euros for kids), the special attraction is Santa's Toy Town! Enter the magical place where animatronics elves pack the presents for the most generous grandpa in the world and find out why Malta is indeed one of the best places for a family holiday.
11. St. Peter's Pool
Unless you are visiting in the middle of summer, St. Peter's Pool in southwestern Malta is a great place to hit the beach with lesser crowds. The whole coastal area is an attractive hiking ground, with unusual rock formations and salt pans.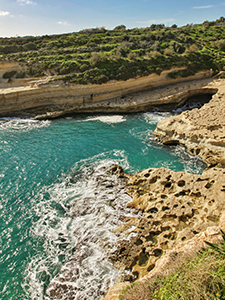 Located in Marsaxlokk, just around the corner of the unattractive Delimara Power Station, St. Peter's Pool is a hidden natural pool carved by the sea waves. Under the limestone rock in the shape of a horseshoe, azure waters seduce swimmers to take a dip. The brave ones jump off the cliffs. On the other side, the observers equally enjoy the views while sunbathing on the flat rocks. For many, St. Peter's Pool is one of the top 10 Malta attractions!
A four-legged visitor was an avid promoter of St. Peter's Pool in recent years. Her name was Titti and became the social media sensation that inspired many to visit this part of Malta. Every day, Carmelo Abela was bringing his Jack Russell dog to the cliffs. Titti would dive into the water together with him and quickly became the diving dog sensation! Sadly, Carmelo's pet passed away in January 2019. So until her successor Tina learns the skill of cliff diving, you can experience some of Titti's joy at St. Peter's Pool on Youtube!
12. Ghajn Tuffieha
If you are more into sandy beaches, you should head to Ghajn Tuffieha Bay on the northwestern coast of Malta! Behind the small village of Manikata, the popular Golden Bay and more rough alternatives of Ghajn Tuffieha and Gnejna Bay are beaches to visit!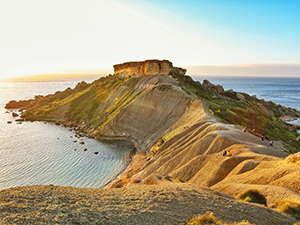 With its red sand and clear water, Ghajn Tuffieha Bay is certainly a swimming attraction, but its beauty goes beyond! The most spectacular aspect of this inlet happens during the sunset!
When the day approaches its end, climb up the winding footpaths to the clay slopes. Walk along the raw cliffs; the geological features of the area are unique and mesmerizing! At the moment the sun starts to throw the last rays over these rugged hills, sit down and enjoy the panorama! This is one of the best sights in Malta!
13. Fenkata
Malta's cuisine was historically vastly based on seafood. Mediterranean fish was the main source of protein in times when only nobles and knights had permission to enjoy meat. Dryland did not support the cultivation of large animals for all, and the Order of St. John introduced the ban on hunting rabbits. They treated hunting as a sport reserved for the higher class. Peasants caught violating the ban would get fines or sentences of up to five years rowing on galleys. The Brits lifted the ban, which enabled military training for peasants, but also rabbit returned to their tables.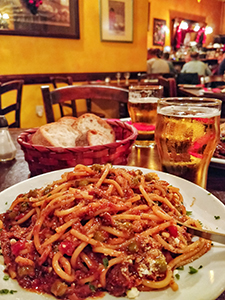 Today, rabbit stew or Fenkata is a national dish of Malta. Its tender meat is a result of all-night bathing in a marinade of red wine, garlic and bay leaves, and then stewing with vegetables and aromatic herbs. The result is a rich sauce, typically served with potatoes or spaghetti. If you want to make it an entirely local experience, pair it with Malta's favorite bar drink – Cisk lager beer!
For a delicious Fenkata, you can visit Ta' Kris restaurant in Sliema. This Maltese restaurant could improve its guest service. But the lack of smiles on waiters has compensation in tasty rabbit dishes. Typically, after Fenek, one should eat nougat sweets and peanuts. At this restaurant, I warmly recommend Helu Malti, a tasting menu of traditional local desserts! Try Imqaret (pastry filled with dates), Helwa tat-Tork (fudge with tahini and almonds), Cannoli (Maltese version of Sicilian dessert with ricotta cheese), and Gelat Malti (with evaporated milk, candied peel, and nuts)!
14. Hotel 1926 Malta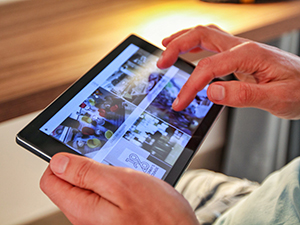 Now that you got well-fed, you will need a place to get a good rest! Just two blocks away, in a strategic position for exploring Sliema, but also Valletta just a ferry ride away, is Hotel 1926 Malta!
This 4-star hotel got its name after the year of birth of Sunny Borg, the founder of Bortex, the textile industry giant that reached out into the hospitality sector. Taking inspiration from the life and passions of the late Maltese entrepreneur, this new boutique hotel offers luxury rooms and suites, the seasonal beach club on the water's edge, and an all-year-round in-house spa by the Swiss Resense brand.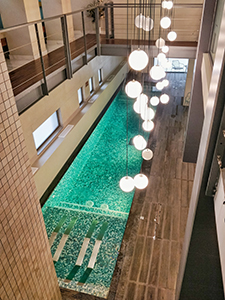 Opened in 2018, 1926 Hotel & Spa still has space to develop, grow and fine-tune. However, the direction is clear: a modern and environment-friendly hotel. From digital check-in and using the pin code to open one's room to the electronic version of the "do not disturb" sign, the hotel tries to eliminate the use of paper and plastic. The guest directory is displayed on a SuitePad tablet in each of 161 rooms. Even cups you will find in the spa area are BioCups, made of plant-derived bioplastic, not oil.
Staying at Hotel 1926 will annul the fatigue of Malta sightseeing. Knowing that you have a choice of jumping onto a plush bed with herbal pillows (lavender and chamomile), or plunging into an aquatonic pool, is a balm for your tired body. You can relax in dry and wet saunas, or try the complimentary sea salt scrub in the privacy of your own bathroom. With Stephen Cordina's scent diffusers, the room easily becomes a mini spa!
If you want to stay in a hotel that speaks calm and chic, and simultaneously reduce your carbon footprint, give a chance to Hotel 1926 Malta!
If you want to stay in a paperless hotel, check the best available prices of Hotel 1926 Malta here!
14 best things to do in Malta – Conclusion
If you love historic buildings, unusual landscapes, religious, military, gastronomic or even filmographic heritage, Malta attractions are a great invitation to the island! Enjoy the food of the knights, learn the skill of the archers, and explore some of the oldest buildings in the world, all in the fantastic setting worth of the "Game of Thrones" universe! What else do you need for the extraordinary Malta holidays?
About Malta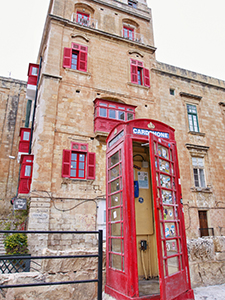 Malta size: 316 km2
Malta population: 493.559 (2019 estimate)
Where is the island of Malta?
Malta is a country consisting of three main islands: Malta, Gozo, and Comino. They are located in the Mediterranean Sea, in Southern Europe, between Sicily and Libya.
How to get to Malta?
Air Malta is Malta's national airline and offers the most extensive choice of air services to get to Malta. With 30 directly connected ports in Europe and, with partners, flying to/from more than 100 destinations, this airline provides easy access. Even the cheapest Air Malta fares come with a free baggage allowance! Find Air Malta's best fares on this link!
Ryanair is another airline where you could find affordable flights bringing you to Malta airport in Luqa. However, beware that Ryanair fare might not include the baggage fee, and that could typically cost you more than your basic flight!
Personally, I love to use the Kiwi.com engine when looking for the best flights! Check it out, it could provide you with the cheapest way to experience a Malta vacation!
How to get around Malta?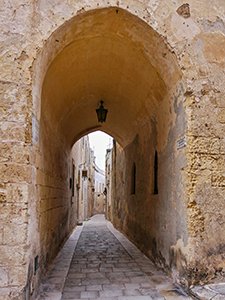 Even if the island has good public transport connections, the recommended way to reach the best places in Malta is by car! Having your own vehicle will significantly simplify your planning, and you will be the master of your Malta day trips.
We rented our car at Auto Europe / Thrifty Car Rental. Our mini car cost us 36,79 Euros for a week. In addition, we've spent 30 Euros on petrol costs. Save up to 30 % on car rentals by booking it through this link!
If you are renting a vehicle, I do advise choosing a small car. You'll thank me after you discover the width of Malta's "two-way" streets and the relaxed local interpretation of where the middle of the road is. The craziest experience was also driving the car on steep side roads in Mellieha, as well as parking it in one hotel there. It had the weirdest spiral one-way entrance to the garage where a larger car would definitely get scratched! And yeah, our rental price was so cheap as we risked not taking insurance. In conclusion, if you take chances like us, then at least choose the car you can pull it off with!
How many days to spend in Malta?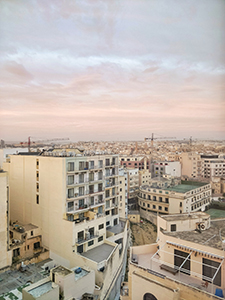 We explored the whole island of Malta back and forth for a week. If you want to experience only the top things to do in Malta as presented above, four full days should be enough! On the other hand, if you want to experience both tops and flops of Malta tourism, you will find enough things to do in Malta for a week!
Malta weather
Malta's weather is pleasant all year round. Being a Mediterranean country, it has hot and dry summers and mild and wet winters. Malta's average temperature is 23 degrees Celsius in the daytime and 16 degrees Celsius at night. This makes it one of the warmest countries in Europe! Moreover, one can typically enjoy the summer weather in Malta from April to October.
Malta accommodation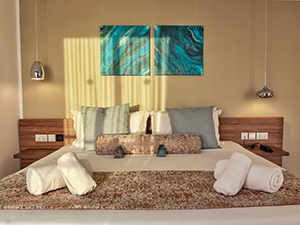 For me, Sliema is the best area to stay in in Malta. Centrally located, this place is a great base to explore the island!
If you want to check other options in Sliema besides 1926 Hotel & Spa, you could consider Meditropical B&B, a small bed and breakfast in the same town. For other hotel deals, check the best Malta accommodation options here!
However, if you want to stay somewhere with a more homey feeling, Malta also offers cozy apartments, old farmhouses, luxurious penthouses and villas with pools through Airbnb. For those who have never used this platform, consider registering through my link, as you will get 33 euros off your first trip!
If you liked this article on the 14 best things to do in Malta, pin our Malta guide for later!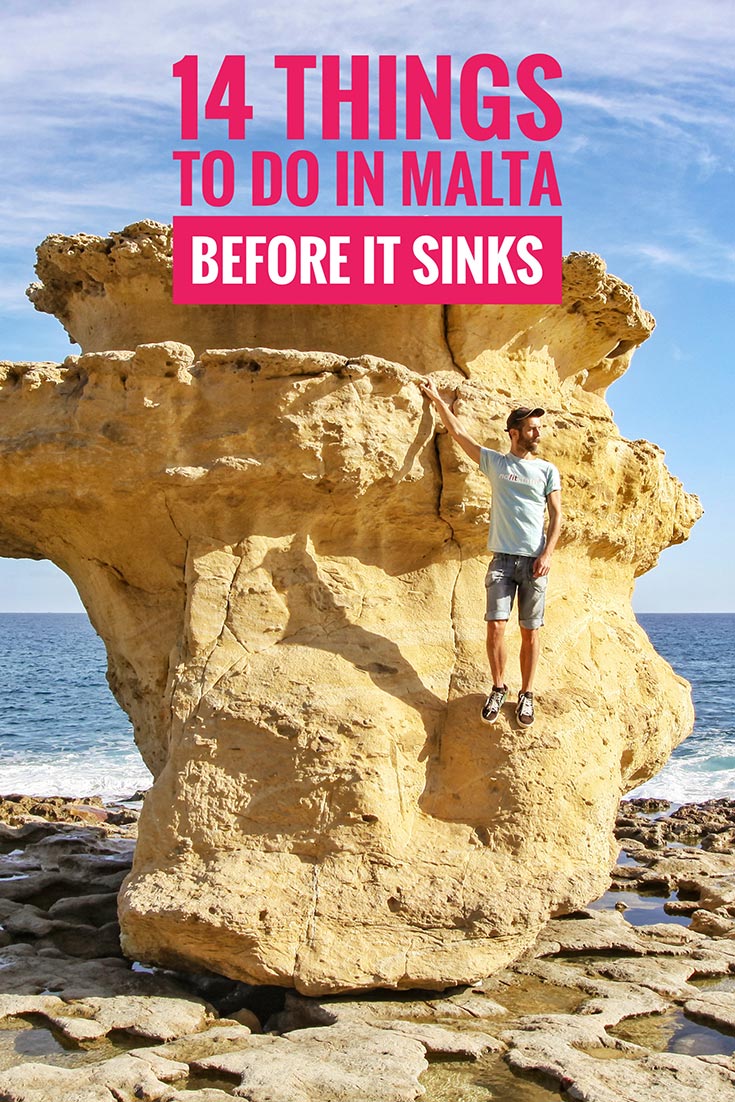 Disclosure: My stay at the Hotel 1926 Malta, visit to Malta's heritage sites and Popeye Village, as well as participation in Falcon Archery course, were complimentary, but all opinions are my own.

Also, this post contains affiliate links, which means if you click on them and make a purchase, Pipeaway might make a small commission, at no additional cost to you. Thank you for supporting our work!