Switzerland is consistently ranking as one of the most expensive countries in the world. Even if it's located right at the border with France and Germany, Basel is still a town with very Swiss prices. Its citizens can always cross the border for cheaper shopping, but are high prices preventing people from traveling in the opposite direction? Can one experience Basel museums, Basel Zoo, and other Basel attractions without breaking a bank? There is certainly plenty of things to see in Basel on a budget. After exploring this charming town for a month, I composed the list of the 20 best free things to do in Basel, Switzerland!
Is Basel expensive for tourists?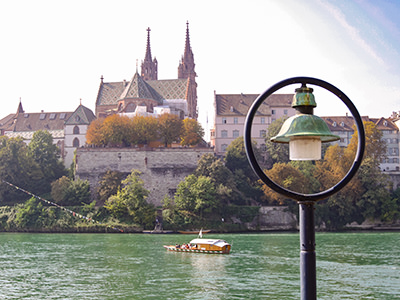 Visiting Basel is still not free. So, how much money do you need in Basel?
According to the BudgetYourTrip website, the average daily costs of Basel visitors are 172 Swiss Franks (163 Euros). The price of an average single room is 104 CHF (99 Euros). If you want to find something cheaper, or less average, look for the best offers for your Basel accommodation here.
HikersBay claims that the cost of living in Basel is 35 percent higher than living in New York. With an average monthly net salary of 5.500 CHF (about 5.230 Euros), Basel citizens can afford the quality of life offered at higher prices. For the rest of us, who could see 3,80 CHF (3,60 Euros) for a one-way ticket in local transport or a normal taxi tariff for a kilometer as overpriced, there is always – walking!
How much is a meal in Basel?
Numbeo data says that a meal in an inexpensive restaurant in Basel costs 27,86 CHF (26,50 Euros), while a three-meal course for two in a mid-range restaurant could set you back 107,50 CHF (102 Euros).
A kilo of oranges in Basel costs 3,50 Euros. But with a salary of 5.230 Euros, you can still buy a ton and a half every month
Combo Meal at McDonald's costs 15 CHF (14 Euros). On the other side of the spectrum, if you would like to try the French haute cuisine with Mediterranean and Asian influences in Peter Knogl's Cheval Blanc (Basel restaurant with three Michelin stars), the five-course meal will be charged 240 CHF (228 Euros).
Of course, budget travelers can always buy food in a supermarket and prepare their own meals. Expect to pay 5,15 CHF (4,90 Euros) for dozen eggs, 27,58 CHF (26,20 Euros) for a kilo of chicken fillets, and 3,70 CHF (3,50 Euros) for a kilo of oranges (source: Numbeo).
How much is a pint of beer in Basel?
Half a liter of a domestic draught beer in Basel costs 7 CHF (6,65 Euros). A bottle of imported beer (0,33 l) amounts to 6,13 CHF (5,82 Euros).
What can you do in Basel for free?
Now that we have covered some basic information on costs you could encounter while in Basel, is there room for saving some money? Is it possible to visit Basel's points of interest, and still not go bankrupt? There are definitely tips and tricks for enjoying this historic town without deep pockets, and hopefully, you will find these Basel tourist attractions worthy of your visit! Have fun at one of the unmissable places in Switzerland!
Top 20 free things to do in Basel, Switzerland
1. Enjoy free local transport and wifi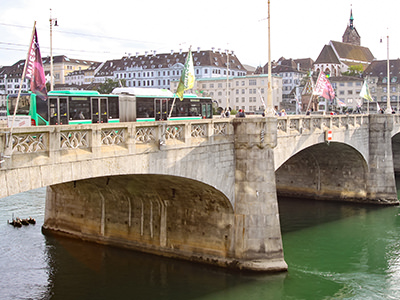 For a hassleless visit to Basel's must-see attractions, free local transport could come in handy. Anyone who books a hotel in Basel will receive a complimentary Basel Card.
This precious guest card entitles you to free use of public transport (bus and tram). That will save you 3,80 CHF (3,60 Euros) per ride! Free transport includes even your first-day journey from the airport to the hotel!
Another bonus of this card is free wifi! Switzerland is not an EU member, so even European visitors would otherwise have to pay high roaming charges. But with Basel Card, surfing the Guest Wi-Fi Basel costs nothing. You can find these hotspots throughout the city center!
Besides these free benefits, Basel Card can additionally save you money if you plan to visit ticketed attractions. Half-price is applied on admission tickets to Basel museums, Basel Zoo, Theater Basel, sightseeing tours, and cruises. If you want to explore the city on an e-bike, the discounted daily price of rental at the main train station will be 20 CHF (19 Euros).
2. Walk along the Rheinpromenade
Basel lives by its river Rhine, especially in summer. It is not just an important trading route, but also a recreational zone.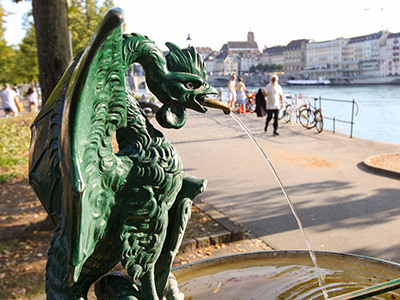 Walking along the river banks is an activity many locals engage in. Along the path, one can admire Basel architecture, play bocce ball, lie down and sunbathe, or simply people-watch.
In late summer, Floss Festival brings open-air concerts on a floating stage. You can sit on the steps of the Kleinbasel riverbank, and enjoy listening to regional and international music acts at this free event.
If you have time and energy, your Rheinpromenade doesn't have to end within the limits of the city. You can hike the Rhine Trail all the way from Basel Old Town to Kaiseraugust!
For promenade lovers, Montreux in the Swiss Riviera, on Lac Leman, better known as Lake Geneva, is a destination worth considering. The town was also a second home for Freddie Mercury, a beloved Queen singer, and now you can visit Montreux Freddie style!
3. Experience borderline culture at Dreilaendereck
You might have noticed Basel's peculiar geographical location at your airport arrival already. Technically located in French Alsace, the EuroAirport Basel-Mulhouse-Freiburg (named after a Swiss, French, and German town in its proximity) is one of the few airports jointly operated by two countries. One exit will take you through the Swiss Customs Area, and the other one through the French/German one.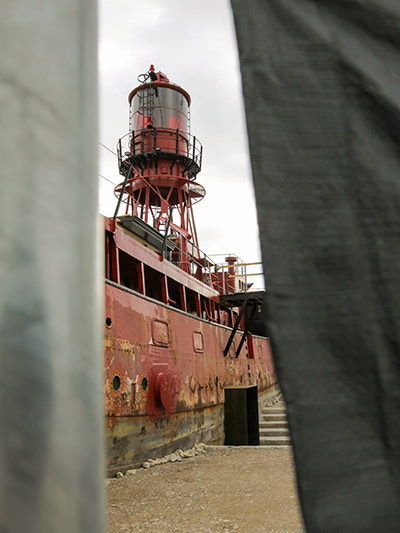 Once in Basel, you can actually walk to Dreilaendereck, the point where the three countries meet. Besides the monument marking the tripoint, there is a futuristic building with bars and chilling places. Under a disco-ball-equipped crane, you will find a boat housing Nordstern, the institution of electronic music.
The entire walk through the Basel Harbor (Hafen) in the Klybeck neighborhood is quite charming. Holzpark Klybeck (Klybeck Wood Park) is a cultural center of creative ideas, urban wilderness, and dancing freedom. Here, you will find another repurposed ship. Stranded on the Rhine bank, Gannet lightship is a place for music, theater, and everything in between, sundeck included.
Basel's urban riviera brings a port utopia filled with colorful bars, food trucks, and workshops. Where a trailer can become a sauna, and bus – a hair studio.
It's a place showing the other side of the polished Basel's facade, one that you should definitely explore!
4. Swim in the Rhine
Swimming in the Rhine is probably one of the most unusual things to do in Basel. Locals enter the river upstream and let the currents take them away.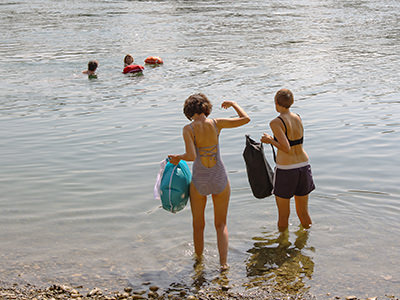 They undress on one of the beaches, put their clothes and belongings in a waterproof bag called Wickelfisch, and float downstream to their next 'stop'. The bag doubles as a buoyancy device, but one should still be a good swimmer if engaging in this leisure activity.
Floating down the Rhine is possible on the Kleinbasel side. A good starting point of your adventure is the beach just under the Museum Tinguely. This will provide you with a two-kilometer-long sightseeing tour of Basel!
During the entire summer, there will be many people doing the same. But if you are a fan of big open water swim events, visit Basel during the Rheinschwimmen in August. On this day, thousands jump into Rhine's murky waters and swim along.
Having tried it myself, I can confirm that swimming in the Rhine can be one of the most fun things to do in Basel. As long as you have no problems with the distinctive odor of the river. Let's be clear, Swiss nature does look like a gigantic national park. But the Rhine in Basel, even if it's safe for swimming (as long as you know how to), is not its best promotor!
5. Drink free water
All that walking and swimming around will certainly make you dehydrate. The good thing about Basel is that you don't have to carry bottled water around!
Basel's collection of 231 drinking fountains is an environment and pocket-friendly solution for your thirst!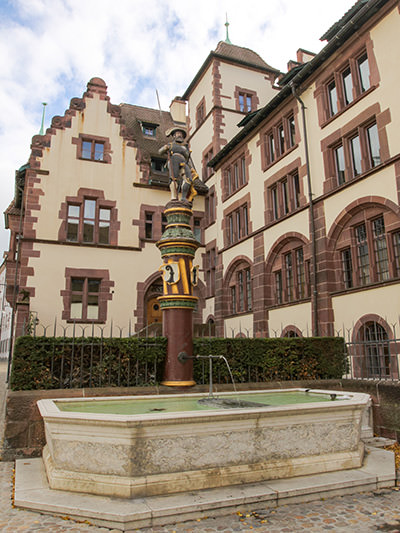 While there is a diversity in design, Basel is the most famous for the fountains adorned with a basilisk, the heraldic animal of the city. There are 28 of these street bubblers installed from the end of the 19th century to the late 1900s.
Some of Basel's drinking fountains have a special pot for dogs. On the other side, the larger ones are actually bathing fountains! That's right, you can undress to your swimwear in the middle of the Old Town, and cool off in one of these historic jacuzzis!
If you drank too much, and need to relieve yourself, along the Rhine you can find quite a few free public toilets, marked by a jester figure.
6. Cross the historic Middle Bridge
Mittlere Brücke or the Middle Bridge is one of the six bridges connecting Grossbasel and Kleinbasel. Built of granite stone in 1905, on the site of the oldest crossing of the Rhine dating back to 1224, this place has a lot of history.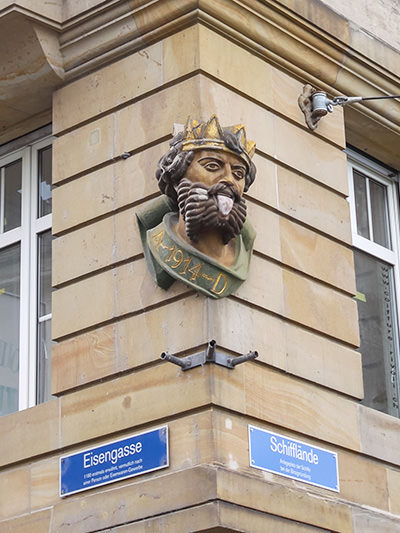 The relief of fourteen 'witches' on one side of the bridge is just symbolic. More than any other European country, Switzerland accused thousands of its citizens of practicing witchcraft. The message commemorating the victims of persecution, torture and murder says: 'Today this is a place that prompts us to meet other people without prejudice and not to marginalize them.'
The small chapel reproduction in the middle of the bridge, known as Käppelijoch, looks romantic nowadays. Visitors even adorn it with love locks! But this was a place of punishment. Here, the executors would throw those 'witches' and other medieval criminals from the bridge, to be drowned in the river.
The bridge was also an important place for controlling who enters the city. Affixed to the Rhine Gate controlling the traffic across the river, was the Tongue King (Lällenkönig). Since 1640, the crowned head sculpture was greeting visitors with a movable stuck-out tongue and eyes.
While you can still find the two king heads on the corner building at Grossbasel's side (one of them misses a tongue), these are replicas from the 1900s. For seeing the original Tongue King in action, you will have to visit the Basel Historical Museum, my favorite museum in Basel!
7. Visit the artsy Rathaus
You cannot start exploring Basel Old Town without visiting its very heart – the Marktplatz. It's a place where people come to sell and buy flowers, vegetables, pretzels, cheese, and other local produce. Make sure to try free tasting samples on this vibrant daily market!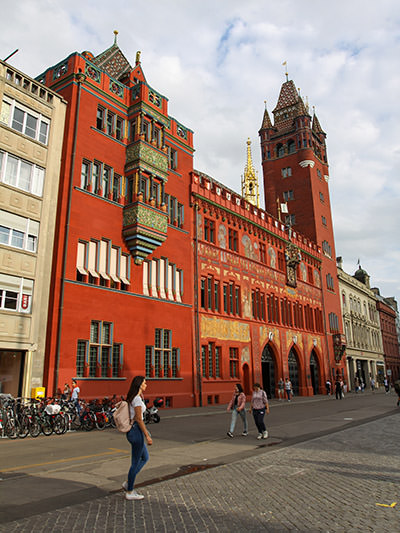 There is an impressive building dominating the square – the Rathaus. Basel's Town Hall was built in the 16th century after the 1356 earthquake (the most important European seismological event) destroyed the city and the previous seat of government.
This iconic piece of Gothic architecture was extended twice with additional wings and a tower. It strikes visitors with a red facade, but it also invites you to explore its frescoes-filled courtyard.
Placed on a staircase, there is a statue of Lucius Munatius Plancus, the founder of Augusta Raurica, the oldest Roman colony on the Rhine (44 BC), and predecessor settlement of the city of Basel.
The building is still a seat of a political power, which gave it a name – the Rathaus (literally meaning the council house). However, in the local dialect, the word also sounds like a 'red house'. A playful name for a playfully looking building, one of Basel's top attractions!
8. Pay respect to Erasmus in Basel Münster
Another red sandstone building is Basel Münster (Minster), originally erected in the 11th century. This Catholic, then Protestant Church had five towers, but after the infamous earthquake destroyed it, only two were rebuilt.
Under a colorful tiled roof, there is a fantastic church interior with impressive frescoes, carvings, and stained-glass windows. You shouldn't miss visiting Münster's beautiful cloisters either. They are radiating with calmness.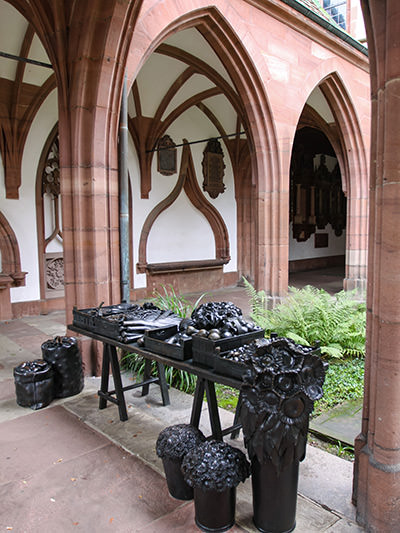 In one cloister, you can find the controversial Market Tables, two bronze sculptures by the artist Bettina Eichin. The tables had to be placed at the Marktplatz as a gift from the pharmaceutical company Sandoz in 1986. After a fire swallowed the company's warehouse filled with chemicals and caused an environmental disaster in the Rhine, the artist changed the concept of the artwork, and Sandoz canceled the funding. The church offered temporary asylum to the artworks, but now it's their permanent home.
The church's crypt is also the final home of many royalties and prominent citizens. Erasmus of Rotterdam, one of the greatest humanists, is buried here too. The inscription in the church says that the epitaph was set up 'to guard his mortal body rather than for the sake of commemorating him, for his published works have made him immortal'.
While you can climb the church tower for a few Francs, the terrace behind Münster, high above the Rhine, offers nice, yet free city views.
9. Admire the old city gates
In the Middle Ages, Basel built a series of walls to protect itself. But with the constant enlargement of the city, the space was becoming more and more valuable, and in 1859, most of the fortification was demolished.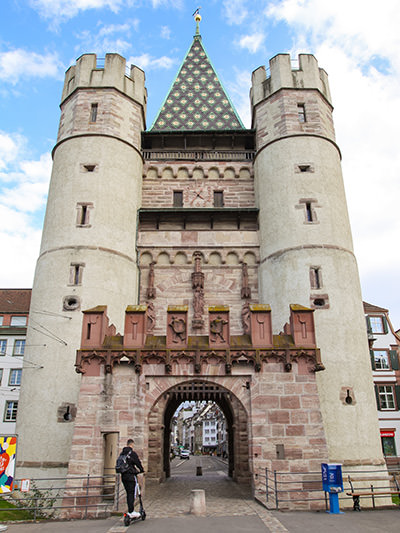 Three Basel's city gates have been spared, and today you can walk to them, and take some nice photographs.
Tourists' favorite is Spalentor, due to its proximity to the city center (west of it), as well as to its aesthetics. The three towers standing together as one must have been an impressive entrance in the 14th century when they built them. The Gate of Spalen still has a portcullis, the heavy grille ready to drop in front of unwanted visitors.
You will find the same protection device at Sankt Alban Tor in the south. Also known as the Dalbedoor, the Gate of Saint Alban is an entrance to a picturesque city quarter.
Sankt Johanns Tor in the north is the third survivor of the progress of centuries. The Gate of Saint John still has the protection purpose; it's the home of Basel's police force.
10. See the modern cutting-edge Basel architecture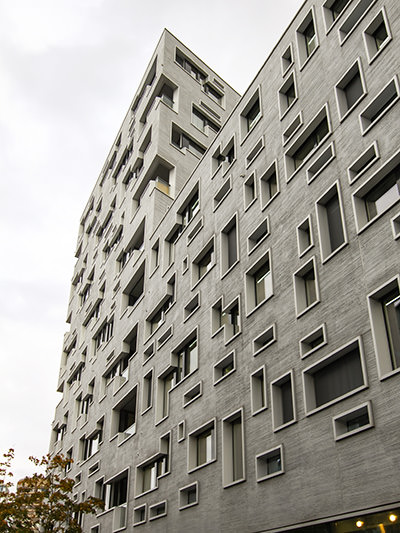 Beyond the historic buildings, Basel is also known for its contemporary architecture. Like nowhere else in Switzerland, here you'll find numerous buildings designed by world-known architects.
Basel is the hometown of Herzog & de Meuron, the architectural firm that designed the Bird's Nest stadium in Beijing and Tate Modern in London. But they have sprinkled quite a few of their architectural wonders across Basel too.
Their Messe Basel (cover image of the article) is one of the city's newest landmarks. The trade fair building has a 'window to heaven', and you can look through it from the tram station. Then there's the stadium of FC Basel 1893, which transforms into an ice hockey place in winter. Personally, I loved how they renovated the Museum der Kulturen, an ethnographic institution itself, as well as how they covered their Südpark building with Tetris of windows. The same architects sign the tallest buildings in Switzerland – Roche Towers, the headquarters of the famous pharmaceutical company.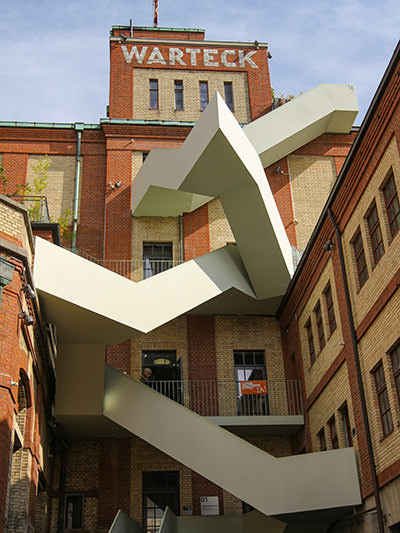 If you walk around Basel, both new and refurbished buildings will pop up in front of you when you least expect them. For instance, I could bet that your Instagram feed would thank you for the zigzag stairs of the Warteck Workroom, the site of the former brewery, now the creative hub.
For a significant collection of architectural design, you can also easily cross the border to Germany. Vitra Campus is an amazing architecture park, featuring works by Frank O. Gehry, Zaha Hadid, and many others.
It's hard to mention all the world-class architecture you can see for free in Basel. Of course, you are always welcome to explore it on your own. But if you want to learn more about the history of Basel's masterpieces, consider paying for the Private Architectural Walking Tour.
11. Enjoy free museums in Basel
Museums in Basel house quite impressive collections and you should not miss them. You need to have a valid ticket to enter them, but there are ways to enjoy some of them – for free. These museums could actually be the best answer to your question: what to do in Basel on Sunday? But also to: what to do in Basel when it rains?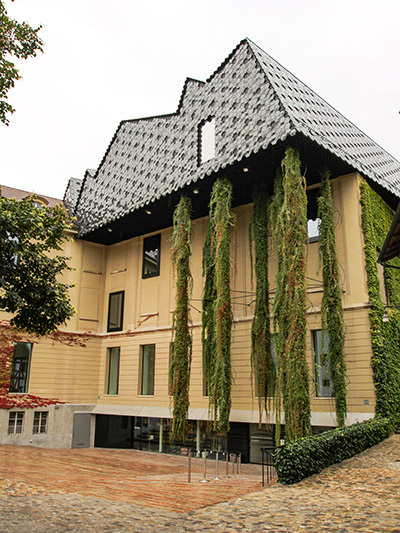 For instance, Basel Historical Museum, Museum of Cultures, Natural History Museum, and Kunstmuseum Basel, have free entrance every first Sunday of the month, as well as during happy hour, which is typically the last hour of every working day.
The House of Electronic Art has a happy Sunday too, but their happy hour is the first hour of the day (12:00-13:00, Wednesday to Friday).
Antikenmuseum Basel und Sammlung Ludwig will not charge you on weekends, as well as on Thursday and Friday from 5 till 10 pm. It will even provide you with a free audio guide!
If you are a firefighting fan, Feuerwehrmuseum is another free museum in Basel. It is open only on Sundays, from 2 till 5 pm, but beware that you will not find English explanations of the exhibits.
There is one museum that's open for free 24 hours! Hoosesagg Museum in the Old Town changes its mini-exhibition in the door monthly.
To wrap it up, if you travel to Basel on a budget, visiting museums is one of the best things to do in Basel on Sunday!
12. Find public art on Basel streets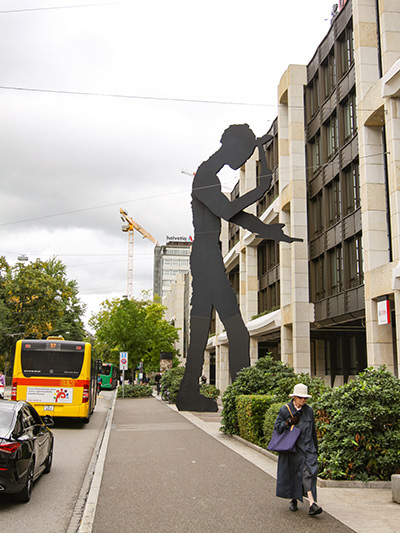 If you prefer staying outdoors to exploring museums, you can head on an interesting walk in nature, combined with art. Tobias Rehberger has placed 24 artworks between the pricey Fondation Beyeler and Vitra Design Museum. You can have a nice artful hike, and it will not cost you a dime!
The urban part of Basel is also full of public art. Its largest ambassador is the Hammering Man by Jonathan Borofsky. The gigantic sculpture strikes its hammer continuously at Aeschenplatz.
The Carnival Fountain in Klostergasse is an artwork by Jean Tinguely that also involves moving sculptures, but they are spouting water. It's worth mentioning that Tinguely's fountains (there is another one in Solitude Park in front of his museum) are the rare Basel fountains you should not drink from! But they might quench your thirst for fun!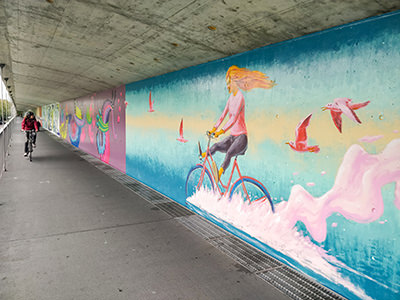 Basel is also a graffiti and street art hotspot. You can find a solid portion of these urban canvases in the city center, at the already mentioned Klybeckquai in the harbor, or at Schwarzwaldbrücke bridge.
Basel is home to the biggest mural in Switzerland too. The street artists organized by Urbane Kunst in the Change of Colours Basel 2020 event spread their art over the 1.700-square-meter walls of Bell Schweiz AG at Neudorfstrasse.
13. Treat yourself with Basler Läckerli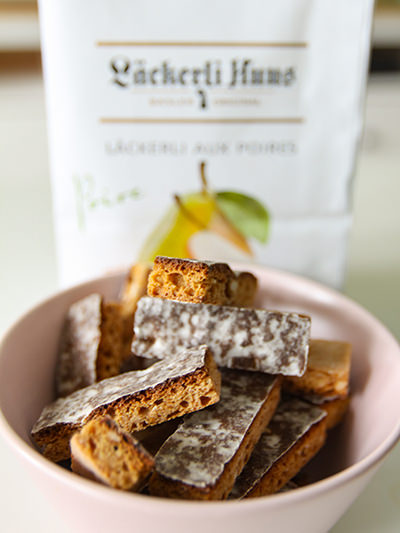 When you need to sweeten up your day, the solution is called Basler Läckerli. This traditional local biscuit is nothing but delicious, which actually gave it the name (lecker in German).
The recipes for these spice cookies are seven centuries old, and they include almonds, hazelnuts, honey, candied peel, and Kirsch, the cherry brandy.
There is a chain of Läckerli Huus stores in the Old Town, as well as Jakob's Basler Leckerly. They typically always offer the possibility to sample the tasty treats! So if you like gustation before deciding to buy, surrender to the sweet torture!
I had a great time at Confiserie Brändli, tasting a variety of pralines and wine during a food festival. Always keep your eyes open for free offerings of Basel confectionaries!
14. Read books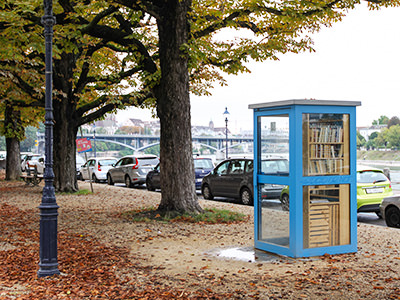 From afar, it could look like a typical phone booth. But instead of one shelf with one phonebook containing numbers of people you could call, in this blue box, you can find shelves with dozens of books with much more interesting content!
Among the trees, on the meadow just where St. Alban Ferry stops at Grossbasel side, St. Alban and Gellert neighborhoods placed the Büchertauschbörse. Managed by the volunteering 'librarians', the cabin offers free reading material to locals and visitors.
You can bring books you no longer need but are happy to recommend to others and exchange them for books you are interested in. Some users even leave DVDs.
I know many European cities where such unlocked treasure of books wouldn't last a day. But in Basel, the world of literature seems to be a pleasure everyone is entitled to. And nobody would rob anyone of that experience.
15. Chill with dinosaurs in Basel parks
Now that you have your book, head to one of Basel's parks, and enjoy reading it in the open air.
I liked the atmosphere at St. Johanns Park, in the vicinity of St. Johanns Tor. This small green surface at the riverside is a perfect place for lying down under a tree, flying kites, or training handstands and somersaults on the soft grass. Children can enjoy the playground by climbing a giant wooden pig or sliding down the duck's throat.
The largest park in Basel is Kannenfeld Park. On 10 hectares, children have fun at the playgrounds while their parents prepare the barbecue. Sporty spirits can jog around the park, do yoga on its meadows, or show off their skills in a skate park that doubles as a splash pool with fountains in summer.
Park im Grünen belongs to Münchenstein, but is still reachable by Basel trams. The recreational area covers 130 thousand square meters! You can enjoy your time by the ponds, on large green areas, or even on a carousel. For the dinosaur fans, there is a 45-meter-long sculpture of Seismosaurus, the largest known dinosaur that walked the Earth!
16. Admire plants in botanical gardens
If you want to get away from the city noise, which could sometimes be present in parks themselves, botanical gardens are perfect escape oases.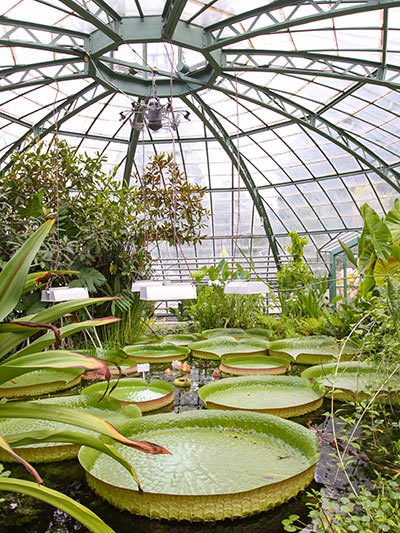 The Botanical Garden of the University of Basel is at an easily-walkable distance from the city center. Founded in 1589, it is one of the oldest botanical gardens in the world, and certainly in its German-speaking part. When the garden was moved to its current location near Spalentor in the 19th century, Viktoriahaus, the glasshouse with the tropical rainforest ambiance, became its highlight.
Merian Gärten is another botanical garden worth visiting. On the outskirts of the city, easily combined with your visit to the Park im Grünen, this landscaped zone covers 18 hectares! You can find Europe's largest collection of irises here (1.500 species!), the rhododendron valley, the English garden, and many more! There is always something blooming in Merian Gärten, no matter when you pay it a visit!
And paying a visit is just an expression. Like everything on this list of free things to do in Basel, there is no charge for entry into these botanical gardens!
17. Visit the free Basel zoo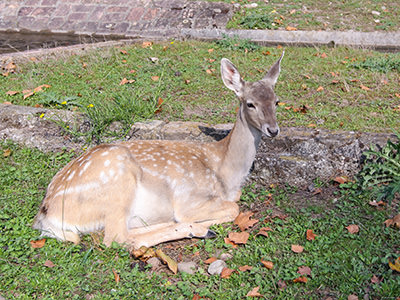 Don't confuse this place with THE Basel Zoo! If you want to visit the famous Zolli, expect to pay 21 CHF (20 Euros) for the visit.
However, Basel also has a free zoo! Its name is Tierpark Lange Erlen! Established in 1871, three years before Zolli, this animal park has a limited number of mostly local species. It does seem that priority was not given to the number of animals here, but to the quality of enclosures mimicking their natural habitat.
You can see deer, bison, wild cats and boars roaming the grounds, ducks, geese and swans enjoying the ponds, or ponies, goats and donkeys chilling in the paddocks. A peacock could suddenly appear on your path, or you could bump into an insect hotel.
On the western side of the Tierpark, there is an amazing playground, called Hugo Hirsch Spielau. The playing areas for children have also been designed to mimic nature! Your little alpinists can climb a stack of logs or a wooden nest, slide down the trees, or play in streamlets. What a magnificent place for free play!
18. Play sports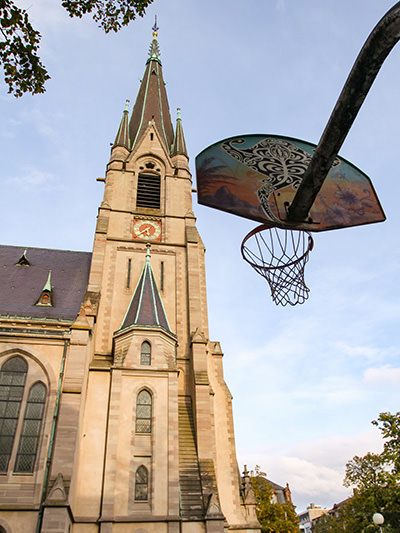 It is easy to stay in shape in Basel, even without joining official sports clubs or gyms. Just walking through the town, you will find dedicated areas reserved for physical activities.
Dreirosen Sports Field is one such place where you can play basketball. For the street workout fans, there is an outdoor training area too.
One can play basketball and table tennis even in front of the very entrance of a church in Basel! Matthäuskirche at Matthäusplatz tolerates sports in its vicinity, and there is even a playground for children next to it.
At the corner of Bläsiring and Müllheimerstrasse in Kleinbasel, you can play table football and table tennis. You can borrow the ball at a library nearby.
19. Find free stuff on the street
While walking through Basel, you might notice many discarded things labeled with a 'Gratis' sign. These are free to take if you want them.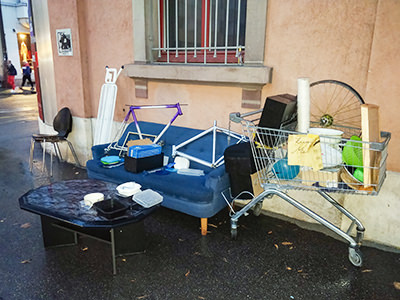 Basel citizens get two free vignettes for getting rid of the bulky goods. If they have more, they need to pay. Many go the easier way, just putting their unneeded things out in the street, under the cover of a night, thinking that 'free to take it' note takes away their responsibility. "It doesn't work that way", the city will respond with a pig-adorned sticker, but many will still not care.
As always, someone's trash is another person's treasure. So you can always take a look at what people with 5.230 Euros salaries leave in front of their doors. If not for a souvenir hunt, it makes it for an interesting free exhibition.
During my walks, I have seen a variety of objects disposed of. There was furniture, shoes, a yoga mat, printer, ironing board, bicycle parts, kitchen utensils…
20. Have a free tour of Basel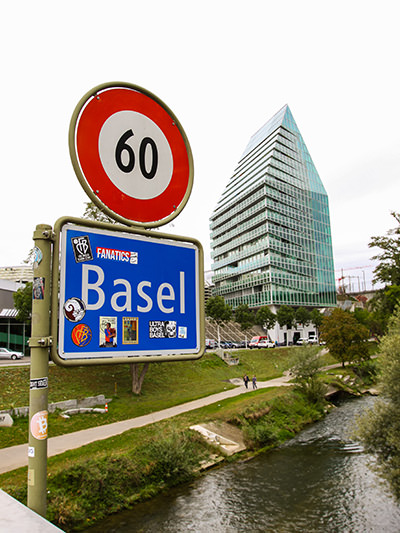 I hope this list of free things to do in Basel was beneficial for creating your own Basel sightseeing tour. Some people prefer to join a guided tour, and here are your options on how to see Basel on a budget.
Just like many other cities, Basel has its very own 'free walking tour'. Free Walk Basel can take you on a tour through the Downtown or Kleinbasel, and occasionally through Basel's history or its Jewish points of interest. All tours are typically on Sunday, last a couple of hours, and are technically free, even if you are encouraged to leave a tip.
One can also go on a self-guided walk by using a Basel City Guide app. There are five of these free tours, all named by a famous person. You can go for Erasmus, Burckhardt, Platter, Paracelsus, or Holbein walk.  They range from 30 to 90 minutes and cover anything from 1 to 3,5 kilometers.
If you prefer a paying tour, there is a 2-hour Walking Tour through Basel Old Town. It has stellar reviews and costs 20 CHF (19 Euros).
Free things to do in Basel, Switzerland – Conclusion
When asking oneself what to do in Basel, what to see, and where to go, a myriad of possible answers and itineraries can appear.
Switzerland's cultural capital is bursting with history, art, architecture, and an outdoor lifestyle that almost pretends to be the Mediterranean.
The experience of free things to do in Basel can actually make you richer
Contrary to popular belief that only rich tourists can afford the Swiss experience, Basel seems to recognize the value of selfless sharing too.
Whether it is letting people into treasure-filled museums for free, stimulating the sightseeing walks with free water and city apps, or providing a complimentary alternative to Basel's most popular tourist attractions such as Basel Zoo, this charming town cares for tourists of every budget.
There are numerous free things to do in Basel, and I hope my collection of top 20 has inspired you to visit this town on the borders of three countries.
While you will not be able to avoid paying for all the things, I am sure you will leave Basel with an experience that makes you richer.
Did you like this guide to the best free things to do in Basel?
Pin it for later!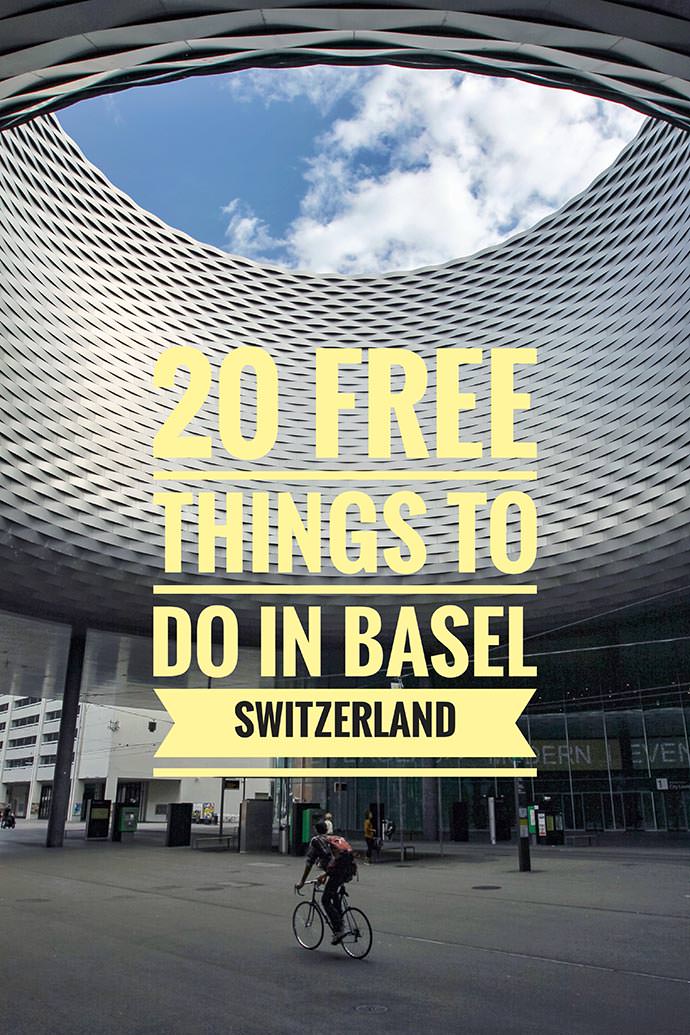 Disclosure: This post may contain affiliate links, which means if you click on them and make a purchase, Pipeaway might make a small commission, at no additional cost to you. Thank you for supporting our work!