Many blogs will tell you their version of the top things to do in Chiang Mai. Reoccurring advice is to eat Khao Soi, try cliff jumping at Chiang Mai's "Grand Canyon" or visit the long-neck Karen tribe. Among the best Chiang Mai attractions, they also mention hailing a Songthaew (for some reason), partying during Songkran, getting a massage from ex-prisoners, seeing Muay Thai box match, and chatting with monks. One of the most popular experiences on Chiang Mai to-do list is bathing the elephants.
Chiang Mai elbowed its way to the list of top places for digital nomads
While these are undoubtedly entertaining activities and places to visit in Chiang Mai (well, some are on the edge of controversy!), I spent a week in the town without any of these. And it was still a great stay! I actually got hooked on the opportunity to move to northern Thailand for a more extended period!
At the doorstep of the country's highest mountains, Chiang Mai is a pleasant place. Due to its favorable climate, rich history, cultural and natural attractions, as well as great food and entertainment, Chiang Mai easily elbowed its way to the list of the world's top places for digital nomads and expats.
The town is equally worth visiting for a few days vacations, as well as staying for months! However, if the timeframe for your travel to Chiang Mai is limited, you will need to prepare.
This blog post suggests Chiang Mai attractions you simply must see, and things you have to do in the former Lanna Kingdom capital, and UNESCO's Creative City of today.
Before you get lost in Chiang Mai sightseeing yourself, here are my personal Chiang Mai top 10 things to do!
10 best things to do in Chiang Mai
1. Feed pigeons at Tha Phae Gate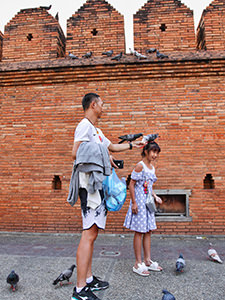 This historic Chiang Mai gate is located on the eastern side of the Old City. They built it in the 13th century, together with the rest of the wall defending the town from the Mongols and Burmans. The most substantial part of the wall crumbled during the centuries, but Tha Phae Gate persevered.
Chiang Mai wall's red bricks are a popular background attraction for Instagrammers, especially if accompanied by pigeons. Local vendors sell not only human, but bird food as well, so these well-fed feathered grabbers shamelessly enjoy the feast.
The square in front of the Tha Phae Gate is a popular site for various community events, from Loi Krathong to Magha Puja, from Flower Festival to Gay Pride. It is a great place to start your Chiang Mai sightseeing!
While Tha Phae Gate might be the selfie spotlight of Chiang Mai, there are places in Thailand where things slipped out of control. Read this article on Kanchanaburi sightseeing before visiting that province!
2. Go temple hunting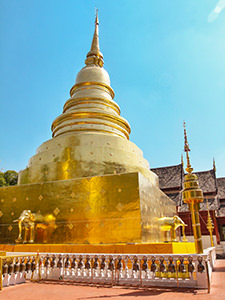 Chiang Mai is famous for having 300 temples scattered around the town! This makes it the temple capital of Thailand. You will certainly not be lacking options if you like temple hopping!
To enter the main temple buildings, typically, you will need to pay between 20 and 40 Bahts (60 cents and 1,20 Euros).
You may have already heard of Wat Phra That Doi Suthep, the most visited temple in Chiang Mai. Up in the mountain, the national park surrounds it, but beware if you head there by scooter. Local police are known for stopping tourists and finding an excuse to fine them. In the case of a guy I met in the hostel, a policeman took his driving license, and then charged him for – not having a driving license!
Besides the mountain temple of Doi Suthep, what are unmissable Chiang Mai wat attractions?
Best temples in Chiang Mai
Wat Chiang Man is the oldest temple in Chiang Mai, dating back to the beginning of the 14th century. This peaceful and never crowded place served as the residence of King Mengrai, who founded the city. Today, it is home to Chiang Mai's oldest Buddha image, as well as the famous crystal Buddha, believed to have healing powers.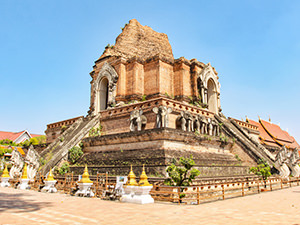 Wat Chedi Luang is Chiang Mai's most famous temple. Initially, the central chedi (pagoda) was 80 meters tall, making it the highest point of the old town. There was an earthquake in 1545 which damaged the construction, but it still doesn't fail to impress. For me, this was one of the best places to visit in Chiang Mai!
Wat Phantao is an underrated temple, the first neighbor of Wat Chedi Luang. The main prayer hall is made of dark teak wood and a gold statue of Buddha dominates it. Make sure to visit the backside of the temple where you will find a small pond, Buddha under a Bodhi tree, and decorative prayer flags.
Wat Phra Singh is a popular temple, in the western part of the Old City. Its main hall is impressive both by size and decoration, while the golden stupas and pagodas dotting the temple grounds glitter in the sunlight.
Wat Umong Suan Phutthatham is outside of the city walls, at the foothill of Doi Suthep Mountain. Chiang Mai's only forest temple offers ancient underground tunnels and caves, as well as somewhat crumbling structures with a large unpainted stupa.
In the neighboring country of Laos, you can also find amazing temples. Check out the top things to do in Luang Prabang, the temple town of Laos!
3. Learn history at the Chiang Mai museum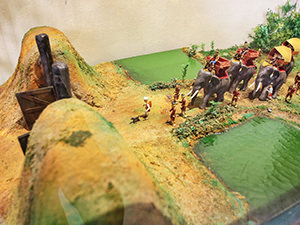 Chiang Mai City Arts and Cultural Center is a great place to learn about the history of the town. This heritage museum behind the famous Three Kings Monument houses artifacts, photographs, maps, and a village replica, all illustrating the town's life through history.
You can learn about the traditions and beliefs of Lanna people and even find out the exact moment when they founded Chiang Mai – it was 8.6.1296, at 4 am!
The entrance ticket for Chiang Mai's best museum attraction costs 90 Bahts (2,70 Euros). Beware, it closes on Mondays!
4. Visit the "old Chiang Mai"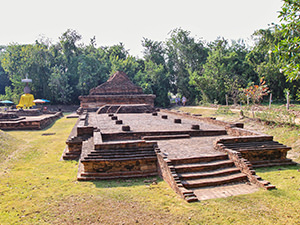 Wait; what? There is an older version of Chiang Mai, which is NOT the Old City of Chiang Mai? Yes, on the southern outskirts of today's Chiang Mai, you can see and explore a historic settlement Wiang Kum Kam.
King Mangrai lived here building his capital, until repeated flooding ended his efforts, and moved the focus to Chiang Mai.
This site was forgotten for several centuries until the archeologists started excavating and restoring the remains in 1984.
I visited Wat Chang Kham (formerly Wat Kan Thom Kumkam Phirom), one of the first discovered temples. But there are many more ruins worth exploring! Wat Chedi Liam (formerly Wat Ku Kham) is the only working temple here with resident monks.
5. Make your own bracelet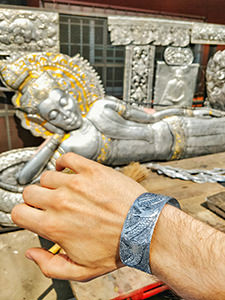 Wat Sri Suphan is better known as Chiang Mai's Silver Temple. Its main ordination hall is dressed in silver, with beautiful carvings and statues.
While you can indeed see the temple as a visitor, there is a much more fun way to do it! All you need to do is join the Silversmith Workshop at the temple's learning center for silverware art! Infiltrate among the monks, and learn how to tame the hard material into the objects of beauty!
At the workshop, you will be handling the aluminum. Nobody could afford your training in silver! They will provide all the materials and tools.
The silversmith master Kru Tu was born in this neighborhood, the village of silversmiths, and has been perfecting her skills for 14 years. You are in great hands, and even if making a bracelet can sound terrifying, you will succeed! Your teacher will fix your mistakes in a way that you will want to wear your bracelet at the end with pride.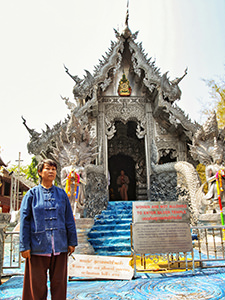 Kru Tu was one of the artists who contributed to how the Silver Temple looks today. But Buddhist rules forbid her to enter the temple as she is a woman. Therefore, all the work had to be done elsewhere and then handed out to men who installed the pieces together.
Today, Mme. Tu is transferring her knowledge to all the monks coming from far away and thus preserving this traditional art form.
You can learn the basics of the monks' sacred skills at the Backstreet Academy silversmith workshop, the platform for meaningful travel experiences! Participation will cost you 28,70 USD (26 Euros)! You'll get to visit the temple for free and keep your bracelet as a souvenir! It is definitely one of the most fun and unique things to do in Chiang Mai!
6. Take a dip in the Chiang Mai waterfall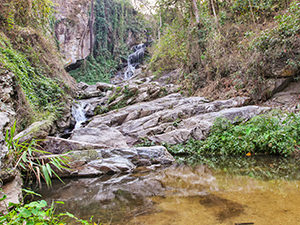 Huay Kaew Waterfall is just 5 kilometers out of the old town. Chiang Mai's closest waterfall is located next to Chiang Mai Zoo, inside of Doi Suthep-Pui National Park.
Having water throughout the year, it is an easily accessible refreshment, adequate for the whole family. There are small pools of water one can take a swim in, while the surrounding is perfect for a picnic!
The entrance to the waterfall is free of charge! That's Chiang Mai sightseeing with an award!
7. Relax in Oasis Spa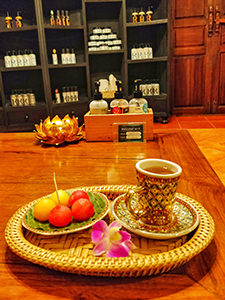 Exploring Chiang Mai eventually leads to fatigue. The best way to fight it at the end of a tiring day is to enjoy some massage.
There are plenty of cheap options throughout the town. Masseurs and masseuses will be pulling at your sleeve, hoping that you will enter their "parlor"! Usually, they are of dubious quality.
For outstanding experience in clean facilities with tradition in business, visit one of Oasis Spa establishments! There are six in the Chiang Mai area!
I visited the Lanna branch, set in the heart of the Old City, just a stone's throw away from Wat Phra Singh. Typically, a driver would pick you up at your hotel, but as I stayed nearby, I walked directly to the spa.
After being welcomed with a refreshing lavender towel and pandan tea, I was escorted to one of the separate huts. It had two massage tables and a large bathroom.
My booking was for King of Oasis, the two-hour treatment that combined Thai massage techniques with aromatherapy. It started with a Thai herbal hot compress along the muscle lines, then followed by a hot oil massage, designed to stretch the muscles and "reopen the body's energy pathways".
In the final stretching moments, even Nadia left loud moans out, sympathizing with my pain!
Wording aside, my masseuse Nadia brought me to such a level of relaxation that I – fell asleep. My two-hour massage felt like an 8-hour dream!
Someone called this treatment a stress-management Thai-style, and indeed: she squeezed the physical part of the stress out of my muscles. In the final stretching moments, even Nadia left loud moans out, sympathizing with my pain. She fixed a lot of it!
On the way out of this fabulous Chiang Mai spa, they offered me some watermelon, melon, and tea.
King of Oasis (available in the female version as Queen of Oasis) costs 3.900 Bahts (118 Euros).
8. Shop at Chiang Mai's must-see night markets (or avoid them)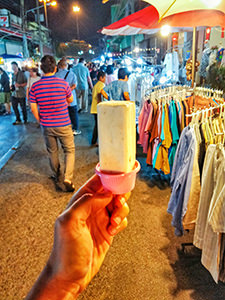 No matter which day of the week you visit Chiang Mai, it will be hard to miss its night markets. They are an essential part of Chiang Mai city life.
While markets are an excellent opportunity to eat, drink, shop, and mingle around with locals, they can also get crowded. This may deter you if you don't like stumbling upon slow strollers.
If you need to cross the town during the night markets, think about alternative routes to avoid the shoppers. So this part of Chiang Mai's must-see top 10 is essential to know about even if you hate night markets!
Three night markets lead in popularity. Chiang Mai Night Bazaar on Changklan Road is open every day of the week, and will offer you tons of souvenir choices! Saturday Night Street Market on Wua Lai Road (also known as Wualai Market) is another excellent place to find gifts. Sunday Night Market (Sunday Walking Street) centers around Rachadamnoen Road, with many street foods and endless shopping options.
Whether you are looking for a late-night meal or some street entertainment, whether you need to buy the special carved soap or those must-have elephant pants, visiting the night markets is one of the unskippable Chiang Mai's attractions at night!
9. Eat Thai Japanese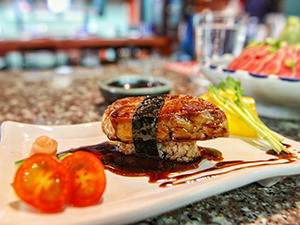 Tasteatlas, the global resource for authentic food, suggests the best local food to eat in Chiang Mai are indeed soups such as Khao Soi, Tom Kha Gai and Tom Saep. But here I propose options for something less expected!
Its name is Tengoku! There are dozens of Japanese restaurants in Chiang Mai, but this one tops the charts. Tengoku is a modern establishment serving authentic Japanese food that could be described only with superlatives.
Located in Nimman, Chiang Mai's trendiest neighborhood, Tengoku is a pleasant eatery. Their chef might be Thai, but two decades of working experience with the Japanese leave no doubt about the high-quality standards. This Japanese invasion of Thailand (even if only in terms of gastronomy) no one would complain about.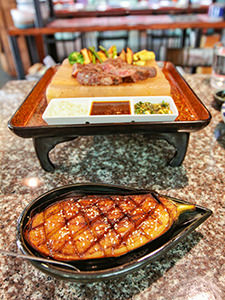 What do you need to try? Don't miss Beef Tataki, thin raw slices of New Zealand beef served with ponzu sauce, or Nasu Dengaku, the delicious grilled eggplant glazed with miso, a favorite among the vegetarians. Ume Sashimi, with otoro, yellowtail, tuna, and salmon, served with handmade wasabi, Hakata Wagyu Steak with three sauces, or grilled Fois Gras Sushi are also worth trying.
At Tengoku, they serve their homegrown organic salad and invest a lot into providing fresh food only. Even the buffet option is served a la carte here!
For Thai food in a simple setting, I can recommend visiting the Little Kitchen, and if you want to try some Burmese, The Swan is a good option. At night markets try the array of street foods! Do not forget to grab your portion of sticky rice with mango, it is the sweet-salty local favorite, and Chiang Mai's must eat!
10. Sleep well at Pakping Hostel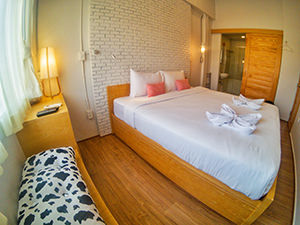 The best area to stay in Chiang Mai is the Old City. The accommodation here ranges from cheap hostels via boutique hotels to luxury resorts with pools. If looking for the Airbnb apartments, you will find them north and east of the Chiang Mai walls.
Pakping Hostel is located in the heart of the city; just a short walk away from all the Chiang Mai attractions you want to visit. That makes it a very convenient place to stay when visiting the town. As it is on a dead-end street, no traffic or other noise will affect your well-deserved rest.
This Chiang Mai hostel has two air-conditioned dorm rooms (one reserved for female guests only), which provide curtained bed compartments for comfort and privacy. While dormitories (and related bathrooms) do have somewhat limited space, the good news is that you can also rent a double room with a private bathroom. This option costs 370.000 LAK or less (about 38 Euros), which is just a portion of the price you would pay elsewhere!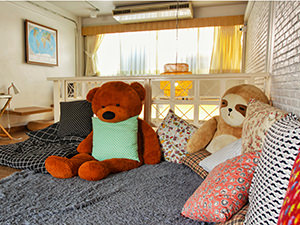 There are also two common places at Pakping Hostel. On the ground floor, behind the reception, you can make your meal in the kitchen or enjoy your free breakfast in the dining space (from muesli to dumplings, from yogurt to cookie jars). On the first floor, there is an area with cushions to rest, read, hang with other guests, or surf the free wifi.
All in all, if you are looking for a pleasantly designed and reasonably priced accommodation in Chiang Mai, Pakping Hostel is a great choice.
For the best available price for this accommodation, click here!
If you want to check out more options of places to stay, consider this Chiang Mai accommodation offer!
Top 10 Chiang Mai attractions – conclusion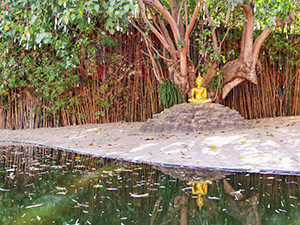 If you are into the exciting history and even more exciting gastronomy, great massages, or day trips to beautiful nature, northern Thailand has so many stories to tell!
I hope my suggestions of what to see in Chiang Mai, the list of its best attractions and sightseeing sites, can help you plan your trip to the Rose of the North.
Chiang Mai must-see temples will satisfy any Buddhist or religious architecture fan.
The town's famous night markets will make you fill your shopping bag with many trinkets!
If you want to make a gift of your own, even that is possible with projects such as the silversmith workshop, which you can book and support through the Backstreet Academy.
Chiang Mai's heritage and traditions are impressive, and once you are there, your list of top 10 things to do in Chiang Mai will only grow and grow!
One week of holiday in Chiang Mai does not satisfy and asks for a return visit. My own best conclusion is: See you soon, Chiang Mai!
Chiang Mai facts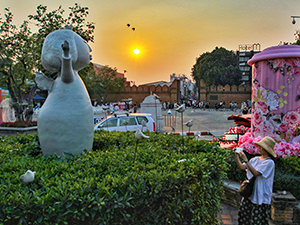 Elevation: 310 m
Population: 131.091 (2017), metropolitan area – close to a million people
Chiang Mai – the best time to visit
The peak tourist season in Chiang Mai is between November and March. The weather is dry, and the temperatures are pleasant in this period. In April, Chiang Mai's temperature rises, up to 40 degrees Celsius! From June on, the temperature will go down, but the humidity will increase. There will be more rain, but fewer tourists. So the answer to "when to visit Chiang Mai" really relates to what you are looking for!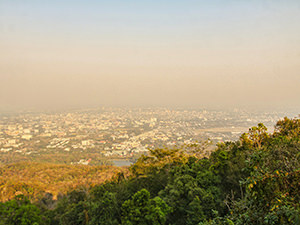 If you want to avoid the infamous Chiang Mai burning season, expect that the farmers will be burning their forests and fields in March and April. Chiang Mai air quality, as well as visibility of the landscape, will be poorer in these months of higher pollution.
How long to spend in Chiang Mai?
The choice of how many days to spend in Chiang Mai depends on the available time you have.
Several days should be enough to visit Chiang Mai's top attractions and highlights. For me, it took me a few days to grasp the essence of this city. And once I figured it out, I honestly thought this could be an excellent place to stay longer, maybe for months.
Besides for digital nomads, I guess more extended stays would be advisable for all massage enthusiasts. There is plenty of massage schools, so if you want to level up your game, Chiang Mai is a great place to learn.
How to get to Chiang Mai?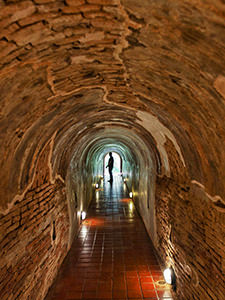 The quickest way to get from Bangkok to Chiang Mai is by flying. Chiang Mai Airport is a busy airport with both domestic and international flights. Besides Bangkok, flying is as well an easy solution to get from Chiang Mai to Phuket, Koh Samui, or Udon Thani.
If you want to get from Chiang Mai to Singapore or Luang Prabang in Laos, you will be able to find direct flights. If you go to Chiang Mai from Manila, the Philippines, you will need to transfer in Bangkok or Kuala Lumpur, Malaysia.
Getting from Chiang Mai airport to the city is easy and possible by taxi, minibus, songthaew, or tuk-tuk. Top hotels in Chiang Mai may be able to provide a complimentary airport pick-up, so check in advance!
Another popular option for getting to Chiang Mai from Bangkok is by train. I took an overnight train in a fan-cooled sleeper and paid 531 Baht for it (approx. 16 Euros). The ride can last between 11 and 15 hours, but sleeping compartments provide an easy way to save on one-night accommodation. The lower bunk bed has a bit more space and a window, in case you prefer looking at the scenery. The best is to buy the ticket directly at the train station.
If you want to get from Chiang Mai to Pai or Chiang Rai, you will need to take the bus (Arcade bus station).
Did you like the must-see ideas in this Chiang Mai travel guide?
Pin it for later!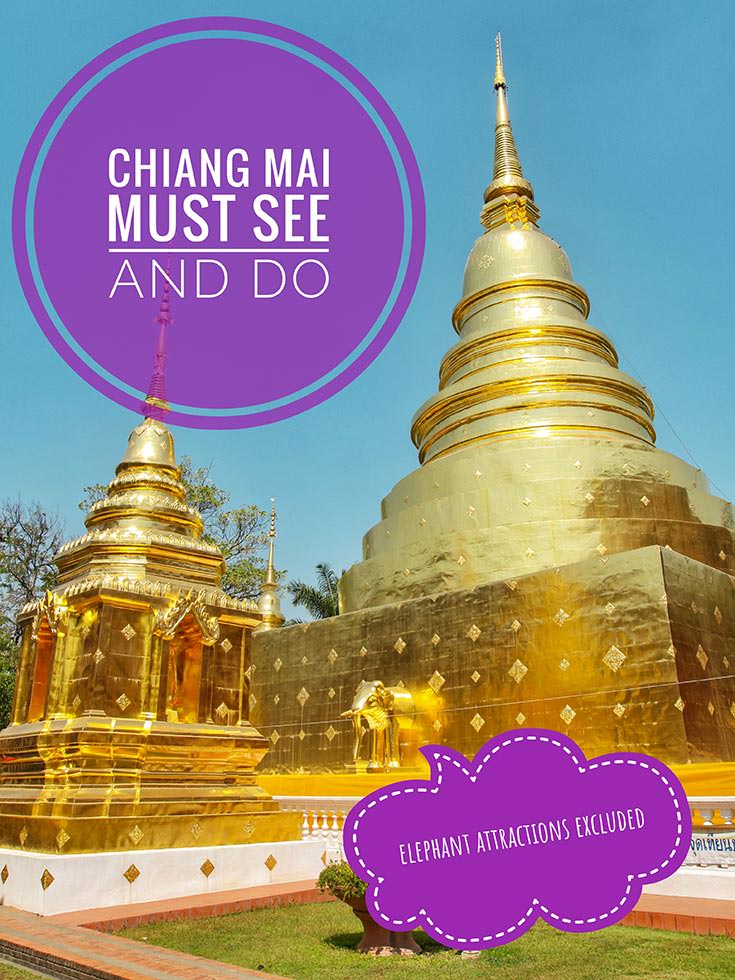 Disclosure: My stay at the Pakping Hostel, as well as a meal at Tengoku and massage treatment in Oasis Spa, were complimentary, but all opinions are my own.

Also, this post contains affiliate links, which means if you click on them and make a purchase, Pipeaway might make a small commission, at no additional cost to you. Thank you for supporting our work!