January is a month when we typically make new year resolutions and coin future plans. It is also an occasion for reflecting on the year gone by. We all learn through experience. If my experience of 2019 could teach me anything, it would be that exploring the world has never made more sense.
With escalating global crisis, traveling becomes true luxury and privilege
At the time of writing this, the Australian continent is burning like never before, we are all drowning in plastic pollution, and to top it all, the United States are cooking serious conflicts in the Middle East. All our everyday worries seem irrelevant when we put them side by side with the escalating global crisis of environment and peace.
Traveling in such world could increasingly become more and more difficult. Still, the passionate travelers' motivation in finding the destinations spared of the omnipresent doom might become stronger and stronger.
If this website helped you in finding new corners of the planet worth exploring, I'd be happy to hear from you! If not, I hope you'll find relevant content for your travel plans in 2020!
Without further ado, here's Pipeaway's review of the year 2019!
If you're interested in previous year reports, you can find them right here:
What happened to travelers in 2019?
In the whole process of traveling, maybe only passing through the airport security check is exempt from memorizing. Our smartphones and photo cameras have become the most important part of our luggage. Protected by law, safety controls at the airports became the lonely bastion of defense against the often uncontrolled need to document everything, and especially – ourselves, in the middle of that everything.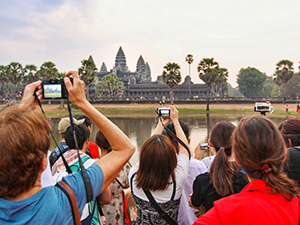 Social media dominating our traveling experience is certainly not a phenomenon that started in 2019. But more often than before, I felt that this trend was hard to ignore. From the nightmarish photo hunt for the Angkor Wat sunrise to the disturbing selfie invasion of the Death Railway sites in Thailand, the iconic touristic spots were falling into the background. The foreground was reserved for the true stars of our traveling – ourselves. Some hotels I've visited, such as Munduk Moding Plantation in Bali, even developed a strong profile through supporting the selfie-taking travelers.
Then again, putting oneself in front of the context can be literally dangerous. As the example of the Aeroflot plane crash-landing in Moscow has shown, humans are capable of switching off their brains and risking other people's lives just to save their own belongings. I wrote about that tragic lesson in human psychology in my article "A Matter of Life and Stuff: Things we do for Things".
If I'd have to make some wishes for traveling in 2020, I'd hope to see more of events showing that human nature is constructive. I'd hope us all to prove that we are not as addicted to our possessions and public image, as some of these 2019 events have been claiming.
Favorite new country – the Philippines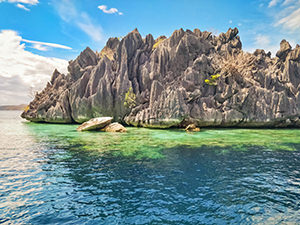 In 2019, the number of countries I've visited reached 48, five of them for the first time ever. By alphabetical order, the list included Cambodia, Croatia, Hungary, Indonesia, Italy, Laos, Malaysia, Malta, Philippines, Slovenia, Spain, Switzerland, and Thailand.
While in 2018 my personal favorite country was Norway (in 2019, I wrote about the best hikes in Norway, things to do in Bergen, the rainiest European city, as well as in the picturesque Aurlandsfjord), I thought my 2019 would be marked by exploring a radically poorer Southeast Asian country of Laos. I've browsed thoroughly Vientiane the capital, as well as the northern cultural gem of Luang Prabang! But on my way to the enchanting Kuang Si Falls, I had an unfortunate motorbike accident. It significantly affected the rest of my trip and shortened my stay in this intriguing country. I hope to get back to Laos in the future.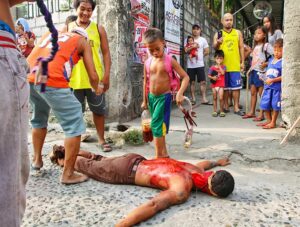 My favorite country of 2019 was – the Philippines! It's a vast country of 7.641 islands. As I've seen only a tiny bit in my month-long visit, I will definitely be going back there too! I managed to explore just a part of Luzon and Palawan. In Pampanga, I've learned that there are bloodier events than Thaipusam, such as the Easter crucifixion and connected rites. In the northernmost part of the Palawan region, I hopped on a Coron Island boat tour that revealed the extraordinary beauty of lakes, beaches, coral reefs, and lagoons! The Philippines were obviously rich in both natural resources and intangible heritage, so I warmly recommend visiting this country!
Favorite new city – Chiang Mai, Thailand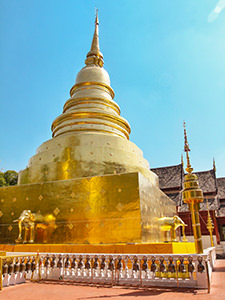 After I've experienced that unfortunate motorbike accident in Laos in early February, I decided to cancel my trip through the dust and jungles of the country's south. Instead, I planned to treat my wounds in Thailand. I headed towards Chiang Mai, the city in the north that dominates the world's lists of digital nomads' nests for years now.
At first, I didn't completely understand what all the fuss was about, but then I gave it a chance. I managed to ignore the unlikeable overcrowding at the night markets. Instead, I decided to keep the impression of a lower-paced, made-to-human-measure town. I believe it is one of the towns I might come back to later on, for some longer stay. You should consider visiting it too!
Favorite hotel stay – Treeline Urban Resort, Siem Reap, Cambodia
While my favorite hotel stay in 2017 was in Jaya House RiverPark in Siem Reap, Cambodia, in 2018, I enjoyed another eco-conscious hotel the best – Limalimo Lodge in Simien Mountains, Ethiopia. The responsible and sustainable approach to hotel management became a must in today's world.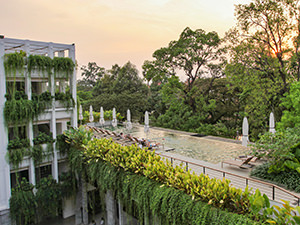 One of the finest examples of hotels that care for the environment beyond the classical "throw your towels on the floor" mantra, is also my favorite hotel of 2019. And we're back in Siem Reap, Cambodia. My choice is Treeline Urban Resort!
I wrote about this exquisite accommodation property that blends art with nature in my article on why and how the travel industry could fight for the plastic-free world. This post didn't offer the full review of the Treeline, but the hotel definitely deserves more attention from both you and me in the future. Check their prices here and consider booking this frontrunner in sustainable tourism for your next Cambodian trip! Make your visit to Angkor Wat worth more!
If you are an LGBTIQ traveler in Cambodia, check Pipeaway's detailed gay guide and then opt to stay in Rambutan!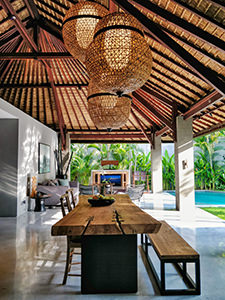 If you need more getaway ideas, Koh Samet is a controversial island in Thailand's plastic-ban policy, but Mooban Talay Resort could certainly be an oasis worth checking out.
For the best luxury escapes on Indonesia's most famous island, check the list of some of the best Bali hotels I stayed in 2019! Bali is a surfing paradise, and its siren call did not stop luring me for a longer move! I've actually stayed in many more hotels in Bali. Keep following Pipeaway.com, as I will certainly publish additional precious tips in the following months!
If you like to stay in unconventional places, consider Jjimjilbangs! These Korean spa facilities are great places to unwind and relax. But unlike Rudas Baths, my favorite European Turkish-style spa, Jjimjilbangs are open 24/7, and you can sleep in there! They can alter as cheap Korean accommodation!
Favorite food experience – Insects
We have already concluded that the world is inevitably changing. The population is growing, and food supplies are becoming scarcer. In the world of tomorrow, we will need to change our eating habits. Many believe that insect food is the solution.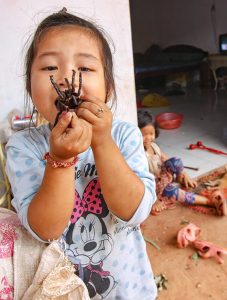 In 2019, I've become the brand ambassador of the Backstreet Academy, the platform for meaningful travel experiences. One of their programs is the Fear Factor, the cooking class with bugs in Siem Reap! You can read all about this Cambodian culinary adventure with insects here!
But beyond the prediction that eating insects will become a necessity, it could also be a true gastronomic experience! You'll find street food vendors selling crawlers across Asia. But Insects in the Backyard is a restaurant in Bangkok that took these somewhat controversial ingredients and created the fine dining experience! To my surprise, it was one of the most delicious meals I ate in 2019!
If you're more into conventional food, I'd like to highlight my visit to the 3 Merchants, Vientiane's first authentic Indochina restaurant! I wrote about it in my review of Crowne Plaza Vientiane, one of the top hotels in Laos capital.
Pipeaway's top articles of 2019
Here's the top list of Pipeaway's articles published in 2019! They have attracted the most attention in the last year! See if you missed them!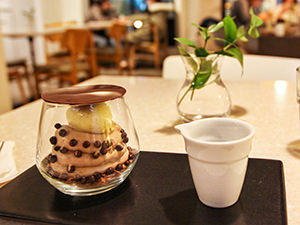 If you are a sweet tooth, the capital of South Korea offers a variety of decadent desserts you need to try! This selection of the best sweet delicacies in Seoul covers a variety of classical and less classical options that will satisfy your cravings! From sophisticated art plates to refreshing snowflakes, the sweet Korean journey is one of a kind!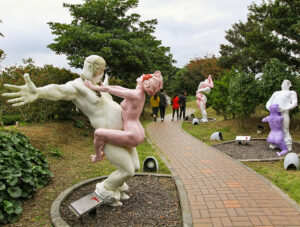 I don't know if the top two places in the most-read articles of 2019 say that South Korea has a growing touristic trend. But certainly, Jeju Island attracts a lot of interest both from national and international visitors. Besides natural attractions, the island is home to many unusual museums. Maybe the least conventional, the quirky Jeju Loveland is a sculpture park inspired by sex!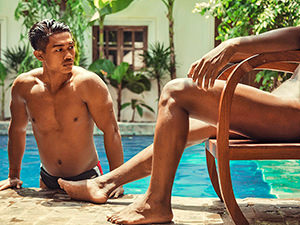 In 2019, I've learned that even Thailand, despite its famous and visible concept of a ladyboy, is not a haven for LGBT rights (I would have never learned that if my visit wouldn't have coincided with Chiang Mai Pride). For that reason, I did not expect much more positive outcomes from researching gay life in neighboring Cambodia. I was so wrong! There were some great organizations and initiatives for gay rights. But the country also had a growing scene of same-sex oriented accommodation, nightlife and daytime fun!
Oldies, but goldies
The articles published in the first Pipeaway's year (2017) still didn't leave the most-read posts top list! Here's the top three in 2019!
The blog post about where to sit on a plane got worldwide attention (especially in the UK media, such as the Mirror). With more than 54 thousand views, it kicked Selfies as Declaration of Stupidity off the throne, and became your all-time favorite!
Connect on social!
Readers still find Pipeaway.com mainly through the organic search (65,5 %) or direct visit (25,5 %). The social media acquisition slightly grew from 6,9 to 8,3 % in 2019. While the blog content is still a priority in comparison to social media presence, I do maintain all Pipeaway's accounts as best as I can.
Pipeaway's Facebook page still has a significant number of 12k followers and publishes content on a daily basis.
Pipeaway's Instagram followers' base grew 22 % in 2019 and has 7009 followers at the moment.
Pipeaway's Twitter account is followed by 1238 users, compared to 862 in 2018.
Pinterest followship grew from 687 in 2018 to 718 in 2019, with 12k monthly viewers.
Pipeaway's newsletter is a monthly/bimonthly wrap-up, coming directly to your mailbox. In 2019, I've sent out 7 of them. I'd be happy to hear more feedback on how to improve it if you wish to start/continue receiving this free reminder on Pipeaway's best content. In its second year, the newsletter had 1,5k subscribers!
Pipeaway's Youtube channel has grown from 47 to 77 subscribers, so it's still rather small, but I'm happy it grows even if I do not focus much on it at the moment. The most popular video there is not Japan's Kanamara Matsuri festival footage anymore! Cambodian New Year celebration with Songkran water fights tops the charts now with 10k views.
See the most popular video here!
Doing good is not easy
Besides Jeju Loveland and some Norwegian hiking pics, the Ethiopian acrobats again entered Pipeaway's most liked images on Instagram. I remind you, this was a collaboration project with Arba Minch Circus, the social circus group with impressive results in working with youth at risk.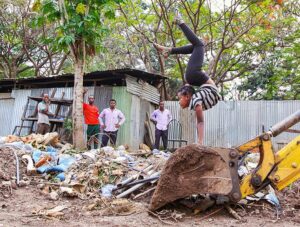 We have launched the Circus of Postcards, the fundraising for this precious cause, and even extended it to reach more people. I tried my best to find more donors through the circus connections I have. I ended up being slightly disappointed with the total turnout. But I was also equally grateful to those who did find the means to support it. Your contribution will definitely help Arba Minch Circus!
The postcards went to print these days, and we will fully report on results soon!
Thank you
Again, my travels wouldn't be possible without the support of people.
I am thankful to the management of all hotels and hostels, restaurants, tour operators and activity organizers which recognized the value of working with Pipeaway.
Maybe under the radar, but the support of friends, or people I became friends with through Couchsurfing, was another valuable contribution to my world journey. I've surfed beds in Kuala Lumpur, Bangkok, Phnom Penh, Manila, Baguio, El Nido, Zurich, Rovinj, Trieste, Budapest, Tenerife, Gran Canaria, Kostanjevica na Krki and Rijeka! This space cannot fit all of my generous hosts, but I will always appreciate that you were willing to cope with me!
That also goes to my fellow travelers, who I shared some precious moments with. Mladen and Damir were my road mates in 2019, and they both rocked.
Finally, I need to mention Artcena, the French organization that continues to appreciate my circus arts involvement, be it through the support to the Circus of Postcards project, be it through bringing me to the new areas of the world to discover new festivals, meet extraordinary people and shift horizons. In 2019, they put Switzerland on my map.
Thank you all for supporting Pipeaway's journeys!
Where next?
People often ask me when I am coming back. Wherever that is. It is always comforting to feel welcome in the various parts of the world where the luxury and privilege of traveling brought me.
After returning from a short trip to Malta, I spend the beginning of the year in Croatia. There are many upcoming blog posts to work on! The main travelers these months will be my fingers – on a keyboard. I'll hopefully bring you to some amazing places by words and images! That could mean I'll have to glue my restless bottom to a seat!
None of my travel plans are concretized at the moment. If you wish to add anything to my dreamy travel list, I'll consider you a friend!
For now, these are the countries that, besides Croatia, I hope to include in my 2020 itinerary: Cote d'Ivoire, Spain, Germany, Greece, Bulgaria, Czechia, Canada, Mexico, and possibly other countries of Central America, or Southeast Asia, or Oceania, or…?
Do let me know where YOU plan to pipe away this year! Maybe we can meet somewhere on this extraordinary blue ball we call Earth.
Sail well in 2020!
Did you like this 2019 year review?
Pin it for later!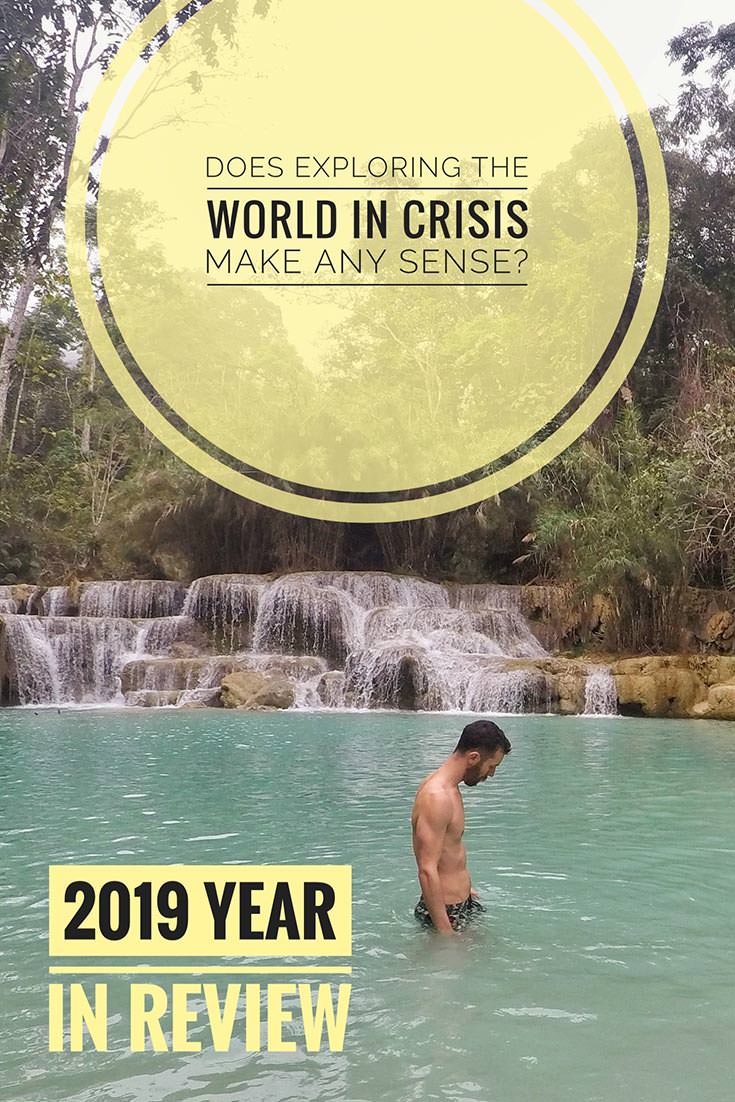 Disclosure: This post contains affiliate links, which means if you click on them and make a purchase, Pipeaway might make a small commission, at no additional cost to you. Thank you for supporting our work!