My deep love for Greece is nothing but the naked truth. The southernmost territory of Europe is also the sunniest part of the continent. Every year, pristine beaches attract dozens of millions to this Mediterranean country. It is not surprising that many fall head over heels for the Greek sun, willing to expose it all. Yes, we are talking about staying naked in Greece! Naturists are flocking to the country! While they can certainly practice beach nudism in many parts of Greece, I advocate for my favorite Hellenic archipelago! In this guide, discover the best nude beaches in Greece, those in the Cyclades Islands!
Herodotus, the world's first historian, was surprised by the customs of barbarian people who fought in – clothes!
Naturism in Greece
Nudists in public are not an invention of modern Greece. Nakedness has been embraced in this culture since ancient times.
Two and a half millennia ago, Herodotus, the world's first historian, wrote that "it is opprobrium to appear naked" among Lydians and other barbarian people. Imagine, all those men fighting fully dressed! How barbaric, how obscene! Of course, Spartans were more civilized; they fought naked!
Besides the battles, nudity was widespread in festivals, religious rites, as well as sports.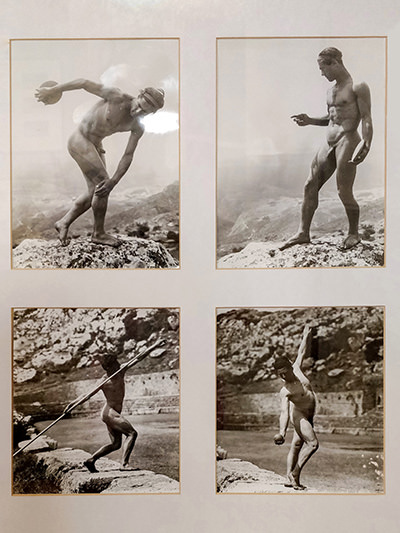 Gymnastics (literally meaning "to exercise naked") included all physical activities practiced in the gymnasium, the place where male athletes exercised in their birthday suits.
In ancient Greece, sports clothes were an oxymoron. Even in public sporting events, such as the Olympic Games, men participated in their naked glory.
Exposure to sunlight was a crucial part of athletic training in ancient Greece. Hippocrates, the Father of Medicine, after whom the physicians' oath of ethics has been named, regularly prescribed sunbathing as a cure. Heliotherapy was believed to improve the health of muscles, bones, nerves, and even the mind.
But long after Hippocrates' large solarium on the island of Kos, the movement of naturism in Greece started in the period after the world wars.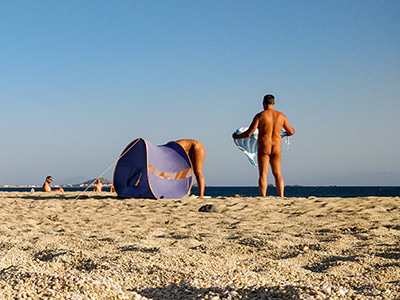 Mykonos was one of the first islands that welcomed nudists, seeing the financial benefits it could gain from such tourists.
Islands such as Hydra were not that enthusiastic about naked people desecrating their beaches.
In the 1980s, the Greek Parliament passed a law that allowed the existence of organized nude resorts and naturist beaches.
However, even today, the majority of nude beaches in Greece are not official spots for naked meet-ups. Approved more by the customs, than by the law, at the edges of settlements, where textile people are not willing to go, Greek nude beaches are silently tolerated.
Nudism and tolerance don't always fit together perfectly! Read about my experience of staying in a Greek nudist home in my selection of the strangest Couchsurfing stories!
Private experiences in Cyclades Islands
Top 7 Nude Beaches in Greece – Cyclades Islands
7. Mykonos – Elia Beach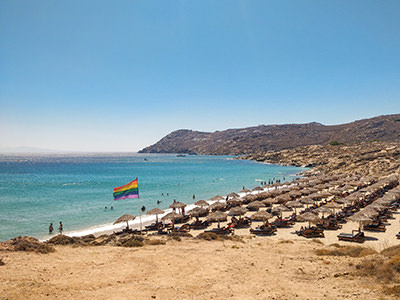 While Paradise and Super Paradise Beach were previously nudist-friendly, today they are a catwalk for swimsuits of often rich and famous.
Elia Beach has a less pretentious vibe, even if the typical commercial spirit is slowly taking over this area as well. Mykonos seems to struggle for its legacy as a top nudism destination.
The right-hand side of Elia Beach, when facing the sea, is a gay section. Easily distinguished by the rainbow flag, it is technically a clothing-optional beach. However, you will hardly find naked men or even topless women here these days.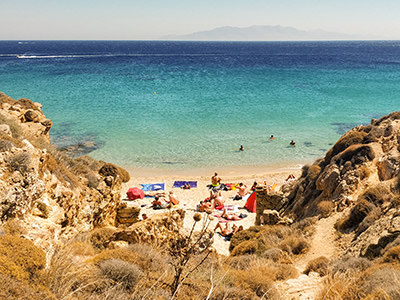 The real gay nude beach is further west, in a smaller cove nested in the rocky hillside. This is a tiny naturist beach, for maybe a dozen couples, so one should arrive early to reserve a spot. The alternative is hanging it all out on the rocks.
If you prefer putting your towel on the sand, try to squeeze it in among the available-for-rent sunbeds and thatched parasols on the main beach stretch. However, beware that, with all the families nearby, you might be labeled as a misfit if going nude there.
The largest beach of Mykonos (with the smallest FKK area on this list) offers fine white sands and clear waters in a large open bay, suitable for nice swimming or water sports.
The rocky area between Elia Beach and Agrari Beach is a popular gay cruising spot. With only dry stone walls, there is not much place to hide from the sun or gazes. If they want to experience Mykonos at its naughtiest, nudists at play should prepare to be seen.
Elia nude beach location
37°25'21.1″ N, 25°23'09.7″ E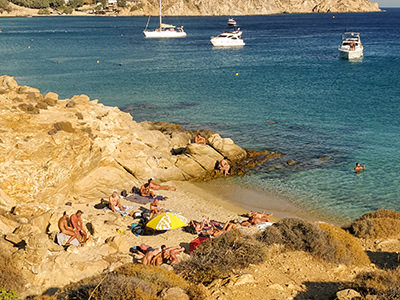 How to get to Elia Beach?
In the summer season, Elia Beach is connected by bus to the Old Port Terminal (Northern Bus Station) in Mykonos Town. The ride takes 25 minutes, but always check the timetables, as they are subject to change. The ticket should not cost more than a couple of Euros.
Between May and October, Elia Beach can also be reached by boat. Water taxis service it as the last stop among the seven popular beaches on the southern coast. The main departure beach is Platis Gialos. The fleet starts operating at 10 am, but beware that the latest return from Elia Beach is at 5:45 pm. One-beach round-trip ticket costs 10 Euros.
The third option is to rent a car and get to Elia Beach by yourself. Parking in front of the beach is free.
Where to stay in Mykonos?
If you want to stay just steps away from Elia Beach, your best choice is Elia Mykonos Resort. Each room comes with free use of sunbeds and beach towels! Another option worth checking out is the 5-star Myconian Imperial (Leading Hotels of the World), equipped with spa facilities and three swimming pools. Myconian Villa Collection (Preferred Hotels & Resorts) is another well-rated enterprise at a privileged location in Elia Beach.
Where to eat nearby?
There is a couple of restaurants right at Elia Beach, but if you want to relax in a laid-back grill eatery highlighting local seafood and fresh garden picks, head to Agrari Beach Restaurant on the namesake beach.
If you have doubts about getting naked on the nude beaches of Greece, other options for experiencing body freedom could, for instance, be visiting a Korean spa in Seoul, or a Turkish spa in Rudas Baths Budapest.  
6. Syros – Armeos Beach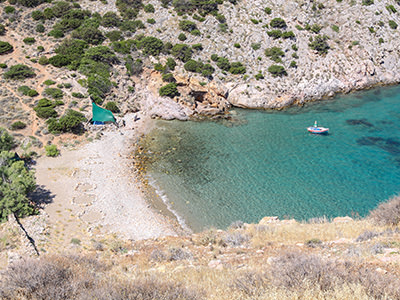 Tucked in a calm bay, Armeos Beach on the island of Syros is an intimate corner for anyone interested in skinny-dipping. At a walking distance from Galissas, the island's most popular tourist resort, this 80-meter-long beach is a perfect naturist hideout.
Armeos is a pebble beach, with some patches of sand in the sea, protected from the big waves. Besides being the best nude beach in Syros, visitors also praise its blue waters for their snorkeling potential.
Just downhill from Agia Pakou church, and beneath the ruins of the ancient town of Galissos, Armeos Beach is beloved by free campers too. They set up their tents among the trees and spend weeks in this quiet oasis.
There are no facilities at this naked beach reachable only on foot, so bring everything you need. The more adventurous can count on the natural source of water nearby, which is supposedly drinkable.
Even more adventurous tend to find the trees being a functional shelter for sexual activities, as is the case with most backstage areas of naturist beaches in Greece, at least on this list.
Allegedly established as a nudist territory in the 1970s, Armeos Beach deserves its place on the list of the best nude beaches in the Cyclades Islands.
Check how one of the best nude beaches in Greece looks from above, in a drone video made by Markos Vitsinos!
Armeos nude beach location
37°25'10.9″N, 24°52'26.8″E
How to get to Armeos Beach?
If you are staying in Galissas, you can reach Armeos Beach on foot, by following the coastline towards the south. After the road ends, continue on the hiking path around the hill topped by Agia Pakou chapel. Descending to the beach at the end of the pathway requires some agility.
Alternatively, you can encircle the church from the left side, by following the stairs next to the wooden signpost. Then continue via the rough path downwards, and eventually, you'll get to the naked beach.
If not staying in Galissas, get there by using the public bus circling the island. The ticket costs 1,60 Euros.
A taxi from Ermoupoli to Galissas will cost about 10 Euros.
Where to stay in Syros?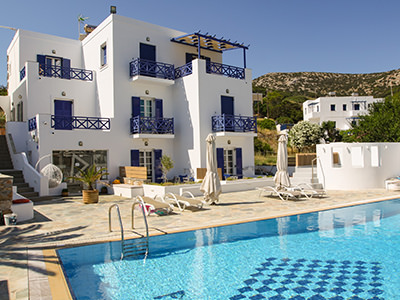 For staying close to Armeos Beach, I strongly recommend staying in Remvi Hotel in Galissas, rated as exceptional on Booking.com.
It has friendly staff and pleasant rooms with balconies overlooking the nice swimming pool.
If you have rented a car, you can park it for free at the hotel, and then, one of the best nude beaches in Greece is just a short walk away!
If you prefer staying on the eastern side of the island, check out this Syros accommodation.
If you decide to stay in the island's main port, the capital of Syros, these are some things to know about Ermoupoli.
Where to eat nearby?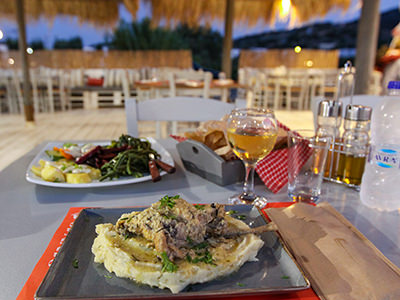 As mentioned before, there are no facilities at Armeos Beach, so for a proper meal, you will need to walk to Galissas. I recommend catching a sunset at Taverna Savvas!
Named after the father, this family restaurant serves organic vegetables from the garden in nearby Pagos, as well as homegrown chicken and rabbits. If you are a meat lover, these will melt in your mouth, as they are cooked to perfection!
Finish your evening with a chocolate ice cream sandwiched in between biscuits. And the best of all? It's on the house!
5. Santorini – Vlichada Beach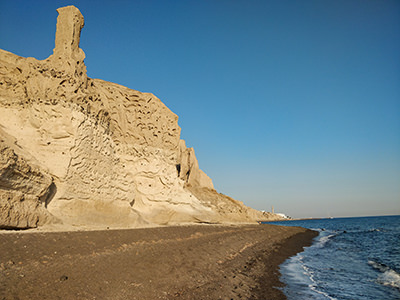 Santorini is better known for Oia sunset than for its beaches. But it doesn't mean that sea lovers, as well as naturists, cannot find some amazing beaches on this volcanic island!
Vlichada Beach (also misspelled as Vlychada) in the south of Santorini has that otherworldly vibe that some visitors compare to the Moon. The natural forces of wind, sea, and volcano, carved a spectacular lunar landscape!
While the part close to the village/marina is organized with a snack bar, parasols, and sunbeds, the further west you go along this long beach, the less textile you can encounter. Due to the length of Vlichada, naturists can count on a lot of private space, with dozens of meters between the towels.
The tall white cliffs are in stark contrast with the black sand leading you to the water. What a unique backdrop for baring it all!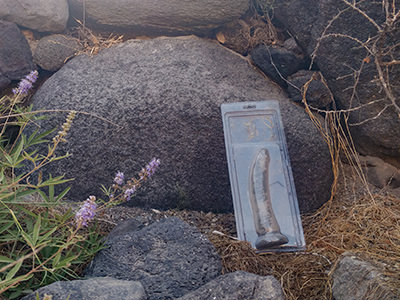 While investors do try to get their hands on this area of Santorini too, Vlichada is luckily protected by its steep cliffs which disable dreams of development. The wild "Moon Beach" should therefore be spared from mass tourism, and lovers of wilderness should be able to enjoy this Santorini nude beach for years to come!
After sunbathing and swimming under a dramatic wall of the eroded geological wonder, you can learn more about the best-known fruit vegetable of Santorini. Visit the former tomato factory nearby, still easily recognized by chimneys, that now houses the Tomato Industrial Museum!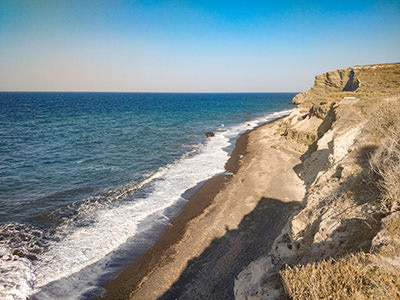 Beach nudism is welcome at Santorini's north too. Koloumbo Beach is another black-sand nude beach hidden behind the cliffs.
Naked visitors can enjoy some private time on the top of the cliffs.
Packaging of a sex toy I've encountered on the beach path shows that for having fun you don't even need company!
Vlichada nude beach location
36°20'24.5″N, 25°25'51.8″E
How to get to Vlichada Beach?
Vlichada is located 11 kilometers south of Fira, Santorini's capital. From there, you can reach one of the best nude beaches in Greece by bus. The fare should cost a couple of Euros but always double-check the bus schedule.
If you prefer getting around by walking, consider staying in Perivolos or Perissa.
Where to stay in Santorini?
If you want to stay rather close to Vlichada Beach, your best accommodation choice could be in Vlichada village! Check Notos Therme and Spa or Vlychada's Diamond Apartments as options! However, the best ratings nearby go to Aegean Melody Suites!
Where to eat nearby?
I enjoyed eating at Family Tavern not far from the beach. Expect traditional Greek food at reasonable prices!
4. Naxos – Agia Anna Beach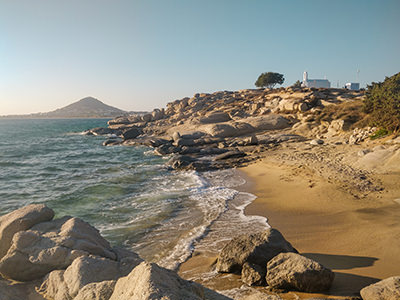 Enjoying the time on the beach is one of the top things to do on Naxos island.
In the fierce competition of the island's sandy west, the clothing-optional part of Agia Anna Beach is one to remember.
The area sprinkled with beach taverns and fishing boats is a popular spot for mainstream tourism.
But the part starting with rocks around the Saint Nicholas church, and continuing with the sandy stretch protected from the road views by bushland, is one of the nicest nude beaches in the Cyclades Islands and Greece.
Technically the northern end of Plaka Beach (for more beach nudism, you can also check the south of Plaka), Agia Anna provides a peaceful corner, disconnected from the buzz of the more consumerism-celebrating surrounding.
Imagine golden sands made of tiny seashells, a juniper tree forest for those seeking shade and privacy, and some nice boulders to meditate on while the sun dives into the horizon.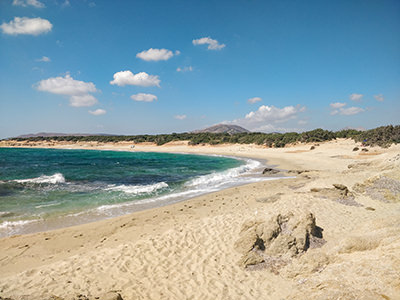 One of the rocks under the white chapel looks exactly like a shark. Enhanced by some street artists, it is now a site that your Instagram feed will be thankful for!
A wooden boardwalk follows the naturist beach, and you just have to choose whether you would like to go nude among others, or in some secluded spot.
If you want to go even further from civilization, I recommend Kedros Beach under the cedar forest of Alyko. There are no amenities there, and you will need a car! But for any true naturist, Kedros is an excellent choice!
Agia Anna nude beach location
37°03'50.3″N, 25°21'12.1″E
How to get to Agia Anna Beach?
Agia Anna is well connected with Naxos Town by bus. You can take line 1 or 10, and they will get you to the beach in 20 minutes! The fare is 1,60 Euros.
Getting there by taxi might cost you around 10 Euros.
I've also used a bicycle to link the town with the naked beach, and it is a lovely ride!
However, the best way to be independent while exploring this big island is by renting a car. I've used Fun Car & Rides agency, and was happy to explore all the naturist beaches Naxos can offer!
Where to stay in Naxos?
For those who want to stay just close to Agia Anna Beach, Orion Naxos Hotel is a great choice. It has excellent reviews on Booking.com! For a more budget-friendly option nearby, check out these Annio Boutique Studios that come with a private spa bath at a very reasonable price!
Where to eat nearby?
The first restaurant that you come across when following the wooden boardwalk towards the south is Paradiso Taverna. For the view, pick one of the tables on the beach itself, but beware that the wind might affect your eating experience. Choose a dish with potatoes and cheese, prideful local products of Naxos!
3. Amorgos – Kambi Beach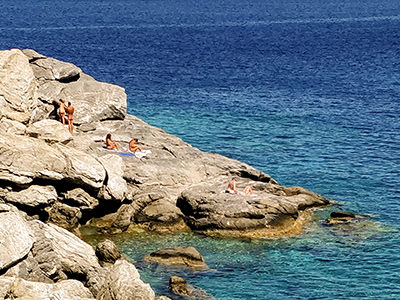 Amorgos is the easternmost island of the Cyclades. For some reason, it doesn't get on the list of the most popular islands, and uncrowded beaches are a paradise for privacy-seekers.
To get nude, one doesn't have to go far from Chora, the island's capital nested in its middle. The closest place is Agia Anna Beach, just beneath the famous Panagia Hozoviotissa monastery.
The path leading to the left from the parking lot, when facing the sea, gets to the beach with a chapel. That one is for people in swimwear.
However, if you follow the winding stairs on the right-hand side, you will get to the area where naked swimmers ignore the sign forbidding beach nudism. Many naturists congregate on a rock ledge, on the peninsula between these two small pebble beaches.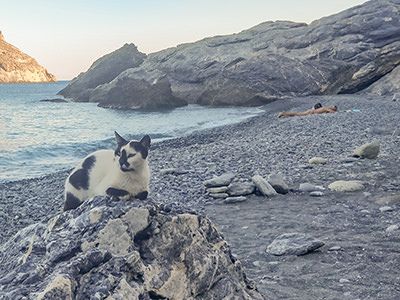 For more privacy, you can continue along the coast to the south, over the rocks. The pathway is not the best, but Kambi Beach is just 250 meters away and offers plenty of space. Here, nobody will make a fuss about undressing completely.
Overlooking the isolated islet of Megalo Viokastro, and with an excellent view of the cliff-perched monastery, the island's biggest attraction, Kambi is a nice place for sunbathing, swimming, and diving.
The crystal clear waters of the area impressed even Luc Besson, when he filmed "The Big Blue" here in 1988, with Jean Reno.
The downside of Kambi Beach (and many beaches on the eastern coast) is that the mesmerizing cliffs eat the sunshine quickly in the afternoon, and it gets less pleasant to stay naked in the shade.
Also, have in mind that there are no facilities on this naturist beach. The nearest businesses offering refreshments are the cafe at the parking lot, and the monastery, where monks will welcome you with some homemade raki and loukoumia (Greek sweets).
Kambi nude beach location
36°49'18.0″N, 25°54'19.6″E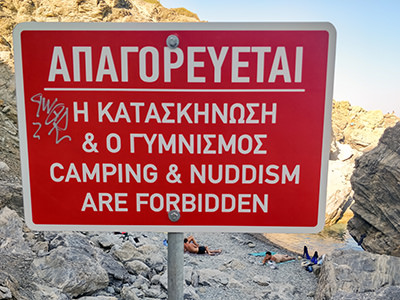 How to get to Kambi Beach?
From Chora of Amorgos, take a bus to Agia Anna. It should cost 1,80 Euros.
Alternatively, you can come to the location by car (parking is free), or on foot (it would take you 1 hour at least).
From the parking lot, head right, and follow some 100 stairs from the café to the bottom. Continue on the footpath towards the south, and you will get to Kambi Beach in 10 minutes.
Where to stay in Amorgos?
For staying in Chora, check out Irida House, a three-bedroom property with a garden. If you prefer staying closer to the sea, and to the ferry that will bring you to the island in Katapola, check out Kaerati Apartments in the traditional settlement of Xylokeratidi.
Where to eat nearby?
At the Agia Anna parking lot, the Big Blue Café is the only food-serving facility in the proximity of Kambi Beach. You can expect various pies, salads, sandwiches, and omelets. Do not feed the cats!
For good food in Chora, visit Tranzistoraki, but prepare to wait to be seated.
2. Paros – Lageri Beach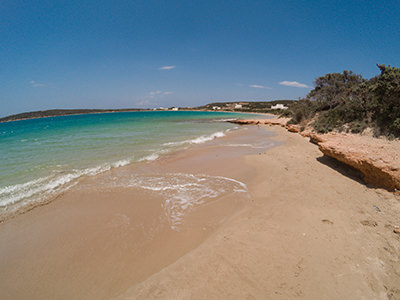 Located in the northeastern end of the bay of Naoussa, and not that easily accessible, Lageri Beach had all prerequisites to become the best nude beach in the vicinity of this popular tourist destination.
If there wouldn't be crystal clear water, you could easily mistake Lageri's golden sands for a desert. But this is actually a much-rewarding oasis of naturism, secluded, unspoiled, quiet, and calm.
The sea in front of this clothing-optional beach is shallow, enabling easy access even for those who are not great swimmers.
Beware that Lageri Beach is wild. Don't expect shops selling snacks or bars renting out sunbeds! Bring everything you need! At least you don't need to carry many clothes! A towel for the soft sand, sunscreen, some water, and food, and you are ready for the most pleasant experience under the sun.
The vegetation in the sand dunes provides much-needed shade, but it is also a somewhat busy cruising spot for, mostly gay, lovers. Lageri is, however, a one-kilometer-long naturist beach, so there's plenty of space for tolerance.
I have visited the beach several times over a couple of years, and it never felt crowded! Whether you are straight, gay, or anything else in between, as long as everyone respects the space of others, one of the best nude beaches in Greece can continue catering to naturists in all colors of the rainbow.
Lageri is definitely one of the most beautiful nude beaches in the Cyclades Islands. Anyone who adores nature and wants to get away from the typical summer noise of popular tourist destinations will fall in love with Lageri Beach.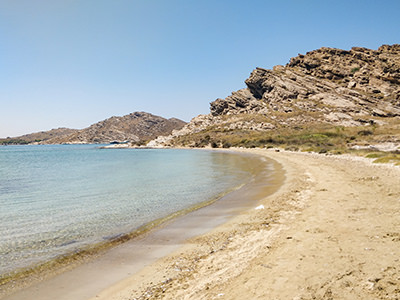 There is some beach nudism on the western side of Naoussa Bay too. Try the extensions of Monastiri Beach: Perikopetra and Tourkou Ammos. The further one goes from the houses and civilization, the nakedness is more tolerated.
In the area of Tourkou Ammos, you can even engage in naked hiking! Learn more about this philosophy from Erik, the free ranger!
Lageri nude beach location
37°08'09.3″N, 25°16'13.0″E
How to get to Lageri Beach?
As it's not the most accessible naturist beach on this list, the closest you could get to it is by car. I've used Karent rent-a-car, and I can warmly recommend them. Their agency is just in Paros Port, where your ferry will bring you. From there, follow GPS instructions on how to get to Lageri Beach.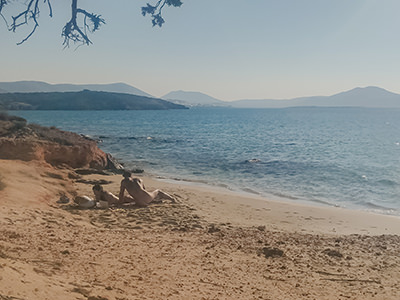 There are several ways to approach it by car, and then continue on foot. I typically approach it from the southern end, near the white chapel. One can park the car nearby, but it's a dead-end road, and quite narrow. You better know how to park a car, if you want to avoid collisions with others and possible insurance claims.
It is also possible to reach Lageri Beach by bus, with a long walk from the main road. You would need to hop on a bus in Naoussa heading to Santa Maria and ask the driver to let you get off at Lageri Beach.
It should be also possible to get to Lageri by boat, but these connections are not many, and you should double-check them in the port of Naoussa.
Where to stay in Paros?
The closest accommodation to Lageri Beach is Surfing Beach Village Paros. I stayed there only one night, and can only mention it here as something I would not like to recommend. Especially if you have rented a car, you don't need to stay in a bad place, just because it's near an attraction you want to visit! In Santa Maria, you could indulge while staying in White Dune Luxury Suites. Towards Naoussa, Paros Comfy Suites come with wonderful plunge pools, Cove Paros could be your home just at the beach, or you could indulge in comfort at a more approachable price in Mrs. Armelina (Mr&Mrs White Hotels).
Where to eat nearby?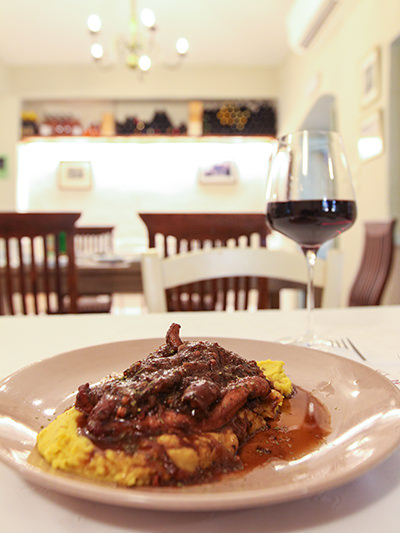 To get a proper meal, leave Lageri Beach, and satisfy your hunger in Naoussa.
I highly recommend Yemeni Wine Restaurant. Located in one of the small streets of the charming Old Town, this tavern pays respect to the tradition of Greek cuisine since 2007.
You can expect rustic and authentic homemade meals made according to secret family recipes, with fresh local products, from herbs, fruit, and vegetables to olive oil and seafood.
I ate stuffed zucchini flowers with rice and herbs, and Octopus Stifado, slow-cooked with onion, fresh tomato, orange, and grape molasses, served with fava. Simply delicious!
1. Donousa – Livadi Beach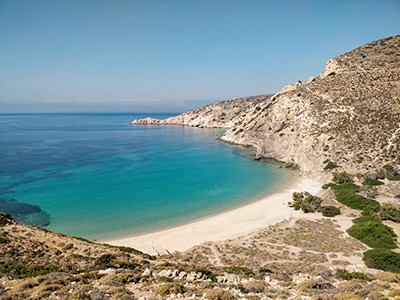 Donousa (sometimes spelled Donoussa), a part of the Small Cyclades island group, is one of the best-kept secrets of Greek naturism. Practically all beaches, except for Stavros Beach in the main village, support nudism!
This tiny island with barely 170 human residents and a similar number of felines, has scarce connections with the world. With just one main road, where you can walk for hours and still not encounter a vehicle, this 13 square kilometers of remote land in the Aegean Sea couldn't be further from the idea of mass tourism.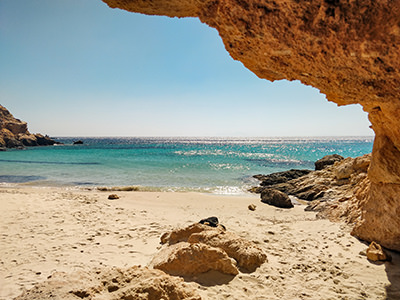 Logically, away from the crowds, nudity gets widely accepted. The island where Ariadne hid from Theseus in mythical times, and where pirates were finding shelter in the Middle Ages, became the nudists' hideout of modern times. Some are free campers, spending their entire naked day at the beach.
While you can freely hike through Donousa, and find your very own naturist beach, some have a special appeal.
The isolated Livadi Beach is a spacious sandy paradise for old and young nude beach aficionados. It ranks as one of the prettiest nude beaches in Greece!
For something cozier, the secret cove nude beach is just around the corner. Fikio Beach cannot accommodate many; you might even have the place all for yourself! This white sand beach offers some shade under the arching rock and boasts beautiful views.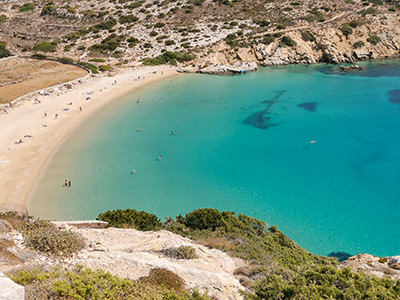 The nearest nude beach to Stavros village is Kedros Beach. Reachable by a 15-minute walk, just over the hill to the west, this sandy bay has a bar where you can find drinks and light meals.
The water is crystal clear, as on other Donousa beaches, but this one offers divers a view of a German destroyer that sank during the Second World War.
Livadi nude beach location
37°5'31″N, 25°49'20″E
How to get to Livadi Beach?
First of all, getting to Donousa is a bit more complicated than getting to other islands. The ferry service operates about three times a week (in the high season), so always book your accommodation only after you confirm the travel dates!
Donousa loves hikers, and you can certainly go to Livadi Beach on foot. Depending on your agility, it will take you about 1,5 hours to reach the beach from the main port. Once you arrive in Mersini village, it is good to know that you will be able to replenish your water in a natural spring, before heading down to the beach through the fields.
You could also reach Mersini by bus (if you happen to be in Donousa in high season) or by taxi (there's only one on the island).
Alternatively, you can reach Livadi and other Donousa's naked beaches by boat (also in high season only). Check out the schedule in Stavros port.
Where to stay in Donousa?
Your best guess for finding accommodation in Donousa is in Stavros. Check out Firoa Studios, Iliovasilema Studios, and Astrofegia Guest House as your options!
Where to eat nearby?
Nude beaches on Donousa do not come with sunbeds and parasols. Equally, with an exception of Kedros, which has a beach bar, you should not count on finding food at your far-away naturist destination. Pack yourself some lunch-to-go, and when you return to Stavros, eat at a local tavern of your choice. I was often returning to Ampelaki, especially for their Pitakia by mama Paraskevi. Those are some delicious hand-made cheese pies served with honey, and you should give them a try!
If you want to swim naked in Croatia, go to Rab - where English King Edward VIII vouched for benefits of skinny dipping. Learn all you need to know about FKK Kandarola Beach! 
The best nude beaches in Greece's Cyclades Islands – Conclusion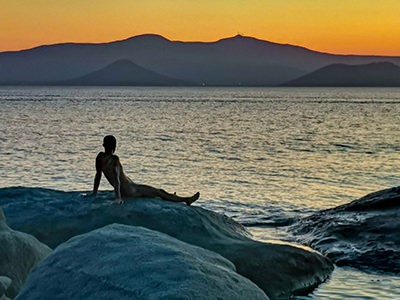 "And God said, Let there be light: and there was light." The first phrases of the Bible said the light was good. But very quickly, the notion of sin and shame arrived.
Exposing the nude body to the light became a radical idea. There was no more innocence of Eden. Christian missionaries spread the anathema of nakedness.
Greek gods were never that condemning. Actually, the naked body was seen as a perfect reflection of the gods. Thanks to the Mediterranean climate, clothing was optional, and the nudity of men and boys was embraced as natural.
White-washed houses and blue-domed churches are not the only assets of the Cyclades. Hidden coves of Greek islands are perfect for nakation, the clothing-optional vacations
Naturism in modern Greece might be a revival of a deep cultural understanding of nudity as natural. As a tourist country, that helps us escape our urban societies with so many rules, Greece offers – freedom.
The Cyclades is an archipelago with a special charm, but white-washed houses and blue-domed churches are not its only assets. Hidden coves of Greek islands are perfect for nakation, the clothing-optional vacations.
Mykonos, Syros, Santorini, Naxos, Amorgos, Paros and Donousa made it to the list of the best nude beaches in Greece – Cyclades Islands. However, the hardest question is not which one to choose, but how to organize the ferries to facilitate the clothing-optional Cyclades island hopping.
Whether you enjoy your heliotherapy under the cliffs of Vlichada and Kambi, close to the resorts such as in Elia and Agia Anna, or tucked in a corner such as at Armeos and Lageri, or you just cannot decide and want to experience the most spectacular collection of FKK beaches in Cyclades Islands, the one nested in Donousa's bays, Greece will reward you with the laid-back vibe to remember.
Travel with hand luggage only, feel water and wind with your entire body, and forget about the suntan lines! Naturism in Greece might change the way you travel!
Would you like to visit nude beaches in Greece? 
Pin this article for later!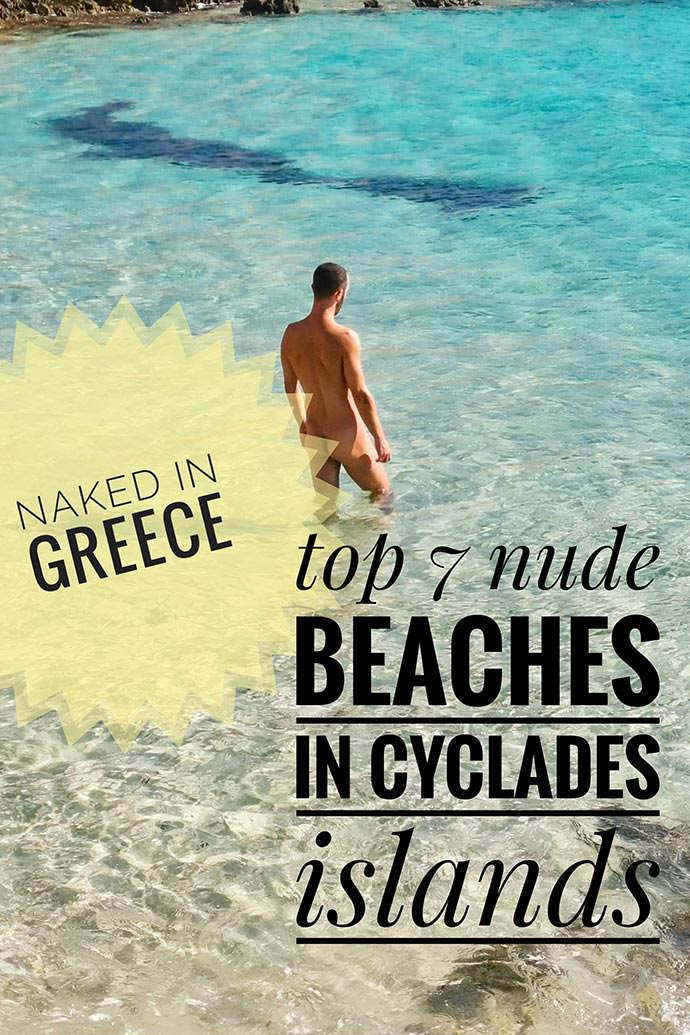 Disclosure: My stay at Remvi Hotel, dinners at Taverna Savvas and Yemeni Wine Restaurant, as well as the use of cars by Fun Car & Rides and Karent rent-a-car companies, were complimentary, but all opinions are my own.

Also, this post may contain affiliate links, which means if you click on them and make a purchase, Pipeaway might make a small commission, at no additional cost to you. Thank you for supporting our work!