Montreux, with its magnetically mild climate, has been drawing visitors to the eastern shores of Lake Geneva since the 19th century. But the serene resort at the foothill of the Swiss Alps, or "the sleepy old town", as Queen's frontman Freddie Mercury first called it, will acquire new fame in 1967. It will become known as the birthplace of the Montreux Jazz Festival, one of the world's most massive celebrations of jazz music, out-topped only by the rival in Montreal.
Freddie Mercury didn't experience love at first sight with Montreux. But over a course of years, he would learn to appreciate the calming charm of the Swiss Riviera
Founded by Claude Nobs, the jazz festival of Switzerland quickly opened to other music styles, inviting an array of influential artists to perform. From Ella Fitzgerald, Nina Simone, Miles Davis and Ray Charles, to Led Zeppelin, David Bowie and Prince, the variety of big names that played in Montreux was astounding. One visitor would leave a special trace, however: Freddie Mercury and Montreux will develop a love affair until death does them part.
Queen first came to the Swiss Riviera in 1978. Attracted by the July aura of the Montreux Jazz Festival, they decided to record the group's seventh album in the town. They gave it a self-explaining title: "Jazz".
Accustomed to the pace and nightlife of the Queen's hometown London, Freddie Mercury didn't experience love at first sight with Montreux. But over a course of years, especially after the AIDS diagnosis, Freddie learned to appreciate the calming charm of Montreux. It became a place to retreat from everyone, perfect to buy a home there.
Published after his death in 1991, the song "A Winter's Tale" on the "Made in Heaven" album (1995) sums it up nicely. In what would become some of his last lyrics, Freddie Mercury wrote: "So quiet and peaceful, tranquil and blissful, what a truly magnificent view, a breathtaking scene."
Welcome to Montreux of Freddie Mercury!
While in Montreux, make sure to visit Chillon Castle nearby! It's the most popular historic tourist attraction in Switzerland!
10 ultimate things to do in Montreux for Freddie Mercury Fans
1. Join the official Freddie Mercury Tour of Montreux
The easiest way to learn about the times that one of the greatest rock legends spent in Switzerland is by joining a Freddie Mercury Tour of Montreux.
In 2020, Lucien Muller left the IT business and launched Freddie Tours, a program of guided interactive tours that succeeded Freddy Mercury's Montreux Tour founded by Lucien's father Norbert Muller in 2001.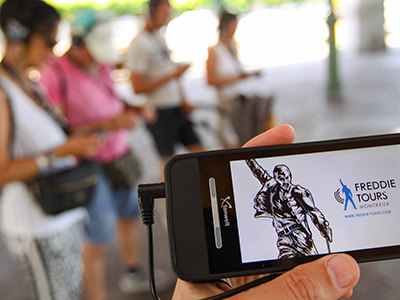 Today, Lucien conducts daily tours of Freddie's Montreux, on Saturdays even three times a day. Up to 20 visitors, equipped with interactive audio guides (in English, French, German, Italian, or Russian), follow the footsteps of the never forgotten superstar and visit the iconic locations that marked Freddie's time in Montreux.
The English version of the guide is narrated by Peter Freestone. Freddie Mercury's personal assistant for 12 years gives authentic insights into his friend's life and heritage, accompanied by exclusive photographs and videos.
The one-hour tour that starts at Montreux Covered Market costs 29 Swiss Francs (30 Euros). If you are into an extended version of Freddie Mercury tour of Montreux, you will have to reserve 2,5 hours of your time and pay 49 CHF (50 Euros). The meeting point for that one is at 2m2x Montreux Music & Convention Center, in front of the Montreux Jazz Festival sign.
A fun way of exploring Montreux is also a scavenger hunt you can go on. It comes like a self-guided sightseeing app, and costs only 14 euros.
2. Take a selfie with the Freddie Mercury statue in Montreux
Freddie Mercury's statue in Montreux, overlooking Lake Geneva (locally known as Lac Leman), became an iconic starting and finishing point of every Montreux pilgrimage inspired by Freddie.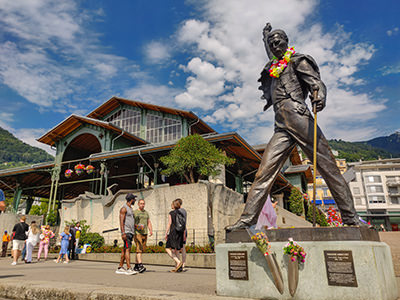 Frozen in bronze, as if time has stopped on that 1985 Live Aid concert at London's Wembley Stadium, Freddie Mercury appears in his recognizable pose full of triumph and showmanship. With one fist in the air, and the other one holding the microphone stand, the memorial statue dominates Market Square.
The 3-meter-high monument in Freddie's honor, the artwork of the Czech sculptor Irena Sedlecká, was unveiled in 1996, on November 25th, exactly five years and one day after Freddie's death. The singer's parents Jer and Bomi Bulsara, sister Kashmira, Queen's guitarist Brian May and drummer Roger Taylor, as well as the opera singer Montserrat Caballé who recorded "Barcelona" with Freddie, were all present at the ceremony.
While most visitors pay respect by leaving flowers at the sculpture, especially in the singer's favorite color – yellow, Freddie Mercury's statue was also vandalized several times. Both in February 2017 and during the 2019 edition of the Montreux Jazz Festival, someone sprayed green paint over the statue.
What does it say on Freddie Mercury's statue?

The inscription on Freddie Mercury statue in Montreux says the following:

Freddie Mercury. Lover of Life – Singer of Songs. 1946-1991

Born Farrokh Bulsara on the East African island of Zanzibar, Freddie Mercury became one of the world's greatest rock music performers. His career as lead singer of the band Queen spanned twenty years and together they sold over 150 million albums worldwide.

Innovator, showman, musician extraordinaire, he left a compelling legacy and had an enormous influence on the next generation of rock performers.

Queen acquired the lakeside Mountain Recording Studios in 1978 and Freddie's strong links with the town continued until his death. He appreciated the kindness and discretion of the townspeople and Montreux became a haven for him, his second home and the setting for his final work.
3. Learn at Queen Studio Experience Montreux exhibition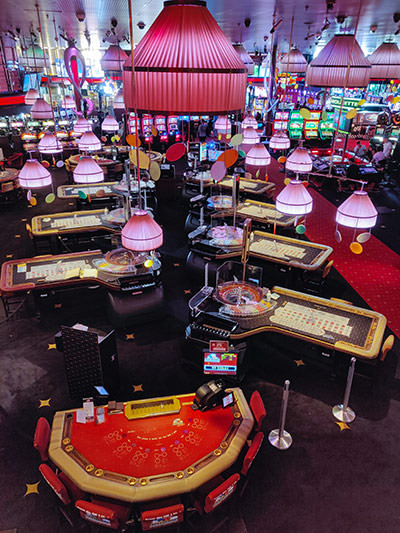 "Queen: The Studio Experience" is the exhibition housed in Casino Barrière Montreux, the former home of the legendary Mountain Studios. Besides Freddie and the gang, many famous musicians recorded their tracks here, from B.B.King and Michael Jackson to AC/DC and Rolling Stones.
The casino was actually an original site of the Montreux Jazz Festival, until a fan shot a flare gun at Frank Zappa's concert in 1971, and the venue burned to the ground. Deep Purple's song "Smoke on the Water" immortalized the sad event.
The place reopened in 1975, and the Queen was the official owner of the studio from 1979 till 1993. The British band recorded some of their most successful songs in the Mountain Studios, reaching six albums in total.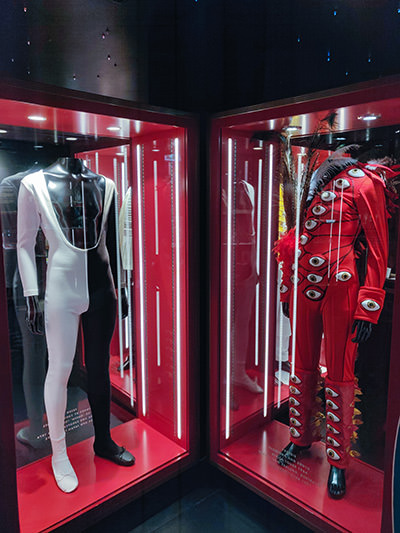 From "Bicycle Race", a song that Freddie wrote inspired by the Tour de France bikers passing through Montreux, and "Under Pressure" which resulted from an impromptu meeting with David Bowie, all the way to Freddie's last recorded song "Mother Love" (the posthumous album "Made in Heaven") that squeezed the final drops of creativity out of a dying artist, Mountain Studios truly remained Queen's kingdom in Montreux.
Since 2013, the Mercury Phoenix Trust, a foundation set up to support global HIV/AIDS initiatives, manages Freddie Mercury's recording studio in Montreux as a museum.
The eccentric costumes, handwritten song lyrics, original microphone, music instruments, and other Queen memorabilia are enriched by a replica of the sound studio where visitors can mix the band's hits to their liking. In a small cinema, excerpts from the "Queen – Days of our Lives" documentary are screened.
The entrance to the "Queen: The Studio Experience" is free, and the venue is open daily from 9 am till 9 pm.
4. Write a message on Queen Tribute Wall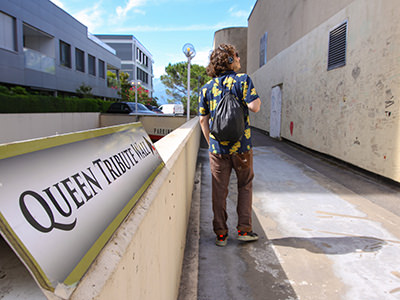 The eastern wall of the Casino Barrière Montreux, just where the original entrance to the Mountain Studios was, is a dedicated space for messages left by numerous Queen fans from all around the world.
It started spontaneously with writings on the studio door, then it spread to the surrounding walls, and finally was extended to the entire eastern facade of the casino, now known as the Queen Tribute Wall.
From messages of adoration to song lyrics, from dates and signatures to Instagram and TikTok handles, from dozens of hearts to more or less successful Freddie Mercury portraits, the range of expression of love and respect towards the late singer is as wide as the imagination allows.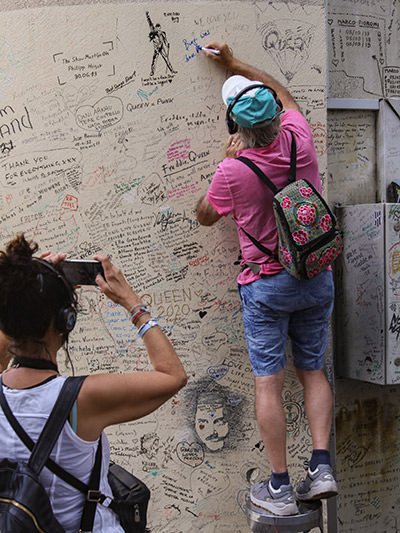 Graffiti has always been a temporary art form, with a limited life span. Naturally, old messages fade away under the rain. And anyway, who wants to live forever? An older fan was obviously quite upset with newer messages competing for space, and paradoxically, wrote over them: "Don't erase older fan messages, new f**king fans!"
When paying respect on Queen Tribute Wall, try to be respectful of people who did it before you too. Find an empty piece of the wall, and leave your mark. But if you come back in several years, and see it's gone, don't take it personally. It's just a wall after all!
5. Walk the Montreux Promenade by Lake Geneva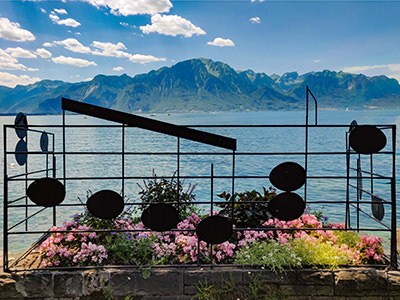 While in his early Montreux days Freddie Mercury experienced boredom and was more drawn to the party life of Munich for instance, later he came to appreciate the peace of Montreux Riviera.
He could walk on Montreux Promenade by Lake Geneva without fans pulling his sleeve, or paparazzi photographers lurking behind every corner. For a global superstar, this type of anonymity was quite a surprise. Freddie Mercury could finally reach his recording studio without taking a taxi.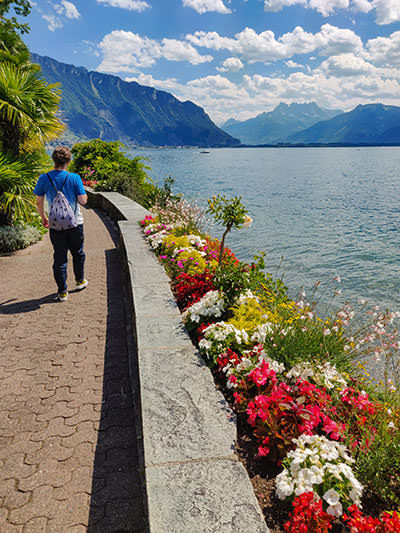 "If you want peace of mind, come to Montreux", Freddie said to Montserrat Caballé. It is not unusual that Freddie, overwhelmed by the illness, often chose to retreat to Switzerland. The place was lifting his spirit, and inspiring his creative genius.
Try to walk the lake's shoreline, and feel the elements that occupied Freddie's dreamy gaze in his final lyrics. Can you see "the gleaming red skies" and "the silky moon", "the seagulls flying over" and "the swans floating by"?
Montreux was indeed a sanctuary where, in a spinning world, Freddie Mercury could extract both inner and outer peace, as well as words that would be inspiring people for decades to come.
If walking by the water calms you down, visit the north of Switzerland too! Strolling down the Rheinpromenade is one of the best free things to do in Basel.
6. Spot Freddie Mercury's apartment in Montreux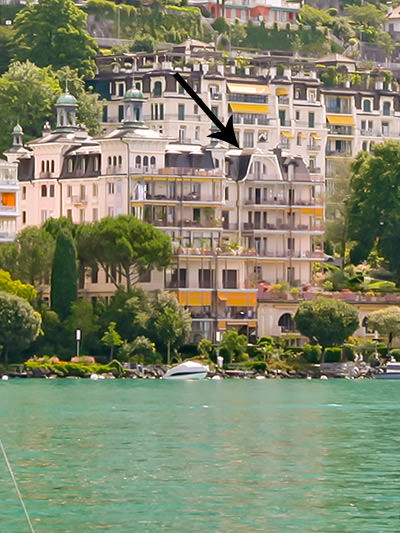 After spending resources on renting villas and hotels during his visits to Switzerland, in late 1989 Freddie Mercury decided to purchase an apartment in Montreux. He picked a penthouse in Belle Epoque building built at Quai des Fleurs promenade in 1900.
Queen's frontman moved into Les Tourelles residence together with his partner Jim Hutton and personal assistant Peter Freestone.
On the top floor of this waterfront building, they had 207 square meters of living space, with balconies providing unobstructed views of Lake Geneva and toothlike mountain Dents du Midi.
Sadly, the interior of Freddie Mercury's Montreux apartment is not open to visitors. In 2020, after a renovation, the loft was sold at an auction, for 2,5 million Swiss Francs. The lucky new owner is an entrepreneur from Geneva.
7. Choose your queen-size bed
Even if you cannot see the last Montreux home of Freddie Mercury, there are accommodation options where you can get closer to the star.
Duck House
The most famous place around is probably the Duck House villa in Clarens, just 3,5 kilometers from Montreux. Queen (and other bands) often stayed in this 4-bedroom lakeside property during their recording studio visits. Due to the large number of duck toys and souvenirs in the villa, the band referred to it as Duckingham Palace.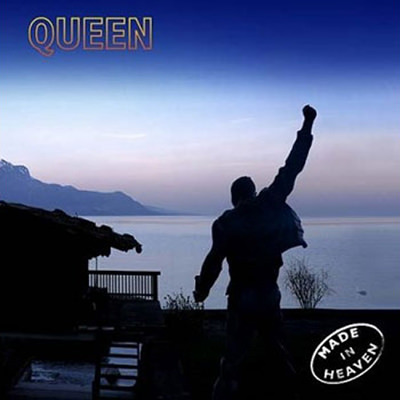 The Duck House is featured on Queen's last album "Made in Heaven" cover. But don't get confused by the silhouette of Freddie Mercury's statue. That one is actually located at Market Square, as mentioned before, and for the album cover photograph, a miniature replica was used.
Duck House is a 200-square-meter villa and can accommodate 7 people. You will have to cash out between 800 and 1.100 Euros per night, and the minimum stay is 3 nights. For more photographs of Villa Duck House and rental price for your preferred dates, click here.
Fairmont Le Montreux Palace
Fairmont Le Montreux Palace is another place where Queen loved to stay. The 1906 building in the heart of Montreux also offers great views of the lake and the Alps and comes with a large spa, garden, and outdoor swimming pool.
In Fairmont Le Montreux Palace, you can rent regular size rooms, but also larger suites, the Freddie Mercury suite on the seventh floor included. You can expect a separate living and dining area, as well as a bathroom with a jacuzzi.
Depending on the time of the year you are interested in, you could pay your suite anything between 900 and 2.300 Euros per night. Check the exact price for your dates here.
The Freddie Mercury Hotel
Another hotel in Montreux worth visiting is The Freddie Mercury Hotel. Constructed in 2018 on platform 1 of Montreux train station, this is obviously the hotel where Freddie Mercury never stayed, but it's heavily inspired by him. Five floors are all themed, and the third floor draws inspiration from cats, Freddie's favorite pets.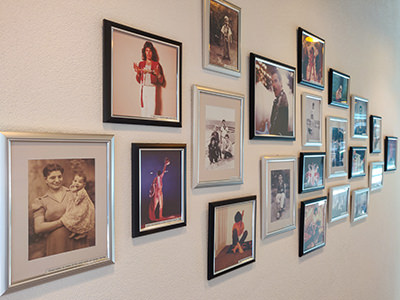 The hotel mainly focuses on hosting the students of the hotel management school, and only occasionally accepts guests. So don't get your hopes up! The last time the rooms were on the market, they were costing between 220 and 800 Euros.
However, there is still an exhibition that could raise your interest in popping by. The hotel displays 120 photographs from Freddie's private album, curated by Queen's manager Jim Beach (whom Freddie Mercury nicknamed Miami Beach).
If Freddie Mercury Hotel starts renting rooms to general public again, you will find it available on this link. Good luck!
Staying in Montreux is not reserved only for the rich and the famous. If you want to find more affordable accommodation options, check them out here!
8. Make a toast to Freddie
Freddie Mercury's favorite restaurant in Montreux exists no more. The Brasserie Bavaria was located close to the Mountain Studios and was serving authentic traditional German food that Freddie and the Queen loved.
Restaurant Le Pont de Brent might not be the same as in Freddie's time, but it still exists, and you can go and experience fine dining in the building where Queen's frontman loved to indulge.
As for Freddie Mercury's favorite bar in Montreux, the title could go to Funky Claude's Bar, formerly known as Harry's New York Bar, a part of Fairmont Le Montreux Palace. Supposedly, Queen loved to relax with drinks here during their recording times in Montreux.
Finally, if you want to make a toast with Freddie Mercury's favorite local wine, you should do it with Saint-Saphorin wine at Domaine Bovy. The best way to visit the tasting in Lavaux is with Freddie Tours, in the company of Peter Freestone who will intertwine many anecdotes between the sips. The Bovy family produces their wine for three generations, and Freddie was supposedly shipping many of their cases to his London home, the Garden Lodge.
9. Celebrate Freddie Mercury's birthday party
If you are a Queen fan and want to make the most of your time when visiting Montreux, try to do it during the Montreux Celebration, an event that is essentially a massive Freddie Mercury birthday party.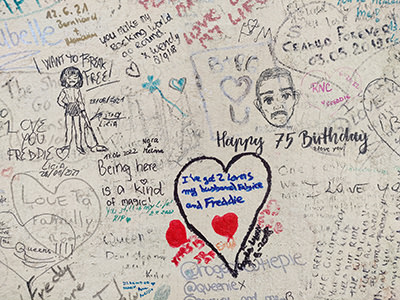 Also known as Freddie Celebration Days, Montreux's annual Freddie Mercury festival is centered around September 5th, the late singer's birthday. Every year since 2001, Queen's fans gather in Montreux to get seriously rocked.
You can expect loads of mostly free events and activities around the Covered Market, such as tribute bands' concerts, jam sessions, flashmobs, silent disco, and even Zumba fitness with Queen music! When you get tired of dancing, there are food trucks and bars to replenish your energy stocks.
At the same time, Montreux Casino hosts "the official Freddie Mercury Birthday Party" with their own live entertainment. As a ticketed event, it quickly sells out.
During the Freddie Mercury memorial days, Peter Freestone conducts boat tours of Montreux, as an additional way of seeing the Swiss town through the Queen lens.
Montreux Celebration 2022 is scheduled from the 2nd to the 5th of September.
View this post on Instagram
10. Don't leave without a Queen souvenir
Visiting Montreux of Freddie Mercury should not go without bringing a piece of memories home.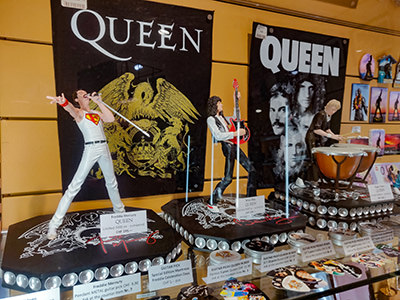 One of the best places to pick up some Queen souvenirs in Montreux is Bazar Suisse, the gift shop conveniently located on the main street (Grand' Rue), just above the Covered Market.
Among the cuckoo clocks, music boxes, Swiss army knives, and similar trinkets such stores typically offer, Bazar Suisse has an exclusive collection of Queen souvenirs on its shelves. From Freddie Mercury Montreux statue replicas and party masks to T-shirts, badges and postcards, there are products for any wallet.
Since 1975, Bazar Suisse is managed by Norbert Muller, the Queen's fan who launched both the Montreux Celebration and the idea of tours continued and modernized by his son Lucien.
The neighboring town of Vevey also had a famous citizen - Charlie Chaplin. These are the top 9 places all Chaplin's fans should visit in Vevey!
Freddie Mercury's Montreux – Conclusion
Switzerland was historically a favorite destination of the world's kings and queens. The last German emperor Wilhelm II, Empress Elizabeth of Austria, Astrid of Sweden, Queen Elizabeth, and Queen Victoria were just some royal names that were drawn to the landlocked country in the central European mountains. The Swiss loved their blue-blooded visitors.
But the crowned heads of the world's most precious rock thrones left a mark that went beyond politics. The British band Queen were among the most distinctive nobles attracted by Montreux Jazz Festival, but also the ones who decided to come back again, and again, and again.
And not only for the Montreux holidays! The town became an essential address of the band's business, as well as a retreat from global fame into a more bearable half-anonymity.
Today, it is almost impossible to make a list of Montreux attractions that would not include Freddie Mercury's name in some way
Freddie Mercury was not the only one who recognized how distancing from the screaming world could be healing. Just like him, pop stars such as Nina Simone and David Bowie also decided to move to the Montreux area, where one can find "peace of mind".
Capitalizing on Freddie Mercury – Montreux connection, the Swiss Riviera town became a legitimate pilgrimage site for all the fans of Queen's late frontman.
Today, it is almost impossible to make a list of Montreux attractions that would not include Freddie Mercury's name in some way. The footsteps of the legendary singer became precious leads, and his rest stops became almost sacralized places to visit, as unmissable things to do in Montreux.
"I long for peace before I die", sings Freddie Mercury in his last song. And it, the peace, was the strongest attraction point of Montreux, the lakeside town with "a truly magnificent view".
Do you plan to visit Montreux of Freddie Mercury?
Pin this guide for later!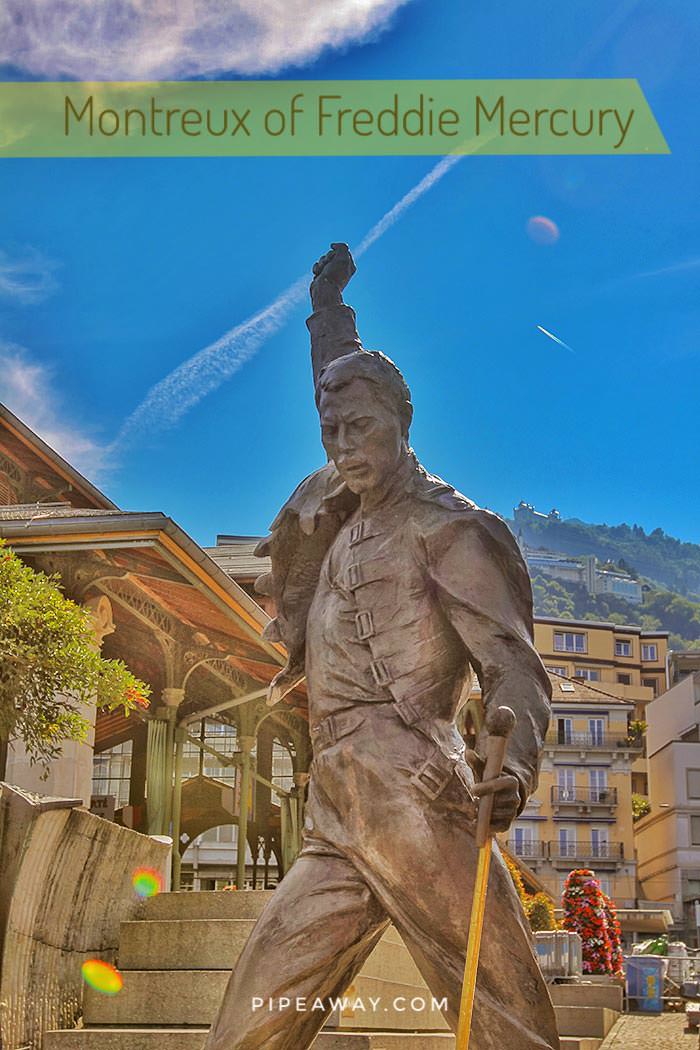 Disclosure: My participation in Freddie Mercury tour of Montreux was complimentary, but all opinions are my own.

Also, this post may contain affiliate links, which means if you click on them and make a purchase, Pipeaway might make a small commission, at no additional cost to you. Thank you for supporting our work!