Valentine's Day is always an occasion to celebrate that special someone who brings joy to your life. If he or she is travel-obsessed and loves the adventure almost as much as loving you, looking for a travel-inspired present for him/her is a logical way to go. But how does one find unique Valentine's gifts for travel lovers?
There are unique Valentine's Day gifts online that your travel-loving partner will recognize both as thoughtful, and useful
Of course, there is plenty of romantic things to do at home for Valentine's Day, but we cannot pull the lockdown card as an excuse for the simplicity of our thoughtfulness anymore.
On the other hand, not all of us are financially capable yet of planning a long-distance trip or showing our love by purchasing costly gifts, such as the Croatian heart-shaped island of Galešnjak that was recently offered on the market.
You don't have to go over the top, nor undermine your ambition in showing that you care. There are Valentine's Day gifts online that your travel-loving partner will recognize both as thoughtful, and useful.
This guide to unique travel gifts easily available on Amazon will help you in coming up with the most romantic Valentine's Day ideas for him and for her.
Also, while these gift ideas are technically separated according to gender identity, consider looking into the alternative section as well for finding the best unforgettable gift for your travel-loving Valentine (or even for yourself!).
Dear adventure-seekers, make February 14th extra special by exploring the world with these most unique Valentine's Day gifts for travel lovers!
If you don't have anyone to shower with Valentine's presents because you just ended your relationship, read about the best creative ways to deal with a breakup!
What is the best gift to give a traveler?
For those who love traveling, there are numerous unique and thoughtful gifts that can inspire their spark for exploring the world and actually be helpful during the exploration.
When deciding what to buy for your Valentine, you can start by brainstorming general ideas. World maps where one can pin favorite destinations, passport covers, luggage tags or sleep masks, and even a photo album filled with your travel memories, can all be great starting points for your reflection.
Some other Valentine's Day gift ideas could include a comforting plush toy, a luxurious travel pillow, a subscription to a travel magazine, or even camera or drone equipment for future documenting of your adventures.
Then again, a good Valentine's Day idea for one person can be just a bland present for someone else. Always try to choose a gift that would be meaningful to your partner, and make sure that it shows your interest in his or her passions and interests!
To help you in the challenge of picking the perfect present for your travel lover, we've curated this list of the most unique Valentine's Day gifts you can order online!
If you miss the Valentine's Day deadline, there are many more alternative holidays about love, so check them out! 
Unique Valentine's Day gifts for him and for her
11 unique Valentine's gifts for him
1. Whiskey decanter globe set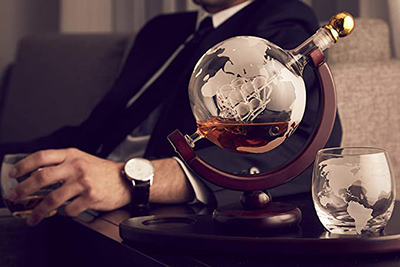 Price: $59,95 (original price $89,95)
With a half-century of experience in handcrafting giftware, Godinger is a trusted New York-based producer one can resort to for any special occasion.
This hand-blown lead-free whiskey decanter dispenser with an etched globe design and a model of an antique ship inside the bottle is a unique Valentine's gift for him.
It does come with two matching old-fashioned whiskey glasses in the same spirit (pun intended), so you would surely be able to join this elevated drinking experience.
The set is fitted onto a mahogany stained tray, and the bottle comes with a gold stopper as another elegant touch.
The 850-ml decanter could be used for any type of liquor of course, even for non-alcoholic beverages, if your beloved traveler prefers iced tea or juice.
Order the whiskey decanter here!
2. Beard bib apron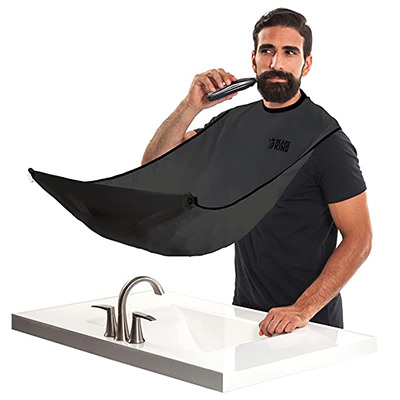 Price: $18,17 (original price $21,99)
In the last decade, the beard has come back to fashion with a bang, but maintaining a nice trim is not always easy, especially if Mr. Beardo doesn't clean up after himself.
Great for use both at home and on the road, the Beard King's beard bib apron will leave the sink, faucet, and everything around hairless. And let's be honest, if you had issues with clogged sink drains, this is a perfect gift for the gift-giver too!
As a matter of fact, this product was developed in 2014, by a couple whose issues with messy trimmings all over the bathroom were followed by a question: "Who's going to clean it up?"
With mirror suction cups and a neck collar, this beard-hair catcher has a simple set-up. The fabric is slick, static, and stick-free, which enables mess-free disposal after grooming.
This barber-shop quality product is one of the most unique Valentine's Day gifts you can find for him.
Order the beard bib apron here!
3. Electric heated vest
If your partner loves spending time outdoors, this heated down vest with a detachable hood will be of great use for extended stays outside in colder weather.
Venustas uses intelligent technology in designing long-lasting warmth for winter adventures. The lightweight puffer jacket is equipped with a battery that will warm your partner in an instant, and last three hours on the highest heating setting and up to nine hours on the lowest one. The vest battery also doubles as a smartphone charger.
Essentially covering two zones (mid-back, and front pocket area), besides the damage-proof carbon-fiber heating elements, the water-resistant puffer also has a light and soft white-duck-feather filling for excellent heat insulation.
Evenings by the bonfire or early-morning coffee-sipping by the lake will never be the same with this unique Valentine's Day gift that provides warmth in the coldest months.
Order the electric heated vest here!
4. Lunch backpack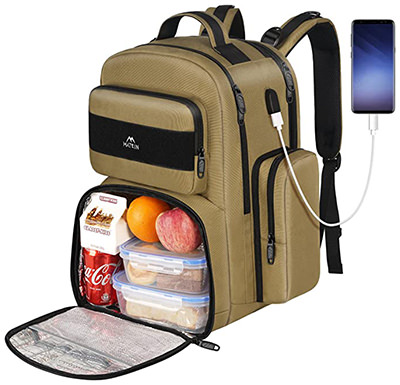 Price: $43,99 (original price $48,99)
Another gift that your travel-loving partner would love is certainly this lunch backpack by Matein, a company that inspires people to get out and live passionate lives.
First of all, this backpack has a lunch box compartment that will keep his food warm and drinks cold for up to four hours. There is even a practical space for tableware.
Secondly, the backpack has leak-proof insulation layer fabric and water-resistant polyester fabric, which is not only great for the meal, but also for a computer. It can easily fit a 17-inch laptop and a 15-inch iPad.
Besides the main pocket for everything one might need, there are also dedicated pockets for tissues, glasses, and cards, an anti-theft pocket, a key fob hook, USB charging port for a phone, an elastic belt for a bottle/umbrella, buckle belts for a picnic mat, as well as a luggage strap.
Obviously, one could use this multifunctional backpack for a variety of occasions, from regular school or business needs to full-on hiking adventures.
Order the lunch backpack here!
5. Self-cleaning bottle
There is too much plastic in this world to travel around with store-bought water bottles. Refillable metal bottles are a solution, but they very quickly hit the drinker back with odor developing inside, in hard-to-access areas.
This self-cleaning bottle by WAATR stops the unpleasant experience that could deter someone from going green. Every four hours, UV rays in the patented CrazyCap automatically activate, cleaning water of unwanted bacteria, mildew, mold, and other odors.
The powerful ultraviolet light works on the same wavelength as the UV that sanitizes operating rooms or water-treatment plants. In just one or two minutes, your partner will have pristine drinking water. And with the help of an optional intelligent hydration reminder, he will not forget to consume it.
The self-cleaning bottle has triple vacuum insulation, which keeps beverages hot for 12 hours or icy cold for 24 hours. This technology also makes the bottle indestructible, so it comes with a limited lifetime warranty.
Order the self-cleaning bottle here!
6. Handheld telescope
Your outdoorsman will love this monocular telescope by Roxant. The compact device enables seeing faraway things in high definition, no matter if it's bird or wildlife watching, target shooting, or enjoying an opera, or a sports game.
Premium optical glass with a military-grade objective lens guarantees superior light transmission and brightness, and crisp sights come in wide view (6×30).
The high-definition telescope is solidly built, compact, and durable. But it is also lightweight and has a no-slip comfort-molded grip, which makes it easy to hold still with one hand for long periods of time.
If you want to provide a closer and crystal-clear view of nature to your hiking enthusiast, the handheld telescope is a cool gear he will love.
Order the monocular telescope here!
7. Smartphone lenses
Provide new views to his smartphone camera with Xenvo pro lens kit! It works with both iPhones and Android, as well as with tablets and laptops.
The package includes a TruView 0.45x wide-angle lens which expands the field of view in every snapshot to 140 %. The shot will not get a vignette view; this premium optical glass leaves no dark corners.
For super close-up photos, there is Clarus 15x macro lens. It will magnify nearby subjects in a razor-crisp shot, with all intricate details.
This professional lens kit will also include GlowClip rechargeable LED light with adjustable warm brightness, which will provide more natural shots than the camera flash does.
Finally, the kit comes with the following add-ons: a lens clip with superior gripping power, a cleaning cloth, pro video tutorials, a travel case, and a quick-release lanyard (so he can carry the lens around his neck and easily attach it when needed).
Order the pro lens kit here!
8. Flashlight gloves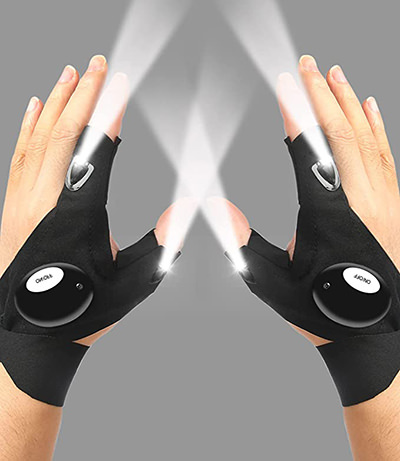 Price: $12,74 (original price $25,99)
Another cool gadget your travel-loving partner will be happy to receive as a Valentine's Day gift is these flashlight gloves by Moipejo.
Useful in situations such as erecting a tent by night, catching a fish in the twilight, or even repairing a broken car, these gloves enable a brighter environment while freeing up hands for action. No more holding a flashlight with teeth!
LED-light-powered gloves are made of waterproof and comfortable material. The breathable and soft fabric is lightweight and skin-friendly. Elastic velcro strap makes them adjustable to most hand sizes.
Flashlight gloves are promoted as a product one never knew one needed, until getting them.
Order the flashlight gloves here!
9. Language translator device
For your travel-loving partner, this language translator device can be a very useful Valentine's Day gift. Pocketalk can translate conversations anywhere where there is an internet signal.
This real-time translating device comes with a built-in two-year data plan (no wifi needed!) which allows confident communication in 133 countries. The two-way voice translator operates in 82 languages so that your partner would never feel lost in a foreign place.
The user speaks in the native language, and the device handles up to 30 seconds of speaking per translation. It has powerful dual speakers and noise-canceling dual microphones, so it should be able to pick up conversations even in a noisy environment. The large touch-screen offers a speech-to-text display.
Pocketalk is small enough to fit in a pocket but also powerful enough to provide seven hours of usage or up to ten days in sleep mode.
Order the portable language translator here!
10. Sonic toothbrush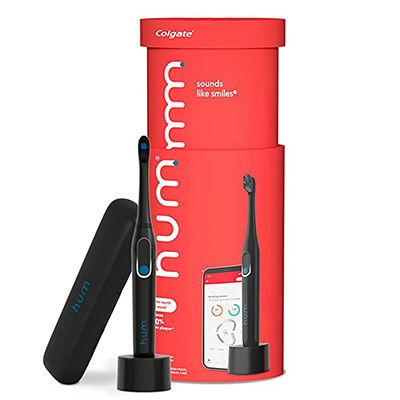 Price: $69,97 (original price $79,99)
This is hum by Colgate, a smart rechargeable battery-powered toothbrush kit that will make oral hygiene on the road as easy as it gets.
It creates up to 30 thousand powerful sonic vibrations per minute, and one can choose normal, sensitive, or deep-clean mode. Fully charged, it can serve up to 10 days.
The sonic toothbrush comes with a practical carrying case, which makes it a great travel companion for your lover's everyday needs.
It's called a smart toothbrush as it connects to the phone app by Bluetooth, tracking frequency, duration, and coverage of brushing style, guiding the user to better target spots that require more love. To help with brushing habits, the hum has a 2-minute built-in timer that pulses every 30 seconds.
In the app, proper brushing leads to points, and those translate to rewards.
Order the healthy smile for your lover here!
11. Portable pull-up bar
Traveling doesn't mean your partner is entitled to skip workouts. Eleviia, the portable pull-up bar by Duonamic, weighing just 1,6 kilos, is a practical exercise equipment for staying fit during travels. It can even be taken in carry-on luggage.
The device mounts on any doorframe, and the installation takes just 7,92 seconds. Yes, they've been extremely precise in timing this simple setup!
Don't be discouraged by the light weight of this doorway pull-up bar; the aerospace composite materials (high-grade nylon and fiberglass) give it impressive strength and stiffness, and special spiral-spring clamps produce no damage on the doorway. The bar can endure a lifetime of exercise.
The sturdy construction supports a maximum weight of 250 pounds (114 kilograms), which means most users interested in doing pull-ups can benefit from it.
Order the portable pull-up bar here!
Do you even know who was Valentine, the saint? Learn more about him, as well as where to find St. Valentine's skull in Rome!
11 unique Valentine's gifts for her
1. Card-holder wallet
Love is usually priceless, but this card-holder wallet from the Auner Leather collection is a relatively affordable product for storing funds for all those things money CAN buy.
The cardholder is made of premium leather, soft to the touch, and it's quilted with a shape of a heart, as your Valentine deserves it.
The wallet incorporates RFID-blocking technology to obstruct identity theft, keep her data safe, and protect credit cards against unnoticed scans.
There are four card slots in this minimalist wallet, as well as a central pocket for paper money, making it just enough for daily use.
To answer a variety of tastes, there is a multitude of wallet colors to choose from.
Order the cardholder here!
2. Laptop backpack
This laptop backpack even has a romantic name – Lovevook. It has an impressive number of 22 pockets and pouches, and if you know anything about female purses, that's a benefit!
From padded laptop and iPad compartment, pencil and bottle holders, to napkin and anti-theft pockets, she will have plenty of space to organize her belongings.
Additionally, the backpack comes with an extra pouch bag that can be used as a travel, cosmetics, or electronics organizer.
Lovevook backpack conveniently has a USB charging port, so her phone can easily be charged on the go.
Sturdy and made of quality materials, with magnetic snaps, double zippers, and reinforced sewing, this laptop backpack can accompany your travel lover over many kilometers. With cushioned straps for shoulders and a luggage strap to combine with a rolling suitcase, she won't even notice it's there.
Pick her favorite color and order the laptop backpack here!
3. Travel journal
Another good Valentine's Day gift idea for her is a high-quality notebook. This particular travel journal by CARVEx is made of sturdy and thick genuine leather and has an embossed heart cover.
If your lover likes spending time journaling, drawing, or sketching, this cute notebook will give her 240 pages of space to express herself.
The paper inside this lovely journal is high-quality premium (140 GSM), which makes it ideal for fountain pens or heavy pencils, without bleed-through.
The classic flap-over design with stitched coptic binding and the unique locking mechanism of the brass metal key latch, give it an elegant antique feel.
The vintage-looking journal is of a perfect size to fit inside most purses, totes, or backpacks, so it is truly travel-friendly.
Order the travel journal here!
4. World-map necklace
This pendant necklace by ChicSilver would be a romantic way to express that your beloved travel lover means the world to you on Valentine's Day.
Made out of 18k gold-plated sterling silver, by a famous jewelry company known for minimalist and timeless pieces, the necklace with a world-map pendant would be a stylish accessory to her outfits.
All necklaces by this company are made of hypoallergenic materials, which means they have passed strict tests as nickel-free and allergy-free, and that they are safe for even the most sensitive skin.
If you cannot take her on a trip around the world, you can still bring the world around her neck, which will certainly be appreciated by a travel-obsessed Valentine.
Order the world-map pendant necklace here!
5. Travel jewelry case box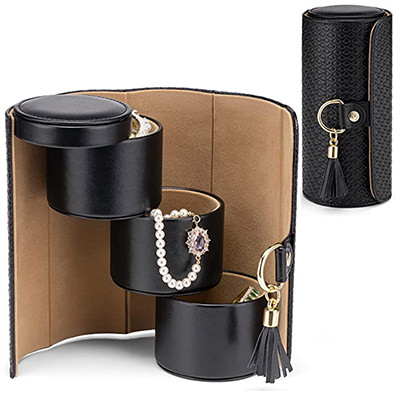 Price: $20,99 (original price $21,99)
Now that she has a piece of Valentine's jewelry, she would need a jewelry case box for her trips too. This travel roll bag by Vlando is practical storage for her trinkets; it has three compartments, and it rolls up and closes with a snap button.
Abrasion-resistant and designed to prevent scratches, the PU leather gives a hard shell, while comfortable flocking inside provides gentle protection for the jewelry.
There's no more mess or fear of lost items on a trip; necklaces, bracelets, watches, hair grips, earrings, rings, brooches, as well as other equally precious small objects such as keys, USB sticks, or headphones can be nicely organized in this travel jewelry case box.
Viaggio travel jewelry box comes in fashionable colors such as khaki grey, tranquil blue, periwinkle purple, or classic black.
Order the jewelry box of your choice here!
6. Make-up mini fridge
This small cosmetics refrigerator by Aidek is a perfect little gadget to take on the road. Just because you are going camping in the mountains, it doesn't mean she has to give up on beauty treatments. Just throw this compact and portable make-up fridge in the car, and you are ready to go!
The fashionable mini fridge will provide perfect storage for cosmetics, but also fruit snacks, drinks, or infant breast milk. It can keep its contents cold or warm, as you wish, between 5 and 67 degrees Celsius.
The shelves in the fridge are adjustable and removable, specially designed with ladies' cosmetics in mind. The four-liter capacity easily stores 6 cans or 35 facial masks.
Add to this a sleek faux leather handle, non-slip mats, and a quiet cooling fan, and you get a truly transportable refrigerator that fits well in both the car and the house.
Order the make-up mini fridge here!
7. Travel massage balls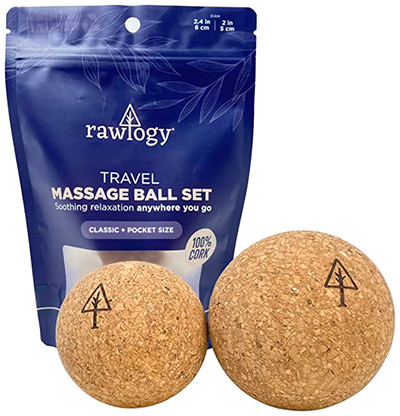 Price: $23,97 (original price $27)
Everyday life but also traveling can cause a lot of stress. If you want to surprise your travel lover with a unique Valentine's Day gift, this set of travel massage balls by Rawlogy could bring a smile to her face!
The two balls (one classic, the other pocket-size) are practical massagers on the go and can be used instead of a bulky muscle roller to get deep into tight tissue, release muscle tension, stretch fascia or bust up a knot.
Your partner can look forward to soothing relaxation in the entire body, from shoulders, neck, and back, to hips, glutes, and legs. And all of that through the process of self-massage, which will save money spent on expensive therapists.
These portable self-care tools are made of cork, and they are sustainable Valentine's Day gifts that protect the world's cork forests by upcycling.
Order the eco-conscious cork massage balls here!
8. Travel yoga mat
Another useful Valentine's Day gift for your wanderlust seeker could be a piece of practical workout equipment she could travel with. Help her practice her daily fitness and exercise routines on this folding travel yoga mat by Gaiam!
It doesn't matter if she is doing yoga, pilates, or any other type of floor workout, this 2-millimeter-thick non-toxic PVC mat with sticky no-slip texture would be a stable exercise ground.
As it is lightweight, compact, and folds up nicely, this travel yoga mat saves loads of space in comparison to the traditional rolled mat. Your partner can easily fit it in a carry-on bag, and bring it to any weekend getaway or an extended retreat.
The mat comes with free online yoga classes, so that's another plus on your Valentine's shopping list.
Order the travel yoga mat here!
9. Water bottle with snack compartment
Now, this is an ingenious solution for hiking enthusiasts: a drink & snack cup combo by FLPSDE. The stainless steel water bottle doubles as a snack container!
While your darling explores nature, the insulated FLPSDE bottle will be keeping her drink cold or warm for hours. If she gets hungry, all she needs to do is to flip the bottle and open the secret compartment with her favorite snacks.
The convenient all-in-one travel bottle is rust-proof and sweat-proof, and its plastic components are leak-proof and BPA-free. With a silicone grip, it is easy to handle, and even easier to disassemble for washing in the dishwasher.
The patented design of dual chambers will bring additional freedom to your partner's outdoor adventure, letting her fully embrace the on-the-go lifestyle.
Order the water bottle/snack dispenser here!
10. Pixel-art Bluetooth speaker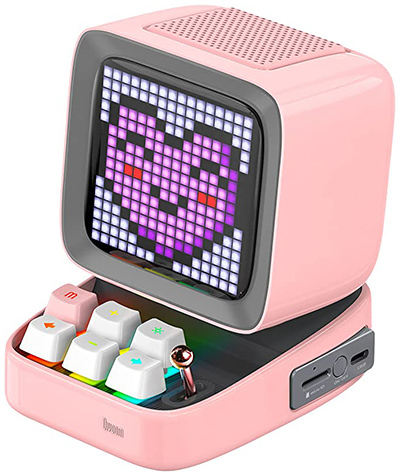 Price: $99,90 (original price $129,99)
From Divoom, the company that produced the first pixel-art speaker, here comes one of the most unique Valentine's Day gifts that you can get for her. Ditoo is a retro pixel art game Bluetooth speaker that has a 16×16 LED app-controlled front screen.
Yes, it's a fun portable gadget that doesn't only provide intense, powerful, 360° surround sound with super bass and 10 hours of playback time.
It will also give a platform for expression through pixel art creation which will kill hours of boredom. Best of all, the speaker and the pixel art will play and dance to the equalizer!
Besides just streaming her Spotify music, your partner will be able to discover a whole little world in this tiny gadget. It will serve her as a smart alarm/clock, provide white noise for better sleeping and working, notify her about social media or her calendar, inform about the weather and temperature, and amuse her as a fun game console or voice morpher!
This multifunctional entertainment center comes in a shape of a kawaii retro computer, with a mechanical keyboard, and a joystick reminiscent of an old-school arcade.
Order the vintage pixel-art Bluetooth speaker here!
11. The world's most romantic destinations
As your last resort in finding perfectly unique Valentine's Day gifts for your girlfriend, we have left a book.
If you think she wouldn't be into "Spare" (Prince Harry's mega-popular account of romantic troubles in the royal palace, which she can actually listen to as an audiobook for free here), National Geographic's "The World's Most Romantic Destinations" will certainly spark her interest in dreamy holidays.
The book presents 50 gloriously enchanting places that will inspire her to plan a wedding, honeymoon, anniversary, or just a laid-back trip for your next Valentine's Day!
Full of practical tips on where to go, what to do, what to see, and where to eat, this hardcover guide is a bible of top-secret romantic spots across six continents, from Bhutan to Sweden, from Mozambique to Costa Rica.
Once you decide on the destination, make sure to save money by using the best available travel resources around (flights and hotels included).
Order the book of romantic destinations here!
The most unique Valentine's Day gifts for travel lovers – Conclusion
Even when we know our partner down to the core, it's not always easy to come up with the most romantic Valentine's Day ideas for your significant Him or Her.
Whether you opt for quirky and alternative, or more mainstream Valentine's Day gifts, remember that the most important part is – wrapping them in love
Of course, when it comes to spending time together, through making dinner, embracing laughter, enjoying a walk, or a movie, nothing beats the pricelessness of shared experience. If you can go on a trip, even better!
But when it comes to showing tokens of our love, last-minute gift-hunting in shops can be an exhausting and not really fulfilling task. Luckily, we can order Valentine's gifts online!
If your lover adores traveling, you have come to the perfect place to source ideas. Hopefully, you can find some good Valentine's gifts for guys and gals in this Amazon guide, presents that will transform into long-lasting memories.
Whether you opt for quirky and alternative, or more mainstream Valentine's Day gifts, remember that the most important part is – wrapping them in love.
There is no more unique Valentine's Day gift for your significant other than spending precious time with the best gift he/she has already chosen by himself/herself: you.
Did you like this Amazon guide through the most unique Valentine's Day gifts for travel lovers?
Pin it for later!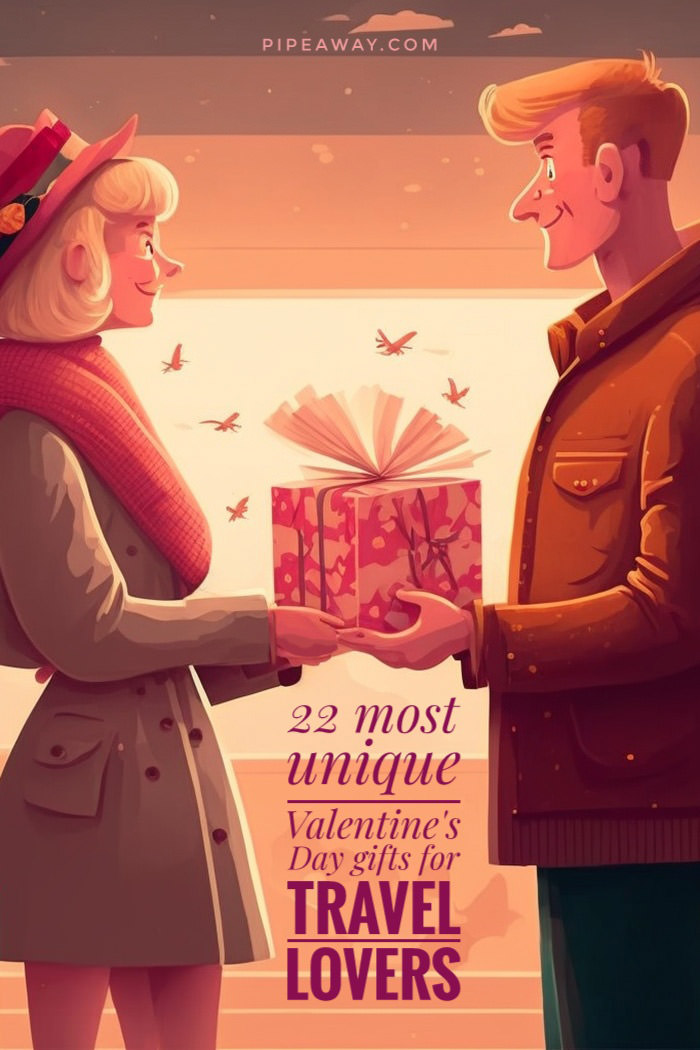 Disclosure: This post contains affiliate links, which means if you click on them and make a purchase, Pipeaway might make a small commission, at no additional cost to you. Thank you for supporting our work!