As soon as the World Health Organization declared the end of the global health emergency for COVID-19, the world started packing. Three years of lackluster tourist numbers are being replaced with overtourism problems storming in. Overcrowded destinations are already bursting at the seams, and many are losing their head as they attempt to combat the negative effects of overtourism. Their solution is new rules for tourists.
In a desperate attempt to restore order, destinations affected by overtourism resorted to new rules for tourists, sometimes sensible, often bizarre
Interest in global travel is understandable. People have been constrained for so long that the end of the pandemic was perceived as a firing of a starting pistol. Travelers want to exploit the suddenly opened window of opportunity to the maximum. They decided to put their dream travel plans into action, in what we could explain as post-pandemic bucket list traveling.  
The first victims of this tourism tsunami are the destinations that were already popular enough to skip the promotional campaigns. They have quickly learned that the influx of tourists is not all sunshine and happiness. It comes with overcrowded streets, beaches that resemble sardine cans, strained infrastructure, environmental degradation, skyrocketing prices, and erosion of local culture.
The global overtourism crisis is here. In a desperate attempt to restore order, destinations resorted to implementing sometimes quirky measures. Can the problem be solved with the new rules for the game?
Disrupting order on the way to your destination is not advisable either. There have been instances when unruly passengers on planes had to pay up to $82,000!
Overtourism nightmare unleashed
To tackle overtourism effects, some destinations decided to introduce or increase tourist taxes, charge day trippers, ban cruise ship dockings and limit visitor numbers in general. From Machu Picchu to Venice, from South Tyrol to Lanzarote, the story remains the same: tourist numbers are too high. And it's driving everyone crazy.
The overtourism sneaked into even the most unlikely of places. The trend of ticking Antarctica off of travelers' bucket lists will soon see real traffic jams of cruise ships on the White Continent. Penguins never had to learn to fly, but maybe it's time to evolve?
Aggressive tourism in Africa already has safari vehicles affecting wildlife, by changing their behavior, reproduction, migrations, or even literally taking animals' lives by running over them. In a real-life episode of "The Survivor", the non-ethical camera chase for the Big Five is especially dire at Masai Mara National Reserve in Kenya. 
Hawaii also witnessed the disconcerting environmental impact of overtourism, with often social-media-fame-hungry visitors hiking forbidden trails, damaging fragile coral reefs, and harassing the endangered Hawaiian monk seals, dolphins, and turtles. Suffocated with unfunctional daily life, water restrictions, pollution, and other delightful side effects of the "touristic success", one of the most popular destinations in the world today practically begs tourists not to come. 
New regulation to combat overtourism effects
Overtourism clearly comes with issues both in the quantity and quality of tourists. To combat unwelcome behavior, and hopefully promote responsible travel, the most affected tourist destinations unleashed a whirlwind of sometimes unconventional new rules for tourists. 
If you're planning a vacation in any of the following locations, you should be aware that it will come with peculiar regulations that challenge traditional notions of travel. From sensible to downright bizarre, these are the rules to (try to) enjoy this summer by!
Some public organizations believe they can achieve better tourist behavior without preaching. Check out how they use humor as safety marketing tool!
The most peculiar new rules for tourists
Dubrovnik (Croatia): No more rolling luggage
Step aside, fancy wheeled suitcases! Dubrovnik, the picturesque Croatian town famous for its medieval walls, orange rooftops, and "Game of Thrones" filming sites, decided to introduce the ban on rolling luggage. 
That's right, if you want to stay in the Old Town, the residents don't want to hear your loud luggage passing through narrow cobblestone streets. From now on, everyone has to become a backpacker! Put those Instagrammable beach muscles to use, and carry your stuff, because, well, the floor is lava.
The introduction of this authentic medieval experience for modern travelers coincided with the revelation that Dubrovnik ranks as the European city most overloaded with tourists. In a timeframe of a year, on one local there are 36 tourists visiting the town, which almost doubles the second-place data in the Holidu table, shared by Venice, Bruges, and Rhodes.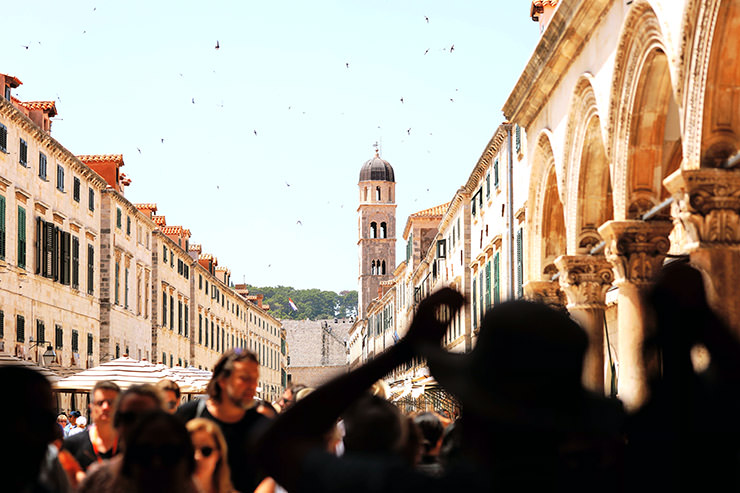 Dubrovnik was experiencing overcrowding even before the pandemic, so much so that UNESCO threatened to take the city's title of World Heritage site if it doesn't put the situation under control. 
Even with counting the tourist hordes entering the town, and limiting cruise ships, the decrease in the quality of life for locals didn't stop. Issues with waste management, water supply, and traffic are ongoing. 
Besides performing an exorcism on noisy suitcases, Dubrovnik has unleashed a whole arsenal of regulations to restore order in its streets. If you walk in the city center, you have to be appropriately dressed (no swimwear or revealing clothes), and if you bring a pet, make sure it has a trained bladder. You see, dogs are not allowed to pee, and you have to keep them on a leash at all times. Riding bicycles and electric scooters, consuming food and drinks next to cultural monuments, as well as discarding cigarette butts is forbidden from now on. 
To ensure everyone gets the memo, Dubrovnik produced an educational animated video "Respect the City". New rules of conduct are already being promoted on cruise ships and planes flying into town.
Split (Croatia): No more sleeping in public
Still in Dalmatia, but north of Dubrovnik, there's another popular tourist destination – Split. The second-largest Croatian city also decided to welcome unruly guests with new rules. Everyone who dares to cross the line of proper tourist behavior will be rewarded with a fine. 
Split's new rules for tourists cover the entire digestion process. For instance, if you engage in anything from consuming food and drinks to defecating in public areas, you'll find yourself in deep… Financial trouble. Say goodbye to that pizza slice on the park bench and a leisurely sip of your favorite beverage at the seafront, unless you're prepared to say goodbye to 300 euros too. 
The city is less strict towards the guests that vomit in public, as this act has a slightly more digestible price tag of 150 euros. So Ultra Europe attendees, beware! If someone approaches you while you're throwing up that booze overload, and asks 'Are you feeling fine?', they might be just mean fine-enforcers.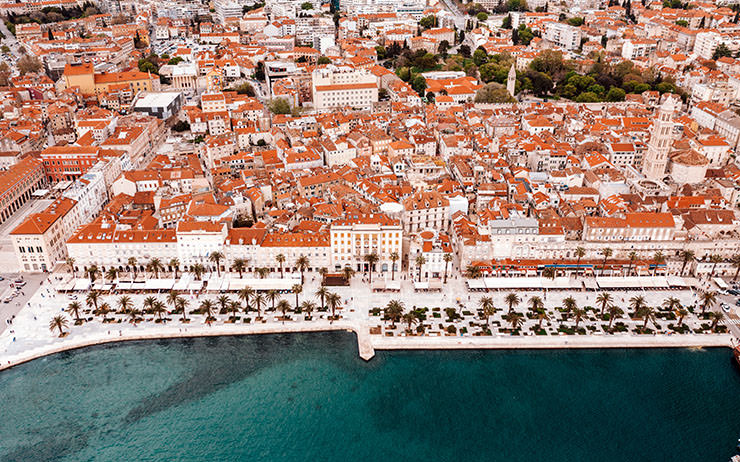 There are more behaviors in Split's rulebook that could get you in trouble. The list of prohibited things to do includes: walking shirtless or in bikini in historic center, walking a dog without a leash, napping in parks, squares, and other public areas, staying in restaurants after working hours, climbing monuments, bathing in fountains, and taking a taxi that is not prearranged.
The entire set of rules aims to defend public order, safety, peace, and morals. To execute the ambitious plan, Split employed a vigilant battalion of security guards that will assist police patrols in the wee hours of the night.     
If you're looking for a European town where you are allowed to kill the summer heat by bathing in a fountain, head to 

Basel

! On the other hand, if you cannot imagine a vacation without a midday siesta in the park, choose 

Spain

!
Amsterdam (Netherlands): No more smoking cannabis
Hold on to your rolling papers, because Amsterdam is turning over a new leaf! But okay, no need just yet to cancel your trip which was anyway motivated by the city's incredible museums, right? 
Jokes aside, the city does have a great cultural offer, often overlooked by 18 million annual visitors attracted by the idea of partying in the canalside pot haven. And that seemed to have gotten out of control, with excessive substance abuse and increased crime rates.
To oppose the drug-fueled Disneyland branding, the capital of the Netherlands has now introduced a ban on smoking cannabis in public, but only in De Wallen, better known as the Red Light District.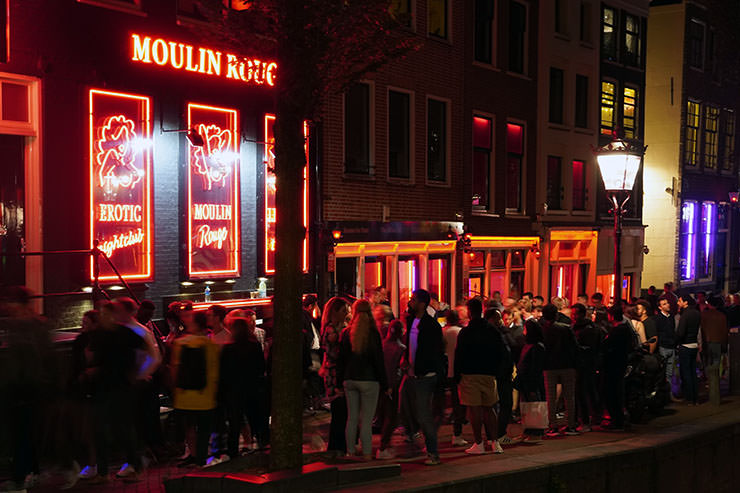 Led by the mayor Femke Halsema, the first lady to hold the esteemed position, Amsterdam wants to put an end to its chlichéd image of sex&drugs mecca. To protect the sex workers and residents from the wild behavior of the party crowds, it came up with certain restrictions. 
Smoking marijuana and drinking is currently forbidden in public spaces. If you disobey the rule, prepare to cough up a fine of 100 euros. Weekend sale of alcohol in shops has gone up in smoke too. Window brothels are not working the whole night either, with neon lights off at 3 am, signaling lullaby time for all.
Actually, if you didn't enter the old city district before 1 am, you won't be able to do it afterward. But then again, you already knew that even the longest-working Amsterdam museums close at 10 pm, right?
Balearic Islands (Spain): No more excessive drinking
If you were hoping to get wasted on Mallorca or Ibiza like there's no mañana, well, think again. Pre-pandemic party time is over, as the Balearic Islands decided to crackdown on booze tourism that comes with unacceptable disorderly behavior.
First of all, unlicensed parties are forbidden. But any event that could be classified as loud and unruly could bring financial hangover to both organizer and attendees. 
You can say adiós to happy hours, pub crawls, and floating fiestas on party boats. Those notoriously wild nights are now a thing of the past.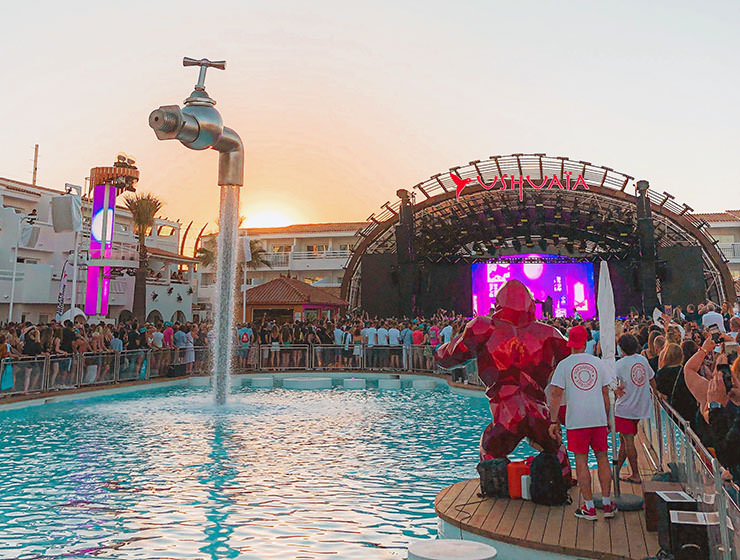 At (not so) all-inclusive resorts and restaurants, there is now a drink quota. You are allowed to order only six alcoholic drinks per day. That's three for lunch and three for dinner. 
If you hope to compensate with a late-night shopping spree, you should know that stores also have a curfew, pulling down their shutters on alcohol sales at 9:30 pm.
Another novelty is a fashion police at restaurants. Many now enforce a strict dress code, banning casual streetwear, football jerseys, and those scandalous strapless vests. Also, remember a swimsuit (which is not really a suit) should only be worn on the beach.
Speaking of beaches, just like Barcelona did, the Balearics have introduced a smoking ban on their sandy shores, hoping to downsize littering and increase public health.
Alicante (Spain): No more loud talking
'We'll just stay on the mainland's coastline', you try to outwit now noise-allergic Balearic Islands. But not far away, in Alicante, you could find an even stricter response to your unwanted decibels.
The coastal Spanish town decided to tackle noise pollution with fines ranging from 600 to 30,000 euros. Well, that's a solid motivation to keep quiet.
New rules for tourists that could endanger the peaceful life of locals regulate almost every sound one could possibly make.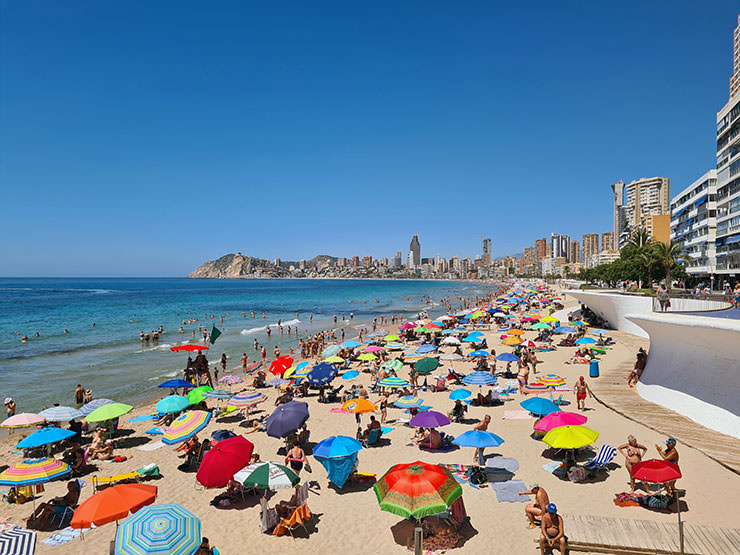 The Ordinance for Protection Against Acoustic Pollution and Vibrations restricts open-air concerts, forbids playing music on the beach, and even prosecutes excessive noise from air-conditioning units or loud talking in your apartment. 
As for local bars, it seems the idea was to make the clinking of glasses the loudest sound one could hear. There are even fines for dragging chairs on the floor! Speakers and TV screens cannot be installed in the open-air or inside premises for outside use. That practically tames any bar that would try to outsmart the ban on public football watching on bar terrace TVs.   
Some of the rules in this Spanish town are literally unheard of, as if they were written by some truly cranky neighbor. But that's the price you'll have to pay if you want to discover it. Just remember to keep your voice down and your music on mute while you tiptoe through the enchanting streets of Alicante, the town that takes its silence seriously.
Bali (Indonesia) – No more hiking in the mountains
The most famous Indonesian island, whose GDP highly relies on tourism, is not happy with the profile of incoming guests. Many of them perceive Bali as a cheap place to party which then easily gets in conflict with the actual conservative profile of the island.
Tourists will now be welcomed with handy "do and don't" cards as a crash course in cultural sensitivity on the island of gods. Because gods are not amused.
Numerous incidents in past years that offended local morals are now changing rules for everyone coming to Bali. Some of the measures sound excessive, but who could blame them after dozens of misbehaving tourists engaged in disrespectful acts just for the sake of dubiously rewarding social media attention?
The worst aspects of overtourism are immortalized in Bali's Hall of Shame. These are the most recent laureates: 
In April 2022, Canadian actor and self-proclaimed wellness guru

Jeffrey Craigen

 filmed his naked Haka ritual on 

Mount Bator

 that's considered sacred. He managed to offend both Māori and Balinese people with his sad faked ceremony.

In March 2023, Russian somebody

Yuri Chilikin

 climbed the sacred 

Mount Agung

 and hit rock bottom on the top. He pulled his shorts down and mooned the revered peaks, for Instagram. 

In May 2022, Russian yoga Instagrammer

Alina Fazleeva

 posed naked at the 

Babakan Temple

 in 

Tabanan

, leaning on a 700-year-old banyan tree that's considered sacred. 

In April 2023, another Russian star-wannabe and copycat

Luiza Kosykh

 performed a similar nude/rude attack at the same temple tree.
Even if these cases always end up with arrest-apology-deportation, they show that tourists hardly learn lessons. The trend of disrespecting continued in May 2023, with a naked German tourist storming an Ubud temple dance performance, and a Danish tourist exposing her genitals on a motorbike (driving without a helmet and license is also a well-recorded phenomenon).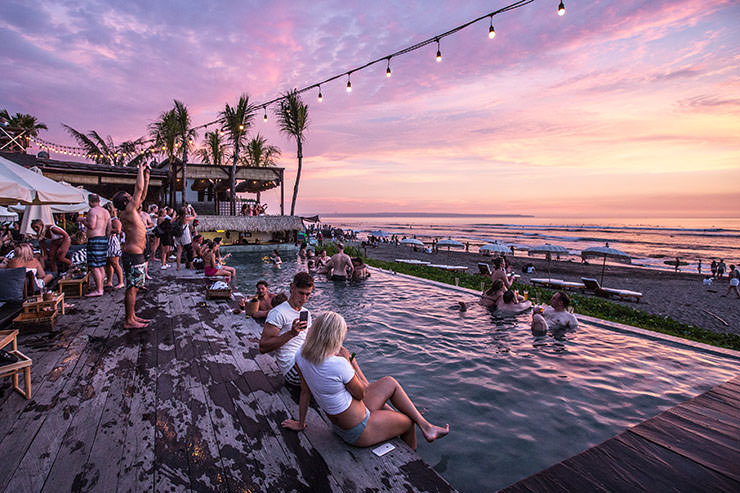 Thank all these people for the new set of rules for tourists in Bali! From now on:
It is forbidden to visit 

mountains and volcanoes

. 

Travelers cannot access 

holy spaces in temples

 except for praying. While doing that, they have to wear 

traditional costumes

, and women must not have their 

period

. 

Touching or climbing 

sacred trees

 is not permitted, they've seen enough. 

Visitors can stay only at 

registered accommodations 

(no more visiting friends and family, or 

couchsurfing

). 

One can ride a scooter only with a valid international 

driver's license

.
Be relieved that Bali governer Wayan Koster's proposals to completely ban tourists from using motorbikes, or to require registering trips to Bali a year in advance, have not been accepted. 
Portofino (Italy) & Hallstatt (Austria): No more selfies
Some small villages got tired of being treated like just backdrops for perishable Instagram stories. They decided to put a stop to obsessive selfie-stick tourism that blocks their everyday life.
Portofino, a colorful fishing village with merely 500 souls, introduced no-waiting zones for thousands of selfie-loving visitors to this part of the Italian Riviera. After experiencing massive traffic jams because of tourists clogging the streets only to get that perfect shot (because there are only two golden hours in a day), they figured that enough is enough. 
There's no more camping for selfies, as lingering at most photogenic hotspots is now forbidden. If you're caught spending too much time in these zones, you could find yourself slapped with a fine of 275 euros.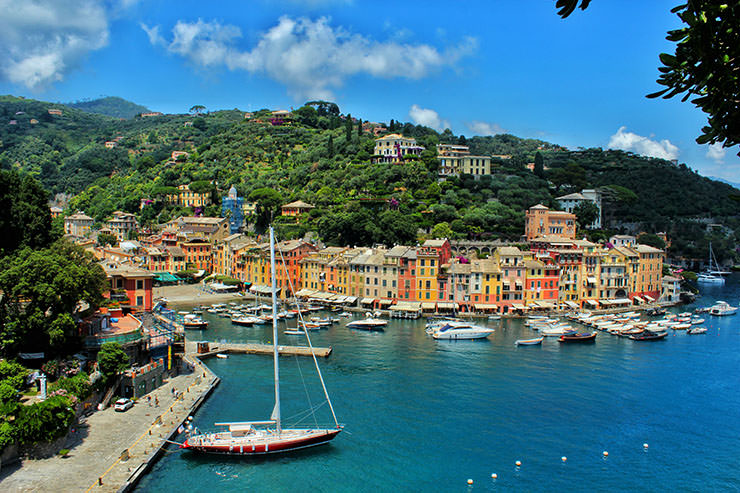 Hallstatt in Austria, supposedly an inspiration for Disney's "Frozen", was fed up with freezing their normal life just for the sake of noisy visitors on an ego trip. While not introducing fines like Portofino, the mayor of this enchanting village tried to destimulate loitering tourists by erecting a wooden fence at the most scenic spot, hoping it would stop the selfie craze. 
The village with less than 800 citizens sometimes receives 10,000 visitors a day, and while the fence was a desperate call to be left alone, it has since been removed due to social media backlash. Because nothing unites people more than a selfie ban.   
Selfie-centered tourism is a global phenomenon, with millions invading destinations only to create memories relying on pixels and likes. In the upcoming years, we will certainly be seeing more destinations fighting back.
New rules for tourists in the overtourism era – Conclusion
Post-pandemic travel era is marked by adventurers wanting to make up for lost time. While destinations are looking forward to financially recovering from lost-income years, overtourism problems are storming in like an overenthusiastic tourist in a buffet line.  
The decision to fight the downsides of overtourism is bringing a summer filled with rulebook acrobatics. Some of these revolutionary regulations sound sensible, others may be wacky, but all of them hope to find a harmonious coexistence between travelers and the places they explore.
Can overtourism be tamed with new rules for tourists, or is it just a quirky band-aid?
We have witnessed a wide range of rules, from the ban on rolling suitcases to the crackdown on excessive drinking, from the prohibition of climbing mountains to the hushing of loud talkers. These measures, at times controversial and seemingly extreme, reflect the cry for help by destinations pushed to their limits by travel frenzy. 
When tourists are going bonkers, places trying to protect their identity and heritage could be understood for sometimes equally crazy backlash. Don't they say that desperate times call for desperate measures?
But can overtourism be tamed? Nobody likes overregulation, certainly not people on holidays, typically looking for a break from their extremely regulated lives. 
It is yet to see how effective these new rules for tourists will be, and how long can they survive. Are they a magical cure for the disease, or just a quirky band-aid?
What do you think about the new rules for tourists in the era of overtourism?
Leave your comments below, and pin this article for later!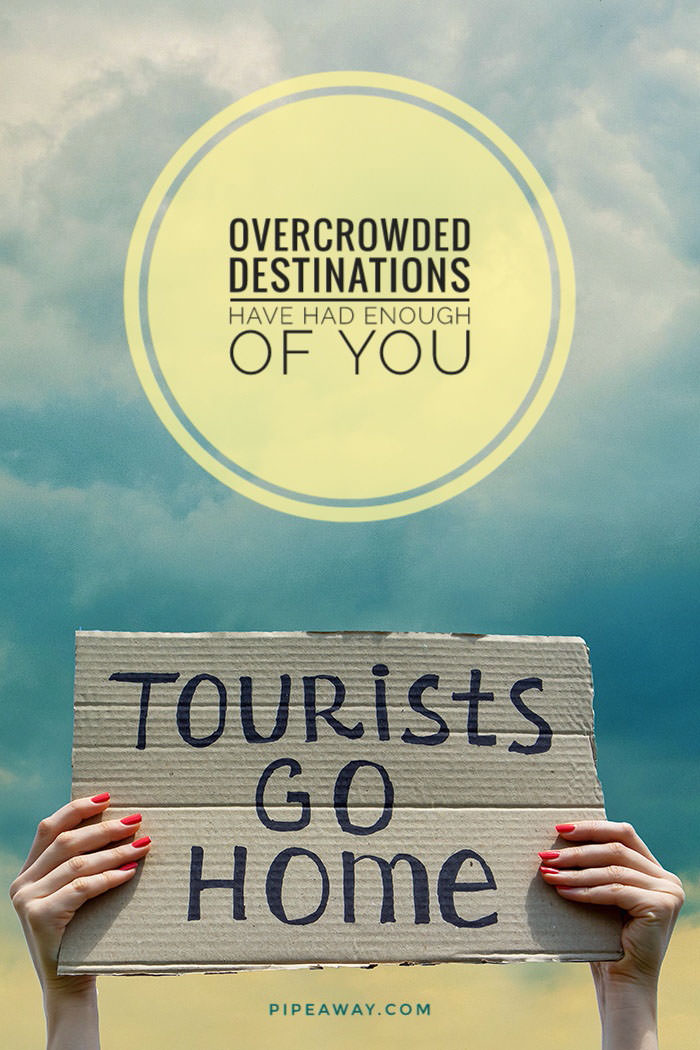 The cover and pin image of this article was sourced through Depositphotos, my go-to platform for high-quality licensed stock images. They have great photo deals, so check them out! The other photographs were sourced the Unsplash.

In order of appearance, the authors are as follows:
Tourists go home - sergii.kl.ua
Dubrovnik - Ruben Ramirez
Split - Spencer Davis
Amsterdam - Gio
Ibiza - David Švihovec
Alicante - Martijn Vonk
Bali - Cassie Gallegos
Portofino - Jonas Fink