When climate activists smashed a cake in his face recently, Ryanair's CEO stood his ground. Michael O'Leary came to European Commission's headquarters in Brussels, determined to deliver his petition to protect overflights during strikes in France. No pie-throwing could stop him. After he laughed off the sticky situation, the airline's social media marketing crew picked it up, and turned the activists' "warm welcome" into a comedy pun. It showed once again that there's no such thing as bad publicity.
Humor is Ryanair's marketing fuel. They're the only airline that cracks jokes with their products
The two environmentalists had their brief moment of media fame, but O'Leary's chilled response was nothing short of a masterclass in crisis communication. He ignored the protest against the low-cost carrier's carbon footprint and insisted on his petition agenda. To make sure that he stays in charge of the narrative, he belittled the pie-performance by casually licking cream off his fingers while declaring: "I love cream cakes, they're my favorite."
The real icing on the cake was delivered by Ryanair's social media team. Their Twitter account, renowned for its unconventional communication style, shared a snapshot of their cream-coated boss, and reported that passengers, thrilled with their new routes and "tasty low fares", were celebrating with cake. Playing on the card of their budget-friendly prices, another tweet suggested that purchasing a pie was a waste of the protesters' hard-earned dough when it could've bought them a ticket out of Belgium.
This wasn't Ryanair's first dance with humor as marketing fuel. They are the only airline that cracks jokes about the very thing they're selling, even calling their windowless window seats – a waste of money. Their self-deprecating one-liner statuses consistently feed on the company's disadvantages, which in turn makes them go viral.
One day they might downplay junk fees by trolling Donald Trump as having more charges than them. The next, they could highlight their pricey name change fees by poking fun at Elon Musk's X-Twitter rebranding. And then, they might spotlight oversized luggage charges by tweeting Loreen's Eurovision performance setup.
Ryanair's responses to legroom complaints, seat size questions, or free food inquiries regularly pack a comedic punch.
There doesn't have to be an intention for travel marketing to make you laugh. Check out these tourism campaign fails!
Smiles in the skies
There is a certain level of expectation to B2C communication standards, especially when delivering serious messages.
While most airlines try to maintain professional demeanor in their social media presence, Ryanair's strategy keeps customer service for DMs, while regularly dancing on the line of appropriate humor when it comes to public field. Social media is a marketing tool, and less serious approach definitely draws attention.
Humor has this ability to shake us up from not paying attention, and serious contexts prove this point the best. When we speak about airlines, there's no more serious moment than a safety demonstration in the cabin. The procedure in which passengers are informed about the important features of the aircraft and things to do in case of emergency are standardized for a reason. But after flyers hear it for the umpteenth time, these safety briefings can blend into a background, become a sort of a white noise, making their minds wander away.
However, every now and then, there emerges a flight attendant who shakes things up and breaks free from the script. One such legend in the history of in-flight entertainment was Michael McAdam, a veteran flight attendant for WestJet.
This multitalented Canadian (with an expertise in acting, improvisation, and even comic book writing) had a remarkable steward career, giving his own twist to mundane safety announcements that usually make us fall asleep.
In an era when YouTube is flooded with videos of unruly passengers, cabin crew's humor doesn't just go viral. It also improves the atmosphere in the aircraft.
"Humor certainly did turn bad days into better days", Michael tells me. "I once received an official commendation for turning an angry crowd  – our flight was three hours delayed – into a happy crowd by the time we landed."
Educational hazard of in-flight entertainment
Flight attendants' job can be exhausting, and in April 2023, Michael McAdam decided to retire his wings, after seventeen years of juggling turbulence and trolleys. During his career, he brought numerous smiles to a flying experience which can be stressful for many.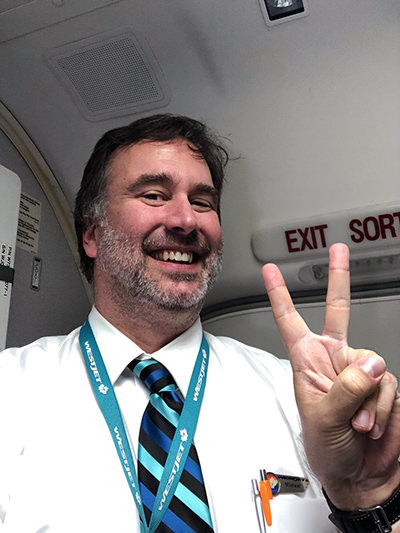 Even his fellow workers knew to resort to his improv comedy skills when nothing else worked. "Sometimes a crewmate would ask me to 'step in' if they had trouble with a difficult guest", Michael reveals. Like in a magic trick, a flick of humor would make grumpy passengers disappear.
Back in the early 2000s, WestJet was the airline known for injecting humor into their announcements and safety demos. But when they decided to rebrand themselves as a serious business airline focused on the European market, they changed the uniforms as well as cabin crew "persona" for a "seamless experience", Michael explains.
"Today, humor is discouraged for safety-related announcements, but attendants are allowed to use it during personal interactions with guests."
In 2015, researchers Morteza Tehrani and Brett Molesworth conducted a study on the impact of the humorous pre-flight safety briefings. It turned out they positively influence passengers' mood, which could improve the performance in the event of an emergency. But the study also showed that an entertaining briefing style had a trade-off. The funnier the presentation, the poorer did the subjects recall the key safety messages.
Michael McAdam never worried about whether his mood-lifting style affected the efficiency of his duties: "Quite the opposite. I saw that people actually paid attention to what I was doing, instead of reading or looking at their phones. It's why I kept doing it all those years, because people paid more attention to the safety demo."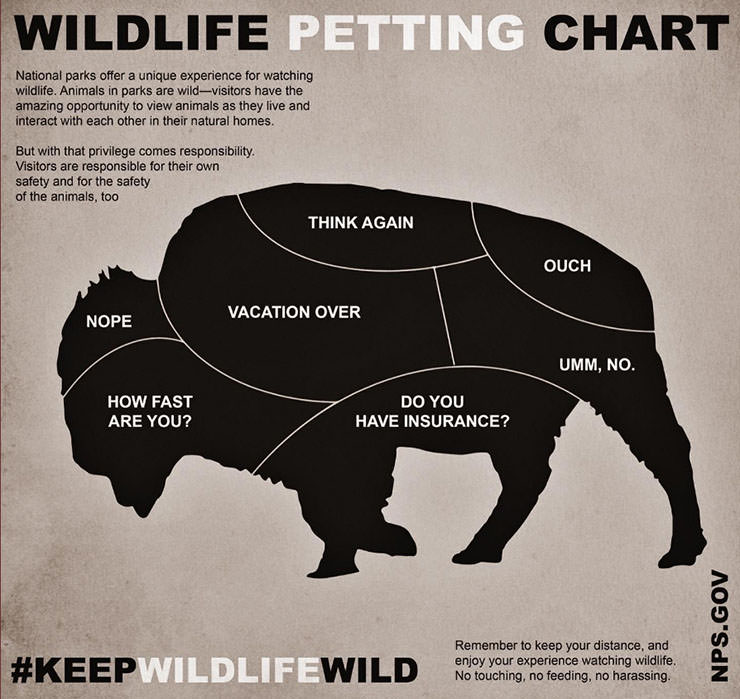 Safety meets satire – humor as marketing tool that works
The topic whether one should joke around while discussing matters that can literally mean a difference between life and death is controversial. Finding a delicate balance between entertainment and education is no easy feat.
However, the competitive space of social media is not a plane, and the audience is not just waiting for a take-off, with nothing else to do. To be able to deliver the message, one first needs to get users aboard. For achieving that coveted virality and a flurry of followers, humor is a fantastic tool.
Interestingly, this was proven exactly by the organizations that deal with the most serious topics of safety and security. They realized that to get their voices heard and truly connect with travelers, they needed to speak a language everyone could understand. And that language just happened to be humor.
Humorous tactics for safer travels
1. National Park Service – NPS, USA
Tourists have been misbehaving for years. The rise of unofficial accounts like the Facebook group Invasion of The Idiots or the Instagram account Tourons of Yellowstone (touron = tourist + moron) proved that sometimes it's not enough to politely ask visitors not to approach a cliff, dip their fingers in volcanic hot springs, hug a cactus, take a selfie with a grizzly, or feed a moose.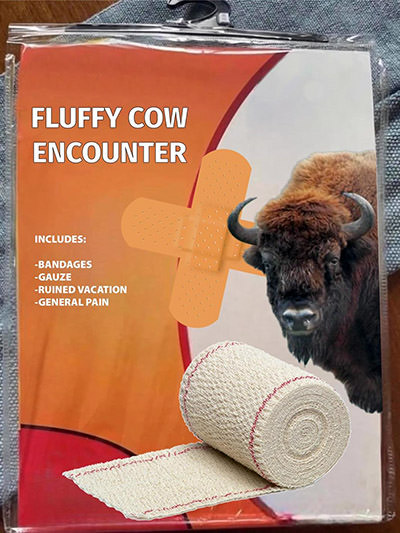 With 1.2 million followers on X/Twitter, 1.8 million followers on Facebook, and 5.2 million followers on Instagram, National Park Service is a US government agency that clearly knows how to reach their audience. If TikTok would be allowed to federal agencies, they'd probably have more than 4k fans there too (still an impressive base for zero posted content).
The organization that practically established a new slogan – "Don't pet the fluffy cows" – uses clever captions, memes, infographics, and posters to teach us how (not) to engage with wildlife, as well as how to enjoy nature responsibly in general.
The person who devised the new social media strategy for National Park Service in 2018 was Matthew Turner. He introduced a hilarious content that just begged to be shared.
Bison petting charts and bear menus
NPS's advice can be as blunt as "To avoid crowds, visit areas that are less crowded", or "Trails often look more flat on the map". They can provide you with detailed bison petting charts, or sarcastically inform you what to do in the case of a bear encounter. "Pick up small children immediately, unless they've been acting up and you're trying to send a message!" Or: "Hike in groups. Bears like to have options."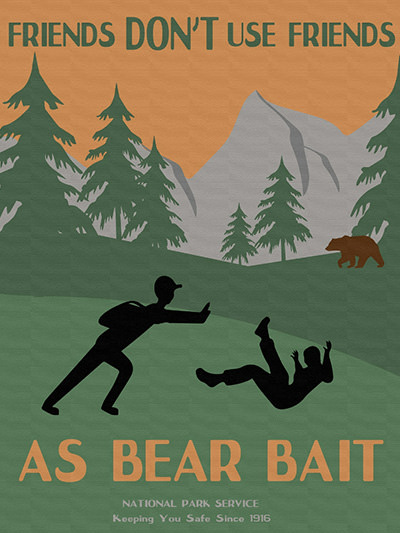 This type of non-dry communication quickly proved successful in attracting more followers and producing better engagement. Even if it came from a serious government agency, users totally vibed with it. Some even picked up the style, such as rockinqltr who commented: "Do not push the Ranger's buttons! All Rangers are voice-activated. Like Alexa."
"The humor is often used to draw people in", Matt Turner once explained. "But beyond the funny, there is usually a safety message, a deeper dive into park resources or policy, or a fun fact."
I love their educational approach to the importance of drinking water:
"First rule of hydrate club: Stay hydrated.
Second rule of hydrate club: Talk about hydrate club.
Third rule of hydrate club: Just a minute, need a bathroom."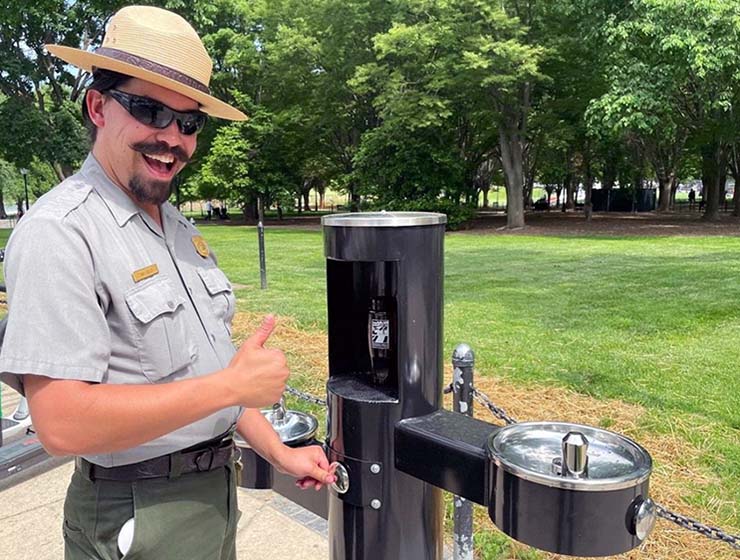 2. Croatian Mountain Rescue Service – HGSS, Croatia
Croatia, a popular honeymoon destination and more, is a small European country with only 8 national parks ("only" – compared to USA's 63). Croatia's territory still gets a fair share of adventures and misadventures by tourists who need a little… Guidance. But there's no dedicated government agency that would school these visitors in appropriate behavior, especially not one with a knack for humor.
However, one voluntary organization filled that slot. Hrvatska gorska služba spašavanja (HGSS), or Croatian Mountain Rescue Service, is specialized in search and rescue operations in all sorts of hard-to-reach places, from the tops of mountains to the depths of caves and even the open sea. They've been doing this noble work for free since 1950, but their mission to prevent accidents got an irreplaceable platform in the age of social media.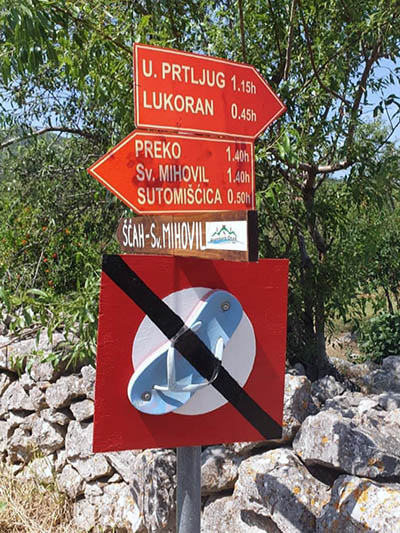 Since 2012, they started focusing on Twitter as the most direct way to reach both citizens and the media. They quickly learned that a touch of black humor expands their reach. The masterminds of Christian Nikolić and Jadran Kapović delivered content that soon earned them accolades beyond their humanitarian work, such as the awards for public communications.
Jadran Kapović himself explains it best: "Since we are not a typical service, our approach was in line with our character, a bit avant-garde. It was a breath of fresh air in terms of our laid-back, ironic and sometimes sarcastic way of communicating."
Tourists gone with the wind
How does that work in real life? HGSS might try to appeal on your compassion by asking: "During these chilly days, have you been in touch with your third-age relatives, especially those who live alone, and not on the topic of inheritance?"
Or they might appeal on your common sense, by posting a makeshift sign on Ugljan Island begging you not to hike in flip-flops.
In times when AI is being asked to recreate various world wonders, they generated their very own nightmare – an improperly dressed tourist in the mountains, complete with the caption "We asked artificial intelligence what non-intelligence looks like."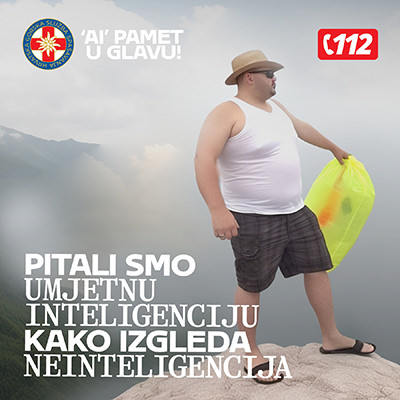 Jadran sheds some light on this humor tightrope they walk: "Humor can often backfire or drift one's attention away from the important message we incorporate in our posts. Humor is like a bait, but punchline is the 'hook' that makes the difference. Balancing the two is sometimes really hard."
Their #deartourists series was especially inspired by Croatian visitors who underestimate the power of the 'bura' wind and find themselves floating away from the coast on inflatable birds. HGSS will advise you to bring your ID ("So that Italian coast guard do not mistake you for refugees"), urge you to hang on tight to your pink flamingo ("Makes it easier for us to find you"), or, as a last resort, suggest you tweet them from the afterlife (complete with a photo of a tourist in a coffin-shaped floaty and the message "May the dolphins be with you").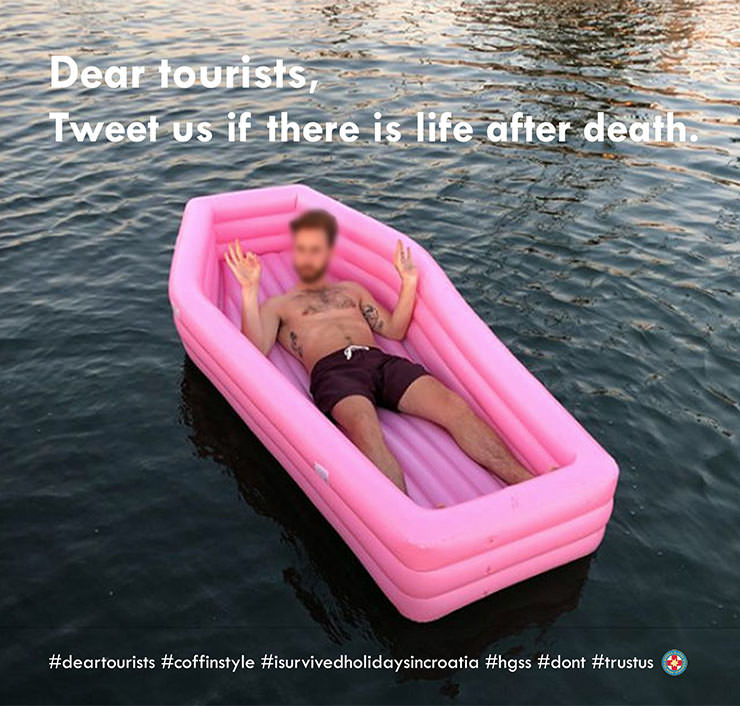 Croatian Mountain Rescue Service, the organization that tries to "keep the number of you entering and exiting Croatia proportional", definitely knows how to get their message across. They're talking to tourists in a way that Croatian Tourist Board never would, but they still include the country's official slogan: "You are beautiful even without the dangerous cliff edge selfies. Take care of yourselves & let's keep Croatia full of life."
3. Transportation Security Administration – TSA, USA
Before you arrive from the USA to Croatia, you'll have to pass through airport security checks, and the federal agency in charge for travel security doesn't want to delay your journey.
To keep travelers informed, the Transportation Security Administration, born in the aftermath of the September 11 attacks, uses Instagram, Twitter and Facebook as reach-out channels.
View this post on Instagram
Passing through airport security is already stressful in itself, so lighthearted approach TSA's screener Bob Burns introduced in 2013, managed to attract over 1 million intrigued followers.
You could see unusual checkpoint discoveries such as Freddy Krueger's razor glove, but also learn that "while worn out fedoras and tattered green and red sweaters are discouraged in the fashion world, they are permitted at TSA checkpoints".
"There's a cheekiness to it, but I also try to educate and prove travel tips", Blogger Bob explained his strategy once.
After the original author passed away, the six-member team led by social media manager Janis Burl (2020-2022) left their own mark with posts packed with wordplay and puns. She reveals that it would take them four hours of team work for each post!
Among numerous confiscated weapons, they reported about a passenger trying to travel with a bazooka. "It's not rocket science", TSA explained, promising to fire back answers to all questions shot at them.
On packing weapons, from chilli beans to lightsabers
Today, TSA will teach you why a peanut butter is a liquid and a cat is not. They'll tell you that fireworks on the plane are not allowed, but "what about your canned chilli beans?".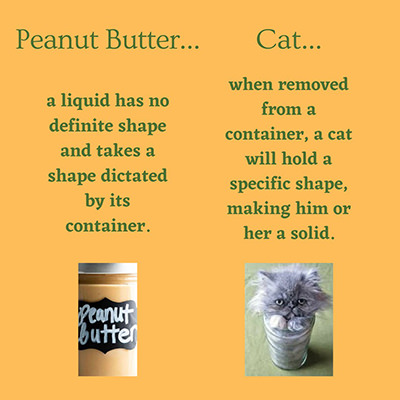 As for forgetful travelers who typically act surprised when faced with weapons found in their luggage, they advise: "Always start with an empty travel bag. That way you don't "accidentally" leave a knife, gun, cattle prod, brass knuckles, baton, hammer, or baseball bat in your carry-on."
Even TSA's official website has caught onto the relaxed communication vibe. In the list of things you can(not) bring to the plane, they toss in fantasy weapons as a legit example: "Sadly, the technology doesn't currently exist to create a real lightsaber. However, you can pack a toy lightsaber in your carry-on or checked bag. May the force be with you."
"The world doesn't want to talk to the Government of my parents and their parents", Janis Burl said in A Bit of Optimism podcast. "The world wants to talk to people and they want to know that you are human. And that was the aspect I was trying to bring out, 'let me talk to you the way you are talking to me'."
The benefits of humor in safety marketing
Incorporating humor even in the most serious of communications can be a super effective strategy. There are several reasons that make this marketing choice beneficial, even when we communicate topics of safety and security.
1. Attracting attention
Humorous content is a quick and effective way to grab people's attention. In a world inundated with serious and often grim messages about safety and security, humor is a neon sign. It can make a message stand out, increasing the likelihood that people will notice and engage with the message.
2. Fact retention
While Tehrani-Molesworth research might disagree, the practitioners in the field claim that humor, when done right, can make important messages more memorable. Jokes and funny anecdotes can ease nervousness, disarm tension and anxiety, and help targeted audience process, accept, and remember essential safety instructions.
PRO TIP: If you're nervous about flying, try bringing along some weighted stuffed animals. They're like fluffy anchors for your anxiety!
3. Universal appeal
Safety and security messages can sometimes feel impersonal or bureaucratic. Well-executed humor can humanize even the most complex message, and make it transcend cultural and language barriers. It can be digested and appreciated by a wide range of people, making it an effective tool for reaching diverse audiences.
4. Reduced resistance
Services that use humor can engage the audience and deliver critical information in a way that doesn't feel too preachy or fear-inducing. As such, humor can lower resistance and, by making the message more relatable and less intimidating, encourage better compliance with safety guidelines.
5. Emotional connection
When people laugh, they experience positive emotions. Humor can foster an emotional connection between the audience and the message they receive, but also boost the positive brand image and trust in the organization behind the message.
6. Viral potential
Humorous content is the real king of the social media platforms. People can't resist sharing and engaging with the content that makes them laugh, which can significantly boost the organic reach of safety or security messages.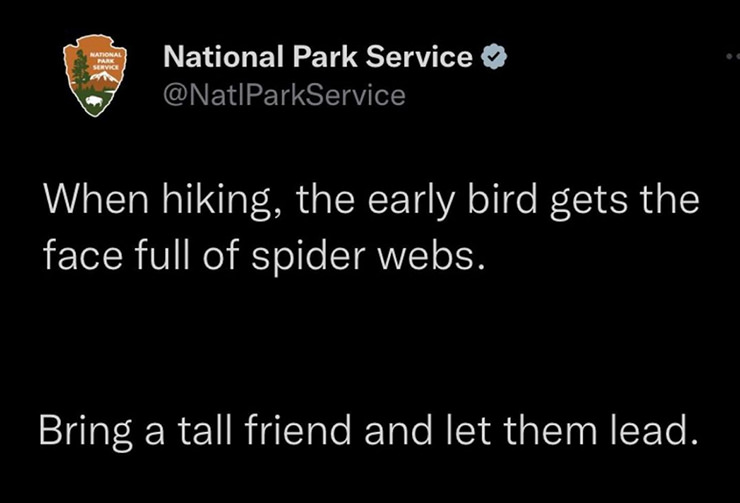 Humor as a serious safety marketing tool – conclusion
Travel experience, with its always new rules and regulations, can easily become a source of stress. All actors in the chain, from airlines and airports to organizations that manage destinations, can ease the tension with humor and make travelers swallow even those hard pills that they haven't even considered consuming.
I'm not suggesting we need an army of comedians throwing dad jokes in a desperate attempt to make everyone laugh. As we have seen in examples, sometimes all it takes is just giving bureaucratic jargon a makeover – translating it into something more relatable. Whether it's referencing pop culture, ditching the legal lingo, or simply not taking oneself too seriously, humor has the power to turn monologues into dialogues.
Humor takes raw information and makes it fun to absorbMichael McAdam
Jadran Kapović, who brought two PR professionals' awards to Croatian Mountain Rescue Service, explains that the impact of their social media can be measured by the fact that, despite the rise of adventurous tourism, they've managed to stabilize the number of rescue missions. "Our educational posts, seasoned with a bit of irony, were great recipe to spread awareness and safety tips", he says.
Of course, humor is subjective, and what might be hilarious to some may not resonate with others. It's crucial to strike the right balance when using humor in serious topics. Offensive humor can backfire, causing harm to the brand or message. That's why the task is best left to the professionals who can consider target audience, cultural nuances, and the specific context when using humor in safety and security marketing.
The viral flight attendant Michael McAdam, who turned safety briefings into stand-up routines in the skies, summed it up nicely for Pipeaway: "I believe humor is a connection between people. It takes raw information and makes it fun to absorb, more interesting, and forges a connection between the speaker and the listener."
After all, the word 'humor' has its roots in the Latin expression for 'fluid'. Back then, a person's health was measured by the balance of bodily fluids. Similarly, today, when humor is mostly connected to the world of amusement, it can be seen as an essential force that balances communication and makes it flow. It can improve the health of our social being.
What do you think about humor as safety marketing tool?
Share your thoughts in the comments, and pin this article for later!