After a series of distressing incidents with disabled passengers, Air Canada is in the hot seat. If you were a traveler needing a wheelchair or special assistance with a disability on your flight with Air Canada, recent media reports could've freaked you out. Why does Canada's aviation giant seem to struggle with the handling of accessibility, and should disabled passengers really expect a mistreating nightmare when they see that maple leaf on the plane? Let's address the real-life horror stories when passengers in wheelchairs fly Air Canada!
Wherever you fly, find the best airline ticket deals on CheapOair. Book before December 5, 2023, through this link, and promo code BFRIDAY40 will save you $40. Also check out the other Black Friday travel deals we prepared for you!
Air Canada's accessibility blunders of 2023
May – Not a soft landing
Ryan Lachance, a comedian in a wheelchair who had serial experiences with being dropped, was not laughing when Air Canada's ground staff refused his request for an Eagle lifting device and insisted on manually transferring him into an aisle chair.
In a "let's wing it" approach, the workers dropped the disabled passenger, causing bruises on his hip and back. It took an hour and a half to get off the plane, in what's known as the Sin City.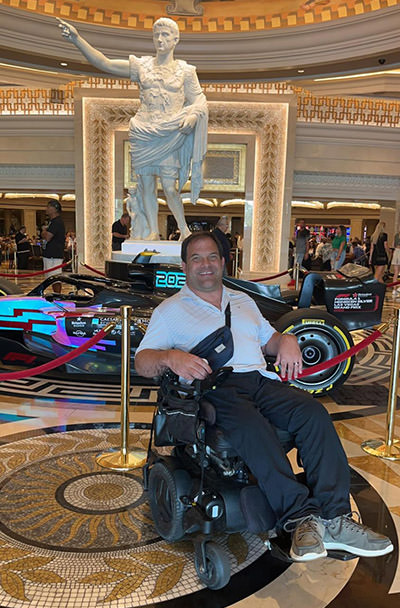 August – The crawl of shame
Rodney Hodgins, a man with spastic cerebral palsy, was flying to Las Vegas to celebrate his wedding anniversary. Upon landing, Air Canada skipped the whole wheelchair assistance routine, as there was "no time".
To speed up the deboarding process, the flight attendant shockingly instructed Hodgins to pull himself off the plane alone. With only his wife Deanna assisting by holding his legs, this disabled passenger was forced to drag himself past 12 rows of seats to the front of the plane, like in some war field.
October – The independence on vacation
Stephanie Cadieux flew from Toronto to Vancouver, and Air Canada forgot her wheelchair at departure. Stripped from her independence, the disabled passenger who happens to be Canada's chief accessibility officer (the irony meter hit red!) tweeted: "I'm furious. Unacceptable."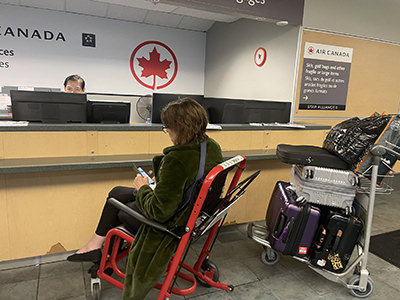 Other disabled passengers chimed in with their tales of flying with Air Canada. They reported having their wheelchairs and walkers misplaced or damaged, not being assisted with de/boarding the plane, or even being completely forgotten when taking a bathroom break.
November – the unscripted medical thriller
CBC released the undercover footage documenting the harrowing journey of Alessia Di Virgilio who relies on a specialized powered wheelchair and a ventilator.
Filmed with hidden cameras, the disabled passenger on an Air Canada flight from Charlottetown to Toronto endured distressing "oopsie" moments, including the inexperienced staff disconnecting her breathing tube and tipping over the lift that hit her head.
Disability should not stop you from experiencing the world through traveling. Get inspired by the story of Slaven Škrobot!
How does Air Canada respond to incidents with disabled passengers?
Air Canada tries to approach the dehumanizing experiences of its disabled passengers with prompt incident investigation. When we have a politician involved, such as Cadieux, the eagerly awaited reunion with a misplaced wheelchair might happen the next morning. But without the public spotlight, one could be held hostage even for a couple of days.
Air Canada also quickly sends their sincerest regrets, but those apologies can fall short. Especially when blaming third-party cargo-loading companies for losing mobility aids, or downplaying problems by asserting that the "vast, vast majority" of their 700,000 disabled passengers travel without issue every year, Air Canada fails to convince the distrusting users that their words will magically transform into action.
To ease the physical and emotional pain inflicted on mistreated disabled passengers, Air Canada can also hand out flight vouchers, ranging from $500 (as in the case of Ryan Lachance) to $2,000 CAD (as offered to Rod Hodgins). Some passengers with disabilities could see financial compensation for mistreatment as an insult. They're not here for money; they just want a service that doesn't turn every flight into a nail-biting suspense.
Air Canada recognizes the challenges customers with disabilities encounter when they fly and accepts its responsibility to provide convenient and consistent service (…). Sometimes we do not meet this commitment, for which we offer a sincere apologyMichael Rousseau, Air Canada CEO
The growing list of incidents triggered the federal transport minister Pablo Rodriguez to summon Air Canada's CEO Michael Rousseau in Ottawa. The executive, known for his April payday of 12 million Canadian dollars (that's a lot of flight vouchers), accepted the responsibility for providing convenient and consistent service. "Sometimes we do not meet this commitment, for which we offer a sincere apology. As our customers with disabilities tell us, the most important thing is that we continuously improve in the future", he said.
That sounded like another slap in the face, as disabled passengers were clearly saying something else. They expect Air Canada to act yesterday, and not give vague promises for a better tomorrow. After all, the company's three-year accessibility plan was unveiled in June.
Only after a string of public incidents did the airline "accelerate" the following measures: improved priority boarding, equipment investments, enhanced storage and tracking of mobility devices, intensified employee training, and the introduction of a customer accessibility director.
Promises of change have exploded, but the ministry has already called for another meeting in December, to keep Air Canada in check.
Check out some of the accessibility incidents recorded on tape and Air Canada's reaction in CBC's report!
Air Canada's accessibility policies
You've heard the tales of lost wheelchairs and lift mishaps, but Air Canada is promising a smoother ride for passengers with mobility aids.
Can you take your own wheelchair on Air Canada?
According to Air Canada's new and immediate measure, all mobility aids (wheelchairs, braces, canes, crutches, walkers, prostheses) will be stored in the aircraft cabin, whenever possible.
For those whose devices will still need to go in the cargo hold, the airline promised to launch a new system that would ensure they're loaded before liftoff and tucked away safely.
Disabled passengers will be able to track their mobility aid's journey via the Air Canada app, so they should know where it is at any given moment.
Bringing mobility aids or assistive devices on board is free of charge.
If you're traveling with a battery-powered wheelchair or scooter, you should fill out two copies of this form. Stick one copy to your mobility aid for safe handling of the equipment, and keep the other one with you, just in case.

How do I request wheelchair assistance with Air Canada?
If you have a disability or special needs and requirements (this includes visually or hearing impaired, travelers with other medical issues, but also pregnant and elderly passengers), you can request Air Canada's assistance for the disabled.
Air Canada disability attendants could assist you with check-in, moving through the terminal and security screening, finding accessible restrooms, boarding the plane, and even special meal requests.
Passengers requiring mobility assistance should request wheelchair use at least 48 hours before the flight, to ensure wheelchair availability. Wheelchair use at the airport is free of charge.
What is the phone number for Air Canada special assistance?
You can ask Air Canada for disability assistance by e-mail at [email protected], or by phone: 1-800-667-4732 (toll-free from North America), and 1-514-369-7039 (long-distance charges apply).
Air Canada Medical Assistance Desk hours are from 6 a.m. to 10 p.m. on weekdays, and 6 a.m. to 8 p.m. on weekends (Eastern time).
When you call Air Canada's special assistance contact number, have the essential data ready, such as your flight number, travel dates, as well as departure and arrival cities.
After explaining the type of disability service you need, Air Canada's assistance team will handle the rest.
One family left Canada to travel the world despite their children's disability. Meet Lemay-Pelletier family!
Traveling Air Canada with a support person
Just like other Canadian carriers, Air Canada must allow a person accompanying a disabled passenger to fly free of charge (within Canada). However, to be eligible for this, a disabled person should need an attendant during the flight, to cater for their personal and safety needs. The airline reserves the right to validate that your care-giver is a necessity, and not just a travel buddy.
After completing the disabled person's online booking, you should immediately reach out to the Air Canada disability desk. Their agent will then complete the booking for the support person on the same flight, and ensure you are seated together. You will need to fill out the fitness-for-air travel form.
It wasn't always like that. In 2019, the Quebec Superior Court of Justice found that Air Canada's practice of charging personal care attendants was discriminatory, as passengers should not have to be punished for their disability by paying more. To obey the Canada Transportation Act, the airline was ordered to follow the "one passenger one ticket" rule, which also extended to obese passengers, who shouldn't be financially punished for requiring two seats either.
Air Canada and disability – Conclusion
Air Canada is certainly not the only airline struggling with accessibility. However, as the largest operator in Canada, it also snagged headlines for many of the country's incident reports.
The Canadian Transportation Agency data shows a slow rise in the number of accessibility-related complaints in Canada. In the 2022-2023 fiscal year, there were 197 complaints in this area. But in the 2023-2024 reporting period, there are already 224 complaints.
The old unofficial motto of Air Canada gained new momentum among disabled passengers: "We're not happy unless you're not happy."
In August 2023, the CTA fined Air Canada with $50,000, for a case in January, when the airline failed to provide a temporary replacement mobility aid in Santiago, Chile.
A month later, the same regulator slapped Air Canada with a $110,000 fine, now for failing to provide a disabled Toronto passenger a seat with sufficient floor space for their service dog, for refusing to transport the disabled passenger, and for failing to provide a written notice with reasons of the refusal.
If your flight has been delayed or canceled, you're entitled to a compensation of up to $700. Defend your passenger rights easily with Airhelp. Register through our link for an AirHelp plus subscription before December 15, 2023, and with the promo code AHTRPS9, you'll get a 9% discount!
Air Canada's disregard for accessibility regulations could turn into a costly affair, not only financially, but also in terms of the airline's public reputation. The old unofficial motto of Air Canada gained new momentum among the jokers: "We're not happy unless you're not happy."
With a demonstrated pattern of neglect, Air Canada's disabled passengers are clearly not happy. And they won't be comforted with a shower of apologies and lame excuses, peanut compensations in the shadows of grand executive bonuses, or even by making Air Canada the butt of a joke.
The airline can and should invest in being better. It's as simple as that. The only thing disabled passengers want is not to be treated as cargo, or their handicap as a burden. When flying the reformed Air Canada, they want to travel safely, independently, and with dignity not left at the boarding gate.
Are you a disabled passenger who recently traveled with Air Canada?
Share your experience in the comments, and pin this article for later!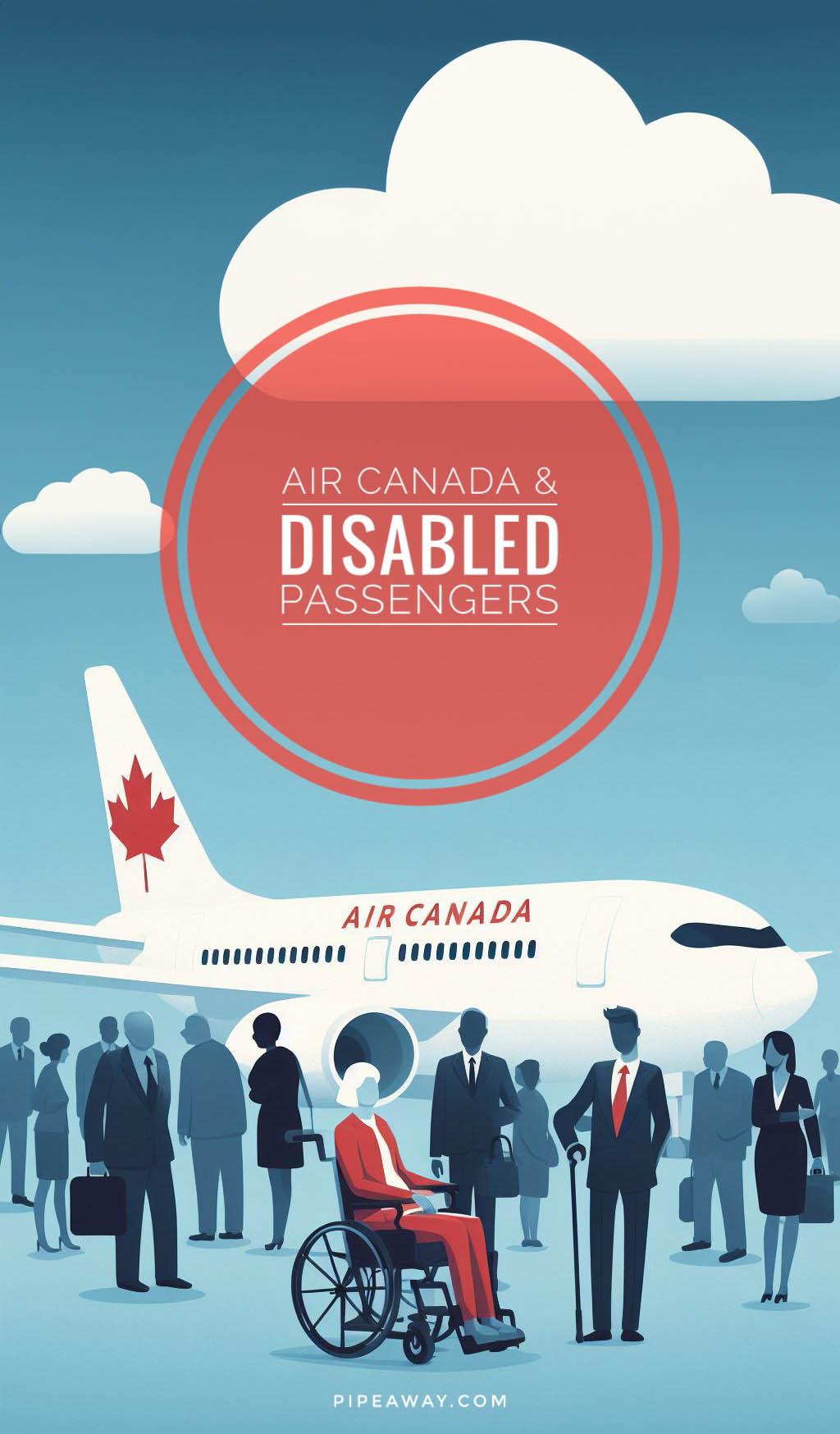 Disclosure: This post may contain affiliate links, meaning if you click on them and make a purchase, Pipeaway may make a small commission, at no additional cost to you. Thank you for supporting our work!