I still remember those days when you could have just shown up at the airport, turned on your best check-in smile, and gotten a free upgrade to a better seat on the plane. Because the check-in personnel liked you or had compassion for your height. Well, those days are long gone. Just like with "free lunch", there's no such thing as a free additional space for your legs anymore. Airlines are selling everything they can, but should passengers swallow the hook? Are extra legroom seats worth it?
Whichever seat preference you might have, you will find your most affordable flight tickets on this search engine!
Extra legroom seats – an elaborated fraud?
If you think about it, adding more and more seats into Economy Class was an impeccably smart business model driven by profit. On a plane of the same size, airlines got to squeeze more passengers, which eventually raised their income potential.
Then, for those passengers who did not like spending hours cramped in ever-shrinking seats testing their tolerance, airlines offered extra legroom seats. Those cost more, of course, so airlines again raised their income potential.
Some of the extra profit with extra legroom seats is enabled by safety regulations. Exit row seats have more leg space not because the airline invested in it, but because passengers have to easily evacuate in case of emergency
The irony is that they did it by offering passengers additional space previously stolen from other passengers on the same plane. Yes, from those whose numbers have risen because they had been given reduced space, thus generating additional income that generated even more additional income for the airline.
Mocking goes further. Having more passengers on a plane means more passengers competing for the overhead compartments. This enabled easy implementation of another profit-generator for airlines: charging for carry-on bags that don't fit under a seat. Cha-ching!
An additional sarcasm is that some of the extra profit with extra legroom seats is enabled by safety regulations. For instance, exit row seats have more space for your legs not because the airline did some special investment to enable that prestigious privilege. There is more space for legs at exit row seats simply because it is a corridor towards the exit; passengers must be able to easily evacuate in case of emergency. By that logic, airlines could also be charging all aisle seats for having more space for passengers' left or right elbow.
Then again, if you do want that aisle seat (or any seat not randomly allocated), many airlines will sell that too, won't they?
Well, it is as it is. We might feel cheated, but there's not much we can do to change the profit chase.
Or maybe there is something we can do? Learn how to avoid airline's junk fees!
Should we be grateful for extra legroom seats?
Airlines invested a lot in reducing the personal space of their passengers. The tactics for cramming in as many people as a cabin can possibly accommodate illustrate the lengths companies are willing to go for increasing revenue.
One of the easier ones is restricting the reclining of the seats. The ultra-low-cost carrier Spirit Airlines openly admitted that when they introduced 'pre-reclined seats' which could not adjust beyond the in-built 8 cm (3 inches), they managed to fit 33 more passengers in Airbus A320.
Some of the tactics for providing more seats are disturbing. For instance, shrinking the plane lavatories also provides space for more seats. While a decade ago, Ryanair was seriously considering cutting the number of toilets in the plane (one toilet less equals three seats more), the US companies decided to shrink the bathroom space. Some of these are now just 61 cm (24 inches) wide. Washington Post's Lori Aratani rightfully compared it to the size of Kim Kardashian's waist.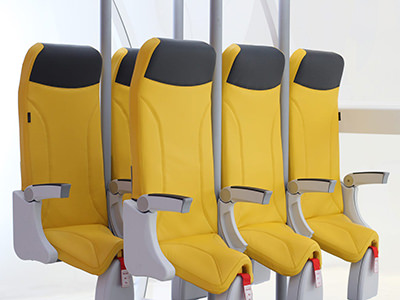 The discussion that caused the most stir was the one about introducing the so-called standing seats. Airbus first created this strange oxymoron invention in 2003. They imagined passengers would be traveling in a vertical position, strapped for a seatback. Since 2010, Aviointeriors have been promoting their version of the same stand-up seat, named Skyrider. Taking only 58 cm (23 inches), it would enable 20 percent more passengers in the cabin.
Airlines such as Ryanair, Spring Airlines, VivaColombia and Tigerair expressed initial interest in the seats that could introduce Ultra Basic Economy, the real cattle class. Probably only aviation regulations that require the evacuation of the plane in 90 seconds saved us from experiencing the saddle seat.
Companies obviously try to decrease personal space in planes. Extra legroom seats become a blessing, but that has a price.
If you are a passenger of size, extra legroom seats might not be the best choice for you. Before picking your favorite seat on the plane, read our comprehensive guide to flying while fat!
Before we answer if extra legroom seats are worth it, let's explain the basics…
Legroom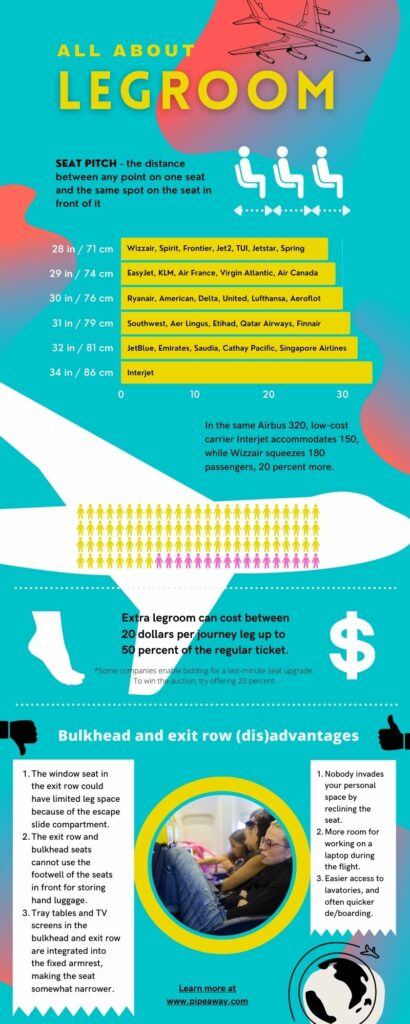 Legroom meaning
What is legroom exactly? Legroom is defined as the amount of space available for legs while being seated. The bigger the legroom on your flight, the more comfortable your flying experience.
Legroom measurement
How is legroom measured on a plane? Technically, the airline industry does not calculate legroom, but a seat pitch, the measure it almost entirely depends on.
The meaning of seat pitch is the distance between any point on one seat and exactly the same point on the seat in front of it.
While this measure will indeed depend on the seatback thickness, tray table, and general seat design, it is still a valid indicator of how spacious one's legroom will be. The bigger the seat pitch, the more legroom you should have.
What is the standard legroom?
Now that we know that different planes come with different seat configurations and designs, how do we define the standard? What is the average legroom on a plane?
If we compare the Skytrax seat pitch data on international flights of 123 world airlines, we will come to the conclusion that the standard seat pitch in Economy Class is 81 centimeters or 32 inches. If we look only at low-cost airlines, that number drops to 76 centimeters or 30 inches.
What is the extra legroom seat?
The answer to 'what is extra legroom?' will depend on the airline and even the aircraft. While it's impossible to give a precise number, the general answer is easy. Extra legroom seats are those economy seats that provide more legroom than the seats in the rest of the particular cabin.
They could include between 8 and 18 centimeters (3-7 inches) of additional space for your legs compared to the standard economy seats.
Typically, extra legroom seats are located closer to the plane's entrance/exit. It means that besides space, they potentially provide more saved time during the boarding and deboarding of the aircraft, as well as easier access to the overhead compartment. This could be just because of the proximity to the exits, but some airlines also officially offer priority boarding to fliers who book these seats.
Extra legroom seats include seats in the bulkhead, exit rows, and other rows with additional space.
Bulkhead row seats
Bulkhead row seats are located at the front of the Economy cabin, just in front of a partition wall.
But does the front row of a plane have more legroom? While it could nominally offer additional 8-10 centimeters (3-4 inches) of legroom, you need to have in mind that you will be facing a wall. There will be no footwell of the seat in front of you, which normally provides space for stretching feet.
With the cabin divider instead of the footwell, you will also have to store personal items in the overhead.
The good part of not facing a seat is that nobody will be reclining and stealing additional space from you.
Read about all the pros and cons of bulkhead seats in full detail here!
Emergency exit row seats
Sometimes called extra space seats (TUI/Thomson), emergency exit row seats do offer more room for your legs.
However, to be able to use these seats, you will need to be able and fit. Passengers in exit rows have tasks in the event of a plane evacuation.
Just like at bulkhead rows, you will not be able to store hand luggage under the seat in front of you. Actually, you will have to store all unnecessary items in the overhead compartment for take-off and landing, so they do not obstruct the evacuation path.
Possibly the trickiest position in the emergency exit row is the window seat. Have in mind that it could have a partial armrest, as well as limited legroom due to the protrusion of the exit door containing the escape slide.
In the event of an emergency, sitting at the emergency exit row will not be enough. Read here about how to survive the plane crash!
Taper seats
In some twin-aisle planes, the cabin shrinks towards the back, and some rows change from three to two seats. These are called taper seats. The first row provides some additional space between the seat and the window, for storing luggage, but also for stretching your feet.
Some people don't like it because of the proximity to the toilets and galley (noise and scents), but the benefits of sitting at the back of a plane still outweigh the minuses. Here's why I always try to choose the last seat. 
Other rows with additional space
Besides bulkhead seats, exit row seats, and taper seats, airlines can offer regular rows with additional space. These are often classified as an in-between class, Economy Plus, Economy Comfort, or Premium Economy. Better than the regular Economy, but not as good as Business Class.
These rows could indeed offer a couple of inches extra in both seat pitch and seat width, but could also bring other benefits, such as larger screens, upgraded catering, or even increased luggage allowance.
Do extra legroom seats recline?
Yes, extra legroom seats normally recline as other seats do. The only time reclining could be limited would be if the plane has two adjacent exit rows. In that case, the seats in the front row might not recline, in order to not obstruct the passage towards the exit.
Some people will always take more space than they are entitled to. It happens in planes, but also in buses. Learn about one such experience in the collection of the biggest WTF moments of my travels!
Do extra legroom seats have a TV?
Extra legroom seats normally have an inflight entertainment monitor, just like regular seats.
Depending on the actual aircraft, in the bulkhead, they might be mounted on the wall.
However, there is also a possibility that the monitor could be integrated into the fixed armrest (both for bulkhead and emergency exit row seats). This might reduce the space you were counting on. It will also reduce your entertainment time, as screens in these rows cannot be used during the take-off and landing.
Do extra legroom seats have tray tables?
The bulkhead and emergency exit row have a special seat design. There is a tray table for consuming your meal, but it is also stored in the fixed armrest, affecting your experience.
While these seats nominally give you extra legroom, the armrest full of surprises makes the seat somewhat narrower. What you gain for legs, you might lose for hips.
Legroom by airline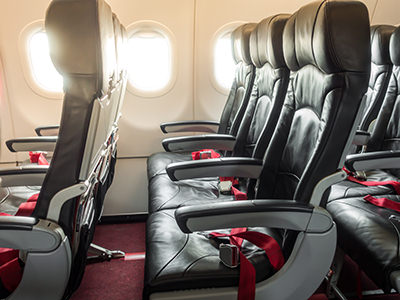 Different airlines provide different amounts of space to their passengers. So what could appear extra legroom seat in one plane, could be just about a standard seat somewhere else.
Nowadays, the typical seat pitch for economy seats ranges between 71 and 87 centimeters (28-34 inches). So an average seat pitch today is actually 79 centimeters (31 inches).
Airlines operate a variety of aircraft that could offer up to 13 centimeters (5 inches) of difference between standard economy seat pitches under the same carrier name. Such is the case with TUI UK, for instance. If you fly their Boeing 757, you will get 71 centimeters (28 inches) in Economy Class. However, if you fly their Boeing 767, suddenly you'll have 84 cm (33 inches) of space! So maybe you don't need to look for TUI extra legroom seats; you just need to pick the right aircraft!
Some companies, such as KLM or Turkish Airlines, could add an inch or two of additional space on long-haul flights. But believe it or not, some such as British Airways or Jet2 can be less generous if you are going on a longer trip! With them, you could possibly get up to three inches smaller space on a long-haul than on a short-haul flight! Do I hear cha-ching again?
I have compared SeatGuru data and other information available online, in order to answer the burning questions: which airlines have the most and the least legroom in coach?
Airline seat pitch
Which international airline has the most legroom in Economy Class?
The airline that has the best legroom in Economy is Interjet. This Mexico-based low-cost carrier serves domestic, as well as destinations in the United States, Colombia, Costa Rica, Cuba, and Guatemala.
If you fly Interjet's Airbus or Sukhoi Superjet, you can count on having a seat pitch of 86 centimeters (34 inches).
This isn't to say that Interjet is the roomiest airline and that it has the most legroom in coach. As a matter of fact, you can experience such Economy Class seat pitches with Saudia, JetBlue Airways, Emirates, Singapore Airlines, Asiana, and other airlines with more legroom.
However, with competitors, it will depend on the aircraft you are flying with, and possibly on the seat you are sitting on. Only Interjet guarantees 34 inches of seat pitch on all their flights, to every passenger.
Which airline has the least legroom?
The airline that offers the least legroom is Wizzair. This low-cost airline has the largest fleet in Hungary and flies to Europe, Africa, and Asia.
Their Airbus planes have a single Economy Class cabin, and Wizzair's standard seat pitch is 71 centimeters (28 inches).
The same as with Interjet, this isn't to say that you would never experience such legroom with any other airline. Frontier, Jet2, TUI UK, TAP Portugal, Iberia, Spirit Airlines, LATAM, Qantas, Jetstar, Scoot Airlines, CEBU Pacific Air, Spring Airlines, and Thai, can also be equally 'generous'. But not on all aircraft, and on every Economy Class seat.
Only Wizzair guarantees it will not give you MORE than 28 inches of seat space.
The minimal guaranteed airline seat pitch
So what is the order of airlines according to the minimal seat pitch they guarantee on their flights? The following list presents a selection of international airlines, and only their guaranteed seat pitch, which means that on some flights and aircraft, there could be a greater variety of legroom.
34 inches / 86 cm
Interjet.
32 inches / 81 cm
Cathay Pacific, Asiana, Singapore Airlines, Emirates, JetBlue Airways, Saudia.
31 inches / 79 cm
Aer Lingus, Vietnam Airlines, Finnair, Croatia Airlines, Icelandair, Etihad, Qatar Airways, Southwest Airlines, EVA Air, Aeromexico, ANA.
30 inches / 76 cm
Ryanair, Aegean Airlines, Allegiant Air, American Airlines, Hawaiian Airlines, Alaska Airlines, SWISS, Lufthansa, LOT Polish Airlines, SAS, Aeroflot, Delta Air Lines, Austrian Airlines, Brussels Airlines, Air China, South African Airways, United Airlines, Virgin Australia, Japan Airlines, Eurwings Ethiopian Airlines, Malaysia Airlines, Avianca.
29 inches / 74 cm
EasyJet, KLM, Air France, Virgin Atlantic, Air Canada, Air India, British Airways, Turkish Airlines, Philippine Airlines.
28 inches / 71 cm
Wizzair, Jetstar, CEBU Pacific Air, Spring Airlines, Jet2, Scoot Airlines, Frontier, Qantas, TUI UK, TAP Portugal, Thai, Spirit Airlines, Iberia, LATAM.
How much do airlines charge for extra legroom?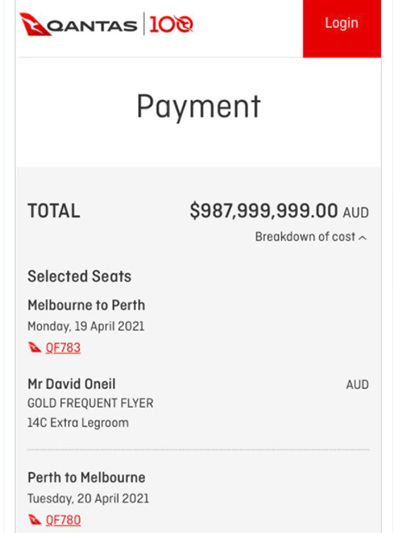 With such a variety of seat pitches in the market, not every type of passenger can fit in. Some then consider purchasing additional space for their legs. But how much does extra legroom cost?
It largely depends on a particular company's policy, but extra legroom fees start from 20 dollars per journey leg up to 50 percent of the regular seat ticket.
Some airlines, such as Virgin Atlantic, Cathay Pacific, Aer Lingus, Air India, Egyptair, Lufthansa, SAS, and Icelandair, enable you to bid for the last-minute upgrade of your journey. You can offer the price you are willing to pay for a better seat, and with a bit of gambling luck, you just might get your extra legroom seat at a discount!
Is it worth paying for extra legroom seats?
Are extra legroom seats worth it? Generally, yes, these seats come with certain benefits. But is it worth paying for seat selection? As soon as we attribute money to the question of value, the answer suddenly becomes less simple.
Extra legroom is worth it for:
Very tall people. If you are shorter than 175 centimeters, there is no need to even consider it.
Passengers with health issues. Deep vein thrombosis at high altitudes is a real danger.
Claustrophobic travelers. However, reconsider the questionable pleasance of staring in the bulkhead wall.
Easily disturbed voyagers. If you find reclining of the people in front of you frustrating, extra legroom could be a blessing for you.
People with laptops. If you don't have money for Business Class, but still want to work on the flight, this will be much more manageable with an extra legroom seat.
Frequent bathroom users. If you want to avoid the awkwardness of approaching your fellow travelers every time you need to squeeze out of your row just for the sake of using the lavatory or stretching your legs, the roomier part of the aircraft could help.
Families with children. The bulkhead row area will provide much more room for your playful kids, without the embarrassment of them messing up with the seats of passengers in front of you. For babies, even a bassinet could be mounted on the bulkhead wall.
Whether it is worth paying for extra legroom will largely depend on your finances too. A smaller percentage of extra payment for a more pleasant flying experience could be a good investment. If you try to bid for a seat upgrade, experts suggest you try with 20 percent of your regular fare.
How can I get free extra legroom seats?
Luckily, there are some tactics where your extra legroom will not cost you a penny. Here's how to get free extra legroom seats!
Plan your seating. It might sound very simple, but we often disregard the fact that not all seats are created equal. SeatGuru is a useful tool for knowing what we are signing up for. With a simple input of the name of the airline, date, and number of the flight, you can see a seat map of the exact aircraft you will be flying with. Find out the pitch and width of the seats, as well as possible issues they might have, such as a misaligned window or restricted legroom due to the inflight entertainment box.
Trick the system. This is a game of luck. In a three-seat row where one (aisle or window) is already booked, choose the seat on the opposite side of that row, leaving the middle seat empty. If the flight is not full, there is a great chance you will have additional space for diagonal stretching. This also works if you are flying with someone. Book the end seats of the row, and hopefully, no single person will want to sit in between. In case this seat gets booked in the end, they will probably be happy to give it up "so the two of you can sit together".
Delay the check-in. Let other passengers check-in first in their standard seats. In case they fill up the free/cheap seats, the check-in staff will not be able to do anything but upgrade you to the extra legroom seat.
Use smile. Even if you have already checked in online, it never hurts to ask at the baggage drop-off if there is any chance to get a roomier seat. Politeness opens all doors. If it doesn't work out with the check-in agent, be nice to the flight attendant. In case an opportunity shows up, you might get a free upgrade.
Use miles. Finally, consider paying for your extra legroom seat with frequent-flier miles. Joining airline loyalty programs brings many perks. Usually, you can exchange your points for seat upgrades. If you collected enough miles throughout the year, some tiers even give you free cabin upgrade vouchers.
Extra legroom seats review – Conclusion
In the last decade, airlines have done a lot to produce our 'need for more space'. They made the slimmer and lighter seats, shoved them in as if they would be transporting sardines, and after this profit-making stunt, offered a more decent experience for our legs for an additional fee. It seems like an unfair system, but one we can hardly fight beyond boycotting air travel.
Extra legroom airlines are often extra profit airlines
Extra legroom airlines are often indeed extra profit airlines. Passengers look for cheaper flights, and airlines need to substitute the lost revenue by selling a variety of upgrades that were earlier seen as a standard part of the flying experience. Luggage, snacks, priority boarding, seat selection… It's all part of the same story.
There is still a margin for companies to play fairly. The world airlines with the most and the least legroom are both low-cost carriers. So if Interjet can operate with 34 inches of seat pitch, why can Wizzair offer only 28? In the same Airbus A320, the Hungarian airline fits 180 passengers, while the Mexican operator can transfer only 150.
Ultimately, everyone should decide which business model they are willing to support on their own.
However, if money is not an issue for you, consider other options too. Paying for the upper class might make sense, as it will come with much more perks than extra legroom seats in Economy Class can possibly provide.
If you want to have a taste of what is going on behind the mysterious curtain of the higher class at a fraction of the price, an extra legroom seat could only partially satisfy your curiosity.
In times when they are downsizing your personal space, be cautious with what airlines are selling you, and stay smart. Extra legroom seats should not cost an arm and a leg.
Did you like this extra legroom seats review?
Pin it for later!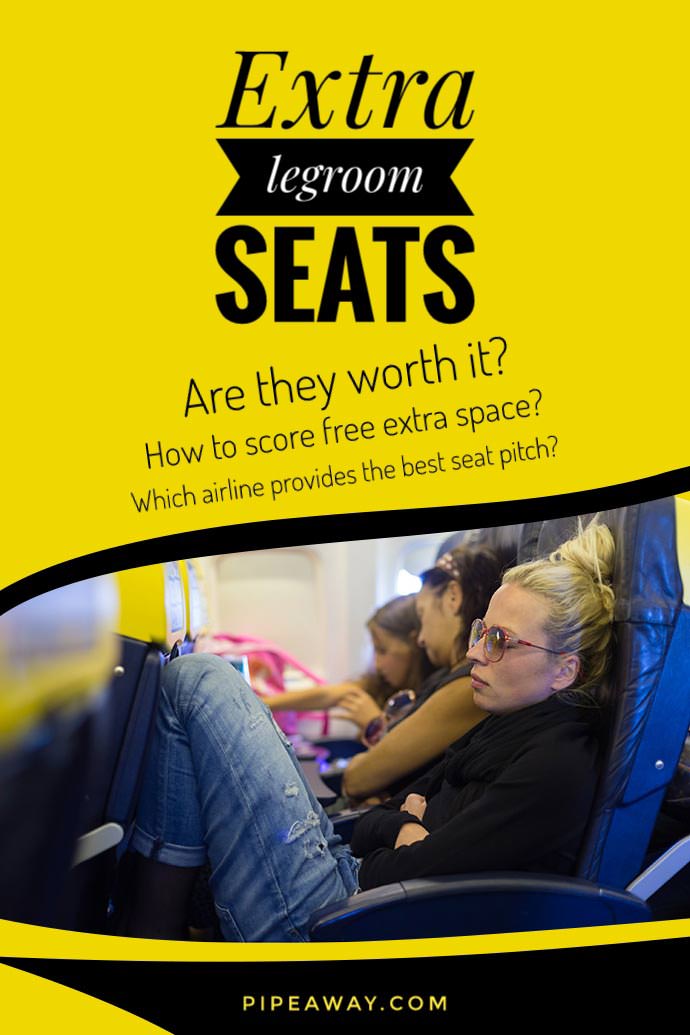 The cover image of this article was purchased through Depositphotos, my go-to platform for high-quality licensed stock images. They have great photo deals, so check them out!
Disclosure: This post may contain affiliate links, which means if you click on them and make a purchase, Pipeaway might make a small commission, at no additional cost to you. Thank you for supporting our work!