You know those party guests who show up uninvited and refuse to leave? Well, that's essentially what a junk fee is.
These cleverly hidden charges on products and services gatecrash your bill and overstay their welcome like some sort of financial party pooper. They exploit access to your resources, like that annoying guy who drinks all the booze and eats all the snacks but never chips in for anything. A truly rude party-breaker.
However, these sneaky costs are a part of the system and seemingly unavoidable. So is there even anything we can do about junk fees?
Junk fee has become such a norm that today some businesses even advertise themselves as having "no hidden fees"
These unexpected charges that try to take advantage of you are often hidden in the fine print of contracts, agreements, and price lists. It is not easy to identify them, and it's even harder to avoid them.
To make things worse, junk fees also limit consumers' access to information, making it often impossible to compare prices on the market, and make informed decisions on the best deals.
Suddenly, planning your trip to Bali or that cruise around the world becomes a financial puzzle that practically requires a professional adviser to tell you if your holiday budget can afford it.
Junk fees have become so normalized that even a new sort of seller occurred: those marketing their products and services as having "no hidden fees" (sic!). Freedom from financial exploitation has become – a privilege.
In today's article, learn what is a junk fee exactly, and get familiar with the most common junk fees in the travel industry. You'll find out how these party-crashing charges sneak up on you and steal your hard-earned cash, as well as how to outsmart companies and keep your wallet safe!
Save money on essential summer products with these hot deals!
What are junk fees?
Despite what the name suggests, the junk fee definition has nothing to do with taking away your trash, but – cash. Still, we could call these charges a waste, a waste of your money.
Junk fees are a type of hidden extra charge customers have to pay when executing a financial transaction. These fees, hidden in the backend like chameleons, blend with the background, and camouflage under creative names (administrative fee, convenience fee, processing fee, and the like). Their general purpose is to obscure the fact that you are being charged more for the additional profit of that company.
For example, have you ever tried to buy a flight ticket, or book a hotel room, only to discover that the listed price on the front page differs from the one that you would pay at the end of the booking process?
To find out the real cost, you would first need to fill out a lengthy form (from your passport number to your shoe size), at which point you already forgot that some other website was offering initially a pricier product that would've ended up costing you less. But the process is exhausting, and now you'd pay anything to be done with it.
If you don't complete the purchase, the contact details you left will be used against you. The accommodation booking site could start showering you with alternative hotels in the area ("Erm, did I sign up for that?"). The airline could eventually reach out with a thoughtful: "Are you still planning a trip to Cambodia? Prices are going up! Hurry!"
Even when you finally check in at the hotel of choice, you might be surprised when they ask you to settle the bill. Oh, you thought that "all taxes included" on your pre-paid trip included the city tax? No, for this you have to pay in person. You paid the service fee already? Yes, but you haven't paid the service charge!
Political war on junk fees
Since late 2022, the White House has been engaged in a direct war against excessive junk fees. Joe Biden's Junk Fee Prevention Act specifically addressed surprise fees coming from resorts, airlines, concerts, and sporting events, but also cable, internet and cellphone service providers.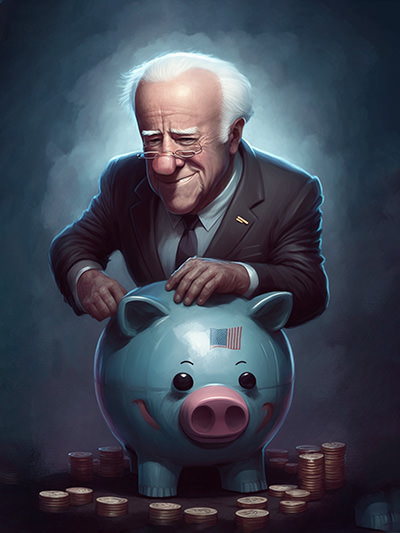 "We'll prohibit airlines from charging 50 dollars round-trip for a family just to be able to sit together. Baggage fees are bad enough. Airlines can't treat your child as a piece of baggage! Americans are tired of being played for suckers", said President Biden in his State of the Union address in Congress in February.
United, Frontier, and American Airlines have quickly followed suit, updating their customer service plans to guarantee that children and accompanying adults could sit together at no additional cost.
But junk fees don't affect only families going on vacations. They affect anyone going on vacation. They affect even those who don't have enough money for vacations because, well, they probably already pay loads of junk fees. In the businesses of real estate, mortgage loans, or often in any transaction with a bank, junk fees regularly appear at closing costs, like a Trojan horse of the extra charges.
While Biden's administration demands junk fees crackdown, what is Europe waiting for? To find out, I reached out to Biljana Borzan, a member of the Committee on the Internal Market and Consumer Protection at the European Parliament, known for her successful fight against the dual quality of products.
"As far as I know, there is still no legal mechanism at the EU level to regulate this issue, but there is definitely the need for this. When it comes to regulating digital services, the EU is the vanguard in the world, but around the so-called junk fees the US has taken the initiative", says the MEP.
Would the European Consumer Organisation be more concrete? "I'm afraid that due to our current workload, we can't help you with your request. I hope you understand", answered the senior communications officer Sébastien Pant.
It doesn't seem that hidden junk fees are high on the European political agenda, at least at the moment. But are we still helpless? The first step in the fight would be to identify these masters of disguise, the secret society of junk fees.
Junk fee examples in the travel industry
Get ready to break open your piggy bank because companies love to sprinkle junk fees on your travel expenses.
From fuel surcharges on your Uber or Lyft ride to hidden service fees on your tour, sports event or concert booking (the most recent example being The Cure's abomination with Ticketmaster's order processing fees, delivery fees, and facility charges, which often triple the face value of the ticket), there is a large variety of pesky little charges that companies sneak in to make a few extra bucks on your ready-for-holidays spending attitude.
Like some hidden taxes, these charges hit you as soon as you enter vacation mode. Let's take a look at the most common types of junk fees in the travel and hospitality niche!
1. Airline junk fees
Do you remember the good old days when picking a seat was included in your flight ticket? When you could have an exit row seat at no extra charge? When you could check your bags, included in your fare, without having to pay additional insurance to make sure they actually make it to your destination? When you could sit next to your travel companion, and the flight attendants would bring you food and drinks on every flight, for "free"?
Well, if you do, you're officially old-school. Nowadays, buying a plane ticket is like embarking on a wild shopping spree, as if you're buying 20 products, and not one.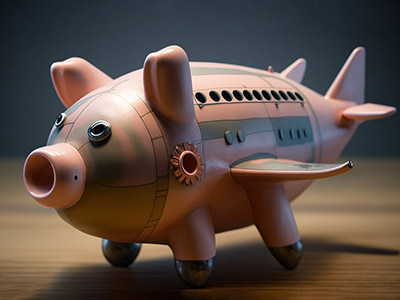 This all started in the late 1970s when airline deregulation enabled the rise of low-cost carriers that were tailoring travel to individual needs. Suddenly, flying became like ordering from a fast-food menu. You could pick your base fare, but then pay extra for all a la carte toppings: baggage, seat assignment, meal plan, and even the privilege to get on the plane first.
While this made flying more affordable to many, it also lowered the transparency of the real prices, as well as opened Pandora's box of possible revenues for the airline.
For instance, baggage fees are so steep that they stimulate a creative approach to handling them. Passengers unwilling to be overcharged transfer belongings to carry-on bags, or wear a dozen layers of clothing on themselves. Indeed, if airlines do not put overweight passengers on flights on a scale, how does concern for the security of flying suddenly start with the bag's kilograms? Then again, if the carry-on limit is let's say 8 kilos, why do you have to pay a pet fee for bringing your cat aboard?
While the law secures special assistance to disabled travelers as the airline's responsibility (and it would obviously be politically incorrect to charge special fees to people with special needs), traveling children are an easier target. So we also have unaccompanied minor fees.
Change and cancellation fees, credit card transaction fees… It all adds up. IdeaWorksCompany estimates that 122 world airlines made a whopping 102,8 billion dollars in 2022 on ancillary fees (fees for services that aren't actually transportation). Many of these ancillary fees are junk fees.
Putting the price on preference

What is stopping airlines from charging fees for a seat with a window view? After all, hotels are doing something like that, don't they? If you want a seaside room, that will cost you more.

The issue with window seats on the plane is that there are people who equally love aisle seats. So instead of selling you a specific seating area as pricier, the airline is actually charging for your personal preference towards the area of choice.

Even if you would, for some unknown reason, insist on taking a despised middle seat, the airline would sell it to you as your preferred seat.

Trains and buses also jumped on the reserved seating bandwagon, selling the idea as a spectacular privilege. But technically, it is really making money out of thin air.

If none of the passengers would pay for a reserved or preferred seat, they would still be transported, and could even pay each other if they wanted to exchange seats. That only shows that companies are double-dipping on something they've already sold.
2. Accommodation junk fees
Unlike baggage fees that you can avoid if you don't use the service, hotels are often adding an unavoidable set of fees to the advertised price. The tactic of drip pricing practices consists of offering the room rates at an appealing lower bait price while making up for the difference by charging the resort fees later on in the booking process.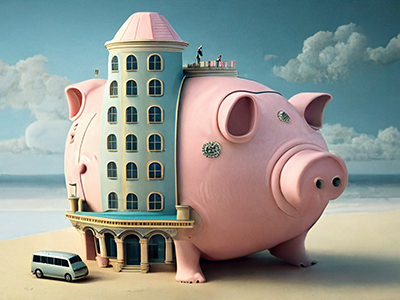 While the idea behind this 1990s concept (sometimes also called amenity or facility fees) was to secure additional luxury amenities, some hotels started applying this junk fee for basic things such as free Wi-Fi, gym access, or even boarding pass printing (because who doesn't love paying for that privilege?).
Separately, some hotels love to charge overpriced local phone calls, internet access and baggage holding fees, as well as early check-in and late check-out fees (even if the room is available).
Then there are parking fees (even if it's their own parking lot, and unattended), safe fees (whether you use the in-room safe or not), mini-bar restocking fees (even if you haven't consumed the items), destination fees (covering local activities and events you might participate in or not), booking fees (the fee for making the reservation even if you do it directly through the hotel), and even a coffee-maker fee.
Between the confusing forest of a variety of taxes, hotel taxes, service fees, and service charges, one can even experience that an additional cleaning service fee is charged separately as if there is an option to exclude it and sleep in dirty sheets.
A similar cleaning fee regularly causes debates about the Airbnb model too. Guests paying this mandatory fee (together with Airbnb's service tax, which is charged from both guests and hosts) often ask themselves if that means they can leave the apartment dirty when leaving. With a rating system for guests too (specifically targeting the guest's cleanliness!), one could feel pressure to clean it up for the next guest paying the cleaning fee.
How did airlines not think of the cleaning fee yet?
The junk fee game in U.S. resorts

The most recent estimate of the weight of the surcharges collected by US hotels tells us that those junk fees cost American consumers $2,93 billion a year (2018).

According to NerdWallet's analysis in January 2023, the average resort fee among the US hotels that charge it milked customers for 42,41 dollars.

That is approximately 11 % of the overall cost of a stay, but they found examples where the advertised room rate doubled with junk fees.

For example, the Excalibur in Las Vegas offers a night's stay for a measly 35 dollars, but then hits you with an additional 40 dollars in taxes and fees. Their junk fee provides gym access, Wi-Fi, unlimited calls, and the infamous free boarding pass printing.

The report identified Wyndham and Hyatt as US hotel brands with the highest average resort fees relative to room rates.

The US hotel chain with the lowest resort fees was found to be the Marriott. In 2021, after a settlement with Pennsylvania's attorney general, this brand has committed to a transparency policy. Instead of advertising lower prices as a smokescreen to lure you in, they actually disclose mandatory fees as part of the total price on the first page of their booking website.
3. Restaurant junk fees
Restaurants have also become creative in inventing ways to put that extra cost on your bill. From reservation and seating fees to take-out fees (because why not charge you for your own delivery?), your space for paying just food, beverages and service is constantly shrinking.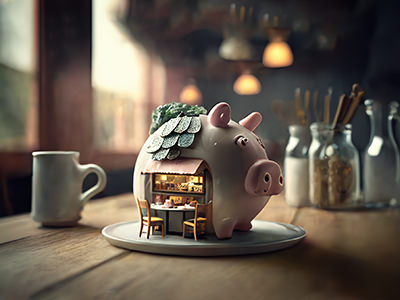 It all starts with a couvert charge, often the mandatory prelude to your meal that you didn't order, and maybe won't even eat. It could be anything from bread and butter to some more elaborate appetizers that keep you patient while waiting for the arrival of the food you did order.
Your meal could end with a sour dessert, though. If you dare to pay by credit card instead of cash, they might punish you with a convenience fee. How convenient!
If the two of you want to share a dish, some restaurants might charge you a split-plate fee. Bringing your own wine? Corkage fee. Celebrating a special occasion with a cake? That'll be a cake-cutting fee, thank you very much.
Generous tipping won't get you out of these charges. Nope, these activities are considered a bonus to a regular waiting service, which could already be padded with an automatic gratuity. Hidden somewhere at the bottom of the menu or on its last pages, you'd find a note that says something like "A service charge of XX% will be added to your bill." Indeed, why would they do the math for you, when the studies have shown you spend more if the base price seems lower?
This practice makes it harder to compare prices between establishments, especially when there is no standardization for these fees. For example, on my last trip to Budapest, where I went hunting for Hungarian desserts, I noticed that places typically charge service between 12 and 15 percent, with some completely waiving it.
During the pandemic, we got to experience the birth of the Covid-19 surcharge – a way to offset the additional costs connected to hygiene, staff masks, and gloves.
With the health situation settling down, we're experiencing the pandemic of fees or the fee-flation as a response to inflation. Some restaurants added the fee for macroeconomic pressures.
In the United States, we've seen the introduction of the wellness fee and the kitchen appreciation fee, as a way to additionally support the staff.
Businesses in China can also find innovative ways to transfer the business costs directly to the customers. In 2015, one restaurant in Jiangsu Province charged diners an air cleaning fee, in order to offset the cost of their air filtration system.
Pizza junk fee: the slice is right

The reward for the most creative junk fee in F&B business goes to Croatia.

If you thought pineapple on pizza was the hottest controversy the dish could possibly have, wait until you hear about the 2022 innovation in one Zagreb restaurant menu!

Pizzeria Toccare started charging the fee for cutting pizza. Yep, you read that right! You want your pizza cut into slices? That'll be extra 70 cents.

According to chef Denis Glavač, pizza is a gourmet dish that deserves the respect of utensils: "Each of our pizzas is for one person, you get cutlery with it, which would mean that, like any other dish in another restaurant, it is eaten with fork and knife, not with your hands, not with fingers."

If you thought this fee was just a load of baloney, Glavač has pointed out that some toppings on the pizza, such as seashells, are - impossible to cut.

Of course, the issue quickly blew up on social and mainstream media, where the pizza knife turned out to be a double-edged sword. The owner's insisting on not cutting the pizza for free was received as arrogant and rude.  

His explanation did not help: "The problem arises from the habits of people in Croatia who are taught and raised to be served according to all standards, criteria and wishes, and that of course all these additional services are free of charge. After someone resists because he wants to change the way people access restaurants, staff, and the place they visit, an avalanche of bad comments sets in."

They say that there is no such thing as bad publicity, but only Toccare's accountants will know if the public dispute about 70 cents has been worthwhile.
How and why do junk fees work?
Whether we are talking about flights, hotels, car rentals, or any other travel-related service, junk fees work because they are often buried in the fine print of contracts, agreements, and menus, making them difficult for travelers to identify or avoid.
A junk fee can be added to the final price at any point during the buying process. Initially, companies attract customers by advertising low airline fares, or low nightly rates at the hotel, but then add extra fees just before you have to hit that "pay" button.
One of the key features of travel junk fees is that they are often mandatory and non-negotiable. Travelers are required to pay them regardless of whether they use the associated services or not.
While companies are looking to maximize their profits, travelers may see it as financial exploitation which can cause frustration.
Do you want to save 15 % on your hotel bookings this autumn? Use this promotion, and enjoy your favorite getaways at a discounted price!
How to avoid junk fees when traveling?
Businesses, just like customers, will always find new ways to adapt to regulations. While it may not be possible to avoid all fees and charges, taking proactive steps to minimize them can help you enjoy your trip without breaking the bank.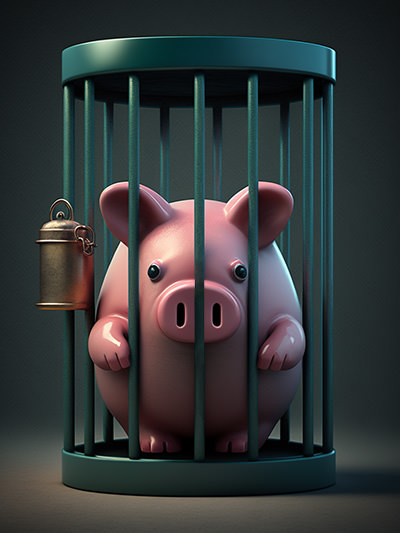 Avoiding travel junk fees can actually be quite challenging, and not always practical or effective, especially for travelers with specific needs and preferences.
However, there are several ideas you can try in order to minimize or eliminate these hidden charges altogether. Here are the tips to help you avoid travel junk fees!
1. Do your research.
Don't settle for the first "deal" you see. Before booking your travel services, compare fees across multiple providers. This detective work might end up being a lengthy process, but arm yourself with patience, as comparison shopping is a learning curve. Once you figure out which services have a transparent and fair fee structure that clearly discloses all fees and charges upfront, stick with them.
2. Book directly, but with caution.
Third-party booking platforms may charge an additional junk fee for booking through them, which you can avoid by purchasing directly through the provider's website. However, that might not always be the case. So don't just assume that Lufthansa will have a cheaper price on their website than the same flight on Kiwi.com. I always try to consult as many options as I can.
3. Read the fine print.
I know, all those terms and conditions might be dreadful reading material, but it is important to recognize the deceptive pricing structure if you want to defend your wallet from hidden cost attacks. In menus (which hopefully at least list the prices of items!), look for the footnotes at the bottom or on the last page. If you can't find them, be upfront with the waiter, and ask if there are any special fees you should be aware of.
4. Join loyalty programs.
Many airlines and hotels offer loyalty programs that provide perks such as waived baggage fees, free Wi-Fi, complimentary upgrades, and late checkouts. Your loyalty card (what do they know if you're truly loyal?) could help you avoid some travel junk fees. Also, if you book by using collected reward points or miles, junk fees could often be forgiven altogether.
5. Ask for a fee waiver.
In some cases, it's worth openly asking about waiving or at least reducing the fees for services you will not use. Explain why you think the fee is unjustified and ask for an exception. It's a long shot, but trying won't hurt. If it doesn't work, make sure to use the activities covered by the fees to the maximum. You might finish your vacation and only then find out that you could have joined the chef's tasting or a tour of the area. Just like hiding the fees, companies don't make the biggest effort to advertise the activities they guarantee for them, so make sure to find this out by yourself.
6. Travel light.
Pack smart and weigh your suitcase before heading to the airport, to be sure it adheres to the baggage limits. For this purpose, owning a portable handheld scale is a truly practical solution. More than 50 thousand people have given stellar reviews to this product, as it secures peace of mind. If you still have excess kilograms of necessary items for your trip, move them to your carry-on bag or distribute them in your pockets.
7. Pay by credit card.
Yes, that may possibly involve credit card surcharge certain businesses like to impose on top of the final price. But for all other junk fees that hit you like surprises, you'll have more space for disputing the charges. Your credit card company may be able to give you a refund or a chargeback if you prove that the fee was not disclosed properly or was fraudulent.
8. Make some noise.
Protesting against the ridiculous junk fee system is our duty as citizens. If complaining to companies directly, through social or classic media, turns out to be fruitless, write to your political representative. I did just that, and this is how MEP Biljana Borzan finished her answer: "In order to draw attention to the practice faced by millions of Citizens of the Union, I will request an answer from the European Commission. My position is clear – maximum transparency and protection of consumers and their rights are needed." And on February 2nd, 2023, she did just that – requested the EU action for protection against junk fees.
Junk fee survival guide – conclusion
Companies have become crafty swindlers, proudly introducing a slew of junk fees with unique names, as if they're their prized offspring. However, these enfants terribles have a less than noble mission: tricking the consumer into buying, for extra profits.
Like some twisted version of Robin Hood, junk fees pickpocket everyone a little bit and give a lot to the company's bottom line
In the free market, businesses have the freedom to set their own prices, but preying on human psychology by bogus "special deals", only to add up the junk fees hidden in the backend, is just unfair pricing.
Lurking in the fine print like devil's details, visible only under a microscope, junk fees disclose the terms and conditions of a transaction just nominally. They hide like ninjas in shadowy corners of contracts and price lists, waiting to strike when you least expect it.
It's a game of hide-and-seek where the buyer always loses. These vampire charges can suck your money dry, setting up an unwelcome surprise party in your wallet.
From sneaky coffee-maker fees to absurd pizza-cutting charges, or even intangible wellness fees and facility charges, junk fees often act as charges for the sake of charging. Who knows, maybe the next invention could be putting a price on the air inside the bag of chips, charging the right to hear the music at a concert, or paying for a seatbelt on your plane ride to Hawaii.
Even if they are widespread in many industries, when we go on holiday, we are especially susceptible to junk fees. The tourist industry market knows we've been working hard all year long, and that we are vulnerable to overspending.
As the sneaky bandits of the travel world, junk fees pickpocket everyone a little bit and give a lot to the company's bottom line. Like some twisted version of Robin Hood.
Junk fees can pile up quickly, and can have a dramatic impact on the holiday budget. To avoid paying the price for not reading the fine print, stay vigilant and fight back.
Hopefully, you can use some of the tips in this guide to keep your wallet happy and avoid becoming a feeble fee victim.
Did you like this guide through the junk fee universe?
Pin it for later!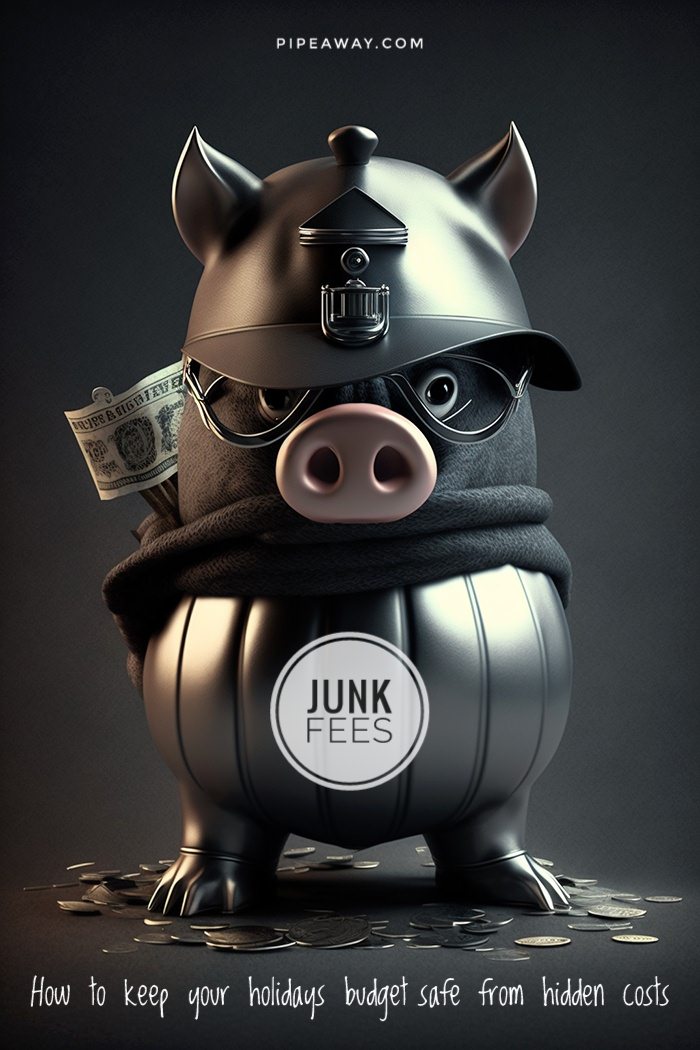 Disclosure: This post may contain affiliate links, which means if you click on them and make a purchase, Pipeaway might make a small commission, at no additional cost to you. Thank you for supporting our work!