Slaven Škrobot (34) was an active young man before an unfortunate summer accident in 2009 grounded him. A Croatian student of economics had to replace life on a bicycle with life in a wheelchair. His regular volleyball and football training had to become just a distant memory. With an unstoppable sport spirit, he didn't surrender to the dark thoughts. Instead, he picked himself up and started the world journey in a wheelchair. He chose traveling and decided to look for happiness in the little things.
Slaven Škrobot is the first wheelchair traveler who reached the top of Pidurangala in Sri Lanka and Petra Monastery in Jordan
Well, that's at least how he presents it. Pidurangala in Sri Lanka is a challenging hike even for those of us who don't deal with quadriplegia. Slaven Škrobot became the first person in a wheelchair to hike to its top! Reaching Petra Monastery was another 'first' in his portfolio of extraordinary achievements. The adventurous spirit always made him find his way!
While many people will dream about traveling and justify why they are not able to execute their dreams at "this moment" of their life, this disabled guy in a wheelchair unmasks their reasoning. As he learned a decade ago, life can change in a wink of an eye. One can continue dreaming and living with the handicap of excuses, or one can – make a move.
The COVID-19 pandemic has grounded planes, but this inspiring quadriplegic continues sharing his amazing journey in a wheelchair on his blog slavenskrobot.com. Patiently waiting for the day when rolling around the world will again become his reality.
Faced with their children becoming blind, this Canadian family decided to show them the world while they can still see it. Read an inspiring interview with Edith Lemay!
Precious mobility
How are you coping with the lockdown?
It doesn't bother me that much. As a disabled person, I am used to this way of life. So the only thing I miss is nature walks. But now it's getting better and I've already started going out.
These quarantine times have reminded many of the value of mobility. Some people cannot handle this type of isolation. You had a whole decade to adapt to a new life and a new definition of normal. Do you have any advice for people who have to learn that life after the pandemic will not be the same again?
People need to learn about themselves and how to love themselves, be happy with themselves, and like to spend time with themselves. People are not used to it, but when you do those things, you don't need anyone, and you learn how to spend time on your own and not get bored. I'm actually never bored, I always find something to do and something to occupy myself.
Slaven traveled the Great Ocean Road in Australia, one of the best road trips available to electric vehicles too!
Slaven Škrobot's first trips, on medication
Your disability is 100 %. How did it happen?
Correct! I broke my neck, c5, 10 years ago. Some friends and I were jumping from the jetty on the island of Krk. I jumped on my friend who stayed under the water, so I wasn't able to see him. I smashed my head into his body.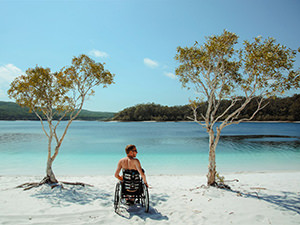 While still in the hospital, you started hallucinating that you were in the Northern Pole and Hawaii. How was that and did it pin these destinations on your bucket list?
Heh… Well, I've been put on a lot of medication, including morphine. Those were crazy times and I remember most of the events as if they happened yesterday. I've had really cool hallucinations and I had really bad ones. I flew over Hawaii, hunted polar bears, rode a train, etc. I don't like to speak about the bad ones, they were really bad and I don't like to remember them. I've been hallucinating for about a month and still, to this day, I'm not sure if some stuff was real or not. I have a totally different bucket list than what I experienced in my hallucinations. I wish to visit Namibia, Egypt, Iran, Vietnam, Madagascar, Monument Valley…
The Morocco trip was a big step out of my comfort zone. Since then, I fell in love with travelingSlaven Škrobot
Such an accident could bury many under a lot of layers of depression. Slaven Škrobot before the accident and Slaven Škrobot after the accident are not the same person. How did it all affect you, especially as you led an active life before? What was the turning point for your decision to become unstoppable?
Well, when I came home from the hospital, I was annoyed by Facebook pictures of my friends traveling and skiing, as well as seeing people riding bicycles or doing sports. I was furious that I couldn't do anything or that no one invited me to join them. I knew I was going to spend most of my days alone with myself and that I had to find something to give me peace. Music and concerts helped me out. As time passed, I wanted to do something more and to travel somewhere outside Europe. Morocco came to mind. It was a big step out of my comfort zone but my friends made it work and it was the best journey ever. Since that trip, I fell in love with traveling.
Wanderlust and disability don't exclude each other. For more inspiration and information on overcoming challenges when traveling with chronic pain, follow Jenn Lloyd, the U.S. blogger behind Sick Girl Travels. 
Obstacles are in the head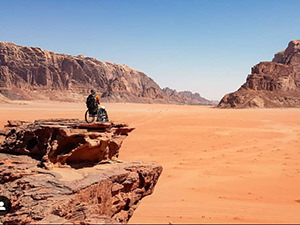 With the level of disability you have, what does your everyday life look like?
I have a kind of routine now because it's pretty hard to be spontaneous when you can't walk. When I don't travel, I explore and research my next destination, do something for my father's company, exercise, listen to music, go to some concerts, and movies, write about my travels, etc. I try my best to find happiness in the little things. I always say, give me sun and warmth, and I'm happy! All is in the little things!
Many people see a traveling lifestyle as a luxurious privilege, as an activity that could be complicated, and unaffordable. They easily find obstacles in the plan, and even when they can afford it, they opt for the security of travel agencies. Yet someone who is traveling the world in a wheelchair, like yourself, has to organize one's journey on one's own! How does one overcome the true handicap – our brain telling us that traveling is a difficult adventure?
People whine that travel is a luxury while sitting at home in front of a 3000 $ TV setSlaven Škrobot
If you really want something, you will do whatever it takes to achieve it! If you don't want it 100%, you will find an excuse. I don't find traveling luxurious or hard, especially nowadays. People whine that it's a luxury and sit at home looking at a 3000 $ TV set. I've traveled over half of Australia for just half of the amount. So would you rather have a 3k TV or travel halfway around Australia? People will always make excuses, but it's all about priorities.
One Australian is in love with discovering the planet's secrets in a very special way. Erik, the free ranger, reveals all secrets of the naked hiking in our interview!
Traveling in a wheelchair – the adventure of a lifetime
Some think that traveling can be dangerous as well. Have you ever been in such a situation?
Haha, I've been in some dangerous situations, yes! I think the most dangerous and crazy one was a hike to the top of the Pidurangala in Sri Lanka. It is a volcanic rock positioned next to the Sigiriya, another volcanic rock on top of which the king built a fortress. A wrong move by anyone climbing, and that would probably be one's end.
Another situation that I always remember is when a guy pulled a knife on us in El Jadida, Morocco.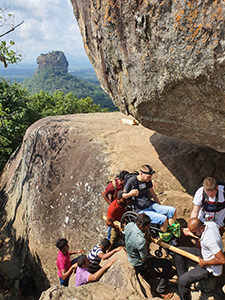 Even if traveling in a wheelchair, you've climbed mountains, hiked deserts, and touched oceans. What are your favorite travel memories?
I like each of my destinations and travels in its own way. I love deserts, the Middle East, and history/culture on one hand. On the other, I like palms, sea, and beaches. Australia is special because it seems like a different planet, but Sri Lanka is very beautiful as well.
With every new trip, I bet your hunger for adventure grows more and more. But what are the achievements you are most proud of?
Correct! But now I am well aware that I can't keep going like this and do crazy, stupid, and dangerous stuff for the rest of my life. I'd like to be more independent, start a full-time job, and have a family soon, so I need to concentrate on that and make that a priority. I will still travel to exotic locations, just maybe not as crazy as before. But you never know what life brings! If you'd asked me 8 years ago, and showed me what I did, I'd tell you you're crazy! I was the first person in a wheelchair to reach the Monastery in Petra, Jordan, and climb Pidurangala in Sri Lanka. I traveled across half of Australia and, most importantly, I remained positive and happy in my head!
Slaven Škrobot is the first tetraplegic who reached the Petra Monastery. To see what traveling in a wheelchair looks like, check out his video on YouTube!
Slaven Škrobot on challenges of disabled travelers
The world is not really adapted for traveling in a wheelchair. It can be discouraging, but hopefully, you have some advice for other travelers with disabilities. What destinations would you recommend?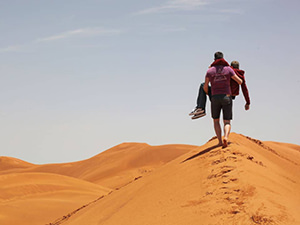 When it comes to traveling for people in a wheelchair or with disabilities, many are afraid to travel because of various reasons. It's a big step up out of the comfort zone. Many are afraid their wheelchairs will get damaged during the flight (it happens a lot!). And many don't feel comfortable sitting on a plane for long, and not being able to use the toilet, so they don't drink/ eat. When it comes to me, I'm not shy and I don't care about other people, so I just do the toilet in my seat, for example… I just find my way. What matters the most to me is a strong will, so if you really want something, you will go and get it!
There are many destinations that are pretty well accessible for travelers in wheelchairs. But I usually don't go there. I don't have the money to travel with accessible agencies, so I do everything on my own. Most of Europe is pretty accessible, the USA as well, and which I experienced the most, Australia! I'd move there tomorrow!
In your situation, it would be hard, if not impossible to travel alone. Who are your companions, and how do they help you?
Yes, unfortunately, there is no way I could travel alone. Till now, it has always been my friends or I've found someone randomly through my page to go with me and help me. I always find my way.
One Swiss photographer has travel companions on wheels too! Kim Leuenberger is traveling with vintage toy cars, check it out!
Travel blogging without the finger function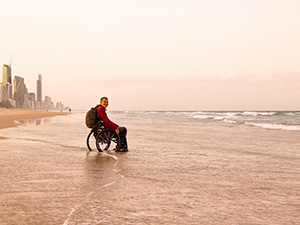 Traveling in a wheelchair requires a lot of research. Can you describe the process?
Oh yes! I do a lot of research! For my trip to Australia, I've spent four months researching, exploring, reading, watching, or sending e-mails. I try to find the cheapest possible place that can offer me the most things to see. Or I really like something, like Pidurangala in Sri Lanka, and create my plan around it. It also depends if someone invites me somewhere or if I find cheap tickets. I like to plan everything and see as much as possible on my trip.
You document your travels on your blog, but sadly it's only in Croatian. Would you like to be fully immersed in travel reporting, and what are your plans in that sense?
I'd like to write in both Croatian and English, but sadly I'm in this all alone. Without mobility or finger function, it's hard and slow. I write all my stories on my laptop. I type with both little fingers when I am in a good position to type, which is not the case all the time. Since I can't move them, I don't type with the tips of my fingers, but with the middle part of them. I wish to stay true and honest, and I don't want to present my life as perfect, because it's far from it!
As for destinations, what's next on your radar?
It was supposed to be Iran but due to the virus, everything stopped! Now I have no idea when, where, or how I will travel next.
Besides on his blog, you can follow Slaven Škrobot and his adventures of traveling the world in a wheelchair on his Facebook page, Instagram profile, or Youtube channel.
Did you like the interview with Slaven Škrobot, a wheelchair quadriplegic traveling the world?
Pin it for later!