Whether you decide to go on a road trip or take a long flight where you hope to hide from the condemning gaze of other passengers in bulkhead seats, traveling with children can quickly turn into a nightmare. It's understandable; trips produce anxiety, and being forced to stay put for an extended period of time can trigger a whirlpool of (not only) a child's emotions. Luckily, there is a potentially helpful solution, and it's called: weighted stuffed animals or anxiety plushies.
I recently got a weighted stuffed animal and it makes me feel so much better every time I hold itReddit user
Since the summer of 2022, these toy animals with additional weight have been a rapidly trending topic, exploding both on search engines, as well as on social media.
Only on TikTok, there have been more than 43 million views of short videos related to weighted stuffed animals. With hashtags such as #anxietyrelief or #anxietyplush, weighted plushies have gone viral.
As testified in Reddit communities dealing with autism, ADHD, and anxiety in general, hugging stuffed animals is not a medicine exclusively reserved for children.
"It is absolutely divine lol. I love it so much. I've always been apprehensive about a weighted blanket cause I don't really like being restricted. But the stuffed animal is the PERFECT balance", testifies one user.
"I recently got a weighted dragon stuffed animal that I found at Target and it makes me feel so much better every time I hold it. Whenever my anxiety flairs up or I get frustrated or sad", comments another.
"When my daughter was a baby and would sleep on my chest it really calmed me down and I'm looking for a similar feeling", says a mother that combated nighttime anxiety by cuddling with a plushie.
No matter if you are looking for yourself or for your child, for home or for travel needs, this article will help you find weighted stuffed animals that can reduce anxiety!
A Swiss photographer doesn't travel with plush, but tin toys. Meet Kim Leunberger!
What is a weighted stuffed animal?
Weighted stuffed animals are toy animals stuffed with additional weight.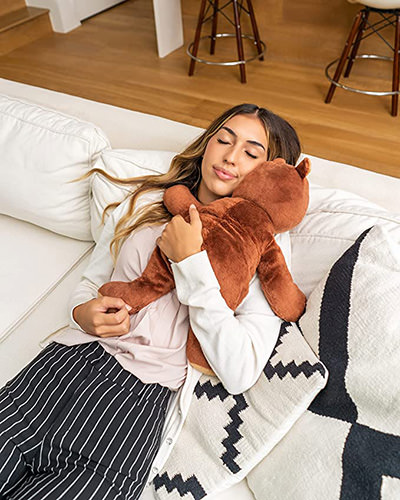 To provide weight in their base and help them sit upright, weighted stuffed animals are typically filled with Poly-Pellets, non-toxic polypropylene stuffing beads.
If you want to avoid plastic, more environment-friendly and durable, but also somewhat pricier weighted beads for stuffed animals can be made of glass.
In a do-it-yourself version of the product, instead of weighted pellets or beads, people put sand or stones in weighted stuffed animals. However, these can damage the plush.
Alternatively, dried food, such as grains and seeds can fill the plush. While materials such as rice, beans, corn, pasta, or bird seeds can technically do the job, they are not a recommended choice. Food items pose a problem for washing the toy and can also rot, grow mold, and even attract insects.
How heavy should a weighted stuffed animal be?
Stuffed animal weight is typically between 0,5 and 2,5 kilograms.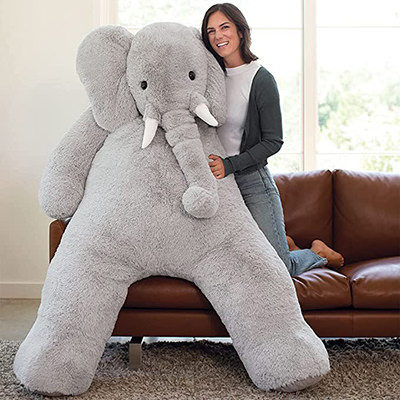 The best weight for the plushie depends on personal preference, but it should definitely enable the user to easily pick it up and carry it.
General advice for the good weight of a weighted stuffed animal is that it shouldn't exceed 10 % of the user's body weight.
However, be extra cautious with toddlers and especially babies; on the safe side, their weighted plush should not be heavier than 5 % of their body weight.
7 benefits of weighted stuffed animals
1. Weighted stuffed animals calm users down.
Weighted toys work against restlessness and meltdown, relaxing tense muscles and breathing, slowing down the heart rate, decreasing levels of the stress hormone cortisol, and prompting other chemical reactions that promote comfort and a sense of calm.
2. Anxiety plushies help with sleeping.
Weighted stuffed animal is a great sleeping buddy. It fights insomnia by reducing the amount of time needed for falling asleep. Whether we are talking about a quick nap or an evening bedtime routine, anxiety plushies can relieve some stress, and improve overall sleep quality.
3. Stuffies repair focus.
Not only for people diagnosed with ADHD (attention deficit hyperactivity disorder), a weighted stuffed animal can encourage focus and become a great study buddy. The release of serotonin increases the attention span and improves cognitive function in general.
4. Weighted stuffed animals improve motor skills.
Due to their weight, handling these toys will build up body strength, especially in the arms and shoulders. It should also be beneficial for enhancing fine motor skills, such as writing.
5. Weighted plushies boost mood.
The tactile experience of weighted stuffed animals triggers the release of dopamine, regulating the mood, and increasing the experience of happiness.
6. Weighted soft toys lessen the pain.
Just like mom's hug, the first functional medicine after a child falls off a bike or experiences cramps in the stomach, weighted stuffed animals can provide similar ease of physical pain, instead of drugs. Some weighted stuffed animals come with a removable heating/cooling pad that can be safely warmed in a microwave, or chilled in a freezer for direct application on the point of pain.
7. Weighted stuffed animals help with travel anxiety.
Hugging stuffed animals reduces anxiety and panic attacks in general. Much more practical than weighted blankets, these toys are easy to carry around and don't look clinical. Therefore, comforting stuffed animals can become discrete portable remedies for fighting travel-related anxiety.
The science behind anxiety plushies
Weighted stuffed animals are sensory products that exploit the science of Deep Touch Pressure. This occupational therapy technique applies gentle but firm touch to naturally calm the body and relax the nervous system.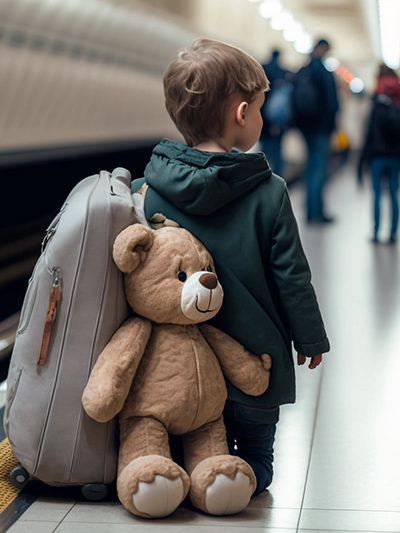 The deep pressure stimulation produced by anxiety plushies' added weight doesn't differ much from the effects of a hug, a nice massage, squeezing of a stress ball, or even just a cat curling up in our lap.
While real scientific research with weighted stuffed animals should still be conducted, what we know from studies with weighted blankets tells us that this type of support can lower anxiety and have a calming effect, minimizing the flight-or-fight response.
Additionally, unlike blankets, the use of weighted stuffed toys concentrates pressure in desired areas, without creating the claustrophobic effect. Plus, they are much cuter.
When we feel the pressure of a weighted stuffed animal, our brain releases feel-good hormones, serotonin, dopamine, and oxytocin, while the stress chemical of cortisol is reduced. This has a therapeutic effect of mood improvement and calmness, proving rather useful with those struggling with anxiety, ADHD, PTSD, or autism.
Can you bring weighted stuffed animals on a plane?
You can bring a weighted stuffed animal on a plane, as long as it's inside the boundaries of allowed limits for carry-on baggage, both in weight and size.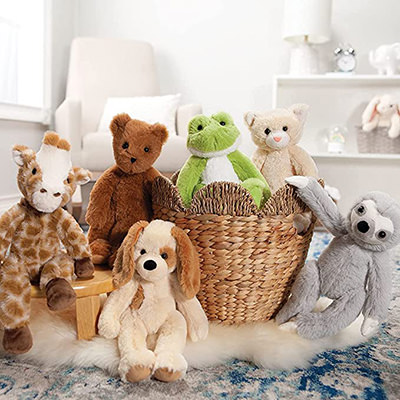 Exact baggage allowance will depend on your carrier and flight, so always double-check with the airline before expecting your XXL stuffie to sit in your lap, or to fit in the overhead bin.
Also, be prepared that your favorite toy will have to go through an x-ray screening. As learned in Orlando 2003 and Rhode Island 2012 cases, instead of the weighted beads, do-it-yourself plushies can sometimes be stuffed with ammunition and even loaded guns.
How to clean a weighted stuffed animal?

Most of the weighted stuffed animals are not machine-washable. Even if a manufacturer could claim they are, their water-sensitive and heavy filling could be dangerous for the toy in a tumbling environment.

Always read the product instructions before attempting to put a stuffed animal in a washing machine or a dryer. You don't want to produce damage just because you didn't read the fine print.

In general, you should be able to spot-clean any stain with a gentle wet towel rub. Occasionally, you could enclose the toy in a plastic bag together with half a cup of baking soda, shake it for a few minutes, and leave it to rest – use the vacuum cleaner to remove the residue of soda and dirt.

Some weighted stuffed animals come with a removable interior, in which case the exterior plush is normally washable. Still, use the program for cool delicate washing with mild detergent, and air dry. You can also place the washed toys next to a dehumidifier or use the cold blow dryer to speed up the drying process.
Best anxiety plushies for any age
Whether you are looking for a birthday or Christmas present, heading for a baby shower, or want to surprise your Valentine's date, stuffed toys that can give a hug are always a fun gift.
From newborns and infants to adolescents and adults, anyone can enjoy a good plushie.
They are great décor for a room or a perfect companion for a trip.
To help you out with the available choices, here is the list of the best weighted stuffed animals for anxiety, at every age!
Weighted stuffed animals for babies
1. Giraffe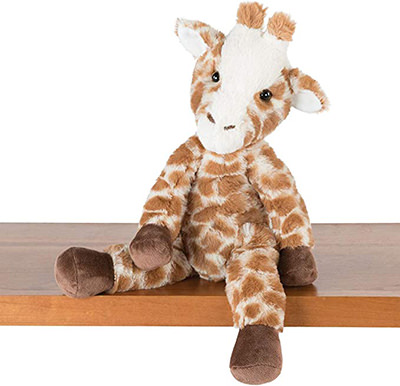 Price: 39,99 $
Size: 38 cm
Weight: 0,2 kg
Designed by Vermont Teddy Bear Company, this cuddly floppy giraffe is a product of a four-decades-long tradition of making handcrafted toys.
Soft and smooth fur, and jointless long limbs, with perfectly placed weighted beans, guarantee long hours of squeezing and cuddling.
In this case, the promise of a neverending relationship has a lifetime guarantee! If anything would, God forbid, happen to the giraffe's cute little tail, horns, or any other body part, it would be thoughtfully treated in the bear hospital in Vermont and returned as new.
This extra cuddly giraffe will therefore certainly become your forever buddy, and if you want to be sure that it has company when you are out of the house, consider purchasing other adorable soft buddies, such as a pony horse, red panda, or a flamingo!
Order your Vermont Teddy Bear Stuffed Giraffe here!
2. Cow
Price: 29,99 $
Size: 36 cm
Weight: 0,6 kg
This adorable little cow produced by Intelex comes from a family of Warmies, weighted stuffed animals that can be heated in a microwave oven, for that extra comfort.
Besides producing soothing warmth, the process also releases a relaxing aroma, sourced from real dried French lavender from Provence. The grain filling is also all-natural.
The roly-poly cow can be frozen too, and used as an ice compress, to ease sprains and bruises, and reduce swelling and temperature.
Warmies help in managing stress, tummy aches, insomnia, cramps, flu, tendonitis, and so on. They have also proved great in calming children with autism and sensory processing disorders.
Besides this mooing cutie, other heatable bedtime and daytime buddies come in many other forms such as a cute bulldog, a cozy chimp, or even a gray manatee!
Order your Cozy Black and White Cow Warmie here!
3. Unicorn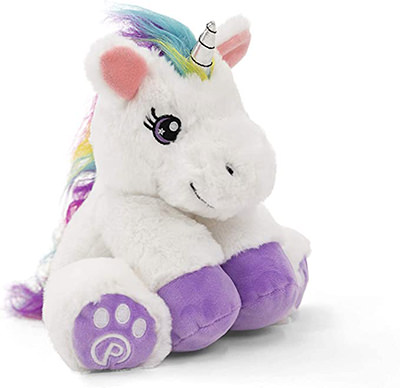 Price: 17,99 $
Size: 25 cm
Weight: 0,1 kg
Another weighted stuffed animal that your newborn will learn to love is this colorful unicorn plushie, produced by Plushible, the company that "bridges miles with smiles".
With its fun rainbow hair, oversized purple paws, and shiny silver horn, this fluffy toy will certainly bring a smile to any youngster.
Without loose parts, the unicorn is safe for kids from 1 month and up, and it is made to last. However, it comes in five different sizes, so you can measure it up as your child grows, all the way to the teenage years.
Besides magical snuggles for all unicorn lovers, this company also offers blanket besties. Animals in a wide range from foxes to frogs, come stuffed with soft plush sensory blankets, perfect for snuggly naps.
While the magical unicorn is one of the rare weighted stuffed animals under 20 dollars, buying it from Plushible also means contributing to a good cause. They donate 5 % of every sale to The Toy Foundation, a charity that provides toys to children in need.
Order your Plushible Unicorn here!
Weighted stuffed animals for toddlers
1. Sloth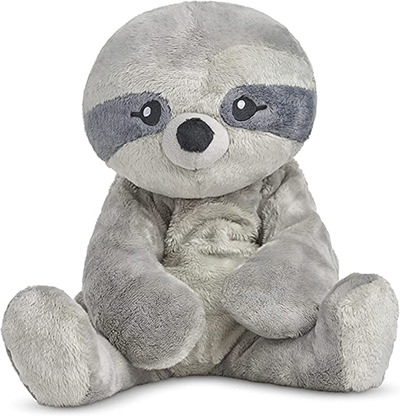 Price: 64 $
Size: 51 cm
Weight: 2,1 kg
This calming companion in a form of a sloth comes from the Hugimals family, a brand of products that Time named one of the top inventions of 2022.
Deep touch pressure technology stimulates a relaxation response from the parasympathetic nervous system, making the child feel comforted, grounded, and calm. The sloth's weighted hugs will relieve stress during travel adventures, and cuddle your toddler to sleep when needed.
Even if they are recommended for children older than 2 years, soothing Hugimals are popular studying buddies for school children, as well as self-care companions for adults.
The toy's inner body is removable, so the outer plush can be easily washed when needed.
A sloth that hugs back is just one of the weighted stuffed animals whose glass-bead filling gives the sensation of being hugged, the others being an elephant, a puppy, and a bear.
Order your Sam the Sloth here!
If you prefer smaller hugs, for instance around your wrist, the Wild Republic has a whole range of Huggers, affordable plush toys that double as slap bracelets. Check out their bald eagle, green parrot, koala, snow leopard, or wolf, for instance!

2. Frog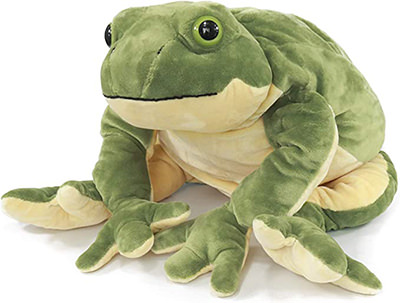 Price: 24,99 $
Size: 56 cm
Weight: 0,5 kg
This giant frog by Ice King Bear Plush represents the largest frog on the planet – the endangered African goliath bullfrog or Conraua goliath.
While the largest specimens of this species can grow up to 32 centimeters in length, the plush version of the amphibian reaches 56 centimeters but is thankfully eight times lighter.
Ultra-supple short plush provides long, soft, and skin-friendly hugs with this toy. Throw it over your shoulder and give it a kiss, you never know when a weighted stuffed animal could become a prince!
More than two thousand customers rated this lovely squishy frog on Amazon, with an average rating of 4,9 out of 5.
The same brand also offers pink and blue alien octopuses whose tentacles love hanging from the child's head.
Order your largest frog plushie here!
3. Hedgehog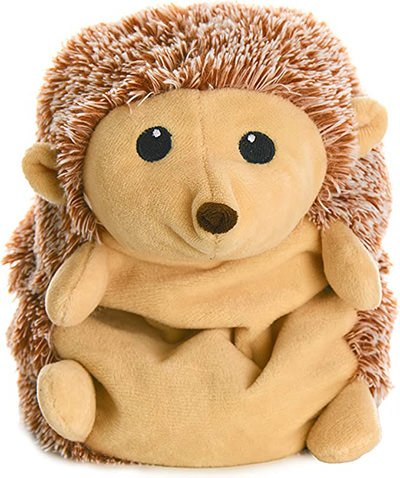 Price: 24,95 $
Size: 19 cm
Weight: 0,7 kg
Another heatable/coolable plushie with a lavender scent is this adorable hedgehog from 1i4 Group. His name is Harley, and unlike real hedgehogs, has the softest spines, made for petting.
Member of the Warm Pals family, this hedgehog can survive going from freezer to microwave, depending on whether you want to cool off on hot nights or ease tense muscles.
The comfy critter will provide aromatherapy that promises to relax, calm and comfort your child on long road trips and plane journeys.
Other Warm Pals worth considering as comfortable travel companions are a snake (weighted stuffed animal you can wrap around a neck), a turtle, a magical unicorn, or even a real-life unicorn – narwhal.
Order your Harley the hedgehog here!
Weighted stuffed animals for preschoolers
1. Moon Pals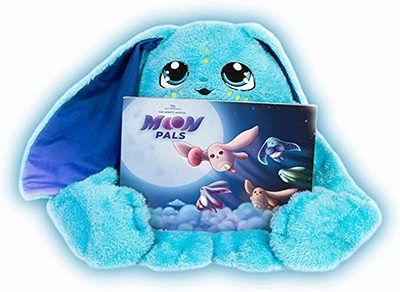 Price: 69,95 $
Size: 56 cm
Weight: 2,2 kg
The only imaginary animals on this list (well, unicorns are real, right?), Moon Pals are therapeutic huggers designed to calm your kid down and reduce the feeling of being overwhelmed.
Harnessing the power of deep pressure stimulation, with its 5 pounds and dynamically weighted arms that sit perfectly on one's shoulders, this stuffed animal has a therapeutic effect of a real hug.
Its soothing fabric invites cuddles and snuggles, and the tactile sensory experience is extended with big floppy ears.
It doesn't matter if you choose blue Bo, pink Mylo, green Echo, or purple Opal, your plushie will come with a free storybook. If you buy two or more of these anti-stress pals, discounts await!
Order your favorite Moon Pal here!
2. Capybara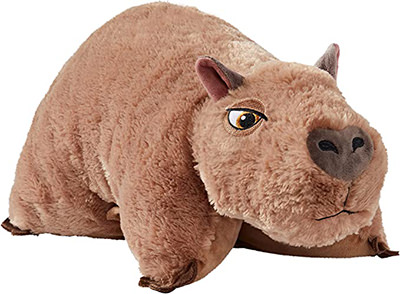 Price: 34,99 $
Size: 38 cm
Weight: 0,7 kg
Modeled after the world's largest and friendliest rodent, this fluffy capybara by Pillow Pets will certainly become a great friend of your preschooler too.
While it is a fun daytime toy, when the night falls, the weighted capybara plush transforms into a super soft pillow. With an unfastened belly, it becomes a comfortable nap companion, at home or while traveling.
Made of high-quality plush, the adaptable 2-in-1 product can really be enjoyed and appreciated by any generation.
This weighted stuffed animal is actually inspired by Chispi, a capybara that appeared in Disney's 2021 musical "Encanto".
If you want to enlarge your weighted stuffed animal Disneyland, consider Moana's pot-bellied pig Pua, hugging bear Lotso from "Toy Story", the extraterrestrial koala Stitch from "Lilo & Stitch", Olaf the snowman from "Frozen", or opt for the classics such as Mickey Mouse, Minnie Mouse, and Winnie the Pooh.
Order your Encanto capybara here!
3. Axolotl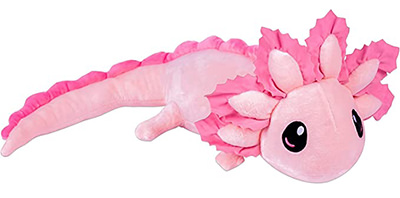 Price: 59,99 $
Size: 66 cm
Weight: 1,8 kg
Offered to the market by Kawaii Axolotl (LKMYHY), this giant axolotl is a plush toy inspired by the unusual Mexican salamander.
If you'd love to improve your child's understanding of nature, this toy animal will be the perfect teaching tool.
With a malleable body, covered with soft and stretchable fabric materials, the stuffed axolotl provides a gentle tactile experience, safe and enjoyable for the child's skin.
Its appearance just calls for hugging and creative play during which your kid can train their imagination, and share stories or secrets with the little friend. Especially at bedtime, as it calms the nervous system and promotes sleep.
As it comes in a variety of colors (gray, pink, yellow), it's also a fun collectible item.
Order your axolotl here!
Axolotl is a cousin of the mysterious Postojna Cave animal. Discover the fascinating olm in Slovenia!
Weighted stuffed animals for schoolchildren
1. Cat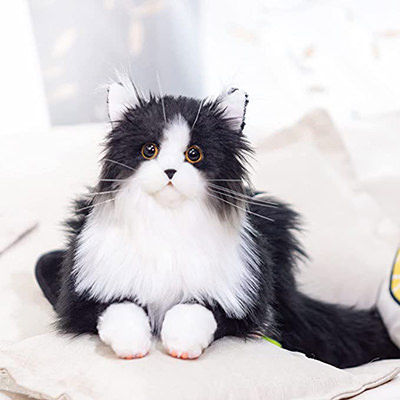 Price: 109 $
Size: 56 cm
Weight: 2 kg
By now, your kid has pulled your sleeve numerous times, dreaming of a feline present under the tree every Christmas. This realistic, lifelike weighted black cat plushie by Chongker could be the solution. Available for comfort, but no issues with leaving it at home alone, or taking it with you on the road when traveling.
With 4,5 pounds, this weighted stuffed animal comes close to an actual cat's weight. But the manufacturer claims it reduces anxiety much more than the real purring pet.
During stressful situations, this fully handmade cat is designed to relieve stress. Even if it's suitable for children older than 3 years of age, it can bring benefits even to seniors who would love companionship but cannot take care of a living cat.
For extra bucks, you can even customize your cat, to resemble the pet that possibly passed away. You can choose everything from the kitten's gender to eye and paw color, and even the exact weight.
Order your realistic cat plushie here!
2. Dolphin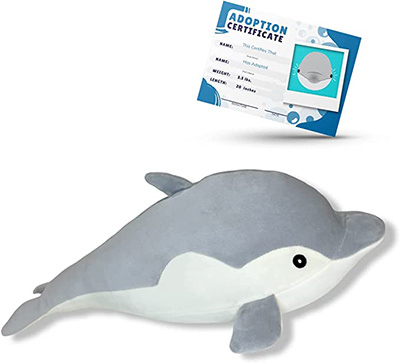 Price: 36,99 $
Size: 51 cm
Weight: 1,5 kg
The newest arrivals in Ayoka Toys Store, these kawaii dolphins bring sea life directly to your arms. Besides the squishy weighted stuffed animal, you also get a fun add-on: a dolphin adoption certificate.
With soft plush fur and carefully distributed weighted filling, the dolphin gives a sense of security and comfort to the child but also encourages sensory stimulation and tactile development.
If you are looking for a cuddle buddy that can provide the feeling of real hugs, but also nurture imagination and empathy, Ayoka's dolphin could be a smart purchase.
For those readers that love to shower their daughters with princess colors, there is also a pink dolphin you could "adopt".
Order your gray dolphin here!
If you want to see some amazing dolphins in the wild, join the best whale-watching tour in Tenerife!
3. Shark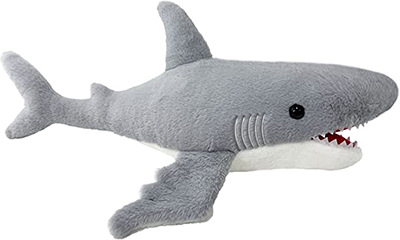 Price: 28,99 $
Size: 58 cm
Weight: 0,9 kg
Time to raise the danger alert with a shark! But don't worry, even if its mouth is red, and its white teeth look sharp, this weighted stuffed animal is going to do everything else but hurt you!
Filled with weighted beads, it conforms to your body, becoming a perfect hug or play companion, and relieving your daily dose of anxiety and stress.
When you don't need comforting, the shark also doubles as an excellent neck pillow.
If you are more into scent than size, you can consider buying this mini shark that smells of lavender, suitable even for younger children. For anyone else…
Order your anxiety-fighting shark here!
Weighted stuffed animals for teenagers
1. Dinosaur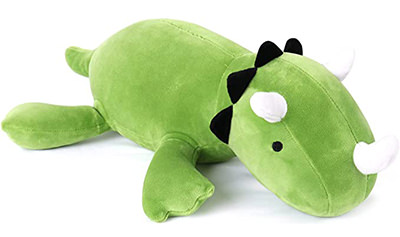 Price: 34,99 $
Size: 61 cm
Weight: 1,7 kg
Entering the teenage years doesn't mean one has to say goodbye to the wonderful world of weighted stuffed animals. The perfect choice for a teenager is this green dinosaur, popularized by Target's Pillowfort.
It is an extra heavy weighted stuffed animal, with 1,7 kilogram under its belly. But the soft exterior and heavy bottom make it a wonderful hugging partner. It is designed to create a feeling of real weighted touch.
Green dino looks nice as a bedroom decoration, so it can function as an incentive for keeping the teenager's room neat and tidy. The weighted dinosaur can also double as a great study buddy.
Besides this cute triceratops, you can also get a pink version of a dinosaur! 1i4 Group makes a green dino with a lavender scent, while if you want to combine your weighted toy with a hand puppet design for an additional level of play, you can even order a yellow or blue dinosaur.
Order your regular green dinosaur here!
2. Bear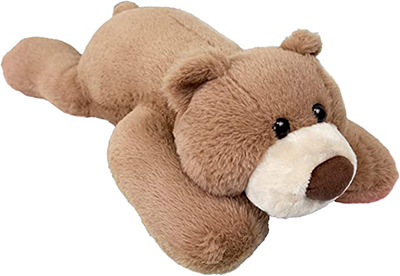 Price: 42,99 $
Size: 60 cm
Weight: 1,3 kg
Teddy bears have become a toy classic, so when you try to choose the best plushie for your teen boy or girl, why not pick this weighted plush stuffed bear throw pillow?
It is a brown bear made of soft cotton and weighted beans that will comfort an anxious child, whether it's setting down to sleep or cuddling during the ride to a new and unfamiliar destination.
The weight of this extra-large stuffed animal is just enough to produce a calming effect, without being tiresome for carrying around.
The anxiety bear also doubles as a lumbar pillow, supporting one's back during the long hours of studying in the chair.
You can choose a smaller or larger size, but also the polar bear version of the same product if you prefer it white!
Order your regular brown bear here!
3. Panda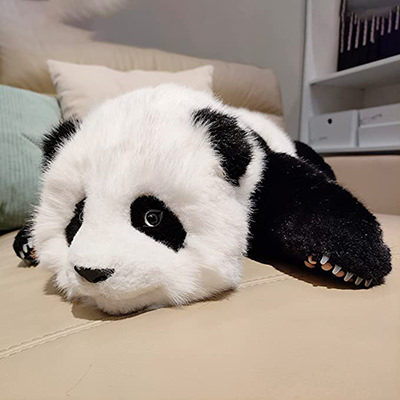 Price: 179 $
Size: 55 cm
Weight: 1,8 kg
The higher-end product on this list of weighted stuffed animals is this realistic giant panda by Chongker. While it does cost more, it could fool even the best zookeeper, if not pandas themselves! Besides having a real-life appearance from head to toe, this jumbo stuffed animal also has a convincing weight of 4 pounds.
Panda is designed in a prone position that allows it to naturally lie on your knees, the perfect place for calming you down when you most need it. The toy's softness and cute personality will make you want to pet it for hours.
It takes five people working for five days to make this completely handcrafted plushie as authentic as it could possibly be.
Order your lifelike panda here!
Extra extra large option: Jumbo Elephant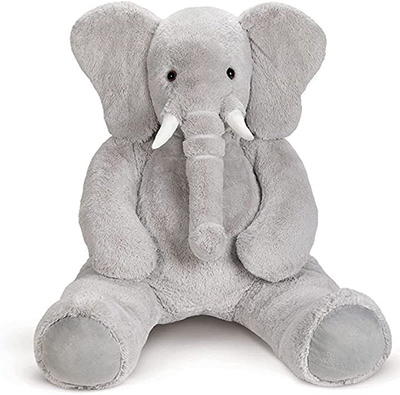 Price: 229,99 $
Size: 183 cm
Weight: 9,2 kg
If you still cannot weigh your options, why don't you go overboard?
Your XXL stuffed animal is this gigantic elephant from Vermont Teddy Bear!
We are talking about a 72-inch tall and 20-pound heavy giant!
The jumbo elephant has high-quality premium soft fur and is 100 % stuffed with recycled plastic bottles. By purchasing this plushie, you are also taking care of the environment!
And best of all, this 6-foot cuddle elephant comes with a lifetime guarantee. Any damage that it suffers will be mended for free at the bear hospital in Vermont. If the damage is beyond repair, a new specimen will be sent to you, together with condolences. Long live the elephant!
If you want to have another extra heavy stuffed animal, Big Plush offers a personalized 6-foot teddy bear for 377,76 $.
Order your super-sized elephant here!
Unlike other weighted stuffed animals on this list, you will not easily carry a jumbo elephant into an aircraft. Learn everything about being too fat to fly here! 
Are weighted anxiety plushies worth it?
While a good plushie pal could be a welcomed member of any family home, it can prove its function even better when leaving the house.
Trip-related anxiety during the long rides, stress with overstimulation in crowded destinations, sleepless nights in an unknown hotel bed… This can all negatively affect the travel experience.
Weighted stuffed animal is a simple but significant aid for our mental health, practically like a real service animal
Weighted stuffed animal, that simple product made of plush and some added weight, can bring back the sense of familiarity we associate with a comforting hand on a shoulder or a missing hug.
Always available, unlike a pet or a human, a weighted plushie is an emotional company that can better anyone's life.
It's a simple but significant aid for our mental health, practically like a real service animal. Easy to maintain, it will sit in your lap during a flight that makes you nervous, or reduce stress when you cannot afford an expensive massage.
Weighted stuffed animals come in a range of designs as well as prices, so they can fit most people looking for a sense of security and comfort.
They can also make your living environment more kawaii. There's no need to delay bringing more cuteness to your surroundings. It's time to get yourself a plushie pal!
Did you like this product guide for weighted stuffed animals?
Pin it for later!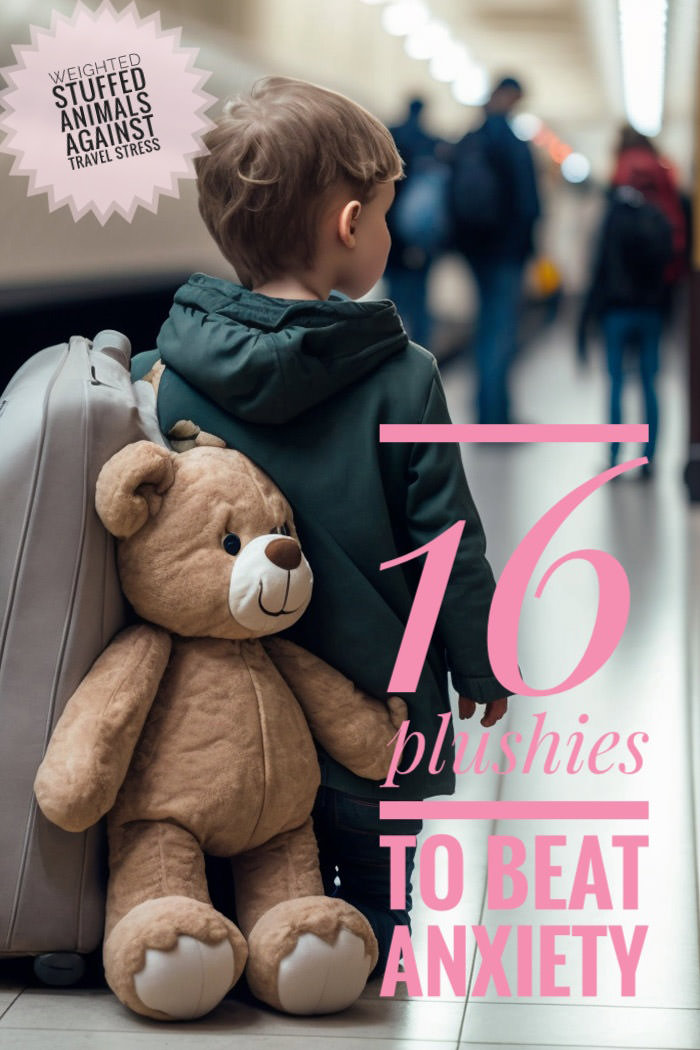 The cover image of this article, as well as the image of a boy with a teddy bear at a train station, have been created by Midjourney/Ivan Kralj, under the following asset license. All other images are sourced from toy manufacturers available on Amazon, accordingly credited. 
Disclosure: This post may contain affiliate links, which means if you click on them and make a purchase, Pipeaway might make a small commission, at no additional cost to you. Thank you for supporting our work!