As autumn sweeps in, and the leaves take a graceful nosedive from the trees, something else is falling too – hotel prices! It's that time when you can plan your next hotel getaway without your wallet shedding a tear. And guess who's back after the sizzling success of summer promotion? Booking.com, with their "Late Escape 2023 Deals", designed to catapult you into unforgettable autumn hotel getaways.
Autumn is a season that enchants with its vibrant landscapes and cozy embrace. Getaway deals on Booking.com invite you to fully immerse yourself in this captivating time of year. With a minimum 15% discount on selected rooms and rates at participating properties, you can cozy up in a charming room, without exceeding your budget.
Imagine waking up to the rustling of leaves and the seductive aroma of freshly brewed coffee, all while knowing you've snagged an unbeatable deal on your hotel getaway. Autumn mornings never looked this good.
If you want to escape the northern hemisphere, there is always the southern half of the globe or even tropical paradises where you can extend your summer with more coins in your piggy bank.
If you are a budget-savvy traveler, you will want to learn everything about the hidden travel costs - junk fees!

Discounted hotel getaways until January 3, 2024
The Late Escape promotion is up for grabs from September 5, 2023, to January 3, 2024, with the stays offered from October 1, 2023, to January 3, 2024.
Finding the ideal hotel for your autumn escape is easier than mastering the art of the perfect pumpkin spice latte. Just keep an eye out for the "Late Escape Deal" badge on Booking.com's search results and room selection pages. These properties offer the ideal setting for your budget-friendly hotel getaways.
Whether you're embarking on a solo adventure, seeking a romantic hotel getaway, or enjoying quality family time, there's a late escape tailored just for you
Lock in your late hotel booking escape before the clock strikes midnight (CET) on January 3, 2024. That's when the promotion turns into a pumpkin itself! It's called Late Escape, but you should get there in time!
Beware, any changes to your booking may make your discount do a disappearing act too. So plan your hotel getaway wisely.
Whether you're embarking on a solo adventure, seeking a romantic hotel getaway, or enjoying quality family time, there's a late escape tailored just for you. The cherished memories you create during this picturesque season will stick around long after the leaves have fallen and the snow has melted.
While this discount can't be combined with other promotions, except for Genius discounts, the Late Escape 2023 Deals are simply too enticing to resist.
However, the promotion is subject to availability.  As autumn hotel getaways are highly sought after, book early to claim your spot.
With Booking.com's "Late Escape 2023 Deals", your hotel getaways are about to get a serious upgrade. From the vibrant foliage to the cozy ambiance, autumn has a unique charm. Don't miss this opportunity to experience it all without stretching your budget. Book your late autumn escape today and let the hotel getaways begin!
For more ways to save on Booking.com, you can also check out this collection of promo codes and discounts!
Will you treat yourself to a discounted hotel getaway this autumn?
Pin this article for later!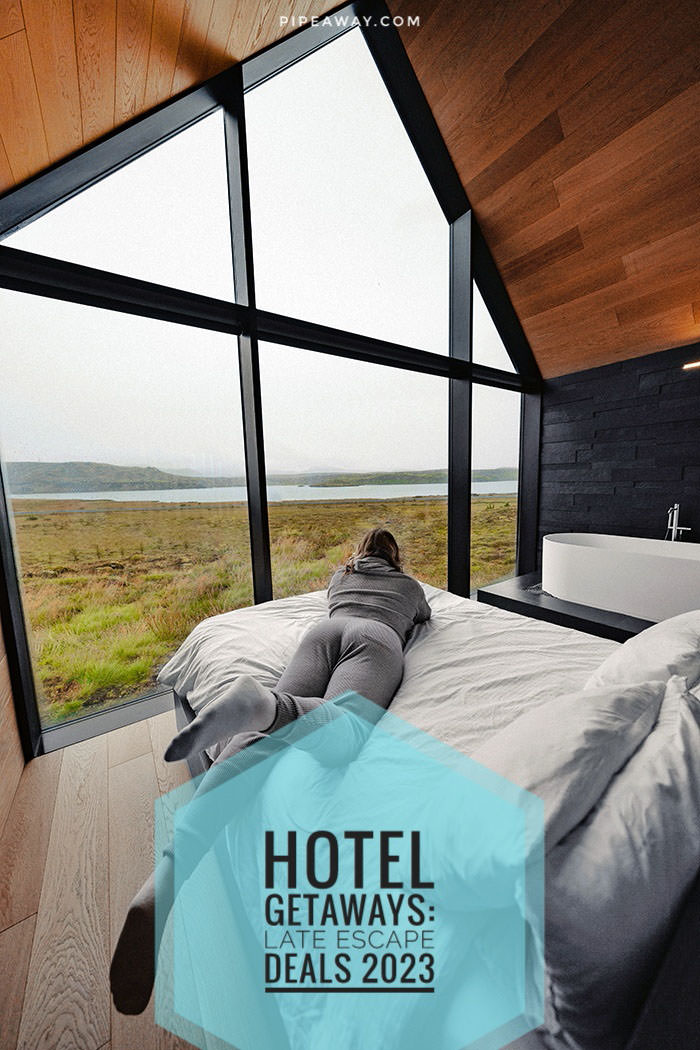 Disclosure: This post may contain affiliate links, which means if you click on them and make a purchase, Pipeaway might make a small commission, at no additional cost to you. Thank you for supporting our work!

The cover photo of this article was made by Abenteuer Albanien on Unsplash.
The author of the pin photo is Karsten Winegeart on Unsplash.