There is no hot water in the shower. Even if advertised on Booking.com, there is no shower gel or shampoo in the bathroom either. Towels are the only reason why I don't miss toiletries badly. There are four towels in the room, and each of them has a stain in a colorful rainbow palette between yellow and red. I am happy not to use them. The wifi works well in this Greek condo-hotel, so instead of just passively waiting that my one-night-stand with the room ends, I decide to write some thoughts on how we criticize properties we stay in, and why some of them don't know how to respond to a bad review.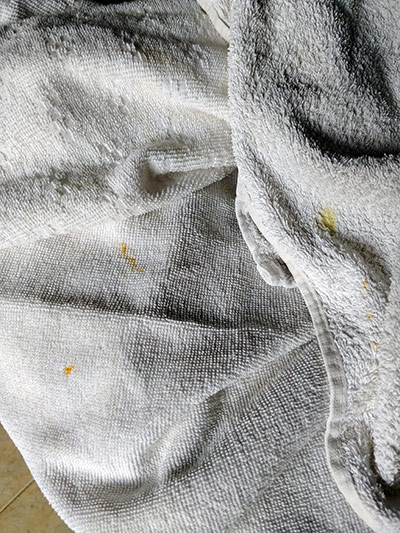 I landed in Zakynthos late in the evening, and this hotel's proximity to the airport was one of the main reasons why I chose it as an entry point to experiencing the island. Booking.com reviews were quite fantastic, the average rating was 9.0 out of 10 (or 'Wonderful'), so I thought I could not go wrong with it, especially if I stay for one night only, and continue my trip elsewhere.
However, after I weighed my experience, I decided to rate it with 6.0 ('Pleasant'). I had a hunch that the hotel will not like my rating even if I found it a fair representation of the pros and cons I had to valorize. I was instinctively reserved after reading other guest comments, and how the management reacted to them. Briefly, handling negative reviews was not their forte.
Some companies, such as Ryanair, believe that the best weapon against negative criticism is literally responding with a smile. Check out how to use humor as marketing tool! 
Bad review? That is your opinion!
If guests complained about their experience in this hotel, they got the owners' rant, often in capital letters as feedback.
"Our bed was uncomfortable with iron springs inside", one visitor said.
"You are the first to mention it to us and in the past we have not had any complaints from any other customer!!!", the manager replied, with three exclamation marks.
Another guest complained about the breakfast, bathroom, and English proficiency of the staff.
"Next time book a room in a 5-star hotel to cover everything you desire!!", the hotel answered, this time with two exclamation marks.
A guest from Slovakia criticized the quality of breakfast, room furniture, air conditioning, water leaks, torn bed linen, slow wifi, and so on.
"THIS IS YOUR OPINION!!", the owners screamed back.
Reading negative feedback to your work, maybe even decades of work, can be hard to swallow. But one doesn't have to be a PR specialist to understand that answering in a passive-aggressive mode is not the best way to handle bad guest reviews.
After all, these hotel reviews were not entirely negative. They were giving the hotel a passable rating! But the negative part of the feedback disoriented the owners' focus. Instead of putting an accent on the good stuff, and taking negative impressions for pinpointing the elements that could be improved, the hotel was actively working against itself. In block capitals!
Losing temper with horrible hotel guests
Working in the hospitality industry is hard. As someone who worked for hotels in Croatia's prime tourist hub for the past six months, I understand how harsh criticism can be. Negative reviews on sites such as Booking.com, Hotel.com, Tripadvisor, or even Facebook and Google, can have a bad impact on a business, disproportionate to the problem that was addressed.
The rules of hospitality demand from hotel employees to always smile, be apologetic and take care of even the nightmarish visitors as if they were royalties. Yet, His Highness, the Guest, is not always right
The biggest lie of the hospitality industry is that "the guest is always right". Of course, just like hotels, guests are not always right! There are all kinds of guests staying in hotels worldwide! The mere fact that they can get online already entitles them to shape how future guests will perceive that accommodation.
These critics could be guests from hell, uneducated, unreasonable, shallow-minded, rude, reckless, in reality – the most horrible hotel guests on the planet. And yet, the rules of hospitality demand from hotel employees to always smile, be apologetic and take care of these nightmarish visitors as if they were royalties.
His Highness, the Guest, is not always right. But verbal confrontation in an online war of opinions is rarely right too. Throwing accusation darts and competing stubbornly to defend the case can rarely lead to the resolving of the conflict.
On contrary, hotel review sites are another battleground where properties can prove their professionalism, one that certain critical feedback by a guest cannot shatter into pieces.
Defensive "playing dumb" lecture
During my visit to Luang Prabang, in northern Laos, I stayed in one local hostel for a couple of days.
I reviewed the property on Booking.com, gave it an above-the-average rating (5,8), and still poked the Achilles heel of every property that cannot stand the customer complaint.
The property's response could have focused on the positive sides of my feedback. I commended their fair prices (unlike other local accommodation options, this one did not triple its fees in the period of the Chinese New Year), and the fact that they included a simple breakfast too. No acknowledgment for the positive experience.
The negative part hit their nerve. I applauded the shoes-off policy, as that would suggest the hostel had high cleaning standards. "However, the stairs with a thick layer of dust, where you can identify the toes of guests who were passing through, spoke that these surfaces were not cleaned for weeks."
I objected to another hygienic element: "While the sheet is being changed and washed after each guest, the duvet cover is not – the staff just sprays it with some scent, so it smells fresh, and then nicely folds it."
The response took a defensive and "playing dumb" lecture: "You must know about Lao culture, every time you enter to the house or room you must take off your shoes. I suggest next time or on your next vacation you must go to stay at hotel or private room."
Could guests have a secret agenda?
In one of the hotels I worked for, dissatisfied guests were treated with presents such as champagne or chocolate truffles, in a hope that this will heal their wounds. In the competitive tourism market, properties are prepared to do almost anything to avoid bad reviews, even if they know the guest might not be right.
Some guests have learned about the vulnerable field of a hotel's online reputation. And sneaky as they are, they decided to exploit that weakness.
Online forums expose desperate accommodation providers struggling with guests who use the threat of online criticism in order to win discounts, free upgrades, or even refunds of their bookings. This extortion tactic is counting on the hotels' dependency on positive feedback and the fact that it's cheaper to lose an income of one guest's stay than potentially risk losing future guest arrivals.
It seems blackmailing has become a rather common practice in this field. Even I, as a hotel critic, was accused of employing such tactics, twice!
Using hotel reviews as revenge?
Example One: 'Pleasant' does not please us
In 2018, I approached one guesthouse in Ouranoupoli, the gateway village for anyone planning to visit Mount Athos in Greece. I proposed barter-style cooperation in realizing my guide to this special place. They politely declined.
However, I still decided to book the hotel commercially, and later left my honest review on Booking.com. The review placed it in the category 'Pleasant' (6,3).
It turned out it was a hotel I couldn't full-heartedly recommend to my readers anyway. I disliked the noisy street, lack of electrical sockets, furniture organization, and tacky bathroom décor. But I positively evaluated the location, competitive price, free water, and balcony access.
The hotel owner claimed I was using this (rather balanced) Booking.com review as a form of revenge because they didn't accept the cooperation deal proposal. He exposed my sneakiness in his response, thinking that I should somehow not be allowed to express my opinion, even if I paid for the room, like all other guests.
Example Two: 'Good' is not good enough
Just a couple of weeks later, a similar thing happened in Nesebar, Bulgaria. The guesthouse did not come to an agreement with my online business. I still booked it in commercial terms.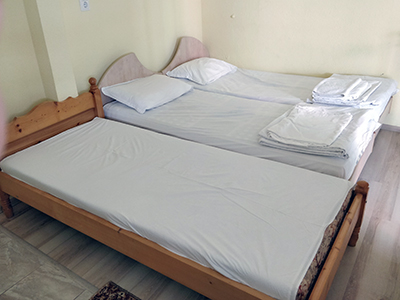 Eventually, I gave it a 'Good' rating (7,1). I complimented on a nice little garden, great position between the old town and the Sunny Beach, friendly staff, and free late check-out. For me, the downsides were: having a third bed in a twin room, strange toilet odor, and thin walls that made you hear your neighbors using the toilet every morning (yeah, number two!).
In the end, I was of course happy that we didn't make a cooperation deal, as I wouldn't be able to recommend this place to Pipeaway readers. But I thought that, as a paying guest and Booking.com scout, I should leave my comment on the platform I booked my room through.
This property owner also used our prior conversation on cooperation in defense, thinking that somehow I would be full of praise for their guesthouse if only they would have provided a free stay.
Ethical dilemmas
I can openly write about these examples because I have no ethical doubts about my doings, here on Pipeaway, or on Booking.com.
The real difference between the two platforms is that my blog gives media space to "bad" accommodation only exceptionally, if the property is still extraordinary in some way (check Crazy House Dalat). On the other side, Booking.com doesn't have the same editorial policy. They feature properties with good and bad ratings equally.
Of course, except for maintaining my professional reputation, I gain nothing by being honest in criticism. At the same time, I am sure there are dishonest individuals who are using the power of online exposure to get what they want. Their main weapon is a threat, and it typically happens after they have booked the place, and before they have left a review. The power to criticize property in public becomes a tool for extracting what they want.
In my opinion, properties should never give in to a threat. They should keep doing their best in providing great hospitality. If a dishonest negative review appears, they can consider the possibilities of taking it down or respond to it in a way that will benefit their business. Antagonism certainly won't.
How to respond to a bad review?
So really, how to respond to a bad review then? If you are a hotel manager facing negative feedback from a guest, these are the six guidelines you should take into account!
6 rules for handling a negative review
1. Do not ignore it.
TripAdvisor's study in 2019 has revealed that 77 % of travelers are more likely to book a property if an owner leaves a personalized response to reviews.
2. Highlight the positive.
Acknowledge and thank for the positive parts of the review, if there are any. The response of a business is an opportunity to accentuate the best parts of your profile in front of the readers, your potential future guests!
3. Be considerate.
Show that you have taken into consideration the negative feedback, provide context that might have not been obvious to the guest, and apologize if needed. In TripAdvisor's study, 89 % of travelers said that a thoughtful response to a negative review improved their impression of a business. This means that a bad review is not your weakness, but an opportunity!
4. Choose your wording.
Stay calm and polite, state cold facts, and do not get too emotional. A cynical response is never a good idea.
5. Write it from scratch.
Do not copy/paste your answers from earlier reviews. Show that you care about this particular booking! You are not an apologetic robot, but a human. Again, you are not giving a response to just one reviewer, but also to numerous potential guests. They will typically read more than one review of your property, and they will find your copy/pasted answers as a formalism that fakes courtesy.
6. Say 'thank you'.
Express thanks for the constructive criticism as a suggestion for improvement, and state that you are looking forward to hosting the guest again.
How to respond to a bad review – example
There are certainly various good ways to handle bad reviews. I dug into the archive of my Booking.com reviews and found one that I thought was a good example of how a hotel should treat feedback.
It was one of the hotels I stayed in when I visited Malta. I gave it a thumb up for the competitive price, free drinks at check-in, and free later check-out. What I disliked was the strange and not the most functional architecture of the building, limited room space, two mattresses on a double bed, no ventilation system in the bathroom, no drinking water in the spa area, and no changing room on the pool floor, which made guests walking wet through the hotel.
For me, this 4-star hotel deserved a 'Good' rating (7,0), which was somehow less than what the stinky guesthouse in Bulgaria got from me. But the Maltese enterprise obviously had professional staff answering.
The response might have been rather generic, but it was still better than a furious reaction to certain negative sides of the feedback.
Dear Mr Kralj,
Primarily I would like to say how pleased we are that you chose to visit the *name of the hotel*. We are happy to learn that you enjoyed many aspects of your stay and sincerely appreciate you taking a moment to review us here on Booking.com. We also sincerely appreciate any fair and constructive feedback that will allow us to further improve the services we provide, therefore your comments have been relayed to the relevant departments for immediate attention. In the meantime, we all hope that you may return very soon.
Kindest regards
Guest Relations Manager
How not to respond to a bad review – example
Surveys show that most review-reading travelers will ignore extreme comments. Therefore, it is never a good idea to be a bad guy. Staying decent is always a better choice.
I didn't have to go far to find a bad example. My Zakynthos hotel was quick to answer my review. But let's first see what I wrote:
Liked:
Proximity to the airport, the main reason I chose it for a night.
Good price per night in comparison to others in the area.
Room is equipped with a little kitchenette, which might be a plus for those wishing to stay longer in Zakynthos, pay less for the accommodation and prepare their own food.
Host's flexibility to extend the check-out for half an hour.

Disliked:
All four towels had yellow/orange stains, nothing that a bleach and 90-degrees washing couldn't solve.
Even if Booking.com profile mentions all toiletries, bathroom doesn't come with body wash or shampoo.
Then again, I didn't need it, as when I went to shower at midnight, there was no hot water.
This, in my view, the rather balanced and fair review got the following response:
Dear sir, we are very sorry that for the few hours of your stay in our accommodation you found so many problems!!! We apologize to you!! We accept your opinion as well as the rest of the customers who stayed in our accommodation!! (Thank you for telling us to what temperature we should wash the towels)
All these exclamation marks and cynical 'thank you' at the end, make it hard to believe that any sincere apology happened here. The owner could have thanked for positive feedback, acknowledged a few fixable problems (instead of "so many problems"), then given a context why these things happened and announced they would do their best to improve the service.
Good responses to negative reviews – Conclusion
It is extremely hard, if not impossible, to please everyone. The success on the tourism market depends on the choices of the consumers, and they definitely have different tastes. They consume products and leave reviews that are always based on a subjective experience. Simply, unbiased hotel reviews do not exist. The same applies to restaurants, events, movies, books…
How to respond to a bad review? Always rather with calmness and charm than with anger and sarcasm
Instead of approaching bad hotel reviews as objective truths, accommodation providers should see them as a point of view. Maybe that customer will never return again, but their feedback could be a foundation stone for improving the service.
Even the worst hotel reviews (or especially those!) should be approached with calmness and charm, rather than with anger and sarcasm.
Instead of aiming to convert anyone, hotel guest reviews should be seen as a platform for communicating with future customers. The hotel's potential guests are reading negative reviews, and that is an opportunity to leave a better impression than the one left by the bad review.
Hotel review sites are not a place of competition for the title of the best hotel in the world. It shouldn't be emotional. It's not sports. If it has anything to do with the Olympics, it's – a marathon. A long, long race. And those who stumble on the rocks they've thrown themselves, will certainly not be the frontrunners.
P.S. This article is not mentioning the names of the hotels I've reviewed on Booking.com, as I didn't find exposing them relevant to the story.
If you are a guest, did you ever get an unusual response to your hotel review? If you are a hotel representative, how do you deal with negative feedback? Please, share your thoughts on how to respond to a bad review in the comments section!
Did you like this article on how to respond to a bad review? Pin it for later!