Digital nomads have been around for a decade or two. But when the COVID-19 pandemic locked down the planet, the countries started competing for remote workers as a precious substitute for tourists of yesteryears. The nations that saw an opportunity here, launched digital nomad visas, hoping that location-independent workers will rush in. In this article, find out who are the digital nomads, which countries offer the best digital nomad visas, and how to get one!
What are digital nomads?
Digital nomads are professionals who use the benefits of modern technologies to work remotely. Their jobs do not tie them to one office desk. Instead, as long as they can go online to some hotel, co-working space, or coffee shop, they can do their work from any corner of the globe.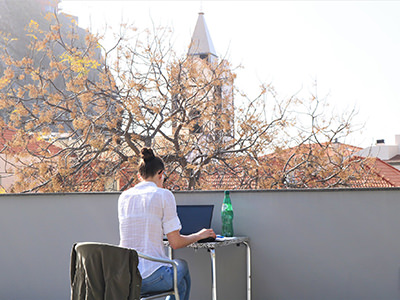 Unlike tourists, digital nomads do not travel to get away from work. They travel and work at the same time.
Without a central workplace, digital nomads generally have more flexible working hours and less strict working habits. While a description of digital nomadism as an escape from a 9-to-5 job schedule is oft-recurring, frankly it requires a lot of discipline and hard work that can drastically exceed these working hours.
The main distinction of digital nomads is actually not the structure of their working day, but their location-independence. They have an opportunity to explore the world instead of commuting to the same office every day.
Do digital nomads need work visas?
Technically, no matter where you earn your money, your work should be regulated.
A traditional work visa is not the best solution for digital nomads as it typically means working for an employer that wants to invite you to that country, to join the local work market.
The most popular countries among digital nomads are not the ones that have offered digital nomad visas
As digital nomads are by definition independent entrepreneurs leading businesses wherever they are, employees of a company that doesn't require working in one place, or freelancers working for one or more remote employers, they do not come to a certain country looking for a local job. They already have their job duties, and the main thing they look for is a change of environment.
Now you might ask: Can you work online on a tourist visa? Well, many digital nomads do that, even if it does not make it legal. Countries have been tolerating these long-stay tourists using every single day of their visa for something that is obviously not just a holiday. Many nomads do so-called visa runs, which require exiting the country for a day or two, before returning back on a new tourist visa. Countries turn a blind eye as it does bring fresh cash in.
Even today, some of the most popular countries for digital nomads are not the ones that have offered so-called digital nomad visas. Bali in Indonesia, Chiang Mai in Thailand, or Medellin in Colombia are perfect examples of destinations that offer nomads a high quality of life at an affordable price, where money earned in the West is worth more.
So why the countries that close one eye on the existence of remote workers are not the frontrunners of the digital nomad visa movement? It might change after those who introduce such a digital nomad visa program grab their piece of this growing market.
If you are looking for inspiration on where to go, read our international travel predictions for 2021!
What is a digital nomad visa?
What we call a digital nomad visa here is a legal way to stay in a certain country as a digital nomad. It aims at those who want to work in a country they do not reside in, and don't want to play with visa runs.
For many countries, a tourist visa is not even needed for short visits. Or it covers a maximum stay of anything between 1 and 6 months.
A digital nomad visa is designed for those who wish to extend their stay, possibly to a year or even two.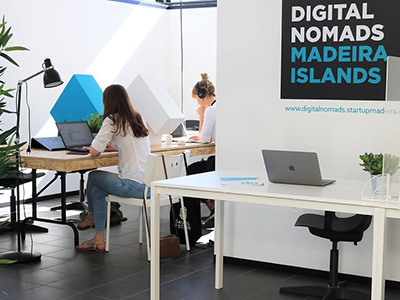 For countries that introduced remote work visas, this solution shines some light on the gray work market. While digital nomads mostly continue paying taxes in their tax residency country, hosting countries do receive some income through visa fees. At the same time, they are getting long-staying visitors who spend in on and off tourist season, boosting the local economy. It is no coincidence that most digital nomad visas were introduced in 2020 when the pandemic cut tourism revenue.
Shortly, the digital nomad visa will allow you to work in a foreign country without immigrating or becoming a resident. It will typically not tax your income, but it will require you to find your income abroad, so you do not become a competitor to locals.
Now, I cannot help but notice that the "digital nomad visa" is becoming a trendy promotional stunt. Many countries that obviously want to dig into the digital nomad market will admit their digital nomad visa is not even a visa. They might call it a residence permit, or even just – a "scheme that allows the chance to live and remotely work" in that country. For clarity, I will continue using the same wording, even if some state bureaucrats would argue against it.
Countries with digital nomad visas
Digital nomad visas in Europe
With its e-residency program, Estonia is a pioneer of the digital nomad visa movement in Europe.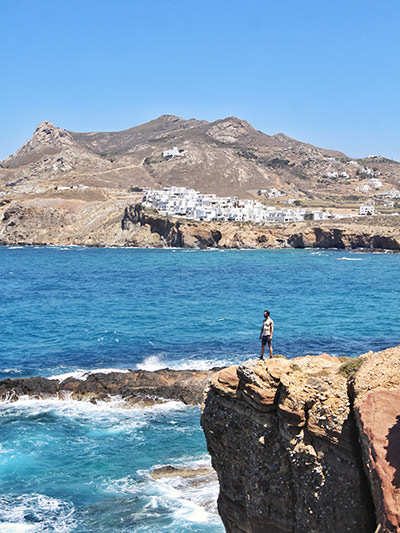 Countries such as Norway (Independent Contractor visa) and Germany (Residence permit for the purpose of self-employment) welcome freelancers. But they expect them to work for local companies, so I did not include these constraining options in the list.
Spain invites you to stay for a year with their Non-Lucrative Visa. But this one mostly targets retirees, as you are not allowed to work. Pass!
Greece, my favorite country in Pipeaway's 2020 year review, might join the digital nomad visa gang soon. Its approach will differ a bit, as it will tax the nomads. However, it will offer them a tax break on half of their income for the first seven years.
If you want to go to the Czech Republic, you might consider their Zivnostensky visa for freelancers. Online reviews mention its process as a complicated one, so I did not include it in this list of the best digital nomad visas in Europe.
1. Estonia
If you are OK with freezing temperatures in winter, Estonia with its vast technology community and ambition to become the world's leading digital society could become your sweet new working home.
Since August 2020, Estonia is welcoming location-independent workers with a digital nomad visa. Eligible candidates can legally work in the country for up to a year.
You can fill out the application form online (D-visa for long stay), print it out, and submit it at the nearest Estonian Embassy or Consulate. The process of approval takes between 15 and 30 days.
If you are issued a digital nomad visa, your spouse and children can also apply for the same. As Estonia recognizes same-sex unions, the same rule adheres to same-sex partners too.
The extension of the Estonian digital nomad visa is not possible. But you can apply for another visa for a maximum stay of 6 months. After that, you will need to leave the country.
Digital nomad visa requirements for Estonia:
Candidates have to provide contracts that prove they are self-employed or employed by a company registered outside of Estonia or evidence that they are working as a freelancer for clients that are mostly abroad. If there are no contracts, even documents such as e-mails can be taken into account.
One needs to be able to support oneself during the stay in Estonia. At the moment, the monthly income benchmark is 3.504 Euros (gross of tax) for the 6 months preceding the application.
Visa fee:
An Estonian digital nomad visa costs 100 Euros.
2. Portugal
With its capital ranking at the very top of the Nomadlist, Portugal is one of the most attractive destinations for digital nomads. But besides Lisbon, the country has more worthy contenders for remote workers' paradise – in the Madeira archipelago.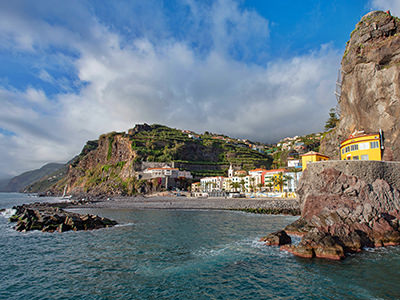 In February 2021, Ponta do Sol (the Sun point) has been transformed into a Digital Nomads Village. The Regional Government of Madeira, Startup Madeira, and the digital nomad Gonçalo Hall developed the idea of a unique digital nomad community. So far, the initiative received more than 5.300 registrations, and the infrastructure in Ponta do Sol already welcomes over 100 digital nomads.
If you want to enjoy sunny Portugal as an independent worker, you can apply for a temporary stay visa (D7). It will allow you to stay in the country for 1 year, and your visa can be extended. After five years, one can apply for permanent residency.
You can fill out the application form and together with other documents submit it at the nearest Portuguese Embassy.
Digital nomad visa requirements for Portugal:
Candidates have to provide proof that they have sufficient means for living in Portugal, or that they will be able to acquire them upon arrival. At the moment, the minimum monthly net salary should be 635 Euros. For additional adults in the family, this amount increases by 50 % per person, and for underage children by 30 %.
Means of subsistence should be able to cover the entire length of the stay. The acceptable proof is a work contract or a work promise.
Visa fee:
A Portuguese digital nomad visa costs 75 Euros.
Are you looking for a free working space with a beach at your doorstep? Check if you could call Ponta do Sol your home:
3. Croatia
Croatia, a Mediterranean country heavily depending on tourism, saw the concept of digital nomadism as an opportunity for the development of year-long tourism. Since January 2021, digital nomads can request to stay in the country for up to a year.
Croatian Tourist Board launched the campaign under the name "Croatia, your new office!". It wishes to promote comfort, safety, and quality of life as attractive benefits of a temporary move to the country. However, do not expect much of the digital nomad infrastructure just yet, especially in the smaller towns!
Croatian digital nomad visa is technically not a visa, but a residence permit. You cannot extend it, but reapplying after a 6-month break is possible.
You can submit the application online, at the nearest Croatian Embassy or Consulate, or at the police station, if you are already in Croatia. The approval process takes up to 20 days.
Close family members are allowed to join a digital nomad that acquired the permit.
Digital nomad visa requirements for Croatia:
Candidates need to provide contracts or other documents proving that they work through communication technology for a foreign employer or own company registered abroad.
One also needs to prove the means of subsistence, either through a bank statement or through proof of regular income. This amount is calculated as 2,5 average net salaries in Croatia. Currently, your monthly income needs to be 16.907,50 Kn (2.230 Euros). If you intend to stay for 12 months, you can also prove your eligibility by having savings of 202.890 Kn (26.760 Euros).
Then you'll need proof of health insurance (travel health insurance is permitted), a rental contract for your Croatian address (or hotel booking until you find one), and proof that you have no criminal offense convictions in your home country.
Prepare for translating and notarizing all the documents.
Visa fee:
It costs 350 Kn (46 Euros) for a temporary stay permit, 240 Kn (32 Euros) for a biometric residence card, and 70 Kn (9 Euros) for administrative fees for the issuance of the same card, which totals 670 Kn (87 Euros).
If you need a visa to enter Croatia in the first place and, instead of submitting the application at the local police station, you need to visit a diplomatic mission/consular post, the costs will be a bit higher: 420 Kn (55 Euros) for a temporary stay permit, 460 Kn (61 Euro) for the visa, and 310 Kn (41 Euro) for the biometric residence card, which totals to 1.190 Kn (157 Euros).
4. Iceland
Iceland's long-term visa for remote workers and their family members is the shortest one available. It is valid for only 6 months. If you enter the Schengen space before, the number of days you spend there will be deducted from the visa duration too.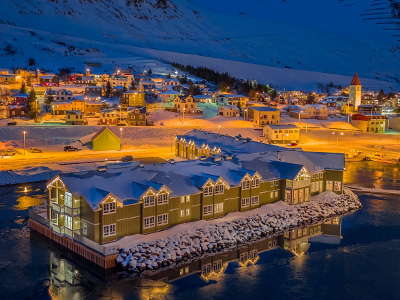 The natural beauty of Iceland comes at a price. As one of the most expensive countries, it is no wonder that the income requirements for Iceland are quite high. If you want to be able to enjoy living over there, you better have some profitable business!
The process of obtaining a digital nomad visa in Iceland starts with paying the processing fee and then submitting the application. Print it out and send it to the Directorate of Immigration. The process takes 3-4 weeks, and your visa will be issued only after you arrive in Iceland.
Business Island offers the answers to the most common questions about Iceland's digital nomad visa.
Digital nomad visa requirements for Iceland:
Candidates need to prove that their income from remote working in Iceland will correspond to 1 million ISK (6.514 Euros) per month. Evidence such as a contract with information on monthly salary or agreed payment is acceptable.
Your savings in the bank account are irrelevant to the application. You need to prove you will earn money while working in Iceland.
Your health insurance for Iceland has to cover at least 2 million ISK (13.028 Euros).
Visa fee:
Iceland's digital nomad visa costs 7.800 ISK (51 Euro).
Digital nomad visas in Asia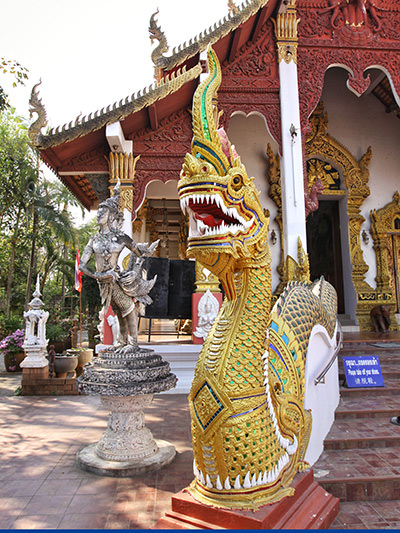 Southeast Asia, with its low cost of living, especially for Westerners who make the majority of digital nomads, is a paradise come true.
Thailand is definitely the country that attracts a lot of remote workers. It is legal to stay in the country for up to 1 year with Thailand Education Visa. It allows you to study at a university, but also at some seminars or training programs. For instance, nomads could enroll in a self-defense school for 1.000 USD (840 Euros). You get a year program of training martial arts twice a week, and permission to stay around.
However, attending some martial arts or learning scuba diving is not the essence of digital nomad needs. So Thai Ed visa did not make it to the list of the best digital nomad visas in Asia.
5. Georgia
Capitalizing on its safety and affordability allure, Georgia introduced a digital nomad visa program called "Remotely from Georgia". It allows freelancers, remote employees, and entrepreneurs to legally live and work in the country for up to 1 year.
Ranking low in temperature, tolerance, and English-speaking capacity, Georgia still attracts with natural treasures and inexpensive cost of living. Even its digital nomad visa is free of charge!
But beware, if you stay longer than 183 days, you will have to pay local income taxes (20 % of gross salary). If you earn less than 500.000 GEL per year (125.800 Euros), you could register as an Individual Entrepreneur, and pay a 1 % tax rate.
The application process seems to be quite simple, and it takes 2 weeks to get an answer.
Digital nomad visa requirements for Georgia:
Candidates have to prove their financial capacity by having a monthly income of at least 2.000 USD (1.670 Euros) for the last year. If you have savings of more than 24.000 USD, this will also be acceptable.
You will need to have health insurance during your stay in Georgia.
Visa fee:
Georgia's digital nomad visa is free of charge.
6. United Arab Emirates – Dubai
If you want to live and work in a futuristic and innovative global hub, Dubai, the most populous city of the United Arab Emirates, has an enticing offer for you.
The first program for digital nomads in the Middle East was launched in October 2020. If you enter Dubai's virtual working program, you are allowed to stay there for up to 1 year.
This digital nomad visa covers only Dubai, offering you a fantastic digital infrastructure, top co-working spaces, and a dynamic lifestyle.
Besides tax-free income, you can also count on other benefits for UAE residents, such as schooling or COVID-19 vaccination.
Digital nomad visa requirements for UAE – Dubai:
Candidates need to have a one-year contract with an employer or own a company for one year or more. The minimum monthly income needs to be 5.000 USD (4.190 Euros). Bank statements for the three preceding months are considered valid proof.
You will also need to have health insurance that covers UAE.
Visa fee:
Dubai digital nomad visa costs 287 USD (240 Euros).
7. Taiwan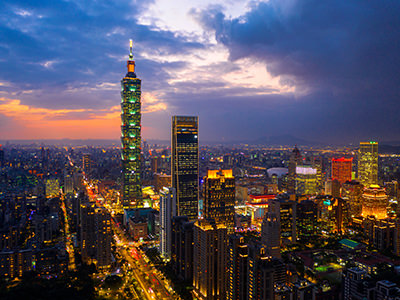 Back in 2018, Taiwan launched the Taiwan Employment Gold Card as a combination of a visa, work & residence permit. The card gives an opportunity to talented professionals to work and stay in Taiwan for 1 to 3 years. That's the longest period on this list!
While it's technically not a digital nomad visa, it does contain an open work permit which lets you work for any employer.
If you stay in Taiwan for more than 183 days, you become a tax resident and have to file your taxes. For the length of stay between 90 and 183 days, they do not consider you a tax resident, but you still have to file a tax return in Taiwan.
With Taiwan Gold Card, you can bring your spouse and children with you. Even parents and grandparents can come for a year-long visit.
The application is available online. The approval normally takes 30 days.
Digital nomad visa requirements for Taiwan:
While it's often mentioned that the qualifying salary for Taiwan Gold Card is 160.000 TWD (4.745 Euros), financial requirements are not crucial for all categories of jobs. The idea of the card is to attract talented professionals. As long as you can prove your skills in science and technology, economics, education, culture and art, sport, finance, law, and architecture, the doors to Taiwan could open to you.
Once in Taiwan, you will have to enroll in the program of National Health Insurance. If you do not have a local employer and are a freelancer instead, you will need to wait for six months. For the waiting period, you will need to sort out private health insurance.
Visa fee:
The price depends on your nationality and the duration of your card. Generally, it costs between 100 and 310 USD (84 and 259 Euros).
Digital nomad visas in the Caribbean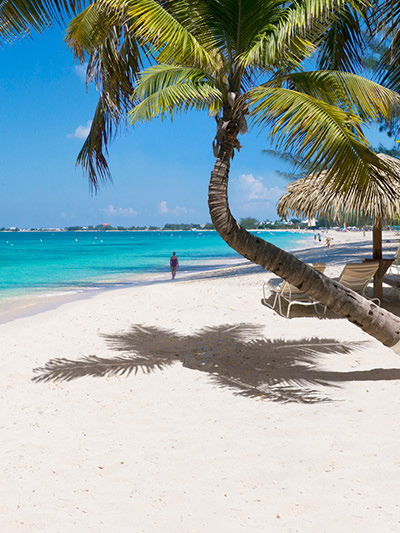 The Caribbean region is a tropical paradise that can boast with an epidemic of digital nomad visas. They managed to overshadow the long-term visa programs of Costa Rica, Mexico, Colombia, and other digital nomad hotspots of Latin America. Some of these continental countries offer 6-month tourist visas, so the majority of digital nomads do not go into the trouble of additional paperwork.
Besides five countries and territories of the Caribbean, I included the Bahamas and Bermuda in this list too. They are not within the Caribbean Sea, but they definitely participated in igniting the idea of digital nomadism in the region.
On the other side, from the list of the best digital nomad visas in the Caribbean, I have excluded Aruba. This Dutch island introduced the One Happy Workation program for digital nomads, but it is exclusively open to US citizens, and the maximum allowed stay is only 3 months.
8. Barbados
Barbados was the first Caribbean country to launch a digital nomad visa, or as they call it – a Barbados Welcome Stamp. This remote work visa allows you to stay and work on a paradise island for up to 1 year.
Since July 2020, digital nomads can chill out on Barbados beaches and swim with their turtles, while still counting on the fastest fiber internet and mobile services. The cost of living in this inviting scenery is still quite high, so weigh it all out!
When your year of digital nomadism in Barbados expires, you can reapply again!
The application form is available online. You will get an answer in a week's time at the latest.
Digital nomad visa requirements for Barbados:
Candidates need to provide a declaration that they expect a yearly income above 50.000 USD (41.900 Euros), or that they have substantial means to support themselves. It doesn't seem you need to provide actual evidence for this declaration.
Of course, you are also expected to have health insurance.
Visa fee:
The price for an individual is 2.000 USD (1.676 Euros), while couples and families pay the bundle fee of 3.000 USD (2.514 Euros).
9. Bermuda
If you want to get lost from the world, settling down at the top point of the Bermuda Triangle could be your option. In August 2020, this country introduced the Work from Bermuda certificate, hoping it will attract location-independent professionals to the island.
With a connection to three cable systems in the Atlantic seabed, Bermuda has superfast internet, which will be a big plus for anyone using technology to work remotely.
An alluring island lifestyle becomes less relaxed when you see the price tag. Bermuda is one of the most expensive countries to live in, so calculate your pros and cons!
Bermuda's digital nomad visa is essentially a 1-year pass for living and working in Bermuda, but you can also renew it.
The application is available online, and the approval typically comes in 1 week.
Digital nomad visa requirements for Bermuda:
There is no minimum income requirement for the digital nomad visa in Bermuda, as long as you "have substantial means and/or have a continuous source of annual income". This income has to come from a company that is registered abroad.
You will also need to have travel health insurance and a clean criminal record.
Visa fee:
Bermuda's digital nomad visa costs 263 USD (220 Euros).
10. The Bahamas
The Bahamas, the archipelagic state with over 700 islands, joined the digital nomad craze in October 2020. BEATS (Bahamas Extended Access Travel Stay) visa is valid for 12 months, but you can renew it two times.
Bahama Islands were the landing place of Christopher Columbus in 1492. If you want to discover the 'New World' five centuries later, you have an opportunity to live and travel among the 16 different tropical islands.
Bahamas Immigration will typically review your application in 1 week, after which you receive an e-mail with payment information. When you pay, you will get a confirmation QR code, and you are good to go!
Digital nomad visa requirements for The Bahamas:
Candidates need to provide proof of employment and a medical insurance card.
Visa fee:
The Work Remotely visa costs 1.000 BSD (838 Euros). There is also a permit application fee of 25 BSD (21 euros).
11. Curaçao
Since February 2021, Curaçao welcomes remote workers who want to stay on the island for an extended period. At the moment, the @HOME in Curaçao program allows you to live and work there for 6 months, with a possibility to extend for 6 more.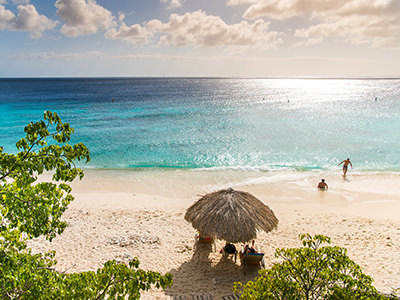 Curaçao is a Dutch Caribbean island proud of its beaches (see featured image of this article!), multicultural environment, and peculiar work/life balance.
Its name means 'healing' in Portuguese, as the early European explorers were leaving sailors with scurvy on the island. Curaçao's tropical fruit, rich in vitamin C, magically cured some of them.
If you want to heal your body and soul in Curaçao, fill out your digital nomad visa application online, and expect an answer within 14 business days.
Digital nomad visa requirements for Curaçao:
From the available information, it is not clear whether you need to provide any evidence about personal funds.
Visa fee:
A digital nomad visa for Curaçao costs 535 Dutch Guilder (251 Euro).
12. Anguilla
The British overseas territory of Anguilla offers digital nomad visas that allow staying on the island for a maximum period of 1 year. Available since August 2020, the Work from Anguilla program promises the agenda of "Work. Life. Bliss".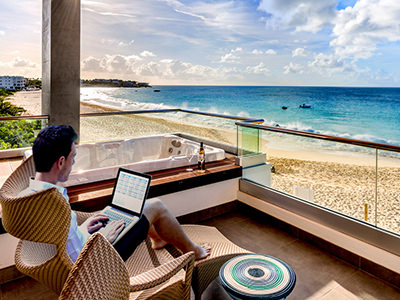 The island whose elongated shape reminded Columbus of a snake is the smallest Caribbean territory on this list. With only 91 square kilometers in size, Anguilla has less than 15 thousand citizens. And now you can be one of them! It is not unusual that Anguilla Tourist Board invites visitors with a message: "Lose the Crowd. Find Yourself."
To everyone who is ready to trade the humdrum home office for a Caribbean island paradise with famous coral reefs, Anguilla offers to put work and life back in balance.
The application acceptance process takes 2 weeks.
Digital nomad visa requirements for Anguilla:
It seems there is no income-related requirement for a digital nomad visa in Anguilla. You just need to confirm that you can financially sustain yourself during your stay in the country.
You are also required to have travel health insurance, and the policy has to cover the risks of COVID-19.
Visa fee:
A digital nomad visa for Anguilla costs 2.000 USD (1.670 Euros). This includes two COVID-19 tests, surveillance, and the cost associated with the additional public health presence.
13. Antigua and Barbuda
Since September 2020, Antigua and Barbuda offer Nomad Digital Residence (NDR). It allows you to reside and work remotely on the islands for up to two years!
The long-stay program hidden behind the slogan "Live. Work. Play" sells the country through its pink and white sandy beaches, friendly people, historical heritage, and enjoyable climate.
It typically takes 14 business days to review your application.
Digital nomad visa requirements for Antigua and Barbuda:
Candidates need to provide proof of employment, and proof of funds to support themselves. The expected yearly income should not be less than 50.000 USD (41.936 Euros).
You should also provide medical insurance and police clearance.
Visa fee:
The individuals pay 1.500 USD (1.257 Euros), couples 2.000 USD (1.677 Euros), and families 3.000 USD (2.515 Euros).
14. Montserrat
In February 2021, the British overseas territory of Montserrat introduced its digital nomad program called Montserrat Remote Work Stamp. It allows you to stay on the island for up to 1 year.
It seems Caribbean copywriters love to summarize the digital nomad idea in three words separated by full stops. Montserrat's message is "Escape. Work. Explore".
In the past, it was a getaway for Irish emigrants, and due to its resemblance to the Irish coastline, Montserrat is also known as the Emerald Isle of the Caribbean.
The tiny country in the Lesser Antilles, just 102 square kilometers in size, is technically even smaller after the 1995 volcano eruption, which destroyed Montserrat's capital Plymouth. The southern part of the island, where thousands fled from to the UK, is today the exclusion zone. Montserrat now has about 5.000 citizens.
If you still decide to go to this depopulated and a bit isolated country with black-sand beaches, know that the internet speed can be much slower than in the rest of the Caribbean. Officially, they say it is 20 MBPS, but that varies. Mobile services are 3G.
The applications are processed in 7 working days.
Digital nomad visa requirements for Montserrat:
Candidates that want to work remotely in Montserrat need to earn an annual income of at least 70.000 USD (58.700 Euros).
You also need to have health insurance that covers COVID-19.
Visa fee:
Single applicants pay 500 USD (419 Euros), while families of up to 3 persons – 750 USD (629 Euros). The additional family member raises the price by 250 USD (210 Euros).
15. Cayman Islands
The Cayman Islands, another British overseas territory, joined the list of Caribbean nations that offer a remote working scheme to digital nomads in October 2020. The privilege of their Global Citizen Concierge Program is that it grants the stay for a period of up to two years, which reduces some stress.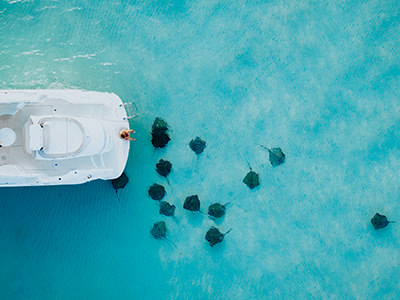 Additional stress-reducer is certainly a beachside working environment that allows you to work in between swimming with stingrays and diving among shipwrecks.
The Culinary Capital of the Caribbean also offers holidays for your taste buds in one of 200 restaurants.
The world elite loves the Cayman Islands as an offshore oasis of tax haven where they can get more from their assets. Therefore, it's logical that Cayman Islands' program targets the richest digital nomads on the market.
The application is quite thorough in checking your financial capacity, and the approval process takes 3 weeks.
Digital nomad visa requirements for the Cayman Islands:
Candidates need to provide proof of employment and a minimum annual income of 100.000 USD (83.865 Euros). For couples, this sum grows to 150.000 USD (125.740 Euros), and if you have children, the threshold is 180.000 USD (150.880 Euros).
Also, you will need to have your bank's opinion on your credit standing, a police clearance with fingerprint verification, and proof of health insurance for the first 30 days, after which they expect you to obtain local insurance.
Visa fee:
Global Citizen Concierge Certificate fee is 1.469 USD (1.232 Euros) – per year! The price is the same for a couple. Expect to pay 7 % for the credit card processing fee too.
Digital nomad visas in Africa
Internet nomads don't have many options to find a remote working oasis in Africa.
Proud of Cape Town making it to Big 7 Travel's list of the best places for remote working in 2021, the capital of South Africa advocated recently for better positioning as a workation destination. The next step might be the digital nomad visa.
Until then, Mauritius has no problem in holding the top spot on the list of the best digital nomad visas in Africa.
16. Mauritius
Mauritius, an island just off the eastern coast of Africa, introduced a Premium Travel Visa in November 2020. Professionals who want to work remotely from this country in the Indian Ocean can now stay for a maximum period of one year. But if you liked it, it's possible to renew the visa!
For stays shorter than 180 days, you can get a regular tourist visa on arrival. If you decide to extend your visit, you can apply for the Premium Travel Visa during your stay in Mauritius.
Have in mind that after spending 183 days or more in the country, you do become a tax resident.
Mauritius is a multicultural and vibrant society with a quality lifestyle, smart cities, and a great working climate. It is among the top 20 countries in the world for ease of doing business!
Your online application for Premium Travel Visa should be processed in 48 hours. That's a winner in the efficiency contest!
Digital nomad visa requirements for Mauritius:
Candidates need to prove that their income and profits come outside of Mauritius. You need to either provide an employment contract that shows you are earning 1.500 USD (1.300 Euros) per month or have those funds available in your bank account.
You also need to have sufficient travel and health insurance for the initial period of stay.
Visa fee:
Premium Travel Visa is free of charge.
Whichever country you choose as your final destination, look for the most affordable quality accommodation on this link!
The best digital nomad visas around the world – conclusion
Whether you are a travel writer, a graphic designer, or any other type of IT worker, becoming a digital nomad in 2021 has become a viable choice.
Small and somewhat isolated countries (11 out of 16 digital nomad visa destinations in this article are island states) turn out to be safe havens in the world still dealing with the pandemic.
Governments that recognize the potential of digital nomads are entering the process that might change the work market forever
The idea to offer world freelancers an opportunity to relocate for a period of time is beneficial for both sides. Countries get much-needed long-term visitors when world tourism came to a halt. At the same time, the working nomads get the privilege to exchange home isolation in locked-down countries for a remote office that will inspire with the new environment, previously used mainly by holiday people.
With companies becoming more prone to accepting remote working as a new reality, the digital nomad lifestyle could prevail in the years ahead of us.
Whether they are pioneering the programs in Africa, such as Mauritius, or just joining the domino-style wave, such as the Caribbean countries, those governments that recognize the potential of digital nomads are entering the process that might change the work market forever.
Offering digital nomad visas (or however they want to call those permits) to remote workers is the first step to anchor the country's potential in one of the most invading trends of modern tourism. It also recognizes the benefits that skilled and talented foreign professionals could bring just by living and exchanging in a country, without the danger of stealing work from locals.
Digital nomads are a reality. They have been around for some time, from Asia to South America, from Europe to Australia. Recognizing the potential in regulating their existence in a country's environment and economy might be a beginning of a beautiful friendship.
Did you like this guide through the best digital nomad visas in the world?
Pin it for later!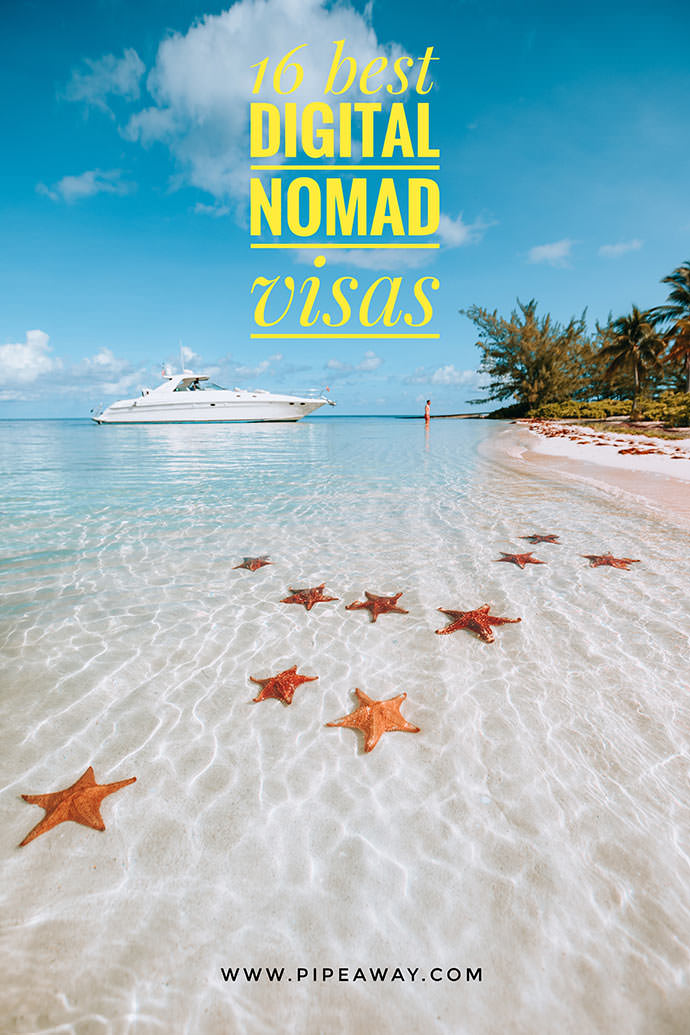 Disclosure: This post may contain affiliate links, which means if you click on them and make a purchase, Pipeaway might make a small commission, at no additional cost to you. Thank you for supporting our work!