On 28th of March, Pipeaway.com marked its first birthday! There was no special celebration or even proud mention. I would have pointed the anniversary out earlier, but I got stuck in Oromia, politically the most unstable region of Ethiopia. In order to control the potential chaos during the declared state of emergency in the country, the government blocked all internet services there. Mobile data was limited to Addis Ababa only anyway, but in this region, even wifi was considered to be dangerous.
"It is better this way. If there is no Facebook, the protests cannot be organized easily, and fewer people die", tells me one older man in Harar. It might be a wise conclusion for saving young Ethiopian lives. But it was definitely excessively optimistic to think that blogging from Oromia would be the same as blogging from anywhere else.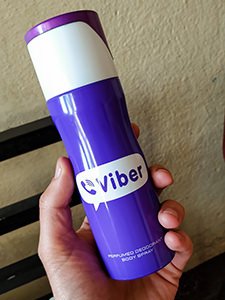 Life beyond the Internet
For more than 10 days, all Pipeaway's social media accounts (and my personal ones) went silent. I know, first world problems, right? But it did make me think about how we often take luxurious things (such as access to information or electricity) for granted in the West. Yet, life goes on even when offline. And it's hard enough without the Internet.
The rhythm of Pipeaway's online presence in the first year of its existence was very variable. I would try to post content on the website every week (and daily on social networks), but sometimes, like now in Ethiopia, life would dictate differently.
I don't know what that meant for the consistency of my traffic. To be frank, I am scared to even look at the statistics (once I get a decent Internet connection). But the growth goal is certainly not a priority at the moment.
While I obviously did not master all fine layers of online omnipresence, the first year of piping away into the world of travel blogging did teach me a few things. Here are some of my most precious lessons – blogging tips for first-year bloggers:
1. Blog more often!
I know, this contradicts the limitations I just wrote about. But even if it cannot beat with political governments, natural disasters, Mark Zuckerberg's feelings when he gets out of bed, or the plain apocalypse that can start at any moment, the idea is still worthy. If we do not set our own rules, nobody else will. Or everybody will! So it's better we do it ourselves! Competing with our own limits is the healthiest competition anyway!
Since March 2017, my nomadic life led me (by alphabetical order) to Belgium, Cambodia, Canada, Croatia, Ethiopia, France, Germany, Hungary, Indonesia, Italy, Japan, Malaysia, Romania, Singapore, Sweden, Vatican and Vietnam. I took thousands of photographs and videos, and probably experienced hundreds of stories worth blogging about. It almost feels I could retire now, and still have content to publish for the decades to come. So, don't procrastinate with your content! Blog it out! Fear that travel writing ideas will disappear is superfluous.
Want to read more about my first-year travel blogging adventure? Check out this compilation of Pipeaway's top articles in 2017!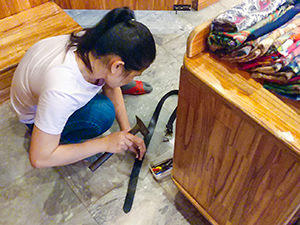 2. Slow down your traveling!
At one moment in Vietnam, my pants started to fall down in the most embarrassing way. It was not that gangsta hipster look where seeing one's underwear is a rad fashion statement! My pants were falling down because I was losing volume. I say volume, as my weight did not change. But I guess constant walking, running, biking, climbing or, shortly, moving my ass around, did make those tiny bits of fat (if they ever existed) burn out.
At that moment of time, I was changing towns every few days. While I still struggle with affording myself some downtime, I now understand that constant moving is the enemy number one of my blogging. If one envisions only the time for traveling, staying somewhere, experiencing the destination or the event, and then moving on – where is the time for reflecting, organizing one's thoughts, writing and editing them, editing photographs or videos, publishing them, promoting them? With the constant rush, a blogger surely works against oneself and is always left behind.
3. Limit friends-time!
Being away from one's homeland, from the people, food, bed and customs you are used to, makes you generally more accepting to invite friends over to join your travel adventures. Speaking in a mother's tongue reconfirms that you still belong somewhere, that not all your anchors are broken. Yet, I am not so sure I belong to Croatia anymore. I cannot say I belong somewhere else either. But my feet do not value artificial political organization of the world anymore.
I feel more as a homeless person than as a traveler. Traveling for holidays and traveling for days is not the same
This means that I feel more like a homeless person than like a traveler. What I've learned on several occasions some Croatian friends joined me in Southeast Asia, or just by meeting other typical travelers, is that traveling for holidays and traveling for days is not the same.
People take vacations from their work, they leave somewhere exotic, and then they are ready to exhaust themselves from experiences in the offer. Their bodies decide NOT to feel the jet lag, they are immediately ready to go out and party on, and there is no attraction they could miss.
I've learned I cannot always cope with such tempo. First of all, I am not on constant holidays. Sometimes it feels I am actually in constant work mode. I have things to do. I cannot just switch off. I need more breaks than other travelers. Often I need to not do anything, like we all need when we are at home.
In this state of my life, I guess I am not the best travel companion. It sounds a bit sad saying that while I sit alone, next to the Awash River Falls, observing the crocodiles in the river and being observed by a monkey on the terrace. But being human can be mentally really hard.
4. You don't have to see everything!
This continues on the previous point, with friends or without them. I had to learn to save my sanity by NOT visiting every single attraction in the destination. Just because I have more time to spend in the country, it doesn't mean I need to do everything. Actually, I feel better if I leave some reasons to come back to the place I am visiting.
I knew that since long ago – visiting Paris for a dozen times before I even saw the glimpse of Eiffel Tower was such a lesson. Yet, I needed to spend a month in Cambodia and learn to be OK with missing out on Angkor Wat, spend two weeks on Java and be ok with missing Borobudur, or gallivant Vietnam for a month and not even approach Ha Long Bay. You get what I mean! Now I have so many reasons to return to Cambodia, Indonesia, Vietnam or even Paris for that matter!
5. Write a journal!
Being exposed to constant experiences can be overwhelming. Keeping some track of your whereabouts is a really helpful tool to recall your memories once you will finally write and publish that article! You might be young, but our memory capacity is quite fragile. All the nuances of colors, sounds, smells, textures and all other senses we experience while traveling, fade away with our brains constantly making space for new experiences.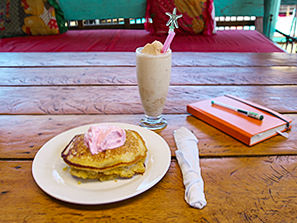 I've learned that writing a diary helps my sense of orientation through this constant "on the move" sensation. I cannot tell you how many times I wake up in the middle of the night, not being really sure where I am. Usually, I dream of waking up on some lone and dark mountain, and I need quite some time to calm down (taking anti-malaria pills doesn't help!). So if our brain wires are ready to get totally confused by our whereabouts, what keeps all other details in our skulls? It is a very, very fragile system we carry on our shoulders.
So besides writing texts on my laptop, I also try to write a daily journal (by hand, yes), for personal use. It is a general scrapbook of things I did, garnished with possible drawings, a ticket for some museum or photograph of people I meet on the road. I write this in my mother tongue. That way, I feel freer when writing it in public. Also, it does feel more like I am talking to myself.
Pipe away and blog on!
There you are! These are the five things I have learned in the first year of running Pipeaway blog from the road. I bet I have learned more, but decided to stop this list here and head down to the river for some crocodile encounter. The monkey left already.
Ethiopia did get its new prime minister, by the way. This time, he is from Oromia. Which means people from this region might get fully operating Internet again. The life will hopefully get better. And being online will not be considered a dangerous act of forging a conspiracy. Nobody should die because he or she managed to connect on Facebook. Nobody should get imprisoned for blogging. Nobody should be afraid of the freedom of speech. Pipe away and blog on!
Did you like this article?
Pin it for later!