Jessica Rambo (34) is a fascinating individual. Just like her namesake from the famous Sylvester Stallone's action movie series, Jessica is an American veteran. An unfortunate accident ended her successful 10-year-long career in the Marine Corps, and her life shattered into pieces.
The series of turbulent events went beyond just losing a job. A sexual assault, a divorce, addiction, and mental health issues would push many over the edge. As this single mom of two reveals in this interview, taking her own life seemed to be a viable choice back then. But instead, she joined an art school, purchased a school bus, and drove it through that dark tunnel.
Jessica Rambo didn't just convert the school bus into a house on wheels. She created a nomadic art studio that saves the lives of war veterans
Jessica Rambo founded the Painted Buffalo Traveling Studio. On the wave of the tiny house movement, she didn't just convert the skoolie into a house on wheels. She created a nomadic art studio that saves the lives of other veterans too. In August 2019, the Painted Buffalo started traveling through the United States, bringing art supplies and hope to retired soldiers trying to adapt to civilian life.
Jessica is not hitting the road alone. In the house on wheels, there is a vivid herd following the therapeutic mission of this full-time mom/bus driver/marine/artist: Skyler (daughter, artist, 13-year-old), Liam (son, adventurer, 10-year-old), Bella (black lab mix dog, 10-year-old), Atlas (blue heeler dog, 4-year-old), Sushi (cat), Smokey (cat), and Lemon (leopard gecko).
Read on and find out how it is to live in a tiny house on wheels, how traveling looks like during the pandemic, and how art, nomad community, and Bella, the service dog, saved Jessica Rambo's life. To paraphrase Roberto Benigni, La vita è Bella.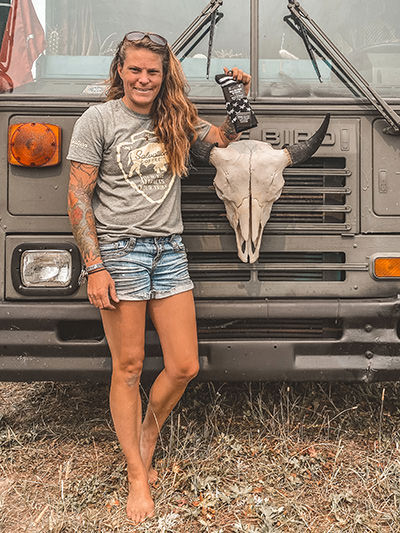 Woman outside the box
An old Croatian proverb says that the woman holds up three corners of the house, and the man one. While it is definitely grounded in the traditional image of a woman caring for a household, at the same time it also advocates for giving better credit to the important role housewives have. I feel that, in the 21st century, a single mom who takes care of the household while also taking care of a big vehicle that makes that household, breaks the norm of what is a male or female domain in a very plastic way. Are you ever confronted with prejudices, and how do you deal with them?
I have faced prejudices for as long as I can remember. Because of my background in the military, I have learned to deal with the narrow-mindedness of people who think women are only meant for making babies and cooking a man a meal.
Women have so much to offer, much more than things provided in a traditional home. I am here to set an example for other women, mothers, and daughters to see that they too can step outside the box of what they think women are and can be.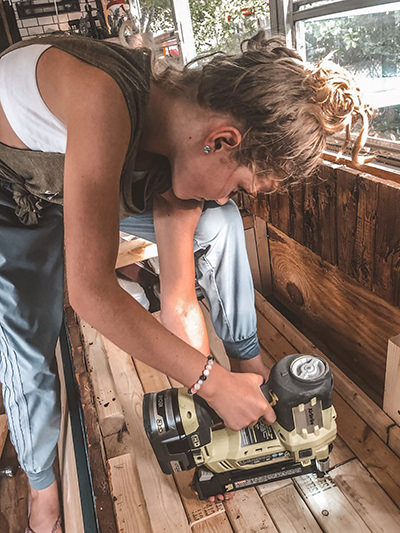 We have certainly come a long way since women's achievements were celebrated mainly on International Women's Day, or probably even worse, Valentine's Day. As someone who is living an independent life 365 days a year, how would you describe your biggest achievements?
One of my biggest life achievements has been driving my self-converted school bus around the country with my children. I think it's important for children to see their parents as human beings and not superheroes. I make mistakes, I do things wrong, and I also learn and move forward from them. Teaching my children that they can do hard things and, when it's hard, not to give in, is the most important attribute I can instill in them.
Do you have any role models among women? Who inspires you?
Women in general inspire me daily. Of course, it's inspiring to see women doing things that are not traditional to what some perceive as women's role. But what inspires me the most in the day-to-day achievements is what women have done throughout history. Being able to be in the military, be a woman, and be a mother all at the same time is hard work, but so many women do it on the regular basis. We don't want to be celebrated per se but want to be respected.
Traveling in a house on wheels might be strange to some. What would you say about Slaven Škrobot, a young Croatian who travels the world in a wheelchair?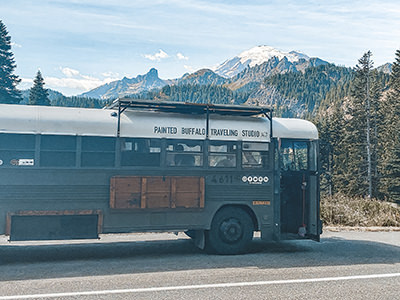 Staying social during the pandemic
COVID-19 pandemic, with its omnipresent maxim #stayathome, made us all reflect on the freedom of movement we once took for granted. On the other hand, you were able to follow the epidemiologists' advice of staying at home while still traveling around. Can you tell us to which places did the journey during the pandemic take you?
During our 2020 tour around America, we spent the majority of our travel time in Florida, North Carolina, Georgia, Arizona, Texas, New Mexico, California, Utah, Montana, Wyoming, Oregon, and Washington. We drove our bus through 31 states and traveled to all four corners of the United States.
For more itinerary ideas, check out our list of the best destinations for electric car road trips!
Traveling during the pandemic had its pros and cons. There were places like national parks, state parks, and the ocean, that were not crowded and you could enjoy them all by yourself. Just because we traveled, it did not mean we were putting ourselves or others at risk though. Living this lifestyle, we already live a socially distant existence, so that helps.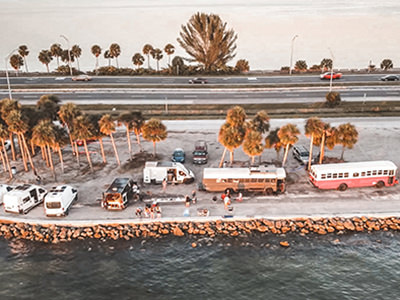 One could think that hopping into a house on wheels equals fleeing from society. Even if misfits oppose the conventional way of living, is there a social life on the road?
There is an amazing social life on the road. The people who I've met on the road mean so much to me. Without this lifestyle, I would have never been able to meet them and make them friends.
How does it function? Do you travel together? Agree to meet somewhere on the road?
Social life is as much or as little as you make it. For us, we travel with people sometimes and have small community meet-ups. It's good to hang out with others and not be alone all the time.
For me, I need to be alone sometimes and need to hang out with people sometimes too. It's an equal balance.
We meet up with people on the road in all different ways. Sometimes I plan ahead and meet up with our friends, but there have been times that we have been driving and randomly ran into groups. It's always fun to meet new people!
If you're a fan of car conversions, you will love MadWay Rally - the place where all vehicles look as if they have come straight out of the Mad Max universe!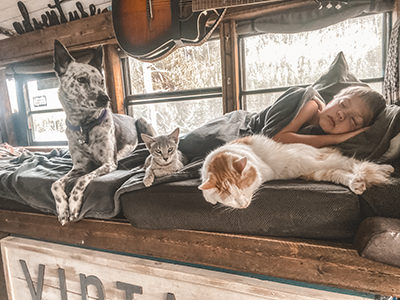 Family with 26 legs
What does a typical day in the house on wheels look like?
My family and I wake up in the morning and have coffee and breakfast together. Then we start school work. Once schoolwork is finished, we try to adventure and explore as much as possible. We travel full time so there is always something new and exciting to see.
Your skoolie is, I assume, a great place for kids to learn about the world. The retired school bus still serves its basic function of bringing children to education. Are you homeschooling them? 
Although my kids have been going to regular school online, they get a good amount of homeschooling on the road too. Currently, my son is doing online school and is not homeschooled. Our goal is to get there and be able to spend more time learning about the places we are visiting.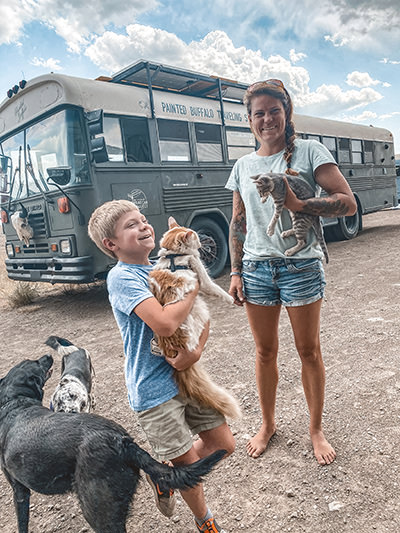 Your traveling group or, as you call it, a herd, includes five four-legged passengers. Will you grow your pet list even further?
Truthfully, I didn't plan on growing our animals from two dogs we had when we started the bus. My son really missed his cat that passed away, so we went to the animal shelter while we were in Georgia, and adopted Sushi. While we were traveling through Texas, my daughter found Smokey. We didn't want to leave her, so she moved on the bus. We recently got Lemon, the gecko, because someone was rehoming her. So she moved in too. I think we are full for animals right now.
How do animals perceive a moving house? Do they ever wander off, just when you want to move on?
The only one that wanders off sometimes is Sushi, the cat. I've accidentally left him a few times in places. I've turned around and got him each time. He's slowly learning that when I start the bus, it's time to go.
A Canadian family with 12 legs decided to travel around the world for a very concrete reason. Their children are losing their vision due to genetic condition, and this is their parents' way to show them the beauty of the planet while they still can. Meet Edith Lemay!
Joining the Tiny House Nation
The popularity of shows such as "Tiny House Nation" with Zack Giffin and John Weisbarth on Netflix is definitely telling us that the tiny house movement is growing. Living a location-independent life has become a new way to exercise freedom. What was your inspiration for the decision to live in a house on wheels?
My inspiration for living tiny was based on the fact that being away from my children in the military really made us suffer sometimes. I wanted to relearn and grow with my children, and for them to get to know me as a mom and not so much as a Marine.
The biggest benefit to tiny living is realizing materialistic things aren't as important as you might thinkJessica Rambo
Despite the plentiful resources around, going tiny is still an idea that can scare off those who want to make the transition. First of all, the idea of doing one's own conversion can be terrifying. How did you deal with transforming a school bus into a livable home? Plus, you practically did it by yourself!
Although building the bus myself was hard and frustrating at times, the community that you are a part of is so helpful. I used people in the community I respected to answer questions and learned a lot from watching YouTube videos.
Living in a tiny house might not be for everyone. But there are even tinier vehicles hitting the road - vintage toy cars!
The minimalism of the house on wheels
Then there are obvious changes in the lifestyle. It is often promoted as "living big in a tiny house", but there are certainly many sacrifices. What would be the biggest benefits and the hardest disadvantages of little homes?
One of the biggest benefits to living tiny is realizing materialistic things aren't as important as you might think, and the people you gain as friends and family are worth the sacrifice. One of the hardest disadvantages of a little home is that I don't have a lot of room for art supplies and animals.
I assume many of those going tiny confront with the idea of keeping only truly functional things. How does one embrace minimalism in a wheels house? And how important it is to bring along objects that have sentimental value?
Although you have to get rid of a lot of stuff, you just have to prioritize what is important and if it actually brings joy and importance to your life. Although I love to create, there wasn't an infinite amount of space for all of my art supplies. I got rid of a lot of stuff I was going to do in the future and only kept things that were important right now. I still have stuff that is sentimental, I just build a safe place for them.
For instance, I held onto my military uniforms and awards because they mean a lot to me. I worked hard to be a Marine and I want to keep them for my children and their children too. I also have all of my children's baby photos and blankets. Some of my military items and my children's artwork are on display.
Take a tour of Jessica Rambo's bus home with Tiny House Giant Journey:
Economy and ecology of tiny living
Can you brief us on the small house budget? What should someone consider before diving into the adventure?
I don't think people realize how much it costs upfront to build. You don't need to go into debt to get into this lifestyle, take it one project at a time. You will get there!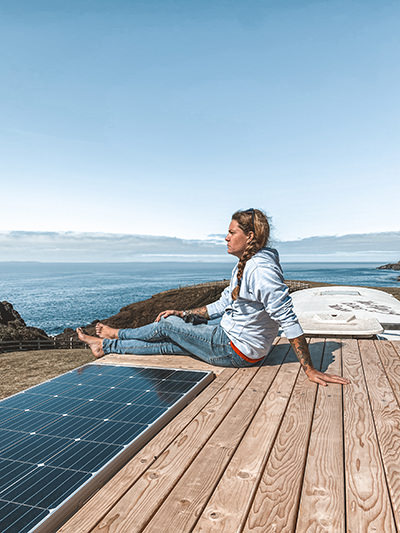 Everything is easier if there are funds. In the modern era of digital nomads, it is possible to work remotely. How do you manage to grasp the challenges financially?
My story is a little different when it comes to finances. Because I am retired from the military, I always have an income even if I'm not working. There are plenty of jobs on the road to make money and live free!
Modern tiny living hopes for small luxuries, but also has to be sustainable. Was eco tiny house your deliberate choice?
The Painted Buffalo has some pretty cool environmentally friendly attributes. We have 640 watts of solar and currently have a 100 Ah battery bank. Our battery reserve will be increased soon. We also have Nature's Head toilet. This helps us compost our poop and be able to dump it almost everywhere because we use organic coco coir as compost.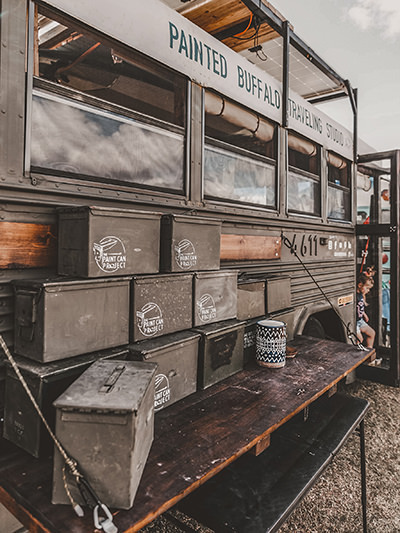 Painted Buffalo Traveling Studio – a place for art therapy
Painted Buffalo Traveling Studio is not just a house on wheels, but also a non-profit art classroom for veterans. How do your projects look like?
Painted Buffalo Traveling Studio is a 501c3 non-profit. Our biggest initiative is the Paint Can Project. I fill retired ammo cans with different veteran-friendly products and art supplies. Out on the road, I hand them out to veterans we meet to be able to tell their own stories through art.
We also have the ability to meet up with veterans on the road and create art on the bus. Because I love to create and learn new skills, I have a lot of different art supplies on the bus. Just about any type of art-making a veteran could be interested in, we can do it on the bus.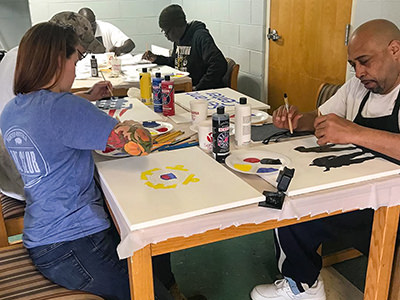 Besides bringing art education to veteran communities, your project also highlights other veteran artists, military personnel who have transitioned to the life of photography, painting, sculpturing, tattoo, or multimedia art. Is it a common thing in the US to use art as a therapeutic tool for mental health?
Using art as therapy is nothing new but, in the last decade, it has become a more common practice to help through mental health recovery, especially with veterans.
Why did you call your bus a buffalo?
I'm not sure when I began to love buffalos, but I have always loved them. I relate their resilience and hardiness to veterans. They can survive strong heat and heavy snow just like veterans have survived so much.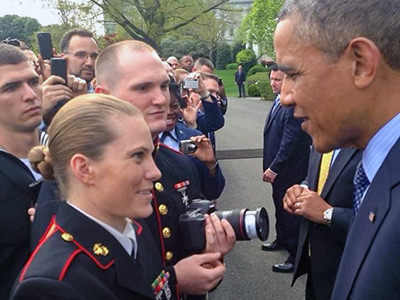 Art against PTSD
In Marine Corps and Pentagon, you worked as a Sergeant with people such as President Barrack Obama or the members of Congress. Can you tell us more about that period of your life and how did you make the transition to the arts?
I grew up being creative and came from a creative family. I also came from a strong military family. My mom and her brothers served in the military.
My job in the Marine Corps was to tell the story of Marines as a combat cameraman. I was able to meet many amazing political figures while doing my job and meet incredible people around the world.
After Marine Corps, I went to art school in North Carolina. That is where I started building the bus and started my non-profit. It was a hard transition. The students and professors really helped me. Because transitioning from the military is really hard mentally, art-making and school really helped in the transition.
A terrible car accident shattered your military career. It's maybe silly to point out bravery to someone who has chosen such a profession, but many would be deterred from the idea of life on the road after a car crash annulled efforts invested in professional development. How did the accident happen and how did you overcome its effects by fully embracing navigating a school bus, your entire home, on the road?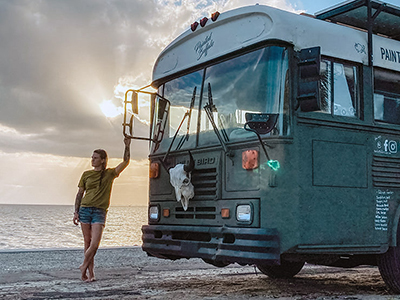 I was medically separated from the Marine Corps after a major car accident in 2010. While driving to work, my car was struck by an 18 wheeler. I rolled my car across the highway.
I didn't have any symptoms of major injuries then, and I continued to be a Marine. Over time, my injuries got progressively worse. After a few surgeries, it was determined I could no longer serve.
Along with physical issues, I also suffered from a traumatic brain injury and PTSD. Both have really affected my relationships with friends and my children.
I'm slowly working through mental health recovery and I'm thankful to be on the other side. Although 18wheeers still scare me while driving, I try to not let that hinder my goals and my life.
Traveling can play a strong role in healing, as two Texas widows also found out. Meet TikTok Traveling Grannies, circumnavigating the globe in their 80s!
War on suicide
You openly talked about drug addiction, alcohol abuse, and mental issues in that period of transition. From being depressed and suicidal, you became someone who saves veteran lives, by providing a creative "outlet that does not include self-harm"…
Every veteran has their own struggle with anxiety, depression, self-harm, and sexual assault, especially female veterans. Although it's well known these problems exist, they aren't always helped in the military. I talk openly online about the struggles I have gone through, hopefully to help others.
Without art school, the nomad community and my service dog, I would have committed suicideJessica Rambo
One of your dogs is a service dog. How did animals change your life?
With the help of Semper K9 (a charity that provides custom-trained service dogs to wounded veterans, Ed.), I was able to train my dog to be a service dog. Without the help of them and my dog Bella, I wouldn't be where I am today.
Where do you think you would be?
Without art school, the nomad community and my service dog, I know for a fact I would have committed suicide. That is a scary thing to think about, but it is my truth. I struggled with a lot of guilt, doubt and mental health problems and I know that without my friends and family I wouldn't be here to see how amazing my life is now.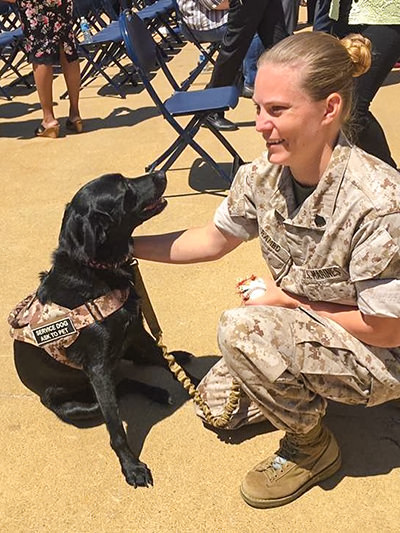 It's fantastic you found a safe space. And that pets can help us get there too. How does a service dog differ from a regular dog?
Although service dogs and regular dogs are similar, they are very different. In my case, Bella helps with memory loss, anxiety, meeting new people, and dealing with stressful situations with a positive outcome.
We have two dogs. One has been trained for service dog work and the other hasn't. Bella, my service dog can join me anywhere I go, like the store or school, but Atlas cannot.
Finding community in Nomadland
The van life is the main topic of the award-winning movie "Nomadland" directed by Chloe Zhao. The character Fern lost her husband, a job, and everything that made her life stable. The movie follows people who feel lost, and try to find the missing part on the road. Do you see this resonating with your story too?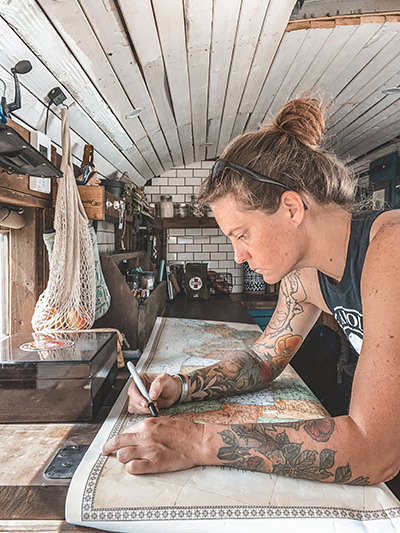 The story from "Nomadland" resonated with me deeply. I bought the bus and started traveling after a long bout of pain management, depression, and being lost in life. I felt lost after the military, and I had to find my way again. This is common in tiny living but what is so amazing is who people become during this life. "Nomadland" talks about the individual struggle and finding your community. I have found it here with other nomads.
You've traveled the world, both with Marine Corps and your Family Corps. What are the places you would always remember, memories you would always cherish, and learned lessons you would like to pass on to others?
I have been to Asia, Australia and Europe on my travels. One of my favorite countries has been Thailand. I went there with the Marine Corps. I love the food, the people and the nightlife. It was amazing and beautiful.
I think some of the best life lessons of traveling around the world is being humble and learning about other people. Learning languages, cultures and learning about how other people live is amazing.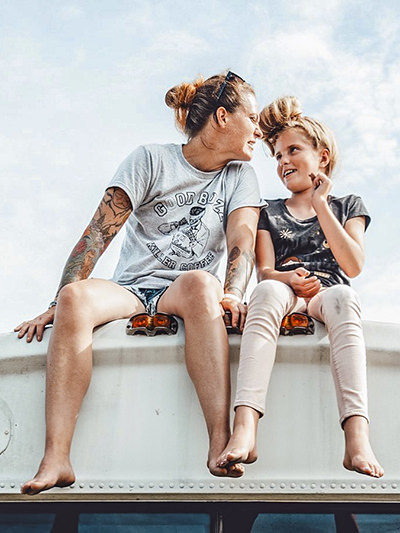 Survival as a process
What does the message "Nothing is over", written on the top of your bus, mean?
My last name is Rambo. There is a famous movie series called "Rambo" where you learn about war and mental health problems veterans face, called Post-traumatic stress disorder. It has a special meaning to me. Surviving mental-health and in-bus life, the projects are never over.
One of the famous lines from the movie is "Nothing is over! Nothing! You just don't turn it off! It wasn't my war! You asked me, I didn't ask you! And I did what I had to do to win, but somebody wouldn't let us win! And I come back to the world, and I see all those maggots at the airport, protestin' me, spittin', callin' me 'Baby Killer!', and all kinds of vile crap! Who are they to protest me, huh?! Who are they, unless they've been me and been there, and know what the Hell they're yellin' about?!"
Is your house on wheels on a neverending road too?
We have been on the road for two years. I hope to travel full time for two more years, and then settle down somewhere. I'm not sure where that will be yet. I hope to start an artist retreat and be able to help more veterans in a long term.
Are you dreaming of a house on wheels? Share your thoughts in the comment section below!
Did you like this interview about living in a house on wheels?
Pin it for later!