Budapest is famous for its impressive architecture, speaking volumes of Hungarian history and cultural heritage. But on a less serious note, it is also a hometown of vibrant ruin bars and ever-relaxing Hungarian bath houses. It is certainly a city that knows how to indulge, tantalizing you with meals ranging from spicy to sweet. What starts with a tantalizing stew has to end with a mouthwatering Budapest dessert. If you are prepared for a delectable journey, this article will feed you with information on the best Hungarian desserts in Budapest!
It's hard to say 'no' to the siren call of Hungarian cakes and pastry
Hungary would surely never leave you hungry. Best known for its goulash beef stew and chicken paprikash, Hungarian cuisine can also satisfy those with a sweet tooth. Even lángos, the emblematic street food snack made of deep-fried flatbread with sour cream, cheese, and garlic, can also be prepared in a sweet version, with toppings such as jam, cinnamon-sugar, or chocolate.
But the real fun begins at the dessert places of Budapest, where the sweet side of Hungary's culinary tradition is both celebrated and challenged. The result of the numerous historic influences that clashed in the city are treats for both eyes and taste buds, desserts so good that they could make your grandma retire from baking.
From the classic Dobos torte and rich somlói galuska, to the crispy chimney cakes, strudels, and sweet cottage cheese noodles, the list of mouthwatering things to eat in Budapest requires dedicated explorers. It was hard to say 'no' to the siren call of Hungarian cakes and pastry!
Grab a fork, and join me as I dive into the best Hungarian desserts you must try in Budapest, and where to eat them!
If you want to discover Croatian cake traditions, head to the island of Rab. There, you'll find rapska torta, a cake created for the pope by 12th-century nuns! The cake had a secret recipe until recently, but now you can learn how to make Rab cake yourself!
Budapest dessert school: the anatomy of Hungarian desserts
A Hungarian dessert is mostly a rich-flavored sweet dish typically made with traditional Hungarian ingredients and techniques.
Hungarians love to use seasonal ingredients, for instance, fresh berries for summer desserts, or dried fruits in winter. Nuts (walnuts, almonds, hazelnuts) and jams (especially plum and apricot) are very popular in traditional Hungarian desserts, both for topping and filling.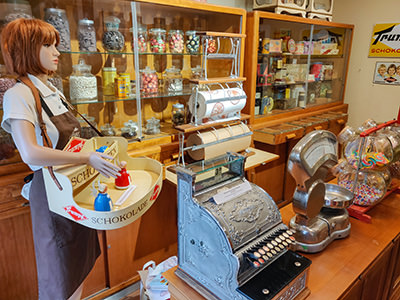 Other traditional flavors are brought by poppy seed, vanilla, and chocolate. For warmth and depth, Hungarian pastry shops often add spices such as cinnamon, cloves, and nutmeg. For the creamy texture and tangy flavor of Hungarian desserts, dairy products such as cream or yogurt are commonly used.
Typical Hungarian dessert techniques are similar to those used in other European countries, with some variations of their own. They love rolling their desserts (from chimney cake to strudel pastry), layering their cakes (from zserbó to Esterházy torte), as well as frying their dough (dumplings, for instance).
Budapest dessert places
Budapest has a wide variety of dessert places. From bakeries offering fresh pastries and street vendors selling traditional treats from their stalls or food trucks, all the way to high-end fine dining restaurants elevating the execution and presentation of Hungarian desserts, there are options to suit all tastes and budgets.
Some of the best dessert places in Budapest are however patisserie-cafes. They are not only providing high-quality desserts but also try their best to enrich your experience with a cozy atmosphere. Whether you prefer elegant interiors or the freshness of outdoor seating, you will find a great spot to enjoy your Budapest dessert, choosing from a wide selection of Hungarian cakes, tarts, and other sweet treats.
The quest for the best dessert in Budapest
According to various sources, some of the most popular Hungarian desserts are krémes, Dobos torte, somlói galuska, and chimney cake. While all of them deserved their spot on my list of the best desserts to try in Budapest, I tasted creations that I loved even more.
That's only to say that you should always look further than what mainstream media is telling you about the world. By following the most popular lists, you might miss some of the greatest contenders for the best Hungarian desserts in the Budapest area!
For orientation, please note that 1.000 Hungarian forints equal about 2,6 euros or 2,8 US dollars. However, have in mind that inflation or other market disturbances can significantly affect ever-changing prices, so always double-check the actual price of a product before ordering it!
Here are my top 12 of the most delicious Budapest desserts!
Hungarian desserts in Budapest – Top 12
1. Túrógombóc
Túrógombóc are Hungarian cheese dumplings. Their basic ingredients are túró cheese, semolina, and eggs. Balls made of this mixture are simmered in water and afterward coated in toasted breadcrumbs. Traditionally, Hungarians serve them with sugar and sour cream thinned with milk.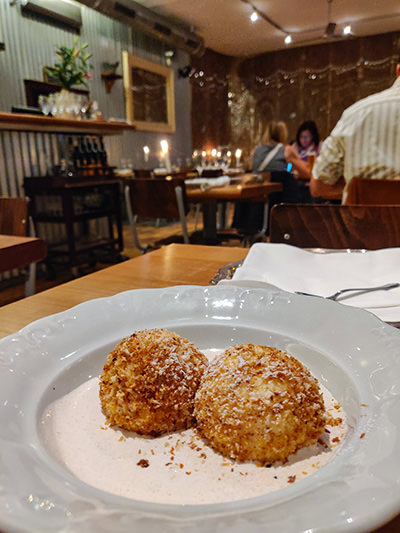 While túró is often described as cottage cheese, farmer cheese, or quark, it's not as wet as those are. This fresh, soft curd cheese ends up in many traditional Hungarian meals, from palacsintas (crepes) and strudels, via noodles, porridges, and paprika spreads (Liptauer), all the way to Túró Rudi, a chocolate-covered snack you will find later on this list of the best desserts in Budapest.
Túró cheese has been omnipresent in Hungarian gastronomy since the first cookbook in the 1580s at least, and today supposedly half of all cheese eaten in Hungary is – túró.
I cannot blame them. At least with túrógombóc, I can understand the appeal of these tender dumplings dressed in a crunchy coat. They are simple yet decadent, rightfully deserving the top spot as the best dessert in Budapest!
Where to eat the best túrógombóc in Budapest?
For the delicious túrógombóc I fell in love with, head to Gettó Gulyás (Wesselényi utca 18), in Budapest's historic Jewish Quarter (ghetto, thus the name).
The name of the restaurant also suggests that meat stews are the backbone of their menu. But definitely leave some room for this sweet "soup" with two cheese dumplings!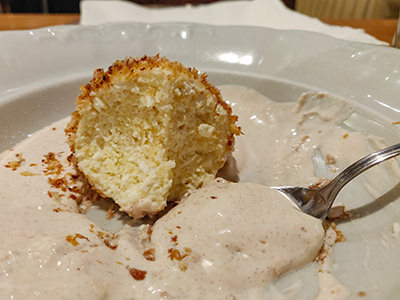 Soft inside, with a crispy outside texture, the champions of Hungarian desserts bathe in a pink cinnamon-flavored sour cream which goes nicely with the mildness of the cheese.
Maybe not as much as pörkölt, túrógombóc is still a dish that will fill you, proudly defending its place in the comfort food selection.
Gettó Gulyás gets crowded around 2 and 8 pm, but I had no problem arriving in a less busy time pocket and getting a table without a reservation. Ordering just a dessert (with my planned sugar rush expedition, there is a limit of calories I can take in a day), which might have sounded strange for the waiter of such a place, was not an issue.
I also enjoyed the homey interior speaking to the middle classes. The design combines wooden furniture with metal accents (from decorative buckets and wavy walls to functional ceiling fans and drink straws). Details such as old cookbooks or Rubik's cubes add to the authenticity the restaurant wants to project.
For túrógombóc, the best Budapest dessert, I had to pay 1.590 Hungarian forints, plus a 12 % service charge.
2. Somlói galuska
Somlói galuska is a Hungarian trifle cake, which means its essential components are layers of sponge cake (plain, chocolate, and walnut), custard cream, and fruit (raisins), all topped with whipped cream.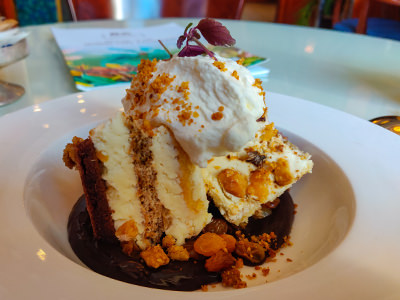 Well, at least it starts as a trifle cake. While the English love to present their trifle dessert in glass cups, to reveal the layers, the Hungarian trifle gets intentionally destroyed, traditionally scooped out to resemble dumplings in a bowl (hence the name galuska, which means 'dumplings', even if they are not).
In a modern interpretation, pastry chefs are abandoning the dumpling format, cutting the cake into neat pieces, so the layering of this traditional Budapest dessert can be appreciated.
Following the basic principle of English "tipsy cakes", the three layers of somlói galuska and raisins are soaked in rum, which can also be added to chocolate sauce. In some versions, raisins get macerated in Tokaji Aszú, the world's oldest sweet wine.
Where to eat the best somlói galuska in Budapest?
The best place to eat somlói galuska is where the dessert was invented – at Gundel (Gundel Károly utca 14), the restaurant so famous that even the street got the name after the owner.
While there were restaurateurs operating in Budapest City Park throughout the 19th century, the building as we know it today exists since 1894. The first neighbor of Budapest Zoo even has elephants in its logo!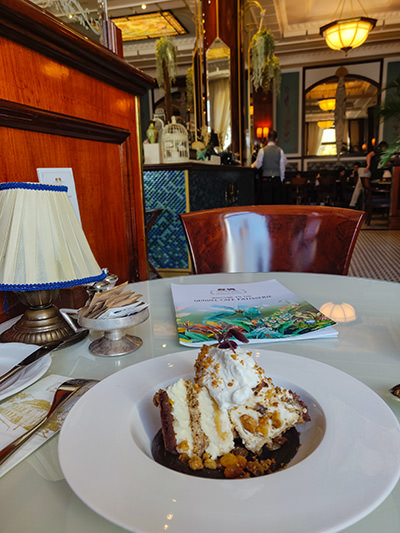 It is here, in the 1950s, where the original somlói galuska came to be, first in the mind of the waiter Károly Gollerits, and then under the hands of the pastry chef József Béla Szőcs.
The creation was named after Somlyó, the small hill on the outskirts of Budapest, where the chef was from. In 1958, at Brussels World Fair, the cake got an award but was misspelled. So even today, some believe it's named after the town of Somló near Lake Balaton, known for wine production.
Fast forward six decades later, and I was sitting in an elegant space beaming with history, in the same chairs where Sylvester Stallone, Madonna, and even Pope John Paul II enjoyed Hungarian desserts and other specialties. Well, technically, my table was named after Vaclav Havel, the first president of Czechoslovakia. But it could have easily been Queen Elizabeth who was supposedly delighted by somlói galuska.
I was impressed by the interior and the restaurant's effort in having live music. That certainly silenced the slurping sounds while I tried to lick every last bit of a deliciously rich chocolate sauce. The cake flavors were balanced and walnuts made the texture dimension more interesting. Thank heavens for the pastry chef Mártonné Dudok who supposedly tried to dig out the original recipe!
Service issues at Gundel
The service was certainly not on par with the kitchen. It took ages to place an order, and in one long hour, for just one course, I was handled by five or six different people.
The chaos in which waiters interrupt each other, leave guests in the middle of a conversation without apology, or are just generally confused about their working areas and duties, couldn't be hidden by the bar pianist or the entire string orchestra.
I know waiting tables is not an easy job, but it comes with responsibilities. There is no space for uninformed contradictions. For instance, the sommelier was convincing me that there was no alcohol in the dessert, while an experienced waiter claimed raisins were soaked in Tokai.
Even if I expressed my interest in knowing for the purpose of this text (for the purpose of my pleasure, I was already impressed that I could love any raisins), they never came back with the final answer. After a long wait, all I got was a check for 2.800 forints, plus 420 for the service charge.
3. Flódni
Flódni is a traditional Hungarian-Jewish cake made of four distinctive layers: apple, poppy seed, plum jam, and walnut. The indulgent Budapest dessert was first created by the Jewish communities of the Carpathian Basin.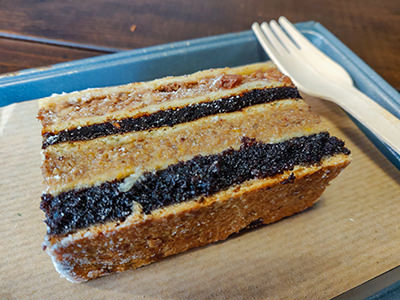 Originally, instead of the last two fillings, there was cheese (well, Hungary!). But since the 19th century, the flakey dough made of flour, butter (goose fat in the early days which were stricter on kosher rules), sugar, egg yolks, and dry white wine, has four-flavored interlayers.
The dense fillings are additionally enriched with spices such as cinnamon, clove, orange zest, honey, and white wine. Flódni pastry is a perfect dessert for grown-ups.
As a staple dish of Hungarian Jewish food, flódni is especially popular for Hanukkah or Purim, but there's certainly no reason not to enjoy it year-round, regardless of religion.
In 2012, for instance, it was a star dish of the Sziget Festival, where the Hungarian pastry queen Ráchel Raj created the largest flódni in the world. Her team used 500 kilograms of ingredients to produce a 20-meter-long dessert! It took them eight hours to prepare it, but for a standard flódni recipe, no more than two hours of your time is required.
Where to eat the best flódni in Budapest?
The layers of flódni supposedly represent the multicultural background and harmony of different people living together. It made sense for me to look for the best flódni in Budapest among those who were further exposed to influences.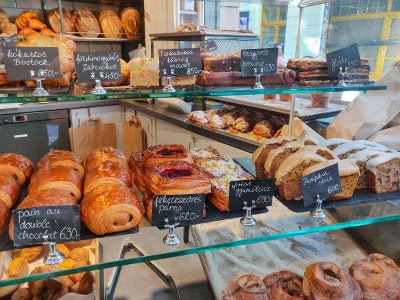 And I found it at Arán bakery (Wesselényi utca 23), in the eclectic 7th district. As the name suggests (arán is the Irish word for 'bread'), the place started by Kinga and Attila, the Hungarian returnees from Ireland, is best known for their artisanal sourdough bread. But it also has a solid selection of breakfasts and confections to indulge in.
Unlike Ráchel Raj's flódni recipe that, from bottom to top, lays poppy seed, apple, walnut, and plum jam, or online recipes that insist the correct order is walnut, poppy seed, apple, and then plum jam, Arán has their own construction style: poppy seed, apple, plum jam, and walnut on top.
While there are obviously different ways of making one of the best Hungarian desserts, I certainly had no problems with the formalistic. Arán's flódni satisfied me as a rich and decadent dessert, celebrating the best of every layer, from not-too-sweet walnut/raisin filling to Szatmár homemade jam made of 100% plums.
My flódni was priced at 950 forints. The service is as quick as it gets for a bakery, and no service charge is expected.
4. Mákos guba
Mákos guba is a Hungarian bread pudding where white bread is soaked in a creamy mixture of milk, poppy seeds, and sugar. When baked in the oven, the toothsome Budapest dessert is usually combined with vanilla custard.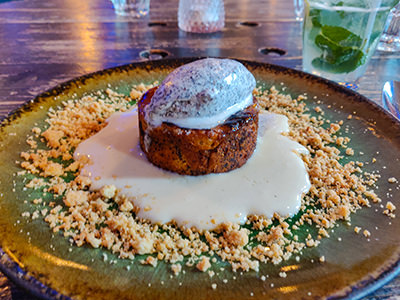 The fame of this simple Hungarian recipe also started as part of the festivities, typically as a must-have dessert on Christmas Eve, believed to bring luck and fortune in the upcoming year. But today, mákos guba is consumed whenever one feels like it, available even in plenty of restaurants.
Hungarians love poppy seeds, as much as the rest of Central and Eastern Europe does, putting it in anything from pasta to strudels and pies. The ingredient is much more than just a random add-on to a dish, becoming its focal point.
These tiny black seeds that easily get stuck between teeth provide a proud display of their symbolic values: wealth, prosperity, and fertility. The Hungarian word mák doubles for 'luck', after all.
The classic Hungarian poppy seed bread pudding is a fluffy rhapsody in one's mouth, with a generous amount of poppy seeds and warmth.
Where to eat the best mákos guba in Budapest?
While there is value in trying the traditional mákos guba served in old-school restaurants, I propose you visit Kiosk Budapest (Március 15. tér 4), in an 18th-century Piarist building at the foot of Erzsébet Bridge.
Once used as a gym for local children, the venue that dominates the square now houses the Michelin-starred restaurant Babel, and in the greater hall – Kiosk, both projects of ambitious gastro entrepreneur Hubert Hlatky-Schlichter.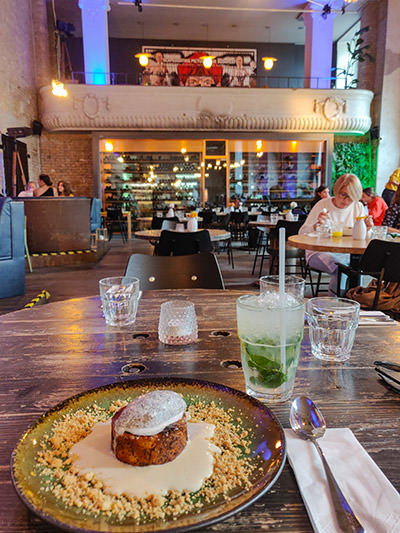 Named after a Turkish word for a booth where you can get a range of goods and services, the Kiosk that still stands above an out-of-use Turkish bath, would like to project an image of an iconic place that gives you everything you need, plus a smile. Waiters wear shirts that say "Happiness is not a destination, it's a way of life".
Their mákos guba is also called iconic in the menu, and besides vanilla custard, it comes accompanied with almond crumbs and poppy seed ice cream, as a modern twist.
Even if I was seated next to the kitchen entrance during a not-so-busy period, my dessert arrived with ice cream that already started melting. This of course affected the visual, temperature, and textural appeal of the dish, but I still appreciated pastry chef Dóri Varga's idea of combining the warm bread pudding from a mold with refreshing ice cream on top.
Kiosk's space is gigantic and airy, with an urban and dog-friendly vibe, promoted by the owner himself who comes to his corner with two four-legged friends.
With its metropolitan and charity-supporting image, Kiosk also insists on homemade products of premium quality and sustainable and organic background. I was therefore saddened to find a plastic straw in my lemonade, but I guess there is always room to grow.
Hungarian poppy seed dessert at Kiosk Budapest cost me 2.850 forints, plus 427,50 for the service charge. That officially makes this mákos guba the priciest on this list of the best Hungarian desserts in Budapest City.
5. Krémes
Cremeschnitte is a popular dessert in many countries of Central and Eastern Europe. In Hungary, it goes by the name of krémes (meaning 'creamy'). This sizeable rectangular vanilla slice is basically a smooth and airy custard cream sandwiched between the two thin layers of puff pastry.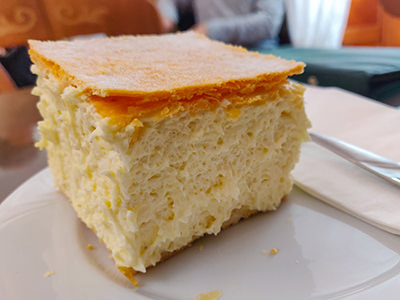 The origin of krémes dates back to the 16th century, connecting it to France (millefeuille or 'thousand leaves', referring to the cake's flakiness) or Italy (napoleon, referring to Naples).
But according to the Oxford Companion to Food (Alan Davidson's bestseller), the invention of the krémes form can be traced to Szeged, a town in southeastern Hungary, and their caramel-coated Szegediner torte.
Whoever came up with the first combo of flaky pastry and creamy filling, certainly should be proud of the results. According to Taste Atlas, the online encyclopedia of traditional food, Hungarian krémes has several notable titles. It is the most popular type of cremeschnitte, the most popular among Hungarian desserts, and the 12th most popular cake in the world!
Where to eat the best krémes in Budapest?
Krémes is a great reason to head over to the Buda Castle district. Climbing the stairs to the top of the hill will be rewarded at Ruszwurm Cukrászda (Szentháromság utca 7), just 100 meters from the famous Matthias Church. This is the home of the best krémes in Budapest.
Ferenc Schwabl opened the cozy and unpretentious confectionery back in 1827, which makes it the oldest cake shop in Budapest. Over two centuries, Ruszwurm Cukrászda attracted many VIP visitors, from Empress Sissi to Viktor Orbán.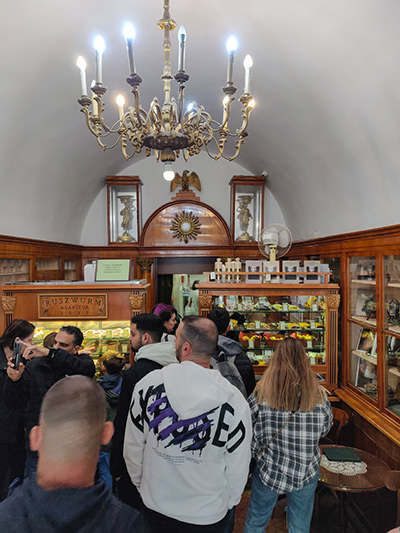 The walls of the pastry shop document the rich history of this Budapest dessert legend with photographs. But the real witnesses of the past are pieces of furniture that survived all the wars and sieges: the cherrywood cabinet/counter in Biedermeier style, still-working clock with gilded sunrays under the figure of an eagle and above the wooden-column framed door to the pastry workshop, antique chandelier, and a large sofa.
You can actually vividly imagine the confectioners of yesteryears displaying their creations (for instance, this is where the famous Linzer cookies were invented) behind the glass, in front of the eyes of sweets-hungry Hungarians.
Ruszwurm Cukrászda is not just a museum exhibit. This protected cultural monument is one of the best dessert shops in Budapest, still producing its own cakes. Since the 1990s, the pastry shop is managed by the Szamos family.
I don't know if it was due to the century-old Hungarian krémes recipe, but the slice I ate was probably the best cremeschnitte that ever crossed over these lips. Perfectly balanced sweetness, without that overgenerous sugar dust you typically get in other places, no chocolate, or any other overthought novelty. Just a classic Hungarian dessert at its best.
I especially enjoyed their puff pastry my fork had no trouble dissecting, a struggle I often experience with kremšnite in Croatian cake shops. Here, the cream was not only delicious (little black spots were revealing the use of real vanilla beans), but it also had a nice texture, not too firm, not too wobbly. Supposedly, the secret is in incorporating the whipped cream inside the custard instead of the egg whites.
Krémes at Ruszwurm confectionery was very fairly priced at 810 forints, plus 122 for the service charge. I think I will be returning to this place again for Hungarian cream pastry repeats.
6. Zserbó cake
Zserbó szelet or Gerbeaud cake is a Hungarian dessert with alternating four layers of crumbling yeast dough (traditionally made with lard instead of butter), and three filling layers made of apricot jam and ground walnuts, all topped with bittersweet chocolate glaze.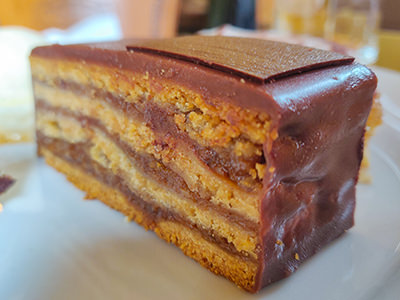 The father of the cake is Émile Gerbeaud, a Swiss-born confectioner/chocolatier who arrived in Budapest in 1883 to work with Henrik Kugler. A year later, he took over Kugler's café/patisserie and created the iconic Budapest dessert that will stay remembered after his hungarianized surname.
By the end of the 19th century, it was obvious that zserbó history won't be shortlived; the business went so well that Gerbeaud had to employ 150 people.
As a new brand of traditional Hungarian foods, zserbó quickly became a beloved add-on on Christmas or Easter tables in generations of Hungarian homes.
But if you adore the combination of chocolate, walnuts, and apricot, every day can be Christmas with one of the most authentic Hungarian desserts in Budapest!
Where to eat the best zserbó in Budapest?
It would be a sin to come to Budapest and not try zserbó at the place where it was born – at Café Gerbeaud (Vörösmarty tér 7), in the 5th district.
The grand four-story building impresses with an ornate interior that comes with rococo-style ceilings, crystal chandeliers, marble tables, and elegant wooden furniture.
Today, Gerbeaud is a much more grandiose project than in the times of its founder, serving everything from breakfasts and goulashes to salads and handmade bonbons.
The offer of Hungarian classics on one plate (featured image of this article) caught my eye. For 4150 forints (I see that the basic price was now lifted to 5350!), one gets three emblematic cakes of Hungary, zserbó, Esterházy, and Dobos cake, served with vanilla ice cream on the side.
Ambitiously, I thought I would propose this combo to all of you. But after I found a non-chewable piece of paper in Dobos slice (wrapping of chocolate or butter?), and received no real explanation or words of apology for the half-eaten paper-cake, I decided to recommend only Gerbaud's namesake dessert.
Back in Kugler's times, the store was progressive by allowing customers to wrap mignons in paper trays and bring them home. But I don't think that it works the other way around; cakes should not be used as wrapping for paper.
While it might sound like hairsplitting, I believe that the casual attitude of the café towards non-edible ingredients of their desserts finely illustrates what industrial mass production can bring. That's not the most likable part of otherwise obvious Gerbaud's old-world charm.
For a slice of zserbó at Gerbeaud, you will have to pay 3.390 forints, plus a 15-percent service charge (which I was eventually forgiven).
7. Dobos torte
Dobos torte is another iconic layered cake from the end of the 19th century, the golden age of Budapest confectionery. Made of six thin layers of soft sponge cake and five layers of fine chocolate buttercream, Dobos or dobosh has a hard caramel top. The pieces of caramel garnish can be either laid flat or arranged to stand at an angle, for an elevated presentation.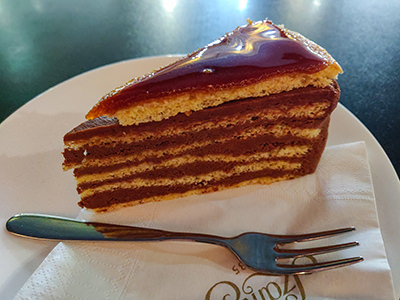 While some explain the name of Dobos (dob means 'drum' in Hungarian) with the shape of the cake (aren't all round cakes dobos then?), the origin of Dobos is the one that secured its name. The zebra-like Budapest dessert was invented by József Carl Dobos, at the National General Exhibition of Budapest in 1885.
In the era before refrigerators, this Hungarian baker aimed at creating a cake with a longer shelf life. Besides the smooth chocolate buttercream novelty (with cocoa butter as a key ingredient), the idea was to create an additional protective wrap that would prevent the cake from drying – caramel on the top, and ground nuts on the sides.
The minimalistic-looking product (in those times) was so durable that it could have been easily shipped to other countries in special wooden boxes. Dobos torte became a star of Hungarian desserts at social events of the entire Austro-Hungarian Empire, and remained popular in this region and beyond.
Dobos torte went through a dynamic history of variations. For instance, in Mary Berry's version of Dobos torte, there is no chocolate. She uses caramel buttercream instead.
Where to eat the best Dobos cake in Budapest?
József Dobos, who publically revealed his recipe only to stop the subpar copycats, must be turning in his grave with gazillions of non-standard variants of his cake around today. While there are many places to try a version of Dobos torte, I'd recommend you to go to Szamos Café (Kossuth Lajos tér 10).
They have many stores throughout Budapest, but you should go to the one next to the Parliament building, as there is a bonus waiting for you above the cake shop. On the upper floor, there's a Chocolate Museum, where you can learn about the history of this beloved ingredient, the process from cocoa bean to the final product, and you can even make your very own chocolate bar!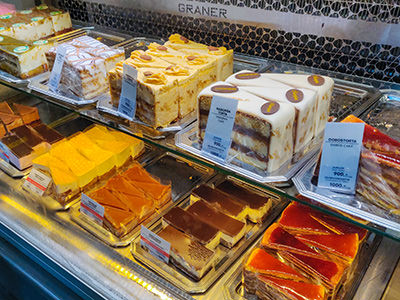 As one of the oldest chocolate manufacturers in Hungary, Szamos was founded by Mátyás Szamos, formerly known as Mladen Savić. In the 1930s, this descendant of Serbian refugees worked as a confectionery apprentice at the famous Auguszt Cukrászda, where he fell in love with making roses out of marzipan, the craft even his master showed little interest in. But Szamos built an empire on these roses.
While you can definitely try Szamos' signature marzipan cakes, tasting Dobos torte at this enterprise will be far from a mistake too. If you find the cake too sweet (I personally approached the caramel mostly as a decoration), their shop also sells products without added sugar. I'd mostly object to the crowding of the place, but I guess that comes hand-in-hand with fame and location.
I paid 1.000 forints for my Dobos (self-service, so no extra charge), and the Chocolate Museum entrance ticket costs 900.
8. Esterházy torte
Esterházy torte is the third member of the holy trinity of Hungarian layered cakes. Its traditional version alternates up to five layers of almond meringue with layers of brandy-flavored vanilla buttercream. The topping of this Budapest dessert is fondant, decorated with chocolate in a characteristic marble or cobweb pattern.
Even the best dessert places in Budapest replaced almonds in the original Esterházy recipe with walnuts, keeping almond flakes mainly for decoration of the cake's sides.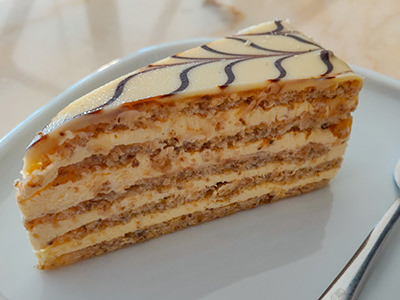 Esterházy torte is another innovation among Hungarian desserts in the 19th century. An unnamed confectioner in Budapest dedicated his creation to Prince Paul III Anton Esterházy de Galántha, a noble diplomat who loved good food even when he went broke.
Habsburg Monarchy adored the cake, and it ended up as a popular dessert not only in Hungary, or just among the aristocrats. Esterházy torte became a central point of many birthdays, weddings, and other special occasions.
Where to eat the best Esterházy torte (or schnitten) in Budapest?
I've tried Esterházy torte at several places, and still cannot say I've found the one that impressed me completely.
But for the sake of the diversity of your Budapest dessert hunt, I thought you should visit Auguszt Cukrászda. There are several branches of the family running different locations, and even if the original confectionery started in 1870 on the Buda side, I visited the one in Belváros (Kossuth Lajos utca 14-16), on the Pest side, operated by Olga Auguszt since 1994.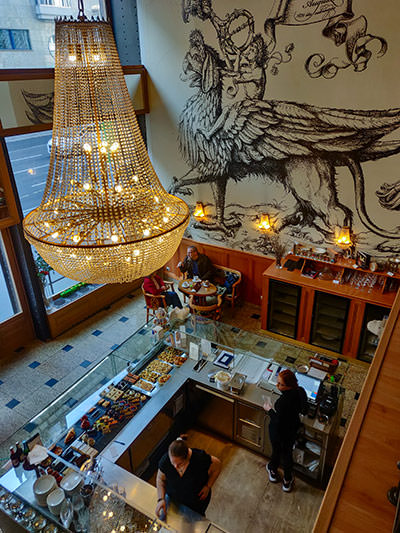 It has an inviting, pleasant, and bright interior (floor-to-ceiling windows and a gigantic chandelier do help) to enjoy a cake of your choice. The good part is that, whenever I visited this elegant pastry shop, it was never too crowded, so it seemed like a perfect downtown place to sweeten up your day, minus the tourist hordes.
Even if the waiter told me that they are most proud of their krémes and Dobos, I chose Esterházy as my dessert. Now, I know there are no right or wrong recipes for this traditional Hungarian cake, as no one ever claimed authorship. But August's version is made of walnut sponge cake with almond extract, and they sprinkle almond flakes only on the side. Also, the cover is not the usual fondant, but white chocolate (not that I have a preference towards any of those!).
I'm not entirely sure that these choices make for the best possible Esterházy torte, so I might need to plan a return visit to Budapest if I want to find the perfect one. If you have a suggestion on where to look, please let me know in the comments!
Esterházy torte, one of the most famous Budapest desserts, costs 1050 forints at Auguszt Cukrászda, plus 126 for the service charge.
9. Fánk
Especially in February, during the Carnival season, Budapest dessert scene cannot go without donuts. They are must-have pastries in many Central European households. In the Balkans, they are called krafne, Germans know it as krapfen, Slovaks as šišky, and Hungarian fried dough responds to the name of fánk.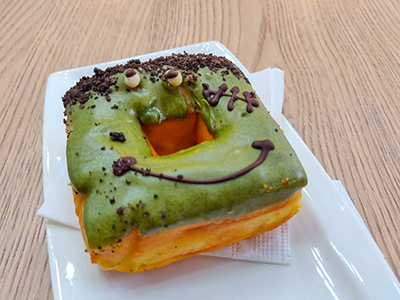 This traditional dessert is made by deep-frying balls of dough made of flour, yeast, butter, egg yolks, milk, and some sugar and salt. Lemon zest and rum are optional add-ons to the dough.
The result is an extremely light, soft, and airy pastry. During the frying, typically a white stripe forms on the sides of the balls, so sometimes they are referred to as ribboned donuts.
Traditionally, Hungarian fánk is served with apricot jam and dusted with powdered sugar.
Where to eat the best fánk in Budapest?
Fánk might not sound like the most exciting dessert from Hungary. But since I fell in love with The Box Donut at one edition of the Sziget Festival, I haven't returned to Budapest without stuffing myself with their delicious products.
There are five donut shops under this brand in the Hungarian capital, and this time I visited the one next to the Keleti train station (Thököly út 10).
Unlike traditional fánk, donuts here are square-shaped, still with the hole in the middle (but even the hole is rectangular). The shape allows for a higher filling-to-dough ratio (that's certainly a major flavor win), but also it saves some precious space in the vitrine, or if you order your six-pack to go.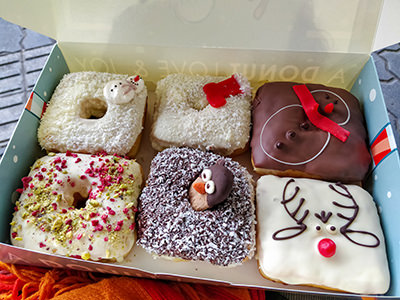 Square donuts can be packed in a box of your chosen design, for any special occasion, be it Halloween, New Year, Valentine's Day, birthday, or just a regular gay day (yes, they have rainbow "Love is Love" boxes too).
I became addicted to these square donuts as every bite is packed with flavor, always natural, never with additives or colorants.
The toppings are the first part of the donut that will seduce you, be it flower petals, nuts, lyophilized fruits, or candied fruit peels.
But then you discover homemade creamy fillings and marmalades without preservatives, ingredients of premium quality, Callebaut chocolate with 100 % cocoa butter, frying in 100 % peanut oil…
If you are health-conscious and environment-aware like I try to be, but you still want to reward yourself with a donut now and then, The Box Donut does seem like an ideal address.
The creativity of combinations seems neverending, and incredibly inviting: maple-bacon, poppy-lemon curd, cranberry-chia, truffle-pomegranate, cardamom-fig, duck liver brulée…
They even paraphrase some of the greatest Hungarian desserts on this list, giving you donuts with curd cheese dumpling, their version of zserbó, or True Rudy (see dessert number 12).
Trust me, you'll have trouble choosing in front of their display. Each donut costs between 790 and 1.190 forints.
10. Gelato
Okay, this might seem like an intruder on the list of the best Hungarian desserts you can eat in Budapest. But I believe a yummy gelato, the Italian-style ice cream, is always a good excuse to bend the rules.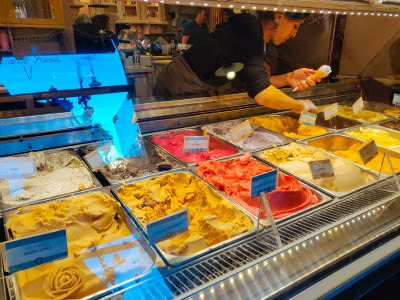 By definition, gelato is a milk-based product with a lower percentage of fat and air (due to a slower mixing), which gives this frozen treat a denser structure, and much richer flavor than your typical ice cream has.
Tradition requires that gelato should be served with a flat spatula, not a scoop.
While gelato is not a Hungarian invention, Budapest has some really good artisan ice cream parlors that Italy would certainly not be ashamed of.
If you want to make your own street hunting for cold refreshments, look for places selling fagyi, which is the local word for 'ice cream'.
Where to eat the best gelato in Budapest?
If you pass by St. Istvan Basilica at any time of day, you'll notice many people walking around with roses (well, unless they are standing and taking selfies with them). But these are not ordinary roses.
They are edible, and they come from Gelarto Rosa (Szent István tér 3), a small ice cream store with disproportionally grander queues of customers in front, eager to get their piece of gelato art in a cone. Well, at least it's really easy to spot the place.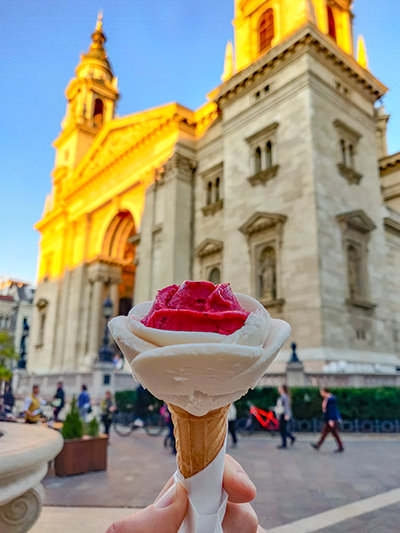 Ice cream shaped like a rose was the business idea of Niki Szökrön, a fashion model who ended up in chef waters after training at Carpigiani Gelato University in Bologna and learning the craft of ice cream roses during the internship at a small Italian family-run parlor.
In 2005, she opened her first gelato boutique in Budapest. The business got up pretty quickly, so there are actually two stores in close proximity to the basilica now.
Shaping a gelato into a rose is not only an aesthetical choice. The form supposedly preserves the creamy texture, giving premium organic ingredients a space to shine. You can expect vanilla from Réunion Island, 100% clean lavender oil from Papkert, Hungary, or pistachios grown on the volcanic soil of Bronte, Italy.
Besides regular chocolate and fruit flavors, seasonal flavors can take you all the way to Ireland (such as brown bread whiskey flavor) or Japan (salty wasabi hazelnut). You can also have your rose made of rose, coffee, nuts, and (we are in Hungary, after all) cottage cheese or poppy seed.
If you are vegan, lactose-intolerant, or diabetic, you don't need to worry, as Gelarto Rosa has special sorbets just for you.
I had no objections to this lovely sweet ice flower that can brighten any walk through Budapest. Depending on the size you choose, the gelato will cost you 950 forints (two flavors), 1200 forints (three flavors), or 1500 forints (four flavors)
11. Kürtőskalács
Budapest dessert overview wouldn't be complete without this sweet scroll. Kürtőskalács or the Hungarian chimney cake, however, may be another stumbling block in discussions about the dessert's origins. And I respect the arguments.
Personally, I also tried my first chimney cone in Bran, Romania, when I was looking for vampires in Transylvania. And while there are indeed written records about the Romanian colac secuiesc from the 17th century, we cannot deny that Székely Land was a part of the Kingdom of Hungary.
In any case, before Czechs and Slovaks start throwing stones, defending their trdelník, let's define what the chimney cake or spit cake is.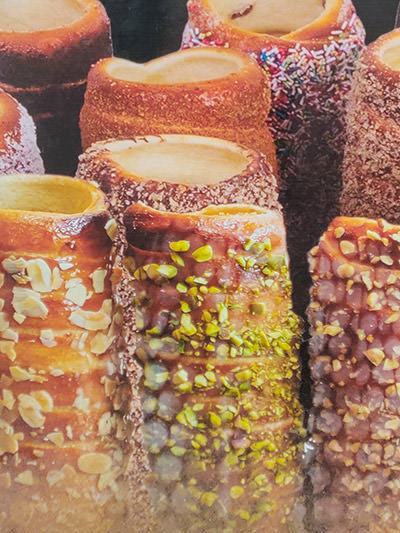 A strip of sweet yeast dough (made of flour, sugar, yeast, butter, eggs, and milk) is wrapped around the cylindrical kürtőskalács wooden rolls, covered in granulated sugar, and brushed with melted butter.
After roasting over an open flame, the chimney cake can be coated in a variety of sweet toppings, such as ground nuts, cinnamon, chocolate, coconut, or poppy seed.
The resulting dessert is crispy on the outside, and soft on the inside, filling you with flavorful warmth as you unstrip it into your mouth.
In modern and sometimes almost blasphemous versions, kürtőskalács can be filled with anything from Nutella, ice cream, whipped cream, or even chocolate bars of famous brands.
Where to eat the best kürtőskalács in Budapest?
If you visit Budapest during some festivities (for instance, during Budapest Christmas Market), kürtőskalács will be everywhere, with street vendors fighting for a quick profit. The golden rule is that the further away you go from the crowds, the price will be getting cheaper.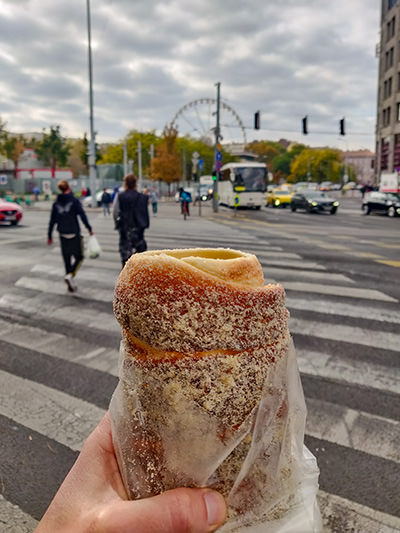 I recommend you head to Fitzkey bakeries. You'll find the kiosks of this chain at several locations (for instance, above the Bajcsy-Zsilinszky út metro station). Just like with gelato roses, you'll easily spot them by lines of customers who nosed the newly baked batch. And as I experienced personally, the sugar rush makes some people aggressively cut the line, only to make sure they got the hot-out-of-oven chimney cake as quickly as possible.
Fitzkey chimney cake contains no egg or dairy products, which means it's suitable for vegans. It comes only with simple, dry toppings, but that's all you need for sweetening up your exploration of Budapest on foot.
Also, unlike other more branded Budapest places that function mostly as tourist traps, Fitzkey chimney cake is significantly cheaper. You can get one of the best Hungarian desserts with the topping of your choice for 600 forints!
12. Túró Rudi
Last but not the least, yet also technically the least product on this list of the best Hungarian desserts in Budapest is Túró Rudi.
You might've guessed from its name, as it has the same root as our dessert number one: Túró Rudi is a sweet marriage of cottage cheese and chocolate.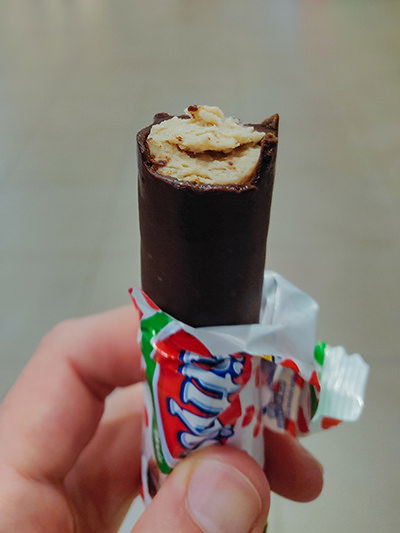 In literal translation 'cottage cheese rod' (this 'rod' was quite controversial when the snack first appeared, as people associated it with pornographic connotations), this is a chocolate bar filled with dairy cream and a myriad of flavors. Chestnut, strawberry, raspberry, apricot, caramel, vanilla… You name it, and probably there's a curd snack with the filling of your liking.
Candy bar covered in brittle chocolate was invented in 1954, by dairy expert Rudolf Mandeville, the manager of the milk factory in Erzsébetváros. The idea was to create a Hungarian version of a Soviet product syrok, which is a rectangular bar of curd, butter, and fat, in dark chocolate coating.
As a less sweet variant of a cottage cheese bar and marketed as a healthy dessert, Túró Rudi entered mass production in 1968 in Budapest, then continued in Mátészalka.
Flavored versions of the sweet treat first appeared in the 1980s. In the beginning, the curd cheese bar was combined only with hazelnut and peanut, but later creativity prospered.
Today, every Hungarian eats 33 Túró Rudi bars per year. Together, they spend 22 billion forints on these popular Hungarian sweets.
Where to buy Túró Rudi?
You can buy Túró Rudi in most grocery stores in Hungary. Just head to the refrigerated dairy section, and you will recognize the favorite Hungarian nibbles by the iconic packaging with red polka dots.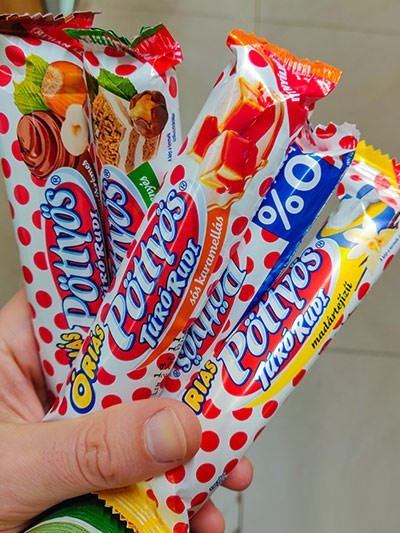 The original manufacturer's name is Pöttyös, but surely you'll enjoy others as well. As a matter of fact, some of those others promise real chocolate coating, while Pöttyös uses a mixture of cocoa powder, hydrogenated vegetable fat, butter, and sugar.
You'll be spoiled with choices, as you can get a piece for 200 forints. Buy packages with multiple bars for a discount.
If you're looking for a late-night dessert in Budapest, it's good to know that you can often find Túró Rudi at gas stations too.
I made a similar sugar rush report from South Korea too. If you're heading there, make sure to indulge in these Seoul desserts!
Best Hungarian desserts in Budapest – conclusion
Our whirlwind tour of the 12 best Hungarian desserts in Budapest has come to a bittersweet end. We've indulged in everything from classic Dobos torte to modernized mákos guba, from creamy krémes to the crunchy kürtőskalács. And it still feels as if we barely peeked under the surface!
Budapest confectioners provide an insight into the sweet side of the Hungarian culinary tradition that was boiling for centuries just like the country's goulashes
Hungarian cuisine has always been known for its delicious and hearty dishes, but the country's desserts deserve equal attention. Budapest offers loads of options for anyone looking to satisfy their sweet tooth.
Some of these desserts are made for eating on the go, others are part of a wider experience concept in thoughtfully arranged ambiances of patisserie-cafes or fine-dining outlets.
But the best dessert places in Budapest are influential advocates for tourism that goes beyond just admiring the architecture, be it preserved, turned into a ruin bar, or decorated by some impressive street art.
Budapest confectioners provide an insight into the sweet side of the Hungarian culinary tradition that was boiling for centuries just like the country's goulashes. But the sweet chefs went further, managing to upgrade the experiences even when innovating the forms, answering to the needs of modern urban travelers and locals.
Hopefully, this guide through the best Hungarian desserts in Budapest has given you plenty of reasons to book your next flight to this amazing town. As for me, I think I need to hit the gym.
Did you like our Budapest dessert guide?
Pin it for later!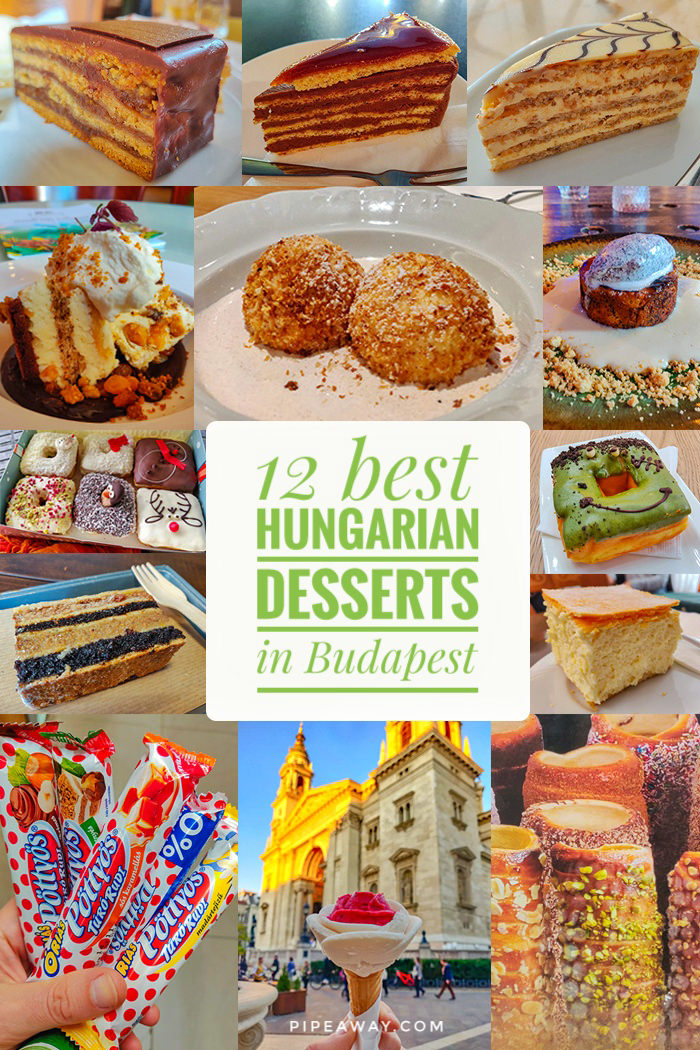 Disclosure: This post may contain affiliate links, which means if you click on them and make a purchase, Pipeaway might make a small commission, at no additional cost to you. Thank you for supporting our work!