When one is visiting Seoul, restaurant offers, unique cafés, or even always available Korean street food may be an overwhelming temptation. If you are anything like me, you will want to try it all! Visiting tourist sites may be exhausting and, now and then, you'll need to sweeten up your day! Is there any better way to do that than by treating yourself to some great Korean cake, refreshing Bingsu, the famous Champagne Sugar Ball, or some other decadent South Korean desserts the gastropolis has to offer? In this selection, I bring you the best desserts in Seoul!
Whether you are just into cute desserts or crave something more sophisticated, the sweet capital of South Korea will deliver!
Finding the perfect dijeoteu or husig (dessert in Korean) is still a demanding challenge, both for the quantity and the quality of Korean dessert cafés popping up around Seoul. Korean dessert trends are constantly evolving in this highly competitive sweet market.
Brave researchers such as myself sacrifice themselves for these sugar-overdosing journeys, aiming to find the best dessert in Seoul. But who can put a price on a blog post anyway? Your guide through the Korean treats in Seoul starts here!
If you're planning a sugar rush visit to Central Europe, check out my guide to the best Hungarian desserts in Budapest!
Best desserts in Seoul – top 7
From traditional Korean desserts to artful sweet plate displays, Seoul will spoil you with choices. These are the top Korean dessert cafés you should visit, and the desserts you should look for!
1. Sona – Champagne Sugar Ball
This Korean dessert café got famous for its signature Champagne Sugar Ball. The handcrafted sugar ball is filled with champagne foam and edible flower petals. It is resting on the cheesecake snow, strawberry pannacotta, and fresh strawberry slices. After cracking the Champagne Sugar Ball open, one needs to pour warm strawberry consommé over the sphere.
However, I may be making all of this up! The truth is that I never tried this popular Korean dessert! They were out of it at the time of the day I arrived! So if you want to taste this limited-edition star of Korean cafe desserts, possibly the best cake in Seoul, you better come there early.
View this post on Instagram
Sona's second-best
I still put Sona on the top of the list of places where one can eat the best Korean desserts in Seoul! There are two reasons for that!
What I did try was the Chocolate Fair (Pear). This artistically presented milk chocolate ganache (the featured image of this article) in the form of a letter 'S' was paired (and peared, I guess) with pear-lemon mousse, Chartreuse cream, pear gel, fresh mint slice, fresh pear dice and slice, honey-lemon coulis, fruit chips, and sugar tuile. I enjoyed every component of this sophisticated dessert!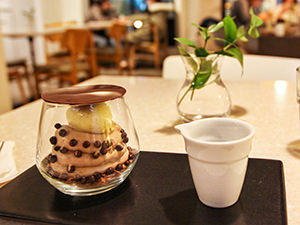 Additionally, Sona treated me to another creation from their menu – Oh! Chocolate. Served in a glass, the dessert included NY breakfast tea infused brûlée, 70 % Guanaja flourless chocolate cake, milk chocolate mousse, topped with Madagascar vanilla ice cream, and Valrhona crunchy pearls impressively spiraling around the mousse in a small glass. When one poured the hot chocolate sauce over the thin chocolate top cover, it melted into the glass and opened the door into this choco haven.
The owner of Sona is chef Hyun ah Seong. Before launching her sweet manufacture, she studied the trade in the USA and worked at Michelin-starred Joël Robuchon and Aquavit. In her dessert business, the motto "Make desserts better" is the driving force. And I must say I believe her!
Besides à la carte creations priced at 13.000 Won (10 Euros), Sona offers tasting menus that will let you dive into a variety of its dessert world.
In the Gangnam neighborhood, which became world-known for the peculiar dancing style, this 'better desserts' niche might be its sweet signature.
Address: 40 Gangnam-daero 162-gil, Sinsa-dong, Gangnam-gu
Closest metro station: Sinsa Station, Exit 3
Working hours: 12:30-22:00
If you don't plan to travel to Seoul soon, South Korean desserts can come to you! Order this cookbook and make your favorite Korean treats at home!
2. Zapangi – Mermaid Cake
From the street side, it seems to be just a pink vending machine. But open the door, and you'll enter the sweet Narnia world called Zapangi! Which is a Korean word for a vending machine.
A pink Eero Aarnio-style puppy stool guards this hidden Korean dessert café in the Mangwon district of Seoul.
The playful and photogenic concept made it famous among Instagrammers. This means you should expect to share the space with some seemingly endless amateur selfie photoshoots. But if we put its cuteness aside, Zapangi's potential certainly doesn't exhaust there.
The "Tin and bottle" neon sign on the wall explains its main serving idea. They display cakes in tin cans, while drinks get served in milk-style glass bottles.
The Mermaid Cake is the star of the menu. It's a strawberry cake topped with strawberry frosting and chocolate add-ons such as a mermaid tail.
Do you want to top your own cake with a mermaid tail? Here's the silicone mold you will need!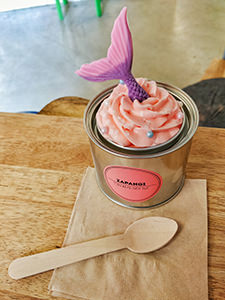 Well, technically it could be the tail of any fish, as they do not reveal the human part of the mermaid (nor you will find it inside). But I guess details should not rob us of a fantasy. It's pink. It's a mermaid!
This tasty cake will set you off 9500 Won (7 Euros). If you are ok with having no Instagrammable tails sticking out of your can, sweet potato cake or chocolate cake will cost you 7000 Won (5 Euros).
Additionally, at Zapangi you can buy donuts, as well as tea, milk tea, and latte. Specialty lattes include cream one with toffee nut or strawberry, sakura latte with cherry mocha or cherry choco, and mermaid one with mocha or choco. For vegans, the menu also offers soy coffee or soy milk tea (with white or black beans).
Address: 400-2 Mangwon-dong, Mapo-gu
Closest metro station: Mangwon Station, Exit 2
Working hours: 11:00-23:00
3. Remicone – Dolphin Bomb
Remicone is a Korean dessert café that resembles an ice cream truck that crashed into a building. The crash exposed the laboratory specialized in soft ice cream, with some rather bizarre experiment results under the label "Mix something new". They keep the toppings in lab-inspired containers, and include honey caviar, popping candy, mango macaroons, hazelnut praline…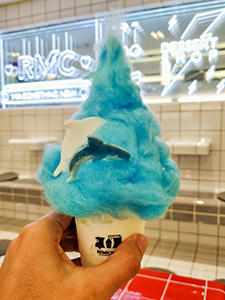 I tried the most expensive dessert on the menu – Dolphin Bomb costs 6.300 Won (5 Euros). The content will probably not blow you away; it's simple but decent vanilla soft, topped with cotton candy. However, its presentation may provide a perfectly sharable social media story. The fairy floss on the top is a vivid blue, and two dolphins are jumping as if through some ocean waves.
There is a slightly cheaper but less bright version of the same dessert called Thunder Bomb. Here, a grey candy floss decorated with lightning bolt candy tops the ice cream, giving the impression of a storm in your dessert glass. As long as you can ignore animal fur connotations.
Besides the ice cream desserts, Remicone offers some crazily reinterpreted croissants and madeleines, as well as cupcakes staged as small tropical islands or the dolphin's playground.
Remicone is home to photogenic and cute Korean desserts at two Seoul addresses, one in Gangnam, and one in Jung. I visited the latter. It is located on the second floor of the Dongdaemun Market mall, just across from Dongdaemun Design Plaza, which is a neo-futuristic landmark worth visiting as well.
Address: 275 Jangchungdan-ro, Gwanghui-dong, Jung-gu
Closest metro station: Dongdaemun Station, Exit 8
Working hours: 10:30-23:00
4. Sulbing Insadong – Injeolmi Bingsu
Bingsu (shaved ice) or Patbingsu (shaved ice with azuki beans) is among the most popular South Korean desserts.
Sulbing, the Busan-based franchise, delivers Korean snow ice to many branch stores in Seoul, including Sangsoo Station, Myeongdong, Jonggak, and Hongik University. The last one is open 24 hours a day!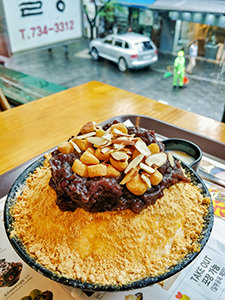 I visited their popular store in Insadong. This place is famous for its Injeolmi Bingsu, an ice-flake bowl topped with Injeolmi, a rice cake with soybean powder, and sliced almonds. One of the most authentic Korean desserts cost me 8.900 Won (7 Euros), but it is true that it could easily satisfy two people.
Other snowflake combinations on the Sulbing menu come with green tea, chocolate, chocolate brownie, Oreo cookies, tiramisu, or blueberry cheese. The best bingsu in Seoul can cost up to 11.900 Won (9 Euros).
Besides the ice flakes, the most popular dessert in Korea, Sulbing Insadong offers Injeolmi toasts which can also be combined with mozzarella or chocolate. Overstuff yourself with Injeolmi and order Injeolmi ice cream, or a box of Injeolmi Cream Omelet! Afterward, water everything with some coffee, tea, latte, smoothie, or sparkling ade!
Address: 39 Insa-dong (2F), Jongno-gu
Closest metro station: Jongno 3-ga Station, Exit 5
Working hours: 10:30-23:00
If you love almonds, you will adore Rab cake, a Croatian dessert invented for the pope in the 12th century! After centuries of recipe secrecy, now you can make rapska torta at home!
5. Insadong street stalls – Ttongppang or Poop Bread
Insadonggil is the main street of the Insadong neighborhood, famous for its street food. This is also the place where Ttongppang or Ddongbbang (literally poop bread) originated from. I found this turd-shaped Korean dessert at a street stall on the ground floor of the Insadong Ssamziegil shopping center.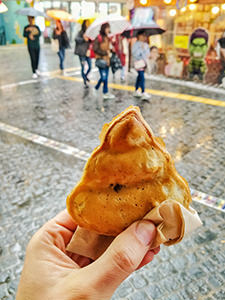 Ttongppang is basically the same as Bungeoppang, which is a fish-shaped pastry stuffed with sweetened red bean paste. The main difference is that Ttongppang comes in the shape of stylized feces and, besides red bean paste, the filling includes walnut bits, to give it that crunchiness of a poo.
Did I just say that? I never tried eating poo, so I have no idea. However, if you like waffles, and have no problem with making fun with your food, you might wanna try this sweet shit!
If you like bizarre food, take a break from popular Korean desserts, and check out the insect-based menus in Cambodia!
At this stall, the red bean paste version costs 1.000 Won. The one with the chocolate filling had the price of 1.500 Won (80 cents to 1,20 Euros).
If you want to make it a thematic day, on the top of the same shopping center there is a Ddo-Ong Café (or Ttongkape), a cafeteria obsessed with pooping. This is a feces-celebrating place where you can try spaghetti with tomato and beef, or a rose latte served in a miniature version of a toilet. I tried the pasta which was not impressive, but I assume if you are there just for a laugh, it will fulfill your "hunger".
Address: Insadong Ssamziegil, Insadonggil, Jongno-gu
Closest metro station: Jongno 3-ga Station, Exit 5
Working hours: 10:30-20:30
6. Unas – Avocado Cake
Unas is another Seoul dessert café in the Gangnam district that attracts with its Instagram-worthy creations.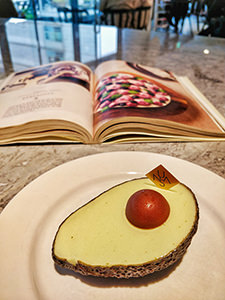 The headliner of this Korean dessert café is undoubtedly Avocado Cake. As its name suggests, it looks like an avocado. Well, almost. The seed was out of proportion; it seemed too small for the size of the fruit.
Another disappointment arrived when I discovered that it was not a mango and yuzu jelly ball wrapped in chocolate. It was a half-ball (!), just placed on the top of the dessert, instead of being integrated, like avocado seeds usually are.
Seductive and disappointing at the same time
My expectations were also let down after I realized that they serve the cake in a real avocado shell. This instantly knocked it down from the category of ambition and technical mastery to the class of "we serve our rice in a pineapple".
I'm not a fan of serving things to guests that are not edible. But even if we could argue that the avocado shell here actually had only a function of a plate, I see no excuse for sticking a golden leaf with Unas logo into the cake, which turned out not to be a piece of chocolate for instance, but an inedible piece of cardboard! Not tasty!
Another disappointment came with the service at this dessert café. Before I ordered my cake, I wanted to use the bathroom. A member of the staff welcomed my toilet visit with – I kid you not – rolling eyes!
After I returned to the counter, I ordered my cake and they instructed me to sit down. I found the place to sit down, but then the waiter came to me and said that I need to pay first! Hahaha! So I returned to the counter, where just some moments earlier I was told to find the seat. I paid for my cake and then was asked to sit again. They delivered the plate with a cake – on a trolley! I may have missed the point of going retro, but I hope the choice was aesthetical, even if I didn't understand it, as it clearly was not pragmatic.
Why is this on the list of the best Korean desserts in Seoul then?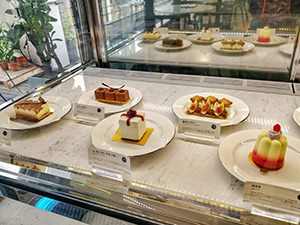 So many complaints and I still include this cakeshop in the list of the best Korean dessert cafés in Seoul? Well, yes. If we excuse the staff that should receive additional training in handling customers, and the fact that some of the dessert execution could upgrade the ambition level, the vitrine with the cakes still looked inviting.
Avocado Cake, which was actually an avocado mousse with lemon cheesecake, turned out to be just a fine Korean café dessert. Priced at 9.000 Won (7 Euros), it did have a margin for improvements, but I leave this to the owner, Mme patissier Eun ah Lee. These desserts proudly display her name. Supposedly, she is known for her attention to detail, so I hope she will find my observation of these details constructive.
Besides being a dessert café, Unas is also a tea salon (serving milk tea for 6.500 Won, or 5 Euros), as well as a baking classroom that proudly displays cooking books such as "Unas Baking Class".
This multifunctional and elegantly decorated place is located on the second floor of the SB Tower, near Dosan Park. They do not open on Mondays.
Address: 318 Dosan-daero, Gangnam-gu
Closest metro station: Apgujeong Station, Exit 3
Working hours: 12:00-20:30 (until 21:30 on Saturday and Sunday)
7. Passion5 – Dessert Emporium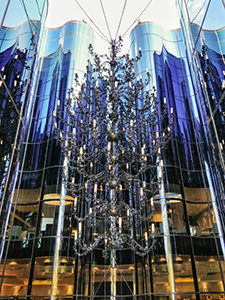 If you haven't found what you were looking for in the first six items of the seven best Korean desserts to try in Seoul, you might want to head to Passion5 (or Fashion5, as Google Maps like to call this place).
The fine dessert emporium in Itaewon features more than 300 modern Korean desserts! If you have a hard time choosing a cake in some regular cake shop, prepare to be torn by choices in this sweet mastodon!
The entrance to the building adorned with a gigantic black chandelier is already impressive. But when you see the display of colors, shapes, and textures in the dessert area, you will not want to leave!
There are four elements in Passion5 composition – café, bakery, patisserie, and chocolaterie. The fifth element bonding them all together like Milla Jovovich is – the passion of the workers.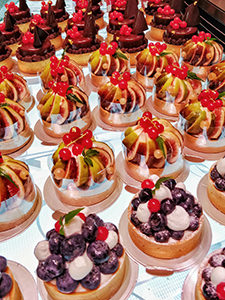 Whether you opt for some refreshing gelato, eye-catching macaroons, dozen types of éclair (from chocolate and black tea to salty milk caramel), delicious-looking tarts (from blueberry-cheese to fresh fig-cherry combo), Venezia boats filled with mango or strawberries, or other cute desserts in this sweet-tooth oasis, they will be screaming attractive!
Your tray will be filled out with artisanal desserts and mouthwatering Korean pastries quickly, in a compulsive hoarding of calories!
The seating space on the ground floor is rather limited. While they tell you that you can also eat your cake on the first floor, in their restaurant area, the restaurant personnel decided to kick me out if I didn't order anything from their menu too. So – big minus for that!
SPC group is the owner of Passion5, and this is just one of their brands. The list includes well-known names such as Paris Baguette, Baskin Robbins 31, and Dunkin Donuts!
Address: 272 Itaewon-ro, Hannam-dong, Yongsan-gu
Closest metro station: Hangangjin Station, Exit 3
Working hours: 7:30-22:00
After letting yourself loose at Korean dessert places in Seoul, don't forget to check out the wonderful world of the Korean spa too! These are the best jjimjilbangs in Seoul!
Best desserts in Seoul – Conclusion
The Korean food scene, as well as the dining options in the Seoul capital, is so vibrant that it would be pretentious to reduce its best Korean desserts to a list of seven.
Whether you are chasing mermaids, sophisticated art plates or just refreshing ice flakes, the sweet Seoul will deliver
All dessert lovers have their reasons to indulge in the sweet rewards. Whether you are chasing mermaids, unicorns, and dolphins for your Instagram feed, whether you are looking for sophisticated art plate creations or you just want to refresh yourself with something local and authentic such as Bingsu or Ttongppang, there will be plenty of South Korean desserts to try in Seoul, probably for more than one visit!
The scene of restaurants, cafés, and street food options in the capital of South Korea is so dynamic that you will probably witness the closing of old places and the opening of some new ones.
Trends change, customers are becoming more demanding every day, and the definition of the best Korean desserts is ever-changing. The only constant is that desserts in Korea are national pride!
Give them a chance, and if you have discovered some fantastic new Korean dessert cafés in Seoul, please recommend them in the comments below so that others can enjoy the rich world of Seoul sweets and desserts too!
Did you like this article on the best desserts in Seoul?
Pin it for later!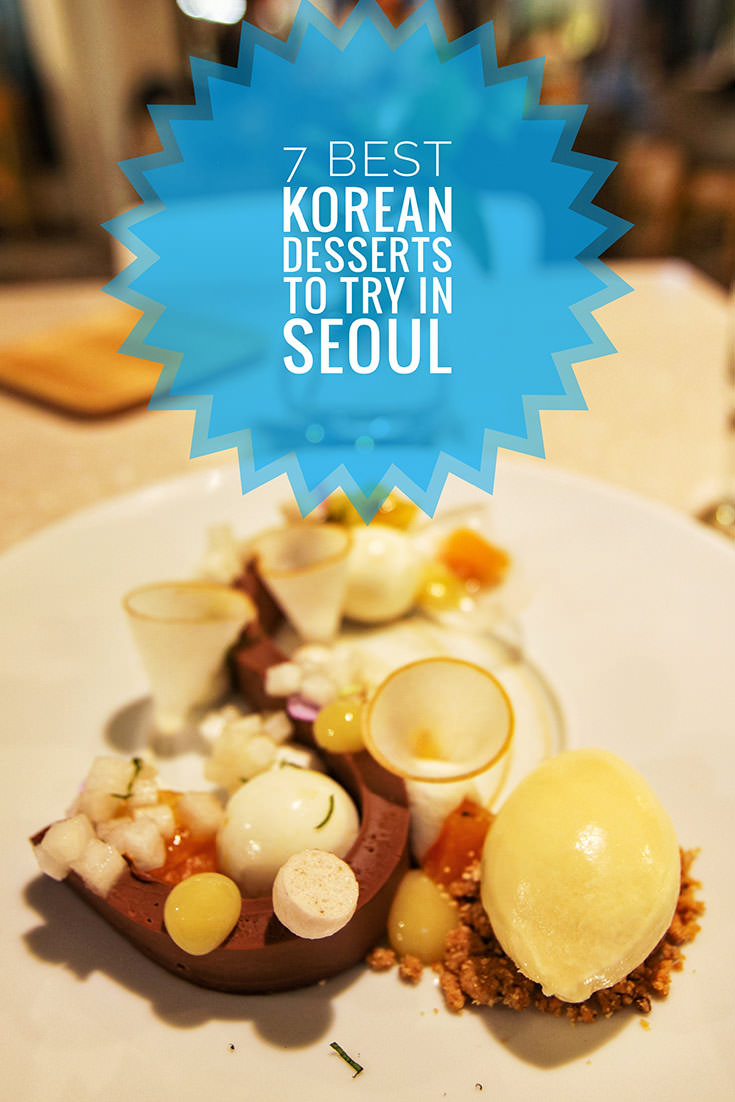 Disclosure: This post may contain affiliate links, which means if you click on them and make a purchase, Pipeaway might make a small commission, at no additional cost to you. Thank you for supporting our work!