"20 Best Things to Do in Vientiane – is that a title of a fantasy novel?", some visitors might ask. On the first page of Google, articles struggle to number up to 15 activities to do in Laos capital. But 20, according to those who visited the city, could be an overstretch. Can I prove them wrong?
Unlike Bangkok, Kuala Lumpur, Hanoi, or Phnom Penh, Vientiane resists the perception of Southeast Asian metropolis as a bustling center of activity where day never ends. On the contrary, Vientiane has a reputation as an utterly boring place!
When asked how many days in Vientiane one should reserve, many travelers would tell me that it was not worth visiting at all. At best, they'd give the capital city of Laos 1-2 days maximum.
I don't take such comments for granted usually. I already found them wrong in the case of Cambodia, which also has a perception of "Angkor Wat, Killing fields and nothing else" country. So I decided to give a chance to Vientiane tourism and spend nine (9!) days in the "capital of boredom".
These 20 best things to do in Vientiane will make you rethink visiting the Asian capital of boredom!
Indeed, practically at the beginning of the city's touristic development, it did turn out that the question "how long to spend in Vientiane?" should be answered in low numbers.
However, there are still interesting things to do in Vientiane City and around it, even if it means spending just a day there. This blog post contains my recommendations on what to do in Vientiane during 24 hours.
If you were struggling already with Vientiane pronunciation or even with finding the town on the map, I hope these 20 best things to do in Vientiane will make you rethink about visiting one of the rare capitals where you can still expect being woken by roosters.
In this guide, learn where to go, what to see and do, where to eat, and where to sleep in Vientiane! Discover the main points of interest in Vientiane, Laos capital attractions, best tourist spots and sites, and travel tips! These are the usual and the unusual, the best, cool, fun, and even weird things to do in Vientiane!
The best things to do in Vientiane in 24 hours
The best things to do in Vientiane in a day are organized through four sections in this guide: sightseeing (what to see in Vientiane), activities (what to do in Vientiane), gastronomy (where to eat in Vientiane), and accommodation (where to stay in Vientiane).
What to see in Vientiane
From morning markets to monuments and temples, Vientiane sightseeing can take you to landmarks that are lively places of gathering. The importance of these attractions often overgrows the city limits, and they are simply Vientiane's must-see. Here are some of the best places to visit and things to see in Vientiane!
1. Pha That Luang Vientiane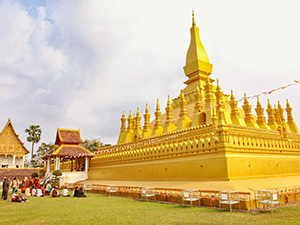 Even if four kilometers away from the center, Pha That Luang is a tourist site that pops up on literally every list of things to do in Vientiane City.
This gold-covered building, also known as the Great Stupa of Vientiane, is one of the most important Buddhist monuments in Laos. They believe that Buddha's breastbone is enshrined in it, so the place is considered sacred.
The foundations of the temple date back to the third century, but the original stupa was erected in 1566 when King Sai Setthathirath moved Laos capital from Luang Prabang to Vientiane. The stupa suffered many attacks over the centuries, so it went through many restorations as well.
Stupa's pinnacle in the form of an extended lotus bud "growing" from the golden turrets reaches the height of 44 meters.
The cloister with miniature cross-shaped windows surrounds the stupa and contains a variety of Buddha images.
In the neighboring grounds, two wats (Wat That Luang Neua and Wat That Luang Tai) are home to gardens and statues, with a gigantic reclining golden Buddha stealing the spotlight.
The Golden Stupa is imprinted on national banknote of Laos
Pha That Luang is the most popular during the Boun That Luang Festival. Thousands of pilgrims gather here during the three-day celebration that starts on the full moon of the 12th lunar month (usually November). It is the final stop of the wax candle procession, a place where believers make offerings, give morning alms to Laos monks (tak bat), and enjoy the entertainment program with games, performances, and fireworks.
However, it's worth visiting the national symbol of Laos at any time of year!
To understand how proud Laotians are with this religious landmark, check how they imprinted it on the 10.000 Kip banknote (1 Euro), the one you will use to pay for your entrance.
2. Patuxai Monument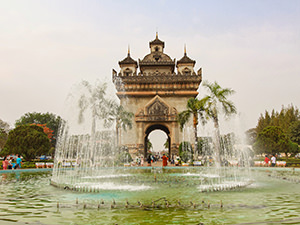 Patuxai or Patuxay (Victory Gate) in Vientiane is a war monument unusually resembling L'Arc de Triomphe (Victory Arch) in Paris, France.
While France inaugurated its arch in 1836, in memory of those who died for the country in the French Revolutionary Wars and Napoleonic Wars, the Vientiane arch opened in 1968 to honor those who fought against the French for Laos independence.
The whole setting is very borrowed. Avenue Lane Xang (Vientiane's version of Avenue des Champs-Élysées) is a boulevard built by the French. The Chinese donated the fountain in front of the Patuxai Monument. Americans were the ones who gave funds and cement to expand the city's airport.
But, ehm, the States sent the resources before signing the contract! Instead of building the runway that would serve US interests during the Vietnam War, the Lao Government decided to construct a massive triumphal arch. To this day, Lao people refer to Patuxai as "the vertical runway"!
With its 55 meters in height, Patuxai exceeds its Paris inspiration by 5 meters. It has four gates instead of two, and five towers with golden decorations, built in a traditional Laotian way. Spiral staircases lead you through the several floors of souvenir shops and bring you to the top.
Here, several blogs advertised "nice", "great", "the best", "first-rate", even "stunning" views from the observation deck. I found this highly exaggerated. The Vientiane skyline is not that impressive!
In my opinion, Patuxai's best selling points are its history and distinctly Laotian design. The decoration combines Buddhist symbols and Hindu gods, the mythical kinnaris and apsaras.
Access to Patuxai Park in the center of the "roundabout" is free. Many locals choose it for an evening walk or resting on the benches. Climbing to Patuxai Monument costs 3.000 Kip (30 cents).
3. Si Saket Temple (Wat Si Saket)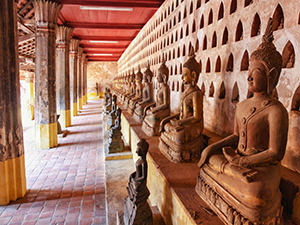 Wat Si Saket is the only temple in Laos that survived the Siamese invasion in 1828. While they destroyed a large portion of Vientiane, Si Saket Temple at the beginning of the Avenue Lane Xang managed to avoid the destiny of the other temples.
Erected in 1818, by King Anouvong, in the place of an earlier temple from 1551 (built by King Phothisararat), it preserved its original shape even after the Siam's attack, probably thanks to its design.
Just like Thai temples, its red roof has five tiers, but wat's central doorway faces the South, even if the Buddhist tradition dictates the East.
The temple's most outstanding feature is its cloister with 6.840 Buddha figures of various sizes and styles, made in silver, bronze, stone, and ceramic. The real number of artworks varied according to the one who counted. It could be anything between two and ten thousand. If you have some spare time, try to count them yourself!
While some of the statues date back to the 15th century, a Khmer-style Naga Buddha in the congregational hall (sǐm), which shows Buddha sitting on the cobra deity, supposedly dates back to the 13th century.
Visiting Vientiane's oldest surviving wat, which is not just a place of worship, but also a study ground for the novices that may become monks, is one of those unmissable things to do in Vientiane.
The entrance fee for Si Saket Temple is 10.000 Kip (1 Euro).
4. Haw Phra Kaew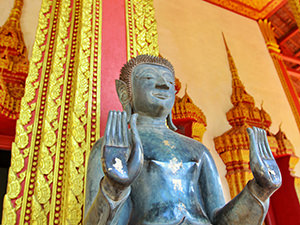 Just across the street from Wat Si Saket, Haw Phra Kaew (also written as Hor Pha Keo and similar) is literally a "temple of the Emerald Buddha".
This former royal temple was housing a 66-centimeter statue carved out of a single jade stone, from 1565 till 1779.
King Setthathirath brought Buddha's figurine from Chiang Mai and built the temple to store it in the new capital.
When Siamese pillaged Vientiane in 1779, they took the Emerald Buddha back and installed it in the same-named temple in Bangkok where you can still see it today (Wat Phra Kaew).
As for Vientiane's building that never changed its name, today it is a museum of religious artifacts and cultural treasures. Various Buddha statues (some as old as the 6th century) and other relics are on display on the terrace and inside the sim.
Feel free to explore the surrounding garden too! You can find some magnificent carvings in the wood, as well as one of the two millennia-old jars from Laos' unique and mysterious Plain of Jars! These treasures put Haw Phra Kaew on the list of best places to see in Vientiane.
The ticket for Haw Phra Kaew costs 10.000 Kip (1 Euro).
5. That Dam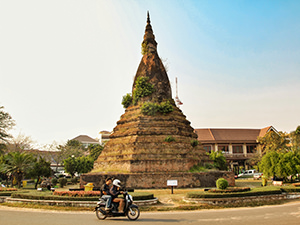 That Dam or Black Stupa is a rare Buddhist landmark from the 16th century. Placed at the roundabout where Rue Chanthakhoumane and Rue Bartholonie cross, the monument does not look as spectacular as when they constructed it.
Supposedly, it was initially covered in real gold which didn't survive the Siam pillage in 1828. The black layer also decayed with time and exposed the bricks. With more natural vegetation slowly swallowing the monument, it might need to change the name to Green Stupa in the future.
The legend says that a seven-headed Naga, a snake-like creature was guarding the site. It seems it didn't manage to protect it from the robbers and the crumble that followed.
6. Wat Si Muang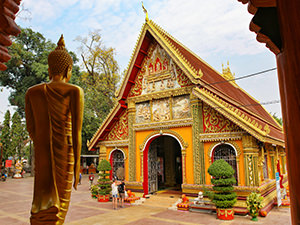 Wat Si Muang is Vientiane's most popular temple. Buddhists believe that their wishes get granted here. They visit the temple to ask for good luck, and then again to make the offerings when their prayer gets answered.
The temple was named after a young and pregnant Laotian woman who sacrificed her life to calm the angry spirits at the construction site. She jumped into a hole, and then they built a massive city pillar over her body.
This made it possible to raise the temple structure in 1563 (during the reign of King Setthathirat). After Siam's destructive attack, the hall was rebuilt in 1915.
Besides the pillar site, the home of the guardian spirit of Vientiane, the seated stone Buddha that survived the troublesome year of 1828 also fulfills the requests. Today, Vientiane people lift the statue off the pillow three times while thinking of their wishes.
Another way to please the gods is by releasing one of the caged birds sold by the local vendors. Sadly, tourists find this action social media-worthy. Beware that, by joining it, you are stimulating the little industry of imprisoning these birds!
Wat Si Muang is the starting point of the procession during the Boun That Luang Festival.
7. COPE Visitor Center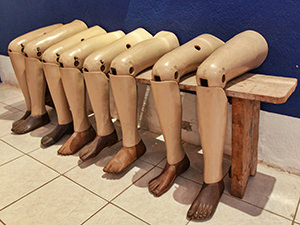 COPE is the Cooperative Orthotic and Prosthetic Enterprise. This charity aims to provide access to rehabilitation for the victims of the so-called Secret War.
From 1964 till 1973, the American air forces dropped more than 270 million bombs on Laos! That is a planeload of bombs dropped every eight minutes for nine years, non-stop! Laos was bombed more than the whole of Europe during the Second World War!
While the US was targeting the Ho Chi Minh Trail, the supply route for Vietnam, the actual victims of the 2,5 million tons of bombs were the people of Laos. The unexploded ordnance (UXO) kills or injures one Laotian almost every day!
COPE Visitor Center in Vientiane is housed at the National Rehabilitation Center on Khouvieng Road. This free museum uncovers the tragic stories of the most heavily bombed country in the world. It portrays the effects of the bombings and the struggle of the survivors. It also explains the support system for the victims in need of prosthetics, wheelchairs, and rehabilitation therapy.
In the shadow of the Vietnam War, Laos became a massive minefield. A third of the bombs never detonated! They cleared less than 1% of these! This omnipresent danger, especially in the rural areas of Laos, takes its toll, especially with children.
The exhibition displays the artificial limbs, but also the repurposed bomb materials and other military props that in this developing country become cutlery, lamps, or even boats.
Scavenging for treasure is a dangerous ordeal. If you wish to support the education and the rehabilitation of Laotians in need, donations as well as purchasing souvenirs in the COPE shop are always welcome!
8. Buddha Park (Xieng Khuan)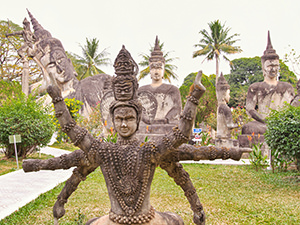 Xieng Khuan (Spirit City), better known as Buddha Park, is a tourist attraction on the bank of the Mekong River, some 25 kilometers southeast of Vientiane. It is essentially an open-air sculpture park with numerous representations of both Buddha and Hindu deities.
Luang Pu Bunleua Sulilat is a creative mind behind Xieng Khuan. He was a mystic and a sculptor, a shaman, and an eccentric artist.
He developed his own spiritual brand after he fell in a cave and met a hermit Keoku who mentored him. Bunleua Sulilat integrated Hinduism and Buddhism.
In 1958, he opened this park filled with more than 200 sculptures made by himself and other non-trained artists.
After the communist revolution in 1975, he fled to Thailand. In Nong Khai, literally on the other side of Mekong, he opened a similar sculpture park named Sala Keoku.
A fall from one of his giant sculptures added to his health problems, and he died in 1996. His mummified body was enshrined at the Thai park.
Bunleua's sculptures made of reinforced concrete impress with their size. Vientiane's Buddha Park's most popular part is a three-story-high pumpkin building one enters through the demon's mouth. Another piece of art that impresses with its size is a reclining Buddha that has 40 meters in length.
There is not much written information about the artworks at Xieng Khuan. One needs to wander through this mythological labyrinth and unriddle the religious scenes depicting gods, animals, and humans by oneself.
While there are organized excursions to Buddha Park, the cheapest (and effortless) way to reach it is by taking a public bus number 14 from Talat Sao Bus Station. A one-way ticket for a one-hour ride costs 8.000 Kip (80 cents). The entrance to Xieng Khuan will cost you 15.000 Kip (1,5 Euro).
What to do in Vientiane
Sightseeing is one thing, but active holidays genuinely add up to the experience you will remember! Here are some of the extraordinary things to do in Vientiane! These activities in Vientiane should not be missing from your itinerary!
1. Learn Muay Lao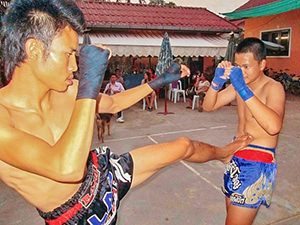 For active holidays in Vientiane, you need to try Muay Lao! This kickboxing sport has similarities with Muay Thai in Thailand, as well as with the Cambodian form of boxing called Pradal Serey. You can now learn about the specifics of this technique and the training process at the Backstreet Academy's Muay Lao Experience!
Your teacher will be Khampanath Kounlavong, Lao national champion. Now in his sixties, he can still teach you a punch or two. If you join the evening class, you can train with young local Muay Lao students!
This unique self-defense training experience will cost you 25 USD (22 Euros). It will provide you with two hours of training with the masters.
2. Experience the traditional Laos massage in Vientiane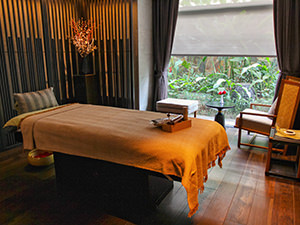 Spending some time in a spa in Vientiane is one of the things you should put on your 'to-do' list when visiting Laos capital.
You can opt for some luxurious treatment in one of Vientiane's high-class hotels (such as Crowne Plaza Vientiane) or try your luck with cheaper experiences in standalone spa salons.
A visit to a traditional herbal sauna is a very Laotian predecessor to the massage. It consists of steaming in the fragrance of herbs, in the traditional sauna building. Once your muscles have loosened up, Laos massage will apply pressure on specific body points and relieve the knots you may have.
If you are looking for a happy ending massage in Vientiane, know that any sexual contact between foreigners and Lao nationals is illegal! If you still want to risk going to prison and paying fines (which is certainly not the best "happy ending"), you can find the points of pleasure in Vientiane's Red Light District, around the Kamphengmeuang Road.
3. Stretch and meditate
For those of you who cannot imagine staying in Laos without some proper stretching, there are a few interesting places in Vientiane where you can train yoga. Vientiane Yoga Studio and Nomad Yoga & Detox are the two most centrally located establishments.
For a more active stretching exercise, you can check the aerobic dance classes on the Mekong Promenade. For less than a dollar, you can join the morning or evening class with Thai pop as a musical background.
At the end of the week, you will want to find some peace and quietness. Every Saturday, at 3 pm, novice monks at Wat Sok Pa Luang will readily exchange some knowledge on meditation for a conversation in English.
4. Shop at the Vientiane Night Market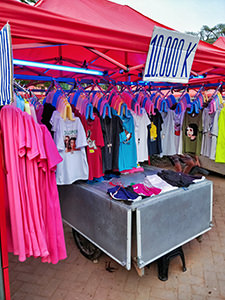 Vientiane Night Market stretches through the Chao Anouvong Park, along the Mekong Riverfront.
After 6 pm, and then until 10 pm, red-roofed stalls pop up selling anything from shoes to T-shirts, from handicrafts to electronics.
Even without haggling, one can find pieces of clothes for 10.000 Kip each (1 Euro). Everything is already a bargain, but feel free to haggle-stretch your dollars even further!
For daytime shopping in Vientiane, visit the Morning Market or Talat Sao on Lane Xang Avenue. It opens at 08:30 am.
5. Explore Vientiane nightlife
Like other places in Laos, Vientiane also practices the midnight curfew. However, some locations do stay open until late. In the case of Vientiane nightlife, this means that the party life will die out at 2 or 3 am.
The same as in Luang Prabang, the bowling alley is one of the favorite places to enjoy some beer and loud music. Lao Bowling Center in Vientiane officially closes at 2 am, but the time here is flexible.
Karaoke is one of those typical things to do in Vientiane at night! Vientiane's karaoke scene is typically attached to restaurants, bars, and hotels. You shouldn't have a problem finding the KTV entertainment of your preference!
For other late-night parties in Vientiane, check places such as Moonlight Lounge, Easy Bar, or Samlo Pub. LGBTIQ community can have fun in CCC Bar, the only gay bar in Laos capital!
6. Day trips from Vientiane
Some of the best things to do in Vientiane are the things to do around Vientiane. If you are up for excursions, there are plenty of interesting places near Vientiane, where you can enjoy waterfalls, lakes, and caves. You can do some hiking to Wat Dane Soung temple in the jungle, ride a bicycle to Tad Moun Waterfalls, or take a boat ride on Nam Ngum, the largest lake in Laos. If you want to cool off in Phou Khao Khouay National Park, its waterfalls Tad Leuk and Tad Xay are waiting for you!
Where to eat in Vientiane
Vientiane restaurant scene got quite developed in recent years. Answering where to eat and what to eat in Vientiane, therefore, became an uneasy but exciting task! In this Vientiane eating guide, I propose to you where to find the best food and places to eat in Vientiane downtown.
1. Breakfast @ Scandinavian Bakery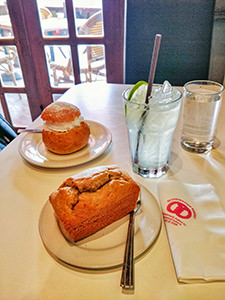 If you are looking for the best breakfast in Vientiane, Scandinavian Bakery just across the Nam Phou Fountain tops the charts.
Since 1994, the first European bakery in Laos offers freshly baked loaves of bread, cakes, and pastries.
Every year, they produce the incredible 324 kilometers of baguettes!
Enjoy your Swedish Semla, Danish pastries, or banana bread in the air-conditioned space! Top it all with a cup of coffee! It's a great way to start the day of sightseeing in Vientiane!
For a deeper overview of Vientiane's cuisine, join this gourmet safari with the Hungry Tuk Tuk that brings you to local restaurants, hole-in-the-wall eateries, markets, factories and outdoor kitchens for just 17 euros!
2. Lunch @ Belle Epoque Brasserie
This French restaurant is housed in Vientiane's Settha Palace Hotel, a historic building next to Laos National Stadium. The colonial architecture from 1932 with traditional interior décor, from the tablecloth to the art on the wall, provides a classic charm and elegance for romantic lunches and dinners in La Belle Epoque Brasserie.
The restaurant offers traditional Lao food, as well as classic French cuisine. You can also taste new chef's dishes. They could range anywhere from roast beef fillet with fondant mashed potatoes to pineapple cannelloni!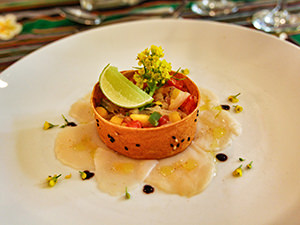 Personally, I enjoy their starters! Scallop ceviche with mango and grapefruit, beautifully served in the form of a flower, is sharp on the tongue, and the perfect intro to lunch. Pan-seared foie gras is soft like butter, and is equally enchanting!
Whether you choose a gentle and delicate Dory fish, or a more concrete rack of lamb with eggplant caviar, La Belle Epoque Restaurant delivers some great meals. These put them among the top 10 restaurants in Vientiane!
The main thing I can object to here is the use of plastic straws for their juices and cocktails. There are certainly alternatives today! A five-star hotel such as Settha Palace should lead by example in the fight against plastic pollution.
If you need a ride from La Belle Epoque back to your hotel, make sure you ask for the London cab parked in front of the Settha Palace. A retro-style journey is a fun way to end your extraordinary meal experience!
3. Dinner + cocktail @ The Spirit House Bar & Restaurant
Mekong riverfront is a magical sunset spot! Twilight hours are perfect for clouds and people watching. Everyone comes to Vientiane river banks, to eat, drink and hang out!
One riverside restaurant elevates the gastronomic experience of the Vientiane food scene with an excellent cocktail offer!
The Spirit House is a bar/restaurant managed by Fling Bar Services. A successful team of hospitality operators left their trace in 40 countries around the world! Under their creative control, The Spirit House developed a distinctive signature that combines contemporary craft cocktails with modern Asian tapas. Therefore, it has its place among the best restaurants AND the best bars in Vientiane!
If you imagine a slow night of exploring the flavors of Laos, Thailand, Cambodia, and Myanmar, while the world passes by the cozy front garden, The Spirit House may have just enough surprises that will match or surpass your expectations!
Food and cocktails with a twist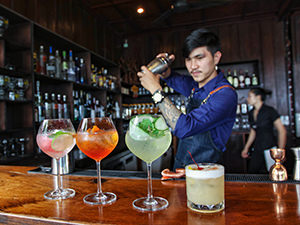 Kai Hin is an absolute must-try! This traditional crispy snack from the North of Laos is a river weed pressed into sheets, soaked with aromatic dressing, topped with sesame seeds, thin slices of garlic and tomato, and dried in the sun.
A more modern variation of delicious food you may expect here includes the brie cheese baked with bacon and onions and served with spiced mango sauce and garlic pitta.
Another version could be the chicken Buddha bowl, as a twist on the healthy and raw food movement. It puts grilled meat, eggplant, roasted carrots, green olives, avocado, and tomato salsa on the couscous bed.
If you want more raw vegetables, opt for The Spirit House Crudités! This signature dish is served in a silver bowl typically used for temple blessings!
A visit to the Spirit House is not complete without trying some original cocktails that brought them even some prestigious prizes. One of them is Mai Lao, the local rice whiskey balanced with orange, apricot, almond, and fresh pineapple juice.
For her twist on the classic recipe, Phimalay Xengthip Gip won the Best Drink award at the Lao Food 2018 Expo. She also became the first Lao finalist ever in an international cocktail competition – at Singapore Championship, she claimed fourth place!
Other popular cocktail-sipping options include The Ultimate G&T (with a large Campari ice cube), the Mekong Mule (with fresh coriander and Asian ginger), or Pii Dip (a jungle play on the classic Zombie cocktail).
More recommendable restaurants in Vientiane, Laos:

Try Vientiane street food at Ban Anou Night Market, a small but reliable food market on Rue Phai Nam. I especially recommend Pan Mieng, the salad wrap with peanuts and sticky rice! Han Sam Euay Nong or Three Sisters Restaurant on Rue Chao Anou is a cheap and excellent place to try Tam Maak Hoong (papaya salad), or rice noodle dishes such as Feu or Khao Poon! For Indian and Pakistani food, head to Jamil Zahid place, while for the full Indochina experience, head to exclusive 3 Merchants in Crowne Plaza Hotel.
Where to stay in Vientiane
Vientiane accommodation comes in a variety of options, ranging from cheap guesthouses to 5-star hotels. Whether you are searching for the best hostels, nice boutique hotels, or upscale luxury accommodation in Vientiane, the capital city of Laos can deliver.
1. Lao Poet Hotel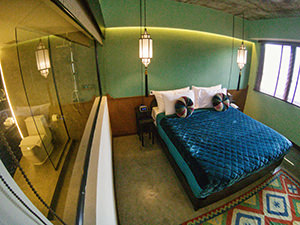 The sleek black building in Rue Hengbounnoy is the newest addition to Vientiane's growing list of boutique hotels.
Lao Poet Hotel opened in late 2018, with 55 rooms and suites, an on-site restaurant and bar, as well as a rooftop swimming pool.
This member of the Secret Retreats family brings the urban jungle into the hotel concept. Both rooms and common spaces take inspiration from the tropical climate, flora and fauna of the region. Botanical elements, as well as a real plant in the bathroom, decorate guests' premises.
With green and purple colors dominating the walls alongside vintage photographs, crystal chandeliers and ornamental carpets, velvet chairs and staff uniforms, the hotel presents the elegance of the 1930s Indochina in a modern way.
Lao Poet Hotel is housed in the former residence of a famous Laotian poet Maha Keo. Mrs. Lamphoune Voravongsa, who previously created the Satri House in Luang Prabang, hoped that the hotel would build on the legacy of creativity and inspiration. Indeed, it does give an impression of a perfect writer's retreat if you wish to finish that novel of yours!
Chasing business traveler's dreams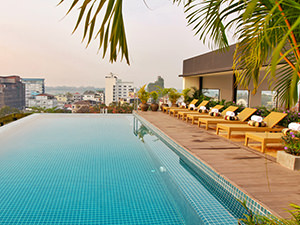 Guests of Lao Poet Hotel can expect quite a few free add-ons to their booking! From welcome fruit to daily replenished minibar drinks, from the use of bicycles to enjoying the sauna and the 15-meter long infinity pool on the 8th floor, the list of complimentary amenities and services can brighten up your smile.
Hotel breakfast offers simple fulfilling meals, such as Asian noodle soup, congee, eggs, or muesli. While food-filled porcelain looks appealing, I believe breakfast can be improved, from visual presentation (does French toast need cucumber garnish?) to the freshness of products (could croissants melt the butter with their warmth?). Fruit platter and yogurt here get delivered as fruit in yogurt, no questions asked.
With upgraded breakfast and Internet speed, Lao Poet Hotel has the chance to anchor itself as a prime choice for business travelers looking for Vientiane hotels near the Night Market and other capital's attractions.
For booking this accommodation, check the best available rates at Lao Poet Hotel here!
2. Barn1920s Hostel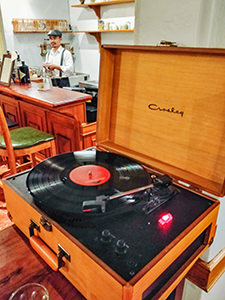 If you are looking for a beautiful place to stay in Vientiane, but your budget is limited, staying at a hostel could be a solution!
Barn1920s Hostel is a new addition to Vientiane backpacking scene.
Situated just at the beginning of Ban Anou Night Market, it's a convenient choice! Especially if you love sampling Laos street food at walking distance!
Barn1920s Hostel opened its doors in a refurbished house from the start of the 20th century. While it responds to most expectations of a contemporary hostel traveler, the retro vibe was implemented in the concept of the hostel.
It's not so consistent towards the period. Crosley gramophone plays music mainly from the 1950s and 1960s. Ray Charles, Nat King Cole and Bee Gees are some of the voices one can hear.
While the idea behind it may not be the authenticity, Barn1920s plays with vintage imagery, such as old-style clocks, rotary dial telephones, and even staff's clothing, to create a likable time machine for its guests.
The most popular area of the hostel is the Drip1920s coffee house. It's a place to try some great coffee, with beans coming from Rwanda, Kenya, Indonesia, Brazil, Colombia, and Ethiopia! One can also enjoy cakes and sandwiches in the offer, or take some free self-service noodles and tropical fruit from the kitchen, available beyond the official breakfast hours!
While the lobby and the living room area abound with colorful art, rooms in the detached house come in surprisingly brownish "grayness". Dorms sleep four persons and more, beds are curtained and provide enough space. The semi-open bathroom gets regularly treated for mosquitos.
For booking this accommodation, check the best available rates at Barn1920s Hostel here!
3. Crowne Plaza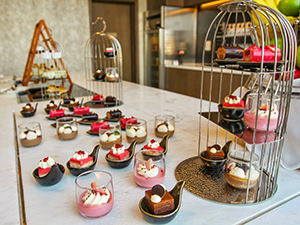 If you can stretch your bucks into a splurge department, Crowne Plaza is a five-star hotel that is worth paying extra for.
With plentiful dining options and high-end room amenities, recreation & rest possibilities, a large infinity pool, and a well-equipped gym, this landmark hotel put Vientiane on the global map of high-quality luxury accommodation.
Read the full review of Crowne Plaza, the first-class hotel experience in Laos, here!
For booking this accommodation, check the best available rates at Crowne Plaza hotel here!
Top 20 things to do in Vientiane, Laos – conclusion
While this blog post focuses on the things to do in Vientiane in 24 hours, it asks you to make your own selection of attractions and activities in the capital city of Laos.
If you decide on the entire list of the best things to do in Vientiane (especially if you intend to check all accommodation or food options), you can easily spend three days in this city.
Is Vientiane worth visiting? It might be the least hectic of all Southeast Asian capitals. Adequately, falling in love with its temples, markets, history, and gastronomy requires a slow tempo.
But Vientiane today is certainly not the capital of boredom. It is worth visiting not just as a transfer point in your Asian itinerary.
Rushing through Laos capital will certainly not let you discover how fun, unusual, and cool it can be. Consume your Vientiane trip slowly, and you will be rewarded!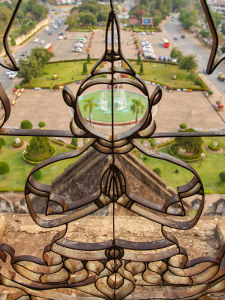 VIENTIANE FACTS
Elevation: 174 m
Population: 820.000
Where is Vientiane located?
Vientiane is located in north-western Laos, on the eastern banks of Mekong, just at the border with Thailand.
What does Vientiane mean?
The meaning of Vientiane's name is "the city of sandalwood". Chantha/Tiane is also a Pali word for the moon, the Earth's satellite that adorns Laos' national flag, and is believed to be the origin of the Lao people.
When was Vientiane founded?
Vientiane was founded during the late 13th century. However, Vientiane's history starts at least in the 10th century, since when it was continuously inhabited.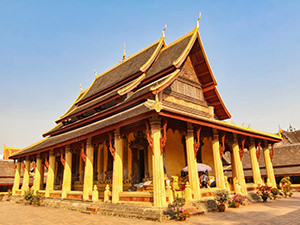 How to get to Vientiane?
Vientiane Airport (Wattay International Airport) is not a major international hub. If you choose to fly to Vientiane, you may end up spending much more money than you first expected (for cheapest flights, check this link).
Airlines flying to Vientiane are Thai Airways, Lao Airlines, Bangkok Airways, Vietnam Airlines, Cambodia Angkor Air, AirAsia, China Eastern Airlines, Lao Air, and Lao Central Airlines.
Instead of flights to Vientiane, you can check flights to Udon Thani in Thailand, as this may end up cheaper. You will only need to take a 2-hour bus and cross from Thailand to Vientiane via the Thai-Lao Friendship Bridge.
If you are looking for flights from Luang Prabang to Vientiane, Lao Airlines and Lao Central Airlines offer daily connections. The distance from Vientiane airport to Vientiane city center is 4 kilometers. There is an airport shuttle bus operating. The fare is 15.000 Kip (1,5 Euro). If you prefer a convenient private transfer, book this air-conditioned minivan for about 10 Euros.
The cheap way to travel to Vientiane is by bus. Depending on your town of departure or destination, you will use Northern or Southern Bus Terminal, or the Central Bus Station at Talat Sao (Morning Market).
If you travel from Vientiane to Luang Prabang or Pakse, expect to spend 10-12 hours on the bus. A shared shuttle from Luan Prabang promises the transfer in 8 hours.
Bus from Vientiane to Siem Reap or Phnom Penh will take 25 hours, while the ride from Vientiane to Hanoi lasts 22 hours.
When to visit Vientiane?
The best time to visit Vientiane is in December and January, the driest months of the year.
The warmest month of the year is April when Vientiane average temperature fits between 25 and 36 degrees Celsius.
Vientiane humidity reaches its maximum in August (76,9 %).
How safe is Vientiane?
Laos is not a dangerous country in general. However, where there is poverty, there is also a risk of individuals engaging in petty theft. Bag snatching sometimes occurs, like in other Southeast Asian countries.
Tourist information Vientiane
For information on tourism options in Vientiane, visit the Tourism Information Center on the first floor of the Tourism Section building on Lane Xang Avenue.
Did you like these 20 best things to do in Vientiane?
Pin the guide for later!
Disclosure: My stay at Lao Poet Hotel, Barn1920s and Crowne Plaza was complimentary or discounted, as well as the meals and drinks at La Belle Epoque and The Spirit House, but all opinions are my own.

Thanks to HotelierIQ, for facilitating the stay at Lao Poet Hotel!

Also, this post contains affiliate links, which means if you click on them and make a purchase, Pipeaway might make a small commission, at no additional cost to you. Thank you for supporting our work!