Christmas Day is the holiday of joy, when families share a meal, laughter, and time. In a family home above the small town of Vevey on Lake Geneva, in 1977, everything was ready for yet another traditional celebration. Presents were under the Christmas tree, grandchildren were already running around, excited to open them, but then, the laughter died out. Possibly the funniest man in the world was found dead in his bed. Charlie Chaplin passed away in sleep.
Charlie Chaplin will always be remembered as the Little Tramp, a lonely but romantic dreamer with a small mustache and big shoes
The official cause of death of the movie legend was – a stroke. Charlie Chaplin was 88, and for some years, his health has been deteriorating, impacting his ability to see, hear, speak, and move.
Born under the name Charles Spencer Chaplin Jr., the English silent movie comedian made an immense impact on the world of cinema, spreading Hollywood's fame around the globe. With a renaissance talent, he was all-in-one; an actor, director, producer, choreographer, and composer.
The contribution of Charlie Chaplin to world cinema will always be remembered for the Little Tramp character, a lonely but romantic dreamer with a small mustache and big shoes. After the most memorable non-verbal creations in "The Gold Rush" (1925), "The Circus" (1928), "City Lights" (1931), and "Modern Times" (1936), he finally let the speech into his world in "The Great Dictator" (1940). In this historic movie, Chaplin made fun of the most dangerous mustache-bearer ever, something American movie studios didn't want to support at the time.
Opposing Adolf Hitler was not enough to prove that Charlie Chaplin was on the right side of history. His political engagement during World War II was labeled as communist activity, and together with his involvement with much younger wives, it produced a public backlash in the States. Helped by the FBI and CIA, Charlie Chaplin was canceled long before woke culture became a trendy weapon.
After the US revoked his visa in 1952, Chaplin's family moved to Switzerland, where he would spend the last 25 years of his life.
Another cultural icon, Freddie Mercury, also found his refuge in Vevey's neighborhood. If you love Queen, this is what you have to see in Montreux!
Top 9 things to do in Vevey for Charlie Chaplin fans
1. Immerse yourself in Chaplin's World Studio
In Corsier-sur-Vevey, at Rte de Fenil 2, next to Charlie Chaplin's final home, a museum celebrating his life opened on April 17th, 2016.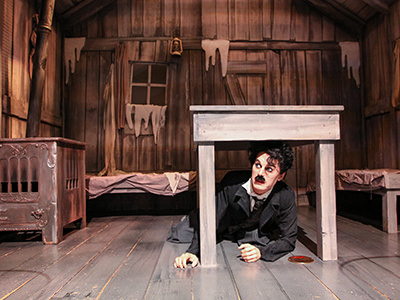 Hollywood-style studio experience starts as a movie projection in a small cinema that quickly teleports you to the streets of London, where Chaplin spent his poverty-stricken childhood. You step behind the screen and experience the literal magic of immersion with the Oscar-awarded artwork of the world-famous legend.
Exploring the variety of museum sections, from the circus ring to Hollywood Boulevard, one gets in close contact with the sets of the movie classics. You can take a selfie in the cabin from "The Gold Rush" or with the cogs from "Modern Times". You can see the precious exhibits of Chaplin's original bowler hat, cane and shoes, but also check out how your own Tramp character would look in a tight jacket and baggy trousers.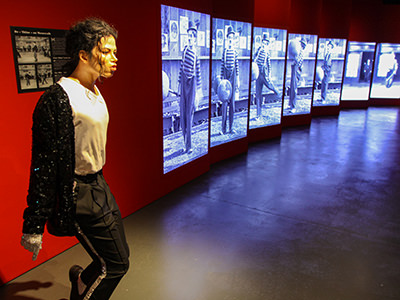 Collaboration with Grévin wax museum enabled an innovative scene design populated with more than 30 wax figures. The collection includes the artists Chaplin's iconic character inspired, such as Roberto Benigni, Federico Fellini, and Michael Jackson. Did you know that Chaplin was an idol of the king of pop? Supposedly, even the famous Jackson's Moonwalk was inspired by Chaplin's dance during the "Nonsense" song at the end of "Modern Times"!
Charlie Chaplin was famous for doing all of his stunts himself, from falling through the roof to tripping down the stairs. And he would film again and again until he would get that perfect shot. In "The Circus", he entered the lions' cage 200 times, until the sequence was perfect. The museum nicely displays how Chaplin didn't mind spending movie rolls for the best result; for instance, out of 135.000 meters of film for "The Kid", only 1.600 meters made the final cut.
Who owns Chaplin's World?
The entire Charlie Chaplin's estate was purchased in 2008 by Genii Capital, a capital investment company based in Luxembourg. Together with the Swiss architect Philippe Meylan and Canadian museographer Yves Durand, they founded the Domaine du Manoir de Ban company. The museumChaplin's World is today operated by Grévin, the subsidiary brand of Compagnie des Alpes that manages leisure projects from ski resorts to amusement parks.
Chaplin's World opening hours
Chaplin's World is open from 10 am to 7 pm in July and August. From April to June, as well as in September and October, the museum closes at 6 pm. From November to March, Charlie's World closes another hour earlier, at 5 pm.
Chaplin's World tickets
Entrance ticket for Charlie's World costs 29 Francs, with discounts for children (19 CHF), seniors (27 CHF), students (25 CHF), and persons with disabilities (17-25 CHF). Kids below the age of 6 can experience the museum free of charge.
You can purchase your Chaplin's World ticket here.
2. Visit Manoir de Ban, Charlie Chaplin's home villa
On the place of former farmland, Charles Emile Henri de Scherer engaged local architect Philippe Franel to build the neoclassical mansion in the 1840s, then known as Champ de Ban. Later, an entire spectrum of people passed through the house, from watchmakers and industrialists to war refugees and American diplomats.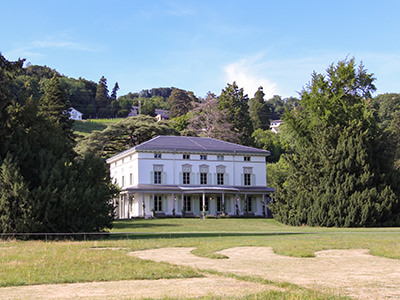 In September 1952, while sailing from New York to London, to attend the premiere of his newest movie "Limelight", Charlie Chaplin found out that the USA, the country he lived in for four decades, revoked his re-entry permit. Following the advice of his half-brother Sydney, he decided to relocate to Switzerland. On New Year's Eve, he purchased Manoir de Ban.
After the renovation, the manor had 19 rooms, more than enough to host the growing family (Oona and Charlie would end up having eight children), and even famous guests who would come for a visit (from Marlon Brando, Truman Capote, Pablo Casals and Yehudi Menuhin to Knie Circus performers and animals).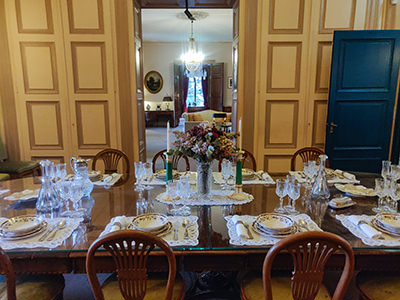 Especially interesting are the three ground floor rooms; the dining room, the sitting room, and the library, where Chaplin worked on screenplays for "A King in New York" and "A Countess from Hong Kong", as well as the books "My Autobiography" and "My Life in Pictures". These rooms have been preserved as they were in the 1970s, with mostly original furniture.
In the bathroom, one can find another Grévin's wax figure, representing Chaplin's good friend Albert Einstein, in his characteristic sticking-the-tongue-out pose. The Nobel laureate supposedly told Chaplin: "What I most admire about your art, is your universality. You don't say a word, yet the world understands you!" The actor responded to Einstein: "True. But your glory is even greater! The whole world admires you, even though they don't understand a word of what you say."
For an even older piece of architecture, make a day trip to Chillon. The most famous castle in Switzerland is just 12 kilometers away.
3. Walk around Chaplin's estate park
"With such happiness, I sometimes sit out on our terrace at sunset and look over a vast green lawn to the lake in the distance, and beyond the lake to the reassuring mountains, and in this mood think of nothing but enjoy their magnificent serenity."
This is how Charlie Chaplin described the view from his terrace in "My Autobiography", in1964.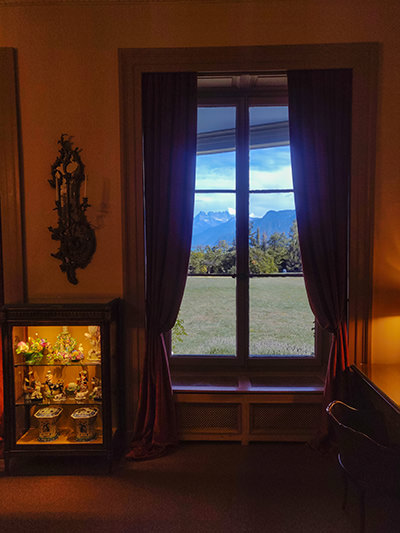 He loved his roses and tulips, but also roe-deers, foxes, badgers, owls, and other birds that would visit the garden. Chaplin's connection with the park was special.
The 14-hectare park on a sun-washed plateau above Vevey was a fun playground for Chaplin's offspring. They would be exploring the grounds every day, running through the woods and climbing trees in the orchard.
The children recall Chaplin asking them not to walk on snow-covered grounds in winter, in order to preserve the pristine view that he admired so much.
Today, the estate is a peaceful area for walks among the century-old trees such as cypresses, pines, cedars, sequoias, beeches, elms, spruces, maples, and poplars. One can truly appreciate the nature that comforted the actor after he left America, describing it as a prison.
On April 16th, 2017, 662 people dressed up as Little Tramps, put on their toothbrush mustaches, and showed up in this park, mimicking Charlie Chaplin's characteristic walk. They set the world record for the largest gathering of Charlie Chaplin lookalikes.
But on July 10th, 2022, during the passage of the famous bicycle race Tour de France nearby, another magnificent image left the estate. French artist Franck Bonneau celebrated the 100th anniversary of the movie "The Kid" by creating a giant portrait of Charlot out of grass! The monumental land-art visual, seen only from the sky, covered 10 thousand square meters.
Check out Franck Bonneau's impressive artwork on our Youtube channel! 
4. Admire murals on Chaplin Towers
In Quartier Gilamont, at the northernmost part of Avenue de Gilamont, two low-rent resident buildings pay tribute to Charlie Chaplin with monumental murals.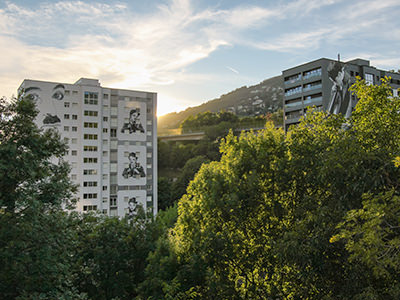 Previously neglected neighborhood, isolated and disconnected from the town center, with Chaplin Towers worked on reestablishing its identity.
The project was produced by CitéCréation, the company that creates emblematic monumental works all over the world for four decades now.
The artist behind 40-meter-tall images on the facades of Gilamont buildings is Franck Bouroullec.
Together with a colleague Sébastien Pridmore, in the summer of 2022, he created another, 16-meter tall mural of Charlie Chaplin in Vevey, at Rue de Lausanne 7.
View this post on Instagram
5. Take a selfie with the Charlie Chaplin statue
There is another, more easily accessible artwork inspired by Charlie Chaplin.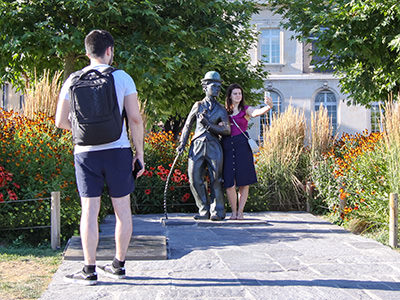 On the banks of Lac Leman, in between the Alimentarium food museum and the world's tallest fork (an 8-meter sculpture in the lake, designed by Jean-Pierre Zaugg), there is a bronze statue of The Tramp.
The statue is the work of the British sculptor John Doubleday, and it has stood here since 1982.
Chaplin's statue is a popular place to memorize in a selfie or two.
6. Pay respect at Charlie Chaplin's grave
Charlie Chaplin has been buried in a grave at Cimetière de Corsier-sur-Vevey, Sur le Crêt 3. His first neighbor is Oona O'Neill, his beloved wife who joined him 14 years later.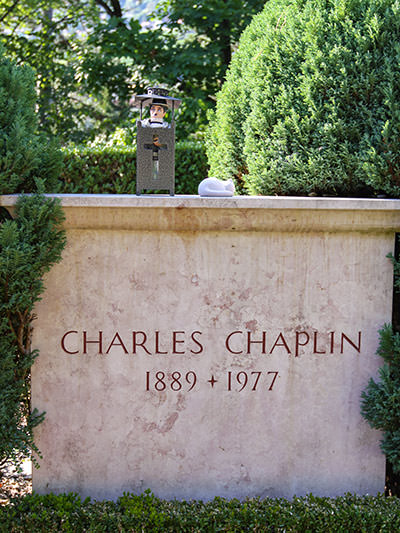 While Chaplin's final resting place is easy to find at this small cemetery, in 1978, it was a scene of a rather controversial event.
As soon as the winter started to fade, the two men executed a creepy plan. On March 1st, Roman Wardas and Gantcho Ganev, two Eastern European car mechanics, dug out Chaplin's grave and stole the coffin.
The grave-robbing duo thought they had a perfect plan. They would contact the widow and demand a ransom of 600 thousand dollars if she wanted the stolen body back.
Even if Chaplin's net worth at the time of his death was estimated at 100 million dollars, Oona refused to welcome the demand. She said that her husband would've called the ransom request "ridiculous".
Two and a half months later, police tracked Chaplin's kidnappers while they were placing what had to be the 27th call from a local phone booth.
They were arrested and prosecuted, and have expressed their apologies for the methods they used with the intention to solve their financial difficulties.
While Oona forgave them, Chaplin's coffin was reburied, but now in a reinforced concrete grave that would hopefully deter future grave robbers.
7. Stay in Modern Times Hotel Vevey
If you are a true Charlie Chaplin fan, staying in Vevey would not be complete without spending a night in the hotel inspired by the movie legend's classic – the Modern Times Hotel, at Chem. Du Genévrier 20.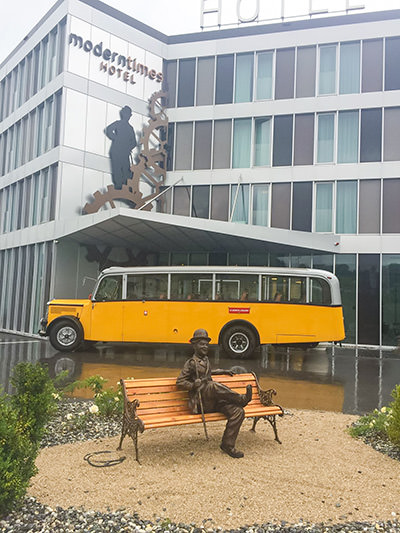 This 4-star property offers modern rooms, in accordance with its name, of course. It has a grill restaurant with a bar and a large garden terrace, as well as a fitness center.
Modern Times Hotel is a so-called Minergie building, constructed with sustainable energy-saving in mind. It gets its electricity and warm water from solar panels, and guests with electric cars can charge them at designated charging stations.
If Chaplin-inspired décor in rooms and common places is not enough for you, you can join the movie star seated on the bench in front of the hotel.
The room rates start at 120 Euros, but there are even packages that include Chaplin's World museum visit (with a limousine transfer!), as well as Chaplin-inspired gifts. For the actual prices for your desired dates, click here.
If you want to check out other accommodation options in Vevey, find the best prices here.
8. Eat in Auberge de L'Onde, Saint-Saphorin
Charlie Chaplin was a regular at this country-style brasserie/rotisserie in the center of Saint-Saphorin village, five kilometers far from his home. Every Sunday, he would bring his large family to Auberge de L'Onde for a lunch.
Supposedly, his favorite meals were tarragon-chicken and Provence-style frog legs.
Today, in the special room named Salon Chaplin, you can order a seasonal Chaplin Menu for 59 Francs. You will get amuse bouche, for starter – crispy egg, mushroom fricassee and caramel gruyère espuma, for the main dish – sautéed cockerel marinated in herbs with matchstick fries, and for dessert – fresh pear with hazelnut.
9. Finish your day with a movie at Cinema Rex
Rex Cinema in Vevey, Rue Jean-Jacques Rousseau 6, was the place where Charlie Chaplin would come to test the soundtrack of his movies, but also the place where he would take the whole family to see new titles.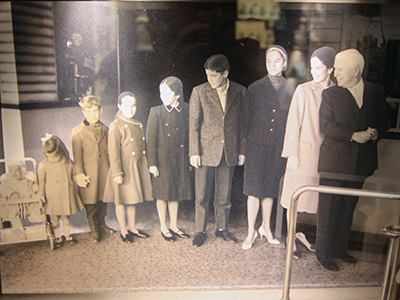 The first Swiss multi-screen cinema (well, with three screening halls) has been operating since 1933, and it is a historic place worth visiting.
You might not see Chaplin's movies in regular repertoire, but if you want to experience "Avatar" dubbed in French, you'll certainly have fun!
Is Chaplin's World worth visiting?
Charlie Chaplin's life story is dramatically inspiring, as it comes from a true man of the world, a unique filmmaker who defied definitions, and scared those who only accepted black-and-white classifications.
Chaplin's World exposes how evergreen his cinematic world was, capable of traversing decades and still staying relevant
Hollywood fell in love with him, and then when he decided to raise his voice for political things that matter, turned back on him. He opposed nazi Germany, but Americans feared that his artistic protest could open doors to Soviet communism.
He didn't pick sides, however. In his speech at Artists' Front to Win the War in 1942, Chaplin said: "I'm not a citizen, I don't need citizenship papers, and I've never had patriotism in that sense for any country, but I'm a patriot to humanity as a whole. I'm a citizen of the world. If the Four Freedoms mean anything after this war, we don't bother about whether we are citizens of one country or another."
But what he experienced after the war was that his mystical position as the "citizen of the world" was a perfect place to exercise the fruitless Cold War.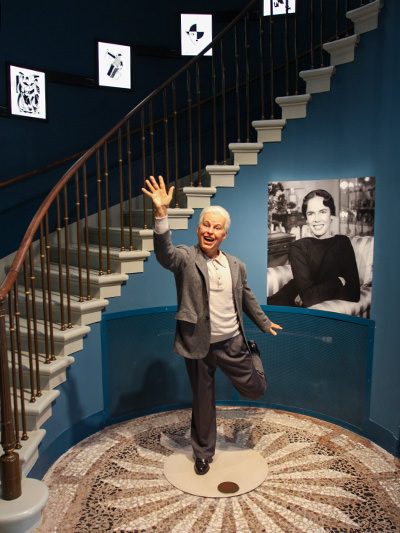 It is not unusual that he sought refuge in Switzerland, the country with whose (equally controversial) neutrality he could more easily align in those times. Vevey was his new home, a deserved place where he could easily escape from people, and find comfort in nature.
Chaplin's World, and all other places in Vevey that pay homage to this great artist, expose how evergreen his cinematic world was, capable of traversing decades and still staying relevant.
Charlie Chaplin was an artist who spoke about his own past, but also about everyone's present. He was not afraid about raising hard questions and giving them comic relief.
Surely, if he would live today, maybe his Little Tramp character would be Little Trump instead, a cinematic mirror that Hollywood prefers to avoid, bathing in fantastic Avatar and Marvel worlds.
Did you like this guide to Charlie Chaplin's World in Vevey?
Pin it for later!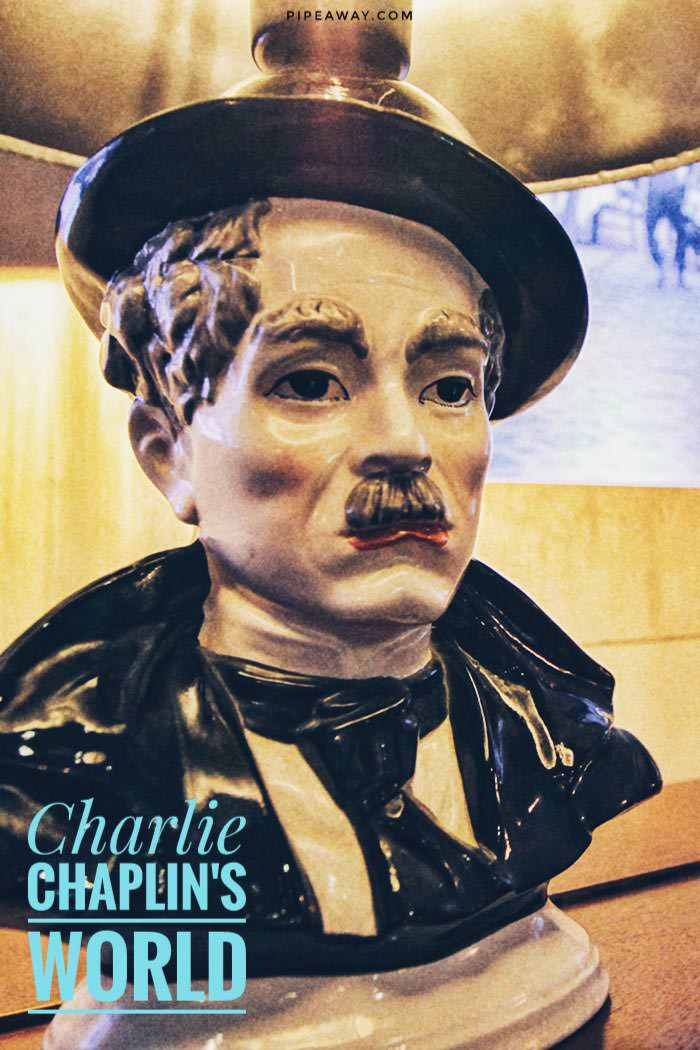 Disclosure: My Chaplin's World visit was complimentary, but all opinions are my own.

Also, this post may contain affiliate links, which means if you click on them and make a purchase, Pipeaway might make a small commission, at no additional cost to you. Thank you for supporting our work!