One could think that in Switzerland, the country whose military highlights include forming the Red Cross and dressing up Pope's bodyguards in colorful renaissance costumes, castles as defensive structures would not be a thing. But royals and nobles always needed to protect their riches, and Switzerland is not an exception. On Lake Geneva, the country's largest body of water, Chillon Castle had and continues to have an economic impact as one of the most visited European castles.
Chillon Castle has been inspiring creative minds over centuries, from Lord Byron to Disney's animators
Locally known as Château de Chillon (Schloss Chillon, in case you come from the German-speaking part of Switzerland), Chillon Castle has smartly used its strategic position in Central Europe, controlling the movement of goods and people between the north and the south.
The events it witnessed in its millennium-long history, as well as the aesthetic appeal of the castle built on a rocky islet, have been inspiring creatives over past centuries, from Lord Byron to Disney's animators.
Even before the Second World War, Chillon Castle was attracting 100 thousand visitors per year. The all-time record was achieved in pre-pandemic 2019 when 432 thousand of tourists arrived. With reduced international travel and months-long closures, the results dropped to 134 thousand visitors in 2020 and 196 thousand in 2021, but Chillon Castle remained the most popular Swiss historic attraction.
In this article, read more about the past and the present of the famous Swiss island castle! Take a peek inside its dungeons and secrets! Let Chillon Castle inspire you like millions before you; to write a poem, draw a cartoon, or even plan a wedding, who knows?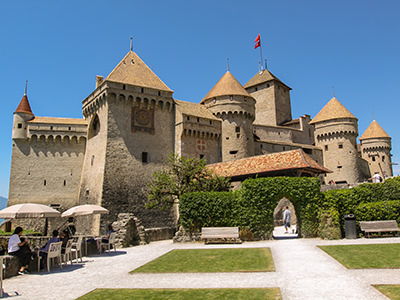 Castles in Switzerland
There are approximately 500 castles and fortresses in Switzerland. Even if dating back to the Middle Ages, most of them are well-preserved due to the country's policy of neutrality and avoiding military conflicts.
Why is Chillon Castle famous?
Chillon defends the status of one of the best-preserved medieval castles in Europe. Even if it did change owners, it never came with the destruction of its walls.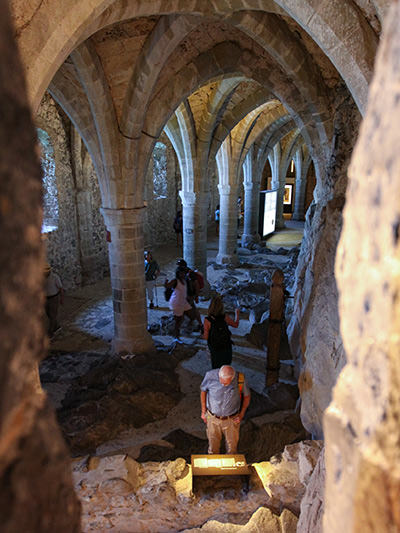 Chillon Castle has earned its place among the undestroyed monuments due to its strategic position. It was easy to control the passers-by, and hard to get attacked.
The special thing about it is that it was built on a little island close to the narrow coastal path protected by a mountain. Being positioned on the main trade route to Italy (Via Francigena), Chillon could easily charge tolls and enlarge both economic and political influence.
Chillon's uniqueness was celebrated in various pieces of romantic literature. Jean-Jacques Rousseau was the first to mention Chillon Castle in his successful 1762 novel "Julie, or the New Heloise".
Other writers, novelists and poets, who found inspiration in Chillon were Johann Wolfgang von Goethe, Percy Bysshe Shelley and Mary Shelley, William Wordsworth, Henry Wadsworth Longfellow, Victor Hugo, Alexandre Dumas, Gustave Flaubert, Charles Dickens, Henry James, Ernest Hemingway…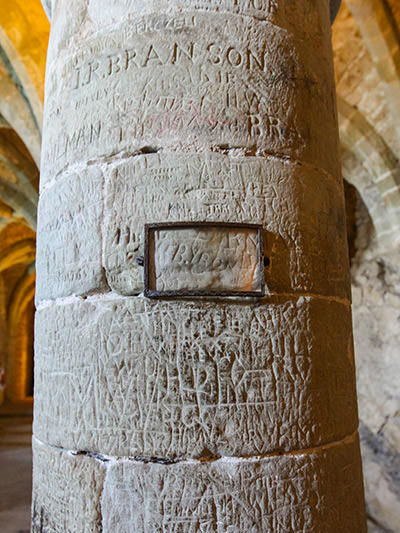 It was Lord Byron whose poem "The Prisoner of Chillon" in 1816 sparked the general public's interest in the castle, making it essentially famous among the aristocracy of the times.
When Mark Twain arrived by steamboat in 1880, he was the first one to sarcastically criticize overtourism at Chillon Castle, annoyed by the swarms of visitors.
With more than 70 thousand images tagged on Instagram, Château de Chillon is today considered one of the most photographed Swiss sites, overshadowed mainly by the unreachable Matterhorn.
Check out how overtourism is affecting places such as Angkor Wat in Cambodia or Oia in Santorini, Greece!
Chillon Castle location
Chillon Castle is located on a rocky outcrop just off the shore of Lake Geneva (Lac Leman), at its far eastern end. The islet is connected to the land by a permanent wooden bridge that replaced the drawbridge from the past.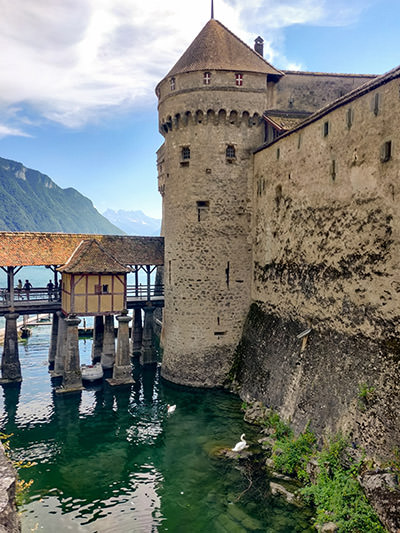 Its peculiar limestone base is what gave the name to Chillon Castle. In the ancient Vaudois language, the word Chillon refers to – a rocky platform.
Just three kilometers south of the city of Montreux, and two kilometers north of Villeneuve, Chillon Castle actually belongs to the commune of Veytaux. The full address is Avenue de Chillon 21, 1820 Veytaux, Canton Vaud, Switzerland.
If you look for Chillon Castle on the map, you will see that it is only a shallow natural moat away from a busy and historically lucrative passage connecting the European north via the Vaud Riviera with Rhone valley and Alpine passes (Grand St. Bernard Pass, Mont Cenis Pass, Simplon Pass).
With Montreux panorama on one side and the Dents du Midi mountain range in Chablais Alps on the other, completely surrounded by Lake Geneva waters, Chillon Castle offers scenic views wherever you look.
A castle in Slovenia is also placed at a unique location - it is carved into a mountain cave. Learn how Predjama Castle could resist sieges for over a year!
Chillon Castle history
When was Chillon Castle built?
The first written records mentioning Chillon Castle date back to 1150. It is probable that the construction started in the 11th century, with the castle keep (donjon) and chapel being the first erected buildings.
However, archeological excavations led by Albert Naef in the 19th century suggested that humans have inhabited this area already in the Bronze Age. Romans also had a military outpost here.
Who built Chillon Castle?
The noble Savoy family built the first structures on the islet that would later become Chillon Castle. Savoyards recognized the importance of this tiny plot of land and used it to the maximum. Unlike other castles in their building portfolio, Chillon Castle didn't end up having a square ground plan (the so-called carré Savoyard, or the Savoyard square). Chillon followed the oval outline of the islet, resembling a gigantic stranded ship on the lake shore.
Why was Chillon Castle built?
The House of Savoy rightfully recognized Chillon's location as a precious strategic advantage, taking over the control of the site from the Bishops of Sion.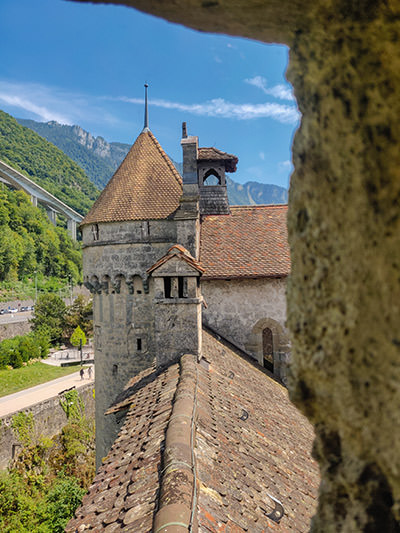 In order to continue being a dominating dynasty at Lake Geneva, they decided to build a castle where nobody could ignore it, reaffirming their powerful grip on the area.
The Savoy wealth was residing on taxing boats and road-traveling merchants who didn't have feasible alternative routes.
Chillon was doing so well that it eventually became too cramped for collecting taxes. In order to accommodate another tollgate, Count Thomas I of Savoy founded the city of Villeneuve in 1214.
Because of their control of the Alpine passes connecting France with Italy, the Savoyards earned the nickname "doormen of the Alps".
Who lived in the castle of Chillon?
Savoy family managed Chillon Castle from its beginnings until 1536. They were responsible for major renovation and expansion of the buildings, creating a well-defended luxurious summer residence that could organize impressive feasts, especially under Count Peter II.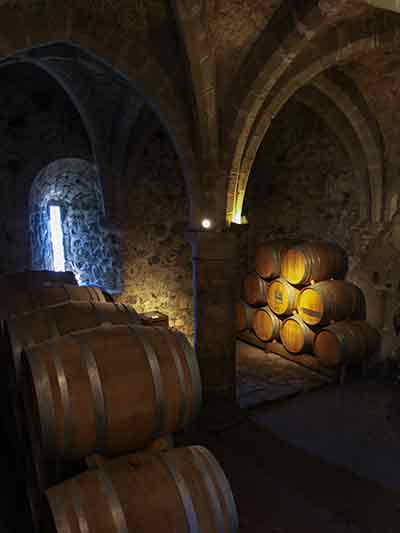 However, not everyone came to Chillon to party during the Savoy rule. The castle also functioned as a prison, especially because the counts enlarged their territory and had many other residences to attend to, so they didn't mind opening their cellar to political enemies.
In the 16th century, Savoy was weakened by the Italian Wars, and Canton Bern's armies took over Chillon Castle after a relatively short siege backed by cannons in 1536. The Bernese continued using the castle as a fortified depot, hospital, and residence of their bailiff.
In the latter period of their rule, in 1733, almost as proof that history repeats itself, Bern transformed Chillon Castle into a state prison. A change was again on the horizon.
The French Revolution brought new tenants to Chillon Castle in 1798. Without any resistance, local residents of Montreux and Vevey conquered the fortress. From then on, Canton Vaud was managing Chillon, using it as an arsenal and prison.
Thankfully, Chillon Castle today operates mainly as a tourist site.
Make your own "Little Mermaid" love story – have a wedding at Chillon Castle!




Prince Eric's home - cartoon version of Chillon

Château de Chillon inspired the visuals of Prince Eric's shoreside castle in Disney's animated movie "The Little Mermaid" (1989). Just like Ariel and Eric, you can also bring your love story to a happy end!

Chillon Castle is available as a wedding venue. If you want to add a dose of luxury and magic to your love ceremony, saying "I do" in the iconic Chillon will certainly be memorable.

Depending on the hall you choose for reception, you can have up to 120 or 230 seated guests, and the price would be 45 Swiss Francs per person.

Beware that the castle closes at midnight, so plan the party to end before your legs turn into a fishtail, or your limo into a pumpkin!
Chillon Castle inside
After entering this 110-meters-long and 45-meters-wide fortress, one can expect to find more than 40 rooms open to the public at Chillon Castle. Once upon a time, these were disconnected buildings, some say a hundred of them, which eventually blended into one compact castle, leaving only four open courtyards under the sky.
In the first and the last rooms of the tour, one can see Chillon Castle models, and admire its architecture from an imagined bird's eye perspective, 360 degrees around.
Chillon Castle interior is composed of rooms varying in size, from smaller latrines that doubled as firing positions in case of castle attack, to larger banquet halls with gigantic fireplaces where medieval people would regale with food and drinks.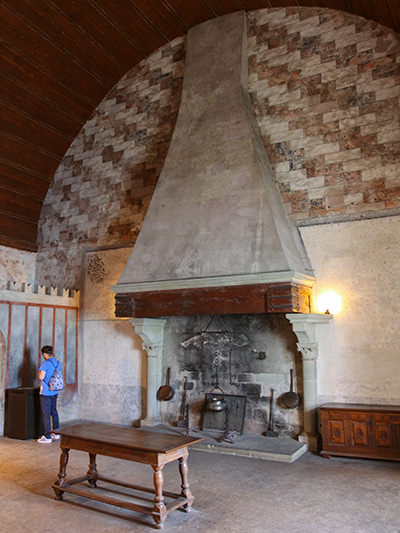 Savoy cooks had a lot to do when banquets lasting several days would be held. According to reports, they would prepare 100 oxen, 130 sheep, and 120 pigs as a minimum. Additionally, for every day of the banquet, they would serve 100 piglets, 60 fat pigs, 200 baby goats, 200 lambs, 100 calves, 2.000 heads of poultry, and 6.000 eggs! For those who like it wild, hunted animals would be offered, and for those who do not eat meat – a variety of fish, from trouts and salmon to turbots and dolphins.
Wine, blessed by Christian practices, was produced in-house. It is estimated that an average person would drink up to 2 liters of wine per day. Even children were not excused from the custom!
To accommodate the needs, Chillon Castle was making its own wine since the 13th century. Clos de Chillon is a white wine made of Chasselas grapes and traditionally aged in oak barrels in castle cellars.
Check out the everyday life in medieval Chillon in this video!
If you want to know more about the wine tradition of Switzerland's southern neighbor, check out the best Italian wine estates!
Chillon Castle dungeon
Besides wine, the basement of Château de Chillon was also used to store – people. Chained down and deprived of direct daylight, prisoners of Chillon Castle dungeon counted their days in damp surroundings.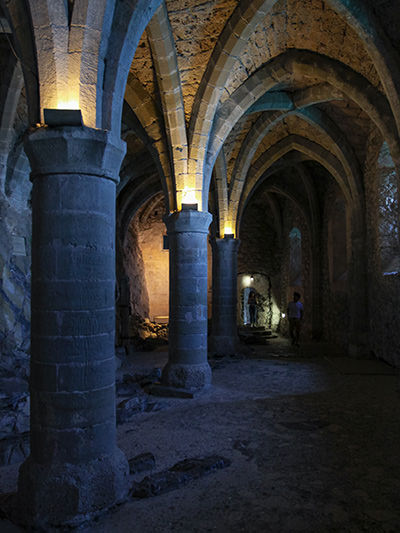 The most famous prisoner of Chillon, immortalized in the namesake poem by Lord Byron, as well as his "Sonnet on Chillon" (where he calls the prison "a holy place"), was François Bonivard.
In semi-darkness, confined by short-length chains, this Genevan monk could only hear the lapping waves behind the thick walls. The sounds made him believe that the floor of the cellar was lower than the surface of the lake. Little did he know that there was a direct exit door leading to the lake in the next room, the same one his captors would use as an evacuation route when they lost control of the castle.
What did Bonivard do to end up as the hero of "The Prisoner of Chillon"? He was the prior of St. Victor monastery who was "too much" into politics. Bonivard was accused of supporting the Protestant Reformation and committing unpatriotic acts against the Catholic dukes of Savoy. They arrested him in 1530, and he was chained to the fifth pillar of the cellar until 1536 when the Bernese conquered Chillon Castle.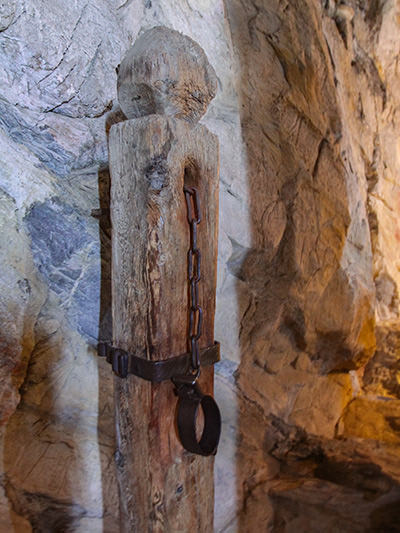 Bonivard was not the only example of how far religious zeal could go to eradicate the "enemy". Before and after the monk activist, Chillon Castle was haunted by a history of tragic destinies.
In 1348, the Savoys were torturing Jews from Villeneuve here, accusing them of intentionally spreading the plague in order to eliminate Christians.
In 1613, the Bernese convicted 27 people as witches and burned them in Chillon's courtyards.
Directly cut into the natural rock, Chillon Castle dungeon indeed has an appeal of religious architecture. It rises as some dark cathedral, with vaulted ceilings and gothic arches. There is even a crucifixion scene drawn in charcoal on the dungeon wall, dating to the 15th century. God sees everything.
If you are a fan of medieval dungeons, visit Bran Castle in the Carpathian Mountains, where real-life Dracula was imprisoned!
Luxury and pain of medieval life
In another room, people of the past are projected on Chillon's walls as shadows. Priests, soldiers, and ladies of the court walk in front of your eyes, as some historical flashback. Many feet passed through this castle.
Not all the rooms are furnished, simply because Chillon Castle was treated as a temporary residence, one of many. In the Middle Ages, a lord had to be physically present in front of his vassals, forcing him to travel from castle to castle to exercise his power.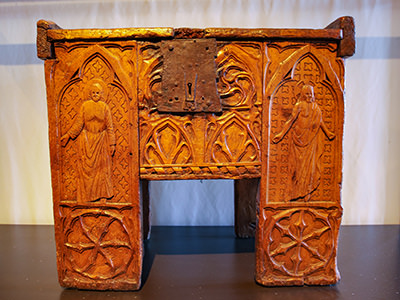 Besides the count, and numerous members of the household, chests with belongings would hit the road too. Filled with everything from money and clothes to carpets, cushions, and bed covers, these chests would be a part of long convoys, sometimes consisting of 300 horses.
The furniture collection of the Princes of Savoy in Chillon Castle includes 80 chests and cases, 40 tables, 140 seats, and 25 cupboards and sideboards.
Another glimpse into the medieval life of the powerful and the privileged is offered in a room arranged as a bathroom. In a medieval version of a spa, a wooden tub was covered with sheets, so that the gentle skin of dukes would not get irritated by splinters.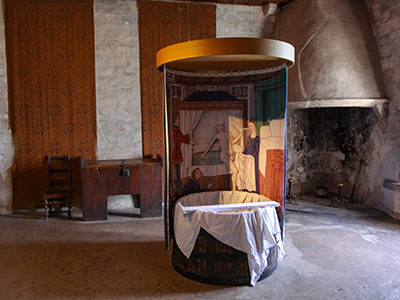 It was not all idyllic though. A life worth living in the Middle Ages had to be defended. Chillon Castle exhibits a variety of weapons, from crossbows that even the church condemned for being "too deadly", and heavy greatswords that only the strongest individual could operate (by two hands!), to a collection of polearms, from halberds to hammers.
The adaptations of the castle's architecture also follow the evolution of weaponry – from arrow slits and loopholes to cannon holes and battlements.
Advancing through the castle was intentionally designed as a spiral route, always turning to the right. The idea was to force the enemy to expose their right side during the attack, as it was unprotected by the shield, thus more vulnerable.
Chillon Castle tour
There is a lot more to see and explore in Chillon Castle, from faded murals in the duke's bedroom and a chapel dedicated to Saint George, to charming window seats where ladies came to sew in natural light centuries ago.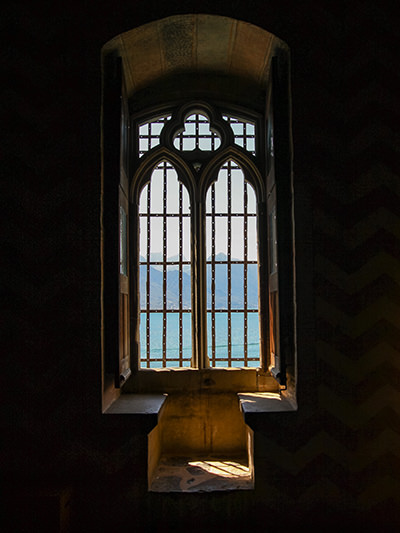 The castle is easy to navigate via its network of passageways, sentry walks, and staircases. Make sure to take a room-by-room guide at the entrance, and consult informative boards and interactive displays!
In the century-old gift shop, you can buy additional reading material, some wine, or just check out the paintings of bears on the walls, representing the heraldic beast from the rule of Bern.
For those who prefer guided tours, there is a variety of options on Chillon Castle's official website, from more typical ones to those conducted in medieval costumes or followed by wine tasting.
If you want to skip the queue at the entrance, prebook your admission ticket for Chillon Castle here.
When making a day trip from Geneva, consider booking this tour that takes you to Corsier sur Vevey and Montreux, or this private tour of the Swiss Riviera that includes a stop in Lausanne as well.
Corsier-sur-Vevey is a village where you will find Charlie Chaplin's World, a museum celebrating the life and achievements of one of the greatest silent movie legends!
The most popular castle in Switzerland: Is Chillon Castle worth visiting?
You will not be wasting money when visiting Chillon Castle. It is definitely a historic monument worth anyone's attention, and an exciting place to explore.
If you have an inclination towards learning more about the medieval way of life, architecture, and customs, paying a visit to Château de Chillon will easily provide hours of research.
Stepping inside the most visited Swiss castle means arriving at the central point of the north-south trade axis, where strategic positioning could have been directly translated to growing wealth.
In the Middle Ages, poverty and debauchery lived side by side. Chilon Castle managed to survive one of the craziest periods of human history
Family crests on the walls, or even Byron's signature carved on one of the pillars in Chillon Castle dungeon, testify about how people of the past saw leaving their traces here as an important part of their identity.
"We were here", almost whisper the shadows projected on thick castle walls, echoing truths we managed to learn from them, and secrets we will never find out.
The Middle Ages were a very special part of human history, where poverty and debauchery lived side by side. The epidemic challenges of the Black Death or political enemies were dealt with mercilessly, radically different than how we deal with health issues and freedom of speech today. In the medieval world, limited knowledge and unlimited beliefs clashed, often at cost of people's lives, and for the benefit of a few.
Château de Chillon, unlike many of its contemporaries, survived those crazy times, ready to tell its stories, good ones, and bad ones.
You might see it as a haunted fortress of human tragedies or a fairytale castle of exceptional beauty. But if you have the privilege, step inside Chillon Castle, the stranded ship on the banks of a lake that turned out to be literal money-making institutions.

Chillon Castle Facts
Chillon Castle hours
From November to March, Chillon Castle opening hours are from 10 am to 5 pm. While open in winter, have in mind that the castle is closed on the 25th of December and the 1st of January.
From April to October, Chillon Castle operates from 9 am to 6 pm.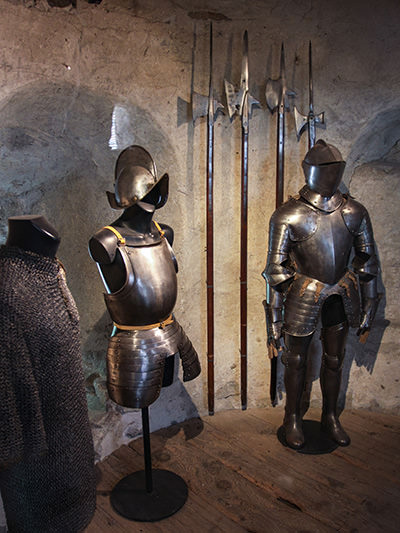 How much time do you need at Chillon Castle?
Even if you could technically rush through it if you wish, I recommend reserving at least 2 hours for exploring Chillon Castle at a stressless pace.
How much does it cost to go to Chillon Castle?
Chillon Castle tickets for adults cost 13,50 Swiss Francs (a similar amount in Euros or Dollars).
Students, apprentices, pensioners, disability insurance recipients, and Swiss military wearing their uniform are entitled to a reduced entrance fee at Chillon Castle – 11,50 CHF.
The price of the children's tickets is 7 CHF, while an entrance for an entire family will cost 35 CHF.
There are discounts for group visits, and those who have a Swiss Travel Pass, Passeport Musées Suisses, or ICOM in possession can enter Chillon Castle for free.
If you want to rent an audio guide, that will cost you 6 CHF. Groups that wish to rent a human guide will have to add between 100 and 220 CHF in total to their admission cost.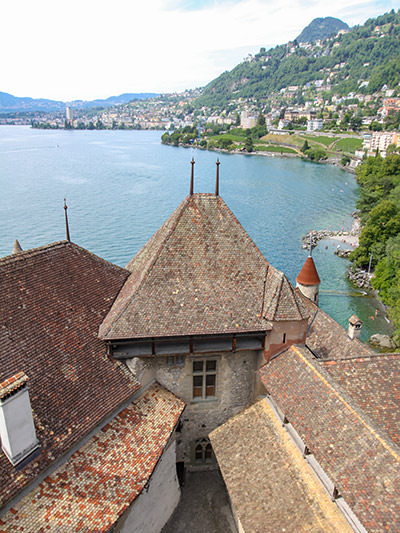 How to get to Chillon Castle
If coming to Chillon Castle from Montreux or Villeneuve, you can easily reach it on foot via the lakeside promenade. It's a nice walk.
From Montreux to Chillon, you can also take bus number 201 towards Rennaz (exit in front of the castle), train S5 towards Bex (exit Veytaux-Chillon), or even come by CGN boat/ferry, which is actually a historic paddle steamer.
Getting to Chillon Castle by boat is also possible from places such as Geneva, Lausanne, Vevey, or Villeneuve.
Chillon Castle day trip from Geneva is possible by this organized bus tour.
If you want to get to Chillon Castle from Zurich, the easiest way is to take a train to Villeneuve via Lausanne.
For those of you who want to come to Chillon Castle by car, that is certainly possible. Chillon will provide you with 3-hour parking for free, in case you find a spot. I didn't manage to, like many others before me, so I parked my vehicle in Villeneuve and walked for 25 minutes to reach the castle.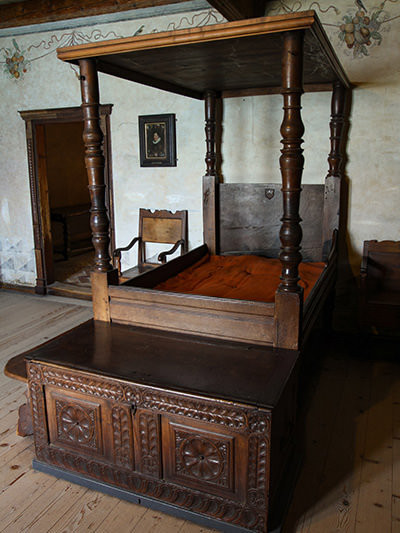 Hotels near Chillon Castle
There is plenty of accommodation options in the vicinity of Chillon Castle.
Distance-wise, under a 2-kilometer mark, recommended places to stay near Chillon are Victoria Hotel in Glion (connected to Montreux by funicular), Swiss Historic Hotel Masson in Veytaux (Belle Epoque-style building dating back to 1829), or Golf Hotel René Capt and Montreux Youth Hostel in Montreux. In Villeneuve, there are not many options, so if you want to stay there, your best bet would be Hôtel du Port.
If you want to splurge, you can consider Royal Plaza or Fairmont Le Montreux Palace in Montreux, and Grand Hotel du Lac or Hôtel Des Trois Couronnes & Spa in Vevey.
Did you like this guide inside Chillon Castle?
Pin it for later!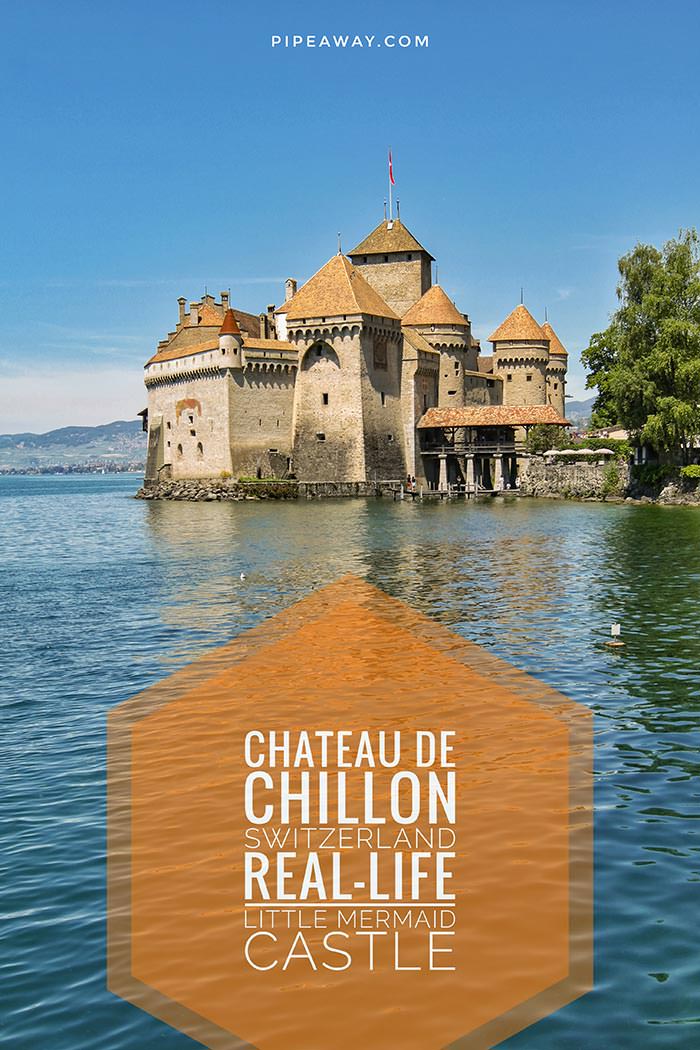 Disclosure: This post may contain affiliate links, which means if you click on them and make a purchase, Pipeaway might make a small commission, at no additional cost to you. Thank you for supporting our work!