Haneul Park in Seoul has a heavenly appeal. Its name dropped from above, with 'haneul' (하늘) literally meaning 'sky' in Korean. When one wants to run away from the bustling streets of South Korea's metropolis, Haneul Sky Park is the closest address to the clouds.
The most popular park in Seoul's World Cup Park complex did not just appear with an angelic choir and holy beams of light. Haneul Park has an ugly-duckling background, and the makeover required a lot of work. Once a landfill site the city was ashamed of emerged as a picturesque oasis of resurrected nature, immortalized in thousands of Instagram hashtags and some highly-rated Korean dramas.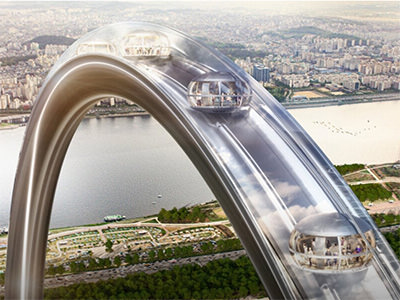 To further expand sustainable development in western Seoul, the city government chose to enrich Haneul Park with another environment-friendly attraction: the biggest spokeless Ferris wheel in the world. On the top of the former landfill, a solar-powered observation wheel should become the symbol of technological advancement, but also a new way of experiencing Seoul's skyline, through eco-tourism.
This place provides the best of two worlds. You can spend your day surrounded by plants of the ecological park, but at the same time enjoy the panorama of the city you ran away from. The enormous flower hill grown above Seoul's trash offers rewarding sightseeing and photo opportunities, as well as reintroduces hope that modern cities can indeed undo their wrongs from the past.
In this Haneul Park guide, learn more about Seoul sky park's history, the best time to visit the park and all the things you can do while there. I'll also fill you in on the best Haneul Park festivals, as well as how to avoid the crowds they attract.
Welcome to Haneul Sky Park, the swan-like example of urban regeneration!   
Haneul Park history: from landfill to landscapes
Haneul Park's history had more twists and turns than a K-drama plot. It is linked to various purposes Nanjido island had in different periods. 
Formed by a branch of the Han River (Hangang) in the northwestern part of Seoul, the area was used as a boating dock until the late 19th century.
Then it had an agricultural phase. Locals cultivated peanuts and millet on the islet.
The saddest part of the transformation happened between 1978 and 1993, when the hill of the future Haneul Park grew as a landfill, reaching a height of 98 meters. Seoul was developing rapidly, and this development created the world's largest garbage mountain – built out of 110 million tons of trash.
Haneul Sky Park went from the world's largest garbage mountain to home of 30 thousand butterflies
In 1996, the six-year landfill recovery project started, just in time for welcoming the new millennium, and the 17th FIFA World Cup in 2002, the first one organized in Asia, and the first one jointly hosted by two countries, Japan and Korea.
Once eyesore dumping ground would become Seoul's ecological zone, home of the World Cup Park. This eco-umbrella would cover five parks: Nanji Hangang Park (Han River Park), Nanjicheon Park (Nanji Stream Park), Pyeonghwa Park (Peace Park), and, directly above the landfills, Noeul Park (Sunset Park) and Haneul Park (Sky Park). 
The stabilization of the ecosystem included treating the leachate (which sounds like a fancy coffee but is actually a toxic liquid) before safely discharging it into the river. They also built 120 collection wells for extracting dangerous landfill gas before transforming it into a heating energy for the neighborhood and Seoul World Cup Stadium. To deepen the use of natural energy, wind turbines were installed to power the park's streetlights.
The landfill was protected from rainwater with a geomembrane, which secured healthy soil for the planted grass and trees. They even introduced 30.000 butterflies to help with the eco-restoration effort. Well, there might be no better symbols of transformation than these delicate insects!
What to do in Haneul Park today?
Haneul Sky Park is the best place to go when you DON'T want to do things. But if you could still use inspiration, here are some ideas on things to do in Haneul Park, the highest point of the World Cup Park!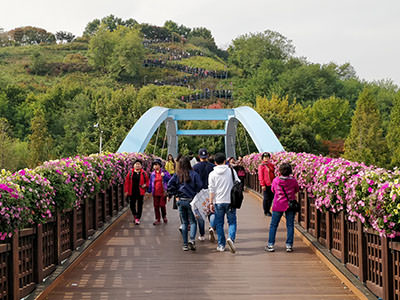 1. Hike the stairway to Heaven.
There are 291 steps at the zig-zag wooden stairway leading to Haneul Park. It's a great opportunity to do some exercise. Just don't forget to bring some oxygen tanks.
If you love hiking, consider visiting Hallasan Mountain, the highest South Korean peak on Jeju Island!
2. Pedal your way through the park.
You can also enjoy Sky Park in Seoul via bike rental too. Ddaerungi is a popular public city bike you can borrow for as low as 1.000 South Korean won per hour (70 cents), or 5.000 won for an entire day (3,50 euros). If biking uphill is not your thing, cruising along the Han River is a fantastic alternative.
3. Do your own workout.
There are no rules for sports spirits here. If you want to channel your inner Olympian at Haneul Sky Park, it offers great training spaces for anything from jogging and yoga to martial arts.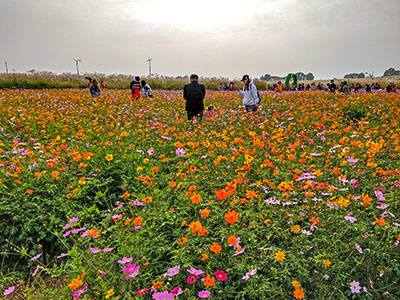 4. Enjoy a casual stroll through the park's gardens.
Of course, you are most welcome to not sweat your day at the park. Enjoy the leisurely stroll through the eco garden's walking trails! Immerse yourself in the colors and scents of various flowers and plants available throughout the year, from lavender and cosmos flowers to silver grass and wild reeds.
5. Have a picnic.
Pack a basket of treats for your Haneul Park visit. In beautiful scenery, the fun of having a relaxed picnic in the company of family and good friends will not be ruined even by occasional flies. There are cool rest pavilions, the XXL versions of benches to spread over.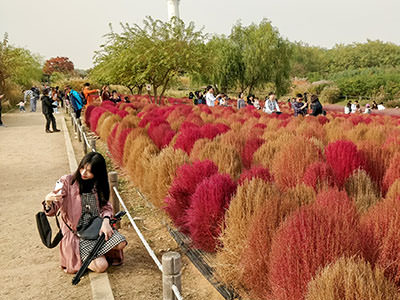 6. Fill your Instagram feed with photos.
Striking a pose is probably the most popular activity in Haneul Sky Park. Snap some envy-worthy photos with stunning flowers and greenery as your backdrop. There are numerous photo zones and opportunities for your Instagram feed that will hardly require any filter.
7. Take in the scenic views from Haneul Park's observatories.
There are 22 lookout points offering great views of both the park and Seoul's skyline, with Bukhansan, Namsan, and Gwanaksan mountains in the background. The most famous observatory is the Bowl Full of Sky, the bowl-shaped observation structure that offers a 360-degree view.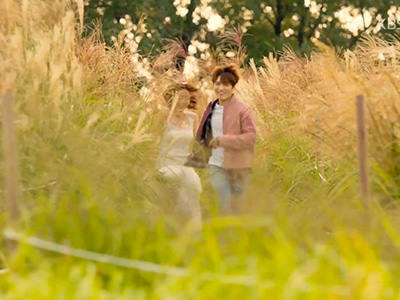 8. Film your own Korean drama.
Haneul Park is a popular filming location for K-dramas. According to the industry, it is a place to go on a date ("Go Back Couple", 2017), to reminisce about lost love ("Imitation", 2021), to reconnect with an old love ("Manhole", 2017), to record sounds ("Another Miss Oh", 2016), and even to practice public speaking skills ("Introverted Boss", 2017). What kind of Korean drama would you film at Haneul Park?
9. Meditate.
As one of the signs in the park says, "It's okay to rest". In this sky-high oasis, take a break from hustle and bustle, find a quiet corner, and reconnect with your Zen. 
10. Watch the sunset over the Han River.
Even if Noeul Park is a designated sunset spot in World Cup Park, you can still enjoy beautiful sunsets over the Han River during your Haneul Park visit.
View this post on Instagram
Haneul Park's plant palette: from silver grass to golden bells
Haneul Sky Park can thank its popularity to the diverse plant life in its vast gardens. Here are some of the standout stars:
silver grass

 – also known as eulalia grass, pampas grass, or miscanthus, this ornamental plant can tower over even the tallest person. Silver grass has light purple flowers and hits its peak bloom at Haneul Park in October.

pink muhly 

– also known as hairawn muhly, this fluffy shrub-grouped grass has pink feathery flowers and is another Instagram favorite. If you like 

la vie en rose

, October and November are the best months to enjoy the romance-screaming pink grass at Haneul Park. It's like a cotton candy of the plant world!

kochia broom cypress 

– also known as burningbush or Mexican fireweed, this ornamental plant has red foliage in autumn. It has the capacity to clean up contaminated soil and water, so kochia's place in this park is really valuable. 

sunflower 

– the ever-popular flower that always turns its head to catch some rays puts on a show in Haneul Park from September.

cosmos 

– also belonging to the sunflower family, these beauties come in a variety of colors and start fully blooming in September. From white to orange and pink, there's a cosmos to suit everyone's tastes.

gourds

– the hard-shell fruits of this plant decorate the park's tunnels in August.

wisteria 

– the plant that twines its vines around the Bowl Full of Sky, coats Haneul Park's observatory in purple in May.

forsythia koreana 

– known as Korean goldenbell or gaenari, the colonies of this bushy shrub with yellow flowers are the early bloomers. As an official flower of Seoul, forsythia pops up in March-April, giving you an open invitation to visit Haneul Park in spring.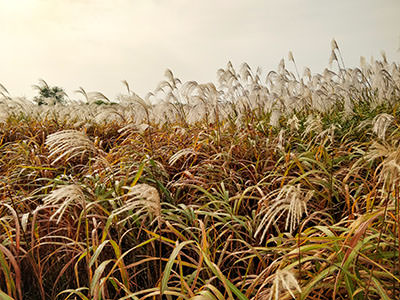 Timing is everything: when to visit Haneul park?
As you can see, a variety of flora species at Haneul Park is available throughout the year, each blooming at different times, contributing to the beauty of the season. From early spring to late fall, the carnival of colors never stops.
However, the best time to visit Haneul Park is in autumn, from late September to mid-November. The peak of popularity is reached in October, when Silver Grass Festival takes center stage. Also known as Pampas Grass Festival / Eulalia Festival / Miscanthus Festival, this event sees silver grass in full bloom in a sea of shimmering waves that stretch as far as the eye can see. One can also participate in photo tournaments, enjoy concerts, or pampas grass crafts exhibition. The Silver Grass Festival brings 600 thousand of visitors to Haneul Sky Park, and they can even stay till late, which is otherwise forbidden because of flora and fauna protection.
View this post on Instagram
Another noteworthy happening is Haneul Park Sunrise Festival. Always scheduled for January 1st, this event plants good seeds for the upcoming year. The festival gathers people in the park for the first sunrise after the New Year's Eve party. If you want to wish everyone all the best and enjoy cultural performances along the way, be at the park from 6:30 am!
There are other smaller festivals throughout the year, usually connected with the blooming of different flowers. While such events offer the communal experience of resurrected nature, they can also make the park quite crowded. To avoid peak times, try to visit Haneul Park during a workday.
As for the time of the day, there's less pressure on morning hours, if you're allergic to a forest of selfie sticks. Otherwise, arriving a couple of hours before sunset will provide the Haneul Park experience during the golden hour, as well as first glimpses of Seoul's night panorama.
View this post on Instagram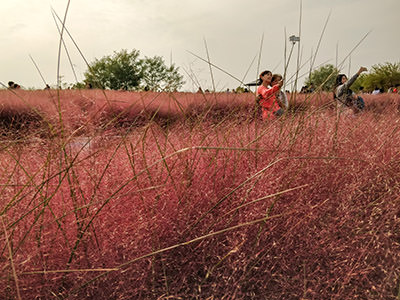 Haneul Park operating hours
If you are an early bird and eager to catch the worm, Haneul Park opens at 5 am from May to July. That gives you plenty of time to enjoy the sights and sounds of nature before the heat of the day sets in. In shoulder season, opening time at Haneul Park gradually moves to 5:30, 6:00, and 6:30, finally reaching 7 am in the winter months of December, January, and February.
Haneul Park's closing time also adapts according to the seasons and the shifting sunset times. The complex stops operating at 6 pm in winter. But as the weather warms up, you can enjoy Haneul Park until 8 pm in spring and autumn, and until 8:30 pm in summer months. The exception is Silver Grass Festival when Haneul Park stays open until 10 pm.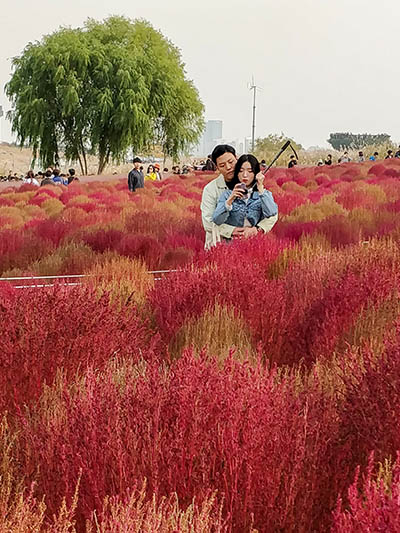 How much does it cost to go to Haneul Park?
There is no entrance fee to Haneul Park.
You only need to pay if you want to treat yourself to a ride to the top of the hill in a Haneul Park buggy. A one-way ticket with Maengkkongi electric shuttle bus will set you back 2.000 wons (1,4 euros), while for a return trip, you'd need to cough up 3.000 wons (2 euros).
For everyone else, those 291 stairs are promising a free workout with a view. It will make your trip to Haneul Sky Park completely environment-friendly, and you won't have to wait in any queue.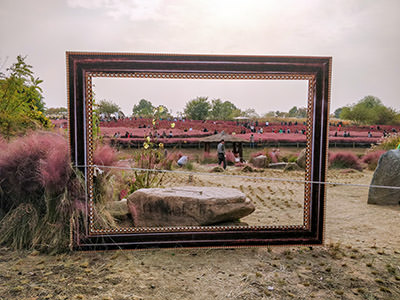 How to get to Haneul Sky Park?
Haneul Sky Park is located in Seoul's Sangam-dong neighborhood in the Mapo District (Mapo-gu). The exact address is 95 Haneulgongwon-ro.
The easiest and most convenient way to get from central Seoul to Haneul Park is by metro. The closest station is the World Cup Stadium Station, on line 6. Use subway exit number 1, and walk for 10 minutes. On the intersection of World Cup-ro and Jeungsan-ro, the Haneul Park entrance should be diagonally across from the stadium.
You can also go to Haneul Park by bus. The lines stopping at the bottom of the park hill are 271, 6715, 7011, 7019, 7715, 8777, and 08.
When Seoul Ring, that high-tech Ferris wheel, rises above the hill, getting to Haneul Park should also be possible by cable car. The new type of transport will be heading to the top of the hill from the World Cup Stadium Station.
At the end of your park exploration day, treat yourself to a jjimjilbang in Seoul, or some of the best Korean desserts the capital can offer!
The best hotels near Haneul Park
Looking for a place to stay near Haneul Park? You can find everything from a budget-friendly guesthouse to a luxury five-star hotel.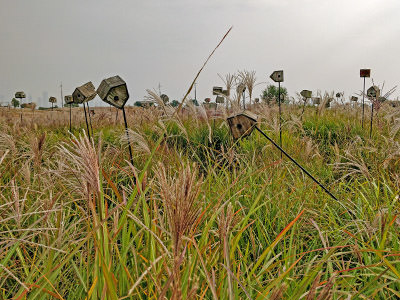 The most budget-friendly accommodation option near Haneul Park is Stitches House. You can get a standard double room with a shared bathroom at this guesthouse for mere 27 euros. Check out the hotel reviews and prices for your dates here! 
If you are looking for something a little fancier, but still want to save some won, choose the 4-star Stanford Hotel Seoul. Only 1,6 kilometers away, it is the closest hotel to Haneul Park, and a standard twin room can be booked for as low as 66 euros. Check out the hotel reviews and prices for your dates here!
If you are ready to splurge like a K-pop star, get ready for the celebrity treatment at the prestigious 5-star Conrad Seoul. A deluxe Queen room at one of the top hotels recognized by Conde Nast Traveller and World Travel Awards can be yours for a price of 273 euros. Check out the hotel reviews and prices for your dates here!
If none of these ring your bell, check out other places to stay in Seoul's offer!
Haneul Park review – Conclusion
Haneul Sky Park is part of an impressive transformation tale. It's one thing to turn a garbage dump into a green oasis, but the story of this ecological park goes beyond just establishing a blooming wonderland in the concrete jungle of Seoul. This place became a symbol of commitment to eco-tourism on steroids.
On top of a former landfill, people now enjoy their days surrounded by birdhouses, fields of wildflowers, towering grasses, and other showstopper plants. With different species flaunting their colors throughout the year, the botanical fashion show never ends. 
Recipe for renewal: Trash is turned into treasure, methane gas into a heating source, and poisonous waste into botanical bliss
Whether you're looking for a peaceful place to unwind, a romantic spot for a date, or a location to take some killer Instagram photos, Haneul Park's blossoming beauty can convince you that sky is literally the limit.    
Soaking in the views, while knowing that you are not harming the environment, but instead helping nature to reestablish itself on the towering mountain of our past mistakes, brings in guilt-free joy.
Trash is turned into treasure, methane gas into a heating source, and poisonous waste into botanical bliss. Koreans already have eco-friendly transportation to Haneul Park, but they want more. After charging street lamps with wind, the next phase includes taming the sun to power a gigantic observation wheel.
To me, Haneul Sky Park is more than an Insta-famous garden. It's a symbol of hope and a colossal reminder that change is possible. Just like those thousands of caterpillars-turned-butterflies, released to stabilize Haneul Park's ecosystem, it tells us that every major shift starts with a modest step. That's a school definition of the butterfly effect.
So, if you go to Seoul, put on your comfiest shoes, bring a camera, and capture some of the ethereal views of floral diversity that calls Sky Perk of Seoul its home. In this enchanting kaleidoscope of colors, you might even see a phoenix rising from the (tr)ash. 
If you've already visited one of Seoul's favorite parks, feel free to share your own Haneul Park review in the comments section below.
Otherwise, pin this article for later!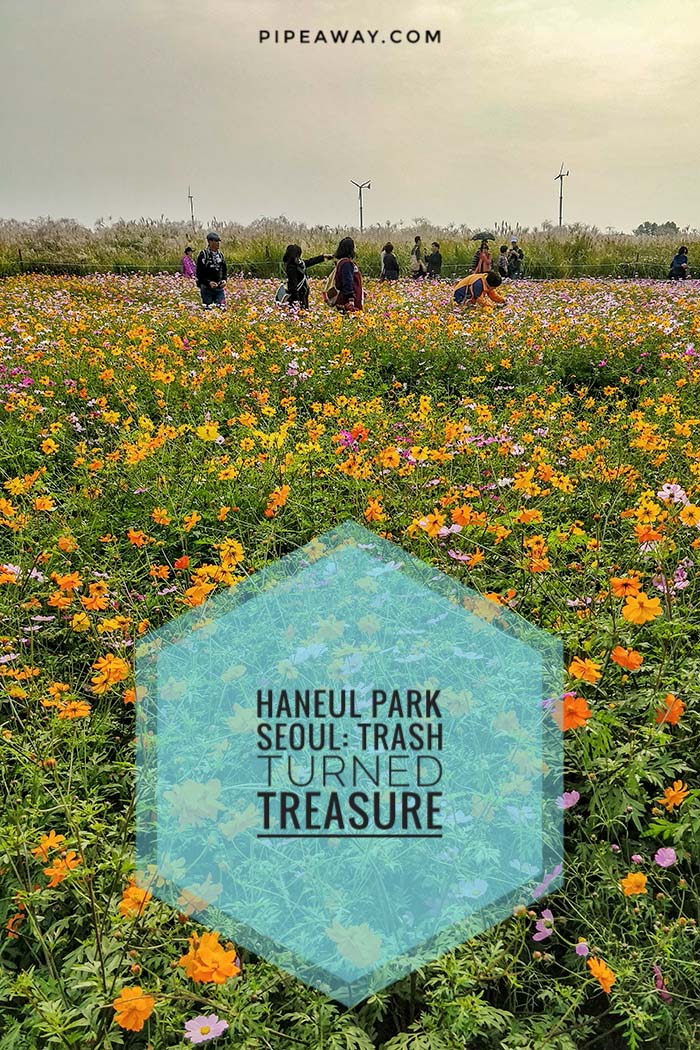 Disclosure: This post may contain affiliate links, meaning if you click on them and make a purchase, Pipeaway may make a small commission, at no additional cost to you. Thank you for supporting our work!