Jjimjilbangs in Seoul are some of the best spa facilities in South Korea. But picking the top 5 establishments in the capital's booming bathhouse industry is not a simple task.
The mere volume of some bathhouses can easily impress. That's one of the main reasons why the gigantic Dragon Hill Spa is often proclaimed the best jjimjilbang in Seoul. But I hesitated whether to even include it among the top 5.
I will elaborate on that later. But for me, a spa is a place where we go to relax. We enter these facilities tired and expect to exit revitalized. Not the other way around.
There is a jjimjilbang in every Seoul neighborhood. The best one to recommend should be the one that reconciles authenticity with openness towards foreigners
My criteria for ranking the best Korean spa in Seoul was informed by exactly this aspect: how do these bathhouses deliver when providing fulfilling experiences for a variety of their guests?
Jjimjilbangs are, indeed, a place for everyone. These public bathhouses, where we go to hang out with family, friends, colleagues, or lovers, provide a unique way of bonding 24/7. Stripped off of our everyday clothes, we enjoy Korean onsen like non-classified humans. For locals, it's a strong communal experience; for tourists, it is a cultural one.
Every neighborhood in Seoul has a small bathhouse. But for jjimjilbang-visiting foreigners, the language might present a barrier. The bigger jjimjilbangs could greet you in English, but also be quite soulless. Choosing the best jjimjilbang in Seoul for tourists is about fine-tuning this balance.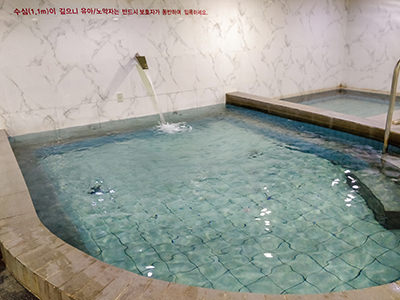 If you want to know more about jjimjilbang, its rules, etiquette, and step-by-step instructions, I strongly recommend you to consult this introductory Korean spa guide.
After you master the theory and purchase your flight to Asia, you can join the relaxation practice with thousands of Koreans in these best jjimjilbangs in Seoul.
If you prefer sleeping in a hotel and just relaxing in the Korean bathhouse, look no further than Agoda which offers you accommodations ranging from budget stays to five-star luxury options. 

  
The best jjimjilbangs in Seoul
1. Siloam Bulgama Sauna Spa
Price: 17.000 Won (12,50 Euros)
A forest wallpaper, fake plants, and, for some unknown reason, dog, poultry, squirrel, and kangaroo sculptures at the entrance, did not promise much. But behind the tacky exterior of Siloam Bulgama Sauna Spa, I found the best jjimjilbang in Seoul.
On six floors, there was a welcoming space for day-long hangouts that soothe body and soul. With its around-the-clock operation, Siloam Sauna could accommodate 3.000 people, both Koreans, and travelers who found it a convenient place to spend the night in central Seoul.
If you want to combine a Korean-style spa with hiking to Seoul's highest mountain, Mt. Bukhan, consider booking this well-rated experience!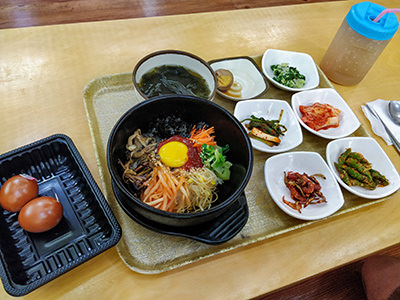 Operating since 2001, Siloam Bulgama Sauna Spa pumps high-quality Germanium water from 300-meter underground. It feeds a variety of baths where, enriched with aromatic herbs, it can show its full healing potential.
There are also written translations in English. A bath that says it will reduce your menstrual pains could be confusing in the men's section of the spa, but hey – it certainly cannot hurt!
Besides a salty sauna, where another guest could offer to scrub your back, there are also official body scrubbers, who could become pushy in front of some tourists, but nothing one cannot escape from with a smile.
In the naked area, you could also make use of the barbershop, hair salon, and snack bar, but if you head to the gender-meeting lounge on the second floor, you could have proper food in the restaurant. There are pictures of all the meals, and I thoroughly enjoyed my bibimbap with sauna eggs and unmissable sikhye rice drink. I had to pay for this order in cash, and it cost me 15.000 Won (11 Euros).
Siloam Sauna – for men, women, and snorers
Siloam Bulgama Sauna Spa offers rooms dedicated to nail art, children's play, table tennis, fitness, cinema, and computers.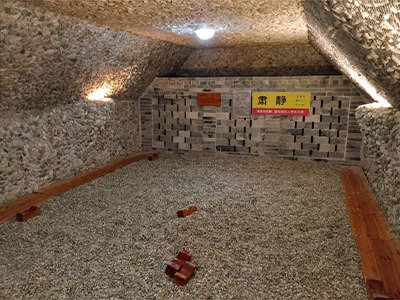 But their fomentation floor will treat your body in a variety of ways. There are rooms of different temperatures and materials, ranging from ice and salt to jade and charcoal. There are mobile-charging lockers in front of the rooms, so you don't expose your phones to temperature shock.
The highest floor of the jjimjilbang is reserved for oxygen-rich sleeping, and it has hundreds of individual beds, in segregated rooms for men, women, and – how thoughtful! – snorers. If you want, you can even sleep in red clay caves!
While you could consider leaving your luggage in lockers at Seoul Station, I came to Siloam Sauna directly from my flight and was positively surprised that they could store my bag in a special secure room free of charge.
For the best available accommodation in the vicinity of Seoul Station, click here!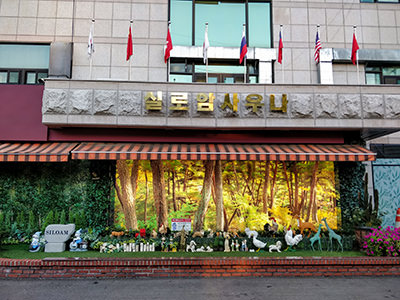 How to get to Siloam Sauna?
Siloam Bulgama Sauna Spa old address: 49 Jungnim-ro, Jung-gu, Seoul  (CLOSED atm)
New address of the same brand: Junggok-dong Siloam Sauna, 173 Yongmasan-ro, Gwangjin-gu, Seoul
As confirmed by Pipeaway readers, Siloam Bulgama Sauna Spa near the Seoul Station and Seoullo 7017 overpass has been closed since late 2021. It is not yet clear if that is the permanent end of my favorite jjimjilbang in Seoul.
Luckily, you can try the newer Siloam Sauna facilities at Gwangjin-gu address, and let us know if they are a decent successor. I will surely update you on that when I return to South Korea.
Before heading to a jjimjilbang, it's good to exhaust yourself by exploring Seoul. If you're looking for ideas on things to do, find them here!
2. The Spa in Garden 5
Price: 12.000 Won (9 Euros)
If you thought Siloam Sauna was hard to find, what will you say about The Spa in Garden 5? Located on the 10th floor of a shopping center, this jjimjilbang tested my orientation skills the most. Especially if you are arriving late, when there are no shoppers around to ask, make sure to read the instructions on how to get to The Spa in Garden 5 carefully. Otherwise, you could experience sauna-style sweating while still searching the building.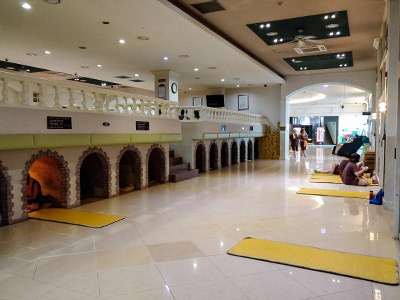 Placed in the southeastern part of the capital, in Seoul's most populated district, The Spa in Garden 5 is a quite popular, barely more than a decade old establishment. Weekend nights tend to attract the most crowd, and due to the organization of the space, it is not the most sleep-inducing option on this list of the best jjimjilbangs in Seoul.
Being newer, The Spa in Garden 5 seems to be well-maintained, but the contemporary design of its bath facilities could have the shopping-mall feel to it.
The shy visitors could benefit from the fact that showers are arranged in more private, stall divisions. After you wash up, you can head to a couple of hot tubs with massage beds, and then withstand some heat in the saunas (a wet one with 45 degrees Celsius, and a dry one with 110!). If you dare, you can conclude your bath experience by jumping into a plunge pool with ice-cold water, and massage jets.
If you want to create a jjimjilbang experience at home, check this relaxing background music, perfect for massage therapy!
The Spa in Garden 5 – where the ice room melts quicker than a waffle
The co-ed area has a variety of special rooms where you can continue relaxing. Enter oven-like traditional pine tree saunas (103-115 degrees), expose yourself to light and salt therapy (83 degrees), treat your atopic dermatitis in the cypress room (31 degrees), or try the ice room that sadly had no ice (and had only 11,6 degrees of Celsius).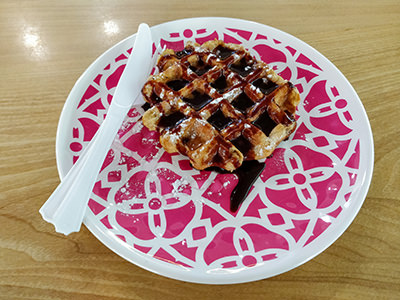 Colder than the room was a half-frozen waffle I got at the snack bar, the only place serving food during the night after the jjimjilbang's restaurant closes.
If you manage to get there in time, you might count on more than instant food, such as bibimbap, soba, udon, or pork cutlet. At The Spa in Garden 5, you don't need to carry cash around, as everything can be charged on your electronic key.
Equally closed during the night is the ice cream kiosk, as well as the books and board game area. The best you can do at that late hour is to sit in a massage chair or withdraw into a cave-like chamber for sleeping if you reserved it in time. Otherwise, you might need to find a sleeping spot on the ground in the central communal area.
The Spa in Garden 5 also has a small gym, a movie theater, a kids' playing area, and special VIP rooms intended for bigger groups that can rent them by the hour.
If you would like to stay in the vicinity of Garden 5, check out these available hotels!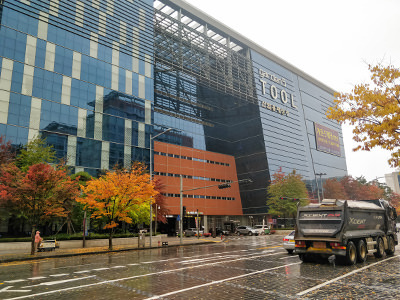 How to get to The Spa in Garden 5?
The Spa in Garden 5 address: 10 Chungmin–ro, Songpa–gu, Seoul
The Spa in Garden 5 is a 15-minute walk west of the Jangji Station, served by line 8. Take exit number 3, make a U-turn when you get out, and turn left at the first crossroad. Continue on this road, the shopping center will be on your left side. You need to use the entrance that is the furthest away, in a building marked with 'Tool' letters. Take the elevator to the 10th floor.
3. Itaewon Land Spa
Price: 10.000 Won (7,50 Euros)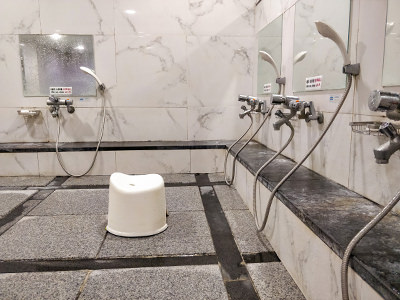 Located in the Itaewon district of central Seoul, famous for its multicultural environment and nightlife, Itaewon Land Spa is a jjimjilbang that doubles as a lodge is a convenient solution for post-clubbing or pub-crawling downtime.
Itaewon's kitchen, besides expected ramen, noodles, kimchi stew, curry rice, and pizza, offers even – a hangover soup. It seems Itaewon Land Spa wants to brand itself as the best jjimjilbang in Seoul for full detoxication!
That being said, you might have to be a little drunk to fall in love with the space. Especially the worn-out bath area would benefit from some facelifting. Uneven floor with cracked tiles, steam room out of order, and scrubbing area that looks as if someone has thrown a bomb does not provide big promises.
However, there are still three warm pools, with mineral-rich water sourced from 300 meters below the ground, and a Finnish sauna where you can sweat at 90 degrees before jumping into a cold plunge pool.
For the best prices of accommodation in the Itaewon neighborhood, click here!
Itaewon Land Spa – sleeping with celebrities
On the upper floors of this 5-story building, one can find the largest Korean traditional oak wood sauna, gravel walk room, ice room, children's playground, TV room, massage chairs, and a small gym. There are even tarot readings on offer!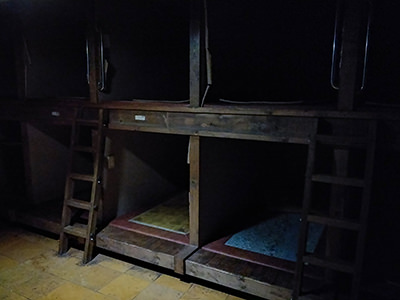 If you want to sleep, you can rent a blanket for 2.000 Won (1,50 Euros) from a staff member who is, oh paradox, sleeping behind the counter. There are quite dark sleep-inducing capsules on the fifth floor.
For those who want to upgrade to a single room, the price would be 20.000 Won extra (15 Euros), which comes twice as cheap as a full-body massage. Speaking of body treatments in this jjimjilbang, have in mind that foreigners will always have to pay 5.000 Won more for the same service.
I haven't slept in the private cabins of Itaewon Guesthouse, but I have heard they are quite basic, without windows and with paper-thin walls. So your call!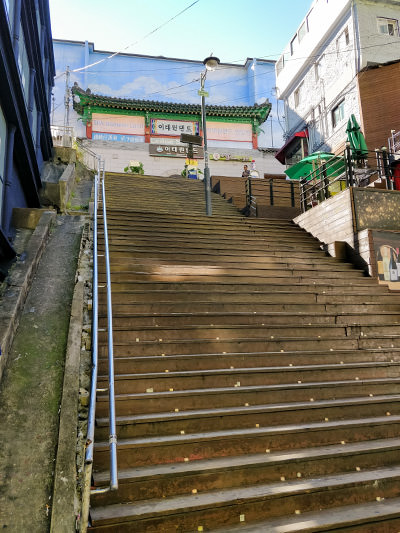 Itaewon Land jjimjilbang is mainly catering to locals, celebrities included. Supposedly, you can see members of K-pop boy bands such as 2AM or CNBLUE using the facilities! Jjimjilbang is also often featured as a set for famous Korean TV dramas such as "Secret Garden", "Lover in Paris", "I'm Sorry, I Love You", "Are You Human?", "Dating Agency: Cyrano", and so on.
How to get to Itaewon Land Spa?
Itaewon Land Spa address: 34 Usadan-ro 14-gil, Yongsan-gu, Seoul
Pipeaway readers confirmed Itaewon Land Spa has been permanently closed (2023 information), so sadly, it seems you cannot visit it anymore.
When in Europe, try to visit Rudas Baths, one of the European baths that starred on the big screen!
4. Dragon Hill Spa
Price: 16.000 Won (12 Euros)
Dragon Hill Spa is another Seoul jjimjilbang famous for hosting the famous. It is a popular filming spot for K dramas and TV shows (such as "The Return of Superman" and "Running Man").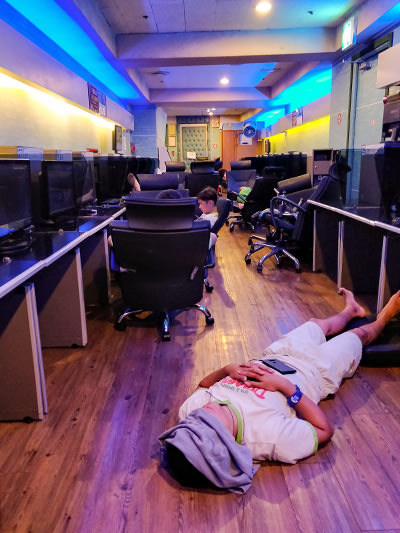 Located in the central Yongsan district, one of the largest jjimjilbangs in Seoul attracts equally large crowds. With a variety of content spread over eight floors, it could be seen as a place offering something for everyone. That might be its biggest benefit, as well as a terrible mistake.
Dragon Hill Spa seemed to be louder than anyone visiting jjimjilbang would want to. It felt overcrowded with visitors, which became most obvious at nighttime when looking for a quiet and comfortable place to sleep became a detective's task. Finally, after jumping over dozens of bodies spreading all over the floor, resembling a mass murder scene, I chose to sleep in the computer room, snuggled in a chair.
The arcade room with games is where the loudness dominates, but you could also experience it in all main areas. So heading to a traditional charcoal kiln or an ice room had another motivation: escaping the noise.
Vaginal steam and Egyptian meditation at Dragon Hill Spa
I was expecting more from the Dragon Hill Spa's bath zone too. There were several (expected) baths with different temperatures and an aroma-infused wet sauna. The positive surprise came mainly with the men-only Hinoki pavilion. Bathing in a tub made of a tree that the Japanese regarded sacred felt like a royal privilege. I don't know if women felt equally enthusiastic about their special – sitz bath that is essentially a vaginal steam treatment.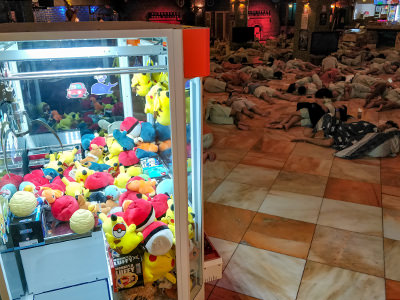 The shared healing zone had the therapeutic Hinoki woodland room, pine tree firewood sauna, crystal sauna, nephrite jade room, and somewhat tacky Egypt-inspired pyramid meditation room.
In the rest of the building, one could find a gym (reserved for private members only) which even offered a simulated riding on a fake horse, an outdoor swimming pool (only in swimwear!), a cinema hall, karaoke rooms, a sky garden with a grill menu, and more traditional Korean restaurant where I ate hotpot bulgogi. Unlike other jjimjilbangs, Dragon Hill Spa had three types of cooked eggs on offer – charcoal, smoked, and roast. It almost looked like a colorful Easter!
All in all, while Dragon Hill Spa does provide a lot of space to explore Asian bathing culture, I felt that its title of the best jjimjilbang in Seoul was quite overrated. There are jjimjilbangs in Seoul that provide diverse spa experiences without falling into a commercial trap, places where at least you can get a good night's sleep.
If you are looking for recommended hotels in the vicinity of Dragon Hill Spa, click here!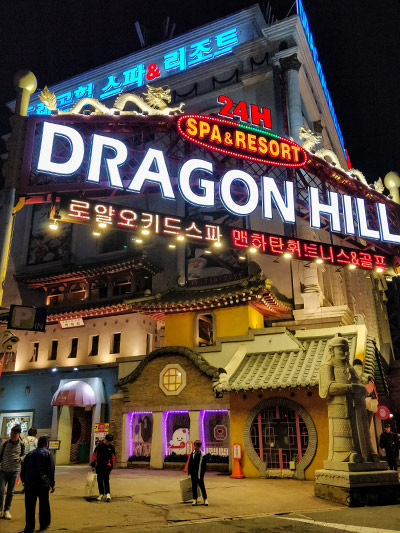 How to get to Dragon Hill Spa?
Dragon Hill Spa address: 40 Hangang–daero 21 na–gil, Yongsan–gu, Seoul
Dragon Hill Spa might be the easiest to find on this list of jjimjilbangs in Seoul. It's located 30 meters away from the Yongsan subway station, served by line number 1. Take exit number 1, and the most popular bathhouse in Seoul will be on your right. With large Dragon Hill Spa neon signs, you would have to be blind to miss it.
When in Seoul, it would be a shame not to indulge in its gastronomy. Check out these amazing Korean desserts!
5. Hamilton Hotel Sauna
Price: 9.000 Won (6,70 Euros)
The last place on this list of the best jjimjilbangs in Seoul belongs to Hamilton Hotel Sauna. I wanted to check whether it deserves this spot mainly because of the silent rumors that Hamilton's jjimjilbang basement was an unofficial Seoul cruising spa for gay guests.
There are logical wonderings whether gender-segregated spas and the whole nakedness concept could unintentionally target patrons whose interest goes beyond just enjoying the health benefits of the spa.
Frankly, beyond expected gazes motivated by interracial curiosity, I haven't experienced unwanted advances in any of the Korean jjimjilbangs I visited. Well, Hamilton Hotel Sauna might have a different story.
Located in the same neighborhood as Itaewon Land Spa, Hamilton Hotel was constructed in 1973 and developed together with the district. American soldiers, tourists, and among them gay tourists as well, became the most present visitors of Itaewon.
In the vicinity of a myriad of gay bars on the so-called Homo Hill, a cheap Seoul jjimjilbang, Hamilton Hotel Sauna, became one of those establishments where new friends could extend the night.
If you want to book a room in the Hamilton Hotel, check for the latest prices here!
Hamilton Hotel Sauna under a gay radar
There was no restaurant here, nor a rich spa experience. Just several bathtubs with cold, warm, and hot water, pumped from a sulfur bedrock 380 meters below ground.
There were also two saunas, a dry and a steam one. What happens in the sauna, stays in the sauna, but I could have sworn that a young man from Macao I just met exited one of these saunas with a line of thick white liquid on his chest.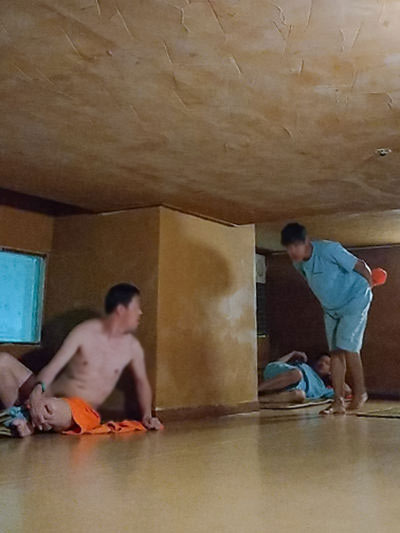 In the dressing room, there was a written warning by Hamilton Hotel management confirming that they were aware of impropriate behavior of some guests. With no proofreading, their message said: "If you have any sexual in a sleeping room or a bathtub, you should be immediately kicked out after paying the water bill."
Sleeping room? Where's that? Above the dressing room, there was a low-ceiling communal sleeping gallery (maybe 1,50 meters high) where one could take a mat and rest for the night.
And yes, I can confirm that there were several Koreans engaging in blatantly sexual behavior in semi-darkness. One was walking around maniacally touching himself, another one was pretending to sleep while someone was thoroughly enjoying his not-really-asleep body part.
It almost seemed that closing eyes was misinterpreted as a call to action. Every time I would open my eyes, a man's hand was getting closer and closer to my crotch area.
I imagine that in the world of broken gay radars, this radical approach could create a lot of unwanted confusion, and shock. So while the hotel management will never support lewd actions in its facilities, those are also hard to eradicate. If you are visiting Hamilton Hotel Sauna, you should be aware of that.
This was not the first time I experienced unusual encounters in a bathhouse. Check out this gay Khmer adventure in Cambodia!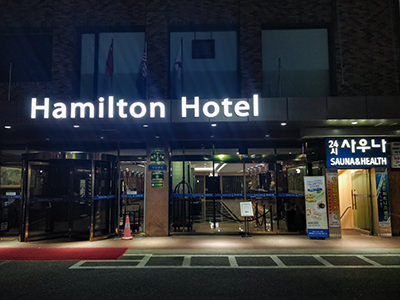 How to get to Hamilton Hotel Sauna?
Hamilton Hotel Sauna address: 179 Itaewon-ro, Itaewon 1(il)-dong, Yongsan-gu, Seoul
Hamilton Hotel is located practically at the entrance of Itaewon metro station, served by line 6. Take exit number 1, and you should be in front of the hotel. Hamilton Hotel Sauna has a separate doorway right from the reception entrance, leading down to the basement.
Do you want to extend your Korean visit to Jeju Island? In this article on the best things to do in Jeju, you can find a selection of recommended local jjimjilbangs!
The best jjimjilbangs in Seoul, South Korea – Conclusion
Jjimjilbangs in Seoul are generally safe spaces to relax from the bustle of the hectic metropolis (well, truth be told, runaways can also enjoy some amazing ecological parks!).
Stepping into these special bathhouses opens door to experiences that heal and connect us. Denuded, we celebrate cleanliness as the first step towards health and well-being.
There are hundreds of jjimjilbangs in Seoul, and picking the best one is an ambitious task. One would have to spend months and months exploring the Korean bath scene in Seoul, to be able to claim the highest quality with confidence.
As houses that have heat in their name, even jjimjilbangs in Seoul can provoke heated debates
Old jjimjilbangs might close, the new ones might open, and that is all normal in the competitive Seoul market. The tradition of public bathhouses has centuries-old roots, but modern businesses are constantly adding and deducting, creating new products, and responding to new needs.
All Seoul jjimjilbangs on this list have their positive and negative aspects. That's why searching for the best Korean spa in Seoul is an exciting task.
As houses that have heat in their name, it is not unusual that jjimjilbangs can provoke heated debates. Not everyone has the same definition of a "hot encounter with a stranger", so certain establishments can produce disappointment. For some, it could be the Disneyland atmosphere of Dragon Hill Spa, for others – the gay cruising vibe of Hamilton Hotel Sauna.
When we try to focus on what makes this communal ritual important, we will see that all these Seoul jjimjilbangs come with a charm worth exploring.
In that sense, there might never be a true title of the best jjimjilbang in Seoul. Otherwise, we would stop looking for always new surprises lurking behind the corner.
Note: All the above-mentioned prices relate to the use of both baths and jjimjilbangs. If you do not wish to stay overnight, your ticket might be cheaper than quoted.
Did you like this guide through the best jjimjilbangs in Seoul, South Korea?
Pin it for later!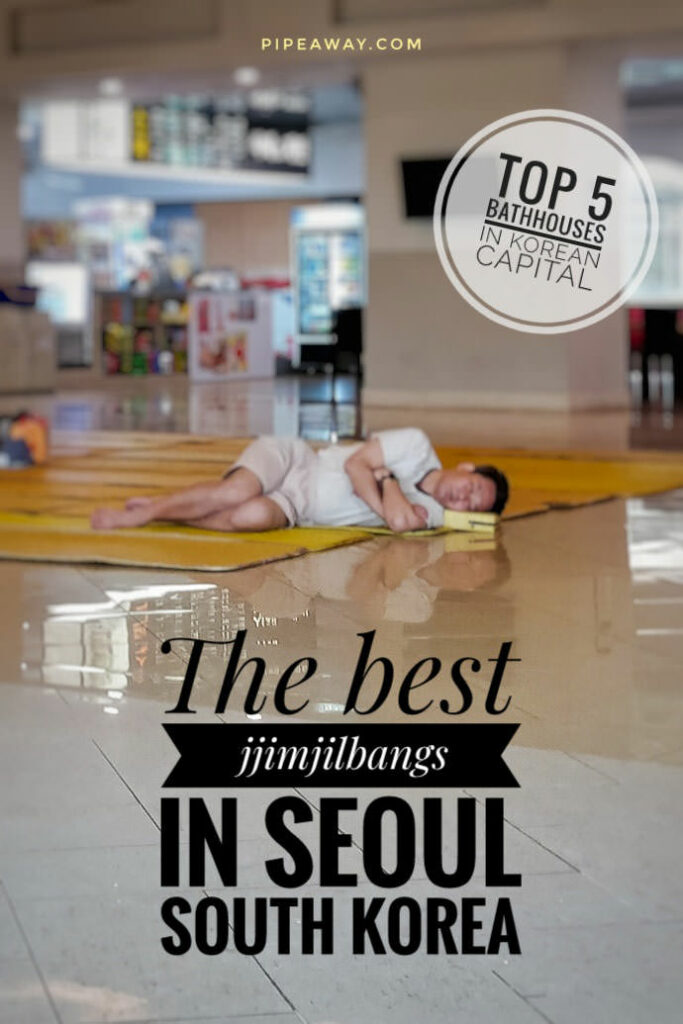 Disclosure: This blog post may contain affiliate links, which means if you click on them and make a purchase, Pipeaway might make a small commission, at no additional cost to you. Thank you for supporting our work!