Santorini sunset, especially the Oia sunset, has a status of mythological proportions. The small volcanic island in the center of the Greek archipelago is a postcard-perfect destination. The golden hour just makes it a tad more spectacular.
Before the pandemic, photography aficionados and selfie-hunters would conquer every centimeter of Oia, hoping to capture that view of the best sunset in Santorini
Every year, hordes of tourists flock to Santorini to watch the sun setting down! Attracted by the peculiar cliffside architecture washed in the last sun rays of the day, photography aficionados and selfie-hunters fill the picturesque streets of the island's villages, especially Oia, hoping to capture the best sunset view in Santorini.
But the coronavirus pandemic changed it all! The worldwide lockdown, the halt on cruise ship tourism, and the general rules of physical distancing reduced pressure on Santorini. Oia sunset became a privilege for its residents.
With Greek tourism slowly opening to international arrivals, crowds will certainly return very soon! When is the perfect Santorini sunset time? The answer is – now! Book your tickets to Greece before the others do!
You can enjoy sunset even on Santorini's nude beaches!
Why is the Santorini sunset so famous?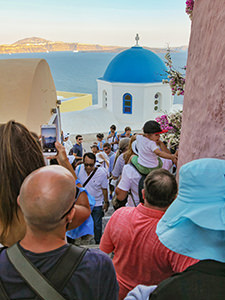 Santorini is often quoted as one of the most famous world destinations for experiencing sunset. The island can thank its fame to the collapsed caldera filled with sea, and the Cycladic architecture of buildings perched on the edge of the volcanic cliffs.
Narrow streets, whitewashed houses, the contrast between the modern pool villas and traditional blue dome churches and windmills… These are the key ingredients of Santorini's appeal.
The soft colors of the sunset enable the island's beauty to shine even more, looking extraordinary even in the photographs of amateurs.
But truthfully, Santorini would be beautiful even if Earth suddenly stopped spinning. It wouldn't lose its attractive power if sunset stopped painting Oia and other Santorini villages in fifty shades of yellow, orange, and pink!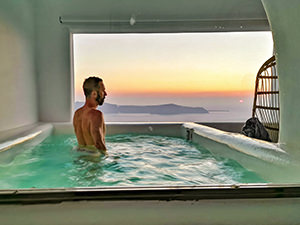 Highlighting the island's natural beauty, the golden sunset of Santorini became an event in itself! Observers applauding the enchanting spectacle of Earth's star performing the final bow of the day, engage in this gleaming theater. One-of-a-kind performance provides tourists with a sense of achievement, worthy of crossing it off of their bucket list.
Visitors would typically come hours earlier, camping out in order to secure the spot for the best sunset view in Santorini. In volcanic language, they would end the event with an eruption of emotions, the exploding applause to the star of the show, the literal star drowning in the horizon.
I've seen many extraordinary sunsets, and the world dominance of the Greek island's magic is definitely perpetuated by Santorini sunset hashtags on Instagram. The builders of the villages never envisioned social media tools when they married architecture with nature. Yet they created a perfect backdrop. The sunset show is dazzling enough that the initiative of renaming Santorini to Suntorini would not come as a surprise to me!
Oia sunset without crowds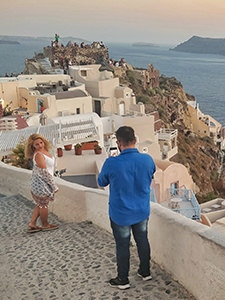 The year 2020 shook the world's economy and tourism. The COVID-19 pandemic made traveling less attractive and more dangerous. Responsible citizens isolated themselves in their homes, to try to stop the spread of the new coronavirus.
Countries closed their borders, islands became isolated, and cruise ships were stuck floating in the world seas, sometimes for weeks and months before being able to disembark their passengers.
Santorini, as a famous stop for cruise ships, but also connected by ferry to mainland Greece and with its airport to the rest of the world, experienced the effects of the pandemic very concretely.
I traveled to the island in June 2020, before Greece fully opened its ports and airports for international arrivals. Embarking on a ferry in Piraeus, with other 50-ish passengers, felt surreal. On a boat that could welcome 2.500 passengers, a member of staff was showing instructions for putting a life vest on, to a practically empty deck. Just a dozen of us watched him in this lonely procedure in the case of an emergency. Help yourself before helping others! Others – who's that?
Upon arrival in Thira port, the disembarkation point for all Santorini travelers coming over sea, taxi and minivan transfer to further destinations were the only options. Buses stopped operating. There were simply not enough people to serve. Even the renters, usually pushing to sell you their rooms, were absent.
Unlike two years ago when I practically ran away from Oia, distressed by Santorini sunset crowds, this time I could finally experience this famous solar spectacle that was making people clap.
And truly, there was no need to impose any special measures of distancing or wearing a mask. The number of visitors was so low that one could find Oia's sunset point of choice, without risking health with proximity to others.
Best sunset in Santorini – the one you don't need to share
I entered a bakery. Two or three items to choose from, in an astoundingly empty showcase. No buyers, no production. The situation in bakeries on other islands I visited looked similar. But there was no shortage of flour, bought in the panic of the first pandemic days. There was a shortage of people to feed!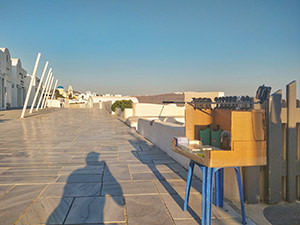 In front of the pastry shop, a local seller left his improvised stand unattended. No crowds, no risk of theft. His offer looked as if it came through a portal of a time machine. Selfie sticks on display, the essential items for all Santorini sunset chasers! But without tourists, there were no selfies either. This man however readily prepared his stand every day, showing perseverance and reliance that buses loaded with eager selfie-takers could arrive at any minute.
It was a Saturday evening, and the sunset town should have been full of people elbowing through the crowds in a quest for the best place to watch the sunset in Oia. But the streets felt deserted. Well, with the exception of purring creatures mooching for food. I could have sworn that, on my way to Oia sunset view, I had noticed more cats than humans!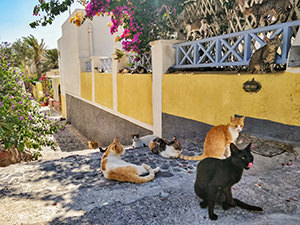 Finally, one could sit in the first row of a bar, sipping some summer cocktail or smoothie, and enjoy a direct view of the fading Sun. Nobody was obstructing the view.
Streets were not overcrowded with girls in their prettiest dresses, serving their best #ootd. One did not have to stumble over their boyfriends turning into holiday photographers clicking, and clicking, and clicking again.
They did not disappear completely, but their presence was bearable. Sooner or later, these supporting actors would move on to other Santorini sunset lookouts, and the sky spectacle could resume.
Pandemic as a break from Oia sunset #instaidiots
As with all beautiful things in the world, once modern human discovers them, they become a trophy. The same way we were leaving our handprints in prehistoric caves, or walking around with the skulls of our enemies as a source of pride, our generic selfie is solid proof we were present and important.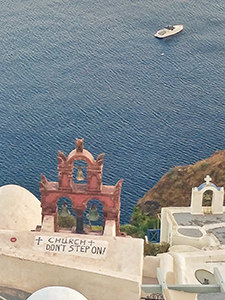 The pandemic of COVID-19 not only reduced the carbon footprint of planes we overpopulate the skies with but also gave temporary relief for some of the world's greatest attractions. The same as Angkor Wat in Cambodia, or Kanchanaburi Bridge in Thailand, Santorini could finally take a break from a neverending influx of tourists eager to find their five minutes of fame.
The absence of tourists revealed the history of abuse towards the architecture and culture of Oia. All-present signs "no climbing – keep off", or even painted big black letters on one white church – "church – don't step on", showed that #instaidiots crossed the line more than once.
Crossing the line is always a product of a habit. Seeing other people doing it. Seeing other people bragging about it and posting it online. Hopefully, this break in the overtourism of Santorini can provide the birth of new habits. Or at least slow down the growth of improper behavior of the yesteryears.
10 places for the best sunset in Santorini
Where can I watch the sunset in Santorini?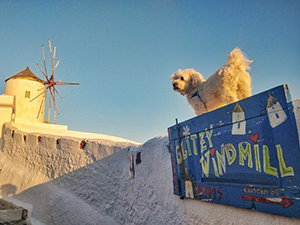 Deciding on where to watch Santorini sunset could be a hard dilemma, especially if you cannot afford to stay longer on this island catering for the rich, in often overpriced villas and restaurants.
There is only one sunset in a day and, depending on the length of your stay, you'll have more or fewer chances to perfect your craft of Sun stalking.
The good news is that even if you do not manage to visit Santorini in this very special time with fewer tourists, there are still alternative sunset viewing spots, offering much less stress than Oia, that iconic landmark of Santorini!
The alternative spots for spending Santorini evening include:
1. Fira sunset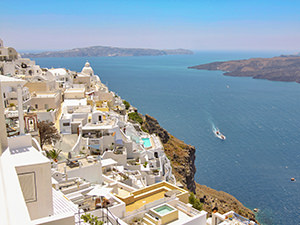 Fira (or Thera), the island's capital, is probably not the best Santorini sunset lookout, but it does have its charms, and will certainly deprive you of Oia's insane crowds. The popular spot is a promenade along the cliff, close to the cathedral.
For another option, walk north, towards the village of Firostefani which has its own blue-domed Orthodox Church of St. Gerasimos. There's another promenade here, and it's a good one. I can confirm, as I've stayed in one local suite with its private plunge pool. Enjoying a beer in a heated Jacuzzi and surrendering to the views of Thirasia and Kameni islands, is definitely something you should consider (but look under the option of the cave hotels too!).
2. Imerovigli sunset
Imerovigli is called the Balcony of the Aegean, for a reason. Between Fira and Oia, this picturesque village is located on the highest peak of Santorini, providing great views wherever you turn. This is where they were spotting pirates in the past. Today, it has a laid-back vibe with fewer tourists, with calm streets, photogenic churches, and charming gardens. Imerovigli hotels with infinity pools will provide you with that precious feeling of luxury!
3. Skaros Rock sunset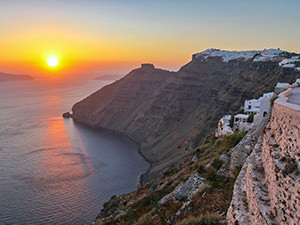 Just in front of Imerovigli, the unusual rock will definitely catch your attention. This is Skaros Rock, the remains of a castle from the 13th century! Once Santorini's largest village, it was abandoned during the 17th-century eruptions. Skaros Rock is great for a sunset hike! Enjoy the views and examine a piece of this Venetian castle history!
4. Sunset at Ammoudi Bay
Exactly 214 steps down from Oia's castle, Ammoudi Bay is another amazing place to experience the Santorini sunset. Hugged by the red volcanic rock cliffs, the azure waters of this peaceful bay invite you for swimming and even cliff jumping if you dare. If you prefer to stay on the firm ground, fish taverns are a good excuse to watch the sunset from here.
5. Santorini sunset cruise
If you want to get to the heart of the caldera, sailing cruises could be your thing. Hop on a boat tour, enjoy some swimming, relax with dinner and drinks, and enjoy the Santorini sunset from the sea!
6. Akrotiri Lighthouse sunset
On the southern end of the island, Akrotiri Lighthouse (locally referred to as Faros) defends the reputation of one of the most beautiful lighthouses in the Cyclades. Standing on the edge of the cliff, it was built back in 1892! If you want to get away from the crowds and civilization, this remote spot is promising a special romance!
Where can I watch the Oia sunset?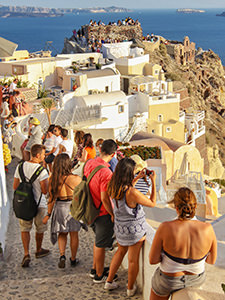 The most famous view in Santorini is definitely the one at Oia (pronounced "ee-a" if you'll need to speak to the locals). This is typically the one you see everywhere online, and one you will have to fight to see, unless you rent a private villa, or use the period before COVID-scared tourists return.
Here are the final four best places to see a sunset in Santorini:
7. Oia Castle sunset
The Byzantine castle ruins provide some scenic views of Oia and Santorini caldera, and this makes it one of the most popular sunset spots in Santorini. Good luck with finding your corner at the best sunset view in Oia! This castle is from the Venetian times (15th century) and was dedicated to Saint Nikolas (officially, it is the castle of Agios Nikolaos).
8. Oia windmills sunset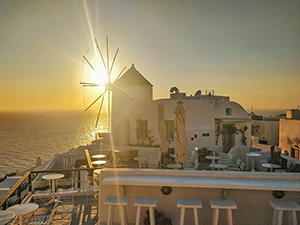 While the castle is certainly a great place to photograph the windmills, you can also go closer to them and get some nice views, with somewhat fewer crowds.
9. Sunset at the famous Blue Domes of Santorini
The truth is Oia has many blue dome churches, but a cluster of three, Three Blue Domes, gets most of the fame. You can look for Google's 'Blue dome photo' mark, and you can follow many various blogs suggesting special GPS coordinates, but the best is to get lost and look with your own eyes. No, it is not visible only from one point, and following directions of these resources only guarantees great crowds on the spots. So feel free to roam around, and use common sense!
10. Sunset view from the cave houses in Santorini
I've already mentioned one cave suite in Firostefani. If you're looking to enjoy your Santorini sunset in the privacy of a pool, Oia will have plenty of iconic cave hotels! Hyposkafa or cave houses were initially carved in rocks so that sailors could hide away from pirates. Today, these villas provide that special feeling of luxury one associates with staying in Santorini!
Here are some with exceptional ratings for your consideration: Hyperion Oia Suites, Marble Sun Villa, Oia White Cave, Fanari Villas, Namaste Suites, Aloia Villas, Thira Suites, Aspaki, Oia Spirit, Lava Caves, or Oia Angle Cavehouse. For more options, check Oia accommodation offer at the best price here.
At what time is Santorini sunset?
Santorini sunset time will depend on the month of the year you choose for your visit. The best is to double-check the exact Santorini sunset time on this link.
Plan your trip accordingly. If you decide to watch the Santorini sunset from Oia, always start your journey earlier. There could be long lines for the buses! If you arrive by rent-a-car, you might have a problem finding available parking spots!
Sunset in Santorini today, honeymoon tomorrow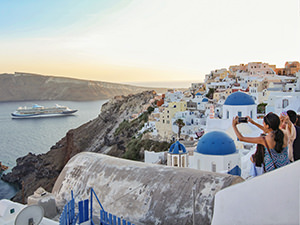 The magic of Santorini sunset, and the effort of locals in rebuilding their towns after the 1956 devastating earthquake, boosted the island's sex appeal. After the fear of COVID-19 subsides, the stunning scenery and amazing private pool villas will continue to attract tourists from all sides of the world to Santorini, one of those "places to see before you die".
It was a place where one of the greatest eruptions in history, and the following tsunami, erased the Minoan civilization. Supposedly, this inspired even the legend of the Atlantis. Yet with all earthquakes and natural disasters, people evacuated, but always returned to Santorini. Its attraction became hardly describable.
Nature played with earth and water, and the result is almost a paradox. An island shaped like a Moon in its Waxing Crescent phase became world-famous for – sunsets
Santorini's romantic set-up encouraged many men to pop THE question. The ladies said "I do" on the cliffs of the caldera. Maybe they returned for the wedding. Certainly, they would return for the honeymoon in one of the cave houses. Santorini's beaches might not be as pretty as other beaches in Greece, but this doesn't affect much the idea of a spellbinding paradise one easily falls in love with.
Nature played with earth and water, and the result is almost a paradox. An island shaped like a Moon in its Waxing Crescent phase became world-famous for – sunsets. Before the COVID-19 pandemic, the number of tourists was counted at 2 million per year. Surely, Santorini sunsets will again cast a spell on the international travelers, to fall in love with the extraordinary falling Sun of Santorini.
Did you like this guide to Santorini sunset places?
Pin it for later!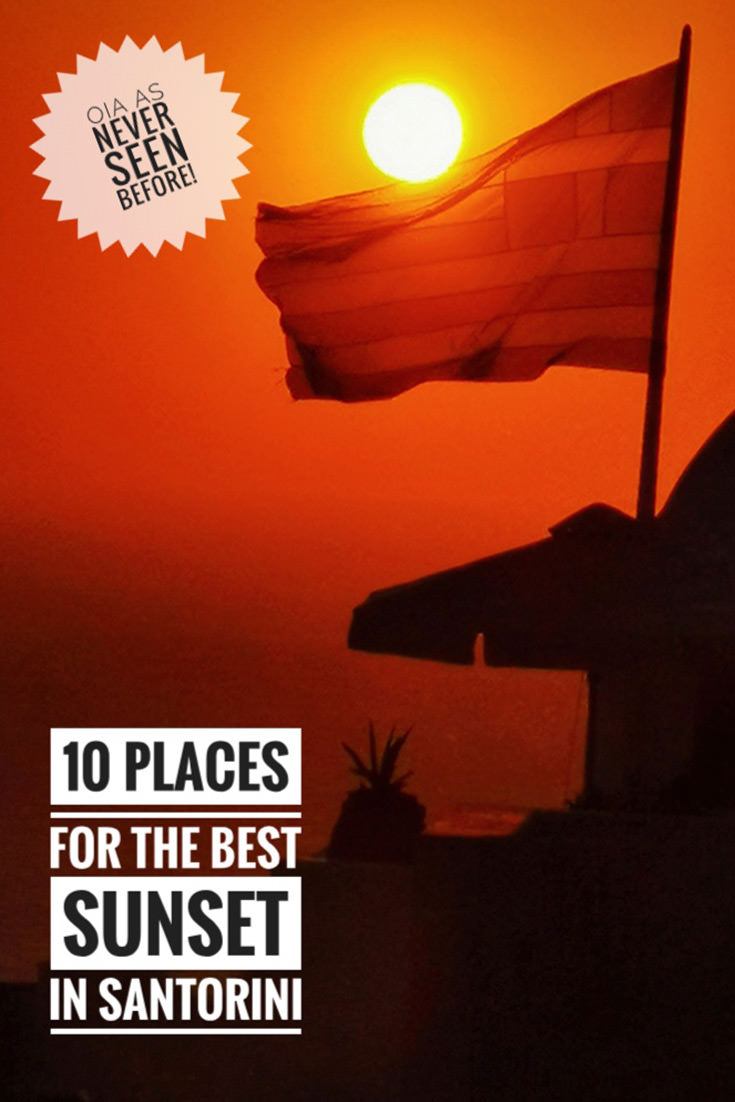 Disclosure: This post contains affiliate links, which means if you click on them and make a purchase, Pipeaway might make a small commission, at no additional cost to you. Thank you for supporting our work!