Syros is the capital of Cyclades, the group of Greek islands centered around Delos, the sacred birthplace of Apollo. Named after the island's old name, Syra Suites is a luxury property overlooking the Aegean Sea. It is located just 8 kilometers south of Ermoupoli (also known by its older name Hermoupolis), the capital town of Syros and the island's main port. I disembarked the ferry and headed to Vari Bay, the peaceful oasis of the Mediterranean landscape, where Syra Suites promised a home away from home.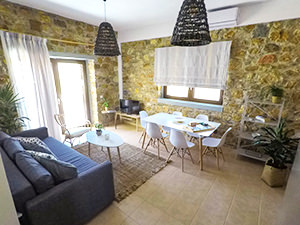 The knitted interior
This holiday home consisted of 11 sea-view suites, of various sizes (45 to 89 square meters) and prices (from 60 to 92 Euros).
Syra Suites' interior, designed by Maria Chatzistavrou from Lime Deco, followed the natural tones set in the exterior. Just like the owners spared the local trees when building the outdoor stairways, nature sneaked into the apartments too. The design appreciated the materials of wood and stone and gave the whole accommodation complex earth tones.
One could almost say that the decoration was knitted. From carpets and baskets acting like plant pots, via Macramé wall hanging decorations, all the way up to the chandeliers, the inclusion of these intertwined decorative elements was not assailant. On the contrary, it gave the whole place a feeling of a traditional home.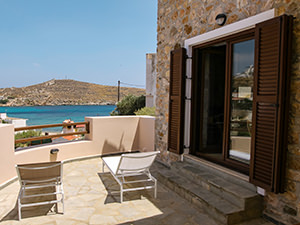 Syra Suites – the place to enjoy with others
I stayed in Tulipa Suite, the 62-square-meter unit with two bedrooms and a bathroom with a shower. I was there alone, but this bright and spacious apartment could comfortably accommodate six guests if needed! Syra Suites seemed to be an excellent place for spending quality time with friends or family. I could imagine guests cooking together and eating homemade dishes, drinking wine on the terrace in the evening, or resting on sunbeds throughout the day.  The hotel could also serve as a starting point for exploring the beautiful nature of the island, its famous and secret beaches, architecture, and history. These moments of potential memories were screaming to be shared, so the only real thing I missed here was – company.
Syra Suites offers modern life in the village at its best
If you were a group of friends or a family, Syra Suites would serve you the luxury with a feeling of a home. The owners equipped these brand-new suites with a fantastic range of modern appliances exceeding the expectations of anyone heading for some lazy holidays on Greek beaches.
We are talking about the fully equipped kitchen with a large refrigerator (stocked with free drinking water!), freezer, electric cooker-oven, American coffee machine, toaster, kettle, all utensils you would need to prepare even an ambitious meal! There was a washing machine, clothes dryer, electric iron, iron board, flat-screen TV, wifi, AC… Modern life in the village at its best.
Where to eat in Syros?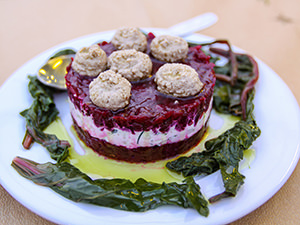 Syra Suites secured a basic breakfast pack for the duration of my stay. The closest grocery shops were in Vari, but they were rather small and lacked the variety in the offer. I would prefer to do the stocking of the fridge for the entire stay at the beginning of one's holiday, at some greater supermarket.
Then again, you are on holiday indeed! Do not exhaust yourself by sweating in the kitchen, while beautiful beaches expect your personal presence! Syros today is home to many great restaurants, so you should also envisage eating out during your stay in Syra Suites.
Do you want to check other accommodation options on Syros and other neighboring islands? Check out our selection of the best beachfront hotels in Cyclades Islands!
In the vicinity, I enjoyed the family-operated Giosifaki Restaurant the most. Great but affordable food was being served here since 1958! Their portions were huge! If you go there while on a diet, you've been warned! The risk of sinking in delicious traditional food is all yours! Beetroot salad with walnuts, after Ioanna Stamouli's recipe, was especially refreshing!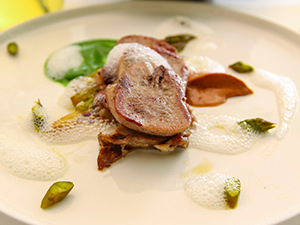 If you would head to Ermoupoli for lunch or dinner, you could choose between many taverns on the seafront. But if you were interested in digging deeper, just across the Apollon Theater (often described as a miniature version of Milan's La Scala), I could recommend an upscale experience of Avant Garden, a creative Greek rooted restaurant with international influences. Their beef tongue with green asparagus and almond foam was melting in my mouth! Pina Colada in dessert form was equally impressive!
Do you want to add the Greek mainland to your holiday itinerary? Try the abundant portions of the extraordinary food at Kastalia Boutique Hotel in Delphi, the center of the ancient world!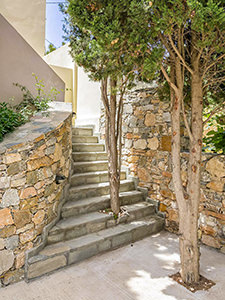 Homebase for exploring Syros
While the cozy Achladi Beach and larger Vari Beach were at a walking distance from Syra Suites, discovering the other parts of the island would require transportation. Further-away beaches worth of attention included Agathopes, Gramatta, Kini, Kokkina, Komito… Find the broader list of Syros island's best beaches on Syra Suites website.
Even if public buses were circling the island's towns, the connections were scarce in the low season. Therefore, unless you visited Syros in July or August, you should consider a bike or car rental! The parking at the property was free. Otherwise, taxis operate on the island as well. A ride from Syra Suites to the harbor would set you back about 12 Euros.
Besides the beaches, Syros island is excellent for discovering other hidden treasures. If you like adventures, hiking to Agios Stefanos, a small Catholic chapel built inside a cave, just above the sea, is a must!
If you are still in the walking mood after that, Syros old town is perfect for you! Many stairs from Ermoupoli to Ano Syros will reward you with extraordinary views of Aegean. You would also meet a lot of cats on the way, and even some confused chicken. For the lazy ones, this picturesque medieval settlement from the Byzantine era is reachable by car too.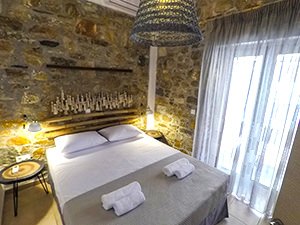 Booking Syros holidays
Greece offers many islands worth exploring! Even if its main touristic attractions might be Santorini and Mykonos, many travelers turn to more secluded parts of Cycladic islands, where tourism is less invasive. Syros, with a population of just over 21.000, has kept the "smaller island" appeal, while still offering tons of history, nature, and culture on its plate.
Whether you are looking for adventure or romantic holidays, Syra Suites is a residential complex offering retreat in style. Combining hotel luxury with the simplicity of a home, this property ensures your Greek vacations will become a fantastic summer memory. For the best rates of one of the finest Syros hotels, check Syra Suites booking options!
Still wondering where to stay in Syros?
Check these hot deals!
Various dates available!
Syros – how to get there?
The island of Syros is connected with Piraeus Central Port (west of Athens) on a daily basis. Depending on the ferry operator and the number of stops, the trip takes between 3 and 4 hours. Travelers coming from the Greek mainland can also reach Syros via the port town of Rafina (east of Athens). The boat from there takes less than 2 hours but operates only once a week. For available connections, check the Greek ferry guide.
Syros Island National Airport is connected by direct flights with Athens Eleftherios Venizelos International Airport. The Sky Express flight takes only 35 minutes.
Did you like this article?
Pin it for later!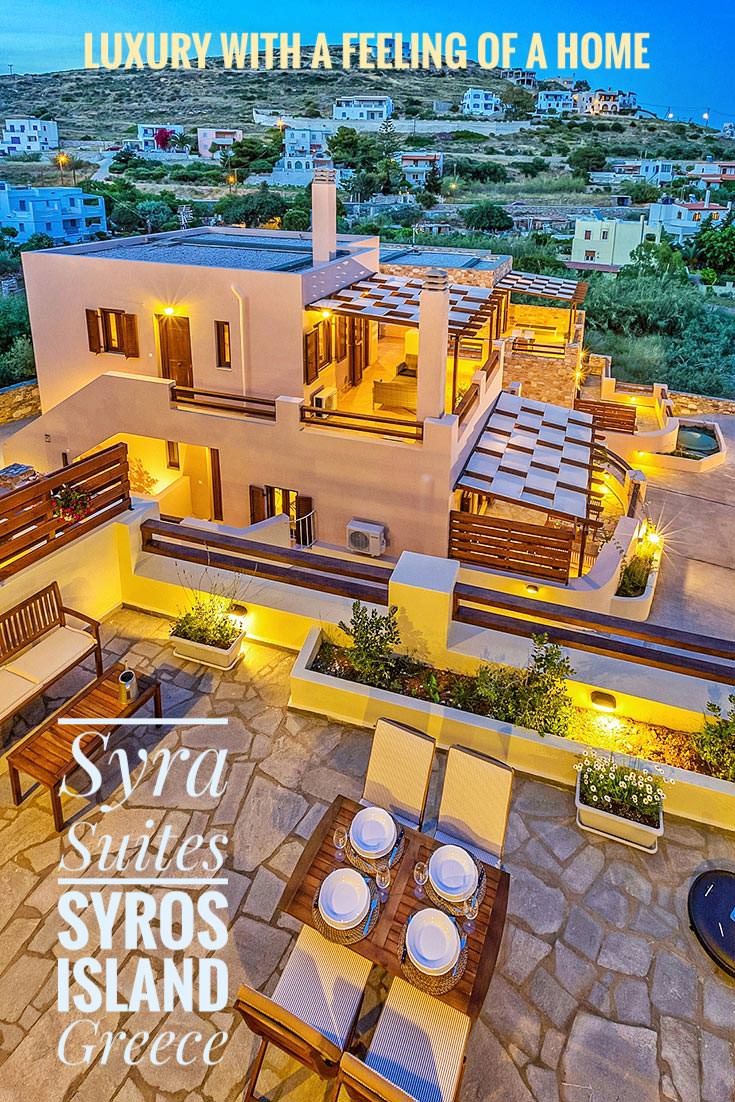 Disclosure: My stay at Syra Suites was complimentary, but all opinions are my own.

Also, this post contains affiliate links, which means if you click on them and make a purchase, Pipeaway might make a small commission, at no additional cost to you. Thank you for supporting our work!