The best Cyclades Islands hotels regularly come with a sea view. But some of them provide a true luxury: enjoying the Aegean Sea from the first row. We visited a selection of amazing beachfront properties in Serifos, Syros, and Paros, only to find out that these sometimes underrated destinations hide the best beach hotels in Greece.
When someone mentions Greek islands, the first ones that come to mind are usually Mykonos, Santorini, Crete, Corfu, and Rhodes. However, among the hundreds of the islands in the Aegean and the Ionian Sea, there are plenty of hidden gems, offering beachfront hotels that can provide excellent holidays!
Just imagine the sea waves as the most natural lullaby before you head to sleep!
Even if overshadowed by neighboring touristic giants that often come out as pricey and crowded, the islands of Serifos, Syros and Paros can compete with some of the best beaches in Greece!
And hear this now: these boutique hotels guarantee a direct entrance to some of those beaches!
A touch of luxury, a spark of tradition, and the sound of the sea waves as the most natural lullaby before you head to sleep!
Enjoy your Greek vacations at some of the best Cyclades Islands hotels!
Top 3 beach hotels in Cyclades Islands, Greece
1. Serifos – Coco-Mat Eco Residences
Price per night: 390-504 Euros
The island of Serifos was one of the stops for Odysseus when he was returning home from the Trojan War. Not far from the cave where Polyphemus the Cyclops imprisoned the famous Homer's hero and his crewmen, Koutala Bay is today a sleepy home to the equally captivating beachfront hotel: Coco-Mat Eco Residences.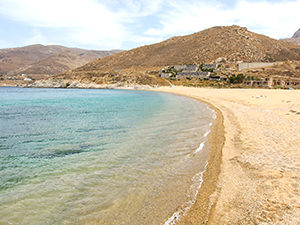 Just above Vagia Beach, one of the island's prettiest sandy beaches, the complex of miners' houses built in 1910 went through a renovation in 2013 and became – a hotel.
The island was once known as the 'iron island', and its mines abandoned in 1967 are reachable by foot from Coco-Mat Eco Residences.
While renovating miners' houses, the architect George Zafiriou respected the Cycladic tradition, but also catered for the needs of the contemporary traveler.
They built the cottages on two floors, with a kitchen and lounge area at the entrance level, and rooms and bathrooms on the lower level. It was a pleasant interior washed in white and pale grey, with natural and industrial decoration style elements, from exposed wooden beams and stone-framed mirrors to the sizeable old lantern with adjustable light.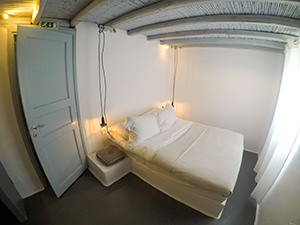 Old miners' houses with a contemporary design
A member of the Design Hotels chain, this bioclimatic complex offers 13 eco-friendly apartments equipped with Coco-Mat's signature products.
This Greek company is famous for providing luxurious and sustainable sleep systems which secure a good night's rest through the exclusive use of natural elements such as wool, wood, seaweed, or coconut fibers.
Its Serifos hotel is not an exception! Coco-Mat Eco Residences let you choose the type of mattress elasticity, pillows, and bed linen. You can even select the size of the eco slippers, and then take them home as a present!
Every unit at this beachfront hotel comes with a sunbed on a private terrace, providing excellent views of the Aegean Sea, especially during the sunset.
Vagia Beach, literally a stone's throw away, has calm and crystal clear waters. It is even enlisted as Natura 2000 protected site!
For the latest prices at Coco-Mat Eco Residences in Serifos, click here!
The onsite restaurant offers haute cuisine throughout the day. My Aegean Codfish with potato mousse and bianco sauce was tasty, but beware – the portions are very light! Plan your hunger cycles accordingly!
Breakfast, however, was quite impressive. Rich in healthy choices, Coco-Mat's morning buffet would fill up anyone's energy levels, in the best way imaginable!
Coco-Mat Eco Residences are located a 15-minute drive from Livadi, the island's ferry port. The boat ride from the port of Piraeus in Athens to Serifos takes between 2 and 5 hours and operates daily.
If you are looking for clothing-optional vacations in Greece, consult our guide to the best nude beaches in Cyclades Islands!
2. Paros – Paros Bay Hotel
Price per night: 72-107 Euros
Located in Paros, the largest and the most popular of the three Greek islands in this selection, Paros Bay Hotel was another beachfront property shining Greekness. Even if its general manager Alexis de Neuville came from France!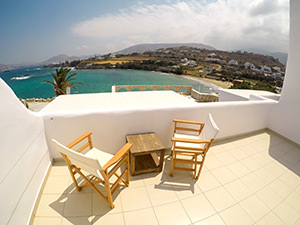 At the reception of this eco-friendly hotel, he welcomed me personally, accompanied by two lovely dogs. Pets are welcome here.
Constructed in the traditional Cycladic style, with whitewashed walls, curved corners, and grey shutter doors on the balconies, Paros Bay Hotel was blending into its environment like the most natural part of the beach landscape.
Palm trees in a lovely designed garden, a miniature version of a windmill, and even a boat stranded on the property were reaffirming the Greek identity of this place.
The hotel interior was decorated with sculptures and paintings of the boats. In the lobby – Christian Stemper's "Wolves of the Sea", a book full of photographs of ships and fishermen. Paros Bay Hotel celebrated its connections with the sea at every step.
While you are in Paros, make sure to visit another attractive fishermen's village – Naoussa!
When I visited in late May, Paros Bay hotel restaurant's lunch menu sadly offered only octopus salad and grilled prawns in the seafood department. The rest of the à la carte options included souvlaki, burgers, chicken nuggets, and pasta.
While the lunch menu could have been improved both in content and execution, the dinner buffet came as a positive surprise, both in variety and quality! As long as you could arrive early – because the all-you-can-eat offer attracted guests to glue themselves at the restaurant before the official door opening at 7 pm.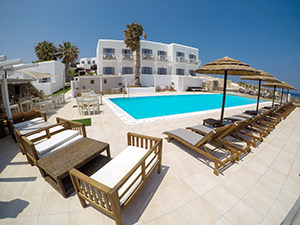 Seaside for swimming, surfing, and observing
Just in front of the Paros Bay Hotel, Souvlia Beach offered the first plunge in the sea.
If you were looking for a longer stretch of golden sand and bigger waves, Parasporos Beach would cater well to your surfing needs.
For those who preferred pools to beaches, the hotel offered a decent-sized swimming pool with a wooden sun deck. Encircled with white stones, the pool mimicked the beach experience, but just a few steps away from one's room! For toddlers, there was a kid's pool! You wouldn't get much better than that in any of the beachfront hotels in Cyclades Islands!
For the latest prices at Paros Bay Hotel, click here!
My twin room was simple and covered all the basic needs, but came with quite a small bathroom that could use some uplift. On the other hand, there was a large terrace which offered stunning panoramic views of the sea!
Paros Bay Hotel is located just a 10-minute drive away from Parikia, the island's picturesque capital. It is connected with Piraeus daily via ferries and high-speed catamarans (3-4 hour ride). The island's airport also has daily flights to Athens and Thessaloniki.
The first neighbor of Paros also deserves a visit. Check these exciting things to do in Naxos Island! 
3. Syros – Hotel Emily
Price per night: 41 Euro
Syros, the capital of Cyclades Islands. That's right! For Syros, Greek islands such as Mykonos or Santorini are just a periphery! So why on earth were these touristically overexploited sites overshadowing Syros' secrets? Maybe that was even better for Syros, who knows? Use the information from this article, but don't share it with others! 😉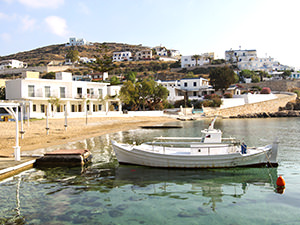 I've arrived in Achladi, a small fishermen's village situated in the south of the island, with the eponymous sandy beach being its central point. Hotel Emily was located just at this beach!
Welcomed with the local loukoumi, I could expect a sweet ordeal!
The family-run hotel was established in 1965. Today it is run by a runner; Alexandros Bolias is known in Greek islands as the fastest man around! He regularly wins local marathons and similar races.
But he wanted to keep his hands occupied too. So he raised the bar, by revamping Hotel Emily as a traditional hotel business with a modern vibe.
You seem to like the capital of Cyclades Islands? Check out this accommodation option on Syros as well!
Balcony lullaby
With just eleven rooms, this intimate hotel could never get overcrowded. The space in the room could be somewhat limited, but it had essential amenities and was tastefully decorated.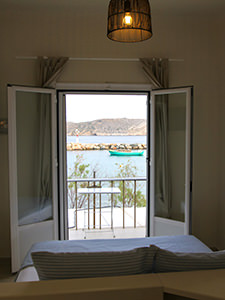 The centrally placed large and comfortable bed facing towards the small balcony and the blue bay in front of it dominated the room.
Sure, one could use AC to cool some nights down, but it would be a sin to close those balcony doors and cut out the sounds of the unspoiled Mediterranean.
In the morning, the local fishermen would be working around their boats in this small colorful harbor, adding up to the authentic Greek island experience.
By the way, the cover image of this article is from Achladi Beach! One would be waking up with the feeling of being just on the beach, sea waves tickling the toes. One could throw the alarm clock in the provided garbage bin! At Hotel Emily in Greece – only natural.
Unlike the first two examples, Hotel Emily did not have its restaurant, but breakfast with fresh seasonal ingredients, homemade jams, and juices, was always available.
For lunch and dinner, Giosifaki Restaurant in the nearby village of Vari delivered more than one could take! Enormous portions, tiny prices.
For the latest prices at Hotel Emily, click here!
Hotel Emily is a 15-minute drive away from Ermoupoli, the island's main port. The ferry ride from Athens to Syros can take up to 3,5 hours. Being the capital of the Cyclades Islands, Syros has its own airport too, with daily connections to other Greek destinations.
For those of you who love the sea so much that you would swap your hotel for a sailboat, here are your options of cruise trips in the Cyclades, from 1 to 8 days!
Best beachfront hotels in Cyclades Islands – Conclusion
If you are planning beach holidays in Greece, try to think outside of the box! There is life beyond Santorini, and there is nightlife beyond Mykonos.
Even if the Cyclades Islands of Serifos, Paros, and Syros offer a slightly different idea of Greek island holidays, they will still provide you with decent accommodation, food, and some of the best beaches in Greece, away from the tourist hordes.
Coco-Mat Eco Residences, Paros Bay Hotel, and Hotel Emily are not random boutique luxury beachfront hotels on yet another booking list for Cyclades Islands, Greece.
All of these island hotels show the care for the particular environment they are growing in. If they are caring for their environment, they will take great care of their guests too. Experiencing such care is pure luxury!
If you want to explore more accommodation options in Cyclades Islands, find them at the best prices on this link!
Did you like this article on the best Cyclades Islands hotels?
Pin it for later!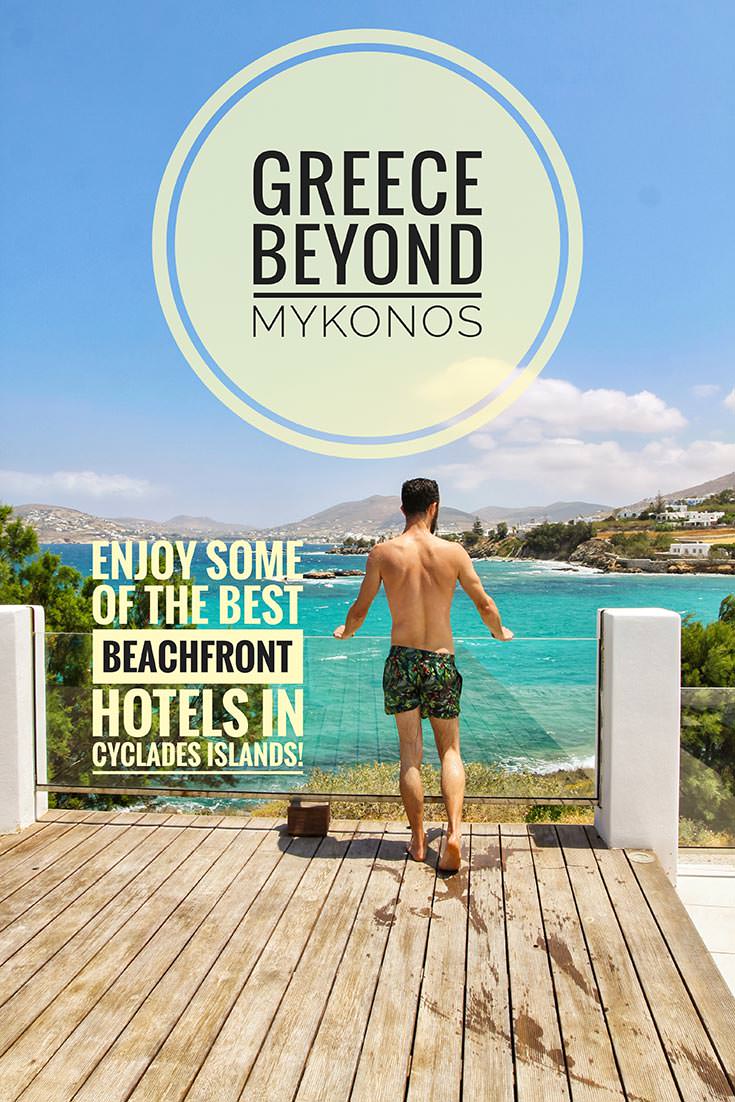 Disclosure: My stay at these hotels was complimentary, but all opinions are my own.

Also, this post contains affiliate links, which means if you click on them and make a purchase, Pipeaway might make a small commission, at no additional cost to you. Thank you for supporting our work!