Chap Goh Mei is the Chinese Valentine's Day, the day when single people are throwing oranges into a river, lake, or sea, in hope to start the year by finding – love.
Tinder, Grindr, Lovoo, Jaumo, Happn, Bumble, Zoosk, OkCupid, Hinge, Match.com, PlentyOfFish… The list of dating apps in these estranged times could go on and on.
Trying to find the love of your life or at least a date for the weekend has never seemed easier. But long before dating became an online business, people were looking for creative ways to fulfill their romantic endeavors.
On Chap Goh Mei, the 15th day of the Lunar New Year, unmarried Chinese girls on the Malaysian island of Penang would gather at the beach and flood the Malacca Strait with tangerines.
This unique tradition of throwing oranges in water, which would hopefully bring them a spouse, originated in George Town in the late 19th century and is practiced until today. Chap Goh Mei history continues on.
Not sure how to surprise your significant other? Find the most unique Valentine's gifts for travel lovers here!
Searching for Mr. Right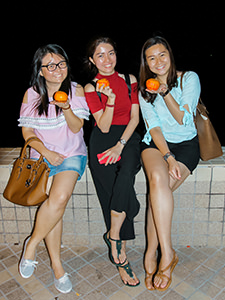 "This may be a fairytale, I don't know", says a young Chinese girl, laughing with a black marker pen in her hand.
"People say: just write your name, your wish, and your number on this orange. Then you throw it into the sea or river! And then the guys will go and pick them. They will choose which girl they would like to call."
While she and her girlfriends giggle at the prospect of a wish coming true, I ask what did she wish for?
"To find Mr. Right", she answers, not scared that her desire might have lost its power by being said aloud.
Her friend jumps in: "The traditional way is for a girl to look for Mr. Right, but nowadays they write just any wish and then throw it to the sea."
On the evening of Chap Goh Mei, thousands of wishes and greetings float in the sea in front of the Fort Cornwallis in George Town.
The most massive Malaysian standing fort is as old as the orange throw tradition and is part of the UNESCO World Heritage Site. A romantic place for romantic dreams.
If you are not able to travel, you might wanna check ideas on how to celebrate Valentine's day at home!
Pearl of the Orient and oranges
To this day, Penang Island is referred to as the Island of Pearls. But it could also claim oranges in its title.
Toss a tangerine, marry a good husband. Toss an apple, marry a good wifeChinese proverb
Throwing mandarin oranges into the sea on Chap Goh Mei (literally meaning fifteenth night, in Hokkien dialect) is a Chinese tradition not found anywhere in China!
All Chinese celebrate the start of the Lunar New Year, but the Chinese community in Malaysia claims copyrights to this Tinder before Tinder.
However, oranges do present the symbolic capital of celebration. On the first day of the Chinese New Year, people visit their families and friends. Often they bring presents; oranges are there to symbolize wealth.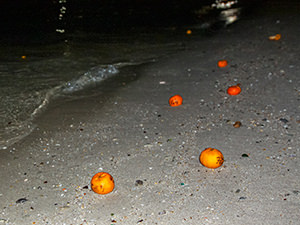 Malaysian Chinese end the cycle of celebration on the last day of the New Year, the 15th day, by transforming this golden fruit into a love bait.
The origin of the tradition is not entirely clear, but some claim it stemmed from a Chinese proverb: "Tim kam, keh hor ang. Tim kor, chuar hoe bor". It means: "Toss a tangerine, marry a good husband. Toss an apple, marry a good wife".
Jeju Island in South Korea teaches about love in a more graphic way; Jeju Loveland is the infamous Korean sex park.
Flirting on Chap Goh Mei
In the old times, young girls were not allowed to go out. But on Chap Goh Mei, this prohibition would be removed.
The girls could go strolling the streets and visiting temples without their parents, as long as their maidens would accompany them. They would dress up at their best because they knew that boys would be looking.
The legend said that the matchmaker from the moon would tie red strings of destiny around their legs – bringing the couple together.
After you find Mr. Right and hear the wedding bells, consider this honeymoon idea.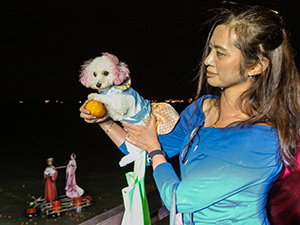 Besides firecrackers, the love ballads would create the sound background during Chap Goh Mei. In the streets, Dondang Sayang would be performed with a violin, two drums, and a gong. Baba and Nyonya singers would exchange love poems, sometimes injected with humor.
However, the peak of the love folklore on Chap Goh Mei would be reached in the evening.
Girls available for marriage would head to the shores and inscribe messages on oranges before throwing them into the waves.
Today, one orange costs 2 Ringgits (40 cents), which makes it an excellent business for the market stalls lining up the Gurney Drive.
Large crowds attend the event boosted by traditional cultural performances and typically tempting offers of Malaysian gastronomic capital.
For more ideas for romantic holidays, consider visiting these fantastic heart islands!
Love is blind on Chinese Valentine's Day
Today at Esplanade, George Town's famous waterfront promenade, everyone is throwing oranges. Girls, boys, singles, married…
It almost feels as if the tradition of single women hoping the sea would bring them love was replaced by a belief that the sea (or some golden fish living in it?) would make just any wish come true.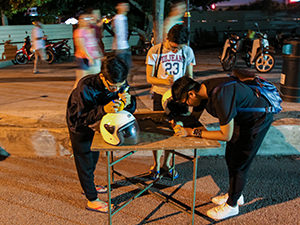 Instead of jumping into the sea to gather as many "free" blind dates as possible, the boys of today are also throwing oranges, missing the point entirely.
It seems everybody is absorbed by Valentine's wishes, so much so that they do not realize that they are the ones who can make them come true.
All the single ladies do not lose hope. But if there is no one to pick up the oranges, what divine intervention will connect the hopeful couple? The matchmaker from the moon is not almighty, after all.
Chap Goh Mei might not guarantee a hookup these days, even if one buys all the oranges in the world.
Maybe, under the New Year's optimistic moonlight, the eyes of two orange throwers miraculously could meet and result in an improbable outcome.
If not, the flirting apps can always be plan B.
Happy Chap Goh Mei!
Not sure how to get to George Town? The island actually has the Penang International Airport. For the most affordable flight options, head here!
Looking for a place to stay on Penang? Find the latest prices on accommodation options here!
Need a reliable transfer from the airport to your accommodation in Penang? Book it here!
Chap Goh Mei date in upcoming years
2024 – February 24th
2025 – February 12th
2026 – March 3rd
Will you be celebrating Chap Goh Mei 2024? What is your favorite Valentine's tradition? Do you hope destiny will serve you or do you actively try to create your love path? Please share your thoughts in the comment section below!
Did you like this article on Chap Goh Mei?
Pin it for later!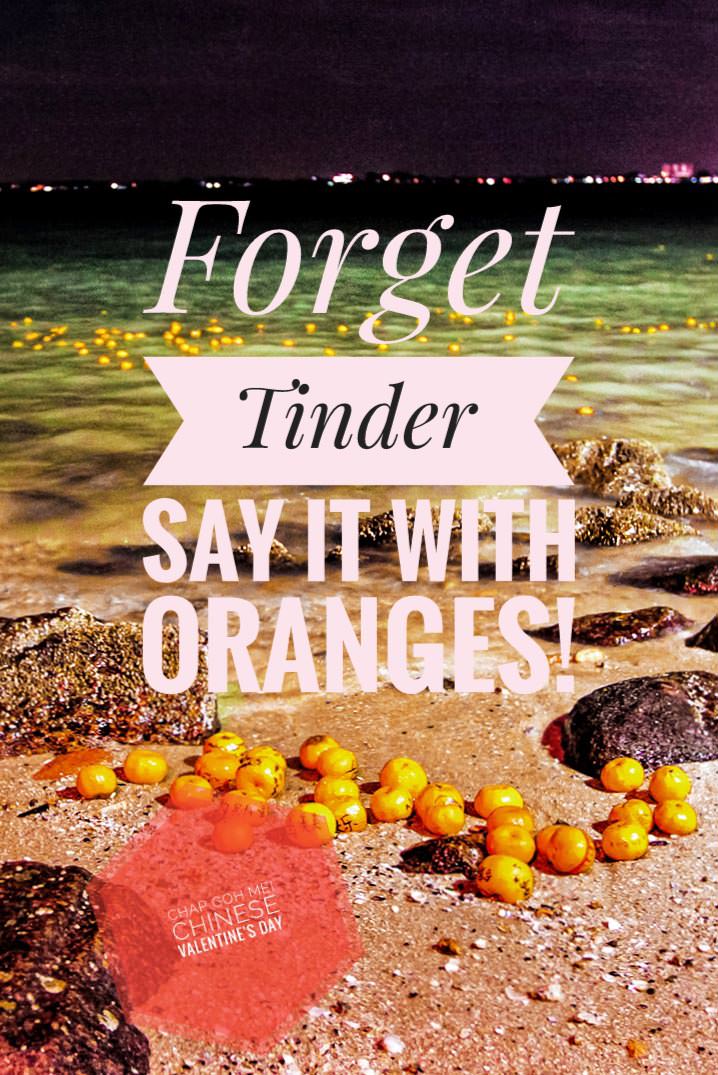 Disclosure: This post contains affiliate links, which means if you click on them and make a purchase, Pipeaway might make a small commission, at no additional cost to you. Thank you for supporting our work!