While there is undoubtedly plenty of alluring Greek islands, Cyclades is the island group that will make your trip to the Aegean Sea a rich experience with just the right amount of history, natural beauty, great food, and places to unwind. This time, I suggest you discover Naoussa (or Naousa), a traditional fishermen's village on the northern coast of Paros. If you want to spend memorable island holidays in Greece, in this article, you will learn about the best things to do in Naoussa, Paros!
Naoussa has always been of interest for foreigners. Unlike those in the 17th century, the visitors of today come armed with sunscreen
Naoussa has a history of attracting the attention of foreigners. French, Venetians and Russians were all building their bases here since the 17th century! With weapons stored away, foreigners come armed with parasols and sunscreen these days, occupying Naoussa's famous golden beaches just temporarily.
Naoussa in return, with the biggest fleet of fishing boats in the Cyclades, offers splendid Mediterranean cuisine to its visitors. Pair it with the fine wine that the area is famous for (there is even a wine museum in Naoussa!), and you will hardly be able to resist this place, considered to be one of the prettiest villages of the Cyclades!
While you are in Paros, make sure to visit the neighboring island of Naxos too. Here are the 17 best things to do in Naxos!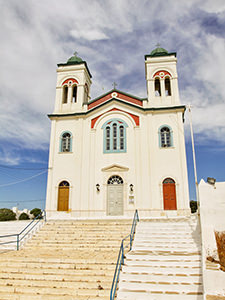 Where is Naoussa located?
Naoussa is located on the northeastern coast of Paros, in the island's second-largest bay. Just 10 kilometers away from Parikia, the main port of Paros, Naoussa is easily reachable by local bus. The village is not far whether you arrive at the island by ferry (3-4 hours ride from Piraeus) or fly to Paros Airport from Athens or Thessaloniki.
Attention! The village should not be confused with Naousa in the Imathia regional unit of Greek Macedonia! They spell both of them as Naousa or Naoussa, so always double-check if organizing your transportation in Greece. These are twin towns, but the experience you would have in each of them would be very, very different. In the northern one of the sister cities, you should not expect a beach at your doorstep!
Now that you understand you should head south if you want to reach the village of Naoussa, what to do there? Que voir, quoi faire? Here is the list of Naoussa activities you should include in your holiday planning!
If you want to explore the entire island, consider joining this fully customizable private tour of Paros!
Best things to do in Naoussa, Paros
1. Make your plan on what to do in Naoussa – by the pool!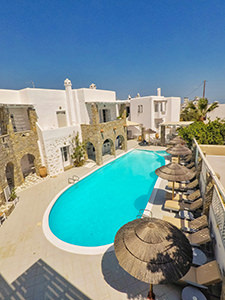 Yes, Naoussa is on an island, and yes, it is in the bay known for its excellent beaches. These facts don't mean you should cross properties with a swimming pool option from your wish list!
I enjoy working by the pool, and the one at Zefi Hotel is a little oasis of calmness. Grab yourself a beer, submerge your feet in the water, and spend a productive morning in a stimulating setting!
Parasols are here too, and many electrical sockets to plug your laptop in. There are no excuses for procrastinating the "to do" sheet that stops you from being able to properly relax while traveling!
If you are in Naoussa just for the holidays, you can use the outlets to charge your mobile phone! It will inevitably lose its battery quickly once you start noticing all those Instagram-worthy moments Naoussa and Zefi Hotel provide!
2. Take a stroll in Naoussa harbor!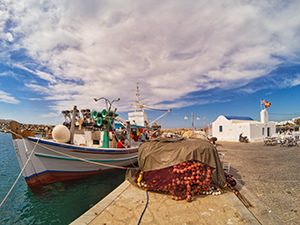 As mentioned earlier, Naoussa has a long tradition of fishing. Walking in the harbor will enable you to chat with village fishermen folding their nets, observe the process of sun-drying the mackerels, or photograph local ducks that congregate close to the boats, as well as at the place of the pedestrian bridge, where the river meets the sea.
Pay a visit to the small, but picturesque Church Agios Nikolaos, built at the entrance of Naoussa port! St. Nicholas is the patron saint of sailors and fishermen. Many still visit this single-aisle basilica to pray for their fishing boats!
3. Get wet at the Venetian fortress!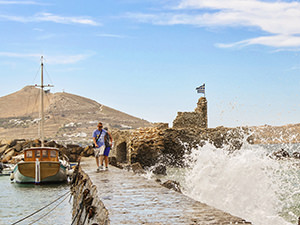 Venetian Castle of Naoussa (or Kastelli) is located just in front of the old harbor. This circular fort is one of the landmarks of the village!
Venetians from the Somaripa dynasty built it in the 15th century. It served as a watchtower for the attacks of pirates and other enemies.
The surviving part of this half-submerged Venetian fortress in Naoussa is reachable via a narrow walkway. This wall gets hit by the raging waves, which makes the passage an exciting experience! It is so exciting that some visitors never get to cross this wall, which is a pity, as the fort is worth a visit!
4. Have lunch in a church!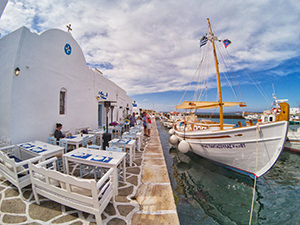 Just a quick walk through the center of Naoussa will tell you how this village is eager to serve its tourists! Restaurants have spread their chairs all the way to the edge of the waterfront, sometimes taking over the anchored boats as well!
Don't get too surprised if you figure out that they serve you in a house that has a distinct architecture of a church!
Taverns, cafes, and bars have found their way into every available hole in Naoussa harbor.
This means that even the narrow and steep alleys become the setting for romantic dinners! In the maze of stone-paved streets, you will find plenty of temptations for your tastebuds!
5. Hike to Mycenaean Acropolis!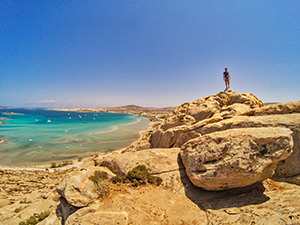 If you want to enjoy some lovely views of Naoussa Bay, make sure to hike to the remains of the Mycenaean Acropolis! The settlement was built in 1.200 BC on the Koukounaries Hill, 75 meters above sea level and the famous Kolymbithres Beach. It was probably set on fire when the enemies attacked, but today it represents one of the most important archeological sites on Paros!
Even if you are not an enthusiastic rock explorer, this little hike through Naoussa hills is beneficial as it provides you with an advantageous view of the bay and its crystal clear turquoise waters!
Get down from the hill the unofficial way – just straight towards the beach. You will find many animal skulls on the floor, and ask yourself will you be the one who survived this descent!
If you want to discover other parts of Paros and Cycladic Islands, check our article on the best beachfront hotels in the Cyclades!
6. Enjoy Naoussa Bay beaches!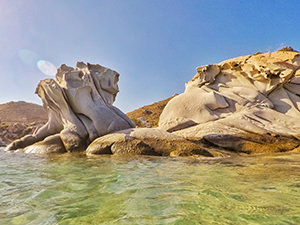 Kolymbithres Beach (Kolympethres) in the western part of Naoussa Bay is one of the most appealing Paros attractions.
It is famous for the unusually shaped smooth granite rocks that feel sculptural. The sculptor was Mother Nature, modeling the white rock formations on the beach with sea and winds for centuries.
Today, the beach provides small sandy coves, guaranteeing you a beautiful, yet intimate place to relax.
On the road to the beach, you will be able to find several bars and taverns (I ate some quite good moussaka in Anemos Taverna!).
Besides Kolymbithres, the list of best Naoussa Paros beaches includes Monastiri, Santa Maria, Piperaki, Piperi, Agios Ioannis, Agioi Anargyroi… Exploring this part of Paros will take you at least a week!
7. Get naked in Naoussa!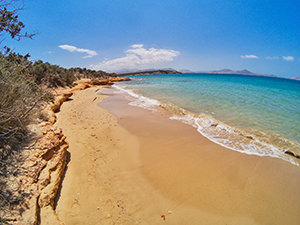 At the eastern end of Naoussa Bay, Lageri Beach (versions of the spelling include Lagkeri/Laggeri/Langeri) is a quiet getaway from the world of sunbeds and mass tourism exploitation. Naturally, it became a favorite gathering place for nudists, so if you are into sandy beaches, crystal clear waters, and pure naturism, this is an FKK dream come true!
The sea is shallow here, which makes it an excellent place for children, but still, have in mind that some parts of the beach seem to be more adult-only.
The area around the dunes is getting more and more popular among gay couples. However, this nude beach is so long that everyone can find their do-not-disturb corner.
Getting from Naoussa to Lageri Beach is relatively easy. Even if you decide to walk along the coast, a one-way stroll to the nude heaven of Naoussa will take one hour.
Lageri Beach certainly belongs among the best beaches in Paros, and some even call it one of the best beaches in the whole of the Cyclades.
Do remember that it doesn't come with taverns or shops; bring everything you need for a long day of frying in the sun! Tree shade is available, so you will be able to protect your naked bum!
If you want to dive deeper in Greek nudist holidays, consider staying at some of their best clothing-optional hotels and resorts!
8. Dine with cats!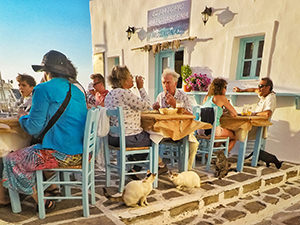 If you are a cat lover, Cycladic Islands will give you many occasions to stop by the road and pet one! However, if you are not a cat lover, then do have in mind that, when eating outside, local cats might try to cuddle around your feet, hoping to get pieces from your plate!
As mentioned before, there is plenty of dining options here. Most of Naoussa's best restaurants incorporate an authentically Greek hospitality habit: before paying the bill, the waiter will bring a free mastic liqueur for you to taste or some local dessert. Enjoy!
Nota bene, if you get tired of traditional Greek cuisine during your week in Naoussa, Paros, and ask yourself where to eat something else, Pizzarella offers a safe bet – a delicious wood oven Italian pizza!
9. Get a room at Zefi Hotel!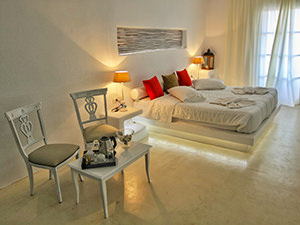 Holidays in Naoussa, Paros, cannot be complete without a good hotel.
At the end of a long and tiring day, find some good rest at Zefi Hotel!
This four-star hotel speaks the language of the Cyclades, both in its whitewashed exterior and shell-and-amphoras decorated interior.
Exposed beams and bricks painted in white, with simple furniture, provide a relaxing countryside atmosphere.
Junior suites upgrade the Greek-style interior with discrete LED lights, and even come with a Jacuzzi! I can imagine it being a great honeymoon hotel choice when visiting Naoussa, Paros!
It is good to know that Zefi Hotel offers massage treatments, including one for pregnant women! Now, that's a luxury!
The only real downside of the hotel is a quite unappealing neighborhood. The littering environment might not be in the domain of the hotel, but sadly it does affect the impression of the guests. As long as you ask for a room with a view of the hotel's nice pool, you will be fine!
10. Indulge in breakfast, and repeat!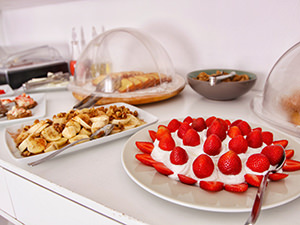 As I visited Zefi Hotel in the low season, the restaurant was not fully operational, so I cannot give any feedback on the lunch/dinner offer. But if we can judge by the breakfast, this place should cover your gastronomical needs! Even if we were rare guests at this moment of the year, the buffet didn't seem deficient at all. On the contrary, we were able to indulge in strawberries with whipped cream, bananas with honey and walnut, smoothies and cookies, and all the usual components of a 4-star breakfast. It was a visual and tasteful stimulation for another day of exploring the secrets of Naoussa!
What to do in Naoussa – Conclusion
As you can see, Naoussa is a charming town that offers a lot of things to do for travelers who want to experience the authentic side of Paros.
Whether you are looking for culture, history, or nature, you will find something to suit your taste in this picturesque fishing village.
You can stroll along the cobblestone streets, admire the whitewashed houses and colorful boats, visit the local shops and galleries, enjoy the delicious seafood and wine, relax on the sandy beaches, or even join a boat trip to explore the nearby islands.
Naoussa is a place where you can feel the soul of Greece and fall in love with its beauty and hospitality.
So what are you waiting for? Book your trip to Naoussa today and discover why it is one of the best things to do in Paros!
Did you like this article on the best things to do in Naoussa, Paros?
Pin it for later!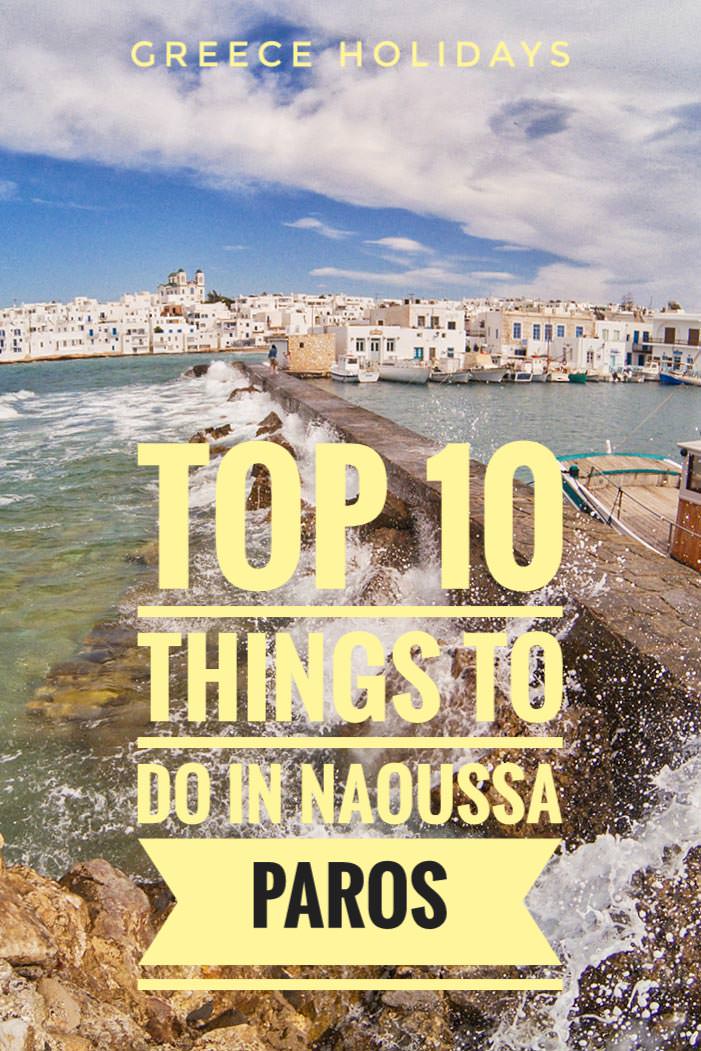 Still thinking about where to stay in Paros?
Check out these hot deals!
Various dates available!
Disclosure: My stay at Zefi Hotel was complimentary, but all opinions are my own.

Also, this post contains affiliate links, which means if you click on them and make a purchase, Pipeaway might make a small commission, at no additional cost to you. Thank you for supporting our work!